Sabrina Brashares and Emily Randolph for Jennifer Wood Media, Inc.
Wellington, FL – March 5, 2020 – The USA's Spencer Smith and Theodore Manciais topped a field of 53 entries to win the $137,000 Equinimity WEF Challenge Cup Round 9 CSI5* on Thursday, March 5, at the Winter Equestrian Festival (WEF) in Wellington, FL.
WEF continues at the Palm Beach International Equestrian Center (PBIEC) through March 29, 2020, with 12 consecutive weeks of world-class competition and $13 million dollars on offer. The ninth week of competition, sponsored by Douglas Elliman Real Estate, runs through March 8 and is recognized by the Fédération Equestre Internationale (FEI) as both a CSI5* and a CSI2*. Highlights of the week include the $401,000 Douglas Elliman Real Estate Grand Prix CSI5* on Saturday and the $50,000 Griffis Residential Grand Prix CSI2* on Sunday.
On the way to Thursday's win, Smith, 23, was the first of 12 entries to return for the Alan Wade (IRL) designed short course, and he and Theodore Manciais crossed the finish in what would prove to be an unbeatable 39.79 seconds.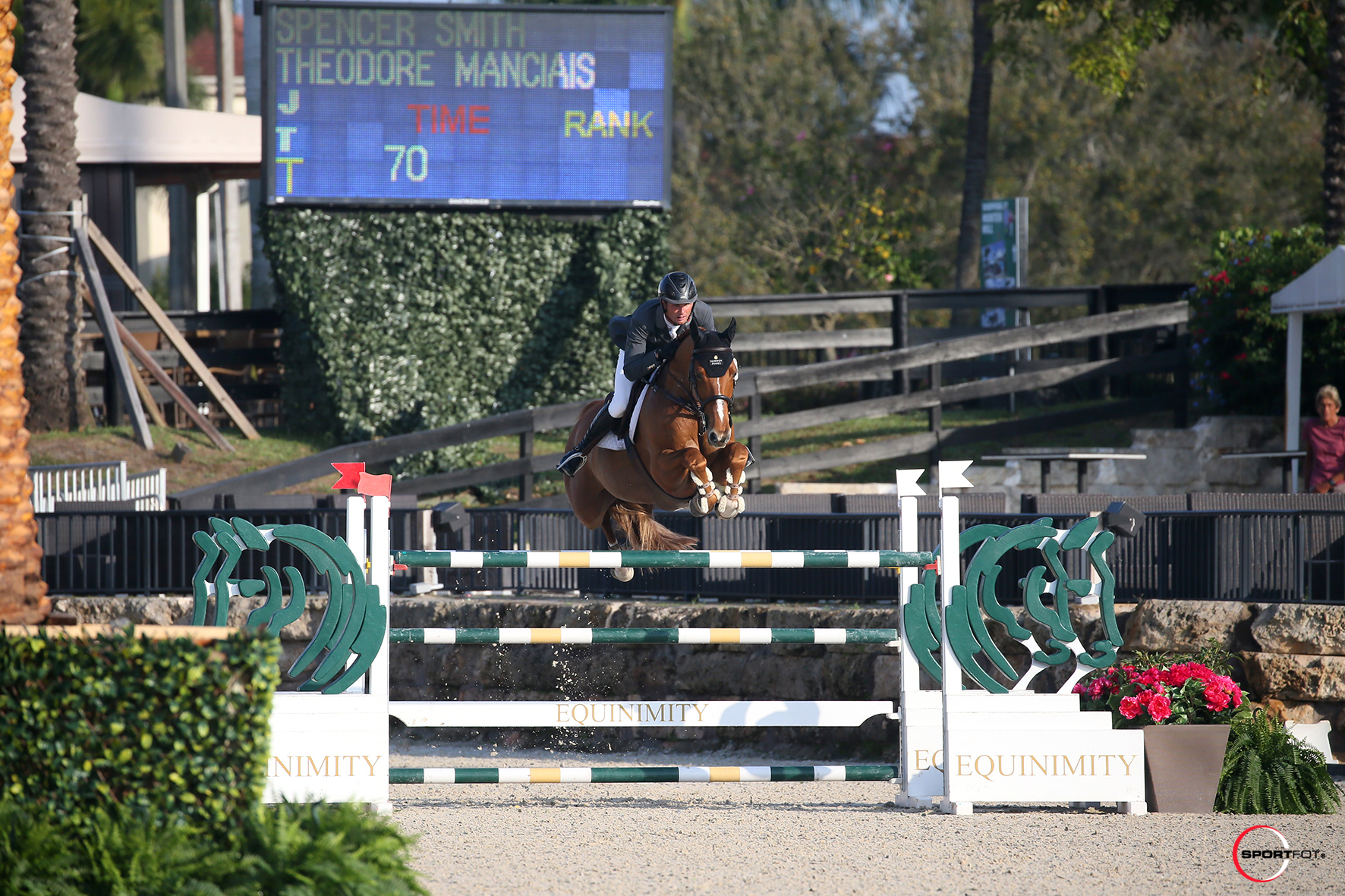 "I went first, so Eric [Lamaze] told me to just ride my plan and don't count too much with the numbers, just to ride it off my eye and feel it," said Smith, who trains with Canadian Olympic champion Lamaze. "So that's what I did, and it worked out.
"Here you can never know [if your time is going to hold up]," continued Smith. "You could have been 10th with that time. You just don't know. They go so fast here with so many good riders."
Coming the closest to catching Smith's time was U.S. Olympian Beezie Madden who finished in second with a time of 39.84 seconds riding Darry Lou, owned by Abigail Wexner.
Lamaze was the final to return to give his student a run for his money over the jump-off course, but a time of 40.02 seconds would give Lamaze and Chacco Kid, owned by the Chacco Kid Group, the third-place honor.
"[Eric] was going for it, but he's nice; he let his student have one!" joked Smith. "We have a great relationship. I've been there nearly five years, and we get along great. We do everything together, so it works out perfectly."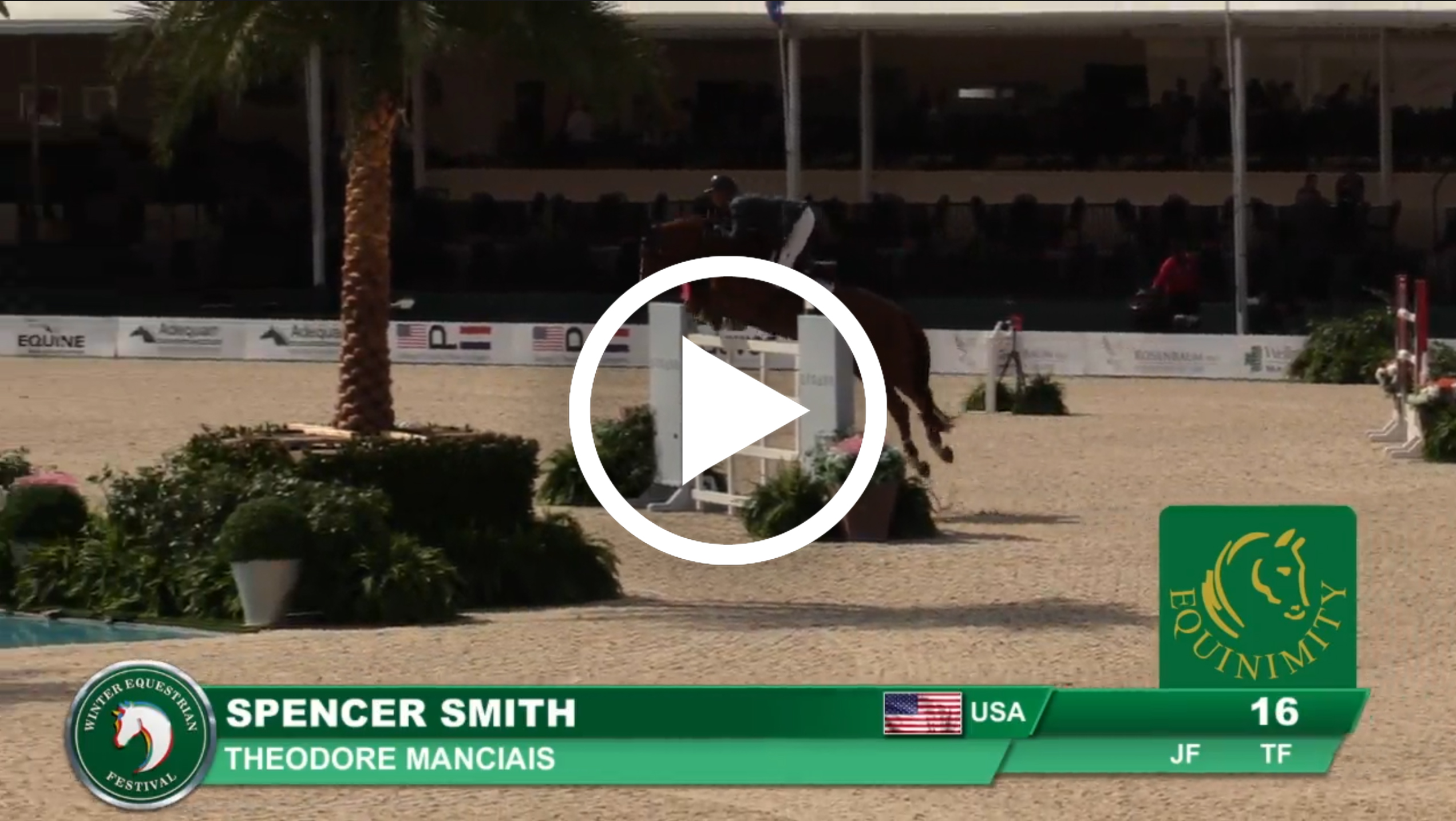 Smith spoke equally highly of his winning mount, a 13-year-old Selle Français gelding owned by Ashland Farms.
"He's been super. He's won three or four big grand prix for me; he's been everywhere in the world with me," said Smith. "He's the one that put me on the map.  He's a great horse and my best friend."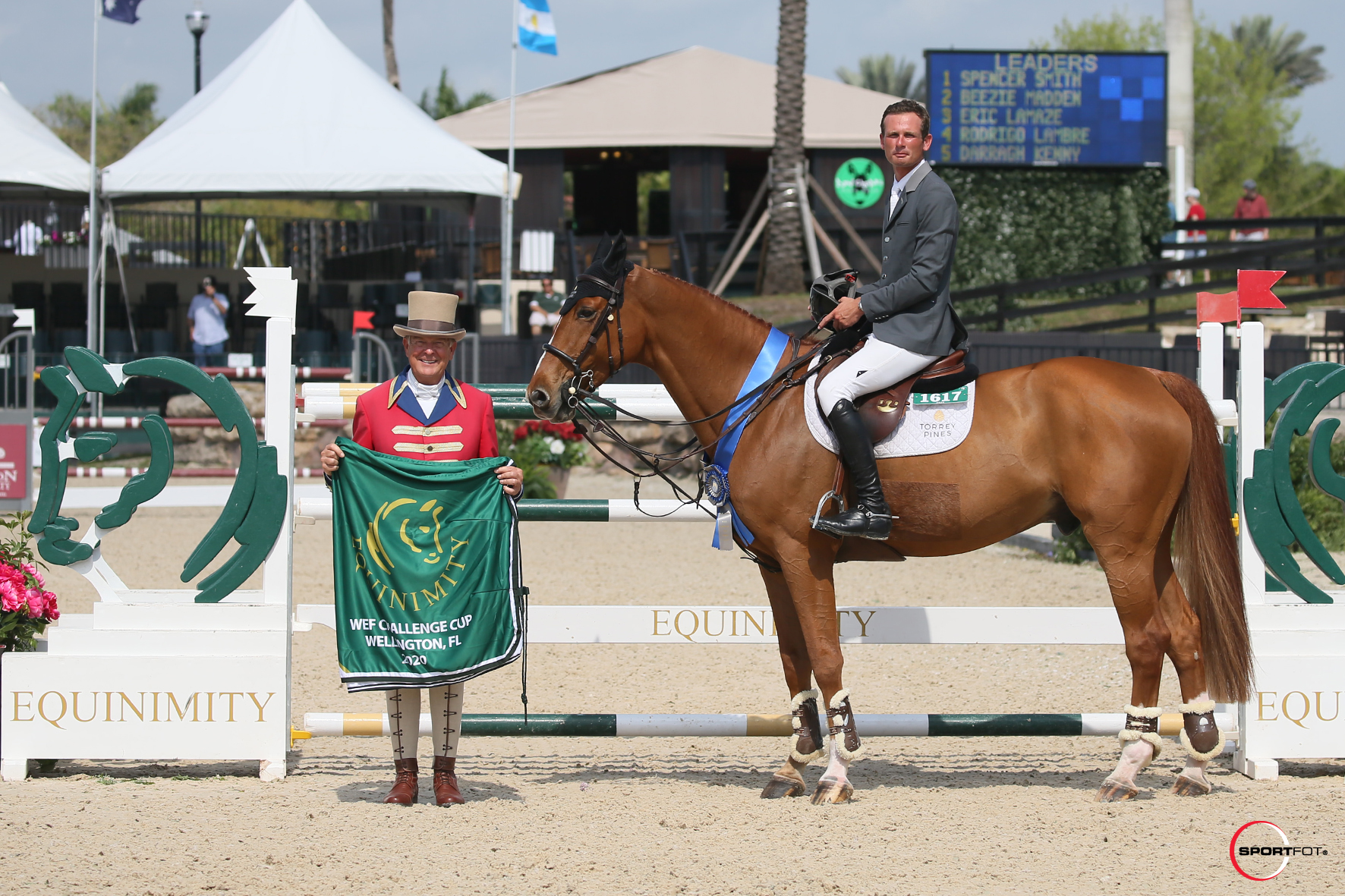 Finishing in fourth with a time of 40.19 seconds were Rodrigo Lambre (BRA) and J'adore van het Klinkhof, and fifth place went to Darragh Kenny (IRL) and Classic Dream with a time of 40.47 seconds.
Also earning an FEI win in the International Arena on Thursday was Olivia Chowdry, who topped the $8,000 Griffis Residential 1.45m CSI2* riding Balkana du Tillard, owned by Atlas Equine Holdings, LLC.
Final Results: $137,000 Equinimity WEF Challenge Cup Round 9 CSI5*
1 THEODORE MANCIAIS: 2007 Selle Français gelding by Kashmir van Schuttershof
SPENCER SMITH (USA), Ashland Farms: 0/0/39.79
2 DARRY LOU: 2008 KWPN gelding by Tangelo van de Zuuthoeve x Nabab de Reve
BEEZIE MADDEN (USA), Abigail Wexner: 0/0/39.84
3 CHACCO KID: 2006 Oldenburg by Chacco Blue x Come On
ERIC LAMAZE (CAN), Chacco Kid Group: 0/0/40.02
4 J'ADORE VAN HET KLINKHOF: 2009 Belgian Warmblood by Thunder vd Zuuthoeve x Alcatraz
RODRIGO LAMBRE (BRA), Ilan Ferder and Rodrigo Lambre: 0/0/40.19
5 CLASSIC DREAM: 2010 German Sport Horse gelding by Colestus x Inster Graditz
DARRAGH KENNY (IRL), Darragh Kenny and Ann Thompson: 0/0/40.47
6 HESTER: 2005 Belgian Warmblood gelding (Wandor van de Mispelaere x Palestro vd Begijnakker)
LUCY DESLAURIERS (USA), Lisa Deslauriers: 0/0/40.61
7 DINKY TOY VD KRANENBURG: 2009 Belgian Sport Horse stallion (Ugano Sitte x Kimball)
LORENZO DE LUCA (ITA), Stephex Stables: 0/0/41.87
8 TRUMAN: 2009 Selle Français gelding by Mylord Carthago*HN x Kolibri
AMY MILLAR (CAN), Millar Brooke Farm Ltd: 0/0/42.35
9 RMF ZECILIE: 2007 Holsteiner mare by Acolord x Canturo
JESSICA SPRINGSTEEN (USA), Rushy Marsh Farm: 0/0/42.83
10 CHACNA: 2007 Hanoverian mare by Chacco-Blue x Narew XX
ENRIQUE GONZALEZ (MEX), Enrique Gonzalez: 0/0/43.84
11 CETANO VAN ASPERGEM Z: 2009 Zangersheide gelding Clinton x Ahorn Z
SANTIAGO LAMBRE (MEX), Tal Milstein Stables: 0/4/46.23
12 BULL RUN'S RISEN: 2006 KWPN gelding by Utopie x Indoctro
KRISTEN VANDERVEEN (USA), Bull Run Jumpers, Inc: 0/8/53.87
Havens Schatt Rides Highlander to Equitan Performance Hunter 3'6" Championship
Havens Schatt and Highlander were crowned champions of the Performance Hunter 3'6" sponsored by Equitan on Thursday afternoon in the Grand Hunter Ring. The pair earned two seconds and three third place ribbons in the division.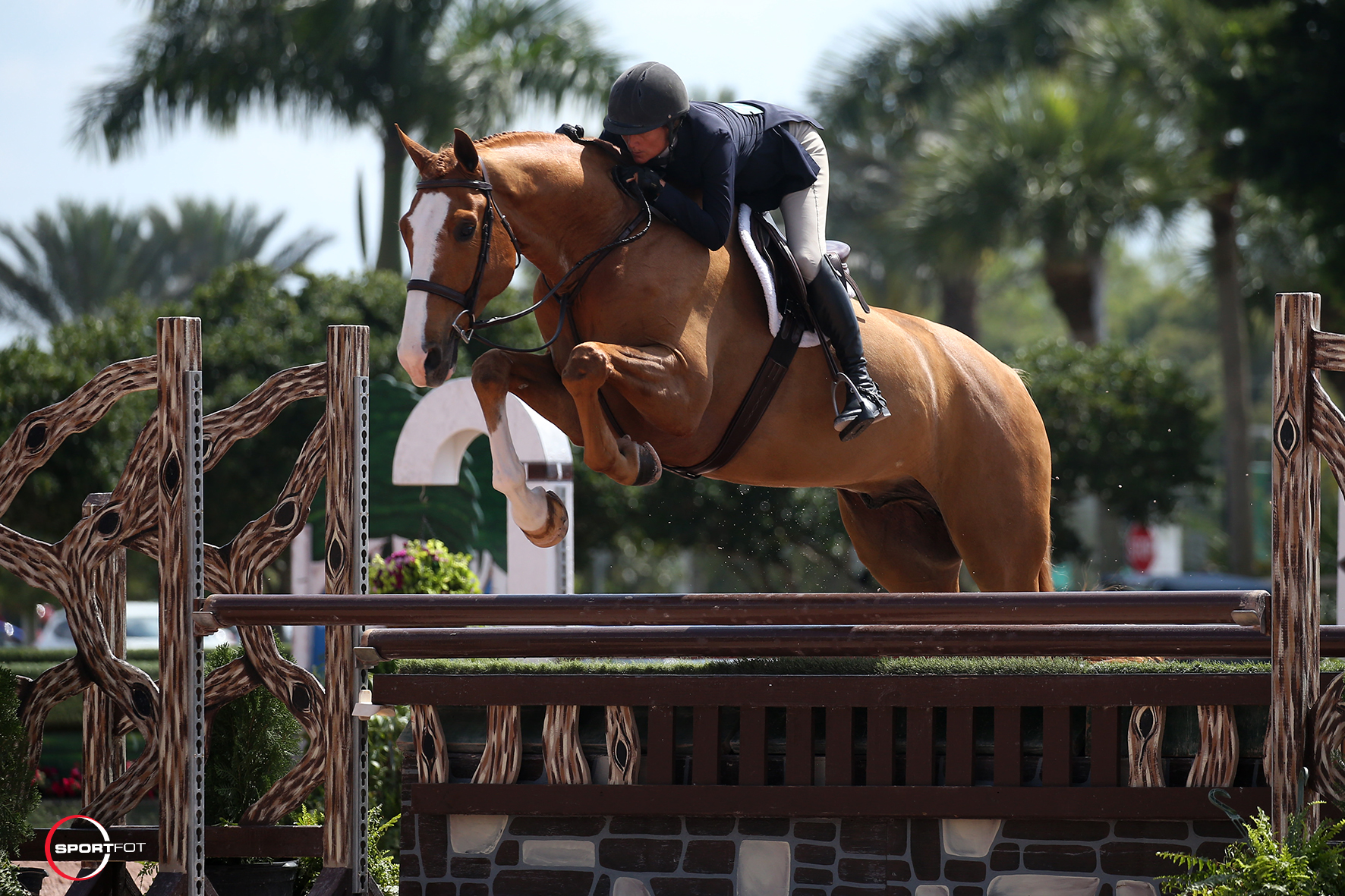 Schatt has been partnered with Meredith Mateo's Highlander for only one month, but the duo has already proven to be very successful. The nine-year-old Zangersheide gelding by Vigo D'Arsouilles was sent to Schatt by Archie Cox in order to sell. Schatt showed Highlander for the first time during Week 7, when they won the USHJA National Derby.
"This week I decided to try the 3'6" and he was perfect," Schatt, of Georgetown, KY, explained. "I really hadn't jumped him in a main hunter ring with the solid jumps and everything, but he jumps those jumps the same as [three-feet], so smooth and easy and always the same style."
The pair remained consistent and did not receive a score of less than 86 points over fences. Schatt describes Highlander as a great confidence builder and appreciates how easy and brave he is to show.
"I have so many horses that I start from so young and to get a nine-year-old that's already been through that stuff and you can just get on and go, it's like, 'Wow this is nice!'" Schatt described. "He's got a huge stride so it's nice to just cruise around on him."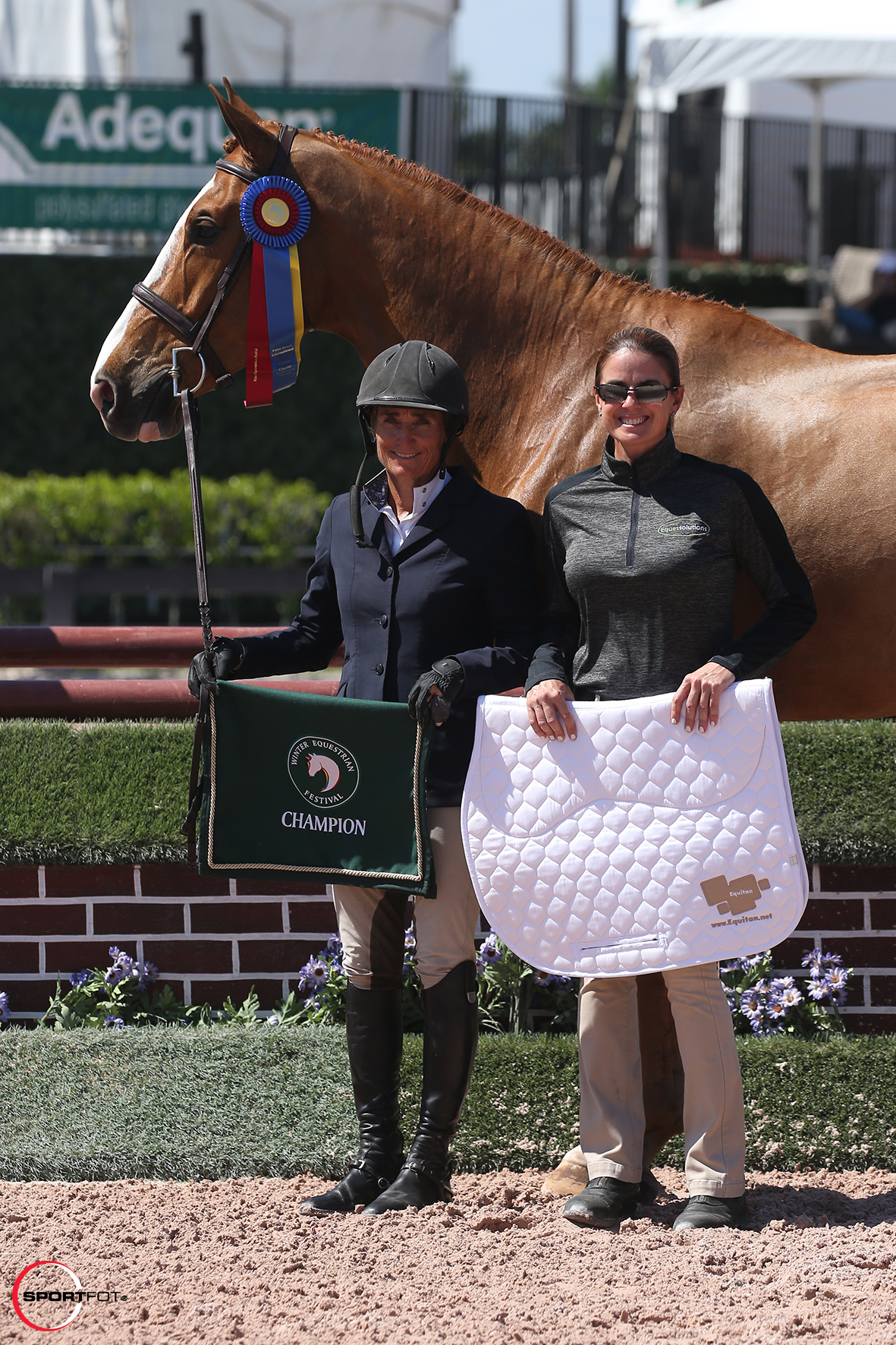 Highlander is currently for sale, but Schatt hopefully plans to compete him in the $10,000 USHJA National Hunter Derby taking place on the Derby Field at Equestrian Village on Saturday.
Victoria Colvin and Aristocrat claimed reserve champion in the Performance Hunter 3'6" division. Colvin, of Loxahatchee, FL, rode John and Stephanie Ingram's Aristocrat to two firsts and a third place.
Photo credit: Photos © Sportfot, official photographer of the Winter Equestrian Festival. These photos may be used only in relation to this press release and must include photo credit.