Kent Farrington and Dublin Top $130,000 Suncast® 1.50m Championship Jumper Classic Final; McLain Ward Takes 1.50m Series Overall
For Immediate Release
Lauren Fisher and Sara Cook for Jennifer Wood Media, Inc.
Wellington, FL – March 25, 2017 – Olympian Sergio Alvarez Moya (ESP) was the big winner in the $500,000 Rolex Grand Prix CSI 5* riding Charmeur on Saturday, March 25, at the 2017 Winter Equestrian Festival (WEF) in Wellington, FL. Moya beat out two-time Olympic team gold medalist McLain Ward (USA) aboard veteran partner Rothchild, and young up-and-comer Karen Polle of Japan riding With Wings.
Earlier in the night, Kent Farrington (USA) took the win in the $130,000 Suncast® 1.50m Championship Jumper Series Final riding Dublin, and McLain Ward (USA) won the 2017 Suncast® 1.50m Championship Jumper Classic Series overall.
The eleventh week of WEF concludes at the Palm Beach International Equestrian Center (PBIEC) on Sunday, March 26, featuring the $50,000 Engel & Völkers Grand Prix CSI 2*. The class can be viewed live HERE. The 12-week WEF circuit continues through April 2, 2017, awarding over $9 million in prize money.
Guilherme Jorge (BRA) set the course for the highlight event of the WEF circuit featuring 40 of the season's top competitors from 17 different countries. Five entries conquered the first round course without fault to jump-off, and only two were clear in the tiebreaker.
Polle and With Wings were first to jump the short course in 39.54 seconds, with one rail down, and ultimately finished third. Moya and Charmeur followed, setting the challenge with a clear round in 37.76 seconds. Beezie Madden (USA) and Abigail Wexner's Coach had one rail in 40.20 seconds to place fifth. Laura Kraut (USA) and St. Bride's Farm's Confu also dropped one rail in 39.81 seconds to take the fourth place prize. Last to go, Ward and Sagamore Farm's Rothchild raced through the course, taking a different inside turn that no one else tried, but still crossed the timers in second place with a time of 38.30 seconds.
"I am super happy. My horse jumped amazing," Moya said of his ten-year-old Dutch Warmblood gelding (Numero Uno x Gelha's VDL Emilion). "I just went as fast as I could. I saw Karen go, and then I knew I had to start fast from jump one, and keep going to the end. My plan was to go one more stride to the combination, but I had a good eight strides, and I just trusted my horse. Then to the next oxer I had a good gap as well, so I could go and keep on pushing. I actually saw one stride less to the next vertical, but I thought that was maybe too much. I don't think I left much room for the others, and it worked out well."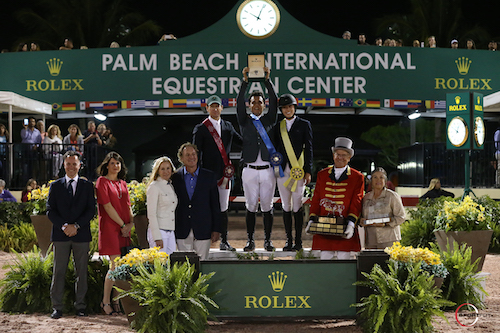 McLain Ward, Sergio Alvarez Moya, and Karen Polle on the podium with (L to R): Joël Aeschlimann, Head of Sponsorship, Rolex; Anne Pradal-Carrega, Communication & Image – Sponsorship, Rolex; Katherine and Mark Bellissimo of Equestrian Sport Productions; ringmaster Steve Rector; and Marsha Dammerman of Wellington Equestrian Partners presenting The Dennis Dammerman Perpetual Trophy.
Moya had a fantastic WEF circuit, placing third in week three's $130,000 Adequan® Grand Prix CSI 3* and second in week four's $216,000 Ariat® Grand Prix CSI 4* with G&C Unicstar de l'Aumone, third in week seven's $380,000 Suncast® Grand Prix CSI 5* aboard Arrayan, and again third in week nine's $380,000 Douglas Elliman Grand Prix CSI 5* with Charmeur before taking the biggest prize in week eleven.
Remarking on his success, Moya stated, "For me, this is one of the best shows in the world. Most of the best and most competitive riders in the world are here. I think that to have so many weeks here, and to be so consistent, is a great opportunity to bring a horse up like this. I have had Charmeur since he was six years old, and I just feel very happy and very proud that we got to win a five-star grand prix here. I have a feeling that this is the grand prix that every rider in the circuit wants to win, and I was just lucky that I won this one, and not the others.
"The horse does not have so much experience at this level," Moya continued. "He just got better and better here at this show. I think it is a great place to bring horses up, and obviously to jump such a grand prix they have to be really ready. I think from here on, we can go anywhere in the world."
Saturday night concluded Moya's time in Wellington for the winter circuit. The Olympian, European Championships silver medalist, and reigning Spanish champion is now headed to compete in next week's FEI World Cup™ Jumping Final with top mount Arrayan before continuing his season in Europe.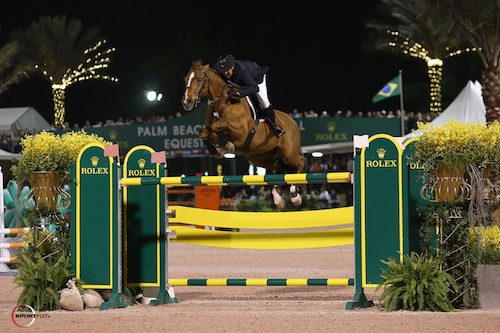 McLain Ward and Rothchild
For Ward and longtime mount Rothchild, the pair gave it their best on Saturday night, but settled for second place. Detailing his round, Ward stated, "I have to watch (Rothchild) a little bit on the slice to the verticals, so the first two jumps were a bit of a challenge for me. I went in and I looked at the cut inside the gazebo, and I decided not to do it. Then when I turned back on the oxer, I kind of saw the line, and I knew I was too slow one to two to have a chance, so I figured at that point it was worth the risk. I thought maybe at that point, the turn did so much that I did not have to go as fast to the last fence. I took a little bit off, but Sergio did not leave much room.
"I'm thrilled with the horse," Ward said of the 16-year-old Belgian Sport Horse gelding (Artos x Elegant de l'Ile). "This is his eighth year jumping grand prixs in Palm Beach. He is just a remarkable animal. I am blessed to have had him, and I am really excited to be able to keep doing it with him."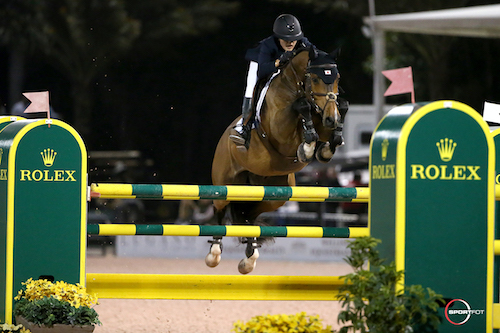 Karen Polle and With Wings
Polle and her 14-year-old Dutch Warmblood gelding (Larino x L. Ronald) With Wings also finished out an excellent 2017 WEF circuit with their top three finish. The pair earned back to back victories in week nine's $130,000 Ruby et Violette WEF Challenge Cup and $380,000 Douglas Elliman Grand Prix CSI 5*, presented by The Bainbridge Companies, leading up to Saturday night.
"It is definitely a great feeling," Polle noted. "I am really happy that Wings and I are so consistent at this level now, and that we are in these jump-offs. I thought the course tonight was really, really tricky. It was definitely the trickiest grand prix that I have jumped this circuit. It was very big. I had to work hard, but I thought it was very nice to ride."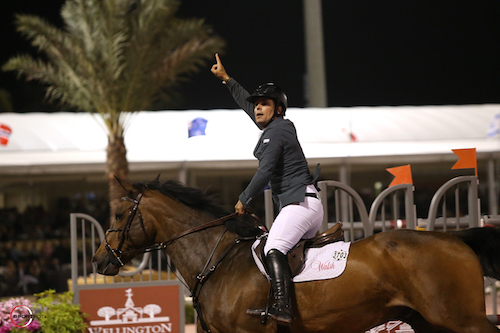 Sergio Alvarez Moya celebrates a first place finish.
Equestrian Sport Productions CEO Mark Bellissimo wrapped up a fantastic evening of show jumping with his remarks and congratulated the top riders.
"I think there is consistently great sport at WEF," Bellissimo stated. "The crowd has become a lot more engaged, and you can see the people really following the sport. I think there is top sport here, and we are very excited about it.
"I want to thank Rolex," Bellissimo continued. "This festival went into a different transition when Rolex came on board. We started four five-star events and have some of the best riders in the world competing. I am hopeful that next year will be even more exciting and an even better series of outcomes."
Margie Engle (USA) earned the Leading Lady Rider Award for week 11, presented by Martha Jolicoeur of Douglas Elliman Real Estate.
Farrington Tops Suncast® 1.50m Final; Ward Takes Suncast® Series Overall
2016 U.S. Olympic team silver medalist Kent Farrington and his mount Dublin were the winners of the $130,000 Suncast® 1.50m Championship Jumper Classic Final on Saturday night at the Winter Equestrian Festival. After the final competition of the 2017 series, two-time Olympic team gold and one-time team silver medalist McLain Ward (USA) secured his lead in the standings and took home the championship title overall.
The 1.50m final held its first round on Saturday afternoon, with forty-nine entries starting over Guilherme Jorge's (BRA) first-round course, and 13 advancing to the evening jump-off. Only four riders cleared both rounds without fault.
Portugal's Luciana Diniz was first to clear the short course in 44.26 seconds aboard her own and Arnaldo Diniz's Lennox to end in third place. Ali Wolff cleared the track next in 48.93 seconds riding Quirie 2 to a fourth place finish. Canada's Tiffany Foster upped the pace in 43.05 seconds with Artisan Farms' Brighton to place second. Last to go, Farrington took the win in 41.90 seconds with his own and Tanma Corp.'s Dublin.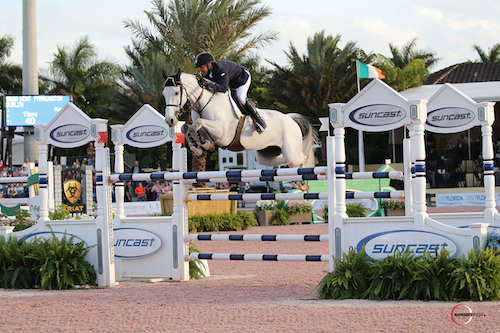 Kent Farrington and Dublin
"I am really excited. I thought the horse went great today; I thought both of my horses did," Farrington stated following his win, as well as an eighth place finish aboard Sherkan d'Amaury. "I have been bringing them along this winter really slowly. I started them both in the 1.35m and built them up this whole winter. To finish off with them both going clear in the 1.50m final was a great accomplishment for them regardless of their results. The win was a bonus."
Farrington purchased Dublin, a ten-year-old German Sport Horse (Cobra x Calido), at the start of the winter. The gelding previously showed with Carly Anthony (USA) under the ownership of Artisan Farms.
"He is extremely careful," Farrington detailed. "He is actually quite difficult to ride. He is so careful that he borderlines on too careful almost, where he goes too high. I think this horse really needs to bond with a rider and have a lot of confidence. I actually carry a lot of speed with him, even in the first round, to give him confidence so that he does not go too high.
"Whether or not he will allow you to really have total control over him, I do not know," Farrington continued, "but if we can find a good compromise in the middle like today, then I think he has a big future. Time still has to show us, but we are off to a great start, and we will see where it takes us from here."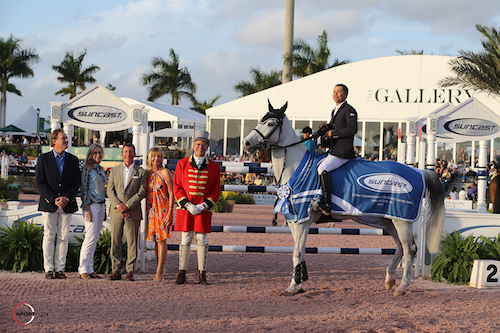 Kent Farrington and Dublin in the winning presentation with Mark and Katherine Bellissimo of Equestrian Sport Productions, Tom and Jeannie Tisbo of Suncast®, and ringmaster Steve Rector.
Remarking on his jump-off, Farrington added, "I trust that horse's quality, so I know that I can really go at high speed to the jumps and trust that he is going to miss the rails. I thought he did an incredible roll back to the vertical by the in-gate. I do not think I even touched the reins there; he just flew back on that jump. That is probably where he won it."
Saturday's competition brought the overall Suncast® 1.50m Series standings down to the wire, but USA's McLain Ward held onto his lead coming into the night's event and earned the championship title for 2017. Ward qualified for the jump-off with two mounts, Tina la Boheme and HH Carlos Z, finishing sixth and seventh in the final class to secure his lead overall.
For his win, Ward was presented a two-year lease on a beautiful new Land Rover Discovery Sport HSE. Ward remarked, "It feels great to win the series. It would have been nice to win the final, but the horses jumped well all winter. I had some nice young ones that really stepped up well. I am really proud of how Tina La Boheme has continued to be a great competitor, and it is nice to have Carlos back. He is still maybe a touch rusty, but close.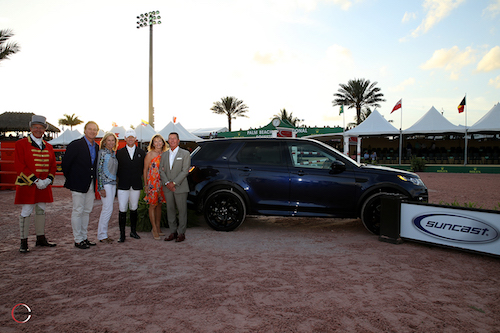 McLain Ward in his presentation with ringmaster Steve Rector, Mark and Katherine Bellissimo of Equestrian Sport Productions, and Jeannie and Tom Tisbo of Suncast®.
"I think it is a great series; a very competitive series," Ward continued. "These classes are hard. I think it gives an older horse a chance to get going in the season, and it gives a younger horse a class to step up into where hopefully they are not over-faced by the height. I was happy with both of my horses tonight, and we had a nice year."
Also competing in the International Arena on Saturday, David Oberkircher and Southfield Farm's Castelino van de Helle won the $15,000 SJHOF High Amateur-Owner Jumper Classic, presented by Engel & Völkers. Giavanna Rinaldi topped the $10,000 SJHOF High Junior Jumper Classic, presented by Sleepy P Ranch, aboard Nuvolari Holdings' Commissario.
Gochman Sisters Prevail in Engel & Völkers Large Junior Hunter 15 & Under
Mimi Gochman captured the championship honors in the Engel & Völkers Large Junior Hunter 15 & Under division, while her younger sister, Sophie Gochman, earned the reserve title. Both girls show out of Palm Beach, FL. Mimi Gochman piloted Scott Stewart's Caldwell to the win in the handy and in one over fences trip, to second place finishes under saddle and in the stake round, as well as a sixth place ribbon over fences.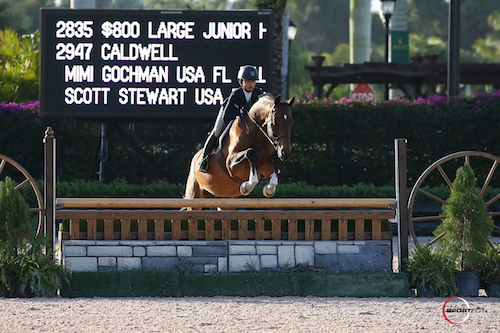 Mimi Gochman and Caldwell
Mimi Gochman and the 14-year-old Hanoverian gelding have come a long way over their two years partnered together.
"The first year I rode him, I had some complications getting his leads and stuff," she detailed. "Now, I have him in a good stride, and he is a very good boy. He is very lazy, and it just took me a while to get things right on him. He tries so hard and is so sweet around the barn. I am really proud of our trips this week and happy that we finally got it right."
Commenting on the success she has achieved with her sister at WEF, Mimi Gochman said, "It is really nice to do so well down here with my sister. We switch on and off all the time, sometimes she is champion, and today it was my turn. It is nice we share the victory."
Sophie Gochman guided Garfield, an entry owned by Gochman Sport Horses, LLC, to two second place finishes over fences, a third place ribbon under saddle, and a third place finish in the stake round.
"Garfield is 15, so he really knows what he is doing," Sophie Gochman said of the chestnut Holsteiner gelding by Coriano. "I can trust him with any distance. He is so sweet and cute, but he can also be a bit of a shark at home and when jogging. I love him a lot! It feels really good to be reserve and have my sister be champion because WEF is a really competitive show, and there are so many good riders here."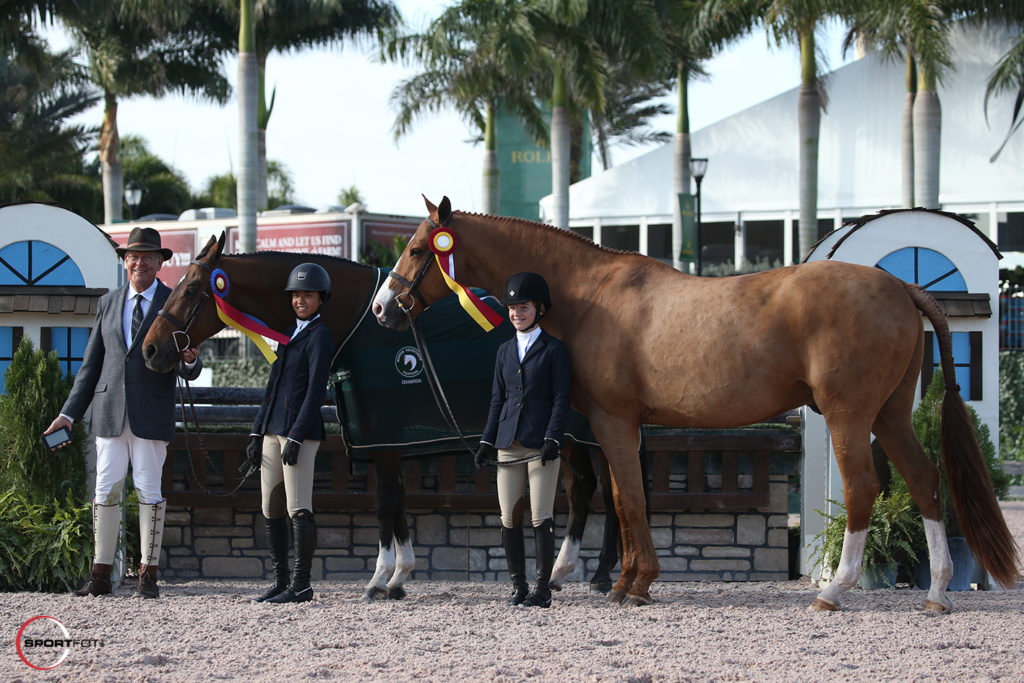 Mimi Gochman and Caldwell with Sophie Gochman and Garfield in their championship presentation with ringmaster Steve Rector.
The eleventh week of the 2017 Winter Equestrian Festival concludes on Sunday with the $50,000 Engel & Völkers Grand Prix CSI 2* in the International Arena. The Visse Wedell, Realtor Small Pony Hunters will determine championship and reserve honors in Ring 11. For more information and full results, please visit www.PBIEC.com.
Final Results: $500,000 Rolex Grand Prix CSI 5*
1. CHARMEUR: 2007 KWPN gelding by Numero Uno x Gelha's VDL Emilion
SERGIO ALVAREZ MOYA (ESP), Alvarez Moya Horse SL: 0/0/37.76
2. ROTHCHILD: 2001 Belgian Sport Horse gelding by Artos x Elegant de l'Ile
MCLAIN WARD (USA), Sagamore Farms: 0/0/38.30
3. WITH WINGS: 2003 KWPN gelding by Larino x L. Ronald
KAREN POLLE (JPN), Karen Polle: 0/4/39.54
4. CONFU: 2007 Holsteiner gelding by Contact Me x Cambridge
LAURA KRAUT (USA), St. Bride's Farm: 0/4/39.81
5. COACH: 2008 Holsteiner gelding by Con Air x Corofino I
BEEZIE MADDEN (USA), Abigail Wexner: 0/4/40.20
6. GRAND CRU VD JIJF EIKEN: 2006 Belgian Warmblood stallion by Contact van de Heffinck x Heartbreaker
VANESSA MANNIX (CAN), Vanessa Mannix: 1/85.91
7. ROYCE: 2004 Oldenburg stallion by Café au Lait x Grandilot
MARGIE ENGLE (USA), Gladewinds Partners LLC: 4/78.42
8. ISHD DUAL STAR: 2002 Irish Sport Horse mare by Quick Star x Concorde
LAURA CHAPOT (USA), Mary Chapot: 4/79.14
9. SFN ZENITH: 2004 KWPN gelding by Rash x Fuego du Prelet
JEROEN DUBBELDAM (NED), Springpaarden Fonds Nederland & W. van der Ham: 4/79.59
10. CADALORA P: 2007 KPWN gelding by Namelus R x Furore
TIFFANY FOSTER (CAN), Artisan Farms LLC: 4/80.68
11. A S D FARFALA: 2003 Holsteiner mare by Hyo Dario x Furioso II
PABLO BARRIOS (VEN), Pablo Barrios: 4/80.77
12. CORNET 39: 2004 Oldenburg gelding by Cornet Obolensky x Caletto I
LAUREN HOUGH (USA), Willow Grace Farm: 4/80.88
Final Results: $130,000 Suncast® 1.50m Championship Jumper Classic Final
1. DUBLIN: 2007 German Sport Horse gelding by Cobra x Calido
KENT FARRINGTON (USA), Tanma Corp. & Kent Farrington: 0/0/41.90
2. BRIGHTON: 2006 KWPN gelding by Contendro II x Quick Star
TIFFANY FOSTER (CAN), Artisan Farms LLC: 0/0/43.05
3. LENNOX: 2001 Oldenburg gelding by Lifestyle x Grannus
LUCIANA DINIZ (POR), Arnaldo & Luciana Diniz: 0/0/44.26
4. QUIRIE 2: 2007 Bayerischer stallion by Quadrigus M x Quidam's Rubin
ALI WOLFF (USA), Ali Wolff: 0/0/48.93
5. DILLINGER: 2007 Belgian Warmblood stallion by Contender x Capitol I
DANIEL COYLE (IRL), Ariel and Susan Grange: 1/0/54.24
6. HH CARLOS Z: 2002 Zangersheide gelding by Challeno Z x Voltaire
MCLAIN WARD (USA), Double H Farm: 0/4/44.04
7. TINA LA BOHEME: 2007 Selle Francais mare by Calvaro x Arpege Pierreville
MCLAIN WARD (USA), Susan Heller & McLain Ward: 0/4/44.11
8. SHERKAN D'AMAURY: 2006 Selle Francais gelding by Kannan x Quick Star
KENT FARRINGTON (USA), Kent Farrington, Haity McNerney, and Daniel Crown: 0/4/44.58
9. DINGEMAN: 2008 KWPN gelding by Nintender x Darnels
SANTIAGO LAMBRE (MEX), Santiago Lambre: 0/4/50.61
10. AZRAEL W: 2005 KWPN stallion by Chin Chin x Voltaire
JOSE ROBERTO RENYOSO (BRA), Jose Roberto Reynoso: 0/8/44.64
11. IT'S REAL LOVE DV SMIS Z: 2008 Zangersheide mare by C Indoctro x Liberato I
EMILY MOFFITT (GBR), Poden Farms: 0/8/45.18
12. BULL RUN'S FAUSTINO DE TILI: 2005 Belgian Warmblood stallion by Berlin x Darco
KRISTEN VANDERVEEN (USA), Bull Run Jumpers Five LLC: 4/4/47.14
Photo Credit: Photos © Sportfot, Official Photographer of the Winter Equestrian Festival. These photos may be used only in relation to this press release and must include photo credit.