For Immediate Release
Jennifer Wood and Summer Grace for Jennifer Wood Media, Inc.
Wellington, FL – March 3, 2019 – The final day of week 8 at the 2019 Winter Equestrian Festival featured the $209,000 Grand Prix CSIO4*, presented by Lugano Diamonds. With just two in the jump-off, it was Samuel Parot (CHI) and Atlantis who found the key to victory at the Palm Beach International Equestrian Center in Wellington, FL.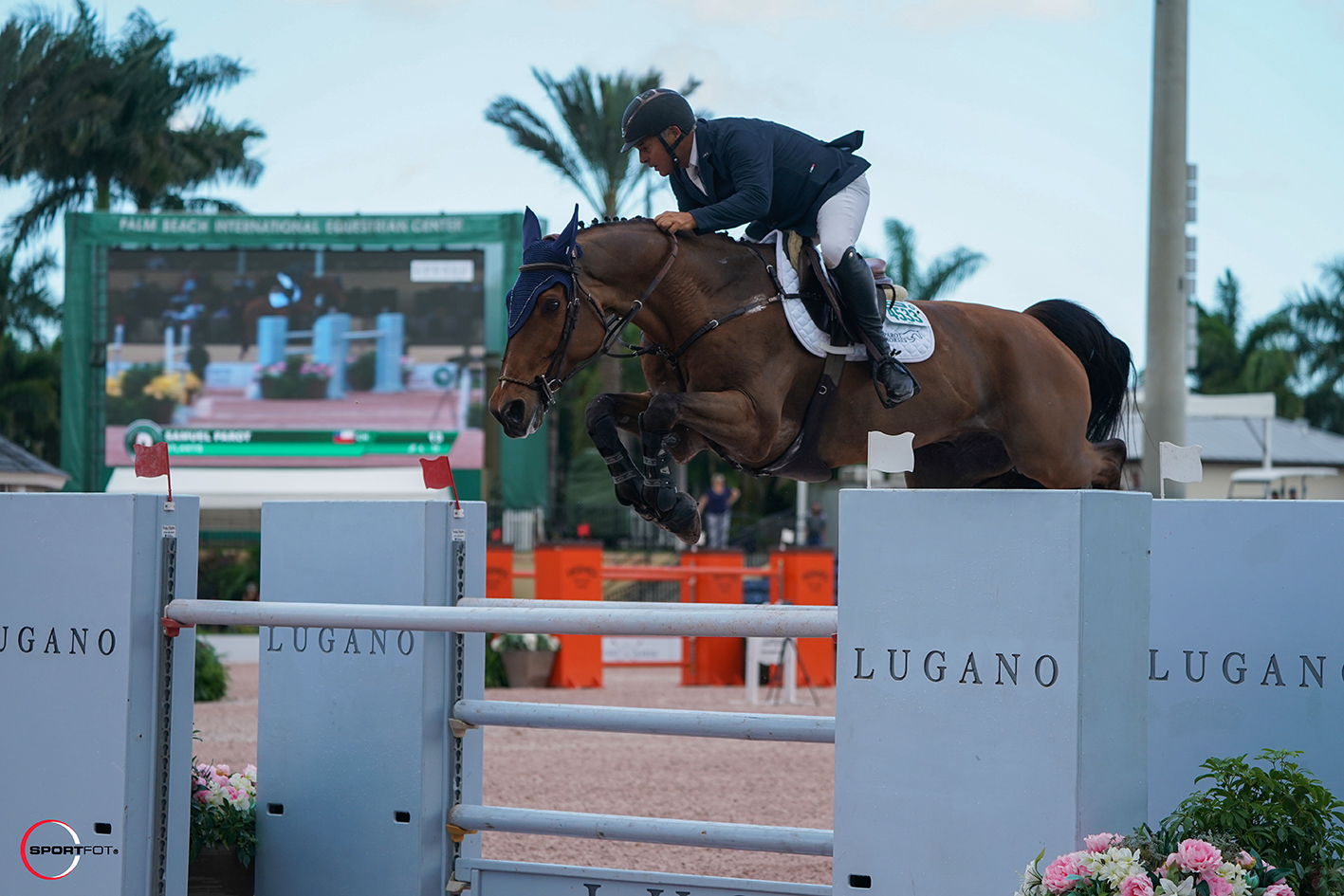 WEF continues with its ninth week of competition, presented by Douglas Elliman Real Estate, on March 6-10. Highlights of the CSI 5*/2* week include the $391,000 Douglas Elliman Real Estate Grand Prix CSI 5* (Saturday, March 9) and the $50,000 Griffis Residential Grand Prix CSI 2* (Sunday, March 10) in the WEF International Arena. Featured hunter classes include the $5,000 USHJA Pony Hunter Derby, presented by NickerDoodles (Friday, March 8), and the $10,000 USHJA National Hunter Derby (Saturday, March 9) on the grass derby field at Equestrian Village.
The $209,000 Grand Prix CSIO4*, presented by Lugano Diamonds was the culmination of a week of international competition. Forty-three entries contested a course set by Steve Stephens and Nick Granat (USA), but only two were clear to advance to the jump-off.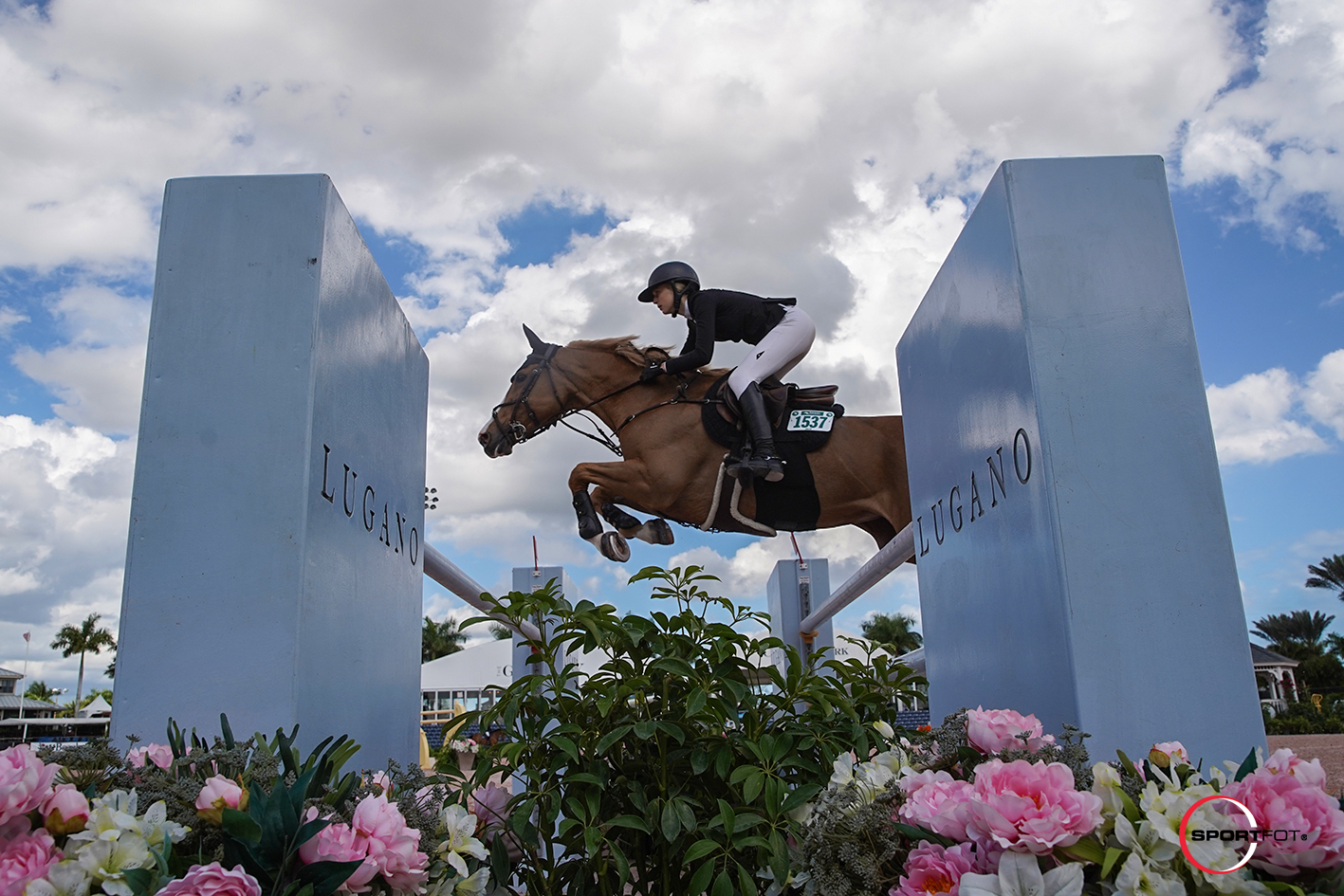 The first clear of the class and first into the jump-off were 20-year-old Eve Jobs and her own Venue d'Fees des Hazalles. While aiming for a clear round, they unfortunately had the final oxer down on the shortened course and finished on four jumping and three time faults in 48.84 seconds. They would finish in second place.
"He's always extremely fast," said Jobs of Parot. "You can always count on him to try his hardest and go as fast as he can. So I knew there was almost no way I was going to beat him on foot speed, so I was trying to leave all the jumps up. Unfortunately, I had the last rail. I pushed a little bit too hard. But, as always, he was very fast and very deserving of this win. I'm lucky to be in this company."
Jobs has ridden Venue d'Fees des Hazalles for two years and said the mare has helped bring her to the top level of the sport. "She's just a really phenomenal animal," she said of her 14-year-old SBS mare by President x Alcatraz. "She's so sweet, and she tries. She really fights for you. She really has helped me in my career, especially being a young rider with not that much experience – not like these guys who are always wonderful! I make a lot of mistakes, and she's very forgiving. She's taught me an immense amount about the top level of the sport. I'm really lucky to have her."
This was the first top three finish in a four-star grand prix for Jobs. "This is the best finish I've had," she confirmed. "That's really exciting for me and my whole team. My family actually was here today which was really fun. It was the first time in a while, so I was really happy that they got to see the horses going so well."
Parot and Atlantis were next in the jump-off, and while they had an early rail they were able to cross the finish line on four faults in 43.37 seconds for the win.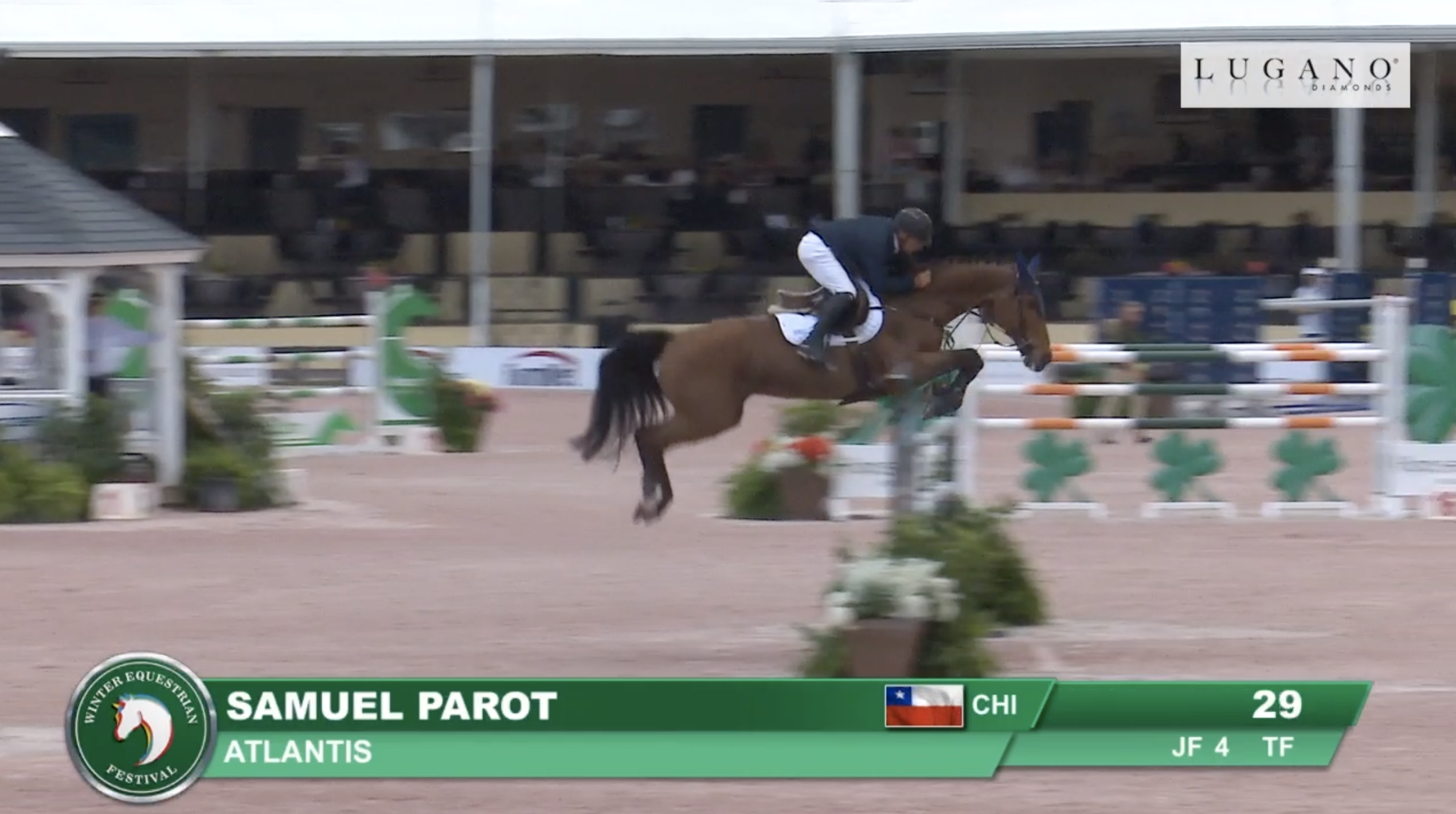 Click here to watch Samuel Parot's winning ride!
Regarding today's challenging course, Parot said, "You had many options. All the lines were very tricky in regard to determining the number of strides. [There were] a lot of half strides. It was big, wide, and high."
Parot has been riding Atlantis, a 16-year-old Zangersheide gelding by Andiamo Z x Royal Bravour L, for four years, and they had success earlier in WEF, winning the 1.45m in week 6.
"It's a horse that has won a lot," said Parot. "He makes me very happy."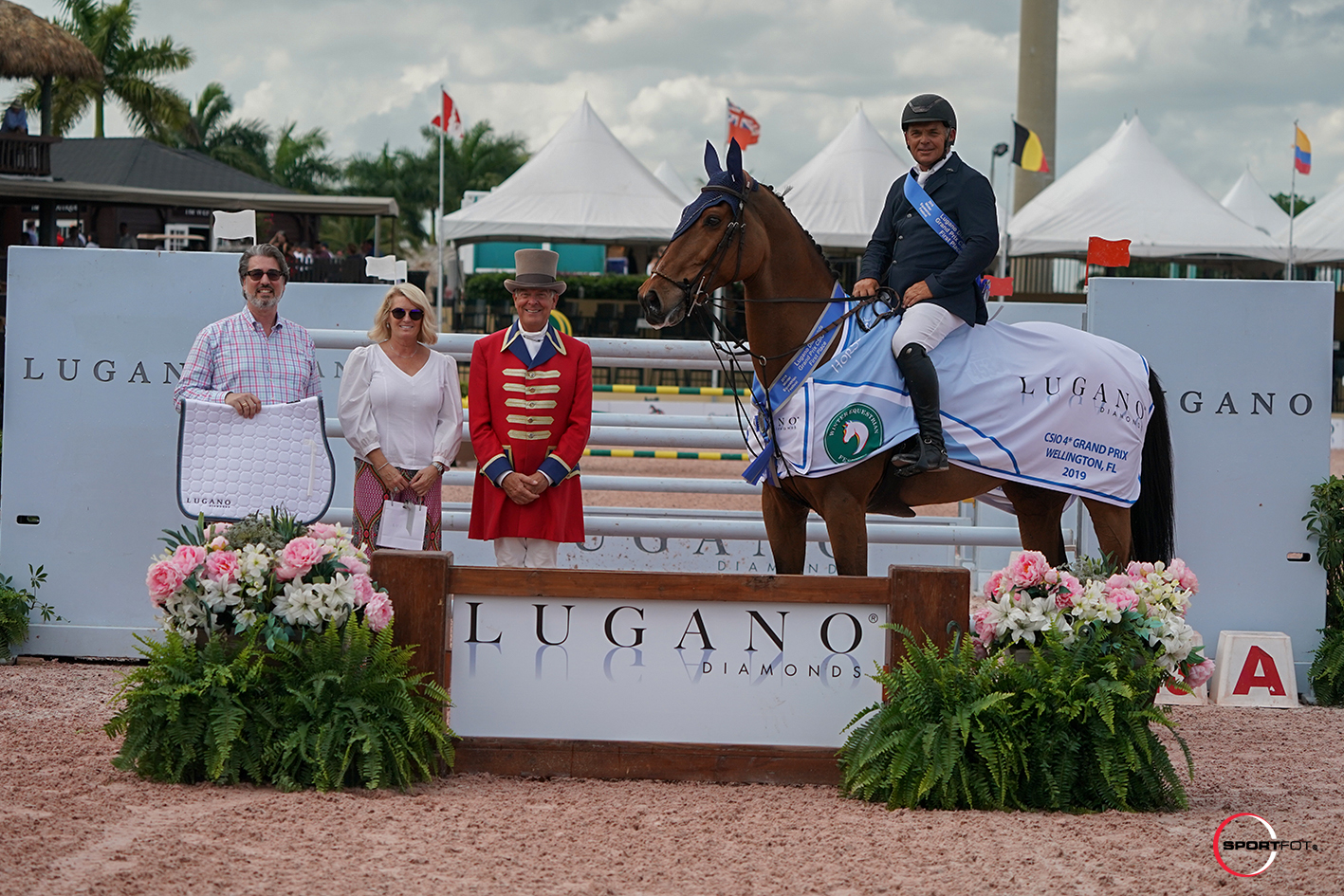 Third place went to the fastest four-faulter in the first round, Juan Manuel Gallego (COL) and Coulash van de Broy Z. They had a time of 77.46 seconds.
Gallego has ridden his 13-year-old Zangersheide gelding by Cadence VT Gelutt x Lys De Darmen for three years, but the horse had six months off in 2018. "He's coming better and better," said Gallego.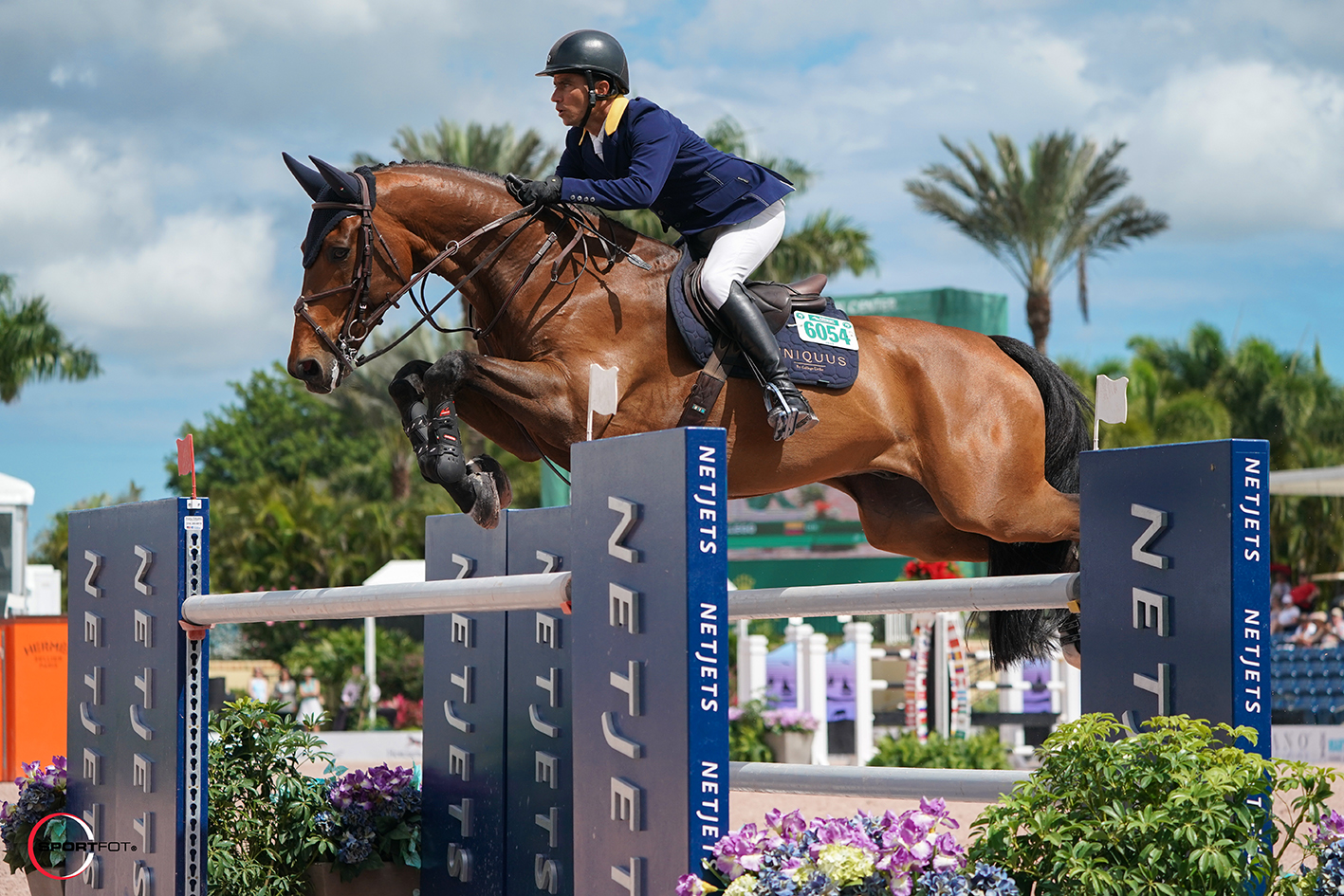 With a rail down early in the first course, Gallego made the decision to go for speed in order to have a higher placing in the class. "I made my plan to be clear, but the rail came really, really fast, so I started to go forward," he said. "I did one less [stride] everywhere, so I think that helped me a lot to go in the time."
Spencer Smith was presented with the Kate Nash Boone Award, presented to honor the memory of Kate's support and love of "all things equestrian" and given to the international equestrian who exemplifies best style of riding along with maintaining a sportsmanlike composure while competing in the CSIO at WEF.
The Niall Grimes "Cheers" Perpetual Trophy was given to Shane Sweetnam, the third time he has won this award in the nine-year history of the trophy. Niall Grimes was an accomplished equestrian whose lifelong dream was to represent Ireland in a Nations Cup class, which he realized at WEF. The trophy is presented to the top Irish rider during the CSIO week.
Final Results: $209,000 Grand Prix CSIO 4*, presented by Lugano Diamonds
1 ATLANTIS: 2003 Zangersheide gelding by Andiamo Z x Royal Bravour L
SAMUEL PAROT (CHI), Samuel Parot: 0/4/43.37
2 VENUE D'FEES DES HAZALLES: 2005 SBS mare by President x Alcatraz
EVE JOBS (USA), Eve Jobs: 0/7/48.84
3 COULASH VAN DE BROY Z: 2006 Zangersheide gelding by Cadence VT Gelutt x Lys De Darmen
JUAN MANUEL GALLEGO (COL), Juan Manuel Gallego: 4/77.46
4 HESTER: 2005 Belgian Warmblood gelding (Wandor van de Mispelaere x Palestro vd Begijnakker)
LUCY DESLAURIERS (USA), Lisa Deslauriers: 4/77.55
5 H5 SUNSHINE: 2006 Belgian Warmblood gelding by Diamant de Semilly x Hardi
CARLOS HANK GUERREIRO (MEX), H5 Sport Horses, LLC: 4/77.97
6 CHACCIAMA: 2007 Oldenburg mare by Chacco Blue x Andiamo Z
RODRIGO LAMBRE (BRA), Rodrigo Lambre.: 4/78.78
7 DAVIDOFF DE LASSUS: 2009 Belgian Warmblood stallion by Ugano Sitte x Ksar-Sitte
ZOE CONTER (BEL), Stephex Stables: 4/79.44
8 MTM VIVRE LE REVE: 2009 Westphalian gelding by Ustinov x Chello II
BRIAN MOGGRE (USA), Major Wager LLC: 8/76.63
9 FELLINI S: 2010 KWPN gelding by Vermont x Rash R
ERYNN BALLARD (CAN), Ilan Ferder: 8/77.23
10 CATUNGEE: 2006 Holsteiner gelding by Contact Me x Liatos
CATHERINE TYREE (USA), Mary Tyree: 8/77.51
11 ALEJANDRO: 2009 Rheinländer gelding by Acorado's Ass x Continue
SHANE SWEETNAM (IRL), Seabrook LLC, Spy Coast Farm LLC, Sweet Oak Farm: 8/77.64
12 COACH: 2008 Holsteiner gelding by Con Air x Corofino I
BEEZIE MADDEN (USA), Abigail Wexner: 8/78.28
Allison Coleman and Alexa Elle Lignelli Victorious in Always Faithful Equestrian Club Medium Pony Hunters
Thirty ponies guided by fierce young riders took to Ring 11 on Sunday for the final day of competition in the Always Faithful Equestrian Club Medium Pony Hunters during Week 8 of the 2019 WEF. The division was held in a California split format due to the large amount of entries and therefore crowned both a Section A and Section B champion. On a total of 30 points, the Section A champion title was awarded to Allison Coleman and Radiance, while Alexa Elle Lignelli earned 26 points to become the Section B champion with Fox Creek's Curious George.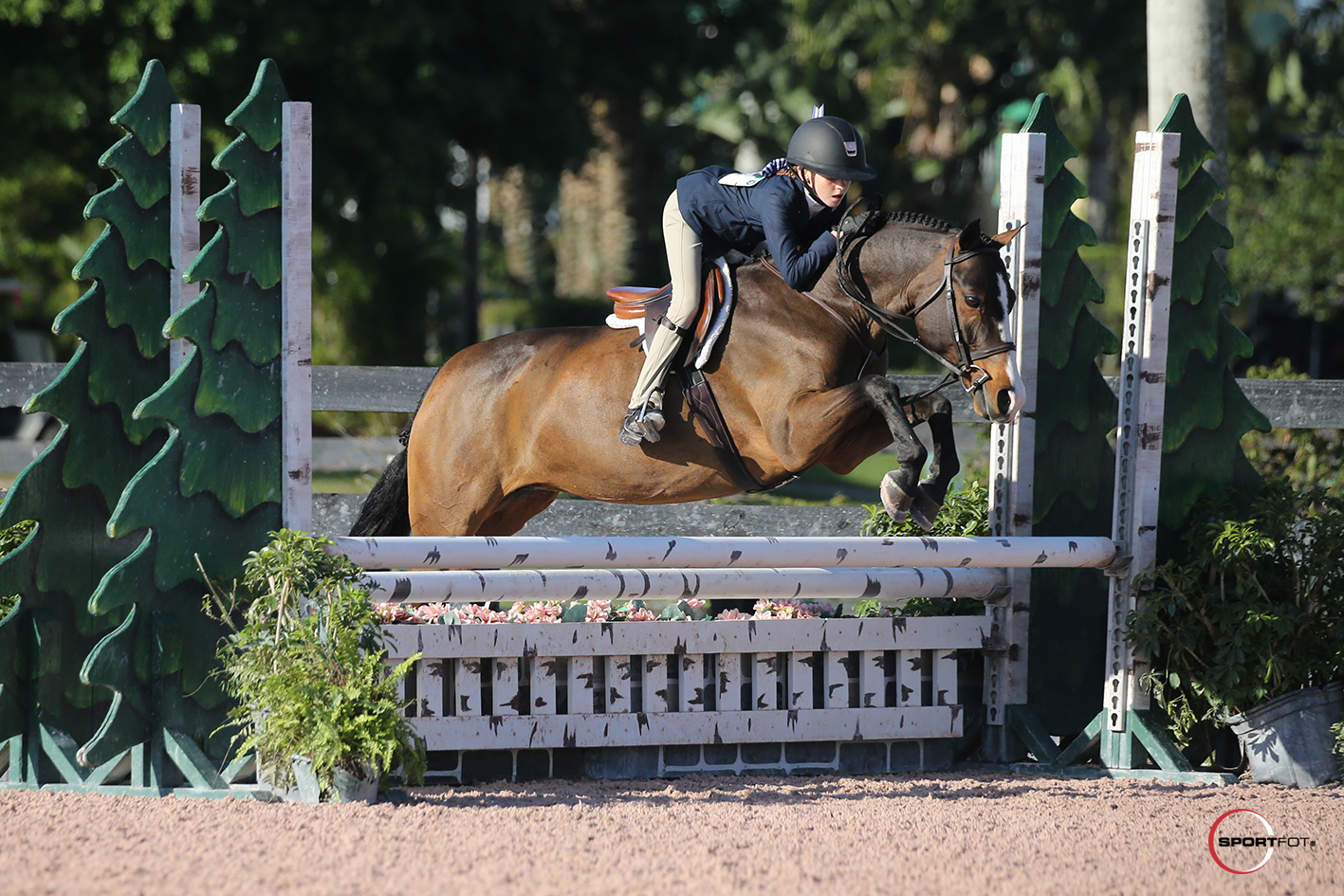 Coleman piloted her own 11-year-old Connemara mare to two first place ribbons, a second, and a third and said that she feels the mare's consistency is what helps her to come out on top.
"She's so perfect and she is a pretty good mover, but I think what's most important is that she is always consistent," Coleman explained. "She never does anything bad."
"This is my first time being champion on her at WEF, which is extremely exciting," she added.
Lignelli was paired with the Lignelli Family's 12-year-old Half Welsh gelding (Trefaestaran x Mayon Princess) and was hot on Coleman's heels with ribbons of one first, two seconds, and a third.
The duo is no stranger to success after having also won champion in their division during WCHR Hunter Week of the 2019 WEF.
"We are a great team and I think that because we work together all of the time, we have a great connection," Lignelli explained. "It's not always about how good of a mover or a jumper they are, but also about how well you work together as a team."
Lignelli also picked up the reserve champion ribbon of Section B aboard EMC Entourage, fondly known to her as 'Louie'.
"George just loves to mess around and do silly things in the barn," she said of her champion pony, "while Louie is a big show-off because he was previously a breeding stallion."
Olivia Sweetnam and On Your Mark were named reserve champion for Section A.
Competition at the 2019 Winter Equestrian Festival is set to resume Wednesday, March 6 for the ninth consecutive week.