For Immediate Release
Summer Grace, Jennifer Wood, and Lindsay Brock for Jennifer Wood Media, Inc.
Wellington, FL — March 22, 2019 — Sam Walker of Nobleton, ON, piloted Missy Clark's and North Run's Waldo to the win in the 12th Annual George H. Morris Excellence in Equitation Championship. Forty combinations of young equitation athletes and their mounts took to the International Arena at the Palm Beach International Equestrian Center on the evening of Friday, March 22, at the 2019 Winter Equestrian Festival (WEF). Elli Yeager collected second place, Sophee Steckbeck was third, and Emma Fletcher rounded out the top four.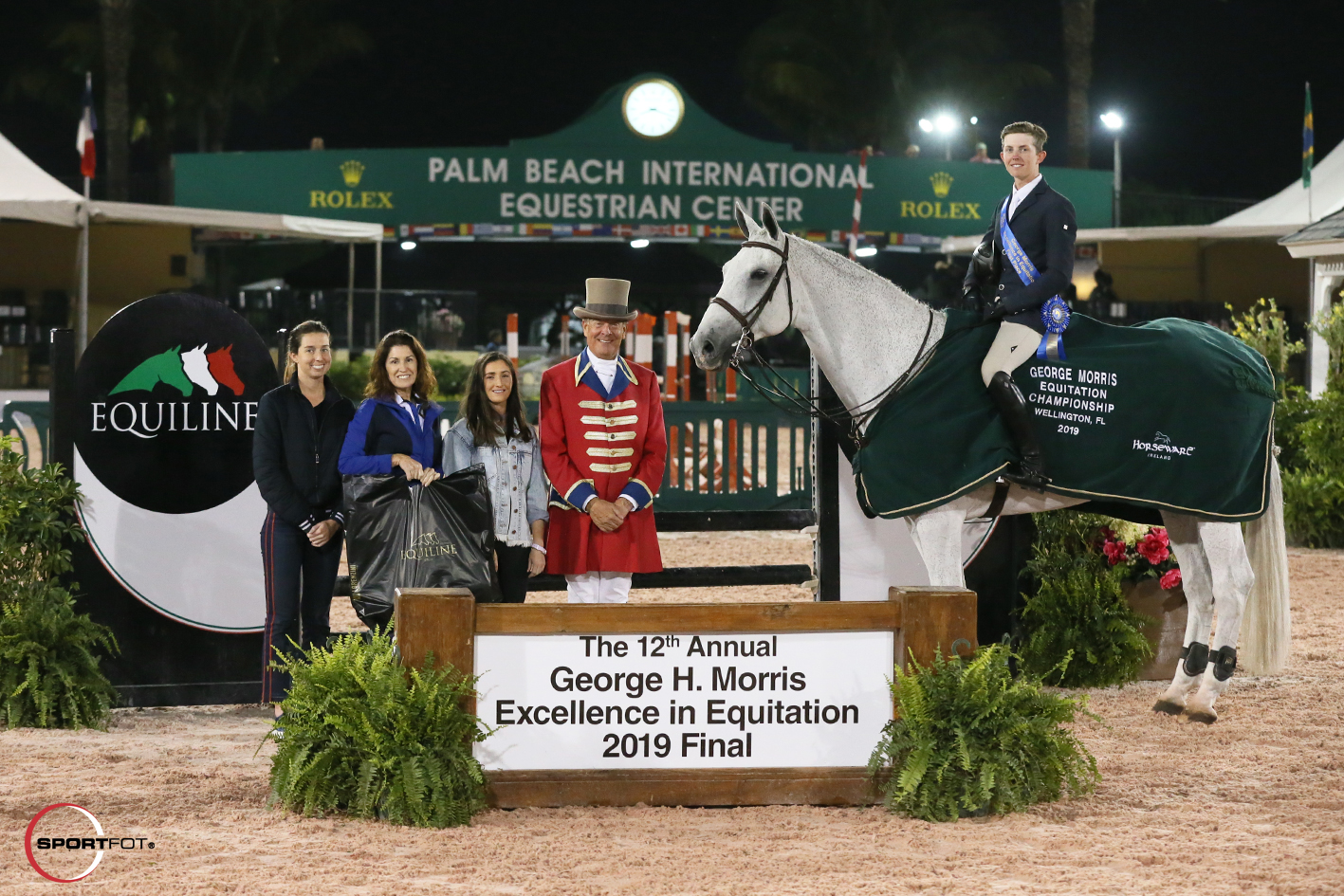 Several jumper riders also found success throughout the day in the Spy Coast Farm Developing Jumper Classics where Erynn Ballard and Maestro Vica v/d Ark won the Seven Year Olds, Charlie Jayne and Virginia ODF won the Six Year Olds, and Jorge Verswyvel and Majesty won the Five Year Olds. Luiz Francisco de Azevedo and Collin captured the win in the $36,000 Douglas Elliman Real Estate 1.45m Classic held on the Derby Field at Equestrian Village. 
The weekend highlights will include the $209,000 Wellington Agricultural Services Grand Prix CSI 4* also held on the Derby Field at Equestrian Village at 11 a.m. and the $134,000 CaptiveOne Advisors 1.50m Jumper Series Final in the International Arena at PBIEC at 6:30 p.m. on Saturday, March 23, as well as the $50,000 Hermès Under 25 Grand Prix Series Final on the Derby Field at 11 a.m. on Sunday, March 24. 
To qualify for the 12th Annual George H. Morris Excellence in Equitation Championship, each of the entries had to have previously won an equitation class during the 2019 Winter Equestrian Festival circuit or during the 2018 Holidays & Horses circuit leading up to it. The competition was held in a three-round format with all participants contesting first-round course designed by Steve Stephens and Nick Granat. Only the top 15 were asked to return for the second phase in reverse order. Unlike a regular equitation class, the championship requires riders to turn off and hand in cell phones before its start and prohibits any interaction with trainers or staff. Riders were in charge of conducting their own course walk and schooling their own horses with the help of only one groom.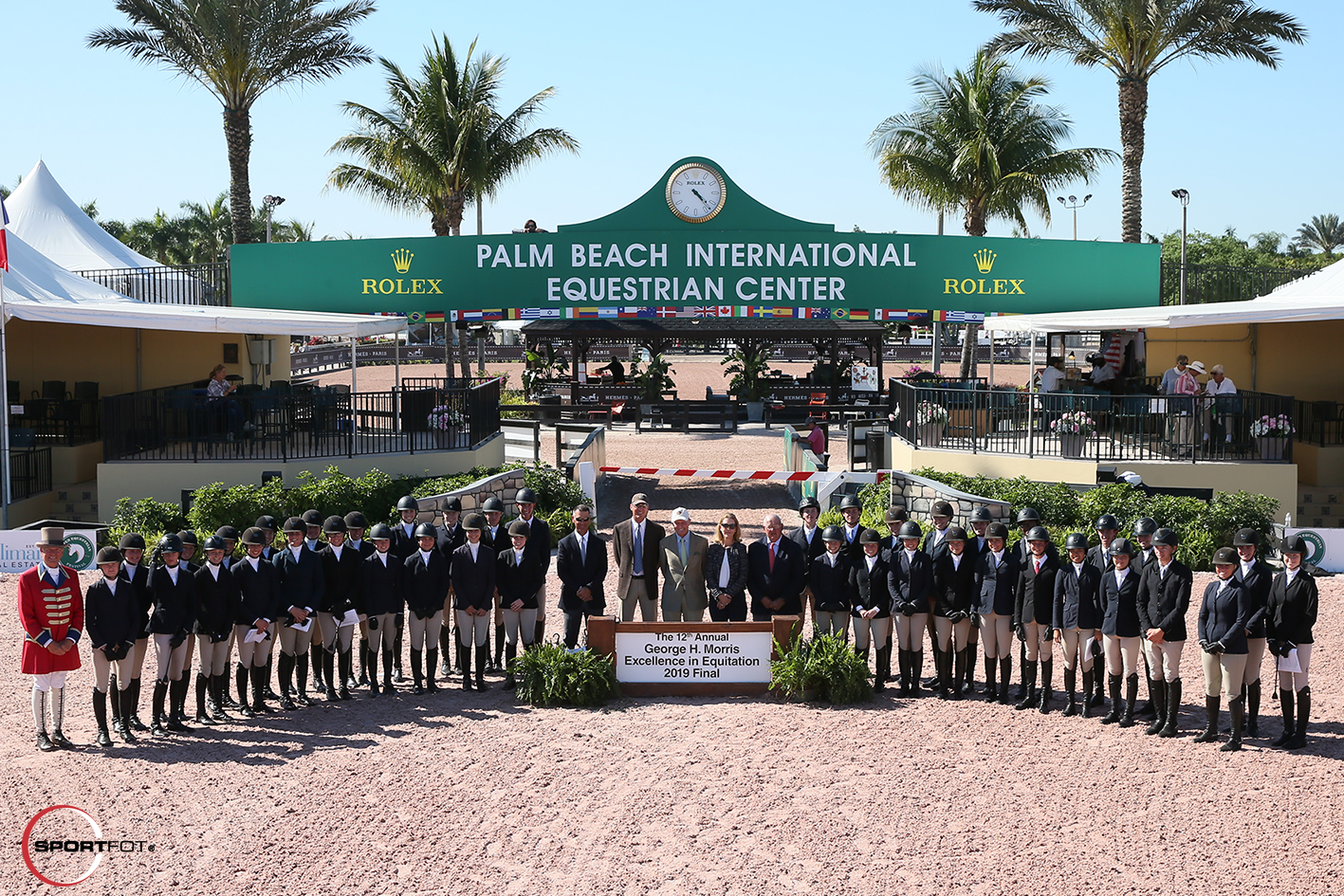 Judging was split into two separate panels consisting of Ralph Caristo and Chris Kappler in panel one, while Jimmy Torano and Lauren Hough comprised panel two. The riders also were present in front of schooling judge, Eric Straus, who awarded each combination points ranging from minus two to plus two based off of their timeliness, efficiency, and practices in the warm-up area. While the first course was straight-forward and featured several rollbacks and bending lines, the second round tasked the riders with more difficult challenges, including a trot fence and a change of lead through the walk after fence eight but before fence nine.
As the top 15 returned for the second round, Wellington, FL, resident Elli Yeager held the top position after receiving an 87.50 score for her first round. However, as the second-to-last to return, Sam Walker and Waldo laid down a flawless trip and picked up a second-round score of 91.50 to shoot to the top of the leaderboard.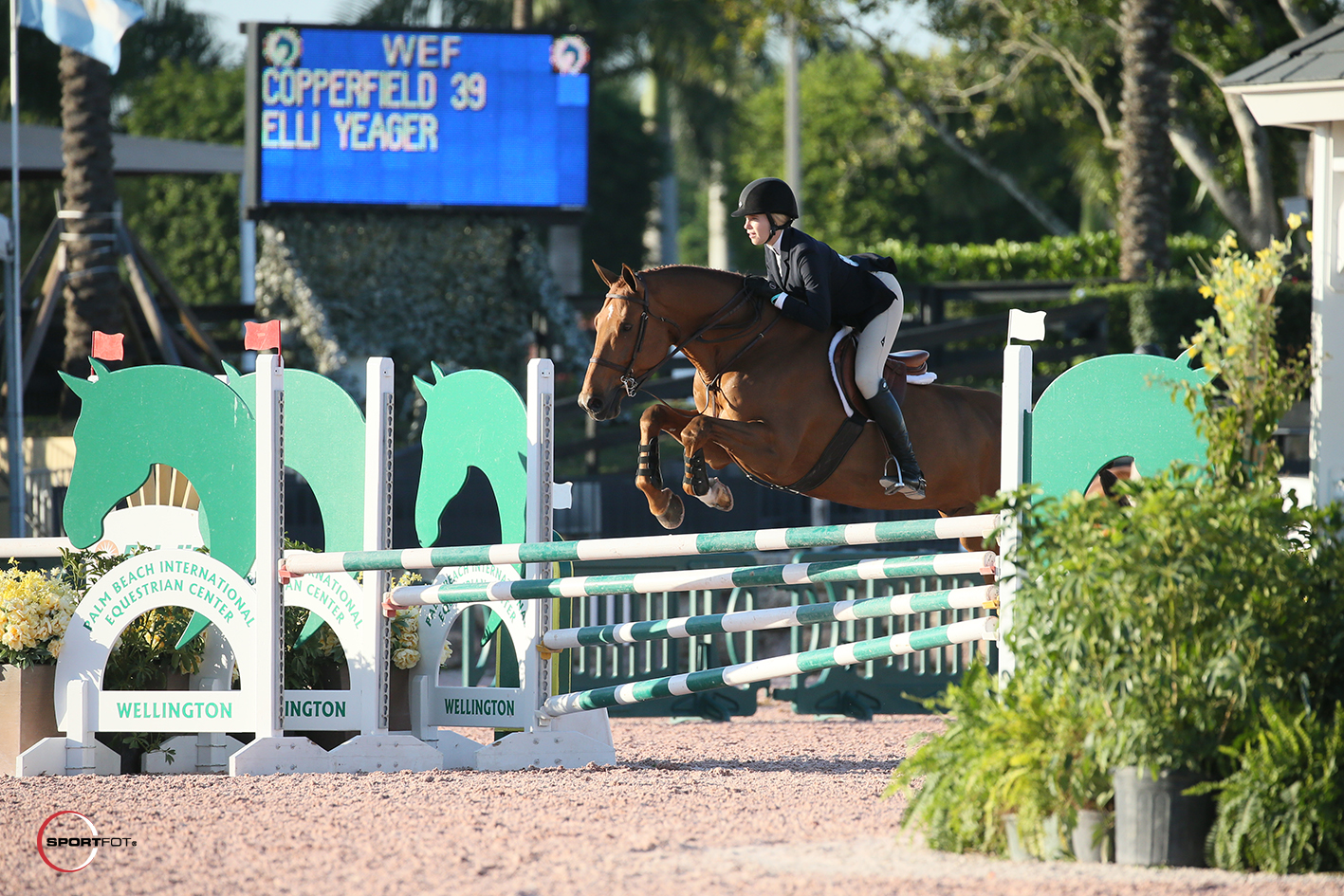 Fletcher, Steckbeck, Yeager, and Walker returned in reverse order with the four highest two-round totals for the final testing which asked them to demonstrate two counter-canter fences, a hand gallop, and a halt throughout the abridged course. While Yeager produced another efficient round, Walker's total score of 177.75 points put him in the early lead and after his third and final round was without error, it was clear he would hold on to the top honors. 
Walker and the 12-year-old Warmblood gelding have been a part of the class in previous years which he said definitely played a part in his success tonight.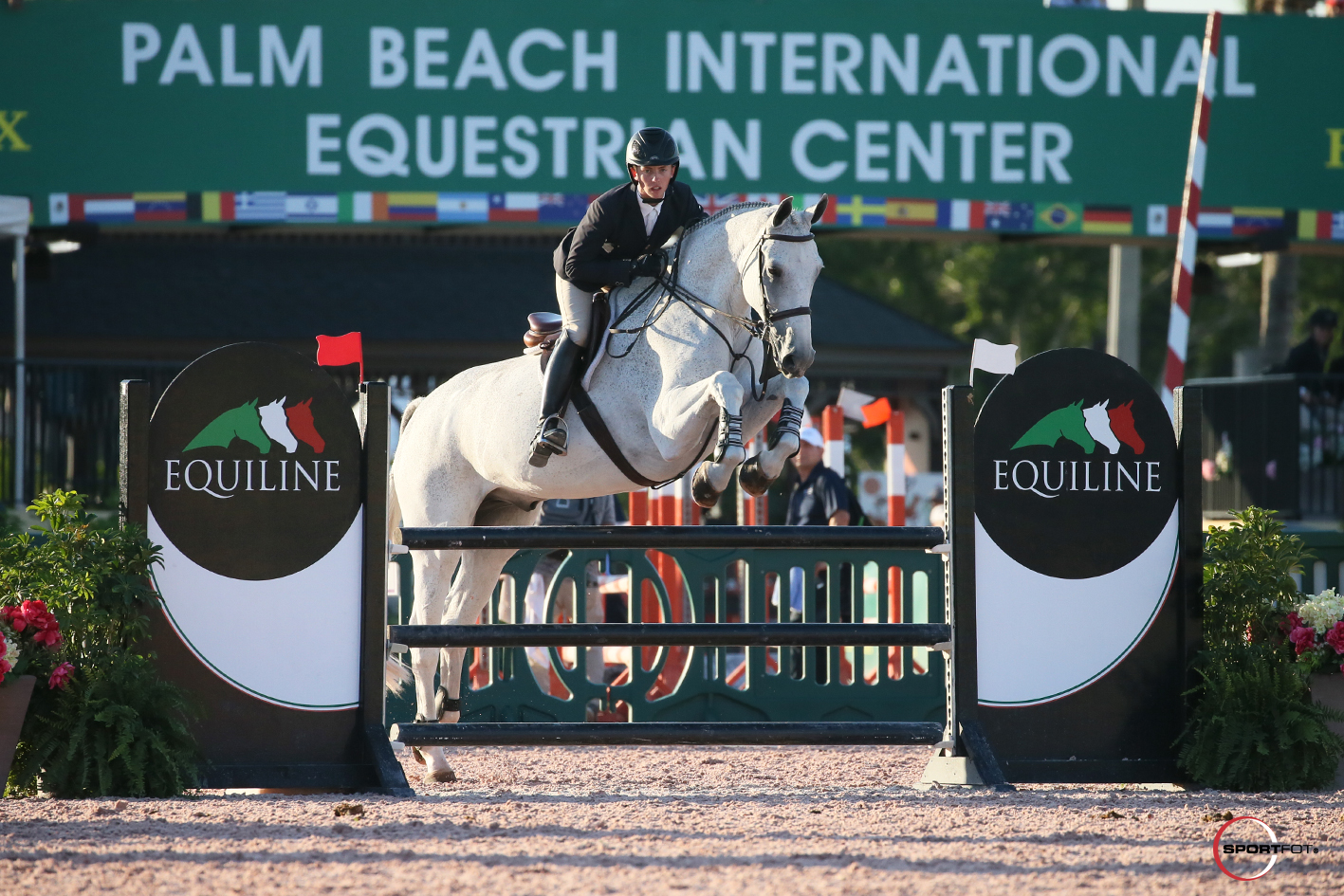 "Tonight, my trainers told me to ride smart; having done the class a couple times before, I've studied the rules so I think I was pretty prepared going in," he stated. "The biggest thing about equitation classes is being able to handle the mental pressure and having good decision-making. For example, in the test after seeing everyone go around the bush, I thought, 'Okay, I'm on top right now so I'm just going to play it safe and go around like everyone else did, rather than try to cut in front.'" 
Fourth-place rider Emma Fletcher voiced agreement with Walker's emphasis on mental preparation. "There is a lot of mental preparation for this class because you're doing it by yourself and the rules are very specific, so knowing them before you come into the class is a big thing," she added. "Asking questions during the riders meeting is really important too. In the second round they didn't include a transition, but it is on the course sheet, so I made sure to ask about it."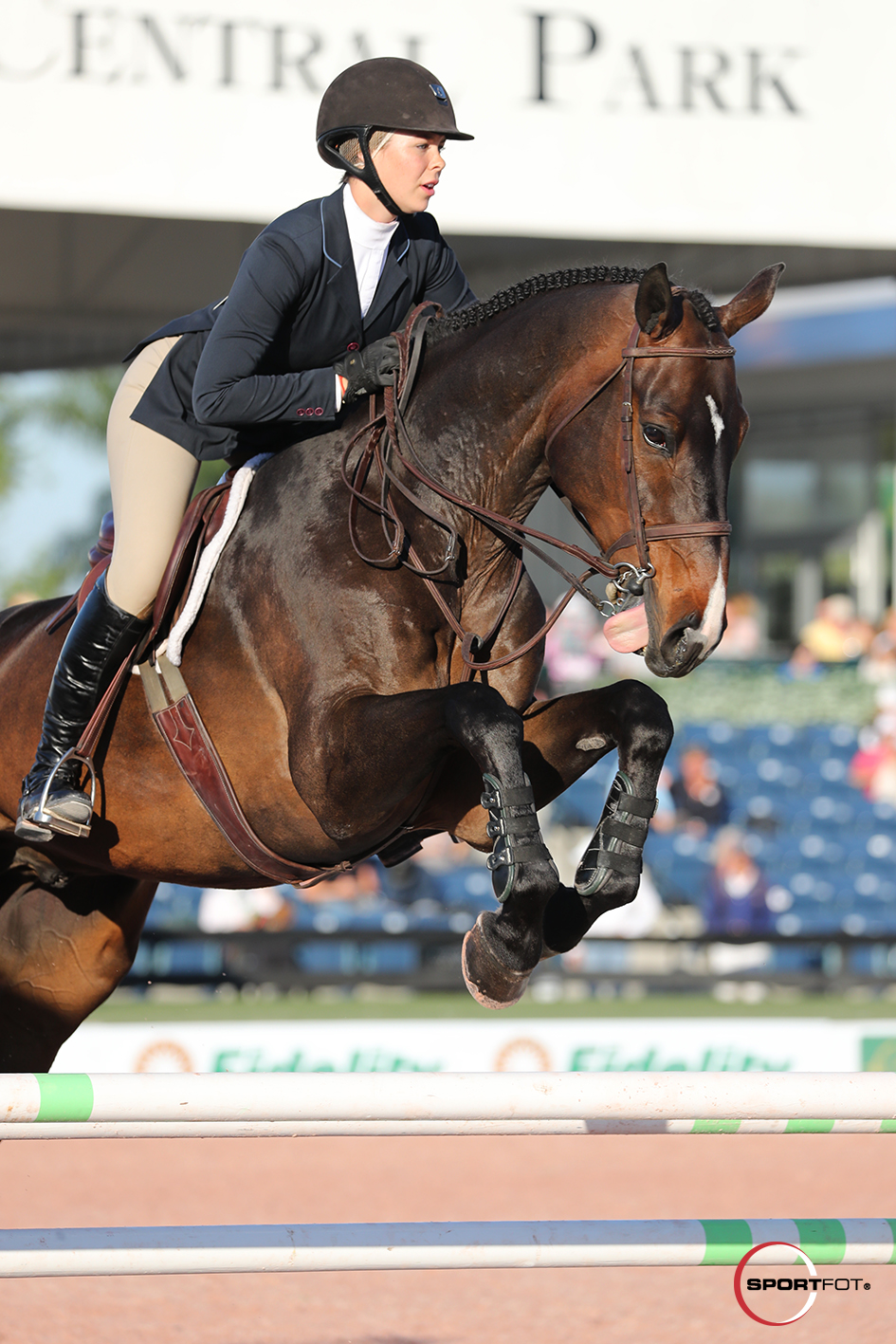 All four also commented that they felt several aspects of the course, including the fan jumps, played a part in the success of the riders. 
"In the second round after the trot jump, getting back up to pace was hard, especially to the fan jump because you don't see that very often," commented Steckbeck. Her mount, Crossbow, was also awarded the honor of Best Equitation Horse and received an embroidered Equiline stall guard. 
"In the work-off, I thought the steady six [strides] was a little challenging, after a hand-gallop especially, since the five was already steady in the first round," Yeager added.
Walker received an Equiline "Scott Stewart" bridle, hunter saddle pad, and synthetic girth with fleece lining. As reserve, Yeager received an embroidered Equiline "Sandy" jacket. 
Cent 15, owned and shown by Dominic Gibbs, received the award of Best Turned Out Horse during the night, his groom Mario Jaime received an Equiline "Sandy" embroidered jacket and embroidered "Nathan" ring backpack.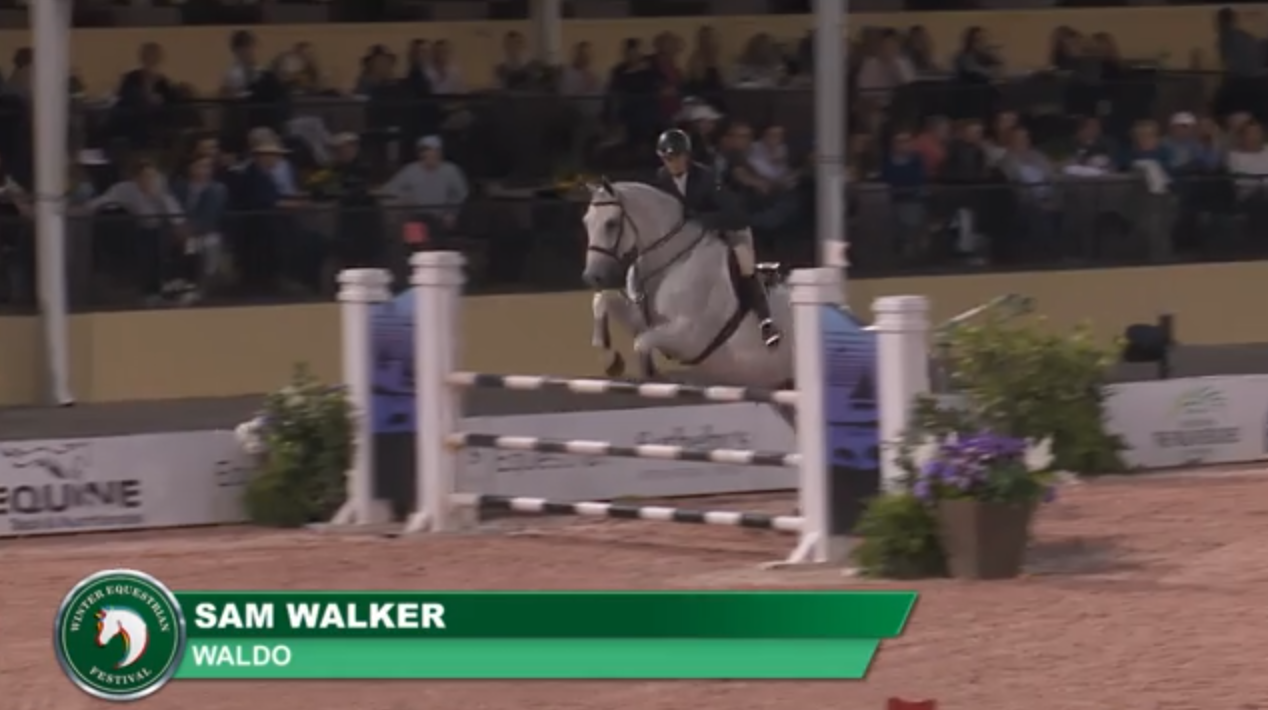 Weekend competition during Week 11 of the 2019 Winter Equestrian Festival will resume Saturday, March 23, at both Palm Beach International Equestrian Center and Equestrian Village. 
Final Results: 12th Annual George H. Morris Excellence in Equitation
Top four were tested in a third round to determine final placings, but only scores from the first two rounds were announced.
1 SAM WALKER | WALDO | MISSY CLARK & NORTH RUN LLC
R1 / R2 | TOTAL
86.25 / 91.50 |177.75
2 ELLI YEAGER | COPPERFIELD 39 | ELLI YEAGER
R1 / R2 | TOTAL
87.75 / 88.50 | 176.25
3 SOPHEE STECKBECK | CROSSBOW | REDFIELD FARM
R1 /R2 | TOTAL
84.00 / 88.50 | 173.25
4 EMMA FLETCHER | CONSIERGE | ASHLAND FARMS
R1 / R2 | TOTAL
85.50 / 87.00 | 172.50
5 ASHLEY VOGEL | LAMBADA | KATE ABIJIAN
R1 / R2 | TOTAL
84.00 / 85.75 | 169.75
6 SOPHIE GOCHMAN | CLASS ACTION | GOCHMAN SPORT HORSES LLC
R1 / R2 | TOTAL
82.62 / 86.50 | 169.12
7 JORDAN ALLEN | LOLITA | ASHLAND FARMS
R1 / R2 | TOTAL
81.50 / 75.50 / 157.00
8 PAIGE MATTHIES | BLURRED LINES | BARBARA SMITH
R1 / R2 | TOTAL
83.25 / 78.50 | 161.75
9 AUSTIN KRAWITT | LOQUATTRO | ASHLAND FARMS
R1 / R2 | TOTAL
81.50 / 75.50 | 157.00
10 MIMI GOCHMAN | KASKADE | GOCHMAN SPORT HORSES LLC
R1 / R2 | TOTAL
77.50 / 71.00 | 148.75
11 AVA STEARNS | COLANDO | NORTH RUN & NEVERGREEN FARM LLC
R1 / R2 | TOTAL
81.87 / 65.00 | 146.87
12 CHLOE WHITE | ITTEVILLE | REDFIELD FARM
R1 / R2 | TOTAL
78.50 / 67.50 | 146.00
13 KAITLYN LOVINGFOSS | MUNICH | ELVENSTAR FARM
R1 /R2 | TOTAL
77.50 / 68.00 | 145.75
14 KIERSTIN ANTONIADIS | CONTHACCO | WOLFSTONE STABLES & SALES INC
R1 /R2 | TOTAL
79.50 / 62.50 | 142.00
15 SAVANNAH HEMBY | CHACCO STAR | ASHLAND FARMS
R1 / R2 | TOTAL
82.75 / 39.50 | 122.25
Ballard, Jayne, and Verswyvel Capture Spy Coast Farm Developing Jumper Series Classic Wins
Opening up Friday's competition in the International Arena at the main grounds of PBIEC for the eleventh week of WEF, the Developing Jumper Series Classics, sponsored by Spy Coast Farm, offered top prize money and a chance to compete in the grand prix arena for up-and-coming equine show jumping stars.
There were 25 entries in the $20,000 Spy Coast Farm Seven Year Old Developing Jumper Series Classic, and 11 were clear to advance to the jump-off held at the end of the first round. Of those, seven were double clear. The fastest in the class was Maestro Vica v/d Ark, ridden by Erynn Ballard for owner Natalie Dean. They stopped the timers in 31.502 seconds for victory.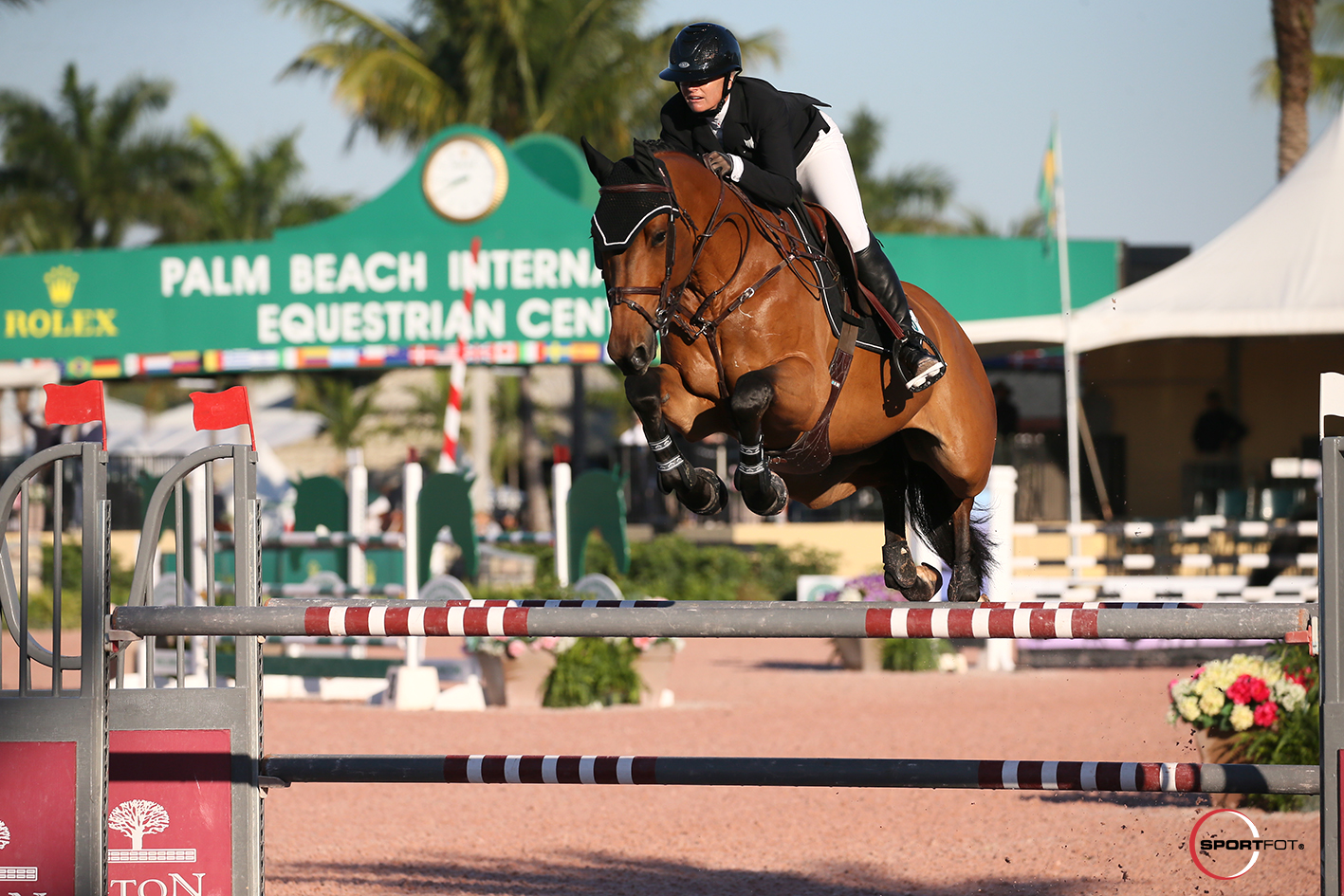 All of the Developing Jumper Classic courses were set by Steve Stephens and Nick Granat (USA).
Second place went to Get Go, a seven-year-old Hanoverian gelding by Grey Top, out of Wantana, who is by World Diamond O. Get Go was bred by Herbort U. Nesemaan. Ridden by Taylor Land and owned by Pinetree Farms Inc., Get Go put in a time of 33.148 seconds.
Just behind them in third place and a time of 33.419 seconds were Gemino and Peter Wylde, who rode for owner Chester Siuda. Gemino is a seven-year-old KWPN stallion by Manhattan x Democraat, out of Heliolight and bred by Jessica Siuda.
"Maestro" was purchased in 2018 at The Ten Auction, and Ballard and trainer Ilan Ferder selectively chose his competitions during the year leading up to the 7 and Under Young Horse division at the Hampton Classic Horse Show, where they won all three classes and were named champion.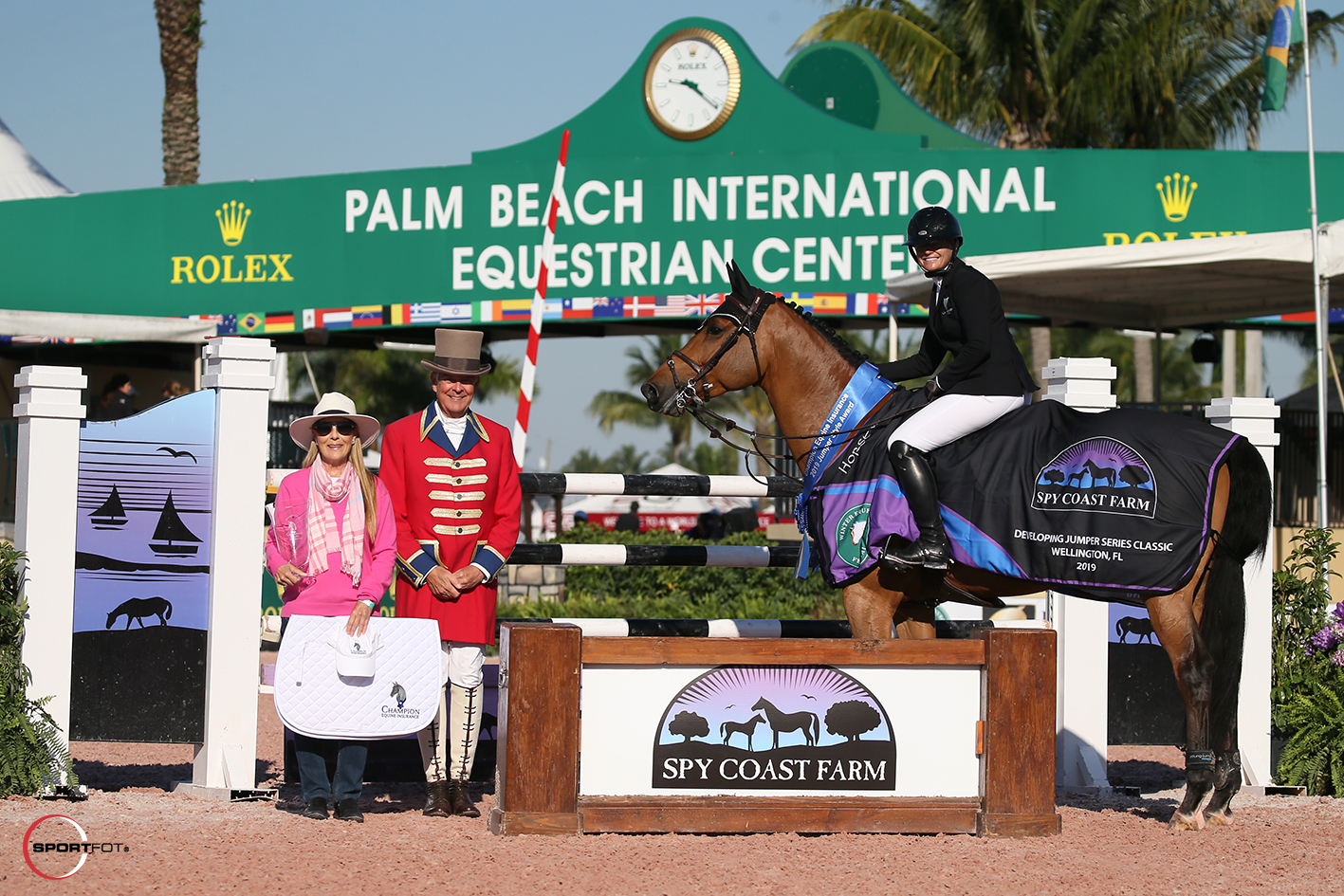 "Maestro is a super star; he wins more than he loses. I think he's an exception in that way," said Ballard. "We haven't really pushed him and today is the biggest that he's jumped. I think he was outstanding today."
When Ballard was planning for the jump-off, she thought that they should avoid the inside turn from the first to second jumps, but when she was on course, the inside turn showed up.
"I said to Ilan, 'I think I can be faster going around. I don't want to risk turning tight inside and having him bounce,'" she recalled. "When I went in, I kind of looked at the angle that I wanted to see number one on. He was so fast from one to two; that's really where he won the class. He's fast everywhere else, but I think it was an exceptional turn from one to two."
While owner Dean will likely now take over the ride on Maestro, Ballard is excited to watch him go with her. "Maybe we can share a little bit!" she said.
In addition to their classic win, Maestro was presented with the Champion Equine Insurance Jumper Style Award presented by Laura Fetterman.
The $15,000 Spy Coast Farm Six Year Old Developing Jumper Classic hosted 25 entries as well, with nine clear and only two finding the path to a double clear finish. The fastest of those in 38.434 seconds – faster by 5.5 seconds – was Charlie Jayne riding his father Alex Jayne's Virginia ODF.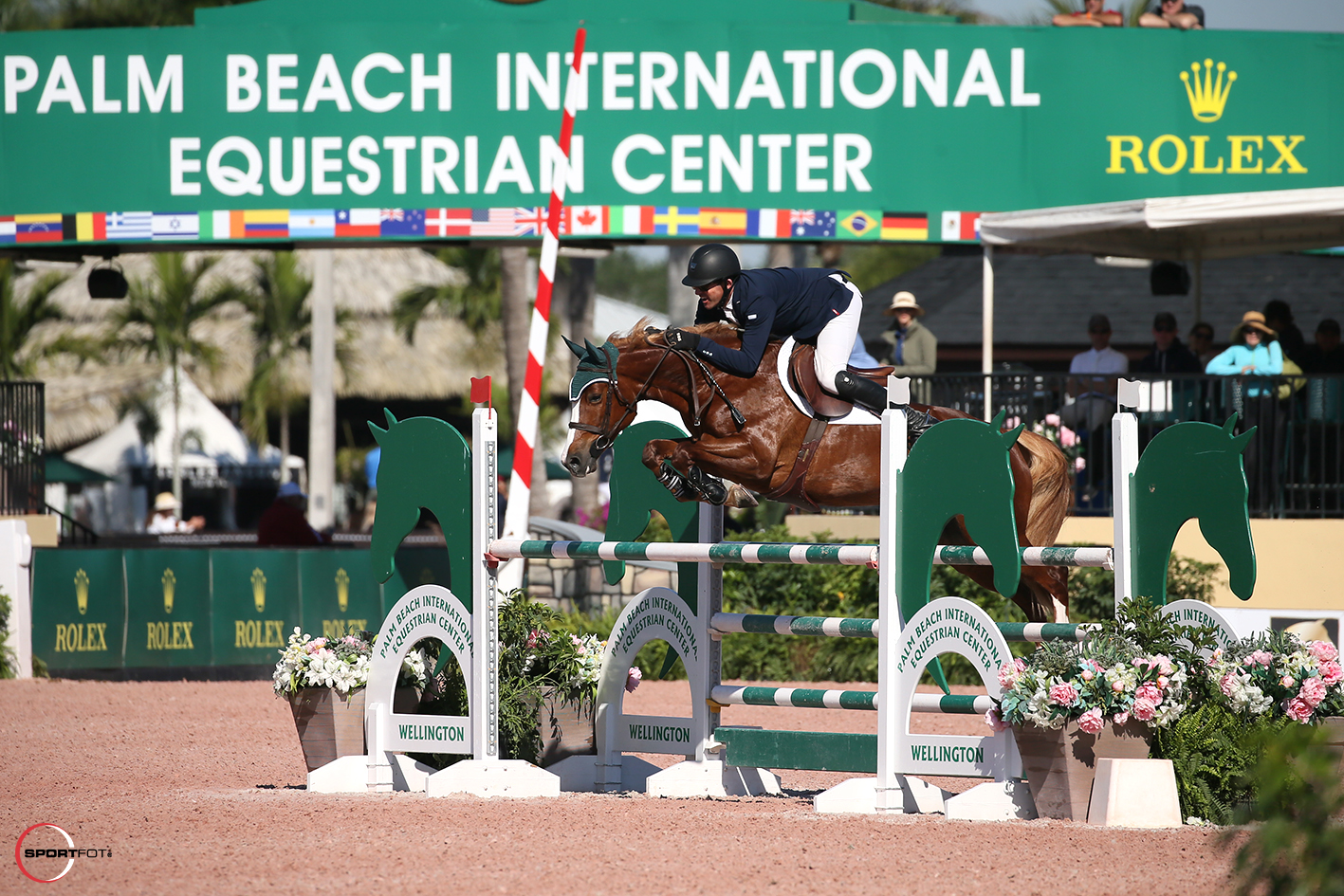 Second place went to Ibaltic BH, ridden by Emmy Tromp for Windward Mark Farm LLC, who finished the jump-off clear in 43.857 seconds. Ibaltic BH is a six-year-old KWPN gelding by Baltic VDL out of Vavanta V/D Renvillehoeve (by Burggraaf), bred by F. Buma.
Finishing the jump-off in 37.45 seconds, the fastest time but with four faults, for third place was Daniel Coyle riding Ariel Grange's Ibiza. Ibiza is a six-year-old KWPN gelding by Inshallah de Muze x Indoctro (out of Watch Me B). 
Jayne appreciates the Developing Jumper Series at WEF and the support of Spy Coast Farm. "It's nice because the management does a good job where two weeks we're competing in one arena and then the next two weeks, we're competing in another arena, so the horses don't get tired," he said. "They're learning and developing in different arenas. It's quite nice that we get a little bit of a paycheck at the end. 
"Today's a different format than what we've done," continued Jayne, who also competed with Virginia's full brother Vermont, owned by Pony Lane Farm, in the class. "[It was] three days in a row, and in the grand prix venue, it's quite hard for horses to walk into such an impressive ring. The first day, both of mine were a bit green and then every day I felt like they improved. They understood more and then today she really shined and was a star. I thought I was catchable, because that's only my third jump-off with her. I took a couple risks, like to the last fence I did one less stride than I normally would with her."
It was a great win for Jayne, who was riding a "true homebred" in Virginia ODF – the ODF standing for his family's Our Day Farm, which is based in Elgin, IL. Virginia was bred by Jayne's father, Alex, and is one of 22 horses that they bred six years ago, the first year that their program did a major push for foals. Virginia is an American Warmblood mare out of Valeska v/d Wolfsakker, a mare that Jayne competed in Nations Cup, World Cup classes, and grand prix competitions for four years that is by World Champion Vigo d'Arsouilles. Virginia is by Klotaire du Moulin, a stallion that is by Voltaire and won in the junior/amateur jumpers with Kelsey Thatcher.
"It's funny, there are a lot of similarities between her and Valeska," said Jayne. "They're both very intelligent. They pick up things quick. We imported her mother from Belgium when she was six, so the same age as Virginia. They go a little bit the same way. I would say she's a combination of her mother and her father though. Her father had a nice, flowing canter and rhythm and she gets a lot of that from her father, but then her attitude and she's so smart, that comes from her mother."
Virginia is one of 10 mares that came out of the program that year. While all 22 were broke and worked with from their two-year-old year to when they turned five, the mares all carried babies as five-year-olds while the geldings and stallions came to Florida to compete. With last year off, Virginia has only competed in six shows. But with her sound mind and talent, Jayne felt confident in her success this winter.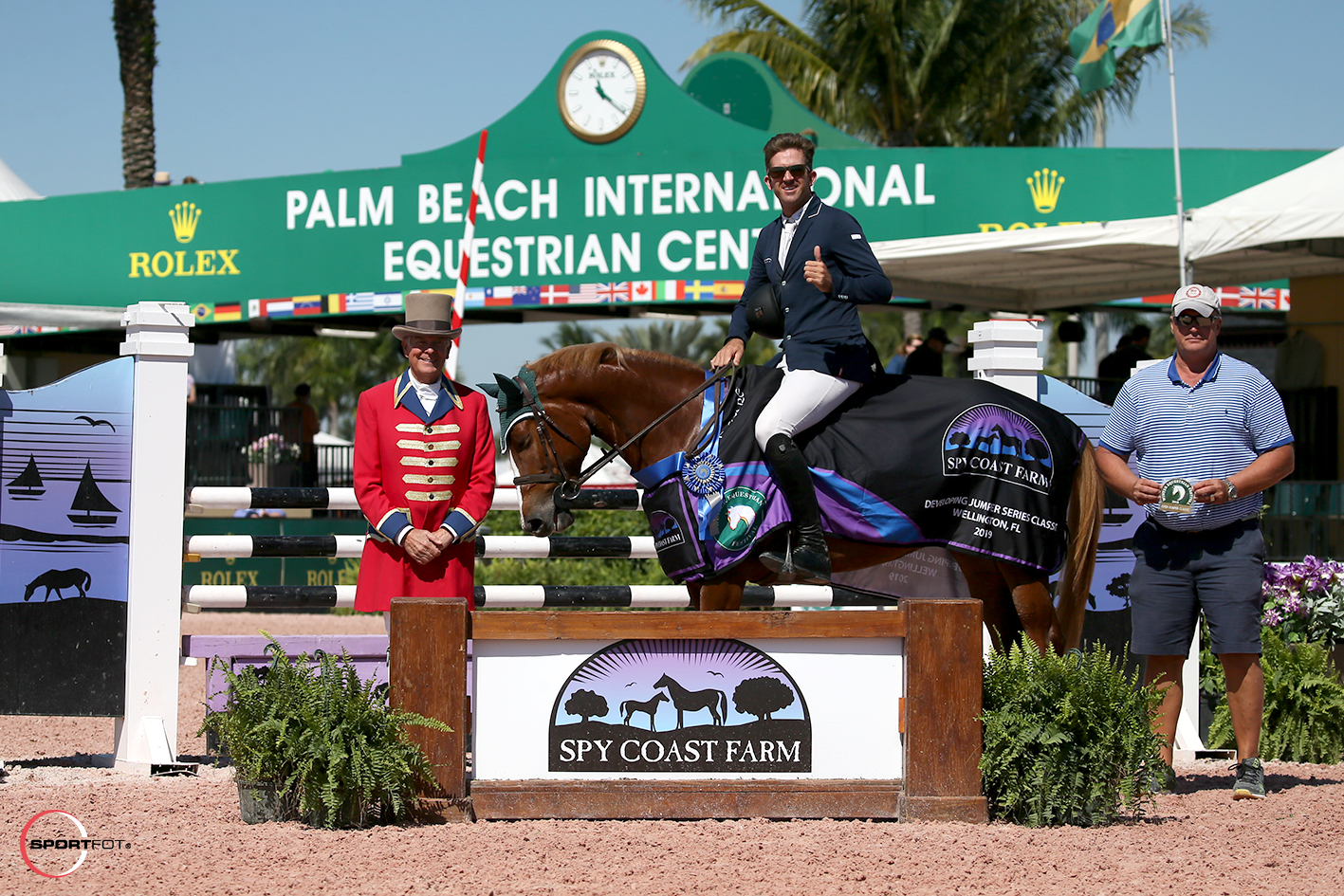 "It's a huge passion of my father's, and it's become a part of the family," said Jayne. "We have another farm very close to our farm in Chicago and do daily things with them for the six months that we're home, and then they get a winter break and go out and be babies. It's huge and it's also nice to see that all the hard work over the last six years is starting to pay off."
"The breeding program is alive and well and doing what we hoped it would do," added Alex Jayne, who estimates he has bred 70 horses in their program since the start. "We had a lot of luck along the way too."
The $10,000 Spy Coast Farm 5 Year Old Developing Jumper Classic had 17 entries and was held in an immediate jump-off format. Eight were clear in their first round and went straight into their jump-off, where four were able to go double clear.
With a leading time of 34.667 seconds, Jorge Verswyvel rode his own Majesty to victory. "He has never done a jump-off; that's a big question for five-year-olds," said Verswyvel. "They act like babies and innocent. When you have a clear round and then you try to start again, sometimes they get like, 'What are you talking about? Why do we have to go again?'"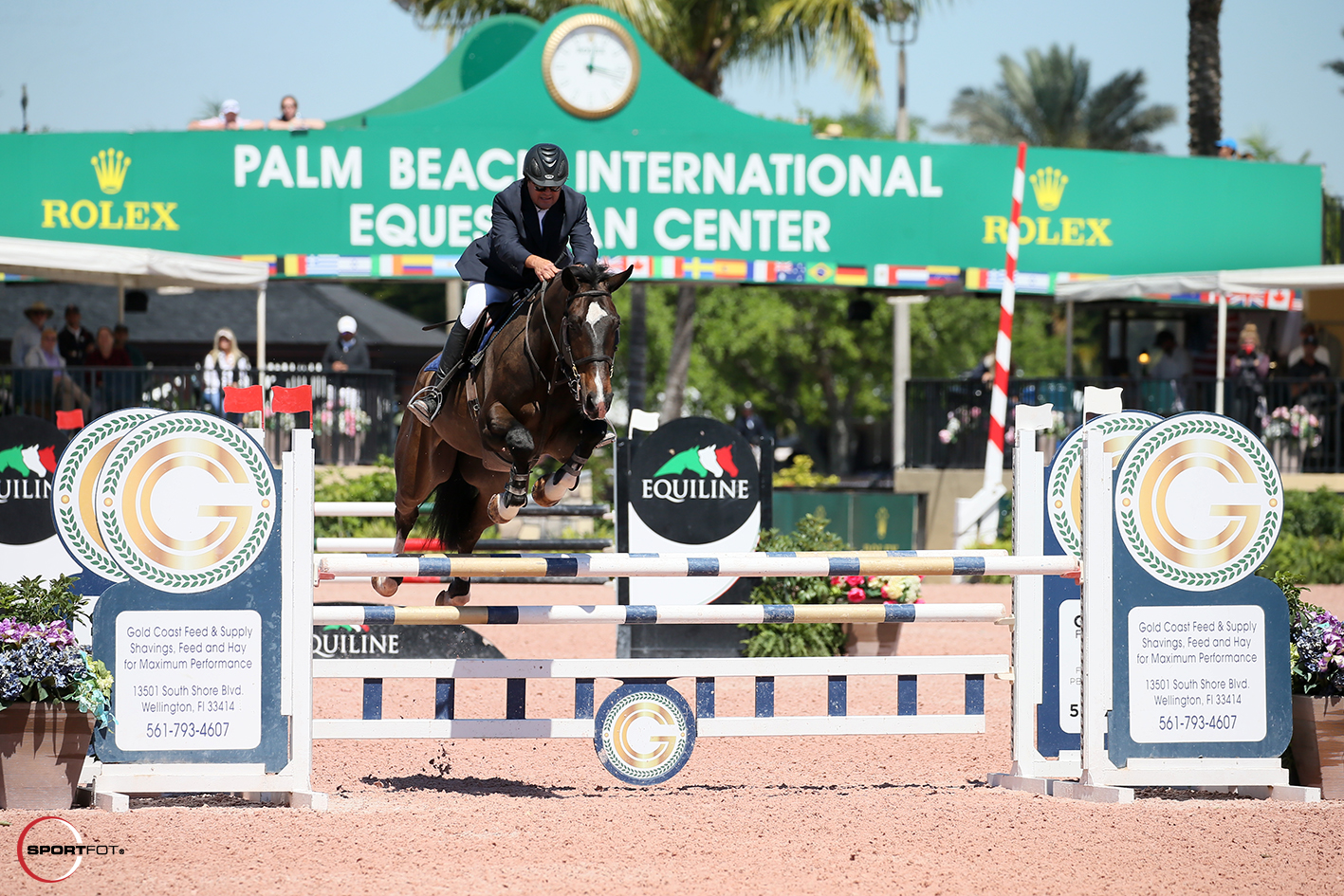 Second place went to Jensen ES, ridden by Michael Hutchinson for Candy Tribble. They had a jump-off time of 35.210 seconds. Jensen ES, a five-year-old KWPN gelding by Kannan x Lancer II (out of Seelotte) bred by E. Schep, was also given the Five Year Old Suitability Award.
With a time of 35.668 seconds, Hyde Moffatt and Ariel Grange's Langley, a Canadian Sport Horse mare by Lansdowne x Andiamo (out of Pitareusa), finished in third place.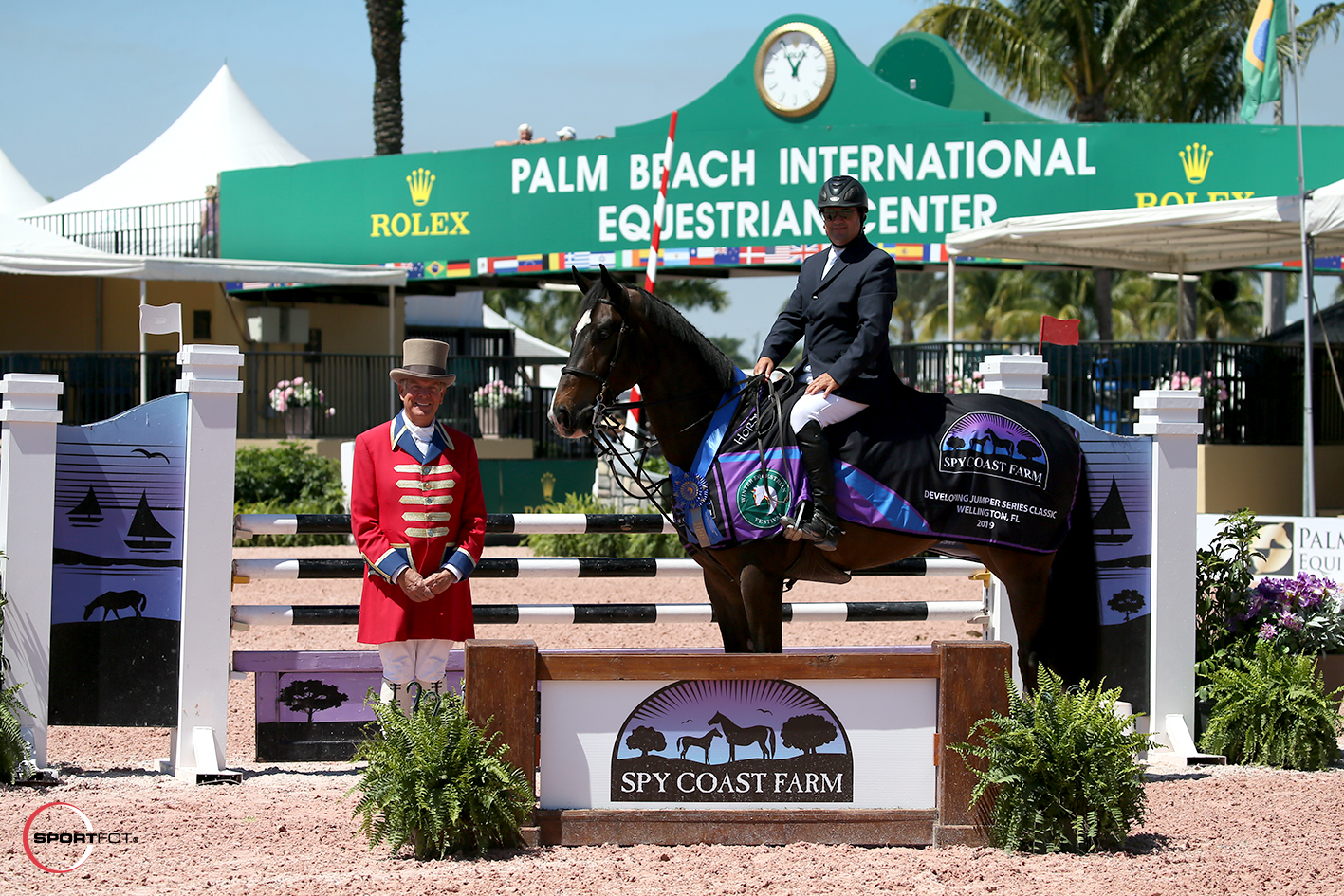 This was the third week that Majesty competed at the 2019 WEF. Verswyvel imported the Westphalian gelding by Capistrano out of Fabiana (bred by Heinrich Eickriede) at the end of the summer in 2018 from Germany. "He was barely broken, but had good bloodlines," said Verswyvel, who partners on Majesty with Beth Reichart. "He had a nice canter, a nice mind, so then you have a lot on your side. It makes it a little easier. For his big size, he has quite enough blood to gallop around and show off in the big fields. He can leave strides out. You have to know where the legs are every step and jump though."
Verswyvel noted that it is "very satisfying" to get the classic win. "You never know when you a pick a horse, especially so young. Anything is possible," he said. "He's doing things right and we're letting him have his own time and we'll keep working. He's still very young, but with a canter and mind like that, the rest will come."
Additional awards given out included:
Best Over 25 7 Year Old Rider- Hayley Barnhill
Best Under 25 7 Year Old Rider- Caelinn Leahy
Best American Bred 7 Year Old- $500- Jessica Siuda, breeder of Gemino
Best Over 25 6 Year Old Rider- Michael Murphy
Best Under 25 6 Year Old Rider- Elizabeth Lang
Best American Bred 6 Year Old- Debbie Stephens, breeder of I April Fool
Best Over 25 5 Year Old- Michael Murphy
Best Under 25 5 Year Old Rider- Silvana Cabral
Luiz Francisco de Azevedo and Collin are Comeback Kids in $36,000 Douglas Elliman Real Estate 1.45m Classic
Brazil's Luiz Francisco de Azevedo brought his horse Collin back from the brink of slaughter to lead the victory gallop of the $36,000 Douglas Elliman Real Estate 1.45m Classic CSI 4* on the Derby Field at Equestrian Village on Friday, March 22.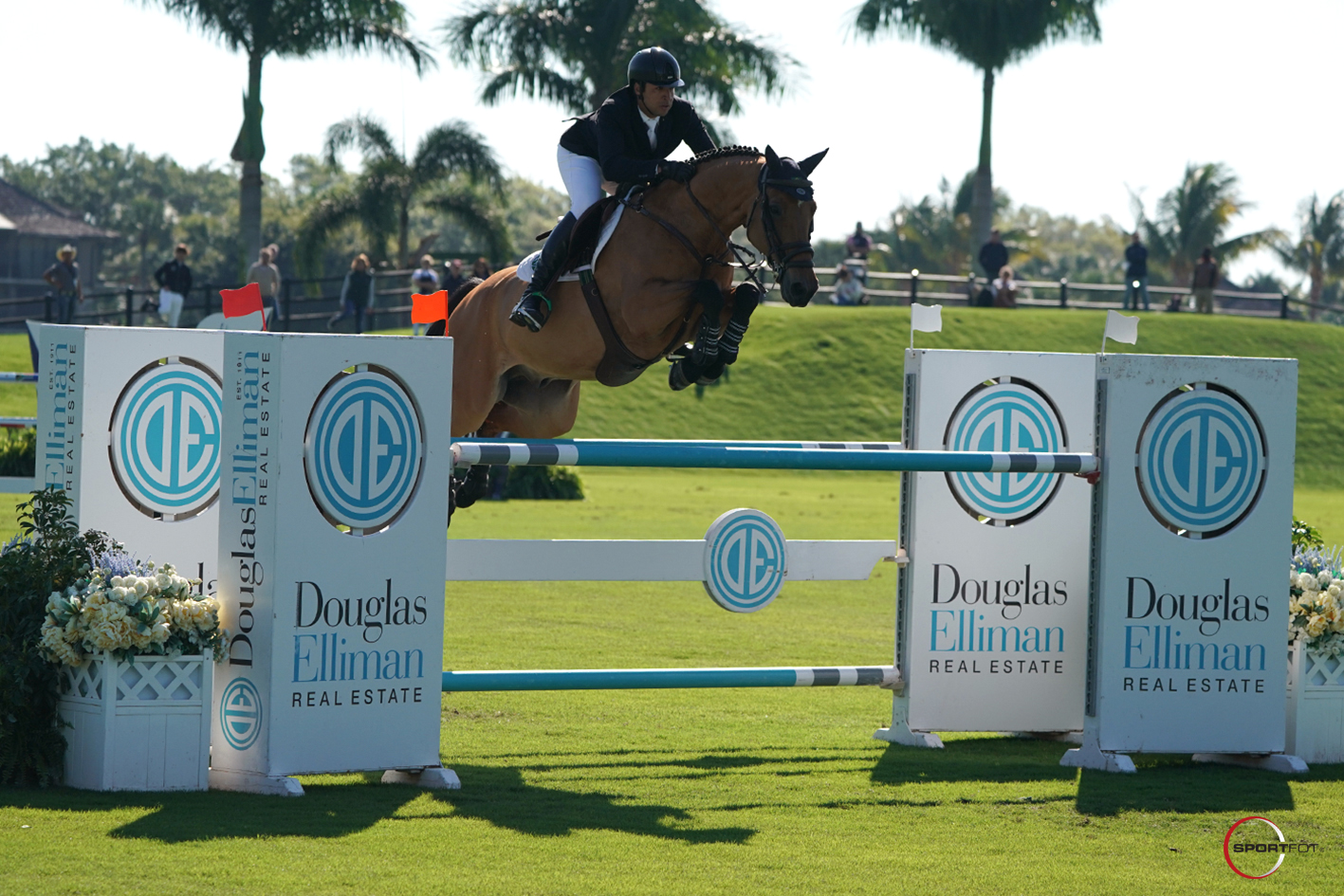 Germany's Olaf Petersen, Jr. set the single-round speed track for 42 starters with 12 jumping clear, leaving the clock to decide their placings. De Azevedo and Collin, a 12-year-old Dutch Warmblood gelding (Colandro x Amethist), broke the timers in 63.90 seconds for the victory. 
"Collin was going to be sent to slaughter because he was so difficult and a friend called me from Belgium telling me I should come try him," recalled de Azevedo. "I sat on him and he was absolutely crazy and impossible to jump. My friend told me he bought him for nothing and we should try something.
"He convinced me, and we tried together," continued de Azevedo, who took his time working on Collin's confidence. "When he arrived at home, we saw a lot of quality, but he was afraid of everything. He is the kind of horse that needs to have confidence in his rider, so I did not try to change him, but tried to do it his way."
De Azevedo brought Collin to his first horse show as a seven-year-old where he jumped clear three days in a row. It was then that he knew the gelding had a lot of potential.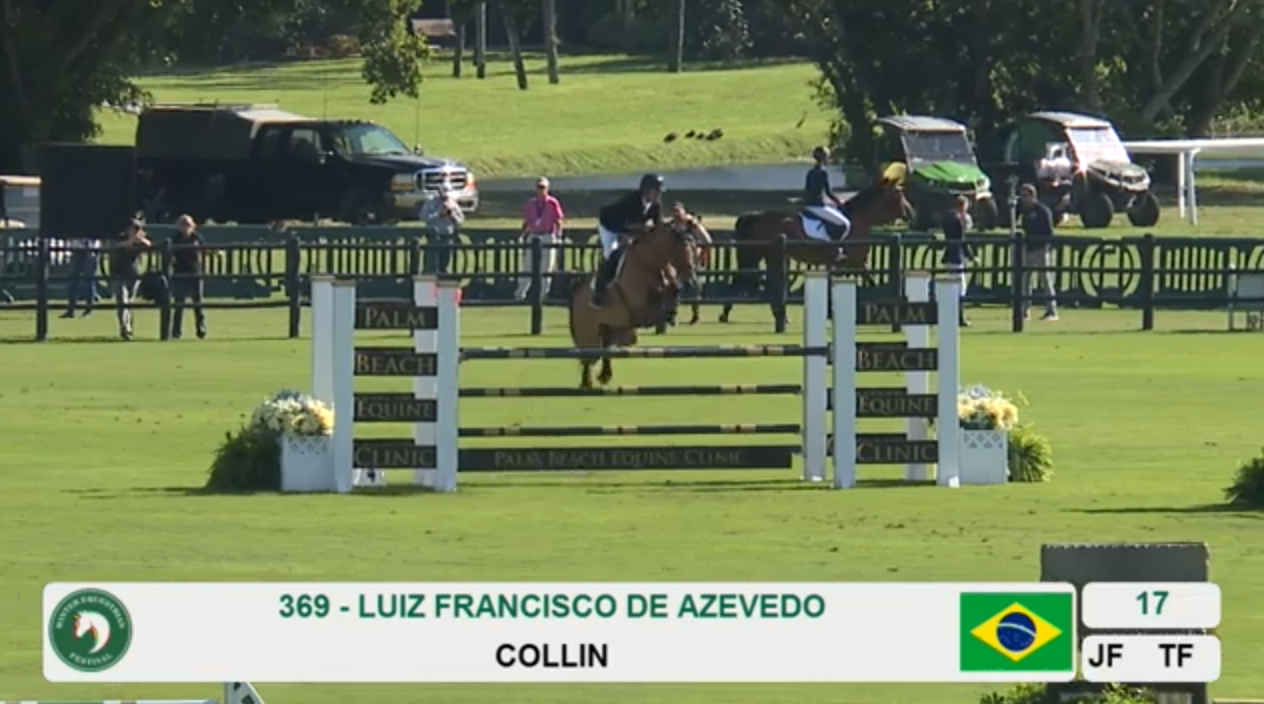 "Whenever I have a good result like this with him it is something really special," said de Azevedo, who will also pilot Collin in the $134,000 CaptiveOne Advisors 1.50m Jumper Series Final during "Saturday Night Lights" at WEF 11. "He has a huge stride and is naturally very fast, so I did eight strides to the double today, which no one else did, and I think that is what won it for us." 
De Azevedo bested Mexican rider Santiago Lambre, who finished on a time of 64.96 seconds for second riding Dingeman. U.S. rider Hunter Holloway took third with a time of 65.96 seconds aboard VDL Bravo S for owner Hays Investment Corp. Francisco Jose Mesquita Musa took fourth in 66 seconds on Filou Imperio Egipcio, owned by Haras Imperio Egipcio/Equivarandas, LDA, while Canada's Erynn Ballard rode Z Diamanty to round out the top five in 66.23 seconds for owners The Z Group, Javier Salvador Stables, and Diamante Atelier.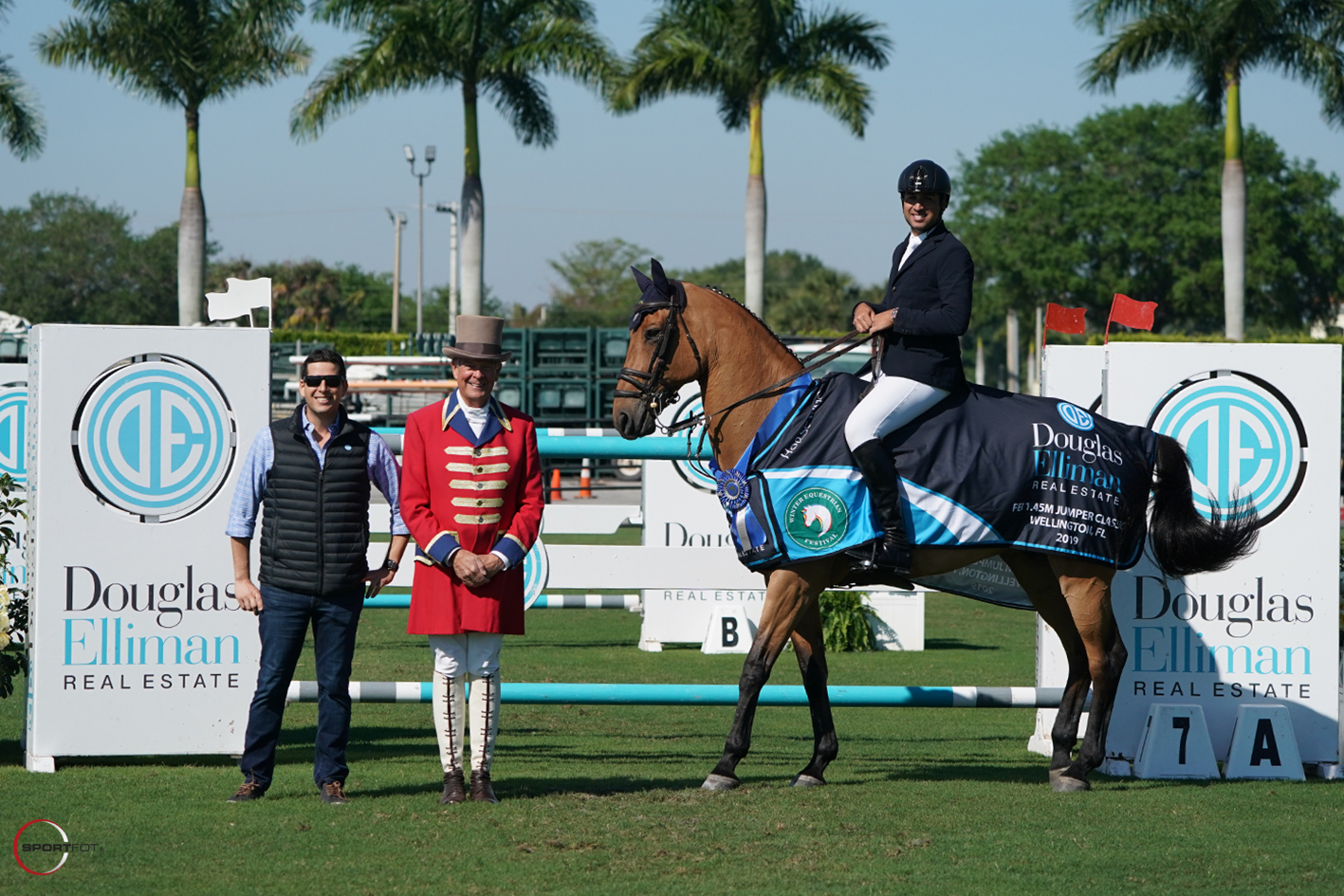 Competition returns to the Derby Field at Equestrian Village on Saturday, March 23, with the $209,000 Wellington Agricultural Services Grand Prix CSI 4* beginning at 11 a.m. 
Final Results: $36,000 Douglas Elliman CSI 4* 1.45m
1 COLLIN: 2007 KWPN gelding by Colandro x Amethist
LUIZ FRANCISCO DE AZEVEDO (BRA), Luiz Francisco de Azevedo: 0/0/63.90
2 DINGEMAN: 2008 KWPN gelding by Nintender x Darnels
SANTIAGO LAMBRE (MEX), Santiago Lambre: 0/0/64.84
3 VDL BRAVO S: 2006 KWPN gelding by Ephepe For Ever x Chellano Z
HUNTER HOLLOWAY (USA), Hays Investment Corp.: 0/0/65.96
4 FILOU IMPERIO EGIPCIO: 2005 BWP gelding by Querlybet Hero x Ahorn Z
FRANCISCO JOSE MESQUITA MUSA (BRA), Haras Imperio Egipcio/Equivarandas, LDA: 0/0/66.00
5 Z DIAMANTY: 2007 Holsteiner mare by Diamant de Semilly x Cor de la Bryere
ERYNN BALLARD (CAN), The Z Group, Javier Salvador Stables, & Diamante Atelier: 0/0/66.23
6 DENA-SIENNE: 2008 KWPN mare by Van Gogh x Animo
ROBERTO TERAN TAFUR (COL), Roberto Teran Tafur: 0/0/66.60
7 KIRSCHWASSER SCF: 2010 BWP stallion by Amaretto d'Arco x Nebab de Reve
SHANE SWEETNAM (IRL), Spy Coast Farm LLC: 0/0/66.94
8 COLOURFUL LADY: 2010 Holsteiner mare by Casall x Acord II
CAPT. BRIAN COURNANE (IRL), Glenbeigh Farm LLC: 0/0/68.36
9 LOUGHNAVATTA INDIGO: 2009 Irish Sport Horse gelding by Luidam x VDL Arkansas
JONATHAN CORRIGAN (IRL), Twin Oaks Stables Inc.: 0/0/68.92
10 CAS 2: 2007 KWPN gelding by Indoctro x Numero Uno
HARRIE SMOLDERS (NED), Copernicus Stables LLC: 0/0/70.39
11 FINALLY Z: 2010 Zangersheide mare by Figaro C x Darco
PETRONELLA ANDERSSON (SWE), Stephex Stables: 0/0/70.70
12 ANTIDOTE DE MARS: 2010 Selle Français stallion by Diamant de Semilly x Jarnac
BLISS HEERS (USA), Bridgeside Farms, LLC: 0/0/72.41
Photo Credit: Photos © Sportfot, Official Photographer of the Winter Equestrian Festival. These photos may be used only in relation to this press release and must include photo credit.