For Immediate Release
Lindsay Brock and Sabrina Brashares for Jennifer Wood Media, Inc.
Wellington, FL – March 1, 2020 – Brazilian rider Rodrigo Lambre topped the $214,000 Premier Equestrian Grand Prix CSIO4* riding Catover on Sunday, March 1, 2020, to conclude week eight of the Winter Equestrian Festival (WEF) in Wellington, FL.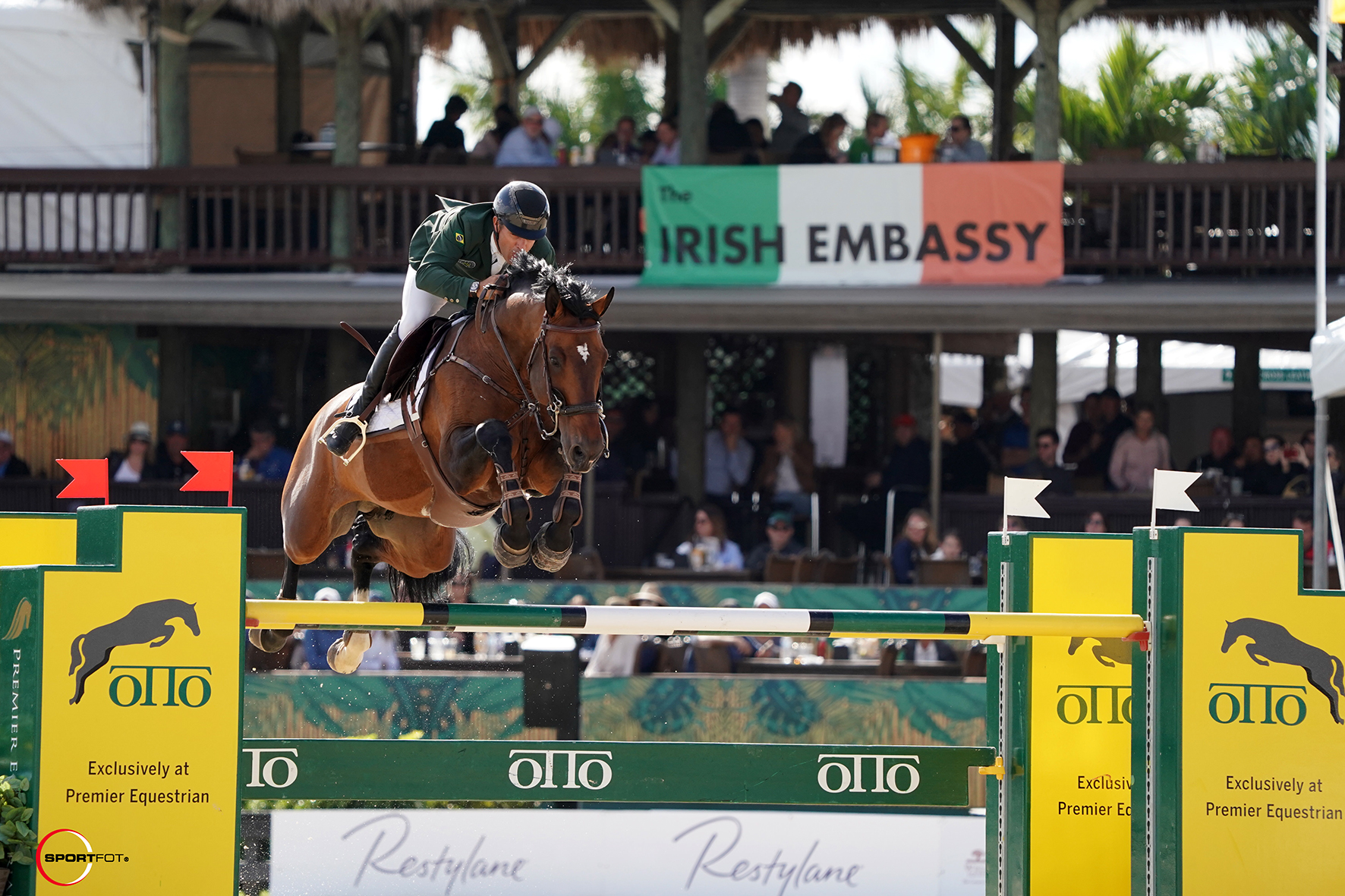 WEF continues at the Palm Beach International Equestrian Center (PBIEC) through March 29, 2020, with 12 consecutive weeks of world-class competition and $13 million dollars on offer. The ninth week of competition, sponsored by Douglas Elliman Real Estate and recognized as a CSI5* and CSI2* by the Fédération Equestre Internationale (FEI), runs from March 4 through 8.
USA's Ken Krome set a two-round track for 50 challengers in the final event of the week, and saw eight qualify for a tie-breaking jump-off. Lambre saved the best for last as the final jump-off rider. He and Catover were fast and precise to stop the clock double-clear in 37.73 seconds for the win over Ireland's Shane Sweetnam and Chaqui Z in 38.29 seconds.
"He is amazing," said Lambre of Catover, an 11-year-old Holsteiner stallion (Catoki x Contact Me) owned by Mario Onate. "I have had him since he was eight, and I flat him almost every day but I've only actually been riding him seriously since October of last year in preparation for Tokyo. We all have Tokyo in mind this year; it's our dream. It's a difficult year to qualify for the team in every country, but we have also so many nations cups and so many shows that we can go in. It's promising."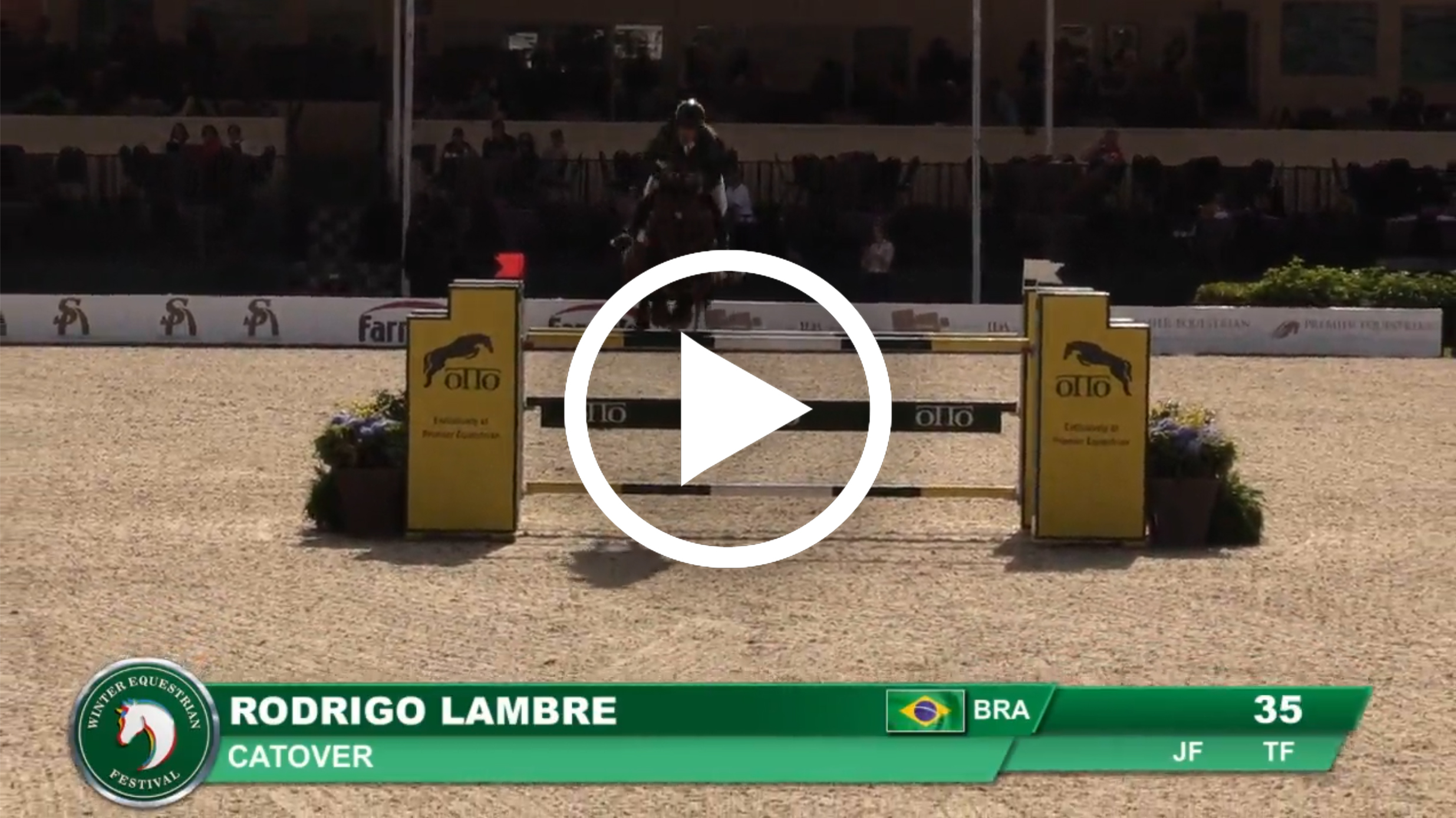 Of Catover, Lambre continued, "He's not a really fast horse, but he has a huge stride. I think today was a jump-off that I could use that. I won doing the seven to the last jump, which for many horses was very far. The footing feels better for sure this year and, for me, if my horse is happy, I am happy."
Sweetnam and Chaqui Z, a 14-year-old Zangershiede stallion (Chacco Blue x Quinar Z) finished just off the pace for owner Spy Coast Farm LLC, but Sweetnam was pleased with the performance.
"I was delighted with him. This is only his first time that he's shown here this year, and it's only his first real big class," said Sweetnam. "He felt great, and I think his jump-off was excellent. Even though he's 14, he feels like he's eight. So, I'm really happy with where he is at the moment."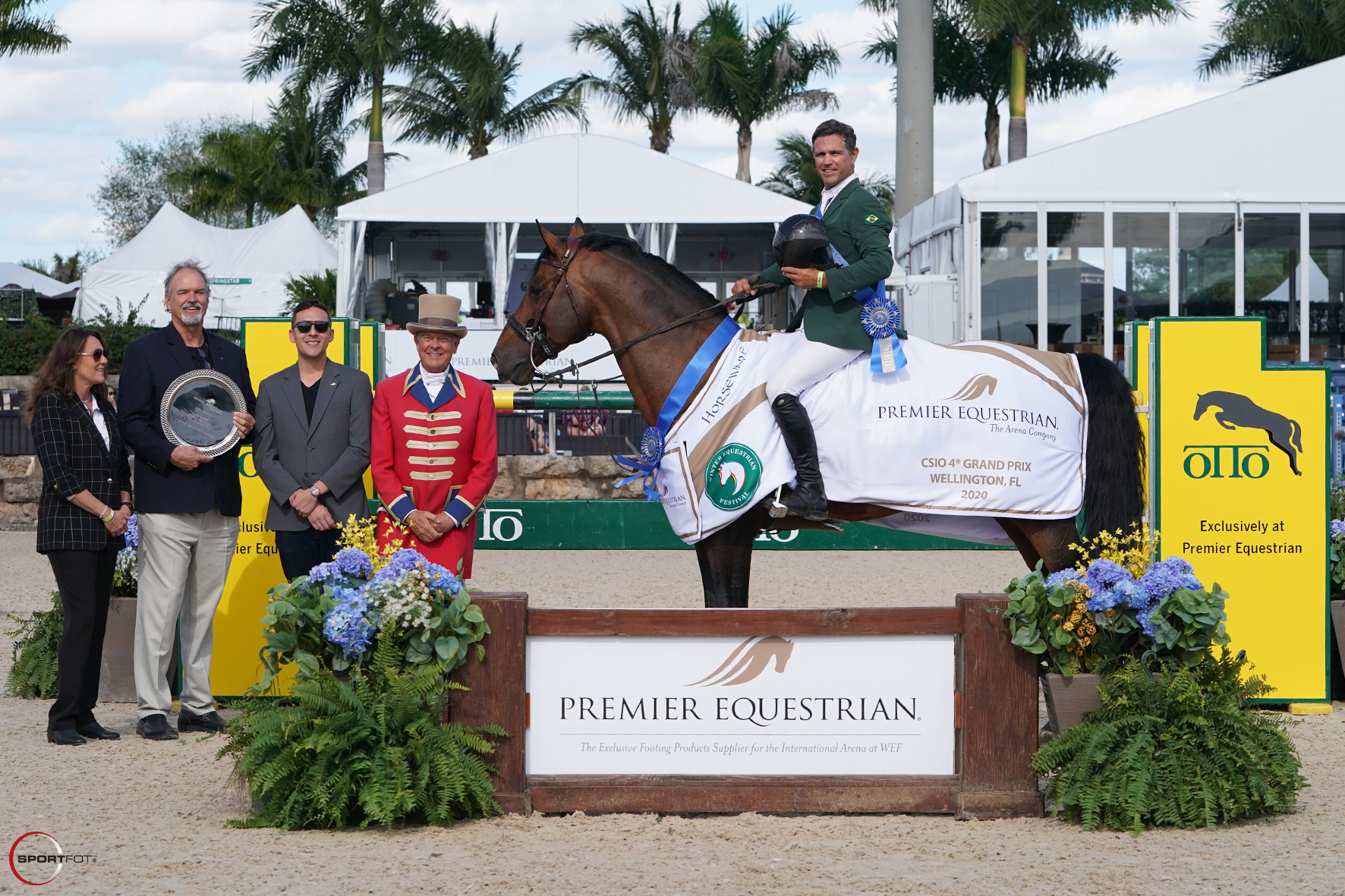 Finishing third in 39.08 seconds, Alexandra Thornton (GBR) is making her return to WEF after five years away from the North American show scene, saying, "I've been based in Europe since 2012, so it's a long way to come. Last time I came, it was a completely different experience. The footing is amazing, which makes a world of difference for the horses. And actually I've extended my trip!"
Thornton piloted Charielle, a 14-year-old Oldenburg mare (Chacco-Blue x Argentinus), which was originally sold to her by Lambre and is now owned by Dunwalke Ltd.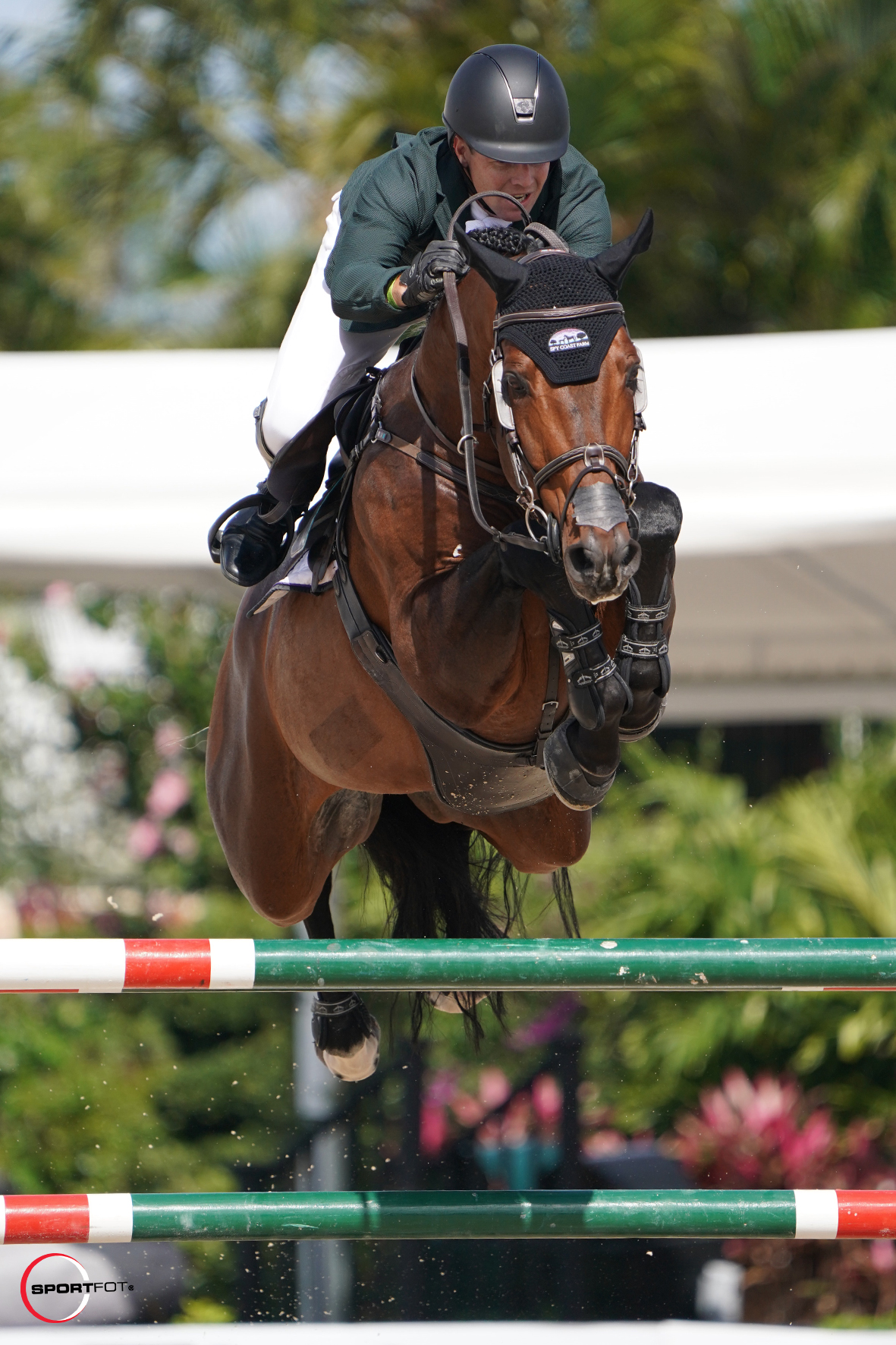 "I don't think he's seen her live since I came and tried her in Mexico four or five years ago!" said Thornton, whose finish guaranteed her the Martha Jolicoeur Leading Lady Grand Prix Rider Award for week eight. "I think it's really great that Martha offers this award for us. Female riders are often the minority in some of these grand prix classes, but there were three in the jump-off today who all rode fantastically. To win this award against them was really exciting."
Luis Pedro Biraben (ARG) finished in fourth riding Colorado 210 for owner Miguel Madero, while Israel's Sydney Shulman rounded out the top five on J-Boston S.E., a horse she owns together with her mother Jill Shulman.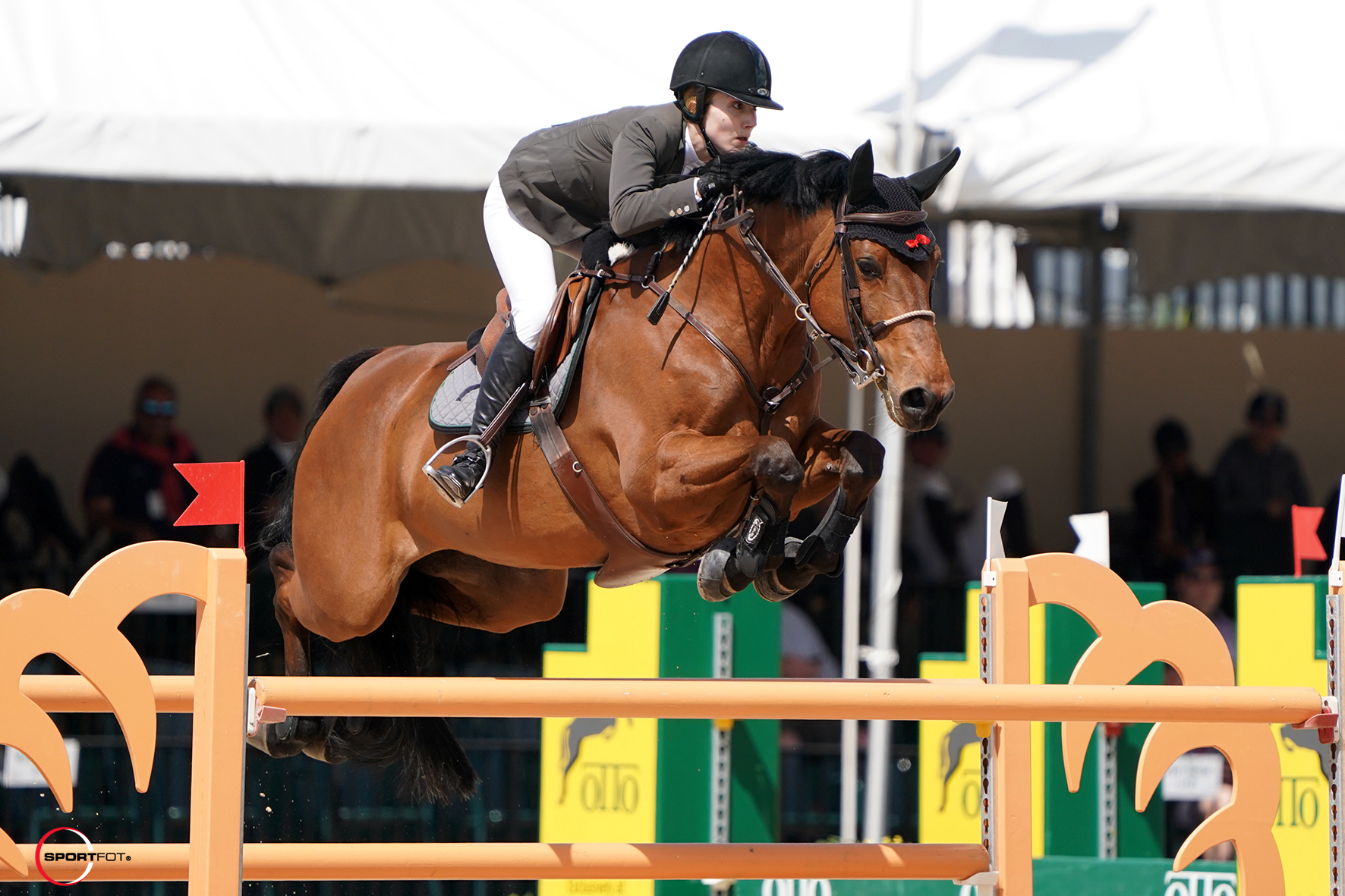 Representing weekly sponsor Premier Equestrian, the company that installed the OTTO Sport base mats geotextile for the new surface in the International Arena, Co-Founder and President Heidi Zorn was impressed with the talent showcased on Sunday afternoon.
"The quality of riders, horses, and trainers here is supreme," she said. "One of the main products that I think is making the biggest difference for them is the OTTO Sport base mat, which is a mat underneath the footing's surface which absorbs 40 to 50 percent of the concussion. I think that really helps the horses, especially these big jumpers on the down and the landing. They've got extra grip, and yet they've got the cushioning that they need."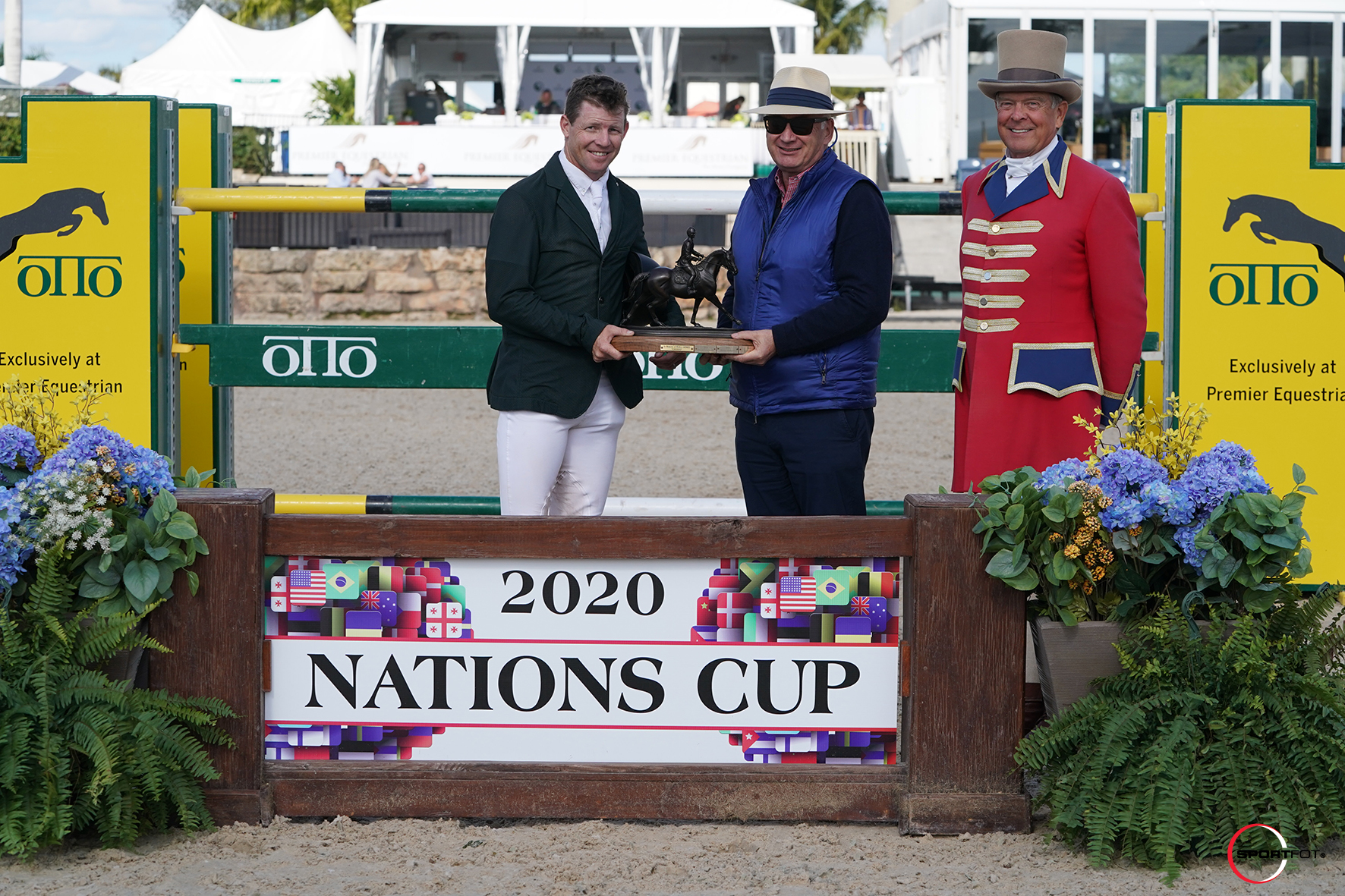 Two special awards were presented during the final day of week eight. First, the Niall Grimes Perpetual Trophy was presented by Equestrian Sport Productions President Michael Stone, to Shane Sweetnam for the third consecutive year as the leading Irish rider during the CSIO week.
Traditionally given to an international equestrian competing in the CSIO at WEF, the Kate Nash Boone Style Award was presented to Kevin Babington for 2020. A shift in the award's honor, Michael Meller gave it in recognition of Babington's determination, inspiration, and dedication to show jumping after a life-changing event re-focused his role in the sport last year.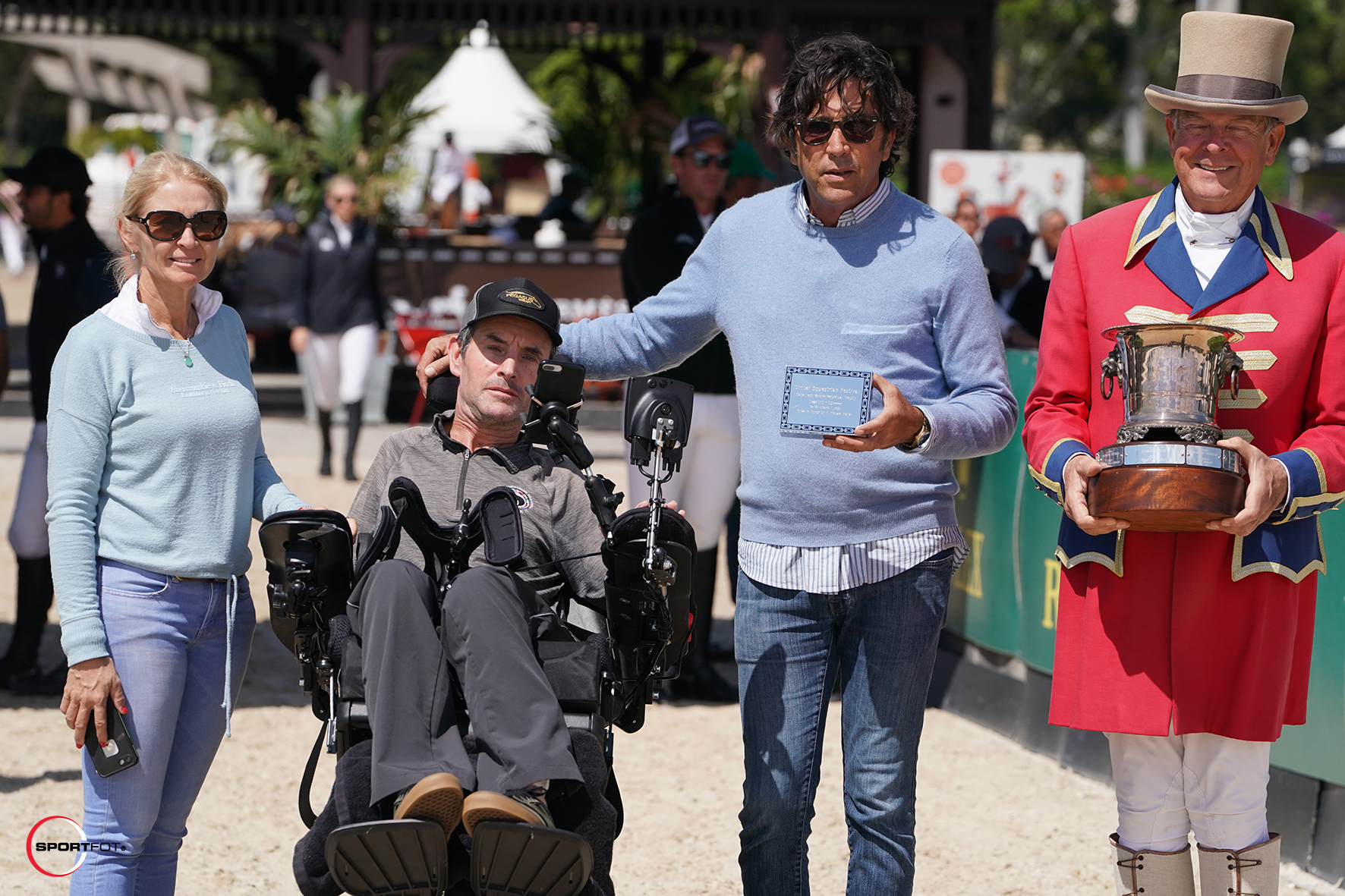 Final Results: $214,000 Premier Equestrian Grand Prix CSIO4*
1 CATOVER: 2009 Holsteiner stallion by Catoki x Contact Me
RODRIGO LAMBRE (BRA), Mario Onate: 0/0/37.73
2 CHAQUI Z: 2006 Zangersheide stallion by Chacco Blue x Quinar Z
SHANE SWEETNAM (IRL), Spy Coast Farm LLC: 0/0/38.29
3 CHARIELLE: 2006 Oldenburg mare by Chacco-Blue x Argentinus
ALEXANDRA THORNTON (GBR), Dunwalke Ltd.: 0/0/39.08
4 COLORADO 210: 2009 Westphalian gelding by Coronas x Lenardo
LUIS PEDRO BIRABEN (ARG), Miguel Madero & Luis Pedro Biraben: 0/0/40.42
5 J-BOSTON S.E.: 2009 BWP gelding by Boris van het Kluizebos
SYDNEY SHULMAN (ISR), Jill & Sydney Shulman: 0/4/37.55
6 CATOKI'S SON Z: 2009 Zangersheide gelding by Catoki x Aldo du Reverdy
ERYNN BALLARD (CAN), Ilan Ferder & Tal Milstein: 0/4/38.39
7 CARLOS JD Z: 2009 Zangersheide gelding by Canturo x Baloubet
DARRAGH KERINS (IRL), NRG Farm LLC: 0/4/40.71
8 FABRICE DN: 2010 KWPN gelding by Gelha's VDL Emilion Bloubet du Rouet
NICOLAS PIZARRO (MEX), Luis Alejandro Plascencia: 0/8/38.42
9 IDALVILLE D'ESPRIT: 2008 BWP gelding by Carabas van de wateringhoeve x Nabab de Reve
ERIC LAMAZE (CAN), Torrey Pines Stables Inc and Chris Stinett: 1/78.29
10 HH CONRAD: 2005 Holsteiner stallion by Con Air x Locato
QUENTIN JUDGE (USA), Double H Farm: 4/74.04
11 GARANT: 2011 KWPN gelding by Warrant x C'est La Vie
ELIZABETH MADDEN (USA), Abigail Wexner: 4/75.25
12 DON JUAN VAN DE DONKHOEVE: 2009 SBS stallion by Bamako de Muze x Heartbreaker
JESSICA SPRINGSTEEN (USA), Stone Hill Farm: 4/76.05
Alexa Lignelli and Olivia Sweetnam Dominate Always Faithful Equestrian Club Medium Pony Hunters to Close Out Week Eight
Two champions were crowned in the Always Faithful Equestrian Club Medium Pony Hunter division in Ring 11 on Sunday. With over 30 pony-and-rider combinations, the class was held in a California Split format. Champion of Section A went to Alexa Lignelli aboard EMC Entourage. Champion of Section B of the Always Faithful Equestrian Club Medium Pony Hunter division went to Olivia Sweetnam and Not So Secret.
Lignelli and EMC Entourage received two firsts, two seconds, and a fourth-place ribbon, while Sweetnam and Not So Secret earned two firsts, a second, a third, and a fifth place in the division.
Lignelli has been partnered with The Lignelli Family's EMC Entourage for two years. The 11-year-old Warmblood gelding by Jet Blue originally came to the Lignelli family as a breeding stallion, but they decided to geld him. Lignelli, of New York, NY, and EMC Entourage are no strangers to the winner's circle and won the USEF Pony Finals in 2019.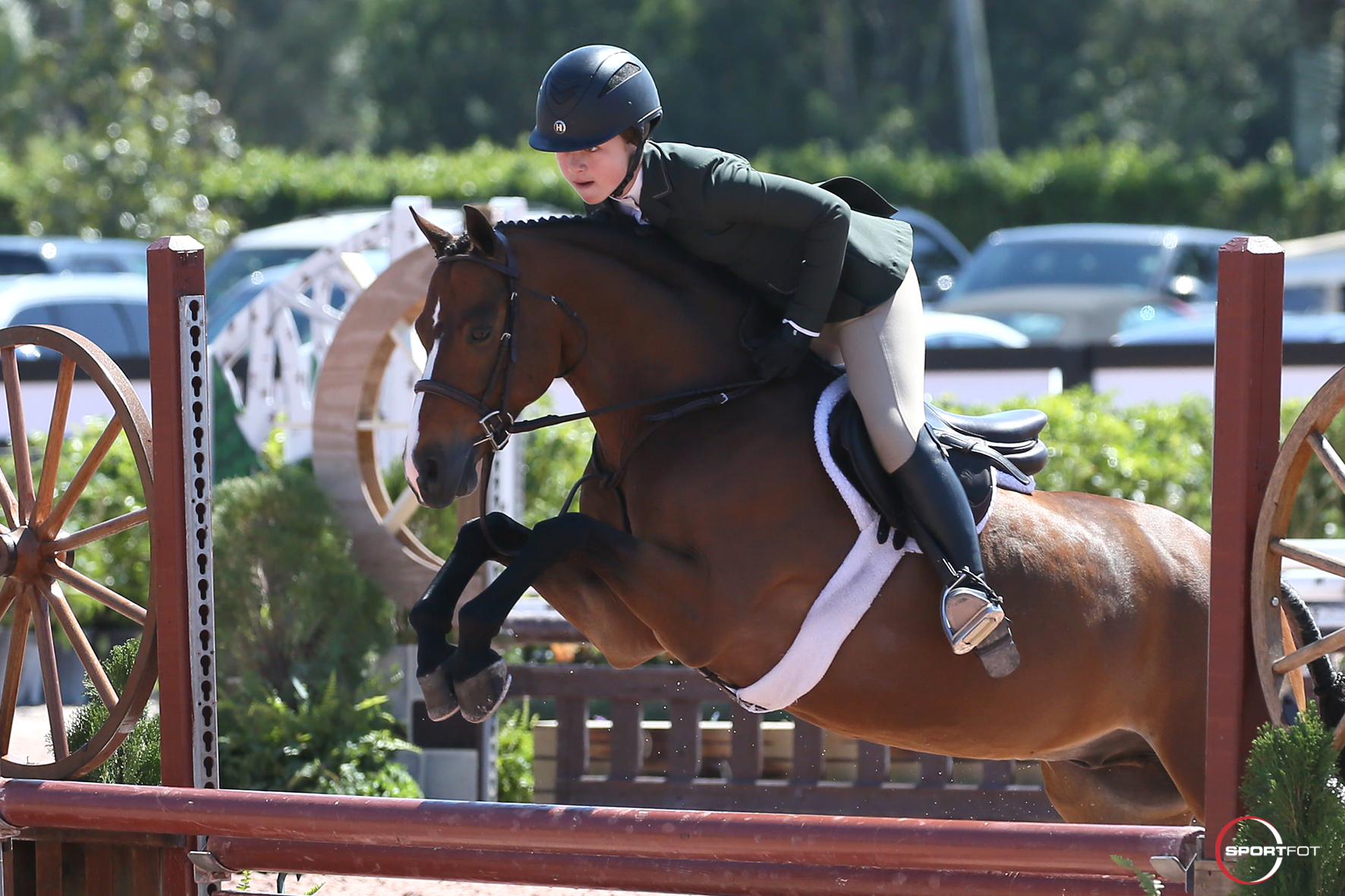 "He's been so awesome, and we have such a great partnership," Lignelli commented. "Every time I get on him, he always tries his best and he is very respectful of everyone that gets on him."
Lignelli, who trains with Christopher Payne and David Belford, felt that her rides both days were very consistent, which helped her to earn the championship in a large and competitive division. The pair received a second in the under saddle and received a high score to win the handy round on the second day.
"Today he got an 88 in the handy; we love the handy classes! He really pushed off his backend, which made him jump even higher," Lignelli described.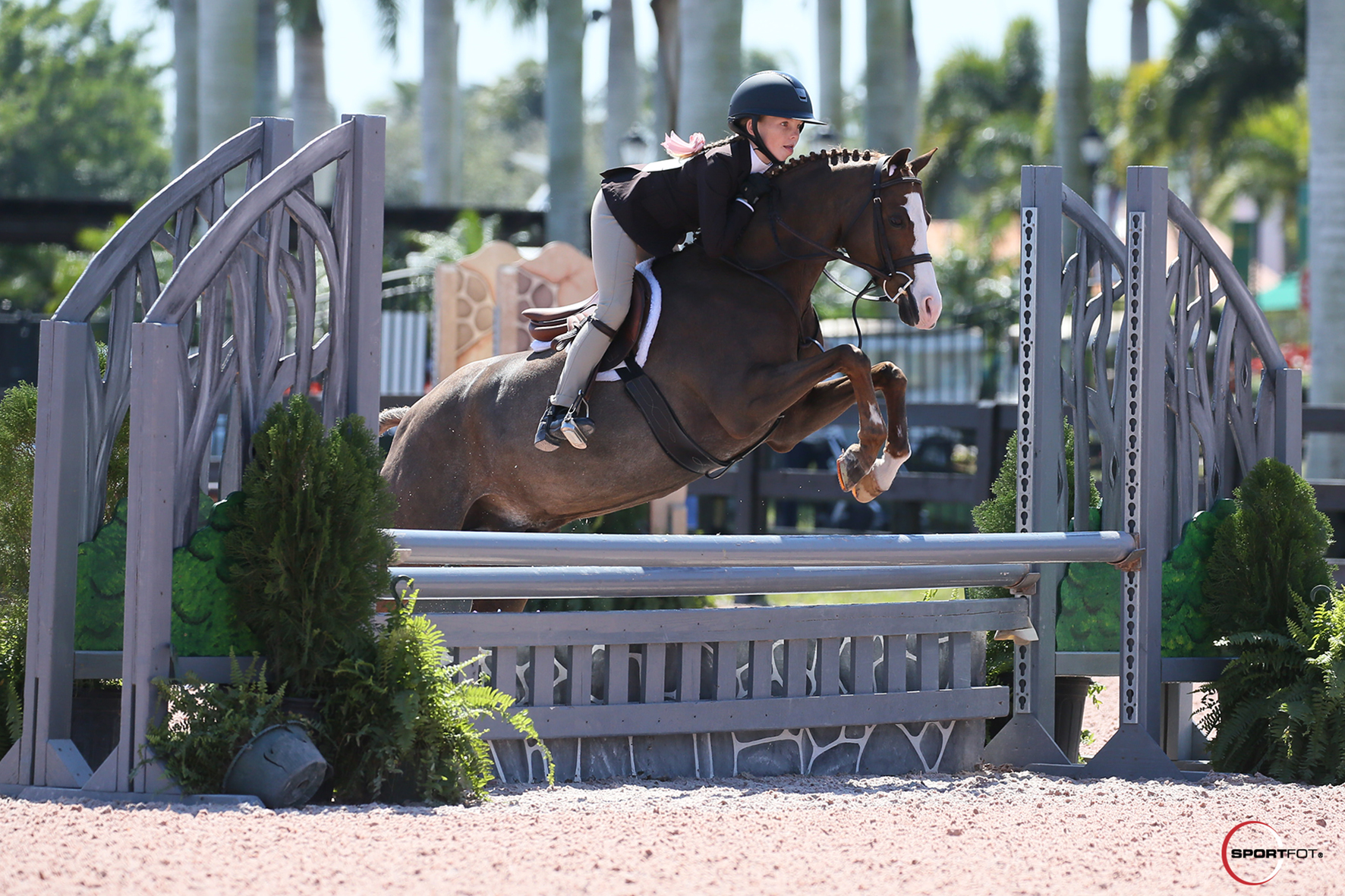 A last-minute switch gave Sweetnam the ride on Not So Secret, a 14-year-old gelding by Tapu Kid McCoy and owned by Eva Mackenzie. Even though Sweetnam had only ridden Not So Secret one time before showing him, that did not stop the pair from rising to the top of the class.
"You can kind of just float the reins and he will spot in on the jump," Sweetnam explained. "A lot of the ones I show now are a little greener so it was nice to get on one that knows its job."
Sweetnam, of Wellington, FL, and Not So Secret received two scores of 86 to win two over fences classes. Sweetnam felt that Not So Secret's great rhythm helped the duo create smooth and even rounds.
"All the jumps matched and I didn't have to make any huge adjustments," Sweetnam said of her rides. "In the handy, I did an inside turn that only one other person did successfully so I think that stood out."
Reserve champion of Section A went to Vivian Golden and Renaud Farm, LLC's Hidden Springs Waltz. Golden, of Reading, PA, rode Hidden Springs Waltz to two firsts, a second, and an eighth-place ribbbon. Sweetnam also received reserve champion of Section B riding Sweet Oak Farm's On Your Mark. The pair earned a first, second, fifth, and sixth-place ribbon in the division.
For full results, visit www.PBIEC.com.
Photo credit: Photos © Sportfot, official photographer of the Winter Equestrian Festival. These photos may be used only in relation to this press release and must include photo credit.