Andrew Kocher, one of the world's more exciting riders to watch, grew up riding with his dad and siblings before entering the FEI scene. Kocher is both fearless and laid-back when it comes to jumping a massive 5* Grand Prix and fans love his enthusiasm.
Kocher is currently traveling in Europe with three horses and his wife, Jennifer Jones. Kocher's most recent accomplishments include winning the $130,000 Ariat® Grand Prix CSI 3* at Tryon International Equestrian Center (TIEC) and the $50,000 Devon Welcome Stake CSI 4*. He also took home the second place honors at the Salzburg Arena in the CSI 4*. Kocher plans to travel back and forth from Florida to Europe and compete in both locations throughout the winter.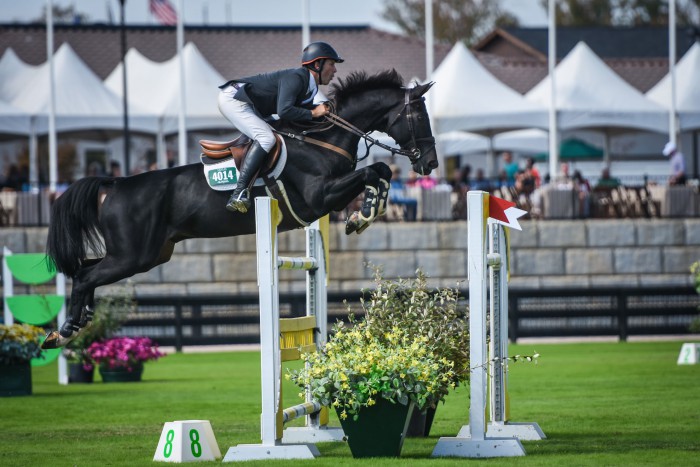 We caught up with Kocher to hear his favorite things about the up-coming Winter Equestrian Festival!
When did you first compete at WEF?
Oh man, I want to say 4 or 5 years ago and I went for three weeks maybe. I did the last week of pre-circuit and the first week of WEF the first time I went.
What was the first thing you thought when you competed here?
I thought I needed to get some more help. I was competing in the speed derby that they have the first week of WEF. I remember going clear so I thought I would at least place, but then I ended up being 25th or something ridiculous like that out of 80 riders. I realized how fast they really were going!

What went through your mind when you saw the show grounds for the first time?
The first time you see it, it is pretty amazing. There's no where that has that many horses! It's basically like horse city because there are farms everywhere and you're just shocked a little bit.
 How long do you plan to compete at WEF this year?
We will be there the whole season. This is the first time that I have been there for the entire 12-week season. We have 10 horses that are in Florida right now.

What does it feel like to compete against all of the top riders at WEF?
It's a lot more fun. What you really realize is that it's possible. When you first go, you think 'Aw man I'm never going to beat them' but they have good days and bad days just like everyone else. By competing against better components, like the top 50-100 riders in the world, you're going to get a lot better a lot faster.
 What is your favorite thing about showing at WEF?
I like the night classes. The big crowds, everyone is excited, and they are having a great time and it's fun. It's like a basketball game. Everyone is there cheering you on and if you do well, you look like a hero and if you don't, you look like a real idiot. I also like the classes on the grass field.

Who will you use for the Saturday night classes this season?
I would usually say Navalo, but he's in Europe right now and I am preparing him for the World Cup Finals. If he stays in Europe, I am not sure which horse I will ride in the Saturday night classes to be honest!

What is one of your favorite memories of WEF?
Last year I jumped the CSI 5*, and I had one down and that was a goal of mine to jump one of those classes respectably. I didn't plan on having one down, but still that was a goal of mine. I also have a lot of fun competing in The Battle of the Sexes, and I have never been on a team for the Great Charity Challenge but this year I am. So I'm really excited about that and it will be a lot of fun!
We wish you the best of luck, Andy!