For Immediate Release
Amanda Picciotto Feitosa and Sabrina Schmidt for Jennifer Wood Media, Inc.
Wellington, FL – January 13, 2022 – The series of Adequan® WEF Challenge Cup classes continued on Thursday, January 13, 2022, at the 2022 Winter Equestrian Festival (WEF), at the Palm Beach International Equestrian Center in Wellington, FL. Richard Vogel (GER) sped to the win in the $37,000 Adequan® WEF Challenge Cup Round One CSI3* with Caramba 92, owned by Horse Management GMBH.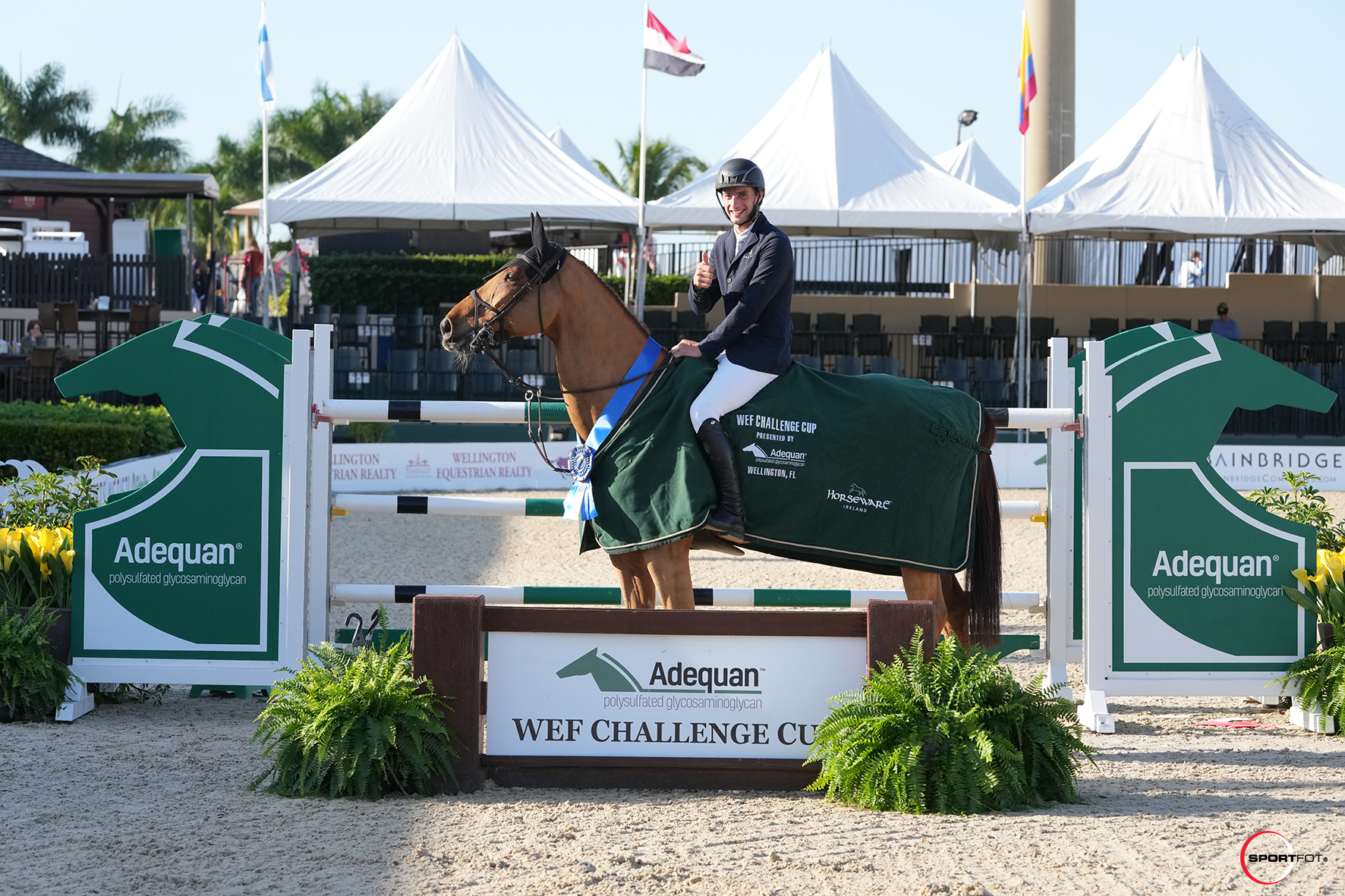 In addition to top national hunter, equitation, and jumper competition, WEF Week One showcases CSI3* classes through Sunday, January 13. The featured classes this week include the $140,000 Southern Arches Grand Prix CSI3* for "Saturday Night Lights," as well as the $37,000 CaptiveOne Advisors 1.50m Classic on Sunday.
Fifty-seven combinations challenged Anthony D'Ambrosio's (USA) and Andy Christiansen Jr.'s (ECU) first-round course, but only nine were able to finish fault free. Last to jump cleanly was McLain Ward (USA), who elected to withdraw from the jump-off, which left eight riders vying for the top spot.
First to go over the short course was Conor Swail (IRL) and Asta Torokvei's Gamble, who set the time to beat at 38.66 seconds. They would have to settle for a fourth-place finish. Lauren Balcomb (AUS) and her horse Verdini D'Houtveld Z shaved fractions of a second off of Swail's time, ultimately finishing in third place in 38.63 seconds. Then it was Daniel Bluman (ISR) whose quick, short turns helped him overtake the lead in 37.15 seconds with Over the Top Stables LLC's Cachemire de Braize. In the end, it was Vogel and Caramba 92 who rode to the win in 37.07 seconds.
Click to watch the winning jump-off!
An animated Vogel was not anticipating a win in Thursday's feature class.
He said, "I was very happy with the round, but I didn't expect a win today, because normally in the first days he's a little bit spooky. I was very, very happy that he was actually so good today already, because normally he gets better and better the more rounds he gets. I hope we can keep that."
Caramba 92 has been with Vogel for about two years. The 11-year-old gelding by Comme Il Faut 5 x Baloubet du Rouet is the best of Vogel's string here in Wellington. Because of Caramba's potential, Vogel is taking a measured approach to Caramba's show schedule for the WEF circuit.
"We can't ask for any better here [at WEF], so for us it's the best place to bring the horses along," he noted.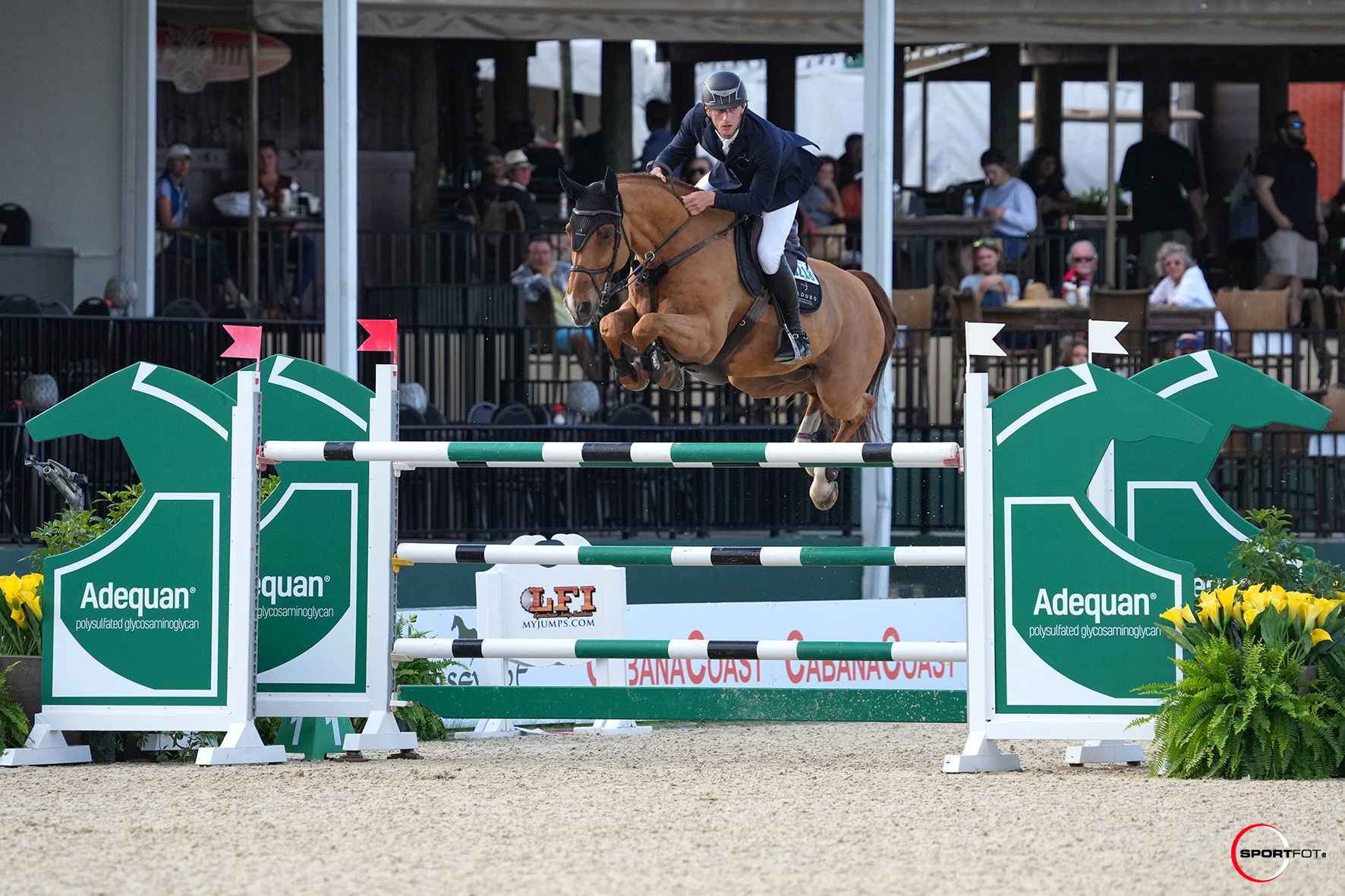 With 13 weeks of competition, there is plenty of time to ease into the bigger classes.
"I don't want to do too much with him since he has so much quality," said Vogel. "I just want to go step by step and see how he feels and what feeling he gives me if I can step up, or if I should wait to make the next step. Take the time."
Over their time together, the pair have developed a special relationship.
"I like all my horses, but with this one I think I really have a special bond, and we really fight for each other," explained Vogel.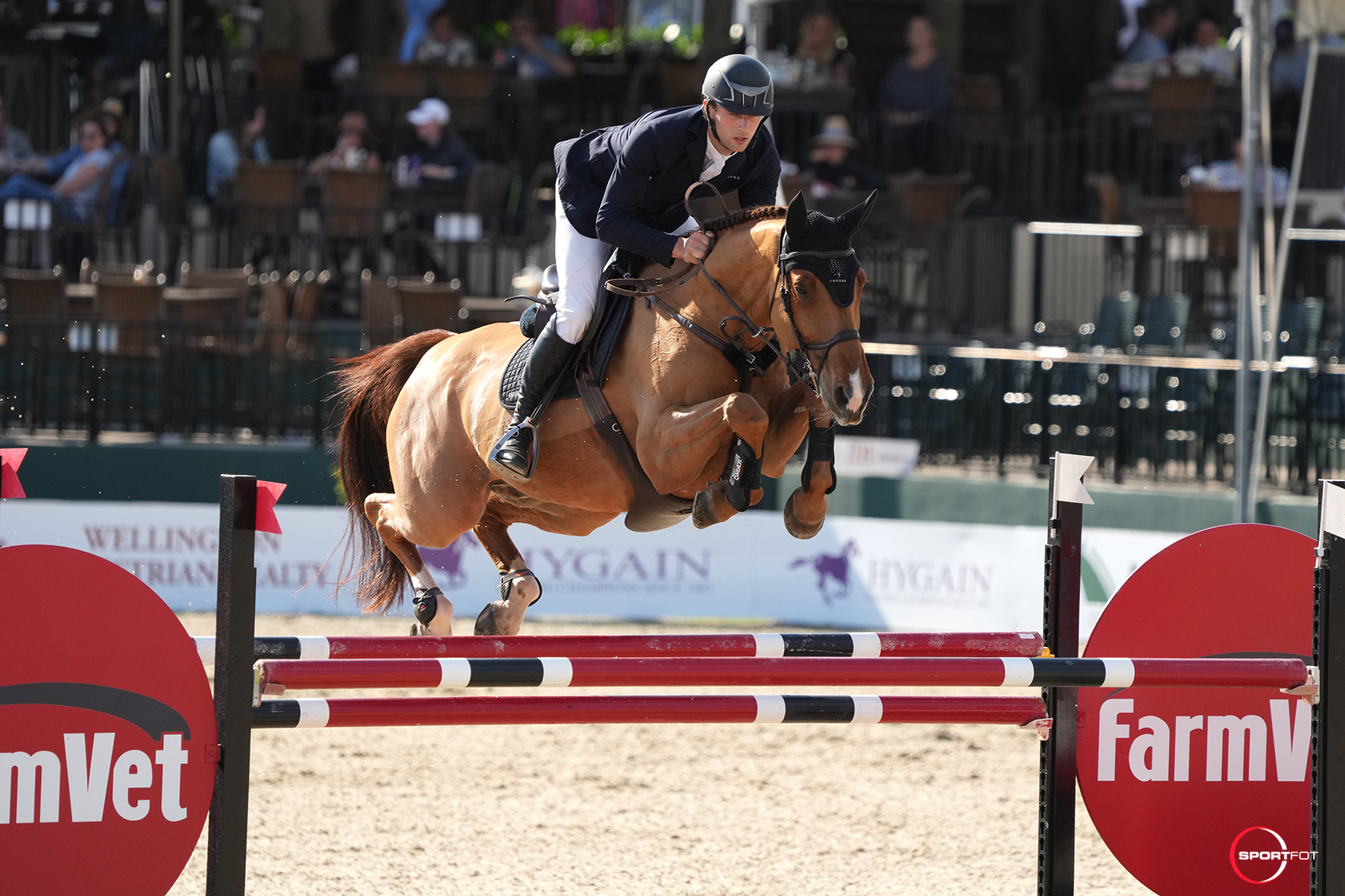 Caramba knows he is special as well and is already aware of his superstar status in Vogel's eyes.
"In the stables, he's quite a little bit a diva, and he really is the boss," described Vogel. "Then out here, as soon as we get to the warm-up or in the ring, he's a little bit more 'Okay Richie, now you're the boss. Please, help me.'
"He wants to get a bit of confidence from me, so around [the ring] my job is to give confidence to him," he continued. "In the stables and everywhere else, he feels like he's the boss, and that's good. That's how it should be."
Earlier in the day, Conor Swail took the win in the Bainbridge Companies 1.40m CSI3* speed class with Alexis Sokolov's Cana van de Blom. McLain Ward was close behind with Bonnie M Z, owned by Gut Einhaus LLC. Rounding out the top three was Isabella Russekoff (USA) who rode Suave Pony LLC's Balou's Fly High.

Final Results: $37,000 Adequan WEF Challenge Cup Series Round 1 CSI3*
1 CARAMBA 92: 2011 Westphalian gelding by Comme Il Faut 5 x Baloubet du Rouet
RICHARD VOGEL (GER), Horse Management GMBH: 0/0/37.074
2 CACHEMIRE DE BRAIZE: 2012 Selle Français gelding by Nissan Quality Touch Z x Jaguar Mail
DANIEL BLUMAN (ISR), Over the Top Stables LLC: 0/0/37.159
3 VERDINI D'HOUTVELD Z: 2011 Zangersheide gelding by Verdi TN x Caretino 2
LAUREN BALCOMB (AUS), Lauren Balcomb: 0/0/38.634
4 GAMBLE: 2012 KWPN gelding by Vingino x Indoctro
CONOR SWAIL (IRL), Asta Torokvei: 0/0/38.664
5 ABC QUANTUM CRUISE: 2009 Irish Sport Horse gelding by OBOS Quality x Cruising
HECTOR FLORENTINO ROCA (DOM), Wyndmont: 0/0/40.354
6 VOLO'S DIAMOND: 2011 Oldenburg gelding by Stakkatol x Baloubet de Rouet
TANNER KOROTKIN (USA), Sandalwood Farms: 0/4/39.697
7 BOSTON ASK: 2008 Hanoverian gelding by Berlin x Quidam de Revel
JORDAN COYLE (IRL), Elan Farm: 0/8/42.175
8 GERKO: 2011 KWPN gelding by VDL Zirocco Blue x Chin Chin
DAISY FARISH (USA), Lanes End Showjumping: 0/12/46.692
9 H&M CARAT DESIRE: 2008 Holsteiner gelding by Carinjo x Latus II
MCLAIN WARD (USA), Susan Heller & McLain Ward: 0/WD
10 DOUBLE O SEVEN 111 Z: 2011 Zangersheide stallion by Der Senaat 111 x Otangelo
JUAN MANUEL GALLEGO (COL), Juan Manuel Gallego: 1/77.97
11 MARCIANO MVF: 2011 Zangersheide gelding by Stakkato x Leberoi H
HEATHER CARISTO WILLIAMS (USA), Stephanie Bulger: 4/70.83
12 AYADE HERO Z: 2011 Zangersheide mare by Aganix du Seigneur x HH Radco
SPENCER SMITH (USA), Ransome Rombauer: 4/72.09

Alistaire an All Star in Equine Tack & Nutritionals Green Hunter 3'6"
The E.R. Mische Grand Hunter Ring had 25 horse-and-rider combinations in the Equine Tack & Nutritionals Green Hunter 3'6" division over two days during WEF 1.
With lots of variation in who placed in the top six spots from class to class, one combination was consistent throughout. Jennifer Bauersachs of Frenchtown, NJ, and Alistaire, a seven-year-old Holsteiner gelding by Untouchable and owned by LCJM LLC, were the only pair to pin in every class. The two earned scores of 85, 86, 87, and 88 paving their way to the championship.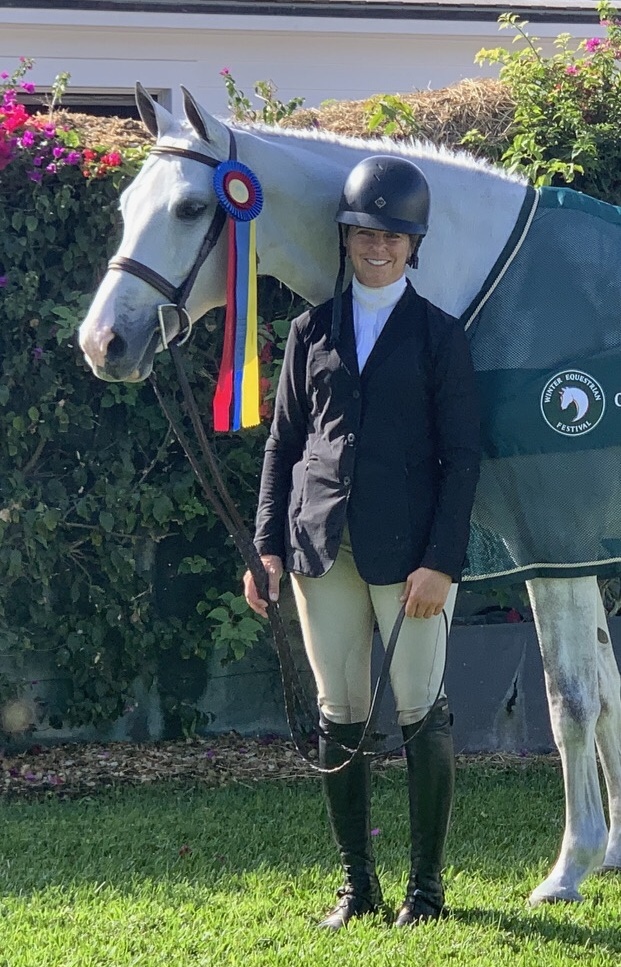 "I was really proud of him," said Bauersachs. "Of course, these are the first shows at 3'6" for a lot of horses, but this is only his second show of doing it, and he's really handled it so well. He feels like he's having fun!"
Bauersachs is no stranger to talented horses with countless championships in the hunter divisions at top shows, but this one is a little different than some of her other rides.
"His brain is just unbelievable," she noted. "He's brave at the jumps, he doesn't care about things around the ring, and it's a pleasure to have an easy horse for a change.
"He just really enjoys it; he has a good time," added Bauersachs.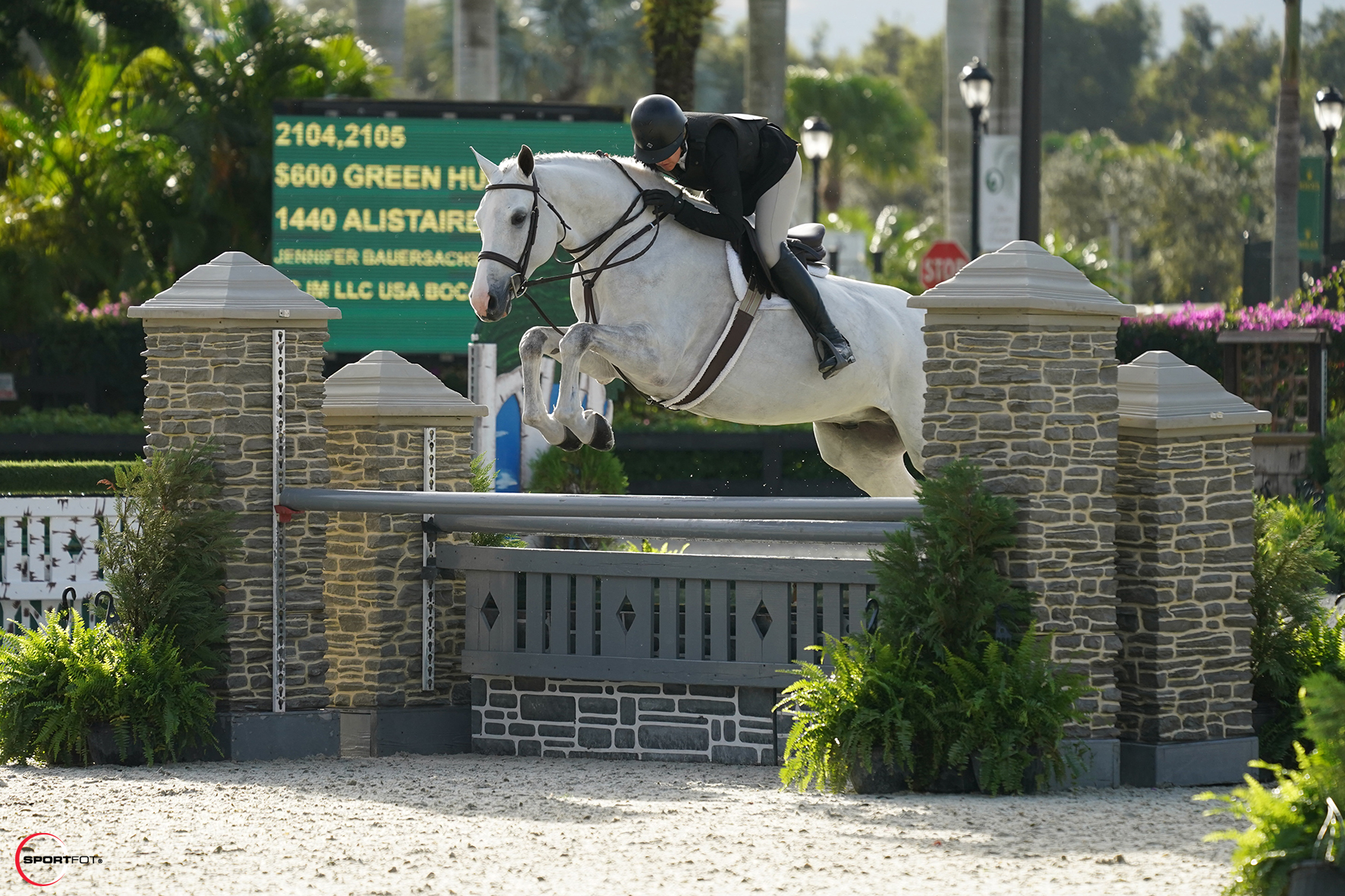 Bauersachs continued about Alistaire, "He's funny and has a lot of personality, but all in a good way. If you pass him on the crossties and you don't acknowledge him, he stomps his feet as if to say, 'How could you just walk by and not say hi to me?'"
From past to present to future, things look bright for the strapping grey who showed in the 3'3" division in 2021 when the pandemic derailed plans in 2020.
"We just took our time with it, so it was really nice to still be able to have these results right away," said Bauersachs. "Lannie Lipson of LCJM LLC owns him, and she's very patient and a great owner who really wants him to excel in the professional divisions and just see what he can do. He is eventually going to be for her to do the amateurs on, so when he's finished [in the professional divisions] I'll hand the reins over to her."
The division reserve champion rosette went to Jordan, a nine-year-old Selle Francais gelding owned by Margot Peroni and ridden by Elizabeth Towell Boyd.
WEF 1 continues on Friday, January 14, with Douglas Elliman Real Estate 1.45m Jumpers CSI3* and the championship for the Young Hunter 2'9" division.