For Immediate Release
Wellington, FL – October 21, 2020 – The 2020-2021 Stall Boarding Plans form for Palm Beach International Equestrian Center is now available. CLICK HERE to view the various options from Equestrian Sport Productions for stabling at the ESP Holiday Series, 2021 Winter Equestrian Festival, and ESP Spring Series, and be sure to submit your requests to stabling@equestriansport.com by November 15, 2020. Please review all boarding rules and provide signatures on the second page before submitting your requests.
Important New Boarding Rules
For safety, all persons accessing the show grounds in 2020-2021 must meet the current COVID-19 CDC requirements before access is granted. Everyone will be required to sign a waiver, have ESP issued credentials (by Holiday and Horses) and their temperature taken with a touchless thermometer before being allowed on the property. There will be no exceptions. Please allow extra time for this process every day on arrival.
Due to the volume of credential and temperature checks required during peak arrival times for exhibitors and staff, no horse transport vehicles of any kind will be allowed on the property Wednesday – Sunday between the hours of 6:30 am and 9:30 am. This will help temperature checkpoints to flow as quickly as possible to prevent unnecessary back ups and will also improve General Safety.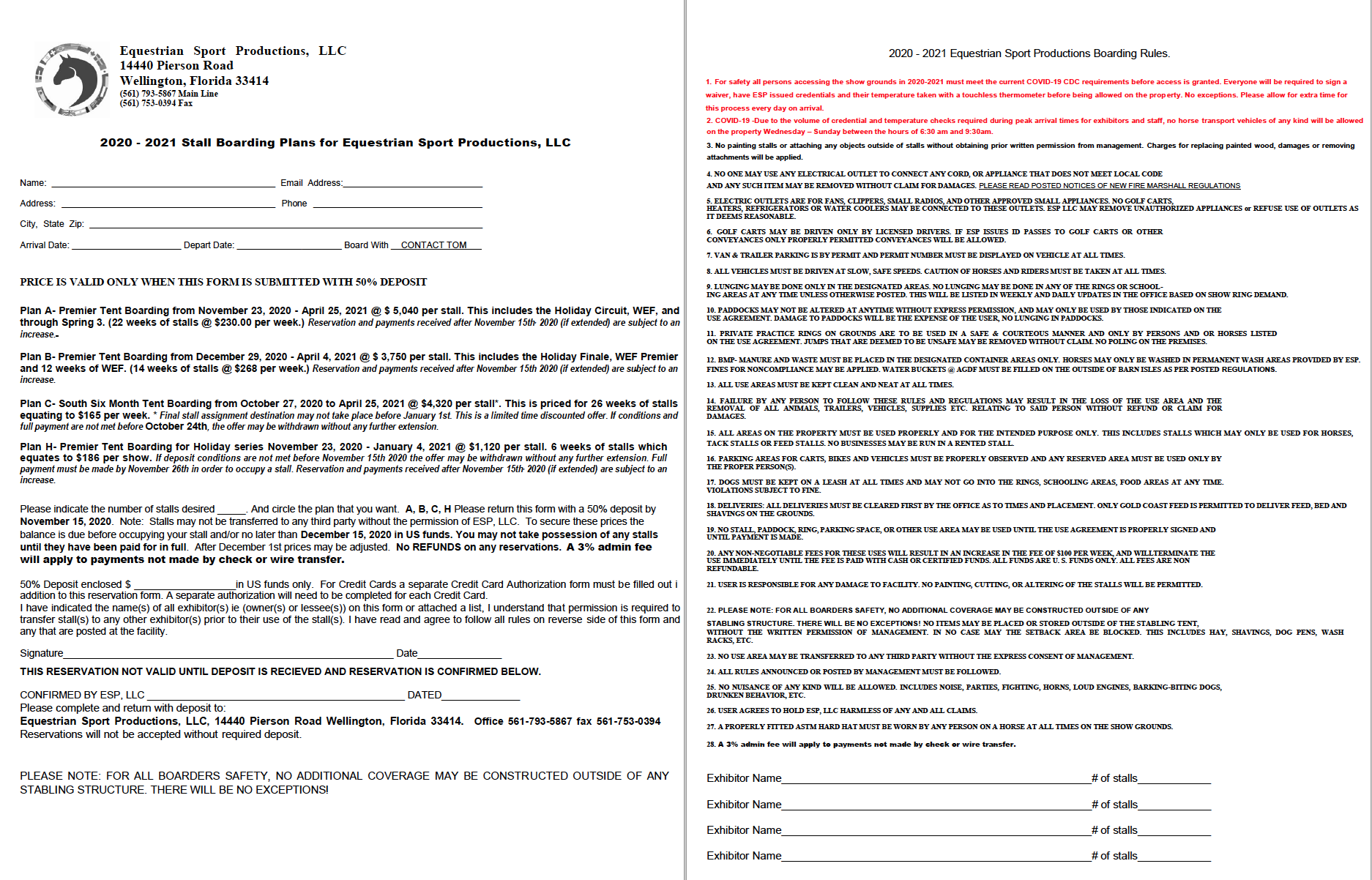 CLICK HERE to view and download the 2020-2021 ESP Stall Boarding Form.
This year, the ESP Show Management team has removed rows of stalls from all tents to make the aisles wider for COVID-19 distancing. ESP strongly suggests that groups who want to keep their regularly reserved areas together make their reservations as soon as possible to avoid missing the opportunity to retain those stalls.
Barn areas will continue to be restricted to essential staff (e.g. Grooms, Trainers, assistant trainers and Vets.) Please consider this when planning setups for 2021. Trainers and barn managers will be responsible for their own staff and clients and should make changes to their setups so that it does not encourage any congregating in the barn areas, including omitting couches and seating areas. Grooming areas should be spread out as much as possible, and clients should only be in the barn areas for very brief periods of time while socially distanced.
It is critical for the sustainability of our sport to follow all rules for social distancing and masks, especially in the barn areas. Barns who do not follow the rules will be evicted.
To learn more about the safety protocols and procedures at the horse show, please CLICK HERE.
For more information on the Winter Equestrian Festival, please visit www.PBIEC.com.