For Immediate Release
Jennifer Wood Media, Inc.
Wellington, FL – March 25, 2018 – Week 11 of the 2018 Winter Equestrian Festival (WEF) concluded on Sunday, March 25, with competition for up-and-coming stars of show jumping. In the $50,000 Hermès Under 25 Grand Prix Final, 19-year-old Ransome Rombauer of St. Helena, CA, sped to the win riding her own Emorkus RE. The series winner was 24-year-old Lacey Gilbertson riding Baloppi.
WEF concludes with its twelfth week of competition on March 28-April 1, sponsored by Rolex. The highlight event is the $500,000 Rolex Grand Prix CSI 5* in the WEF International Arena on Saturday, March 31, at 7:45 p.m. Additional featured classes are the $15,000 International Hunter Derby Hunt & Go and $10,000 USHJA National Hunter Derby starting at 9:30 a.m. on the grass derby field at Equestrian Village (13500 South Shore Blvd.) on Friday, March 30. WEF wraps up with the $50,000 USHJA International Hunter Derby Round Two on the grass derby field at 1 p.m., and the $50,000 Wanderers Club Grand Prix CSI 2* and $50,000 CP 1.50m National Grand Prix in the WEF International Arena, on Sunday, April 1.
There were 30 entries in the $50,000 Hermès Under 25 Grand Prix Final, and 11 found the ticket to a clear round and advanced to the jump-off. The fastest in the jump-off by nearly three-and-a-half seconds (43.73 seconds) was Rombauer and Emorkus RE, a nine-year-old KWPN gelding by Quasimodo van de Molendreef x Haarlem.
"I didn't think about going clear," admitted Rombauer. "Usually halfway through the jump-off I will think, 'Oh, I'm going clear' and then I'll change my ride. I have to go out there and be very present, in the moment, and react and not plan it out too much or overthink. I heard [trainer] Spencer [Smith] at every other jump yelling at me to go faster and that really helped me push myself."
This is Rombauer's first year competing in the Hermès Under 25 Grand Prix Series, and this was her third event in the series. She and Emorkus RE were third in the Semi-Final in week 8.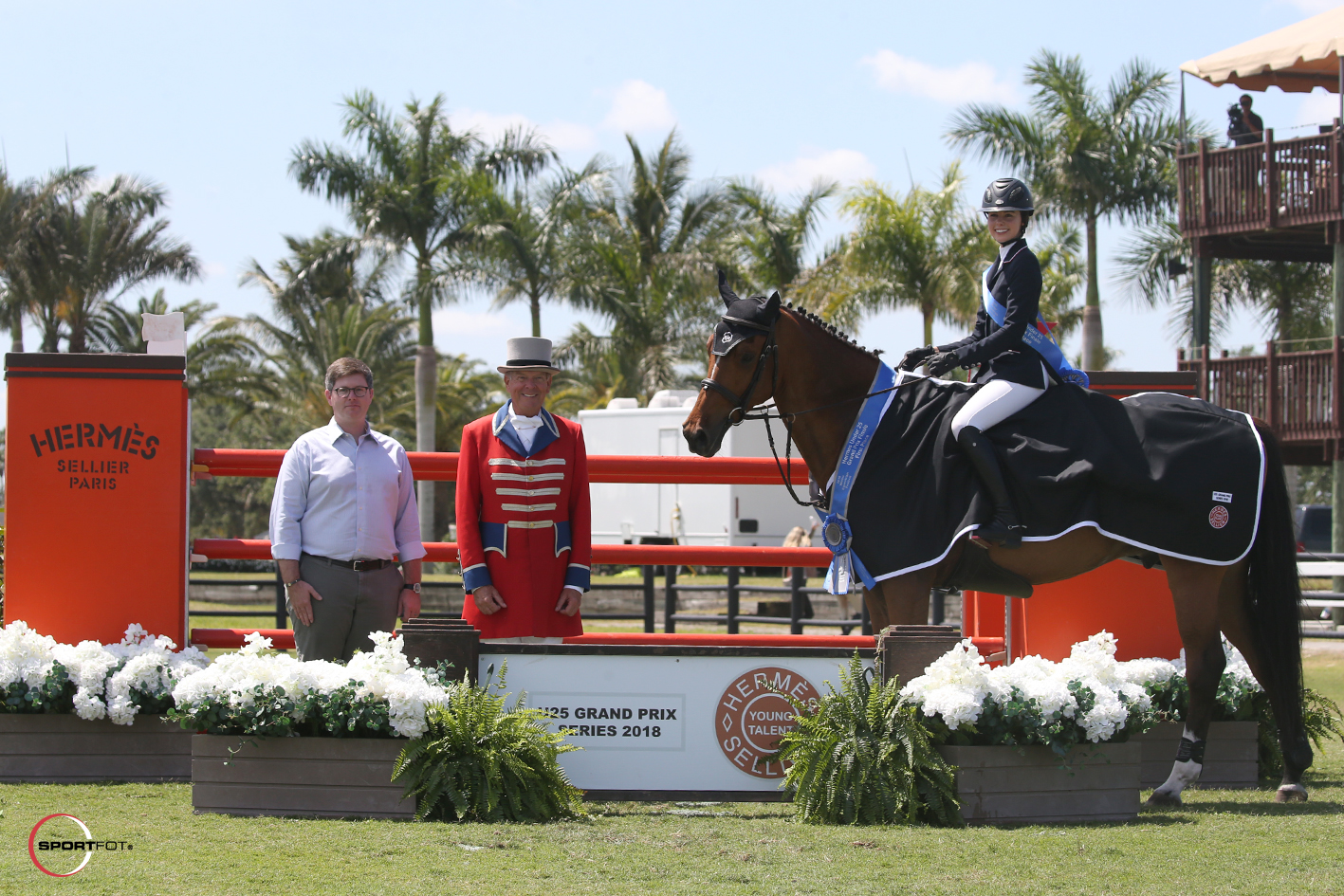 She was the winner of the 2015 Platinum Performance USEF Show Jumping Talent Search Finals-West, but noted, "I don't have a lot of experience in jump-offs and going fast."
"He is a pretty sensitive horse and a little fussy in the mouth," she said of Emorkus RE, her partner of less than a year that was imported by Canadian Olympic Champion Eric Lamaze. "When I first got him, he was pretty sensitive and reactive. He goes in a happy mouth bit and I could just two-point his canter all day. He never looks at the jumps and he's great with the open water. I was really surprised because I've had horses who have had some issues at the open water and it's the best feeling going around and not have to worry about that."
Second-place finisher Coco Fath of Fairfield, CT, was especially pleased with her performance in the final after falling off in the semi-final. She and Huckleberry, a 12-year-old Dutch Warmblood gelding owned by Hillside Farm LLC, finished double clear in 47.06 seconds.
"I wanted to go in today having that off my mind and have a nice, solid round," said the 17-year-old who won the George Morris Excellence in Equitation on Friday evening. "My jump-off, I was looking to go smooth and clear. I didn't take out strides in the first or second line like Ransome did – I was just going for that clear. I was so impressed with my horse and he is the most amazing horse ever."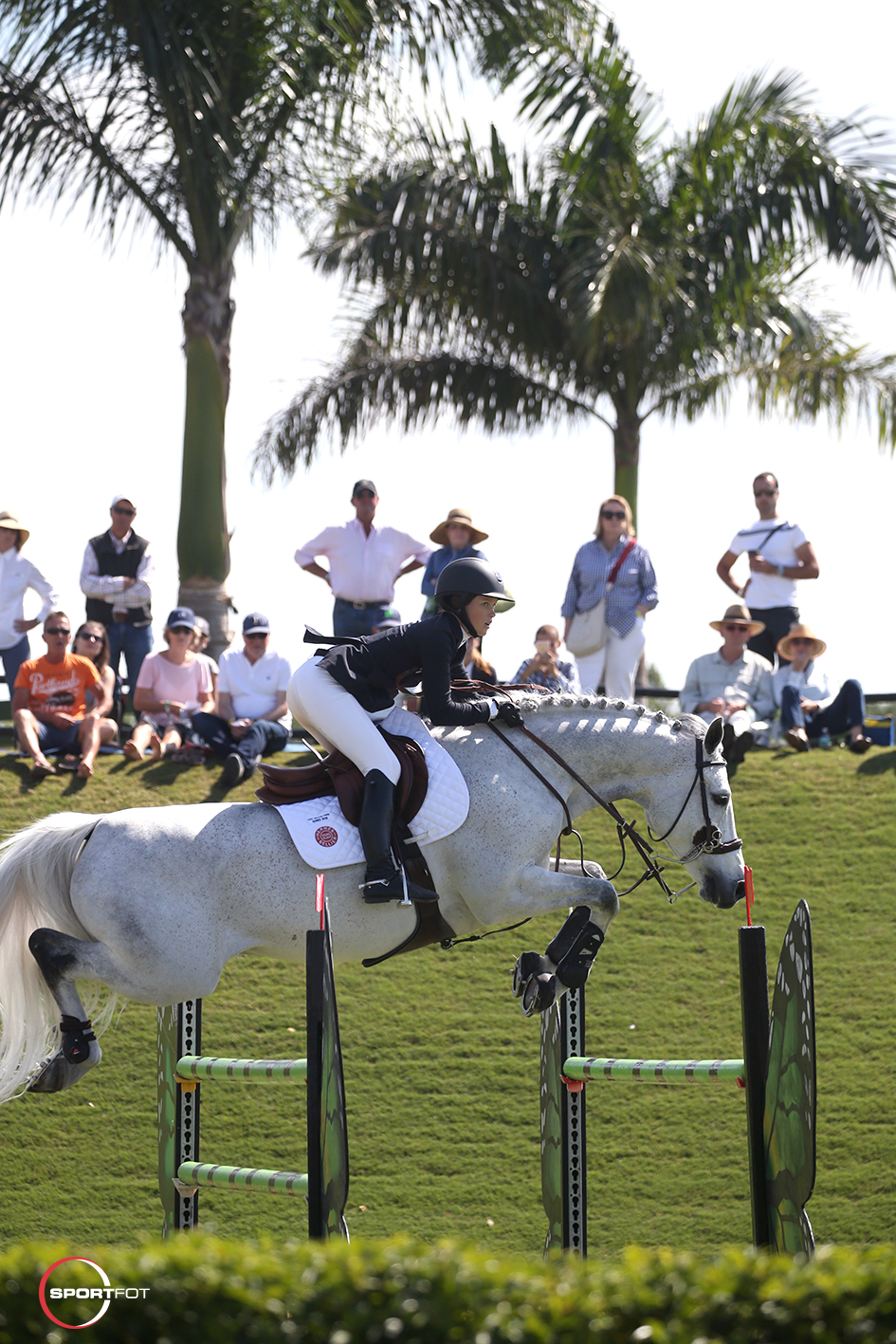 Third place in the final went to Daisy Farish of Versailles, KY, riding Great White, a 10-year-old Holsteiner gelding by Cumano x Julio Mariner. They were clear in 49.86 seconds.
Leading from the very beginning of the series with a win in the first grand prix in week two was overall winner Lacey Gilbertson, 24, on Seabrook LLC's Baloppi. The pair also won the semi-final in week 8. While they had four faults in the final jump-off, their consistency throughout all of the events easily landed them the series victory.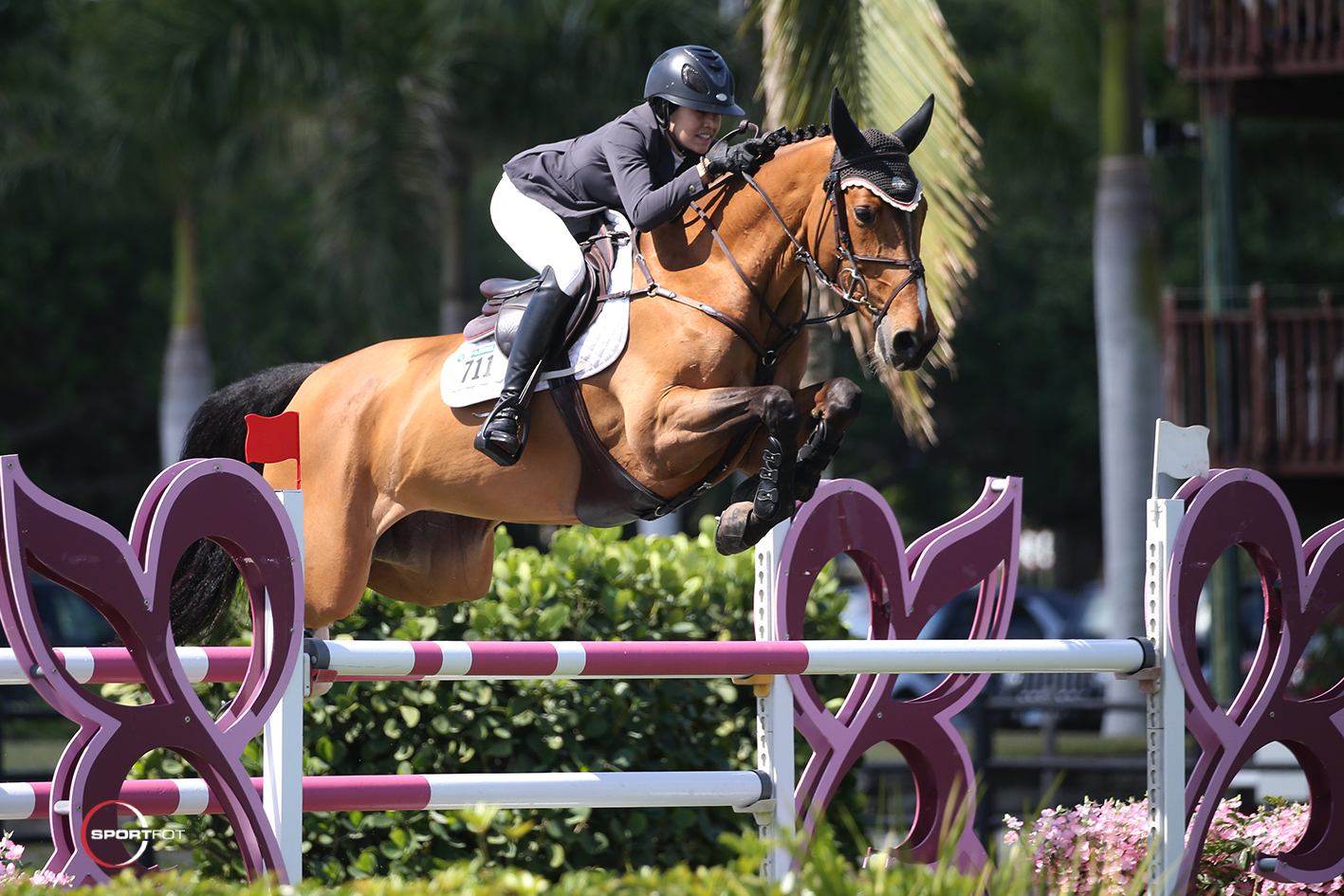 "I owe my consistency definitely to my horse," said Gilbertson of the 11-year-old Danish Warmblood mare. "She is very consistent and she always comes out every day the same. She is very simple, brave, and careful. She has given me a lot of confidence to be able to go in every time and know we can do it. She has no weaknesses. She is the most amazing animal in the entire world and I am very lucky to be able to call her mine. She's good at everything. There's nothing we've done that I have thought, 'Whoa, she is in over her head'. She handles everything really well and has a very good brain."
"The final was great; she jumped amazing in the first round and I got a little unlucky in the jump-off with having b of the double down, but I can't really be disappointed," she continued. "I think she's had two rails all circuit and that's pretty great, so I am pretty happy and very pleased with her."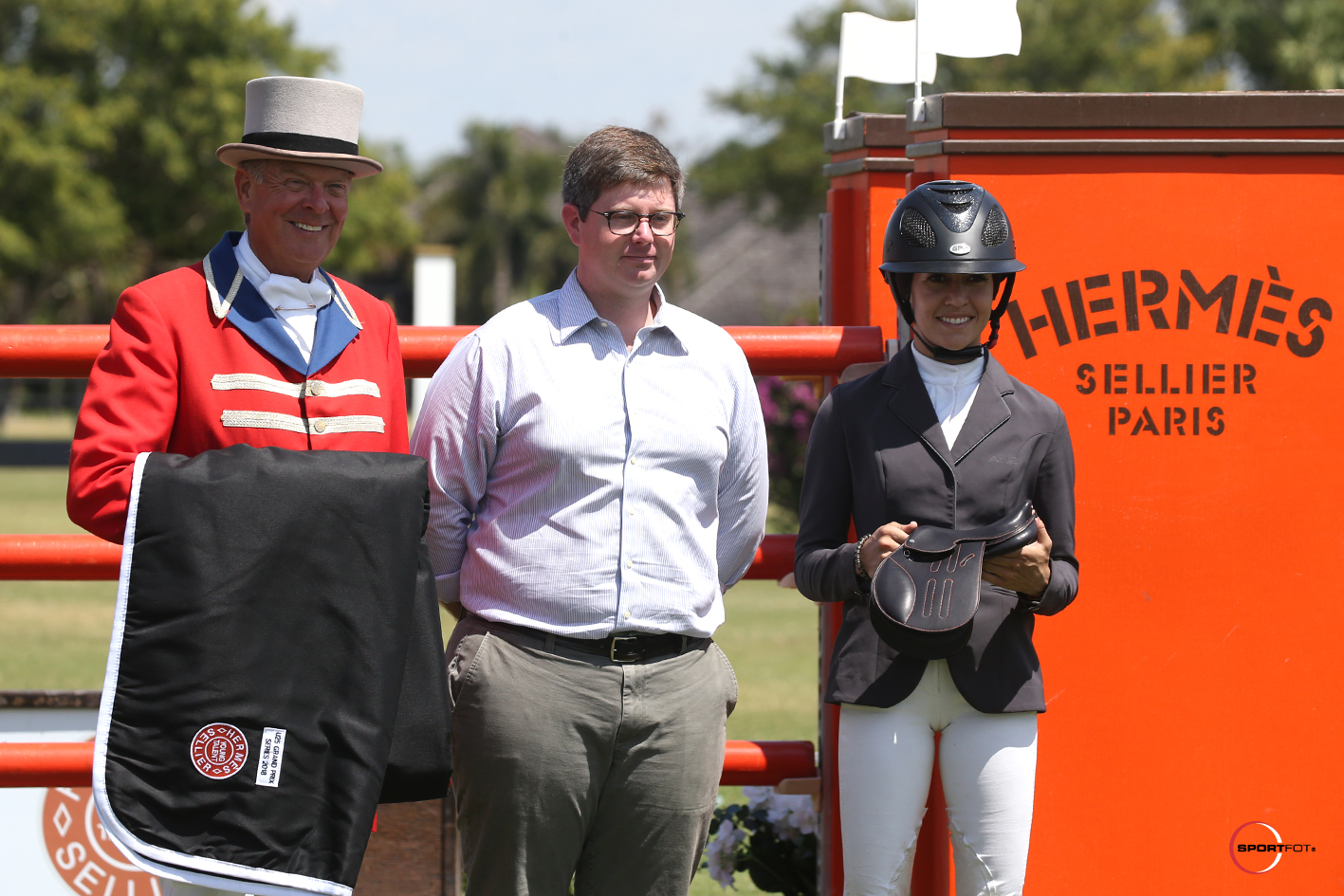 For her overall win, Gilbertson was presented with a Hermès mini saddle, a $10,000 store credit to Hermès, as well as an invitation to the Chantilly CSI 2* in France with transportation provided by The Dutta Corp. in association with Guido Klatte.
Final Results: $50,000 Hermès Under 25 Series Final
1 EMORKUS RE: 2009 KWPN gelding by Quasimodo van de Molendreef x Haarlem
RANSOME ROMBAUER (USA), Ransome Rombauer: 0/0/43.73
2 HUCKLEBERRY: 2006 Dutch Warmblood gelding
COCO FATH (USA), Hillside Farm LLC: 0/0/47.06
3 GREAT WHITE: 2008 Holsteiner gelding by Cumano x Julio Mariner
DAISY FARISH (USA), Daisy Farish: 0/0/49.86
4 BARIANO: 2001 BWP gelding by Jetset-D x Skippy
EUGENIO GARZA (MEX), El Milagro: 0/4/42.88
5 FARONA: 2019 KWPN mare by Baltic VDL x Lux
DANIEL COYLE (IRL), Ariel Grange: 0/4/43.25
6 BALOPPI: 2007 Danish Warmblood mare
LACEY GILBERTSON (USA), Seabrook LLC: 0/4/43.77
7 QUIDAM MB: 2005 Oldenburg gelding by Quidam's Rubin x Argentinus
ADRIENNE STERNLICHT (USA), Starlight Farms LLC: 0/4/44.05
8 VILLAMOURA: 2009 mare by Diamant de Semilly
SYDNEY SHULMAN (USA), Jill Shulman: 0/4/49.73
9 UPPER: 2008 Selle Francais gelding by Diamant de Semilly x Nadir de San Patrignano
DAVID OBERKIRCHER (USA), Southfields Farm LLC: 0/8/44.79
10 CADE: 2002 Belgian Warmblood gelding by Heartbreaker x Darco
ABIGAIL MCARDLE (USA), David McArdle: 0/8/45.62
11 ALEX: 2004 Westphalian gelding by Arpeggio x Mon Cheri
JENNIFER GATES (USA), Evergate Stables LLC: 0/8/47.83
12 DAROSSO VDL: 2008 Dutch Warmblood stallion by Cassini x Indoctro
JAD DANA (LBN), Spruce Meadows Ltd.: 1/89.10
Aly Muir and Paparazzi Prevail in Palm Beach International Academy Children's Hunter Horse Older
The last day of week eleven at the Winter Equestrian Festival celebrated a championship win for Aly Muir and her entry, Paparazzi, in the Palm Beach International Academy Children's Hunter Horse Older division. Muir, of Allison Park, PA, piloted the 17-year-old Hanoverian gelding to a first, second, and eighth over fences with a third-place finish on the flat.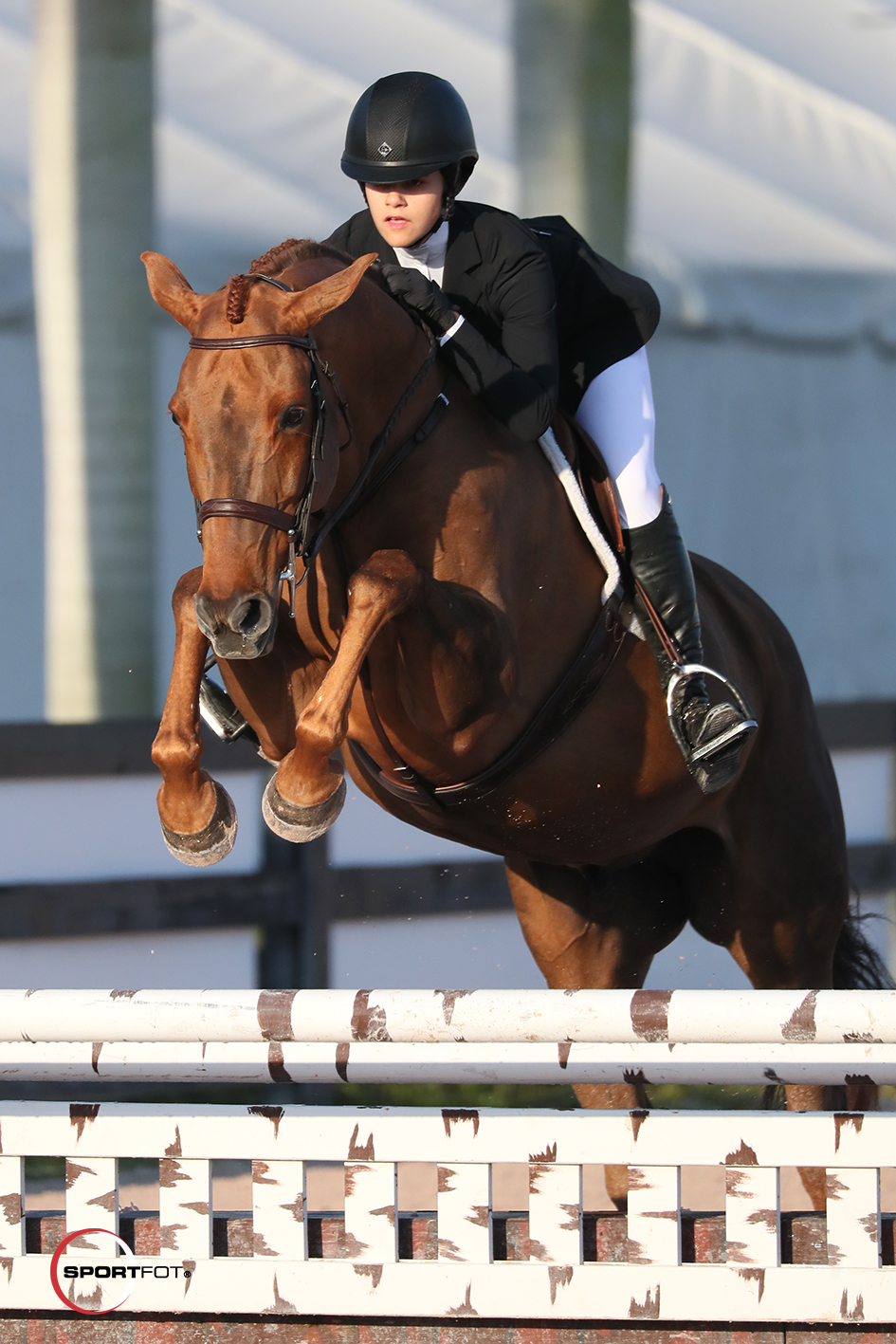 "This is my first championship win of the season," said Muir who has been partnered with the liver chestnut for two years. "I love riding him, so I am really excited about this. He can be a little bit of a push-ride, but for the most part he is pretty easy. He is a true listener!"
The duo started together at the 2'6" height last year and moved up to the Children's Hunter 14 & Under 3' division at the Old Salem Farm Spring horse show where they captured the Grand Champion title along with the award for Best Rider. While the 15-year-old has started to get more involved in the jumpers this year, Paparazzi has continued to be her "go-to guy" in the hunter ring.
"We have been working a lot on pace," said Muir. "I have had to switch a lot between horses in the jumper and hunter rings this circuit, so I have been focusing on staying the same speed with him through the turns."
Muir, who trains with Lainie Wimberly, plans to keep showing Paparazzi in the Children's Hunter Horse Older division for another year before moving up to the Junior Hunter division. After that, Muir voiced that the gelding will hopefully be able to teach all that he's taught her to one of the little kids at her barn.
Noa Diener secured reserve honors aboard Linden, an entry of Derby Lane, LLC. The pair finished sixth in the under saddle in addition to a first and second over fences.
WEF concludes with its twelfth week of competition on March 28-April 1.
Photo Credit: Photos © Sportfot, Official Photographer of the Winter Equestrian Festival. These photos may be used only in relation to this press release and must include photo credit.