For Immediate Release
Wellington, FL – June 8, 2020 – The long-awaited ESP June Spring Series officially kicked off last week. It started with the ESP June Equitation Day on Wednesday, June 3, followed by four full days of USEF "A" National & Jumper 4* competition. The weekend culminated with the $24,999 HorseLinc Grand Prix (plus $3,800 in add back money) on the Derby Field during which 59 competitors contested the track, but Paul O'Shea aboard Squirt Gun came out on top. O'shea of Wellington, FL piloted Eye Candy Jumpers, LLC's mount around the jump-off course to victory in just 44.726 seconds. "The field was fantastic. After all those rounds, the footing was still perfect," commented O'shea after the class. "It's actually incredibly to get to jump out here. The horses always learn a lot out here because there's just so much to look at. So, it's a great opportunity."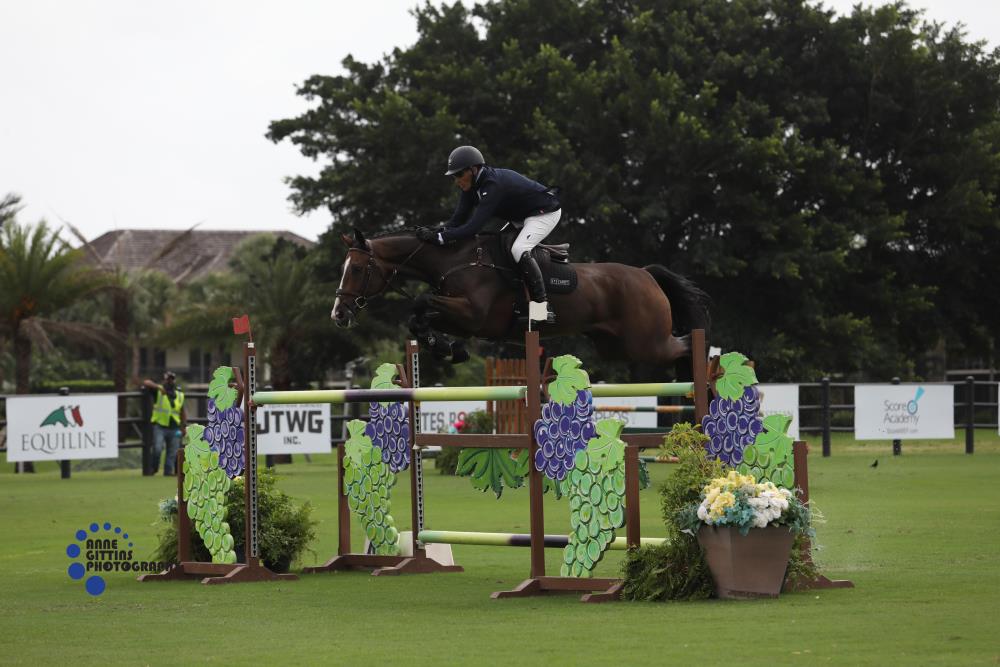 O'Shea and his team will continue competing in Wellington next week for the ESP June II show and then travel North: "After next week we'll go up to Kentucky for Split Rock and then Tryon for the summer. That's the plan at the moment. We're certainly glad to be back competing again."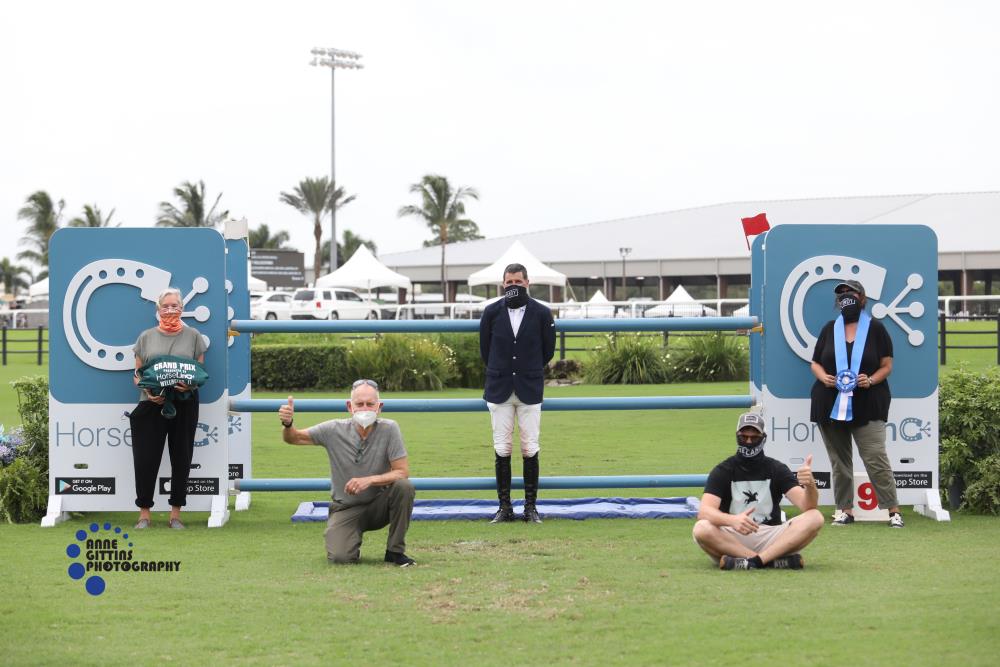 Claiming second place was Wellington, FL's Alberto Michan and his entry Cosa Nostra after crossing through the timers in 45.677 seconds. Emily Ward of the United Kingdom rounded out the top three once she completed the jump-off in 45.695 seconds aboard Millioninmind, owned by Stephen Barnes. The track was designed by Puerto Rico's Hector Loyola and proved tough for many, as only 13 competitors made it to the second round.
Jumper Highlights:
Thursday's jumper competition opened with the $5,000 Omega Alpha 1.35m Stake in the Van Kampen Covered Arena, during which Canada's Erynn Ballard claimed the top position with Hilco, owned by Pauline Esdale, in a quick 37.681-second jump-off. Kim Farlinger of Wellington, FL and Sher-Al Farm Inc.'s Stanley Stone were close behind, crossing through the timers in 37.708 seconds to take the red ribbon, while Andrew Bourns of Wellington, FL piloted his entry, A Toi De Prim into the third-place position after a time of 38.279 seconds.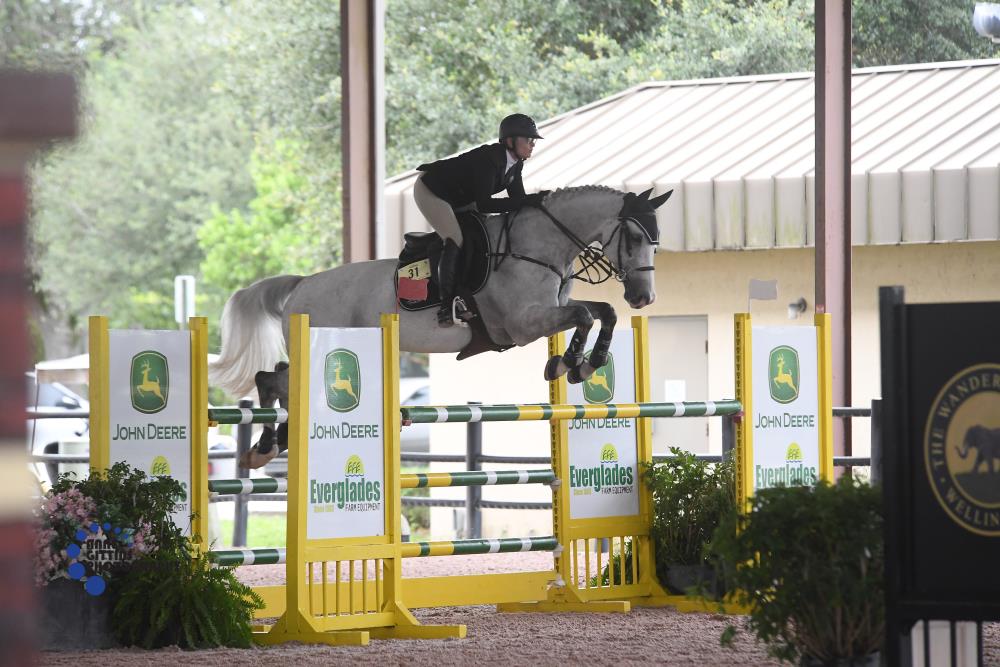 During Friday's $10,000 Joe DiMaggio Children's Health Specialty Center Open Stake, Alberto Michan rode Cosa Nostra to victory in 49.611 seconds, while Emily Ward and Millioninmind placed second after a 50.391-second round. Erynn Ballard came in third with Ilan Ferder's Bettina Des Celtes in 50.663 seconds.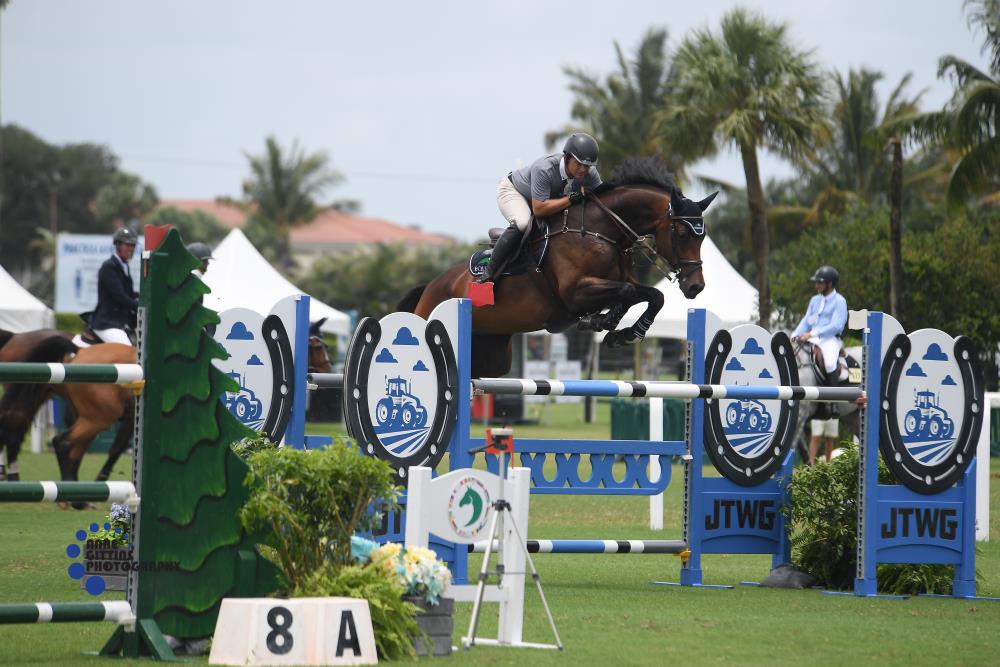 On Sunday, the $2,500 Equiline Medium Junior Jumper Classic followed the Grand Prix on the Derby Field with Mia Albelo of Miami, FL taking home the blue ribbon riding her Larocque De Revel in 42.918 seconds. Hallie Grimes of Houston, TX claimed both second place and third aboard Can We Keep It? LLC's Ace in 45.17 seconds and Leasure Z, also owned by Can We Keep It? LLC, in 46.728 seconds, respectively. 
A total of 32 trips competed in the $2,500 Equiline Medium Amateur Owner Jumper Classic, which also took place on the Derby Field Sunday afternoon. New York, NY's Samantha Kasowitz captured the top spot with Tixie Des Hayettes, owned by Fair Play Farm, after a 47.146-second round. Catherine Kubiak of Lake Forest, IL piloted Somerset, owned by Over Fences Farm, LLC, to second place in 51.917 seconds, while Brittany Hildebrand of Houston, TX rode Hilington Farm's Clearblue Z to third in 50.75 seconds and four faults. 
Over in the Van Kampen Covered Arena, the $2,500 Equiline Low Junior Jumper Classic took place early Sunday morning. Mia Albelo and her Cassandra Dreams secured the blue ribbon after a second-round time of 32.359 seconds. Hallie Grimes rode Quickly Stated, owned by Can We Keep It? LLC, to second place in a time of 33.509 seconds, while Caroline Mawhinney of Woodside, CA finished in third aboard her entry Billy Porter after a 34.753-second jump-off. 
Alexandra Davidson of New York, NY and her mount Vassilisa won the $2,500 Equiline Low Amateur Owner Classic after stopping the clock at 33.296 seconds. Coming in second place with a jump-off round of 34.45 seconds was Sheer Levitin of Delray Beach, FL atop Quantico 946, while Dolores Funes of Wellington, FL claimed third upon completing the course in 35.002 seconds with JK Horse Trucks Chantilly.
The $1,500 M&S Children's Jumper Classic presented by Score At The Top gave Mia Green of Wellington, FL the blue ribbon for her efforts with Forget Me Not Farm's Levisto Alpha Z after the pair crossed the timers at 37.023 seconds. Second place was awarded to Hensley Humphries of Austin, TX and Duty Free De Chamant, owned by Stormfront Sales, LLC, who finished the course in 38.016 seconds. Mia Green returned to the winner's circle, this time aboard Healthfield Hunters, LLC's Cornetto with a final time of 35.179 seconds and four faults. 
Meanwhile, Petra Sobotova of Naples, FL took home the blue ribbon in the $1,500 M&S Adult Amateur Jumper Classic presented by Score At The Top after completing the jump-off in 34.863 seconds atop her entry Fontanel Van T&L. Close behind with a jump-off time of 34.896 seconds was Carine Pignatti of Lake Worth, FL and Chanel B 2, owned by Take the High Road, LLC, to claim second place. Rounding out the top three was Kimberly Swenson of Wellington, FL piloting her Eloma through the course in 35.94 seconds. 
The $1,500 Low Child/Adult Jumper Classic presented by French Horse Exports saw Sophia Bruny of Bradbury, CA take home the blue ribbon aboard Quarto Mail, owned by Elan Farm, after completing the course in 31.452 seconds. Ana Lisa Carr of Franklin, TN rode her E-Wally through the timers in 32.037 seconds to claim second, while third place went to Nora Keefe of Dover, MA and her mount, Delft Blue after they finished in 33.184 seconds. 
Over in the Equestrian Village International Ring, the $250 CCTV Agent .85m Classic took place Sunday afternoon with Jesus Alejandro Rigu of Wellington, FL receiving top honors aboard his entry Kascaya Z after a 35.425-second jump-off. Manuela Gomez of Wellington, FL raced through the timers in 38.942 seconds with Jorge Gomez's Coignard Katalei to claim the red ribbon, while Jayden Rivas of Delray Beach, FL piloted Unzipped, owned by Brandy Rivas, to a third-place finish in 71.37 seconds and four faults in the first round.
Hunter Highlights:
The $1,000 Junior Hunter Classic named Raina Swani of Ponte Verda Beach, FL champion with Brendan Williams' entry Knightly after the pair received a combined score of 174. Hallie Grimes and Custom Made, owned by Can We Keep It? LLC, finished with a final score of 171.5 to claim second place, while Sterling Malnik captured third with her mount Coronation and a combined score of 170.
Kaitlin Porath of Wellington, FL claimed top honors in the $1,000 Amateur Owner Hunter Classic aboard her entry Breaux after receiving a final score of 166. Grace Tuton of Wellington, FL piloted Nicodemus Farms' Sorbet to a score of 165.5 to claim second, and Nicodemus Farms' Lautento to a score of 165 to secure third place.
The $500 Small Pony Hunter Classic was bested by Ava Barnes of Liberty TWP, OH who secured both first and second place aboard Ponies & Palms Show Stables LLC's Rico Suave' and Ava Berman's Roll Call, respectively. Lily Epstein of Coral Gables, FL rode Cosmo, owned by Little Brook Farms, Inc. to a third-place finish.
Lily Epstein returned to the podium for the blue ribbon in the $500 Medium Pony Hunter Classic, this time riding her own entry Deja Blue, while Hannah Famulak of New York, NY claimed the second and third-place ribbons, aboard Mind Your Step, owned by Monkey Business, LLC, and Anisette, also owned by Monkey Business, LLC.
Alexa Elle Lignelli of New York, NY and California Dreamin' II, owned by Littlewood LLC, secured the first-place position in the $500 Large Pony Hunter Classic, while Ocean Ridge, FL's Sterling Malnik piloted her entry Prestige to second. Ellie Sadrian of Summit, NJ took home the yellow ribbon atop her mount, Daventry's Davinci.
Division Champions:
The Amateur Owner Hunter 3'3" division presented by Vita Flex named Christina Plichta of Wellington, FL and Kingsford, owned by Purple Lane Farm, LLC, champion for their efforts this past weekend. Kaitlin Porath and her Breaux earned the reserve champion ribbon in the division. 
Hollin Sutherland of Grosse Pointe Farms, MI piloted her mount Kingpin to the champion title in the Children's Hunter division presented by Joe DiMaggio Children's Health Specialty Center. Megan Davis of Wellington, FL aboard Castlewood Farm, Inc.'s Magic Man finished the division in reserve.  
Ella Bostwick of Wellington, FL championed the Adult Amateur Hunter division presented by Resilient Fitness aboard Melissa Burns' Cake Walk, while Laurie Stevens of Boca Raton, FL and her mount Santiago claimed reserve champion. 
John French of San Juan Bautista, CA rose to the top of the leaderboard in the Green Hunter 3' division with Perfect Pie Z, owned by Jessica Leto, while Purple Lane Farm, LLC's King's Mark was piloted to reserve champion by Steven Gregorio of Wellington, FL.
The Low Adult Hunter division presented by Pilates Rocks was championed by Priscilla Denegre of Middleburg, VA and her String of Pearls, while Julie Burton of Loxahatchee, FL claimed the reserve ribbon aboard her entry Uppercase. 
Newtown, CT's Ellie Ferrigno captured champion honors in the Large Junior Hunter 3'6" division presented by #1 Education Place aboard Captilized, owned by Redfield Farm, while Isha Swani of Ponte Verda Beach, FL secured the reserve champion ribbon with Shadowfax Equestrian LLC's entry Snippet.  
The Small Pony Hunter division presented by Dover Saddlery saw Ava Barnes win the champion ribbon, riding Rico Suave', owned by Ponies & Palms Show Stables LLC, while Taylor Cawley of Wellington, FL received the reserve champion title aboard Michael Savage's Blondie.
The ESP June Spring Series, hosted at Equestrian Village, will continue this week with the second Equitation Day on June 10, followed by the USEF "A" National & Jumper 4* competition from Thursday, June 11 through Sunday, June 14. Click HERE to view the Prize List. No spectators are allowed on-site, but friends and family can view all classes via our SGL live stream HERE.
To view the full results of the $24,999 HorseLinc Grand Prix, please click HERE.
To learn more about the new safety protocols and procedures at the horse show, please click HERE. 
Photo credit ©Anne Gittins Photography. These photos may only be used once in relation to this press release with proper credit.