For Immediate Release
Wellington, FL – September 1, 2019 – Although impending weather led to a revised schedule, the ESP Summer Series continued this Labor Day weekend with competition held on Friday and Saturday. Pablo Barrios of Wellington, FL championed the Lactanase 1.35m Open Stake at Equestrian Village on Saturday afternoon aboard Gut Einhaus, LLC's Le Vio. Barrios and Le Vio were the eighth combination to enter the arena and after a clear first round, they continued to complete the jump-off course in just 39.2 seconds. Nataly Leibovitz of Wellington, FL, and her entry, Leon were the only other pair to have a double-clear performance. They held the lead for the first half of the class after their 42.624-second jump-off. Rounding out the top three finishers was Clotilde Lewis of Aventura, FL piloting her Donna Vi through the timers in 42.5 seconds with four faults in the jump-off.
Saturday's course was designed once again by Hector Loyola and challenged a total of ten entries, of which five returned for the second round. After the class Barrios commented, "There were enough clear to have a fun jump-off, and I knew I had two more [entries] behind me so I had to go as fast as I could." Barrios has been competing with the ten-year-old gelding for two years now. "He's just coming back from a break. He was jumping some 2* and 3* classes and doing really good." Barrios continued, "Our last horse show was in Tryon and he won three classes so he's going pretty good this Summer." The duo is planning to stay in town over the next few months: "We'll let the hurricane pass, hopefully it misses us, and then we'll just get prepared and train for the next season at WEF."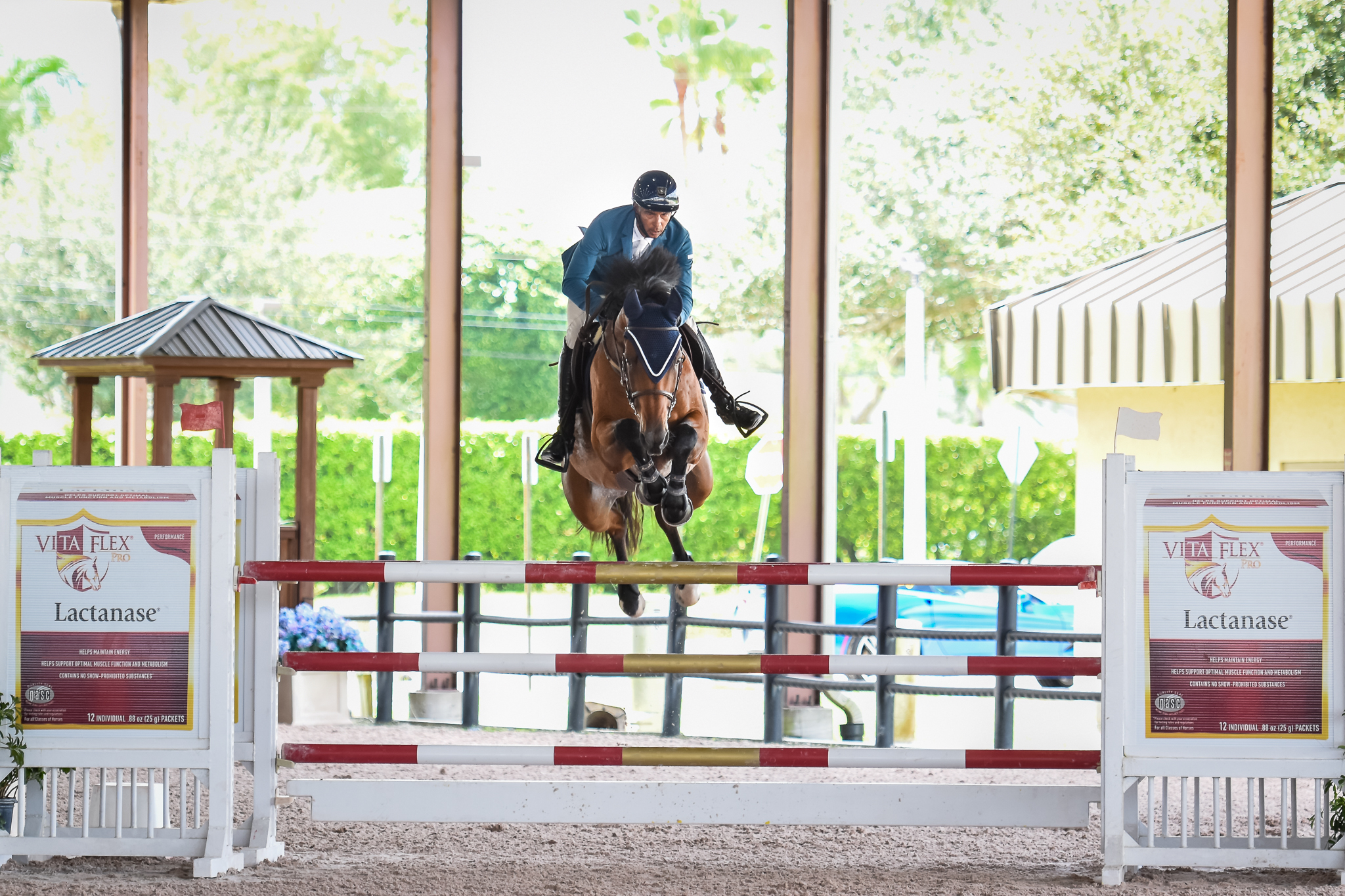 Jumper Highlights 
The $2,500 Equiline Low Junior/Amateur Owner Jumper Stake was bested by Tanner Korotkin of Wellington, FL and La Disco, owned by Emily Marschok, with a final time of 41.166 seconds. Orlando 267, piloted by Alexia Thermiotis of Southwest Ranchs, FL, completed the jump-off in 47.131 seconds and with four faults added. Ava Humphries of Highland Beach, FL took home the third-place ribbon after her 70.854-second round aboard her entry, Ilmea Van De Leeuwerk.
Catie Staszak of Boynton Beach, FL claimed top honors in the $1,500 Low Child/Adult Jumper Classic presented by French Horse Exports with Paige McWhinney's Independence after completing the jump-off in 37.648 seconds. The red ribbon was awarded to Maria Pizzini of North Miami Beach, FL and Billy Boy, owned by Cristyan Serna, who flew through the timers in 53.982 seconds, while Megan Wheeler of Pembroke Pines, FL aboard Tienzo Palatie, owned by Maria Wheeler, took home third place once they finished the round in 67.224 seconds and eight total faults.
The CCTV Agent $250 .85m Jumper Classic saw Jeanine Thomson of Palm Beach Gardens, FL pilot her entry, Spirit Soaring to victory after a 33.339-second jump-off, while Kelley Levine of Coral Springs, FL rode Samantha Senft's Quick Prince Z to a second-place finish in a time of 33.513 seconds.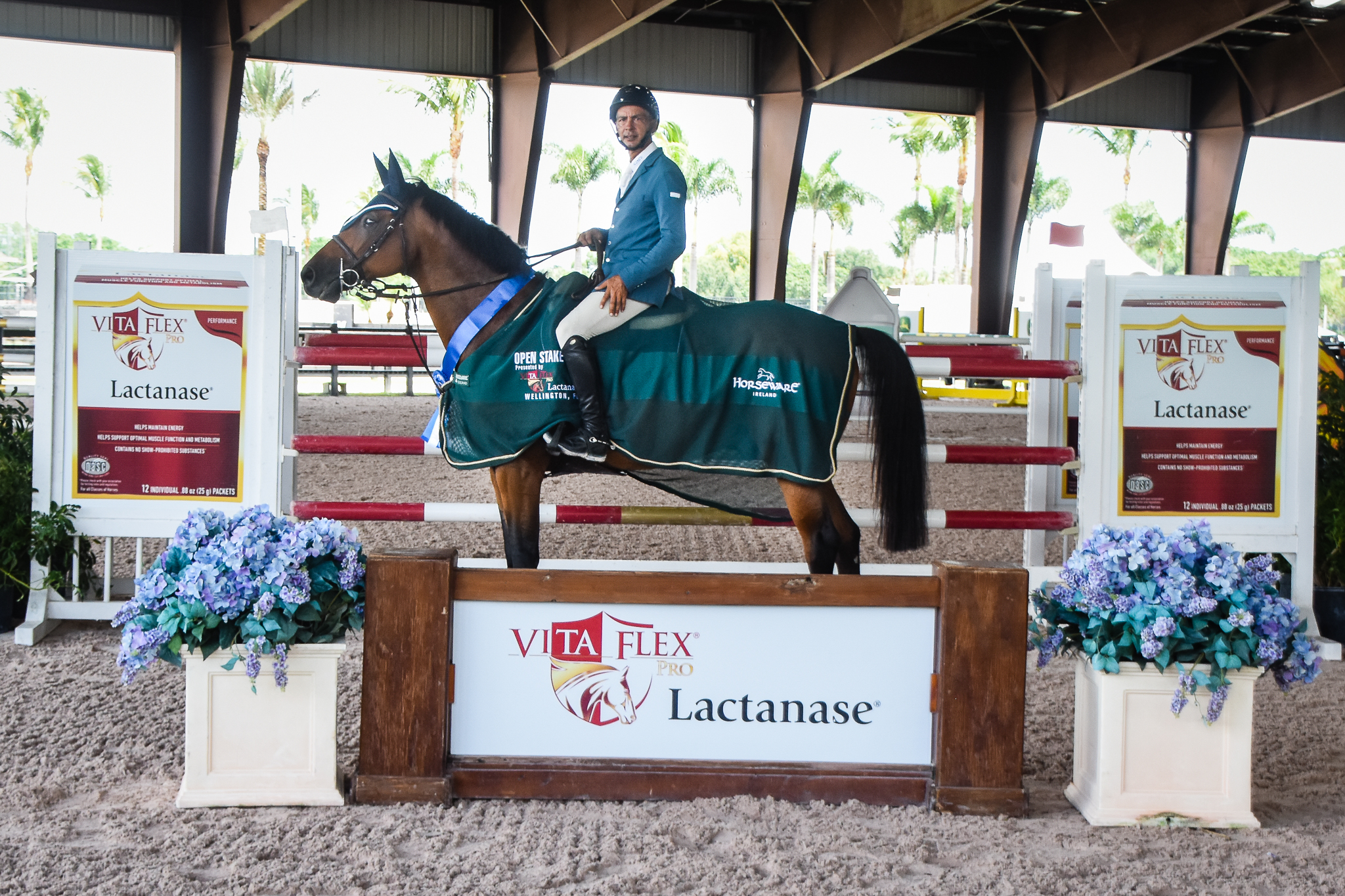 Hunter Highlights
Allison Rice of Wellington, FL claimed the champion position with her Carto Rouge in the Marshall & Sterling USHJA Hunter 2'6" & 2'9" division, while Isabella Dean of Huntington, NY rode her Butterfly Flash to reserve.
The Marshall & Sterling USHJA Hunter 3' division named Cecelia Perry of Boynton Beach, FL champion with Castlewood Farm, Inc.'s El Tigre, while Allison Rice of Wellington, FL received the reserve champion ribbon riding her entry, Hollywood Nights.
The ESP Summer Series, hosted at Equestrian Village, returns on Friday, September 13 with the ESP September show competition. 
Click here
to view the 2019 ESP Summer Prize List!
To view full results of the Lactanase 1.35m Open Stake, please 
click here.
To learn more about the ESP Summer Series and PBIEC, please visit 
www.pbiec.com
.
Photo Credit ©Equestrian Sport Productions. These photos may only be used once in relation to this press release with proper credit.