For Immediate Release
Jennifer Wood and Amanda Picciotto Feitosa for Jennifer Wood Media, Inc.
Wellington, FL – January 9, 2022 – Premiere week at the 2022 Winter Equestrian Festival (WEF) concluded on Sunday, January 9, with a highlight class of the week, the $75,000 Rosenbaum PLLC Grand Prix. McLain Ward (USA) and Catoki took the victory in the class. Jumper, hunter, and equitation competition returns for WEF 1 on January 12-16, and WEF continues through April 9.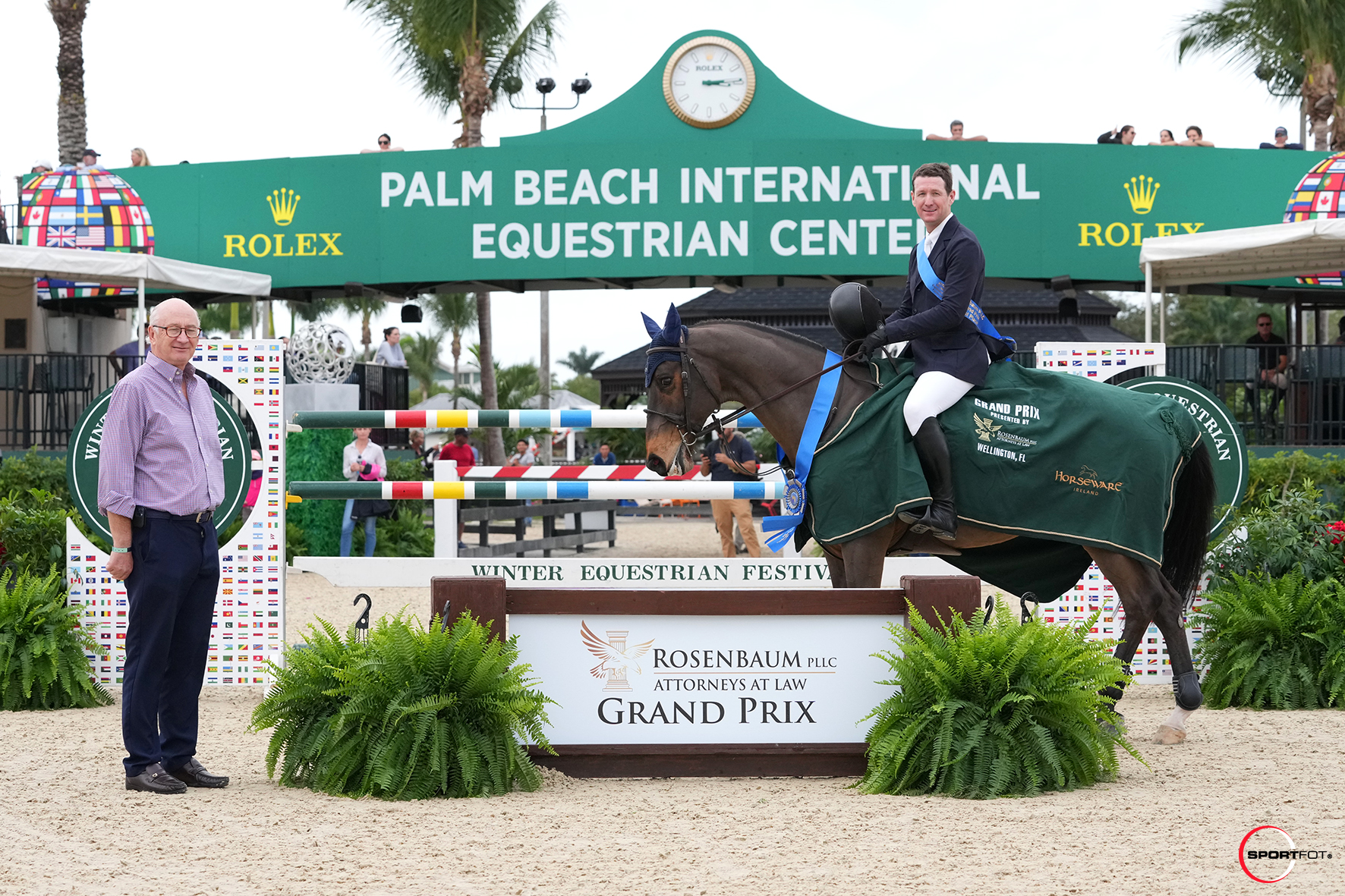 The Rosenbaum PLLC Grand Prix had 32 entries that contested a course set by Eric Hasbrouck (USA). Eight were clear to advance to the jump-off. First to return for the jump-off were Thursday's Adequan® WEF Challenge Cup winners, Hector Florentino (DOM) and ABC Quantum Cruise, a 13-year-old Irish Sport Horse gelding by OBOS Quality x Cruising owned by Wyndmont. They set the time to beat at 37.677 seconds with a clear round.
"Thursday's win definitely set up for this jump-off," said Florentino. "I'm learning to ride this horse a little bit. He wants to go and be fast. Before, I wasn't sure if I could let him go because I didn't know if I could bring him back. We're starting to know each better, and I can let him open up now. He's coming back to me. I'm very happy.
"I'm really very lucky because a couple months ago, I didn't have any horses to ride and now I have two," added Florentino. "I need to thank Michael Dorman and Ronnie Beard."
Immediately following Florentino were Heather Caristo-Williams (USA) and Marciano MVF, owned by Stephanie Bulger. They were just off the pace in 38.339 seconds with a clear round, which left them in fourth place. Caristo-Williams was awarded with the Martha W. Jolicoeur Leading Lady Rider Award in memory of Dale Lawler.
Next into the ring were Michael Murphy and Catoki's Son Z. They squeaked into the lead in 37.642 seconds by three-hundredths of a second with no faults, which would hold up for second place.
Murphy originally had the ride on Catoki's Son Z in May. The horse was sold shortly thereafter but came back when the Ahearn family of Esperanza Imports LLC purchased the 13-year-old Zangersheide gelding at the end of the summer for Murphy to compete.
"Being able to watch Hector go, I knew I had to go pretty fast," said Murphy of his jump-off plan. "I think definitely McLain for sure got me – ok, everywhere – but especially to the vertical before the double [combination]. I got a little wider there, and he was tighter there. I was pretty happy with [my horse]. It was the best that he could do today with me."
Four horses later in the jump-off, Ward and Catoki blazed through the jump-off in 36.008 seconds for victory.
Click above to watch the winning jump-off! 
Along with Catoki's unique way of going, he also has an unusual program for a top show jumper. The little horse last competed at the Washington International Horse Show in October, where he won the speed final and tied for the puissance victory, and then lived in a field until five days ago.
"We have a very strange program with Catoki because he's obviously very hot and very aggressive," explained Ward. "He's just purring now actually. He's just unfit enough to not be totally running away with me! He goes well in the program, and he's very happy. He was good in the class earlier in the week, and I thought he performed really well today."
Ward noted that Catoki follows a similar plan while in Wellington, enjoying turnout as much he can in the days that he is not at the horse show.
"Once in a while we try to do a gymnastic, but it goes quite quickly," laughed Ward. "He has so much fire, so much adrenaline; he's such a competitor. That's the way we try to keep that under wraps. It's pretty remarkable. Along with his puissance win at Washington and that kind of program, it just goes to show his eagerness and bravery. He's a little lion."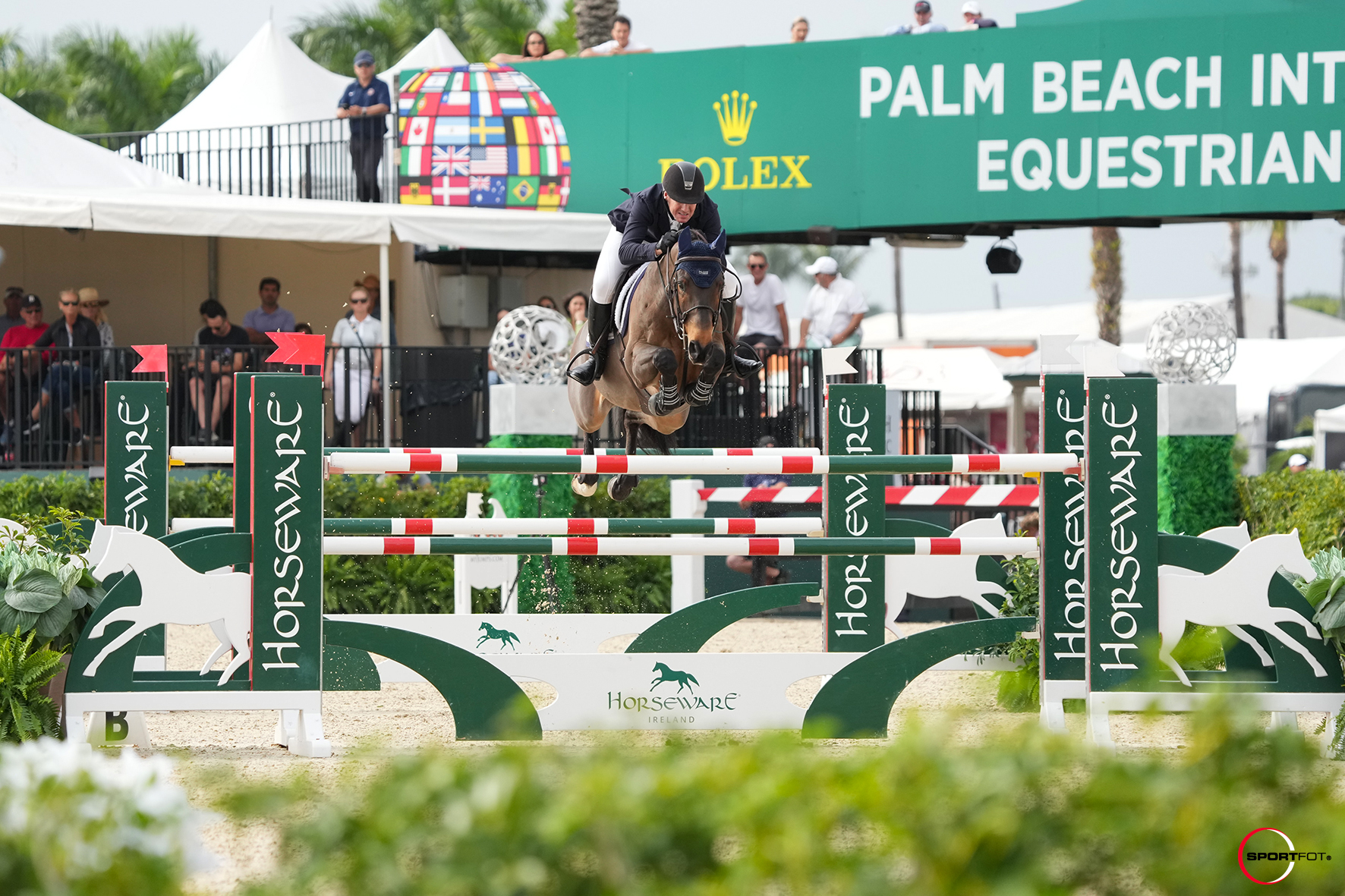 While Ward's and Murphy's horses are by the same sire, Ward feels that "his" Catoki is "a pretty unique model." He added, "It's pretty hard to explain and replicate it at that level, but they're 'blood' and fast and typically quite careful. I'm sure those characteristics are there. As we always say, the mother plays a bit more of a role."
Earlier in the day in the International Arena, Grace Debney and Chapka de Moyon, owned by Debney and McLain Ward, won the $10,000 Show Jumping Hall of Fame High Junior Jumper Classic, presented by Griffis Residential. In the $10,000 Horseware Ireland Medium Amateur Jumper Classic, Josephine Nash and Luron S Z, owned by Comfortside Farm, were victorious.

Final Results: $75,000 Rosenbaum PLLC Grand Prix
1 CATOKI: 2009 Holsteiner gelding by Catoki x Coca Cola
MCLAIN WARD (USA), Marilla van Beuren, Bob Russell, & McLain Ward: 0/0/36.008
2 CATOKI'S SON Z: 2009 Zangersheide gelding by Catoki x Aldo Du Reverdy
MICHAEL MURPHY (USA), Esperanza Imports LLC: 0/0/37.642
3 ABC QUANTUM CRUISE: 2009 Irish Sport Horse gelding by Obos Quality x Cruising
HECTOR FLORENTINO ROCA (DOM), Wyndmont: 0/0/37.677
4 MARCIANO MVF: 2011 Zangersheide gelding by Stakkato x Leberoi H
HEATHER CARISTO WILLIAMS (USA), Stephanie Bulger LLC: 0/0/38.339
5 JACKOFHEARTS: 2012 Dutch Warmblood gelding by Heartbeat x Brasilia S
MARGIE GOLDSTEIN-ENGLE (USA), Gladewinds Partners LLC: 0/4/39.531
6 H&M CARAT DESIRE: 2008 Holsteiner gelding by Carinjo x Moderne II
MCLAIN WARD (USA), Susan Heller & McLain Ward: 0/12/35.487
7 DISCO SUPERFLY: 2012 Oldenburg gelding by Catoki x Libelle
ALEX GRANATO (USA), The Bright Lights Group: 0/15/50.86
8 NOORTJE VD WINDHEUVEL: 2013 Belgian Warmblood mare by Farfelu de Muse x Calista van Dewindheuvel
MARK BLUMAN (COL), Over the Top Stables LLC: 0/17/56.265
9 BOSTON ASK: 2008 Hanoverian gelding by Berlin x Quidam de Revel
JORDAN COYLE (IRL), Elan Farm: 1/81.729
10 CANTUCCHINI: 2011 Oldenburg gelding by Cloney x Caprera
GRANT SEGER (USA), Grey Fox Crossing: 2/82.103
11 QUINTESSENCE: 2011 Holsteiner gelding by Quinar
DOUG PAYNE (USA), Jane Dudinsky: 2/82.818
12 AFTER EIGHT: 2010 Swedish Warmblood mare by Diarado x Coco
JAD DANA (LBN), Springhill Farm 1850 LLC: 4/74.819

Robin Schwartz Celebrates a Championship Return to WEF
Robin Schwartz and her horse Back in the Game won all three classes on Sunday to conclude the Marshall & Sterling Adult Amateur Hunter Older (Section B) division with the championship ribbon. Sharing the winner's circle was Nicole Harris and her horse Le Diplomate, who finished with the reserve championship honors. Schwartz, who trains with Devan Cottrell and Matt Piccolo at Arrow Hill Farms, and Harris, who trains with Jason Schnelle at Autumn Chase Farm, both hail from Tennessee.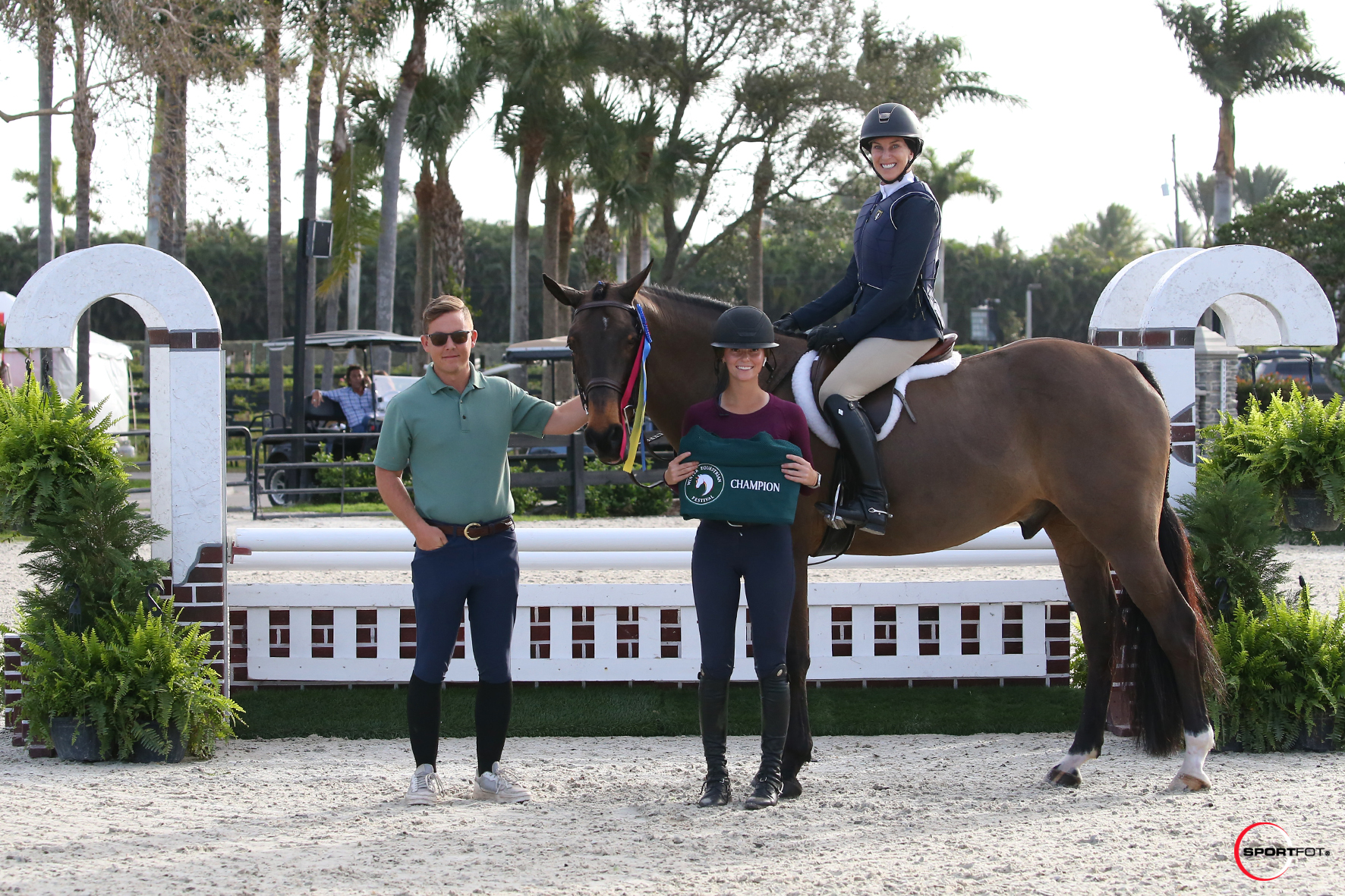 This was Schwartz's first time back showing at WEF in 19 years, and it has been an emotional return.
"It feels amazing to be back at WEF, and I am blessed to have such an awesome horse," said Schwartz. "[The E.R. Mische Grand Hunter Ring] was always my favorite ring to show in."
Schwartz's daughter's developing passion for horses got her back in the saddle.
Schwartz explained, "I knew if she liked it, then I'd have to get back into this, because I love all things about this.
"After I got over 'Oh my god, I'm too old to do this,' because I'm 56, and I have an 11-year-old and a 12-year-old, I was like, 'Okay, I need something to look forward to,'" she continued.
Unfortunately, the road back to the show ring wasn't a smooth one for Schwartz. In her quest to get back in the show ring, Schwartz had a fall that resulted in five broken bones in her back. Eventually Schwartz found "Ollie," a 12-year-old Warmblood gelding by Vechta.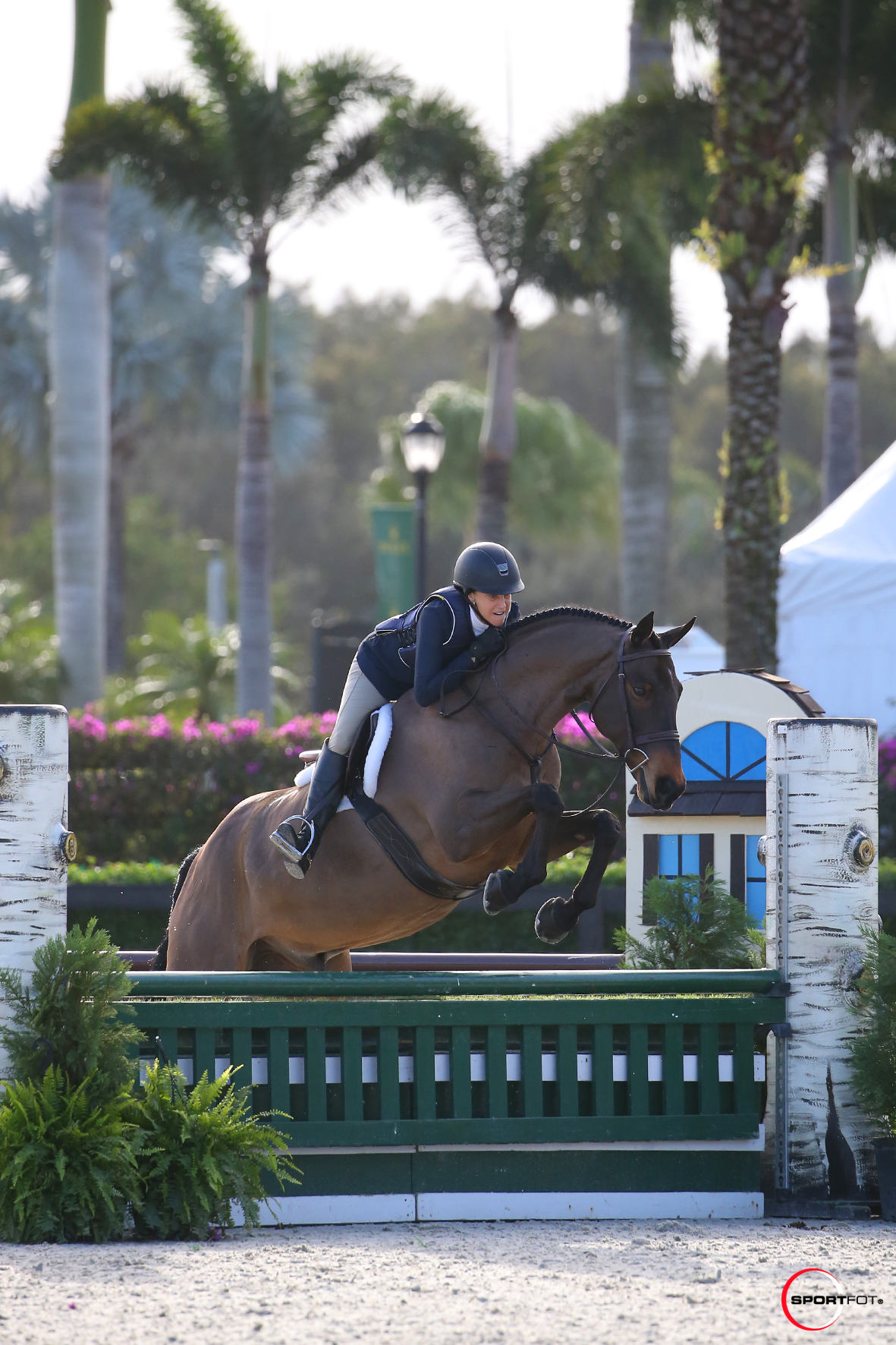 Ollie's show name "Back in the Game" has two meanings for Schwartz. She credits him with getting her back into competitive showing and also back into riding after breaking her back.
"I used to joke that I would never own one as nice as him again, and I'm pretty certain that's true," Schwartz said of her mount.
Following her win in the morning, Schwartz was off to the pony ring to support her daughter who competes in the Large Green Pony Hunters.
"It's very fun to be doing this together," she concluded.
The 2022 Winter Equestrian Festival (WEF) continues Wednesday, January 12, with the first week of FEI competition featuring the $140,000 Southern Arches Grand Prix CSI3* along with a full schedule of jumper, hunter, and equitation competition.