For Immediate Release
Alice Collins for Jennifer Wood Media, Inc.
Wellington, FL — March 22, 2018 — Of the 93 starters in the $70,000 Equinimity WEF Challenge Cup Round 11, held on the grass derby field at Equestrian Village (home to the Adequan® Global Dressage Festival) on Thursday, March 22, it was Great Britain's Emily Moffitt on Tipsy Du Terral who emerged triumphant during week 11 at the 2018 Winter Equestrian Festival (WEF).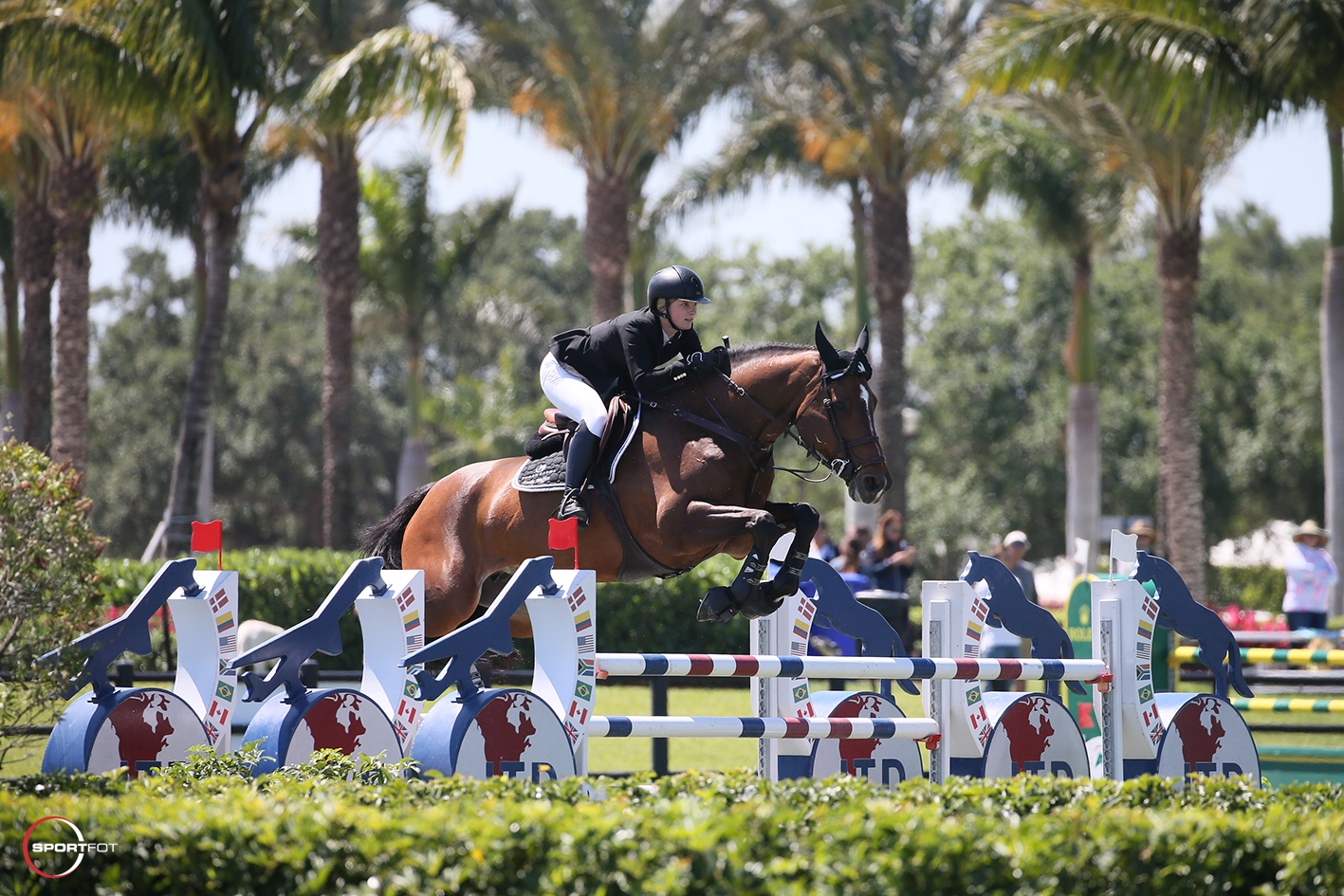 Highlights of the upcoming week 11, sponsored by CaptiveOne Advisors on March 21-25, include the $205,000 CaptiveOne Advisors Grand Prix CSI 4* at 11 a.m. on the grass derby field at Equestrian Village (13500 South Shore Blvd.) and the $132,000 Hollow Creek Farm 1.50m Classic Final at 6:30 p.m. in the WEF International Arena on Saturday, March 24, as well as the George H. Morris Excellence in Equitation on Friday, March 23, at 5 p.m. in the WEF International Arena and the $50,000 Hermés Under 25 Grand Prix Series Final at 12 p.m. at the grass derby field on Sunday, March 25. WEF hosts hunter, jumper, and equitation competition until April 1 and offers more than $9 million in prize money.
Clears in the first round were plentiful, and 33 riders made it through to the jump-off in this qualifying class, though eight withdrew between rounds. Course designer Germany's Olaf Petersen Jr.'s track asked plenty of questions, with a large, long-striding triple combination tripping up some good combinations.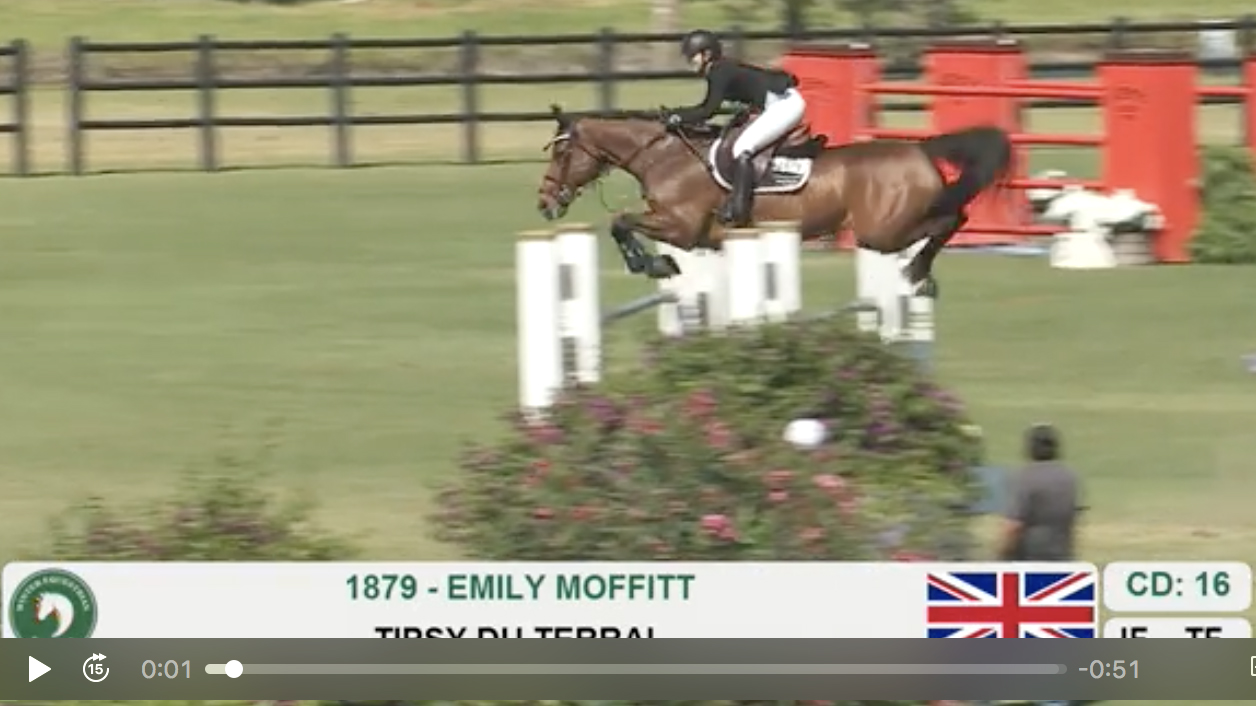 Click here to watch the winning ride! 
It was fast, tight riding from Moffitt on the 11-year-old Selle Français by Toulon that sealed the deal, producing two faultless clears. It was the mare's second WEF win this season.
"We won the grand prix the first week and this is our last week, so it was a nice way to start and finish," said Moffitt, who acquired the horse at the end of summer 2017. "Tipsy and I had jumped a few 1.40m classes in Europe before WEF. Then Ben [Maher, Moffitt's trainer of two years] said we should go in the grand prix and we went for it and won it. We then let her hang back for a few weeks here while I got used to some of my new horses."
The "gigantic", big-striding horse relished the manicured grass arena, reported the 19-year-old. "The grass backs her up a bit and she's obviously careful," she said. "I let her go and sit and hold against it, and she just does her job. But there we so many clear — 33 — so I was on the line about whether to save Tipsy for the grand prix or this, but Ben and I decided that seeing as the season hasn't gone quite as well as we'd hoped, and we were clear, we might as well go for it. I told him that if he was going to have me ride the jump-off, I would really go for it. There's no point in trying to be in the medium ground."
The teenager has an impressive 20 horses stabled in Wellington for the season — all of whom are ridden by her, with help from Maher — and she has 10 grand prix horses. But her singular focus is to jump at an Olympic Games, and that is the big ambition that drives her daily. Her next stop is the Global Champions Tour show in Shanghai next month.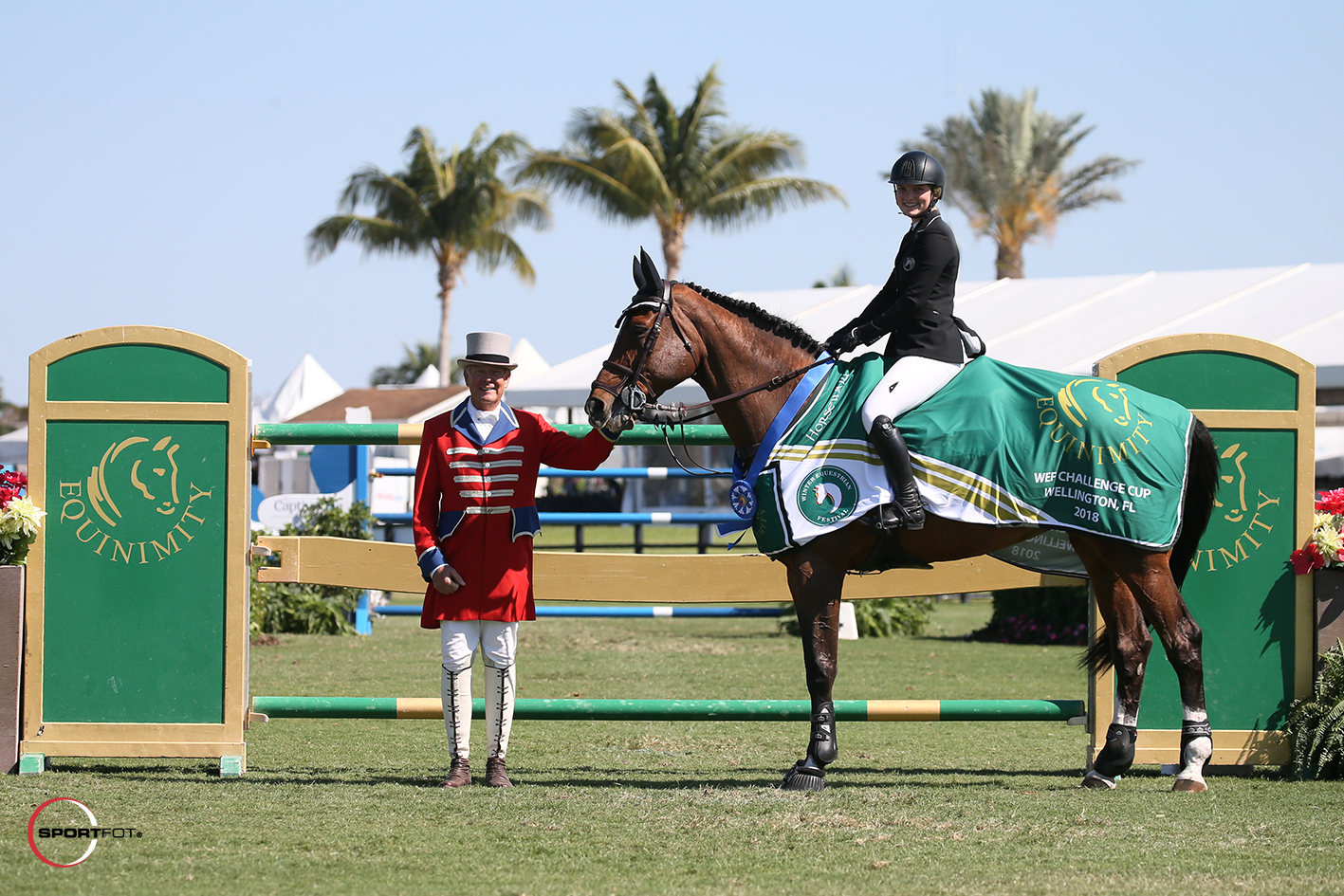 "The Olympics is all my mind is set on right now. I sort of had to be fast-tracked because I only began competitively riding bigger than 1.30m classes about five years ago," added Moffitt, who credits early training with Nick Skelton and Laura Kraut for her foundation. "I just woke up one day and decided that I want to go to the Olympics; I know that isn't very normal, and my dad, Ben, and I have really had to step up our game."
Both the remaining riders on the WEF Challenge Cup podium were American: Winn Alden threw down a valiant challenge on the 10-year-old Charlie, but found herself half a second off the pace. Olympian McLain Ward had to settle for third on Double H Farm's HH Callas, coming within 0.2 seconds of Alden.
Final Results: $70,000 Equinimity WEF Challenge Cup Round 11
1 TIPSY DU TERRAL: 2007 Selle Français mare by Toulon x Quat'sous
EMILY MOFFITT (GBR), Poden Farms: 0/0/42.468
2 CHARLIE: 2008 Oldenburg gelding by Chacco Blue x Charlie Z
WINN ALDEN (USA), Southern Arches, LLC: 0/0/43.048
3 HH CALLAS: 2007 Oldenburg mare by Albatros x Quattro B
MCLAIN WARD (USA), Double H Farm: 0/0/43.234
4 ECLATANT: 2009 KWPN gelding by Berlin x Heartbreaker
PETRONELLA ANDERSSON (SWE), Stephex Stables: 0/0/43.425
5 BACARA D'ARCHONFOSSE: 2007 Belgian Warmblood mare by Asca Z x Kannan
DANIEL BLUMAN (ISR), Daniel Bluman, Kim Douglas, and Alexa Schwitzer: 0/0/43.693
6 VDL CARTELLO: 2007 Holsteiner stallion by Cartani x Lord
CORMAC HANLEY (IRL), Heathman Farm, LLC: 0/0/43.746
7 SIMBA: 2006 Oldenburg gelding by Toulon x Argentinus
BEAT MÄNDLI (SUI), Grant Road Partners LLC: 0/0/44.026
8 SARENA: 2006 selle Français mare by Calvaro Z x Damoiseau d'Or
BEN MAHER (GBR), Jane Forbes Clark: 0/0/46.419
9 COLORADO 210: 2009 Westfalian gelding by Coronas x Lenardo
LUIS PEDRO BIRABEN (ARG), Miguel Madero & Luis Pedro Biraben: 0/0/46.76
10 DAVEAU: 2008 KWPN gelding by Zento x Glennridge
JONATHON MILLAR (CAN), Millar Brooke Farm Ltd: 0/0/47.996
11 HITCHCOCK VD BROEKKANT: 2007 BWP gelding by Canturo x Heartbreaker
ALISE OKEN (USA), Hi Hopes Farm LLC: 0/0/49.142
12 ERISTOV: 2009 KWPN gelding by Cicero Z Van Paemel x Concorde
JORDAN COYLE (IRL), H.M. Gooskens & Stal de Bruijn-Scheepens: 0/4/43.108
Kaitlyn Lovingfoss Rides Caracas 89 to Platinum Performance USEF Show Jumping Talent Search Victory
Thursday's Platinum Performance USEF Show Jumping Talent Search was held in two rounds, with twenty-six riders competing in round one. The top 12 returned for a test on the flat, and Katlyn Lovingfoss of Canyon Country, CA, prevailed aboard her mount of eleven weeks, Caracas 89, owned by Elvenstar Farm.
When asked about her partnership with the ten-year-old Holsteiner gelding, Lovingfoss said, "I just started riding him at the beginning of this circuit, and I feel like we have really bonded as the weeks have gone by. He is a talented equitation horse. He won [the Platinum Performance/USEF Show Jumping Talent Search Finals – West] and was third at [the Platinum Performance/USEF Show Jumping Talent Search Finals – East] with other riders last year, so he is a pro!"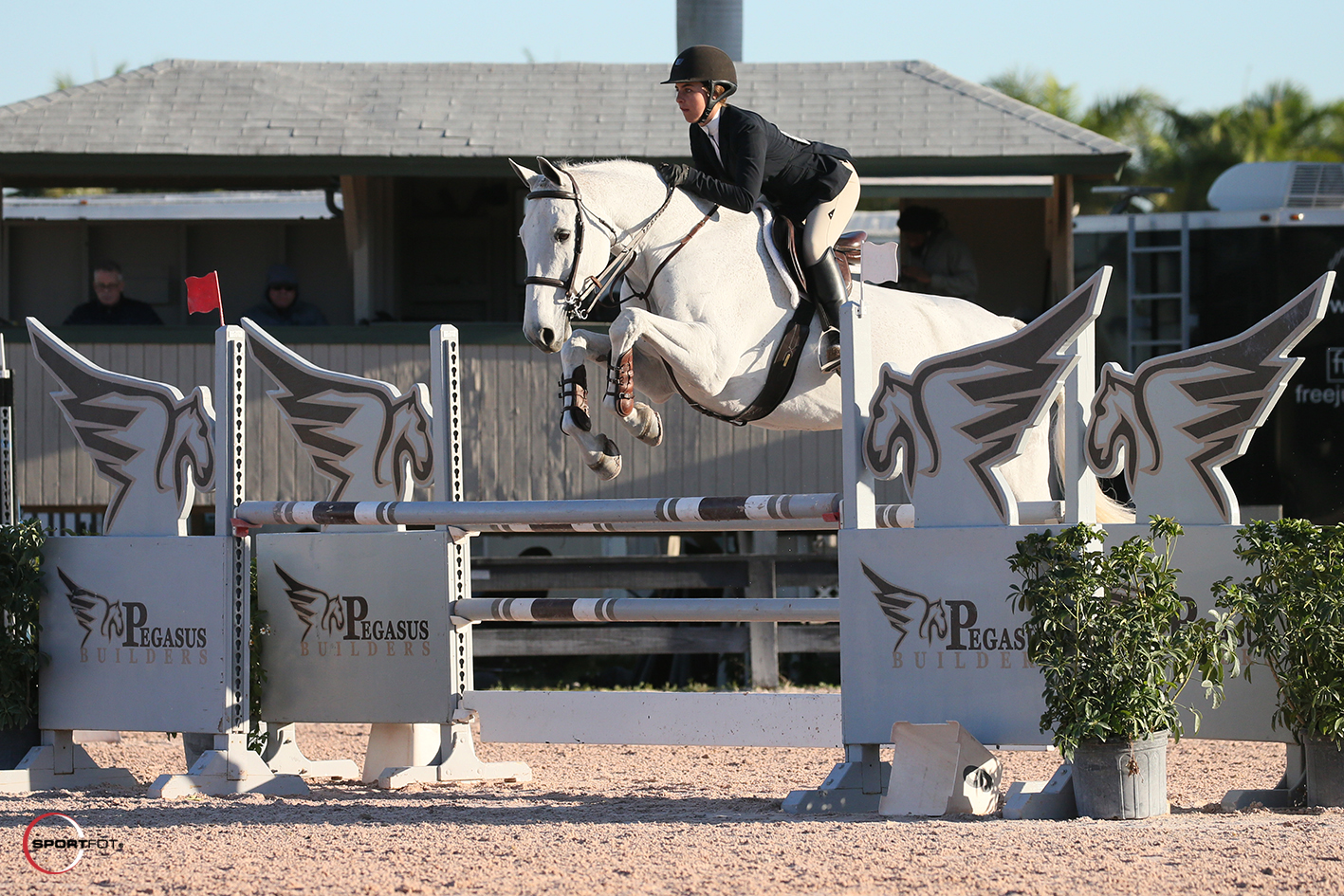 Liliane Kaissar captured second place aboard Boukati B, an entry of G&W Equine Partners LLC, and Zapfier, owned by Missy Clark & North Run, took third with Tanner Korotkin in the irons. However, Lovingfoss aced her performance in both rounds and came out of the flat test with the blue in hand.
Lovingfoss commented on her win, "My horse can lengthen and collect easily so the forward five-stride across the diagonal, and the following quiet line, was a nice place to show off!"
Today's class was one of the few remaining opportunities for junior riders to qualify for the eleventh anniversary of the legendary George Morris Excellence in Equitation class, which will be held on Friday evening, March 23, in WEF's International Arena.
Competitors need to win one of WEF's big equitation classes, including the USEF Hunt Seat Medal, ASPCA Maclay, USEF Talent Search, or WIHS Overall, Hunter Phase or Jumper Phase, to participate. Lovingfoss, who also won week three's WIHS Equitation Jumper Phase, solidified her spot with a day left.
"Winning this class has given me a little extra spark and overall confidence for the [George Morris Excellence in Equitation] class," said Lovingfoss. "I just want to make sure my horse and I are on the same page and ready to go for tomorrow night!"
Action at Equestrian Village (home to the Adequan® Global Dressage Festival), in week 11 continues Friday, March 23, with the $35,000 Douglas Elliman 1.45m Jumpers. The Developing Jumper Classics for 5, 6, and 7 Year Olds will be held in the WEF International Arena, and the feature class is the George Morris Excellence in Equitation at 5 p.m. in the WEF International Arena.
Photo Credit: Photos © Sportfot, Official Photographer of the Winter Equestrian Festival. These photos may be used only in relation to this press release and must include photo credit.