For Immediate Release
Kate Pettersen, and Sabrina Brashares for Jennifer Wood Media, Inc.
Wellington, FL – April 1, 2021 – As the final week of the 2021 Winter Equestrian Festival (WEF) continues, Brian Moggre (USA) put forth a stellar double-clear effort aboard MTM Vivre Le Reve, owned by Major Wager, LLC, to capture the $50,000 Adequan® WEF Challenge Cup Round 12 on Thursday, April 1, at the Palm Beach Equestrian Center (PBIEC).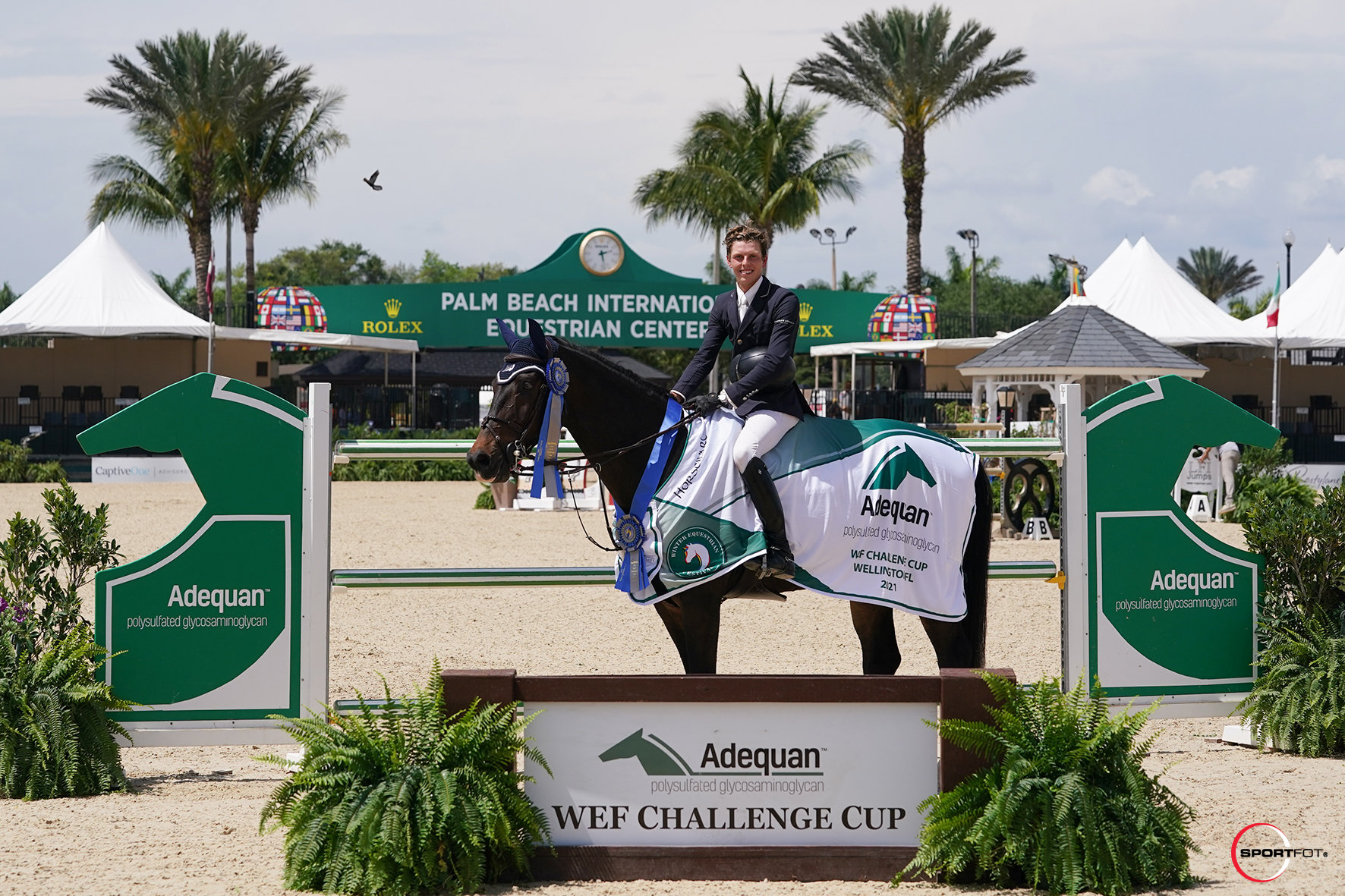 The twelfth week of WEF, sponsored by Wellington Agricultural Services, has CSI4* competition along with a concurrent CSI2* running through Sunday, April 4, the final day of the 2021 WEF. Friday afternoon features the $37,000 1.45m CSI2* and the $73,000 CaptiveOne Advisors 1.50m Classic Series Final. An exciting weekend schedule follows with the $214,000 Wellington Agricultural Services Grand Prix CSI4* and WEF Circuit Champion Parade on Saturday and concludes with the $50,000 1.45m Grand Prix CSI2* on Sunday.
Hunters will be featured on the grass during WEF 12 at the Derby Field at Equestrian Village. On Friday at 8:30 a.m. is the $15,000 International Hunter Derby Hunt & Go, followed by the $10,000 USHJA National Hunter Derby Open, presented by Restylane and sections of the $10,000 USHJA National Hunter Derby for juniors and amateurs. The $50,000 USHJA International Hunter Derby Round 1 is on Saturday at 11 a.m. and will be followed by the top 12 returning for a handy round. All feature classes can be watched for free both live and on-demand on the livestream.
In the final grand prix qualifier of the winter circuit, a total of 63 entries challenged the first-round course set by Olaf Petersen Jr. (GER) with just eight punching their ticket into the jump-off. The seventh-ranked rider in the world, Kent Farrington (USA), elected to save his horse for the weekend leaving a total of seven combinations to contend over a shortened track.
First to return for the jump-off, Nayel Nassar (EGY) paved the way for the rest of pack as he and Lucifer V, a 15-year-old Westphalian gelding by Lord Dezi x Grandeur, put forth a clear effort. Nassar and the Evergate Stables, LLC-owned entry stopped the clock at 40.32 seconds.
Fresh off his victory in the $500,000 Rolex Grand Prix CSI5*, Germany's Daniel Deusser returned fifth of seven to give it his best shot. He and Casallvano, a 12-year-old Holsteiner gelding by Casall x Silvana owned by Camilla Hamann and Philipp Widmayer, would post a clear effort but finish just off the leading time in 40.56 seconds.
Second last to go, Moggre and the 12-year-old Westphalian gelding by Ustinov x Chello II, gave it their best shot.
Watch the winning jump-off round here!
"In the jump-off, I did one less stride in the first line and the last line," said Moggre. "I walked eight [strides] and eight [strides] but he's got a huge stride. The horses carry across this footing in the International Arena very nicely; they travel the ground well, so I did one less stride, and he got up those sevens just as if he was doing the eight. It worked out for us."
The risky plan paid off as Moggre and his longtime partner "Erkel" added their own double-clear to the leaderboard with the quickest time of the day, crossing the timers in 40.04 seconds. Nassar would end the day in second overall while Deusser claimed third position on the podium.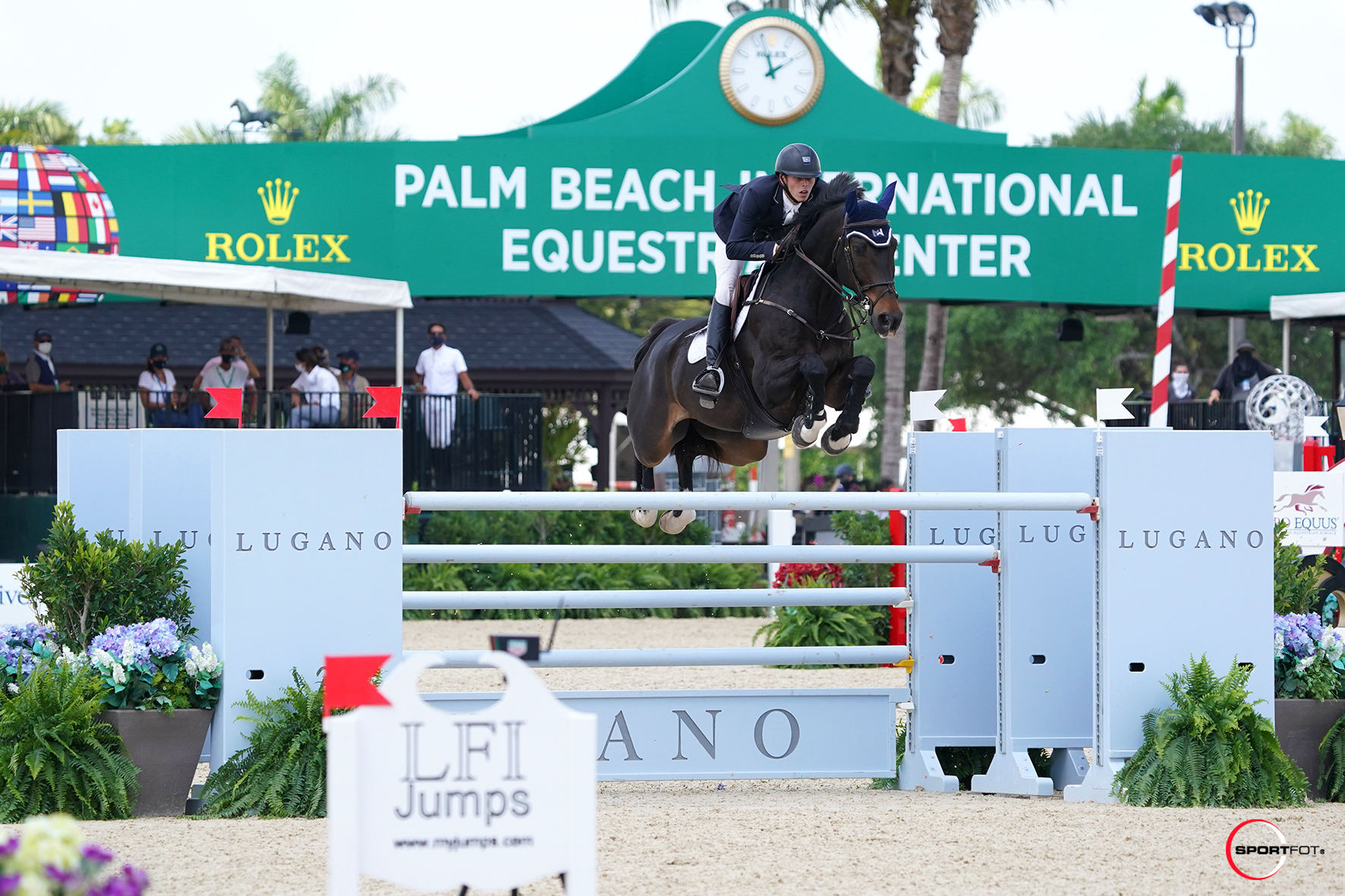 "Erkel is amazing," exclaimed Moggre after the win. "With seven jumping off, we could put a little pressure on and see what came of it. I asked him to step up to the plate, he did, and I still feel as though I have a good horse for the grand prix on Saturday.
"He's my rock after all these years," he continued. "All of my firsts, like my first FEI class, first grand prix, first three-star, four-star, and five-star, have been his first time also so he's a horse that I have a really special relationship with. It's really nice to see that we've still got it."
It is apparent that the relationship between the talented young rider and his veteran partner is extra special. While they have many wins under their belt at the international level, there's a unique friendship that makes each victory that much more meaningful.
"I know him like the back of my hand," he said. "I trust him, and I know what risks I can take and which ones I should maybe avoid. I think the best part of our relationship is we really know the ins and outs of each other. You can say we know so much about a horse, but I think they really know you too as a rider. That's a great thing for him and I. He's incredible."
Moggre will be back in the International Arena on Saturday with his partner to wrap up their 2021 WEF in the $214,000 Wellington Agricultural Services Grand Prix CSI4*.
Final Results: $50,000 Adequan® WEF Challenge Cup Round 12
1. MTM VIVRE LE REVE: 2009 Westphalian gelding by Ustinov x Chello II
BRIAN MOGGRE (USA), Major Wager LLC: 0/0/40.04
2. LUCIFER V: 2006 Westphalian gelding by Lord Dezi x Grandeur
NAYEL NASSAR (EGY), Evergate Stables LLC: 0/0/40.32
3. CASALLVANO: 2009 Holsteiner gelding by Casall x Silvana
DANIEL DEUSSER (GER), Camilla Hamann and Philipp Widmayer: 0/0/40.56
4. AGANA VAN HET GERENDAL Z: 2011 Zangersheide stallion by Aganix Du Seigneur x Naminka
LILLIE KEENAN (USA), Chansonette Farm, LLC: 0/0/41.99
5. VDL CARTELLO: 2007 Holsteiner stallion by Carani x Lord
LORCAN GALLAGHER (IRL), Heathman Farm, LLC: 0/4/39.15
6. UBILUC: 2012 Mecklenburg stallion by Ubiko x Lucian
DANIEL BLUMAN (ISR), Over The Top Stables LLC: 0/4/42.71
7. PRESENCE: 2008 Holsteiner stallion by Contendro II x Ulibra
MARIA COSTA (USA), Ravello Farms, LLC: 0/8/40.32
8. GAZELLE: 2006 Belgian Warmblood mare by Kashmir van Schuttershof x Indoctro
KENT FARRINGTON (USA), Kent Farrington & Robin Parsky: 0/WD
9. NORTHERN LIGHT: 2011 SWB mare by Plot Blue x Contender
TIFFANY FOSTER (CAN), Artisan Farms, LLC: 1/79.11
10.CONFU: 2007 Holsteiner gelding by Contact Me x Cambridge
LAURA KRAUT (USA), St. Bride's Farm: 1/79.21
11. LEVIS DE MUZE: 2011 BWP stallion by Elvis Ter Putte x Heroine De Muze
IOLI MYTILINEOU (GRE), Elia Construction SA: 1/79.79
12. CELINE: 2007 KWPN mare by Calvaro Z x Heartbreaker
KAREN POLLE (JPN), Karen Polle: 1/79.91
Kelley Farmer and Prodigy Claim the Antarès High Performance Hunter Championship
The High Performance Hunter division, sponsored by Antarès Sellier France, wrapped up on Thursday morning in the E.R. Mische Grand Hunter Ring. Kelley Farmer, of Wellington, FL, piloted Prodigy, owned by Glefke and Oakmont Stables, to the tricolor ribbon after two days of competition. The pair earned two firsts, a second, and two third place ribbons.
Although new to the hunter ring, Prodigy is already making a name for himself with Farmer in the irons. The 10-year-old Dutch Warmblood gelding by Vleut began his hunter career this year and has already proven to be a top competitor. Farmer piloted Prodigy to a fourth place finish in the gelding's first hunter derby during Premiere Week of WEF in the $25,000 USHJA International Hunter Derby.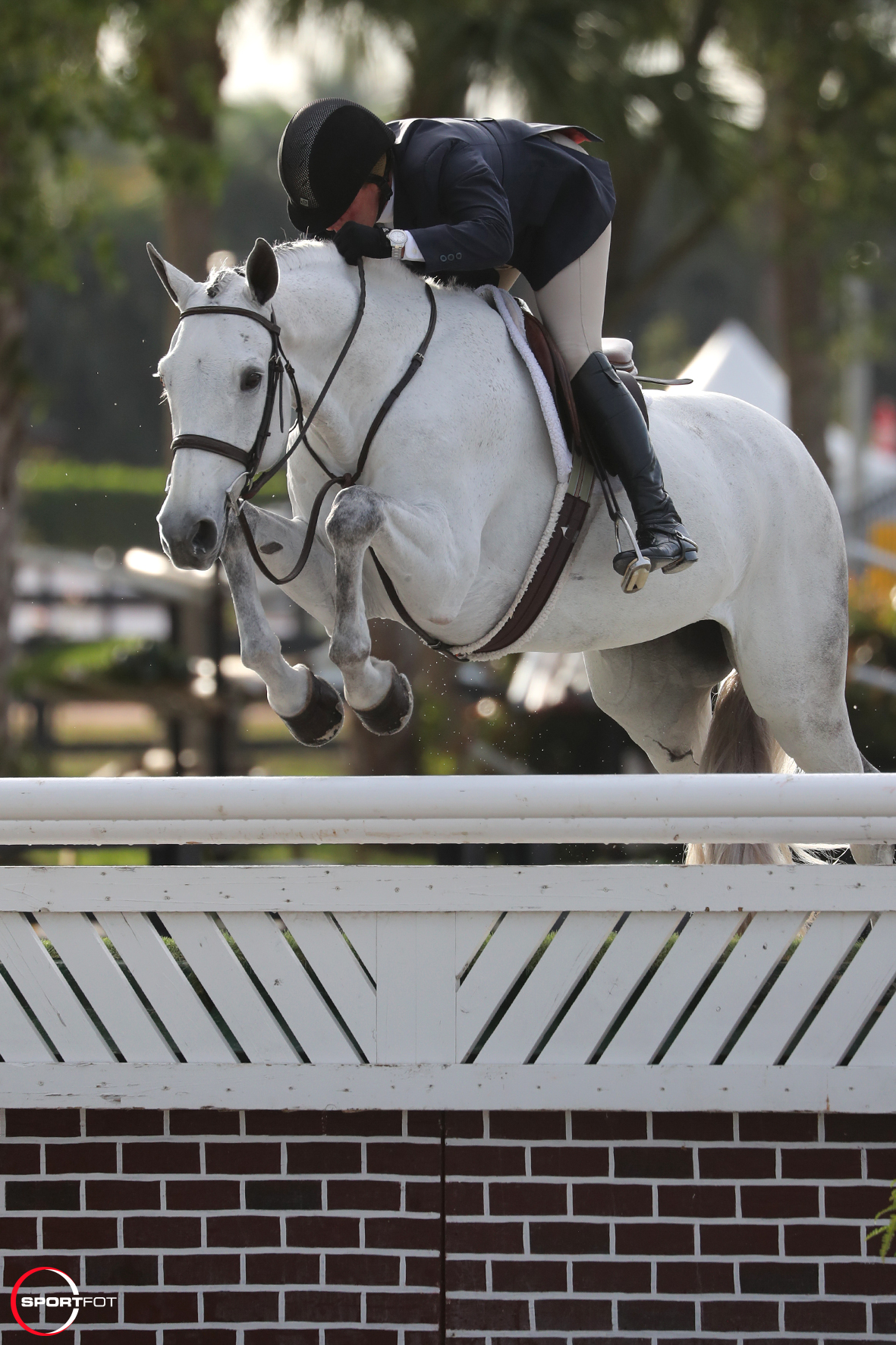 "We got him beginning of circuit," explained Farmer. "He was doing some jumpers and Darragh [Kenny] thought maybe he could make a hunter. I started him early in the circuit, and we have shown him a little bit sporadically on and off in the First Year [Green Hunter] and the High Performance [Hunter]. He is a blast to ride because he is careful, has a great canter, and a light mouth. He always tries hard, and I think he really likes this hunter life. He always gives 110% all the time. I love riding him because you don't have to pick up the reins."
"We have quite a few hunters that we own together with Darragh and Hardin [Towell]," continued Farmer. "Sometimes Darragh has a jumper that he thinks could make a hunter, or we buy a lot of young hunters together as well. It's a lot of fun, and they are great partners!"
Due to back issues, Farmer has been careful with how much she shows this season but the rider was thrilled to be back in the ring with Prodigy this week. The duo showed off to the judges on Thursday to win both over fences classes with high scores of 87 and 88.
"He was great this morning," described Farmer. "He was on it; I put the reins down, and he didn't put a foot wrong. I was probably a little rusty yesterday but he was not!"
Farmer is looking forward to showing both Prodigy as well as Rock Ridge Farm's Testify in the International Hunter Derbies on the Derby Field at Equestrian Village on Friday and Saturday. After WEF, Farmer plans to continue enjoying Prodigy until he sells.
"They are always for sale, but if I still have him I think we will do Devon," commented Farmer. "We will do the First Year [Green Hunters], High Performance [Hunters], and the [International Hunter] Derby if we still have him. I would love to have him for [Platinum Performance/USHJA International Hunter] Derby Finals because I know no matter how big they build it, he can jump it. I can't imagine I will still have him by then, but if I do he will be a blast."
Scott Stewart, of Wellington, FL, and Dr. Betsee Parker's Hudson took home the reserve champion title in the division. Stewart and Hudson received two firsts, two thirds, and a fourth place ribbon.
Show jumping competition will continue on Friday with the $73,000 CaptiveOne Advisors 1.50m Classic Series Final CSI4* and the $37,000 1.45m CSI2* in the International Arena. Hunter riders will take their turn on the Derby Field at Equestrian Village with the $15,000 International Hunter Derby Hunt & Go and the $10,000 USHJA National Hunter Derby, with an Open section presented by Restylane and a junior/amateur section.