For Immediate Release
Summer Grace and Emily Riden for Jennifer Wood Media, Inc.
Wellington, FL – March 28, 2019 – Egypt's Nayel Nassar rode Lucifer V, owned by Evergate Stables LLC, to the win in the $134,000 Equinimity WEF Challenge Cup Round 12 CSI 5* on Thursday, March 28, during the final week of the Winter Equestrian Festival (WEF) in Wellington, FL.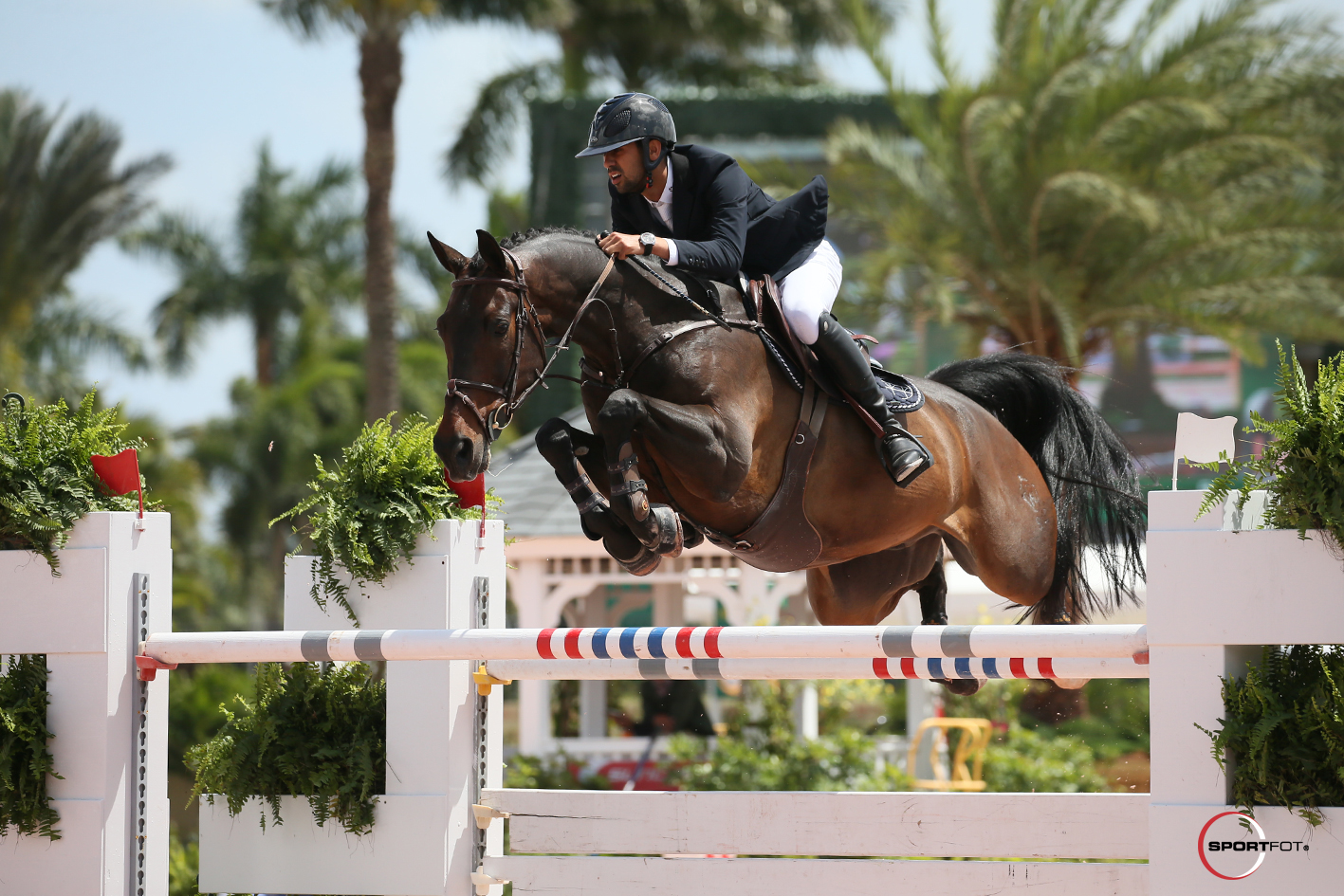 The 12-week winter circuit culminates this weekend with the $500,000 Rolex Grand Prix CSI 5* at 7:30 p.m. on Saturday, March 30, at the Palm Beach International Equestrian Center (PBIEC). 
Additional featured highlights of week 12, sponsored by Rolex, include the $50,000 United States Hunter Jumper Association (USHJA) International Hunter Derby, with round one running on Saturday and round two getting underway at 1 p.m. on Sunday at the derby field at Equestrian Village. The $50,000 Puissance America Grand Prix CSI 2* and the $50,000 CaptiveOne Advisors 1.50m National Grand Prix will wrap up international jumper competition on Sunday in the WEF International Arena. 
On Thursday, 60 entries contested the WEF Challenge Cup course set by Guilherme Jorge of Brazil, and of those starters, 28 qualified for the jump-off round, with 18 ultimately electing to return to face off over the short course.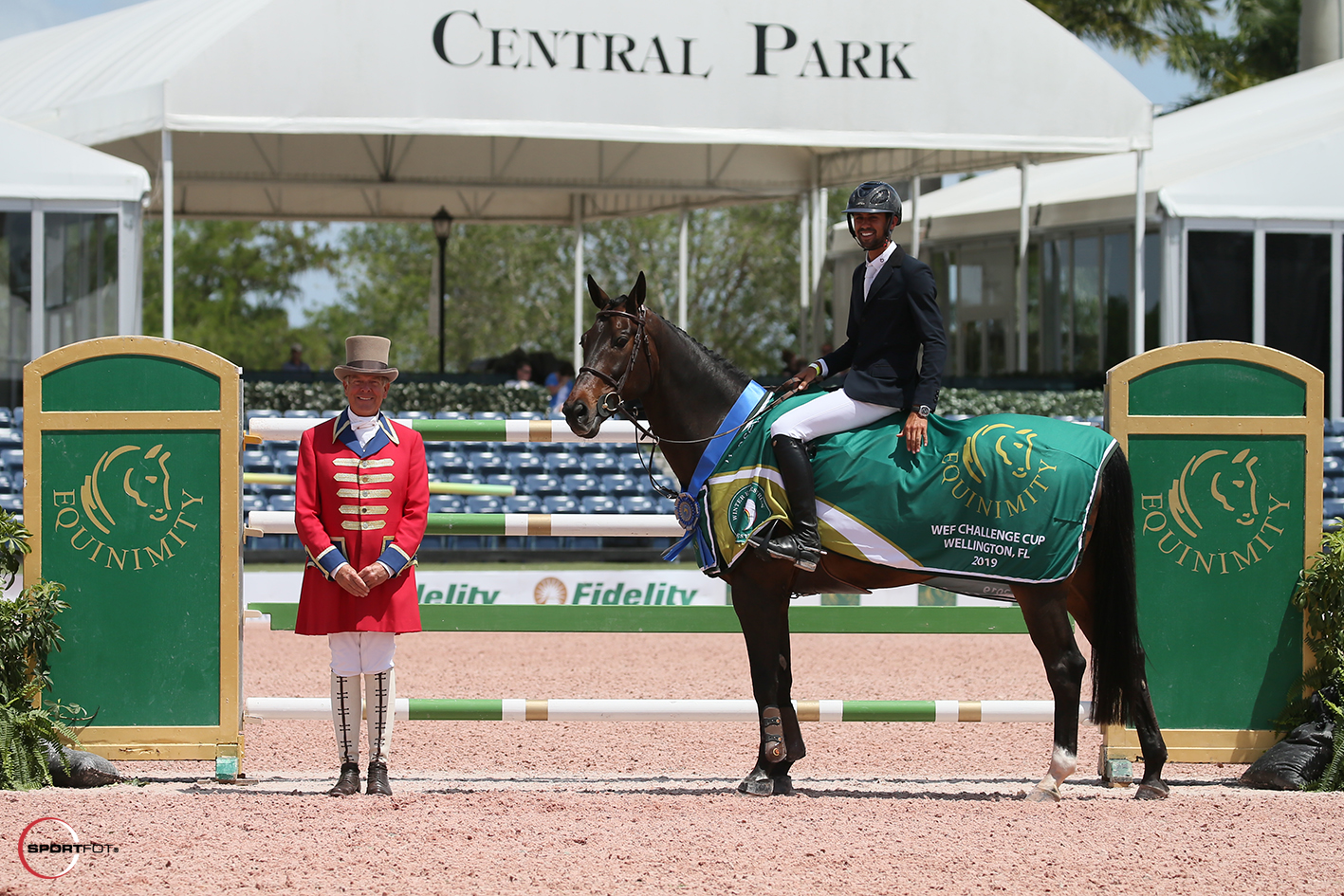 Fresh off a second-place finish with Lordan and a victory with Lucifer V in the two HITS $1 Million Grand Prix events held within the past two weeks, Nassar was the second to return for the jump-off and set the time to beat at an untouchable 35.90 seconds. 
Coming the closest to catching Nassar's time was U.S. Olympic team silver medalist Kent Farrington riding Creedance, owned by Kent Farrington & R.C.G Farm, who finished in second on 36.70 seconds. Rounding out the top three was 22-year-old Spencer Smith (USA) riding Theodore Manciais to a finish time of 36.83 seconds for owner Torrey Pines & Ashland Farm. 
"It's surreal really," said Nassar, 28, of his recent successes and lucrative results. "Something's clicked in [Lucifer]'s head in the last couple months. He's an extremely, extremely gifted horse, and I'm really grateful to have him. He just adds a little bit of depth to my string so I can keep Lordan a little fresh and have a good result out west and then come here and try to clean up a little bit with Lucifer!" 
In the past week, that is exactly what Nassar and Lucifer V have done thanks to their top performances in rounds including Thursday's jump-off. 
"I was surprised to see so many clears; I thought the first course walked difficult enough, but I think everyone's in good form," said Nassar. "It's the last week of the circuit. It's a big five-star week, and there are a lot of good horses here. Lucky for me, I went early in the jump-off, so I didn't have much to think about except to try to go fast and leave them up. He's just naturally such a quick horse; I knew if I could just be neat everywhere and stay on top of my turns, that he would be tough to catch, and he was today."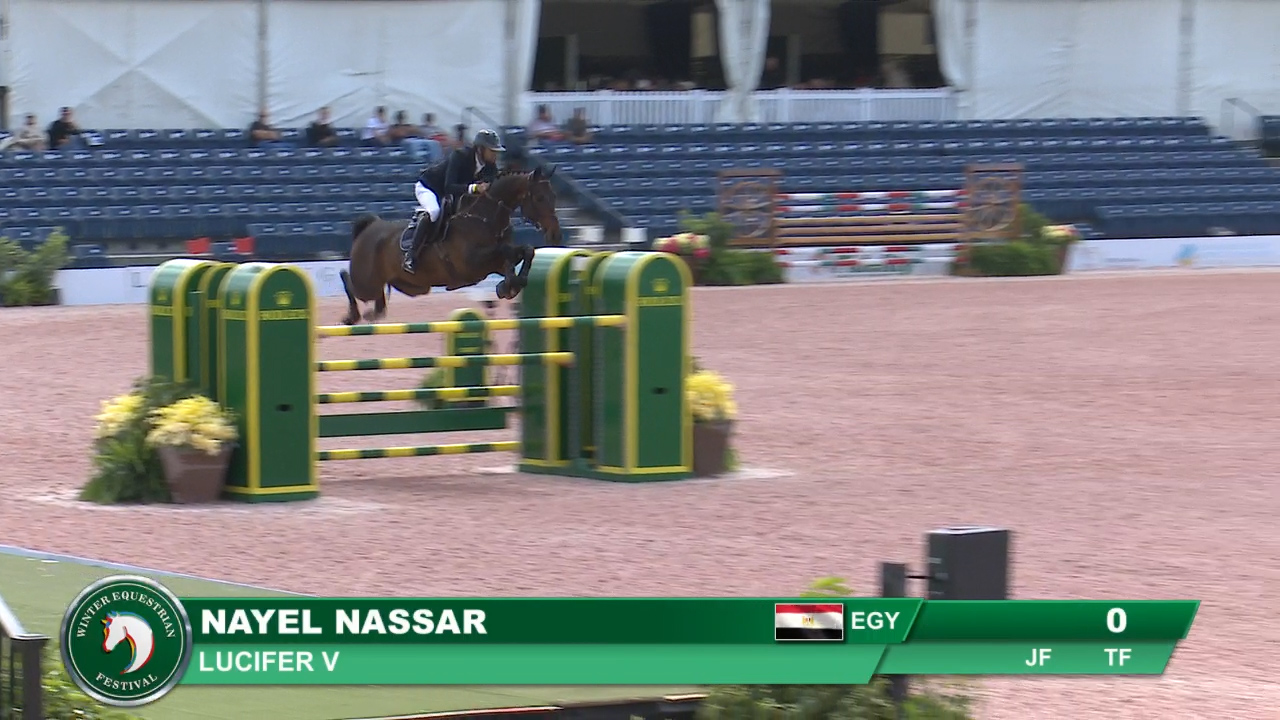 Nassar first competed Lucifer V in May of last year and, since that time, has developed a more highly-reliable partnership with the 13-year-old Westphalian gelding (Lord Dezi x Grandeur). 
"We struggled a bit with consistency in the beginning," said Nassar. "He'd put in a really good round and then come back and be not so good. We've been trying to find some sort of consistency, and luckily, it's all coming together at the right time. 
"He's a little quirky for sure, but I feel like we've gotten to know each other really well now," continued Nassar. "I feel like he trusts me, and I trust him. I've learned to ignore whatever happens in the warm-up ring because he tends to be a little lazy out there, but once he gets in the ring, he's really on top of the job. He's a really fun horse for me to ride and to have." 
Nassar will next point Lucifer V at Saturday night's $500,000 Rolex Grand Prix CSI 5*. 
Final Results: $134,000 Equinimity WEF Challenge Cup Round 12 CSI 5*
1 LUCIFER V: 2006 Westphalian gelding by Lord Dezi x Grandeur
NAYEL NASSAR (EGY), Evergate Stables LLC: 0/0/35.90
2 CREEDANCE: 2007 Dutch Warmblood gelding by Lord Z x Notaris
KENT FARRINGTON (USA), Kent Farrington & R.C.G Farm: 0/0/36.70
3 THEODORE MANCIAIS: 2007 Selle Français gelding by Kashmir van Schuttershof
SPENCER SMITH (USA), Torrey Pines & Ashland Farm: 0/0/36.83
4 HERMELIEN VD HOOGHOEVE: 2007 Belgian Warmblood mare by Tangelo VD Zuthoeve x Thunder VD Zuthoeve
ALI RAMSAY (CAN), Ali Ramsay: 0/0/38.70
5 COUNT ME IN: 2007 Hanoverian gelding by Count Grannus x Sherlock Holmes
BETH UNDERHILL (CAN), Sandy Lupton: 0/0/39.77
6 CAS 2: 2007 KWPN gelding by Indoctro x Numero Uno
HARRIE SMOLDERS (NED) Copernicus Stables LLC: 0/0/40.79
7 KEOKI: 2009 Holsteiner gelding by Catoki x Cassini I
DAVID BLAKE (IRL), Pine Hollow Farm: 0/0/41.74
8 COOL HAND LUKE 4: 2007 Oldenburg gelding by Contendro I x Argentinus
MARKUS BEERBAUM (GER), Artemis Equestrian Farm LLC: 0/0/44.98 
9 NOCHE DE RONDA: 2009 Oldenburg mare by Quintender x Loves Corinth
MCLAIN WARD (USA), Maarten Huygens and McLain Ward: 0/4/38.15
10 CHACCIAMA: 2007 Oldenburg mare by Chacco Blue x Andiamo Z
RODRIGO LAMBRE (BRA), Rodrigo Lambre:  0/4/38.77
11 INDRA VAN DE OUDE HEIHOEF: 2008 Belgian Warmblood mare by Casantos x Action-Breaker
SHANE SWEETNAM (IRL), The Blue Buckle Group: 0/4/40.27 
12 CONFU: 2007 Holsteiner gelding by Contact Me x Cambridge
LAURA KRAUT (USA), St. Bride's Farm: 0/4/42.75 
Greg Crolick and Braavos Earn Triple Crown Nutrition Green Hunter 3' Division Championship During Final Week of WEF
While only having made his debut into the show ring at the beginning of March, Greg Crolick's new partner, Braavos, has already made a name for himself. The six-year-old Warmblood gelding (Rock Forever I x Scarlett) was named champion in the Triple Crown Nutrition Green Hunter 3' division. The championship is one of two division victories the gelding has earned during the final few weeks of the 2019 Winter Equestrian Festival.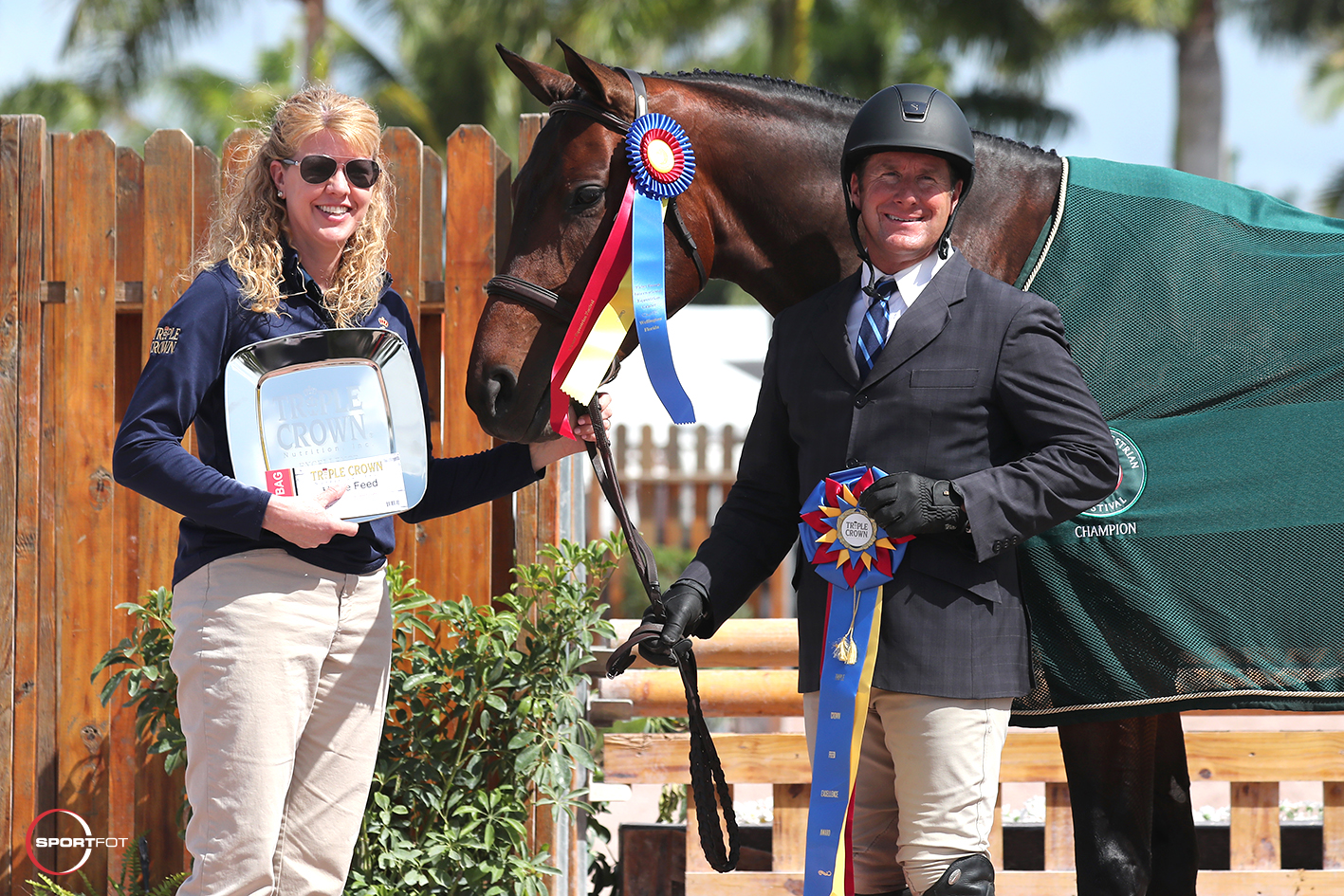 Crolick and the gelding owned by Renaud Farm, LLC first debuted their partnership in the show ring during Week 9. Braavos showed his potential promise early on as he secured the champion ribbon for the USHJA Hunter 2'6" division during his first show on U.S. soil. The gelding once again glided to success during Week 12 as the pair picked up two firsts, two seconds, and a third in the five classes to end the division on 36 points. 
"I only partnered with this horse roughly four weeks ago," Crolick explained. "A friend and long-term business partner of mine imported him into the U.S. and had him in Ocala for several months for training."
"I didn't even go try the horse before I had him sent down, but we couldn't live without him, so we got him down here," he added. "He was shipped down on a Tuesday and Wednesday we showed him for the first time, then he was champion his first week out!" 
Crolick was pleasantly surprised by the gelding's straight shot to success but believes he has the brain and the movement to quickly excel to the top.
"He's really the whole package because he's got a beautiful trot and canter as well as an expressive jump," he said. "He's also incredibly brave and doesn't require any preparation to head into the ring; I'm very excited for his future."
Reserve champion went to Jennifer Bauersachs and Lee Kellogg Sadrian's Blink. She and the six-year-old German Sport Horse gelding (Lev'soon x Contana) ended with two firsts, a second, and a sixth place.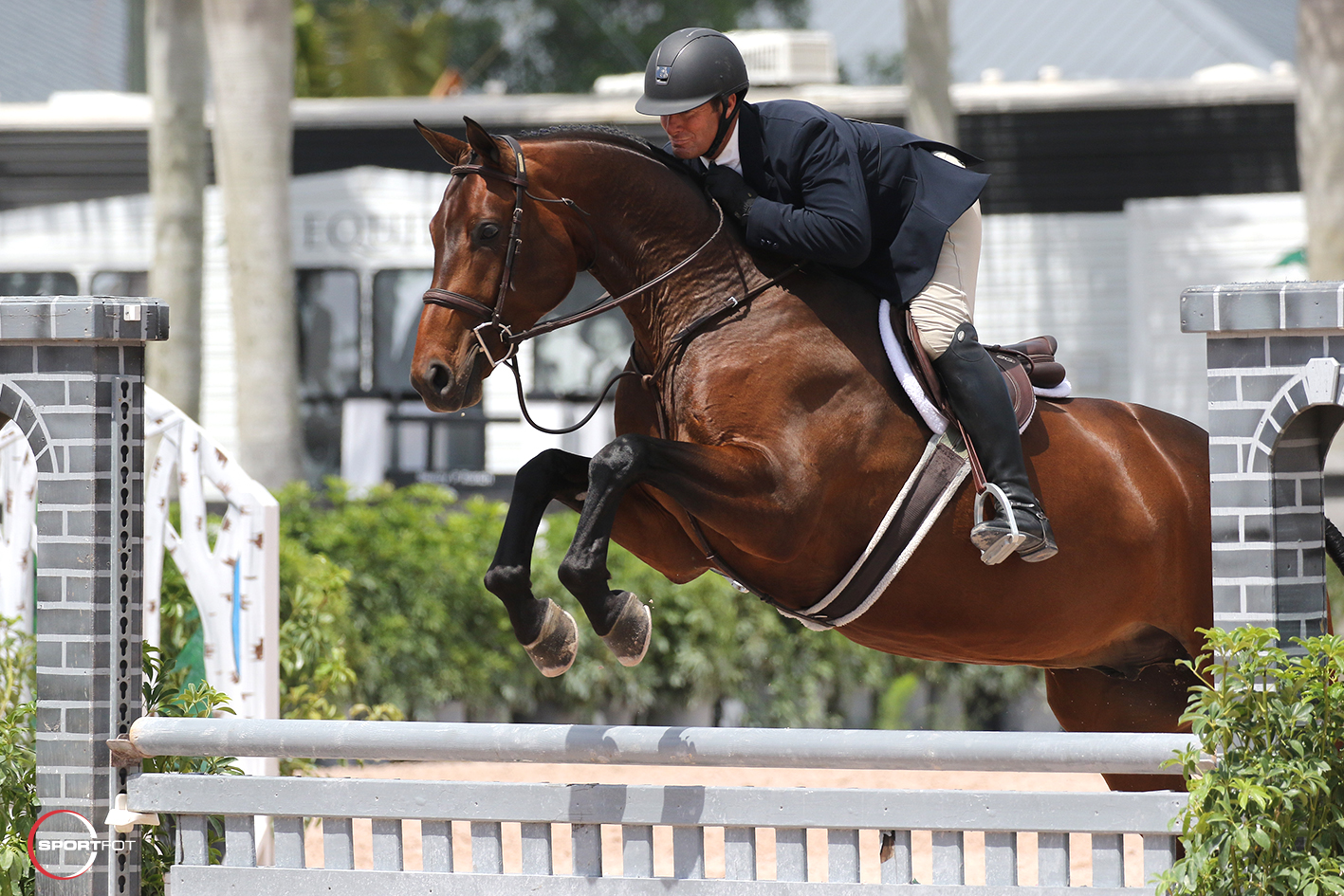 The final week of competition at the 2019 Winter Equestrian Festival continues Friday, March 29, with five-star international jumper competition as well as national hunter, jumper, and equitation divisions.