For Immediate Release
Juliana Chapman and Sabrina Brashares for Jennifer Wood Media, Inc.
Wellington, FL – March 15, 2020 – Concluding the 2020 Winter Equestrian Festival (WEF) season on a high note, Natalie Dean (USA) and Ceitasi topped a five-horse jump-off in Sunday's feature class, the $37,000 CaptiveOne Advisors 1.50m Classic CSI3* and the exciting finale of the CaptiveOne Advisors Jumper Series.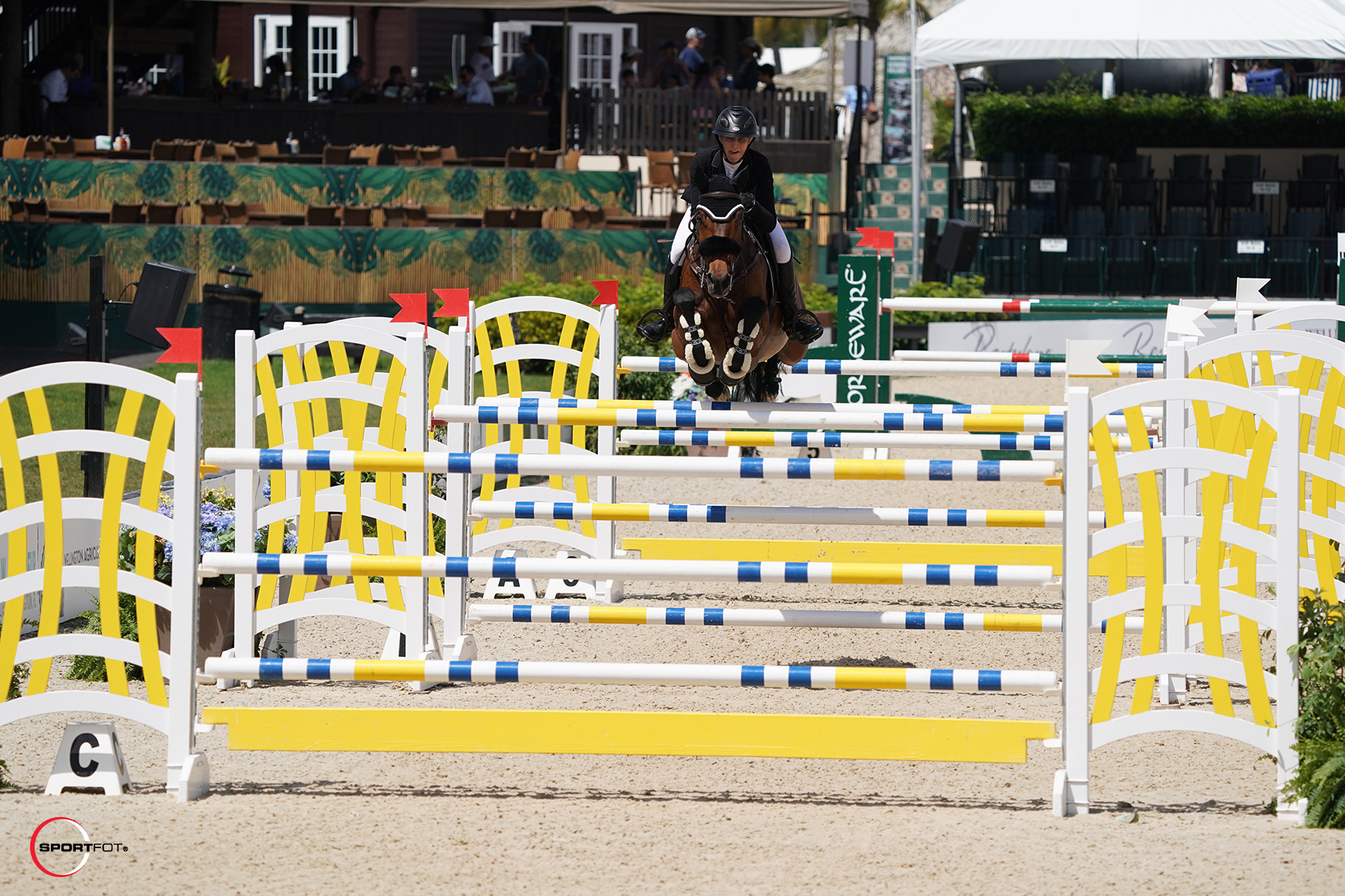 From a large field of 66 world-class show jumping athletes and their equine partners, only eight answered the questions in the first round of Michel Vaillancourt's (CAN) course that tested speed and skill. Over the short course, Dean stopped the clock at 34.26 seconds for the win on one of two mounts.
"Ceitasi was amazing today and she jumped the first round fairly easy and everything showed up nicely, so I was happy with her," said Dean of her 10-year-old Westphalian mare (Caretello B x Cavalier) owned by Marigold Sorthorses LLC. "In the jump-off, a couple people had one down and I did as well on my first horse, so for my second time in the ring, I wanted to be competitive enough that I would win, and it worked out in my favor."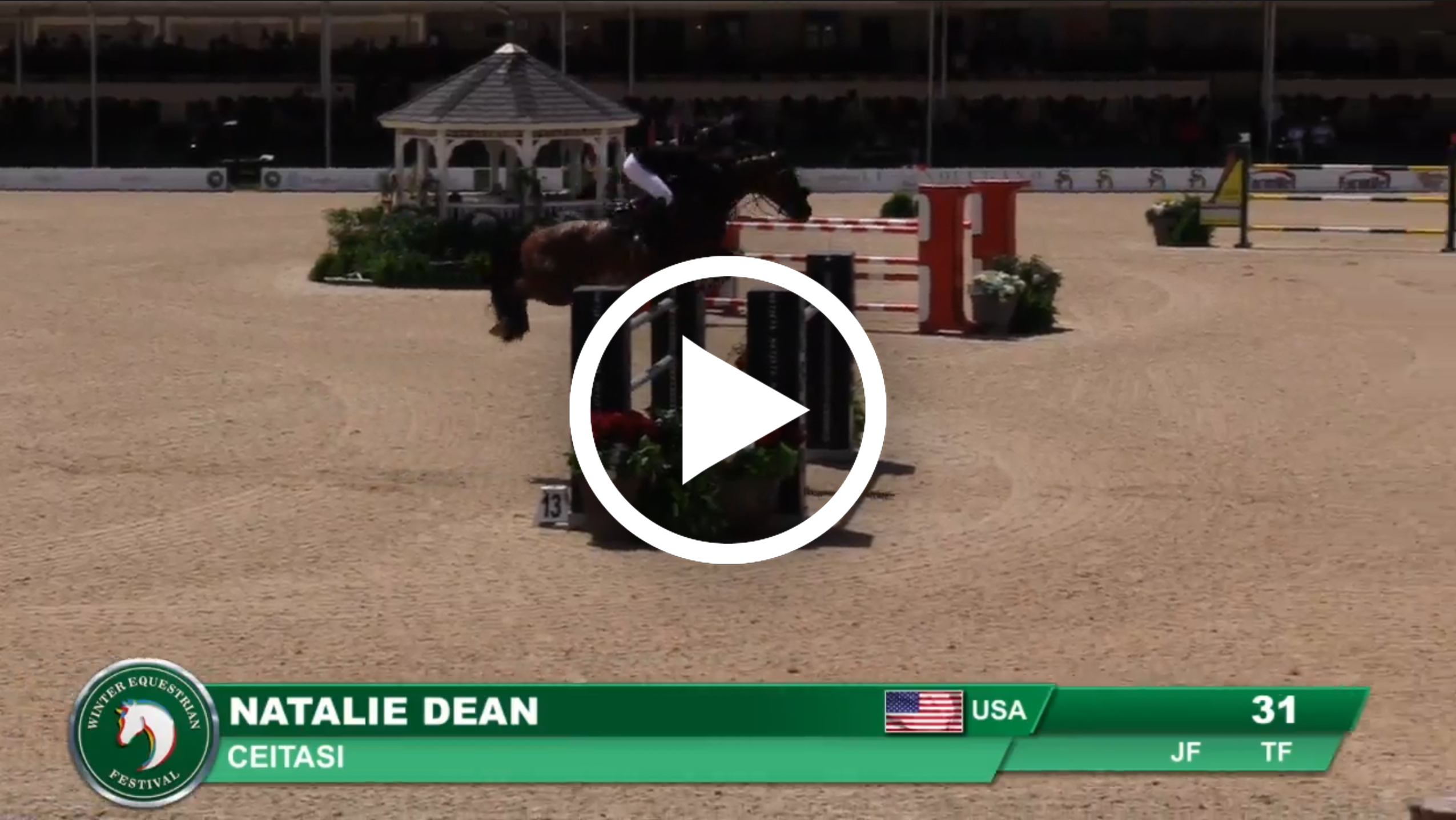 This was only Dean's second appearance in the CaptiveOne Advisors 1.50m Jumper Series, and she noted, "The track flowed well. I was happy that the triple was vertical, oxer, vertical which was good for both of my horses."
Dean made her debut at WEF this season with trainer Ilan Ferder, saying, "I have a wonderful string and my parents have been very supportive along with my trainer who is super good at finding horses. I'm biased, but I feel like I have one of the best strings out there. It's been so fun, and I love it here [at WEF]!"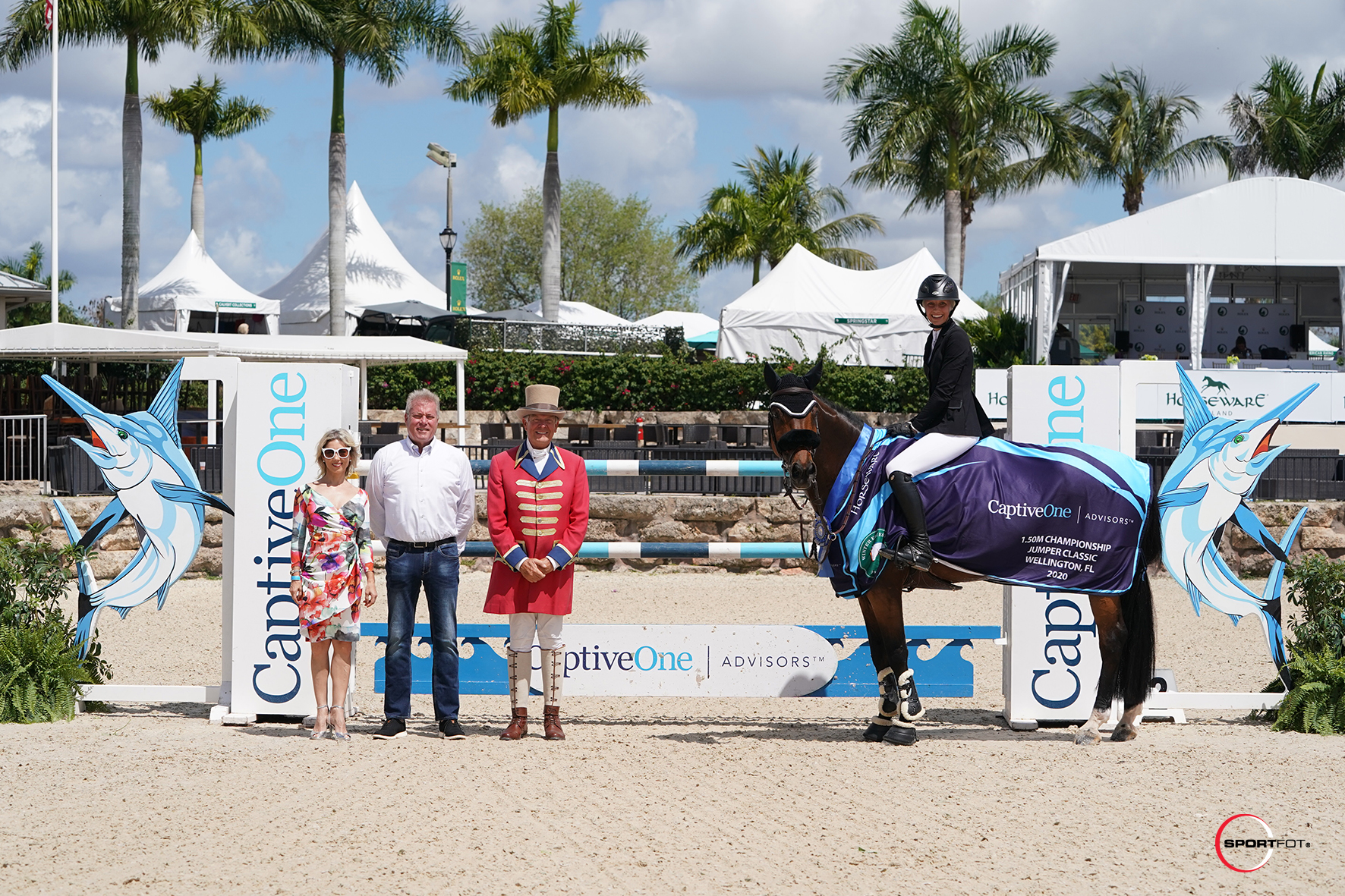 Second place went to Columbcille de Reve ridden by Nicholas Dello Joio (USA) with a double-clear effort in in a time of 37.02 seconds for owner Crooks Show Jumping LLC. Dean rode her second mount, Don's Diamant, owned by Marigold Sporthorses, LLC, to third place due to a rail down in the jump-off and a time of 34.75 seconds. Fourth went to Annabel Revers (USA) aboard H&M Carat Desire, with four faults and time of 38.29 for owner Beechwood Stables. In fifth place, Katherine Strauss (USA) and her own All In ended with a time of 34.31 seconds and two rails down.
Darragh Kenny Secures Series Championship
Darragh Kenny (IRL) secured the CaptiveOne Advisors 1.50m Jumper Series championship with consistent finishes throughout 10 weeks of 1.50m competition. In recognition of his series championship, Kenny was presented with a trip for six people on the CaptiveOne Advisors yacht, Reel Captivating.
Final Results: $37,000 CaptiveOne Advisors 1.50m Classic CSI3*
1 CEITASI: 2010 Westphalian mare by Caretello B x Cavalier
NATALIE DEAN (USA), Marigold Sporthorses, LLC: 0/0/34.26
2 COLUMBCILLE DE REVE: 2008 Irish Sport Horse mare by Hermes de Reve x Errigal Flight
NICHOLAS DELLO JOIO (USA), Crooks Show Jumping LLC: 0/0/37.02
3 DON'S DIAMANT: 2008 KWPN stallion by Diamant de Semilly x Phin Phin
NATALIE DEAN (USA), Marigold Sporthorses, LLC: 0/4/34.75
4 H&M CARAT DESIRE: 2008 Holsteiner mare by Diarado x Chance For Ever
ANNABEL REVERS (USA), Beechwood Stables, LLC: 0/4/38.29
5 ALL IN: 2005 KWPN gelding by Aachen x Indoctro
KATHERINE STRAUSS (USA), Katherine Strauss LLC: 0/8/34.31
6 IMPORTANT DE MUZE: 2008 BWP gelding by Erco van't Roosakker x Nabab de Reve
DARRAGH KENNY (IRL), Kerry Anne LLC: 0/WD
7 BALOTELLI 5: 2010 Hanoverian gelding by Balou du Rouet x Contendro I
GEORGINA BLOOMBERG (USA), Purple Road, LLC: 0/WD
8 H5 VIRTUOSE D'EOLE: 2009 SF mare by Panama Tame x O See Des Pres
CARLOS HANK GUERREIRO (MEX), H5 Stables: 0/WD
9 LUIKAN Q: 2009 AES gelding by Luidam x Camina Van De Kornelishoeve
BEN ASSELIN (CAN), Attache Stables: 1/73.3
10 CASAKTIE: 2009 Holsteiner mare by Cascari x Caresino
YURI MANSUR (BRA), Yuri Mansur: 1/73.49
11 PEMBROKE: 2008 Holsteiner mare by Clarimo x Casall
ADRIENNE STERNLICHT (USA), Starlight Farms LLC: 1/74.60
12 DAY DREAM: 2008 KWPN gelding by Zento x Heartbreaker
BEN MAHER (GBR), Deborah Perkins: 1/76.30
Meghan Knapic and Best in Blue Earn the Tri-Color in Animo Adult Amateur Hunters Younger Section B
On the final day of hunter competition, Meghan Knapic rode Best in Blue to the Adult Amateur Hunters Younger Section B championship, sponsored by Animo. Knapic and Best in Blue took on the Rost Ring to win two firsts, as well as second, fourth, and eighth-place ribbons.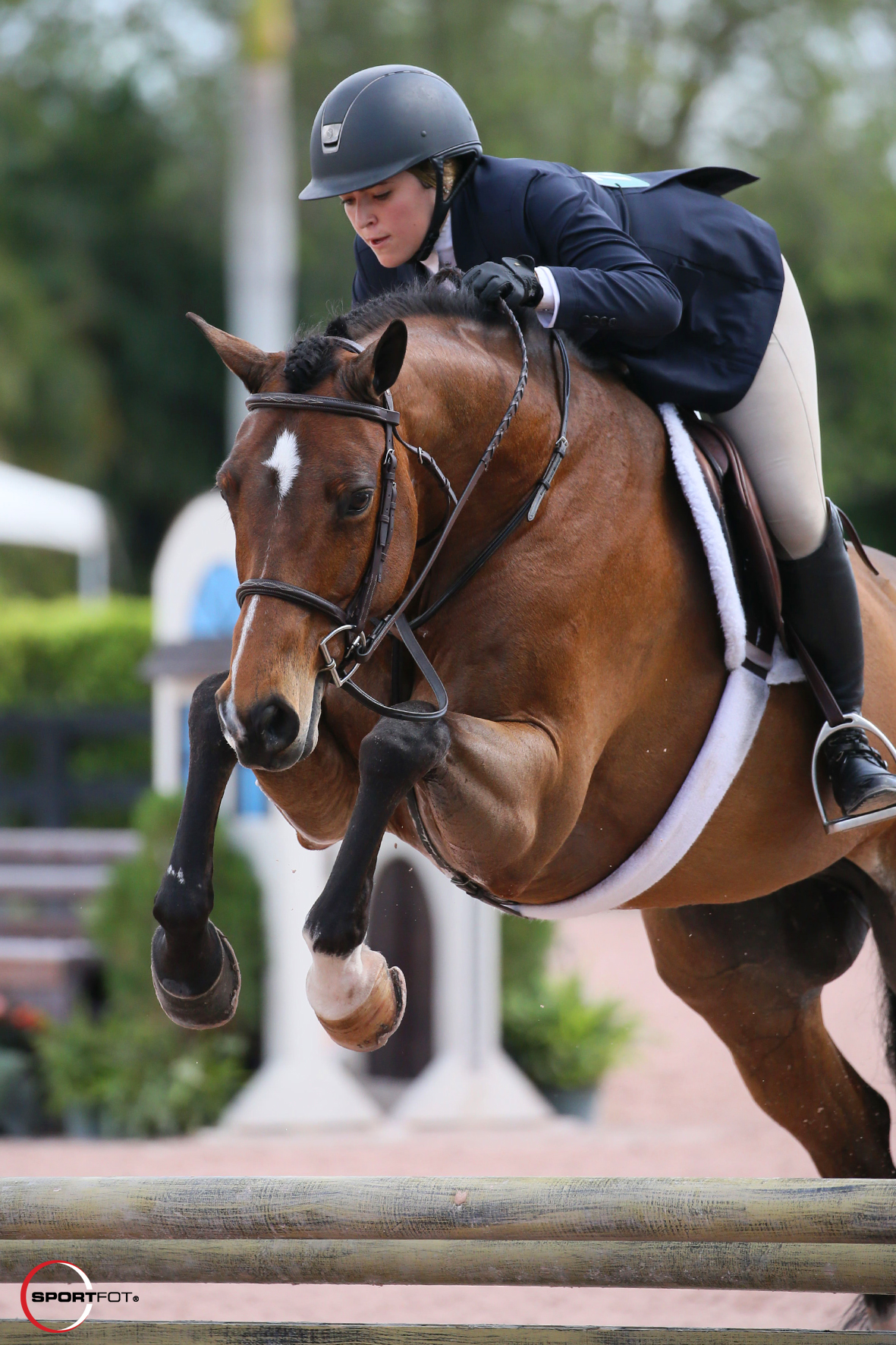 Knapic is currently in Wellington for her spring break and was given the opportunity to show Best in Blue, also known as "Elton" around the barn. The rider, from Smithtown, NY, is a sophomore studying at Auburn University and training with Jenna Weinfurt. Elton, owned by First Blue LLC, is a very new mount for Knapic, and also a new horse to Weinfurt.
"Jenna, my trainer, got him five days ago and I was coming down from school and I wanted something to show this weekend. We decided to bring him out and he was amazing!" Knapic explained.
Knapic and Elton quickly formed a relationship in the show ring and proved to be tough competition after winning two over-fences classes on the first day of the division.
"We clicked better today. Yesterday I was still figuring him out, but he was great every single day," Knapic commented. "He has a great jump and he's super consistent cantering around."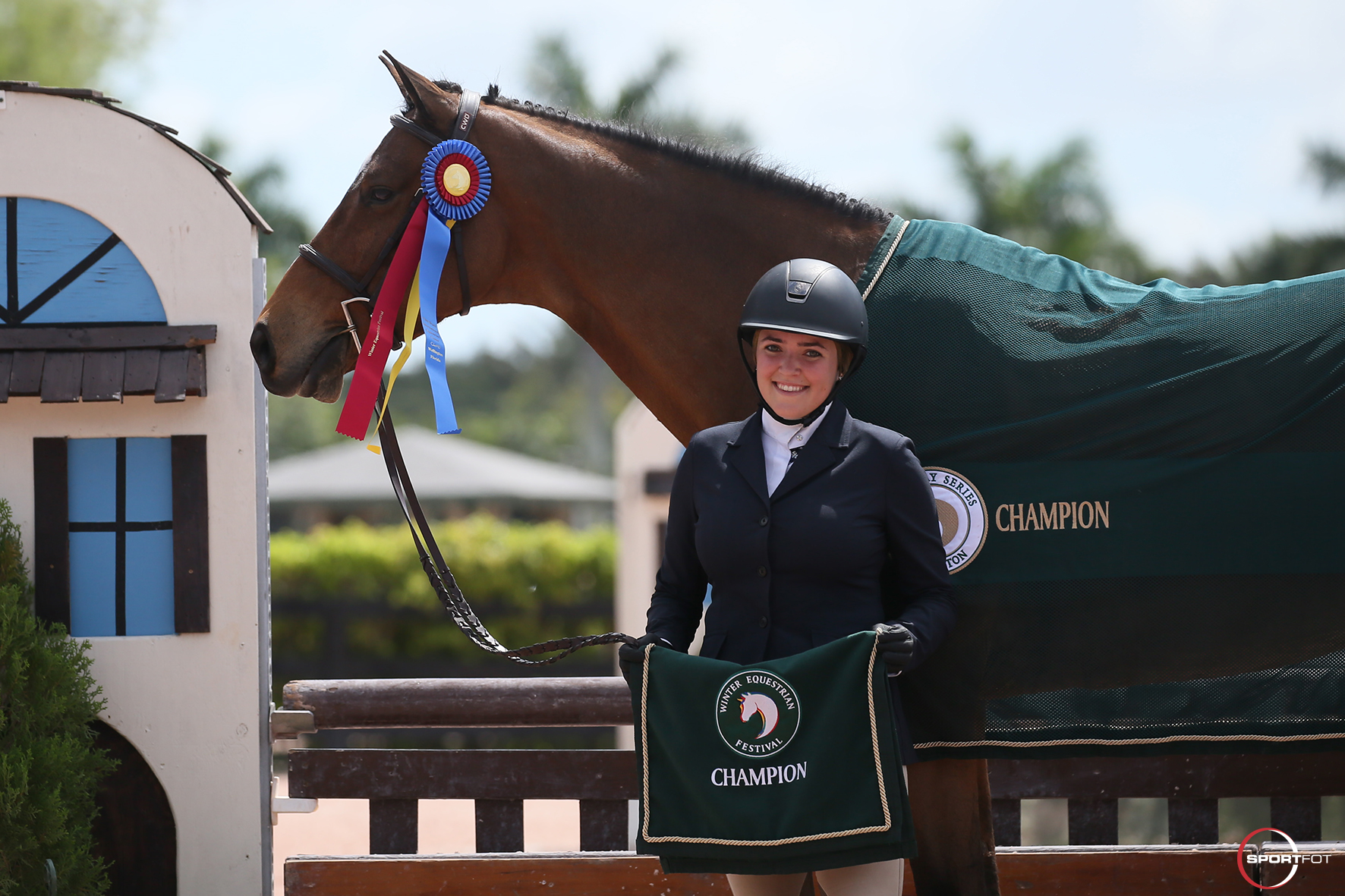 Knapic hopes to continue riding Elton and developing their partnership together. Although Knapic has known the Dutch Warmblood gelding for less than a week, she described him as a very reliable and honest partner, that she was thankful to have the ride on.
"The last few days I've ridden him he has always come out the same. He's quiet, easy, and very comfortable to ride," Knapic said of Elton. "I know that when I go into the ring, wherever I put him he's going to trust me."
Taylor St. Jacques, of Glen Allen, VA, and Carriage Hill Farm's Czar Du Mesnil received the reserve champion title in the Animo Adult Amateur Hunter Younger Section B division. The pair received a first, two thirds and a fourth place.
For full results, visit www.PBIEC.com.
Photo credit: Photos © Sportfot, official photographer of the Winter Equestrian Festival. These photos may be used only in relation to this press release and must include photo credit.