For Immediate Release
Lauren Fisher and Sara Cook for Jennifer Wood Media, Inc.
Wellington, FL – February 10, 2017 – Todd Minikus (USA) and Wyndmont's Zephyr continued their winning form on Friday, February 10, at the 2017 Winter Equestrian Festival (WEF) in Wellington, FL, with a top finish in the $35,000 Illustrated Properties 1.45m speed class following back-to-back victories in week three.
WEF 5, sponsored by Fidelity Investments®, features CSI 5* competition at the Palm Beach International Equestrian Center (PBIEC) through Sunday, February 12, 2017. Highlights include the $380,000 Fidelity Investments® Grand Prix CSI 5* on Saturday, as well as the $86,000 Suncast® 1.50m Championship Jumper Classic and the $50,000 Equo Grand Prix CSI 2* on Sunday. Live streaming for the week is available HERE. The 12-week WEF circuit continues through April 2, 2017, awarding over $9 million in prize money.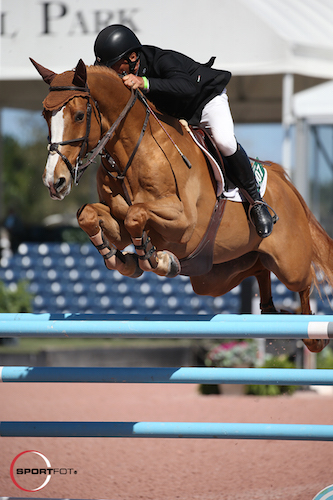 Todd Minikus and Zephyr
2012 Olympic course designer Robert Ellis (GBR) set the track for 50 entries in Friday's CSI 5* edition of the 1.45m competition, clocking 19 clear rounds. Minikus and Zephyr were the winners with their time of 57.52 seconds. Kristen Vanderveen (USA) and Bull Run's Faustino de Tili finished second in 58.12 seconds, and Yuri Mansur (BRA) guided Louise Weber's Cula Lou V to third place in 58.18 seconds.
Minikus and Zephyr, a 13-year-old Dutch Warmblood gelding (Landor S x Calvados) won week three's $35,000 Douglas Elliman 1.45m and $35,000 Illustrated Properties 1.45m speed classes just two days apart. Zephyr then had a week off and returned to the ring fresh and ready to go on Friday.
"He feels good. They did not jump him during the week," said Minikus, who rides Zephyr at the ring and leaves the gelding's training duties to the team at Wyndmont. "I gave him a little school yesterday in the FEI, and that was it.
"I didn't get to watch many go today because I was doing the 1.35m and some other classes," Minikus continued. "I think my turn to the skinny (jump) was probably what made my time. He actually slipped a little bit in the turn, but I think it shocked him into jumping the skinny clear, so it helped."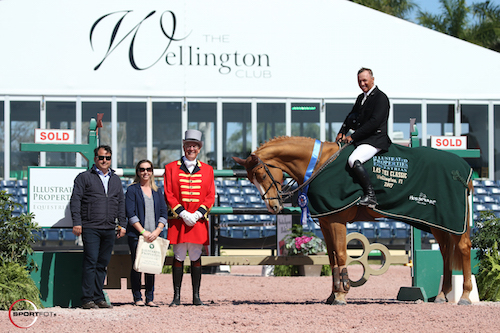 Todd Minikus and Zephyr in their winning presentation with Rodolfo Maya and Waverly Ernst from the Maya Group at Illustrated Properties and ringmaster Steve Rector.
Minikus and the team at Wyndmont, which includes trainers Ronnie Beard and Michael Dorman, also made the decision to change Zephyr's bridle this week to help his turning ability.
"He was a little awkward turning to the left before, but we changed bridles, and now he seems good in both directions," Minikus explained. "He feels equal on both sides, so we are getting some small things figured out, and he keeps getting better."
Minikus and Zephyr will jump again in Sunday's $86,000 Suncast® 1.50m Championship Jumper Classic. In addition to top prizes, Illustrated Properties presented special leading rider awards to Minikus as the highest-placed professional rider in the class, and Katie Dinan (USA) as the highest-placed non-professional rider.
Also competing in the International Arena on Friday, the $35,000 1.45m jump-off class was featured for the CSI 2* competitors with 56 entries, and 16 advancing to the jump-off. The win went to Ireland's Darragh Kenny riding Kerry Anne LLC's Bolero III, last to go over the short course in 36.38 seconds. Venezuela's Luis Larrazabal finished second riding San Francisco Stables' G&C Close Up through the timers in 37.16 seconds. Brett Burlington (USA) and Alden Burlington's Bluf placed third in 38.28 seconds.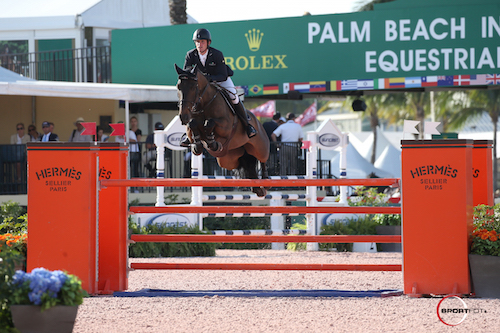 Darragh Kenny and Bolero III
The $6,000 Illustrated Properties 1.40m Speed Challenge concluded the day with a win for Georgina Bloomberg (USA) and Gotham Enterprizes' South Street. The morning's $2,500 Engel & Völkers High Amateur-Owner Jumper Power and Speed saw victory for David Oberkircher and Southfields Farm LLC's Castelino van de Helle.
Elissa Davis Wins Ariat National Adult Medal
Elissa Davis of Cincinnati, OH, rode her own Eric to win the Ariat National Adult Medal on Friday morning in the E.R. Grand Mische Hunter Ring. The pair was sitting in third place before the test of the top four competitors where they moved up to take the win. Davis competes primarily in the Adult Equitation classes.
"My horse was a little bit spooky, but it ended up really nice," said Davis. "My original course didn't go exactly as planned, but it was really good for the most part. My test felt great though. I was really happy with that. I focused on what the other riders did and tried to do it better."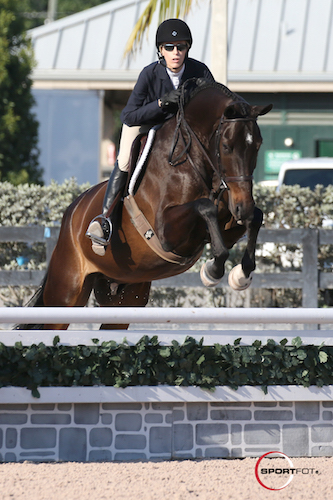 Elissa Davis and Eric
Eric is a coming eight-year-old Hanoverian gelding by Avagon. Davis and the gelding have had several second and third place finishes in the Ariat National Adult Medal during the 2017 Winter Equestrian Festival (WEF), but Friday marked their first win.
"He's really sweet," Davis detailed. "He just wants to be a lap dog. I haven't had him very long, about eight months. I would love to go to Ariat [National Adult Medal] Finals, and I would also love to do the Palm Beach Medal finals here too."
Gabi Morris of Bridgewater, NJ, finished in second place aboard Hypnotic, and Kristina Lyons of Boston, MA, rode Country Road to the third place ribbon.
The fifth week of WEF continues on Saturday with the $380,000 Fidelity Investments® Grand Prix CSI 5* featured in the International Arena at 7 p.m. The Lugano Diamonds Amateur-Owner Hunter 18-35 will award championship and reserve honors in the Rost Arena. For full results, please visit www.PBIEC.com.
Final Results: $35,000 Illustrated Properties 1.45m

1. ZEPHYR: 2004 Dutch Warmblood gelding by Landor S x Calvados
TODD MINIKUS (USA), Wyndmont: 0/57.52
2. BULL RUN'S FAUSTINO DE TILI: 2005 Belgian Warmblood stallion by Berlin x Darco
KRISTEN VANDERVEEN (USA), Bull Run Jumpers Five LLC: 0/58.12
3. CULA LOU V: 2006 Westphalian mare by Chacco-Blue x Sandro
YURI MANSUR (BRA), Louise Weber: 0/58.18
4. HERA VAN DE KOUTERHOEVE: 2007 Belgian Warmblood mare by Dawson van de Padenborre x Winsconsin van de Cruyenvelda
KEEAN WHITE (CAN), Angelstone Partners: 0/60.73
5. CON TOUCH S: 2006 Westphalian mare by Con Cento x Capitol I
LAURA KRAUT (USA), Julius Peter Sinack: 0/61.68
6. BEEZIE: 2006 KWPN mare by Cardento x Canabis Z
SHANE SWEETNAM (IRL), The ISB Group LLC: 0/61.96
7. TARIOSO MANCIAIS: 2007 Selle Francais gelding by Arioso du Theillet x First Bride
KATHERINE DINAN (USA), Grant Road Partners LLC: 0/63.00
8. BACARA D'ARCHONFOSSE: 2007 Belgian Warmblood mare by Asca Z x Kannan
DANIEL BLUMAN (ISR), Daniel Bluman, Kim Douglas, and Alexa Schwitzer: 0/63.30
DOUBLE O SEVEN 7: 2008 KWPN gelding by Mr. Blue x Celano
KEVIN BABINGTON (IRL), Kevin Babington & Katznelson Jumpers LLC: 0/63.5810. CALISTA: 2006 Westphalian mare by Cornet Obolensky x Pontifex
GEORGINA BLOOMBERG (USA), Gotham Enterprizes LLC: 0/65.13

11. ARMANI SL Z: 2008 Zangersheide stallion by Asca Z x Cumano
EUGENIO GARZA (MEX), El Milagro: 0/65.45

12. BOKAI: 2006 KWPN gelding by Up To Date x Ferro
CATHERINE TYREE (USA), Mary & Joe Tyree: 0/66.50
Photo Credit: Photos © Sportfot. Photos may only be used in relation to this press release and must include credit.