For Immediate Release
Lindsay Brock for Jennifer Wood Media, Inc.
Wellington, FL – February 5, 2020 – Mexico's Santiago Lambre opened Week five of the 2020 Winter Equestrian Festival (WEF) with a win in the $37,000 Douglas Elliman Real Estate 1.45m CSI5* riding Doloris on Wednesday, February 5, 2020, as international competition reaches a peak at Palm Beach International Equestrian Center (PBIEC) in Wellington, FL.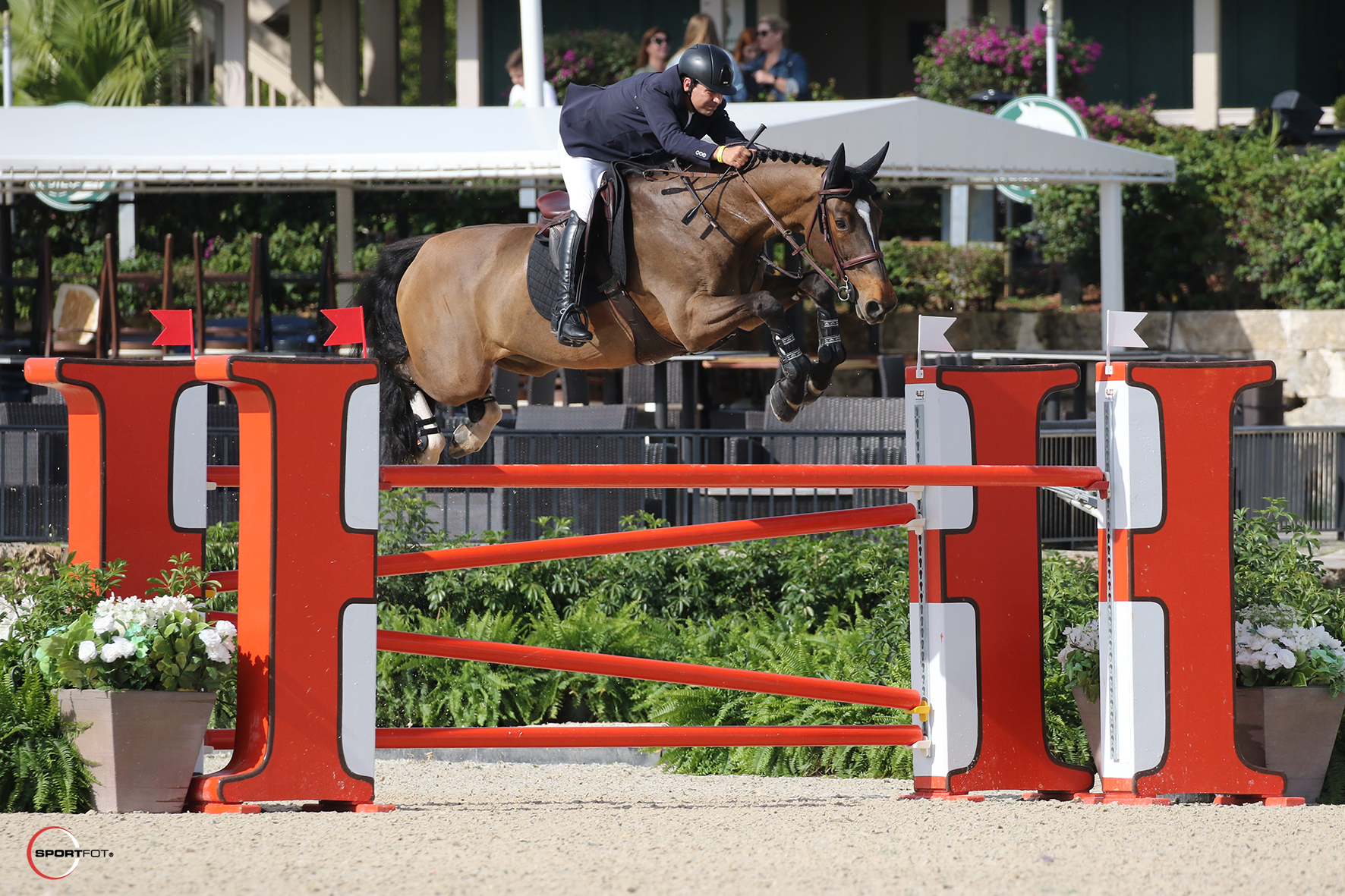 WEF continues through March 29, at the Palm Beach International Equestrian Center in Wellington, Florida, with 12 consecutive weeks of world-class competition and $13 million dollars on offer. The fifth week of competition runs February 5 through February 9, is sponsored by Fidelity Investments®, and recognized as a CSI5* and CSI2* by the Fédération Equestre Internationale (FEI).
Highlighting the in-ring action, the $137,000 Equinimity WEF Challenge Cup Round 5 CSI5* takes place at 11 a.m. on Thursday, and the $401,000 Fidelity Investments® Grand Prix CSI5* will be featured during "Saturday Night Lights" at 7 p.m. On Sunday, the $73,000 CaptiveOne 1.50m CSI5* will be highlighted alongside the $50,000 Rushy Marsh Farm Grand Prix CSI2*.
Coming off a CSI2* grand prix victory during the opening FEI week of WEF, and the runner-up ribbon in last week's CSI4* grand prix, Lambre christened week five with another podium finish. Topping 66 horses over a course designed by Anthony D'Ambrosio and Andy Christiansen, Jr., Lambre and his 12-year-old KWPN mare (Harley VDL x Colorado D) posted a blistering fast jump-off time of 24.82 seconds.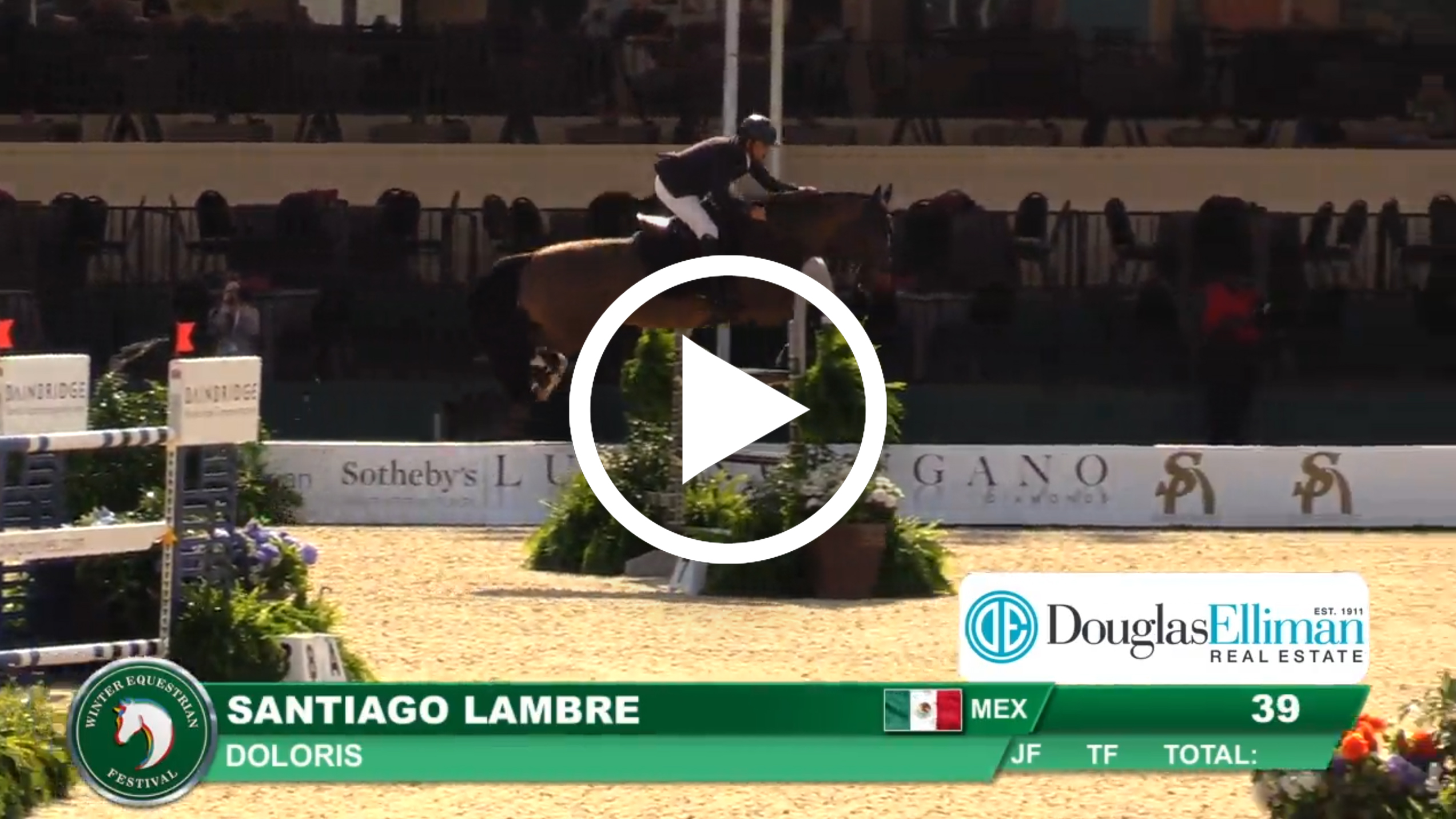 "It's always nice to win the first day!" said Lambre, who created a home base in Wellington with his wife and two children two years ago. "It's good motivation for the following days that get more and more difficult."
Lambre got the ride on Doloris when he added the mare to his string as a six-year-old. "She is a winner and a real moneymaker!" he said.
Doloris has become a specialist in the 1.45m and 1.50m classes with Lambre pointing her to them throughout the WEF season. "These are her classes," he said. "She is comfortable at this level and I don't want to push her too hard. She is a really fast horses and that made the difference in the jump-off."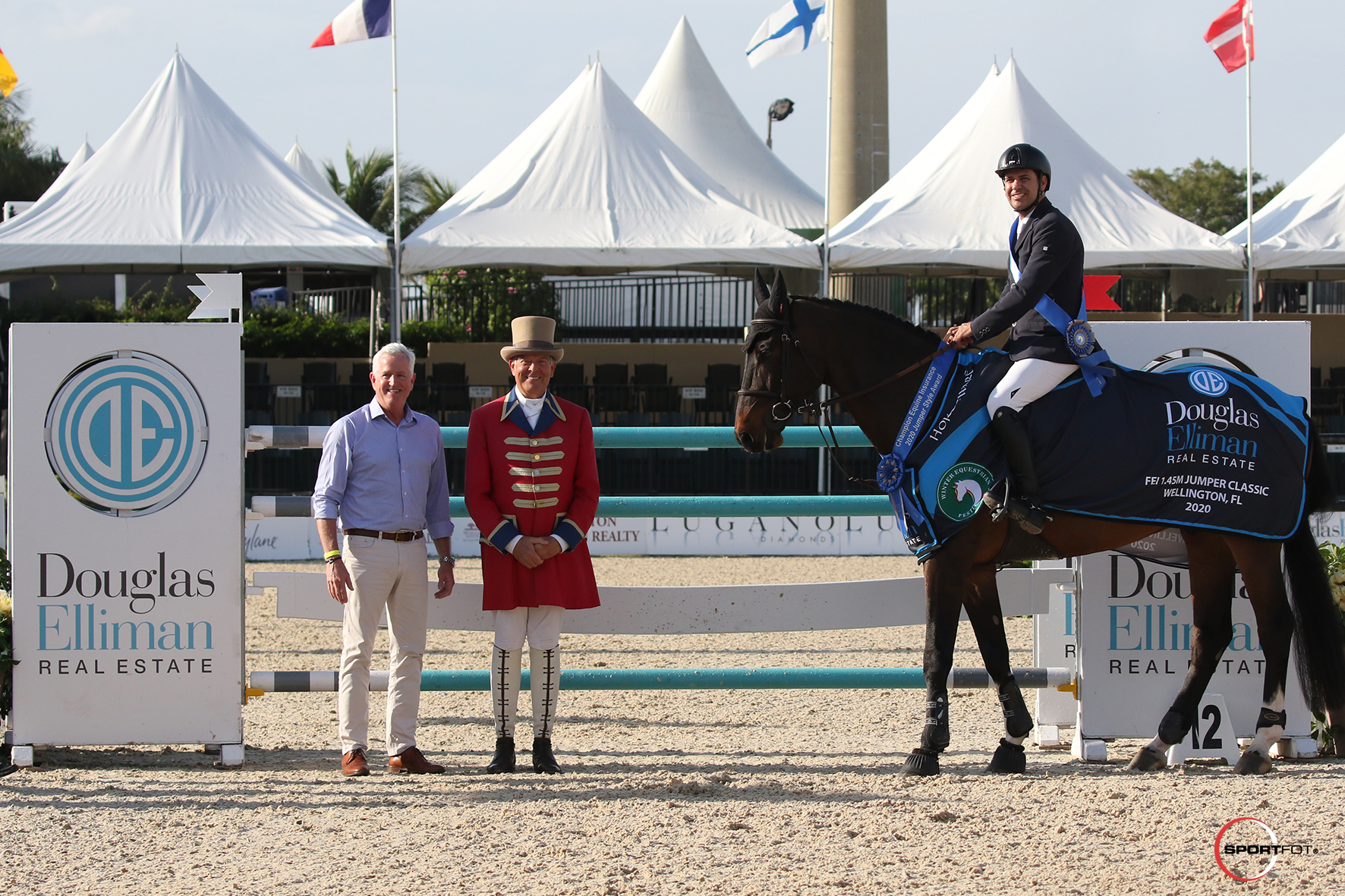 Ireland's Darragh Kenny finished second to Lambre in 25.74 seconds riding Carthano for Oakland Ventures LLC, while fellow Irishman Jordan Coyle rounded out the podium in 25.74 seconds on Elan Farm's Essenar Crixus. Todd Minikus (USA) and Amex Z finished fourth for Bit By Bit Group, while Israel's Daniel Bluman capped the top five on Entano, owned by Over the Top Stables LLC.
Also earning wins in the International Arena at WEF on Wednesday, Kristen Vanderveen (USA) topped the Bainbridge 1.40m CSI5* riding Sebastian for Mattie Hatcher, and Hayley Barnhill (USA) won the Rushy Marsh Farm 1.40m CSI2* riding RMW Georgie for owner Mary Shirley. For full results, visit www.PBIEC.com.
Final Results $37,000 Douglas Elliman Real Estate 1.45m CSI5*
1 DOLORIS: 2008 KWPN mare by Harley VDL x Colorado D
SANTIAGO LAMBRE (MEX), Santiago Lambre: 0/0/24.82
2 CARTHANO: 2007 Holsteiner gelding by Cartani x Heraldik XX
DARRAGH KENNY (IRL), Oakland Ventures LLC: 0/0/25.74
3 ESSENAR CRIXUS: 2010 ISH gelding by Luidam x ARD VDL Douglas
JORDAN COYLE (IRL), Elan Farm: 0/0/26.19
4 AMEX Z: 2009 Zangersheide Mare by Andiamo Z x Landaris
TODD MINIKUS (USA), Bit By Bit Group: 0/0/26.29
5 ENTANO: 2009 KWPN gelding by Namelus R x Numero Uno
DANIEL BLUMAN (ISR), Over the Top Stables LLC: 0/0/26.73
6 FECYBELLE: 2010 KWPN mare by Carambole x Sjapoo
KARL COOK (USA), Signe Ostby: 0/0/27.48
7 BRIGHTON: 2006 KWPN gelding by Contendro II x Quick Star
TIFFANY FOSTER (CAN), Artisan Farms LLC: 0/0/27.92
8 EVERGLAD SANTO ANTONIO: 2009 KWPN gelding by Clinton x Voltaire
YURI MANSUR (BRA), Yuri Mansur: 0/0/28.15
9 TANAEL DES BONNES: 2007 Selle Français gelding by Watch me van't Zorgvliet x Don Pierre
BRIANNE GOUTAL-MARTEAU (USA), Gerald Ford: 0/0/28.93
10 ICEMAN DE MUZE: 2008 BWP stallion by Erco van't Roosakker x For Pleasure
SCHUYLER RILEY (USA), E2 Show Jumpers: 0/0/28.95
11 ORSO DEL TERRICCIO: 2008 SI gelding by Indoctro x Can Can Del Terriccio
DANI G. WALDMAN (ISR), Victoria Vargas D'Agostino: 0/0/29.04
12 COLDPLAY: 2007 Westphalian gelding by Cristallo 7 x Charisma I
SLOANE COLES (USA), Spring Ledge LLC: 0/0/29.96
Photo credit: Photos © Sportfot, official photographer of the Winter Equestrian Festival. These photos may be used only in relation to this press release and must include photo credit.