For Immediate Release
Jennifer Wood Media, Inc.
Wellington, FL — February 22, 2018 — The 2017 FEI World Cup Finals champion McLain Ward notched another big win during the 2018 Winter Equestrian Festival (WEF) on Thursday, February 22, by riding Hija van Strokapelleken to victory in the $132,000 Equinimity WEF Challenge Cup Round 7 at the Palm Beach International Equestrian Center in Wellington, FL.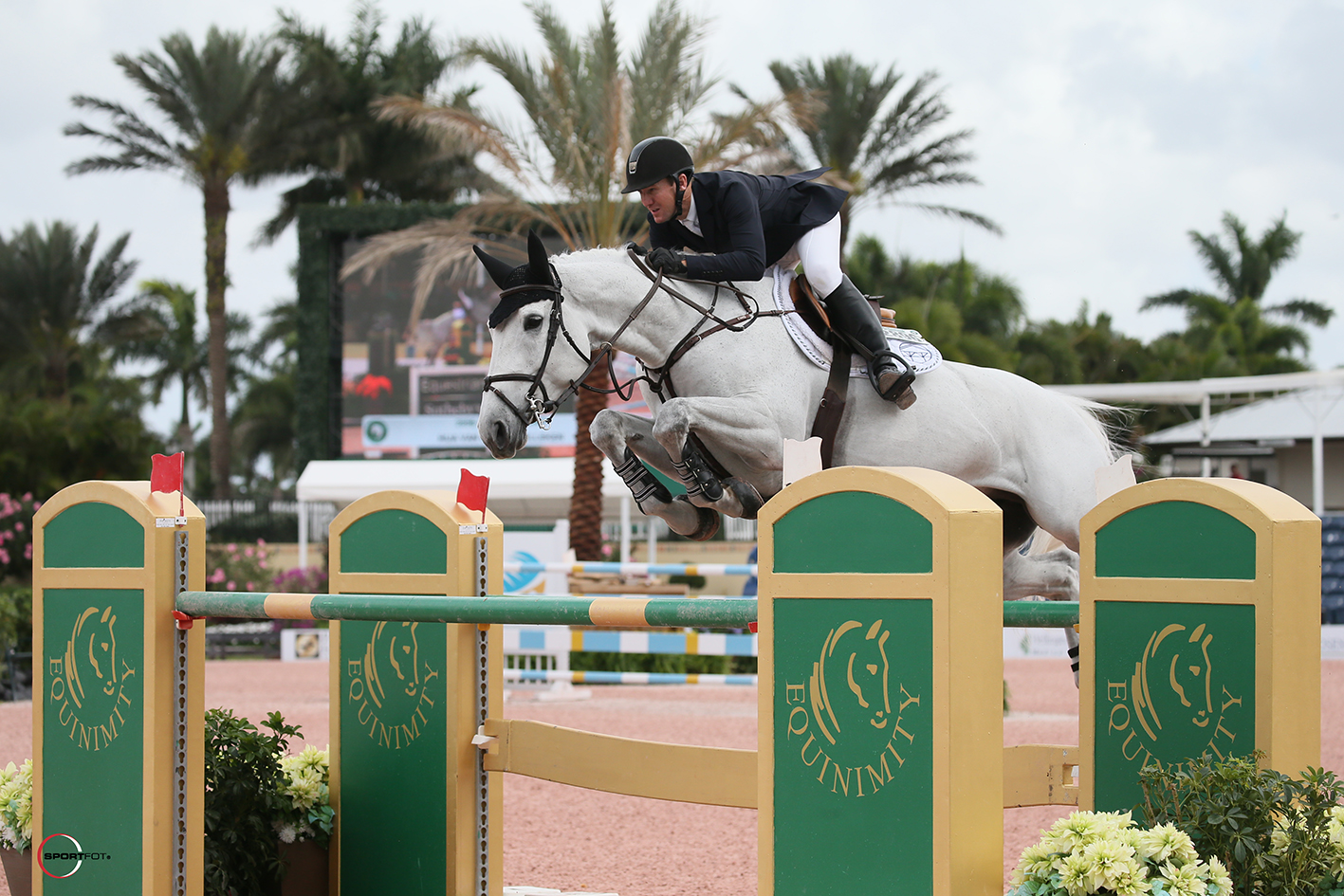 WEF 7 continues through Sunday, February 25 with CSI 5* competition sponsored by Lugano Diamonds and featuring the $384,000 Rolex Grand Prix CSI 5* on Saturday, February 24. WEF runs until April 1 and offers more than $9 million in prize money.
Ward won his second five-star Equinimity WEF Challenge Cup of the season on Thursday, after taking the top spot in week five's class with HH Azur, his 2016 Olympic team silver medal mount.
Riding Hija van Strokapelleken, an 11-year-old BWP mare by Calido I x Azur de Paulstra owned by Evergate Stable LLC, Ward topped a class of 52 entries and 19 in the jump-off over an Anthony D'Ambrosio-designed course. They finished the short course in 35.20 seconds for the win.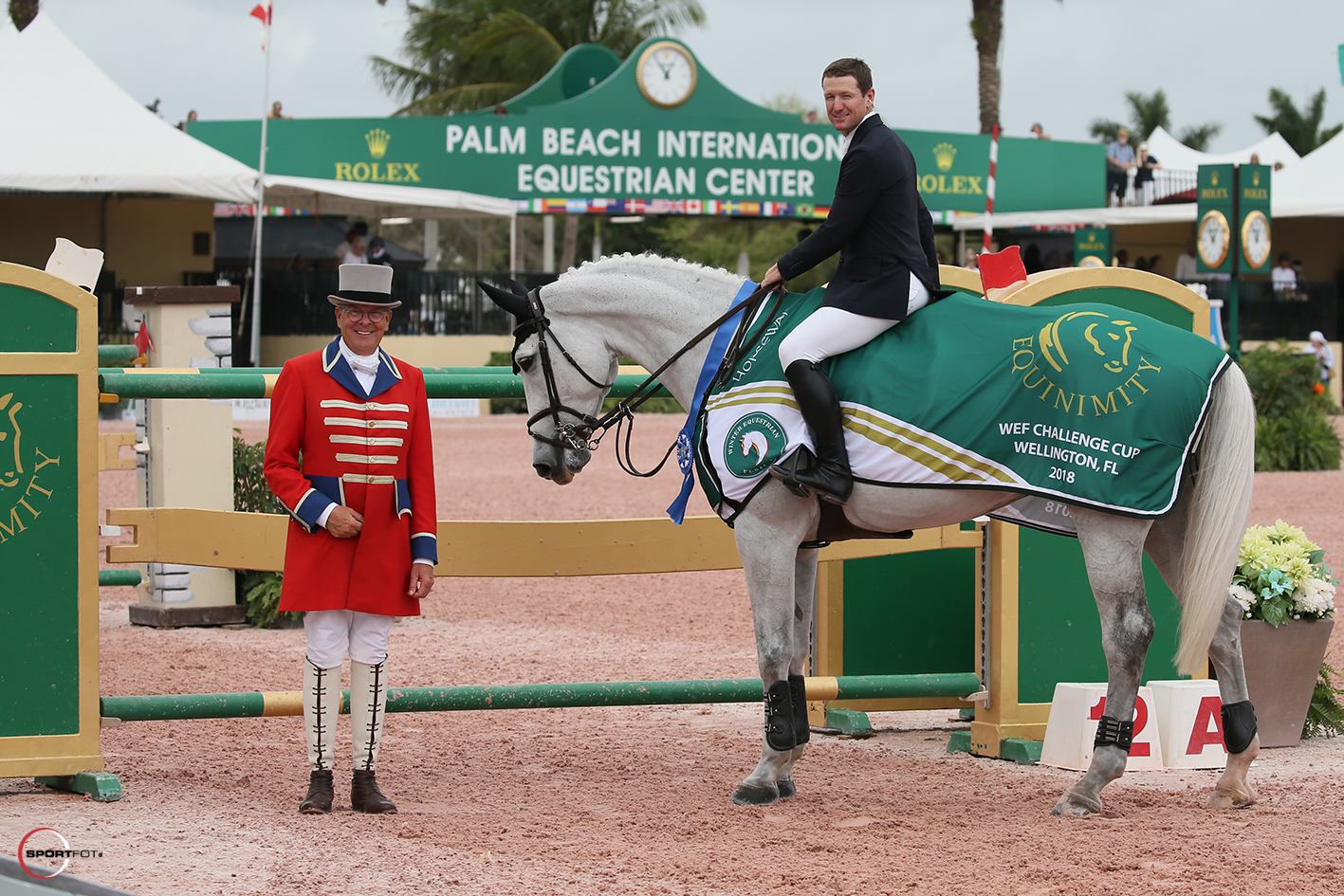 Coming in second place was Cita, a 12-year-old Holsteiner mare by Casall x Pik Ramiro ridden by Daniel Coyle (IRL) and owned by Ariel Grange and Lothlorien. They stopped the timers in 36.01 seconds. Jessica Springsteen and RMF Swinny du Park, a 12-year-old Selle Francais mare by Berlin x Laudanum owned by Rushy Marsh Farm, were third in 36.11 seconds.
Hija van Strokapelleken joined Ward's string of international horses at the beginning of 2018 and already won a FEI ranking class on the opening day of WEF. She is now one of five grey mares that Ward competes with, in addition to HH Gigi's Girl, Bellefleur PS Z, Cerise, and a new to-be-announced mount, and joins additional mares HH Azur, HH Callas, Elize La Elsmos, and Handy Van HD.
"I get along with them really well," Ward said of the fairer sex. "When you have success with a particular type of horse, you're probably subconsciously drawn to that. I can't say that when I look at a horse, I let all of those types of stereotypes factor in. Boy, girl, color, white eye, I think it's a little bit nonsense; you just look for a nice horse.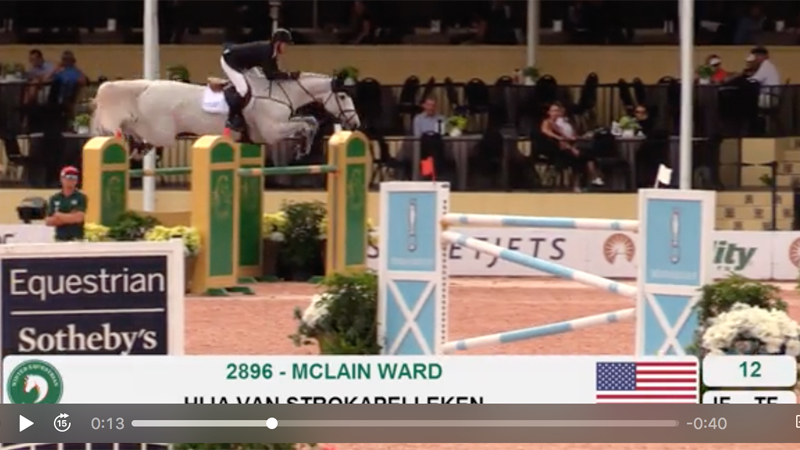 Watch the winning jump-off round here!
"Probably in our program, it's good for the mares," he continued. "We're quite sensitive and we try to reward them when they're performing well and give them a bit of an easy lifestyle. That probably doesn't work so well with stallions, who need a little bit more discipline. I think it allows the mares to flourish a little, because they're normally quite happy with that."
"Hija" was purchased by top under 25 rider Jennifer Gates who briefly competed with her before Nayel Nassar took over the ride. She returned to Ward to be sold and the large mare has proven to be a valuable asset.
"She's a really big mare," Ward confirmed. "Probably that's why Jenn let Nayel and myself ride her, because we're taller. But it's funny, once you get on her, other than her stride being massive which I use to my advantage, she doesn't feel so big. She's really rideable, has a lot of blood, and she's slab-sided, so she doesn't take up so much of your leg. When you first walk up to get on her, she looks massive, but when you ride her, you don't notice her size so much. She doesn't ride like a big horse."
Ward and Hija will compete next in Sunday's $70,000 Hollow Creek Farm 1.50m Classic, while Ward will aim for Saturday night's $384,000 Rolex Grand Prix CSI 5* with his top mount HH Azur.
Final Results: $132,000 Equinimity WEF Challenge Cup Round 7
1   HIJA VAN STROKAPELLEKEN: 2007 BWP mare by Calido I x Azur de Paulstra
MCLAIN WARD (USA), Evergate Stable LLC: 0/0/35.20
2   CITA: 2006 Holsteiner mare by Casall x Pik Ramiro
DANIEL COYLE (IRL), Ariel Grange and Lothlorien: 0/0/36.01
3   RMF SWINNY DU PARC: 2006 Selle Francais mare by Berlin x Laudanum
JESSICA SPRINGSTEEN (USA), Rushy Marsh Farm LLC: 0/0/36.11
4   TINO LA CHAPELLE: 2007 Selle Francais gelding by Mylord Carthago HN x Verdi HN
JUAN JOSE ZENDEJAS SALGADO (MEX), Alejandro Zendejas: 0/0/36.51
5   CASPAR 213: 2005 Westphalian gelding by Cornet Obolensky x Acord II
DANIELLE GOLDSTEIN (ISR), Starwyn Farms LLC: 0/0/36.55
6   CRISTALLINE: 2008 Bavarian Warmblood mare by Cristallo 1 x Caretello B
ADRIENNE STERNLICHT (USA), Starlight Farms 1 LLC: 0/0/37.99
7   CASPER: 2006 Oldenburg gelding by Contender x Baloubet du Rouet
SHARN WORDLEY (NZL), Sky Group: 0/0/38.91
8   CORIANDOLO DI RIBANO: 2007 Stella Italiano stallion by Cassini II x Baldini
LAUREN TISBO (USA), Tequestrian Farms, LLC: 0/0/38.95
9   POLIAS: 2003 Selle Francais gelding by Desir du Chateau
ALEXANDRA PAILLOT (FRA), Paillot Equine Consulting Inc: 0/4/33.54
10  DINGEMAN: 2008 KWPN gelding by Nintender x Darnels
SANTIAGO LAMBRE (MEX), Santiago Lambre: 0/4/36.64
11  CLEARWATER: 2007 Holsteiner gelding by Clearway x Come On
MARILYN LITTLE (USA) Karen O'Connor: 0/4/37.28
12  CHARMED 2: 2008 Hanoverian mare by Chacco-Blue x Plural
MARKUS BEERBAUM (GER), Michaels & Beerbaum GmbH: 0/4/37.54
Peter Pletcher and River Capture Green Hunter 3'3" Win
Ava Lindsay for Jennifer Wood Media, Inc.
 Peter Pletcher and River, owned by Shaw Johnson Price, kicked off week seven at the Winter Equestrian Festival in style with a championship win in the Green Hunter 3'3" division. The pair won a first in the under saddle and a first, second, and third over fences. Havens Schatt was awarded the reserve championship aboard Tyrion, owned by J T Farm, with a first, first, and fourth over fences and a fifth in the under saddle.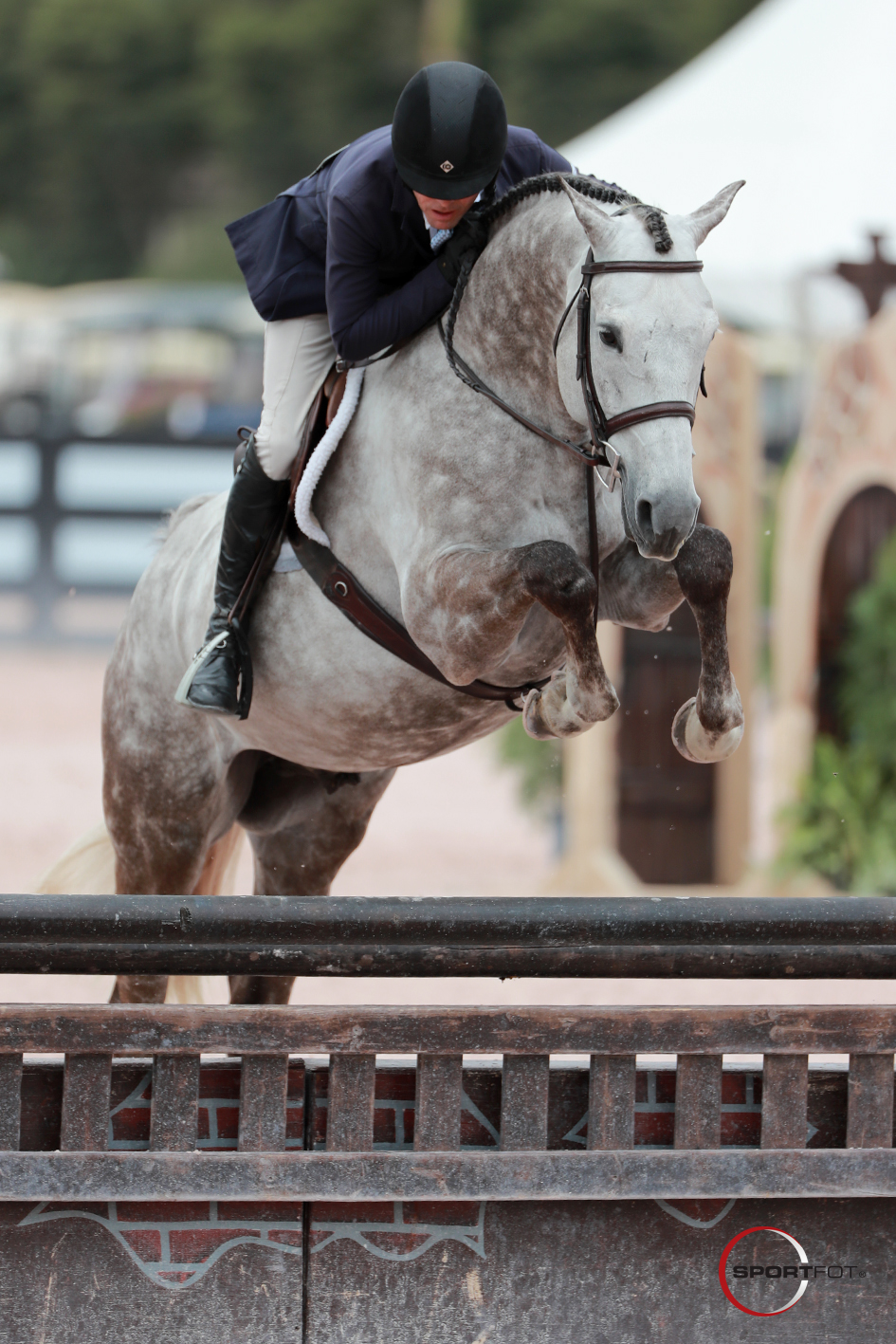 "He's coming along quick," said Pletcher. "He is definitely green, but he almost listens too well. We didn't really do much in preparation for today. I know he's not going to spook at the jumps, and it's really just a matter of rideability with him right now."
Today marked the duo's second consecutive championship after topping the division last week. Pletcher expressed his full confidence in the six-year-old Swedish Warmblood gelding and emphasized how far the young horse has come since his arrival at WEF.
"We came here and I thought he'd be ready [for the 3'6" height], but it was just a little too soon," said Pletcher. "He tried a little too hard, so we moved him back down to the 3'3" to let him build his confidence back, and he came right around."
In addition to River's rounds in the Green Hunter 3'3", the young grey accompanies his owner in the Adult Amateur Hunter Older division and has continued to show that he is learning more each day.
Week 7 of the 2018 WEF continues on Friday, February 23, with the $35,000 The Dutta Corp.1.45m Jumpers CSI 2*, $35,000 Bainbridge 1.45m Jumpers CSI 5*, and the championship in the Animal Medical Center Low Adult Hunters Section A.
Photo Credit: Photos © Sportfot, Official Photographer of the Winter Equestrian Festival. These photos may be used only in relation to this press release and must include photo credit.