For Immediate Release
Lindsay Brock and Sabrina Brashares for Jennifer Wood Media, Inc.
Wellington, FL – February 8, 2020 – Two-time U.S. Olympic team gold medalist McLain Ward charged to a win in the $401,000 Fidelity Investments® Grand Prix CSI5* in front of a packed International Arena riding Noche de Ronda during "Saturday Night Lights" at the 2020 Winter Equestrian Festival on February 8 in Wellington, FL.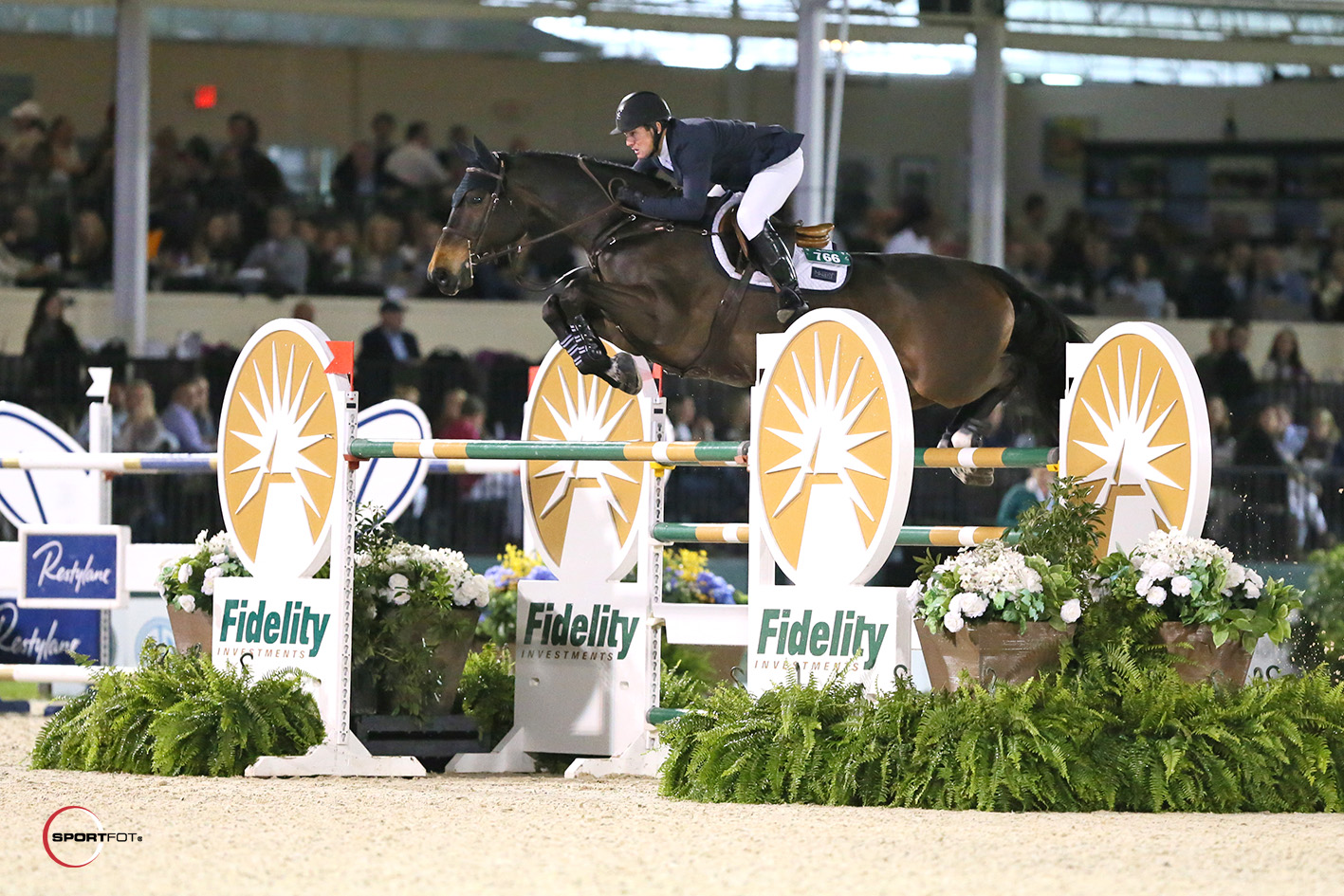 WEF continues through March 29 at the Palm Beach International Equestrian Center (PBIEC) in Wellington, Florida, with 12 consecutive weeks of world-class competition and $13 million dollars on offer. The fifth week of competition runs February 5 through February 9, is sponsored by Fidelity Investments®, and recognized as a CSI5* and CSI2* by the Fédération Equestre Internationale (FEI).
Forty of the world's best crossed the start timers to Anthony D'Ambrosio's and Andy Christiansen's (USA) first-round track with 12 posting perfect rounds to advance to a jump-off. U.S. Olympic team silver medalist Kent Farrington and Gazelle sat in the leading position on a time of 39.51 seconds when Ward entered the ring. To the roar of a home-country crowd, Ward and Noche de Ronda broke the timers double-clear and the ones to beat in 37.47 seconds.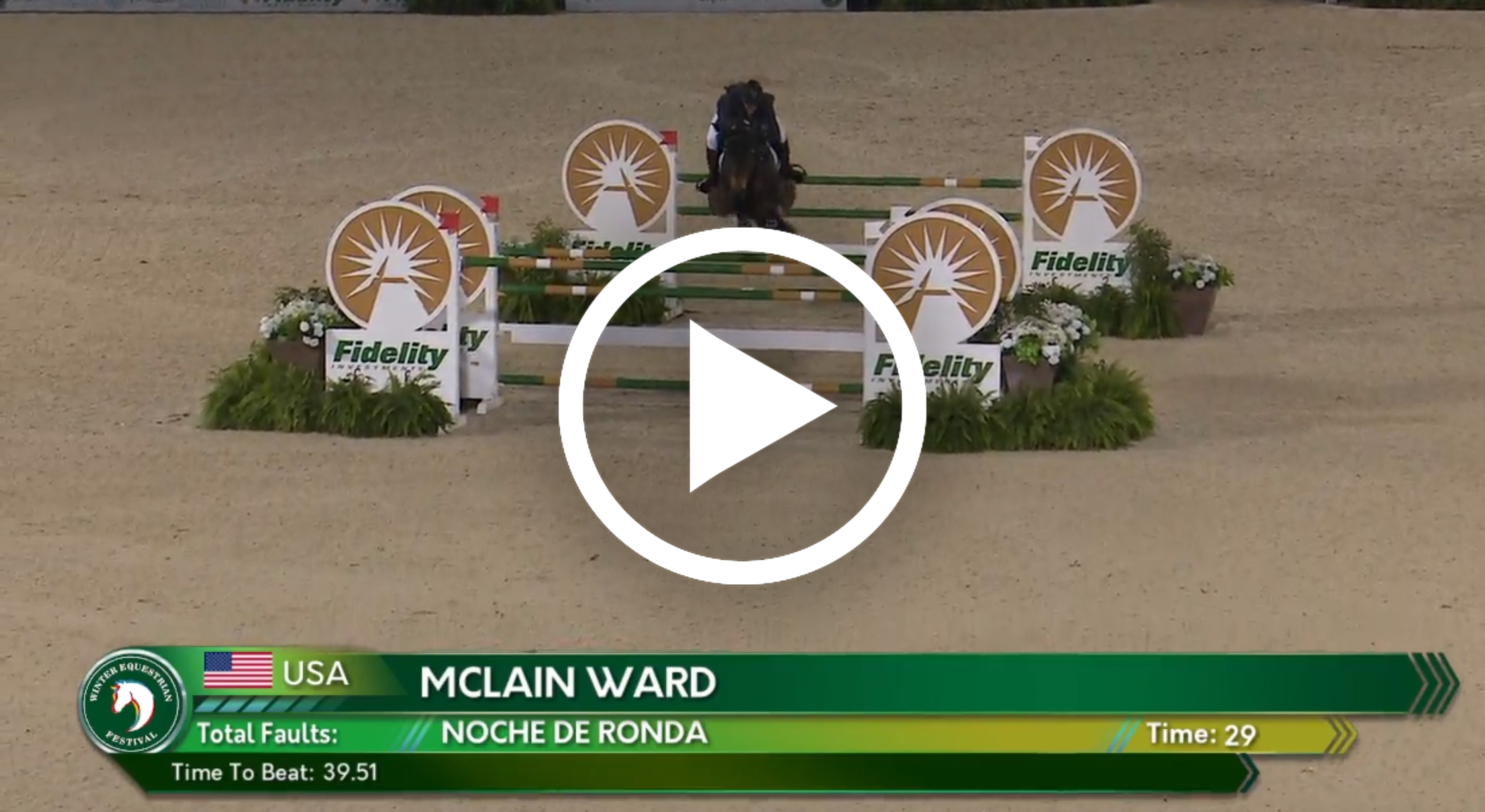 "That's about all Ronda and I had to give," said Ward. "I think for any of us, at that level, when you get to go after the one that sets the time, you have a bit of an advantage. Normally, you come out by winning or crashing, one or the other. It all came off very nice and the horse really performed spectacular."
Ward got the ride on Noche de Ronda as part of a dream realized for owner Marilla van Beuren. Ward owns the 11-year-old Oldenburg mare (Quintender x Loves Corinth) together with her and Bob Russell. The mare was only jumping 1.35m with Ward a year ago when some injuries in his string sent her on a plane to the CHIO Aachen Nations' Cup where she jumped double clear and paved the way for herself as a top contender for big events.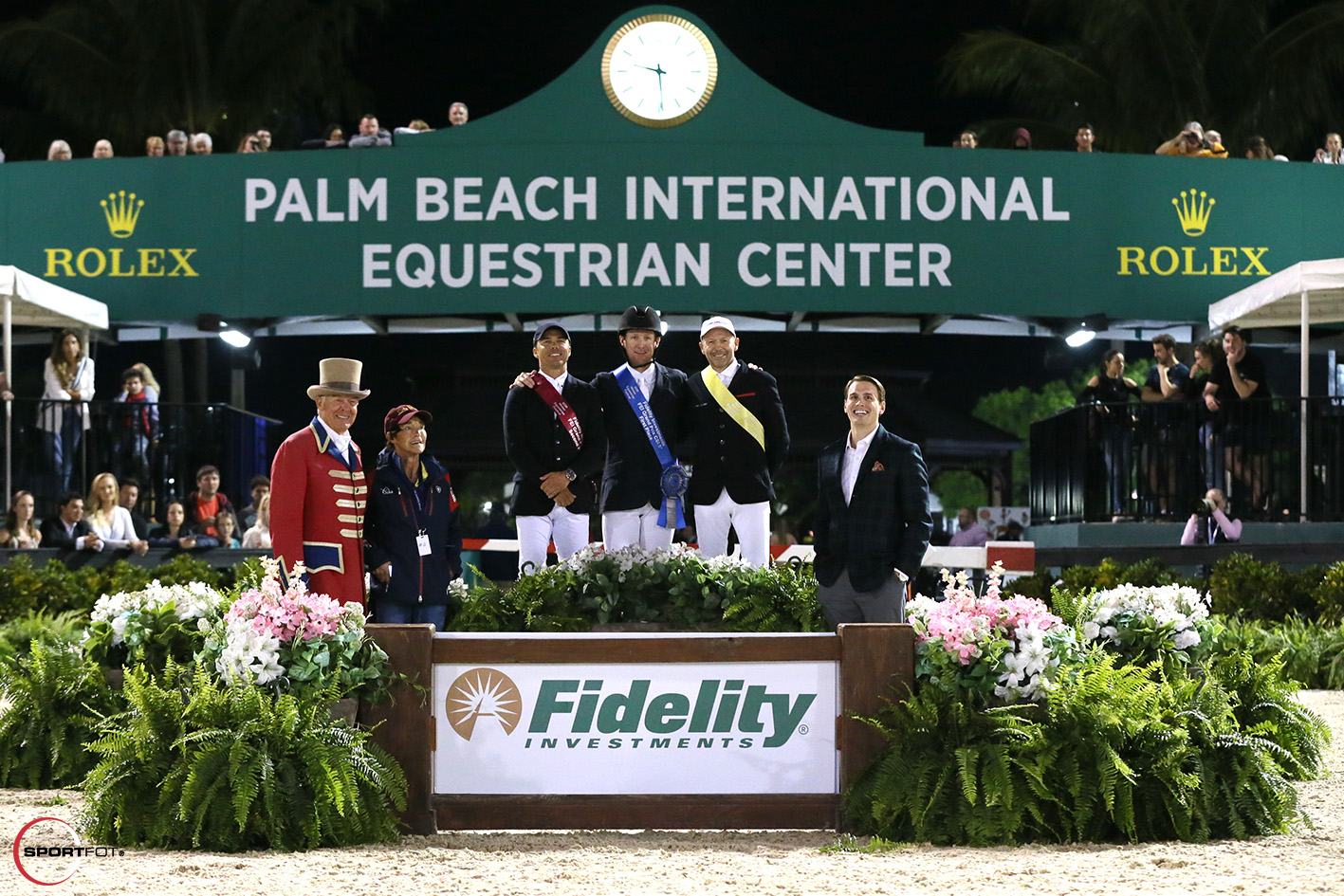 "Marilla has been in this game and been an avid fan and follower of the sport for many years, and it was her dream to own a grand prix horse," said Ward. "We found this mare last year with Maarten Huygens that was produced by Manuel Lecuona (MEX). It's been a really wonderful story for us and her. It's nice sometimes when the good guy wins."
The clear crowd favorite judging by the cheers they sent his way as he cleared the final fence of the jump-off, Ward admits that nights like this are still a thrill. "It doesn't get easier, the stress doesn't get less, but it's a little bit like a drug; I love it, and it's killing me at the same time," he said. "I'm very excited about these nights. I'm still nervous for the big nights, but I really find great pleasure in the fight. The victories are nice, but the battle and the fight between Kent and I and several others, in the end, is what gets our blood up."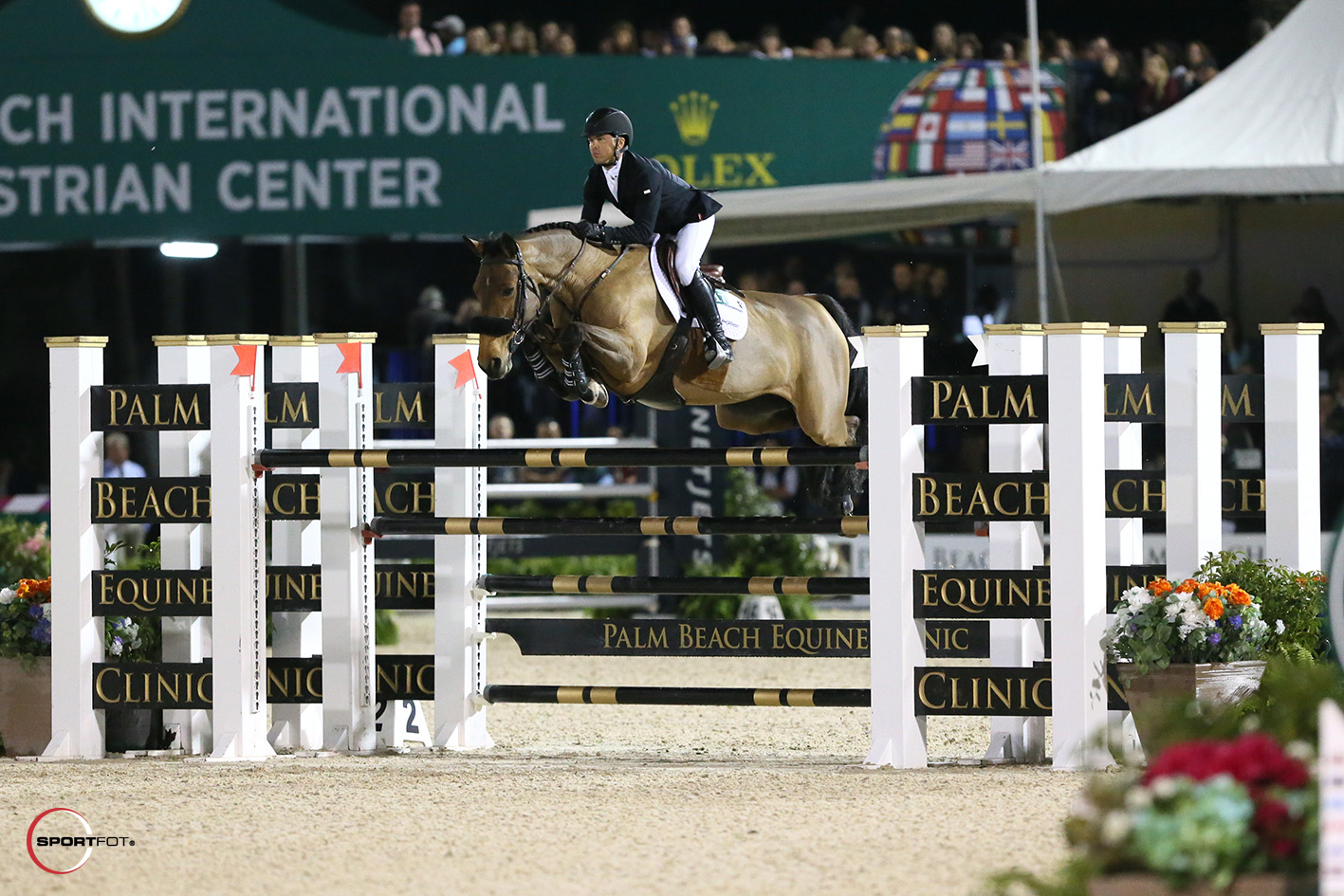 Farrington and Gazelle lived up to the 14-year-old Belgian Warmblood mare's (Kashmir van Schuttershof x Indoctro) namesake and showcased their footspeed to finish the runner-up. "I got beat today by a top rider on a horse with a giant stride," said Farrington of his second-place performance. "He pulled out all the stops and took a big risk to win and pulled it off. It was a good win for McLain.
"I'm very happy with my horse; I'm very unhappy with second!" joked Farrington. "When we're going against each other, these are the best riders in the world. My hat's off to him for a big win."
Canadian Olympic champion Eric Lamaze rounded out the podium riding Chacco Kid, owned by Chacco Kid Group. Their time was within a second of Farrington's on a final tally of 39.69 seconds.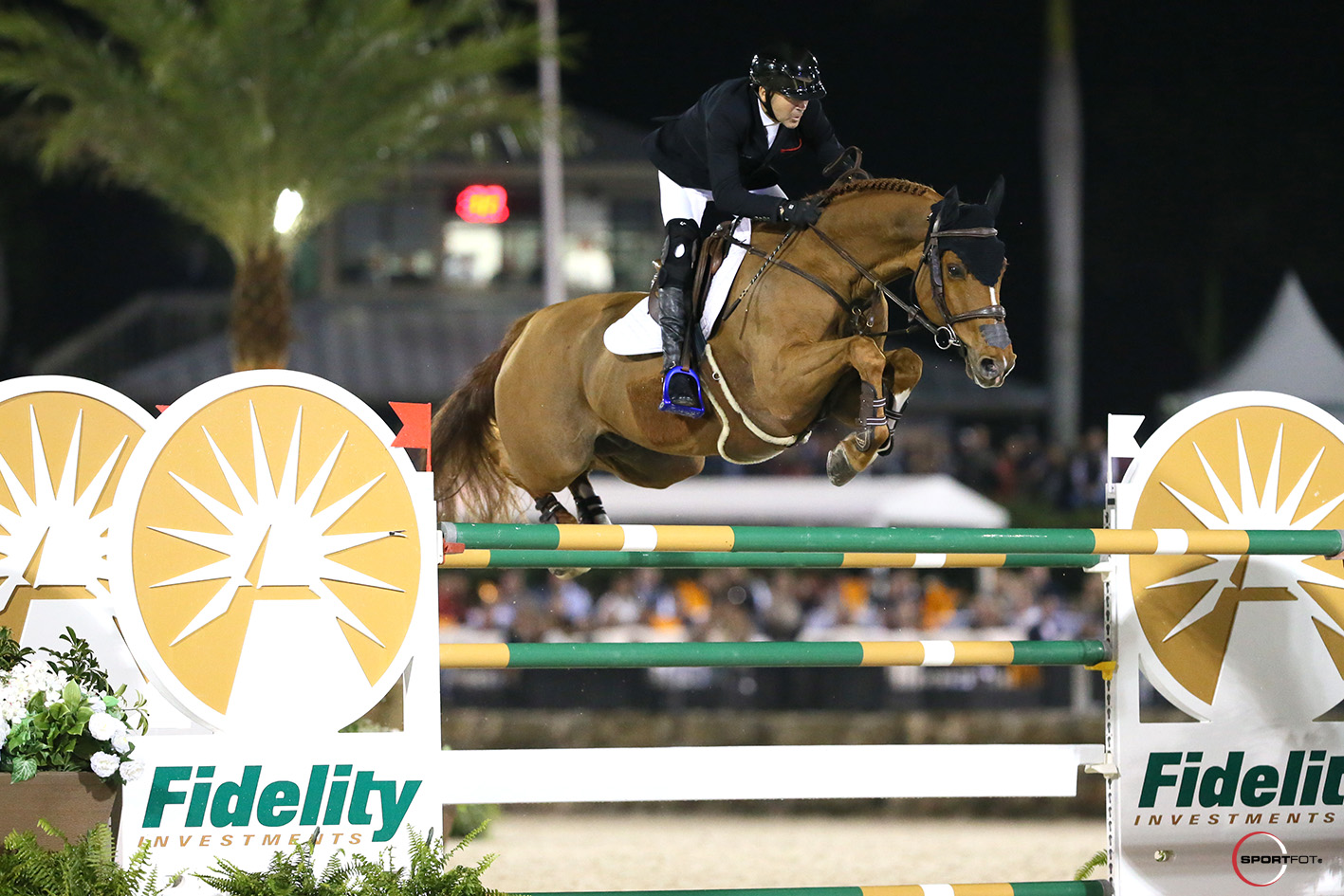 "Anthony did a great job [with the course] tonight," said Lamaze. "He provided some entertainment in the jump-off! I always say, 'It's how your distances come out of the corner.' If they come up and they're quick, you take them. But, sometimes they don't come. For McLain, they were there.
"It was a great class, and I'm so grateful to have this horse," continued Lamaze of his 14-year-old Oldenburg gelding (Chacco Blue x Come On). "He's a real fighter and he's careful. He'll try his heart out for you. When you feel that underneath you, you can enter a lot of classes."
Nicole Shahinian-Simpson (USA) sat in the lead for a time, but settled for fourth aboard Akuna Mattata for owner Silver Raven Farms in 40.75 seconds, while Paris Sellon (USA) capped the top five riding Cassandra, owned by Willow Grace Farms, in 41.15 seconds.
The USA's Adrienne Sternlicht earned the Martha W. Jolicoeur Leading Lady Rider title for the first time in her career during a special award ceremony following the Fidelity Investments® Grand Prix CSI5*. Her second-place finish in the Equinimity WEF Challenge Cup Round 5 earlier in the week, combined with a top-10 finish on Saturday night riding Just A Gamble, guaranteed her the award.
Final Results: $401,000 Fidelity Investments® Grand Prix CSI5*
1 NOCHE DE RONDA: 2009 Oldenburg mare by Quintender x Loves Corinth
MCLAIN WARD (USA), Bob Russell, Marilla van Beuren, and McLain Ward: 0/0/37.47
2 GAZELLE: 2006 Belgian Warmblood mare by Kashmir van Schuttershof x Indoctro
KENT FARRINGTON (USA), Kent Farrington & Robin Parsky: 0/0/39.51
3 CHACCO KID: 2006 Oldenburg gelding by Chacco Blue x Come On
ERIC LAMAZE (CAN), Chacco Kid Group: 0/0/39.69
4 AKUNA MATTATA: 2008 Holsteiner mare by Quinar x Landwind II
NICOLE SHAHINIAN-SIMPSON (USA), Silver Raven Farms: 0/0/40.75
5 CASSANDRA: 2008 Swedish Warmblood mare by Caressini L x Cardento
PARIS SELLON (USA), Willow Grace Farms: 0/0/41.15
6 FIGOR: 2010 KWPN gelding by Querly-Elvis x Indoctro
TIFFANY FOSTER (CAN), Artisan Farms LLC: 0/0/41.49
7 KARLIN VAN 'T VENNEHOF: 2010 BWP mare by Fantomas De Muze X Quasimodo Vd Molendreef
SHANE SWEETNAM (IRL), Seabrook LLC and Shane Sweetnam: 0/4/38.48
8 JUST A GAMBLE: 2009 BWP mare by Toulon x Corofino
ADRIENNE STERNLICHT (USA), Starlight Farms 1 LLC: 0/4/39.71
9 DICAS: 2009 Rheinlander gelding by Diarado x Cassini I
MARGIE ENGLE (USA), Storm Ridge Capital LLC, Show Horses, Garber & Gladewinds Partners LLC: 0/4/40.34
10 KOSS VAN HEISTE: 2009 Belgian Warmblood gelding by Breemeersen adorado x Contact vd Heffinck
CONOR SWAIL (IRL), Eadaoin Collins: 0/4/40.84
11 ANTIDOTE DE MARS: 2010 Selle Français stallion by Diamant de Semilly x Jarnac
BLISS HEERS (USA), Bridgeside Farms, LLC: 0/4/42.30
12 DIABLEUR: 2008 KWPN gelding by Berlin x Major de la Cour
ERYNN BALLARD (CAN), Emma Waldfogel: 0/Elim.
Sterling Malnik and Charlie are Victorious in the THIS Children's Medal 14 and Under
Equitation competition began Saturday morning at the South Ring with Sterling Malnik of Ocean Ridge, FL, riding to the win in the THIS Children's Medal for riders 14 and Under. Malnik rode her mount, Charlie, to a score of an 84 in the jumping phase and then rose to the top in the test.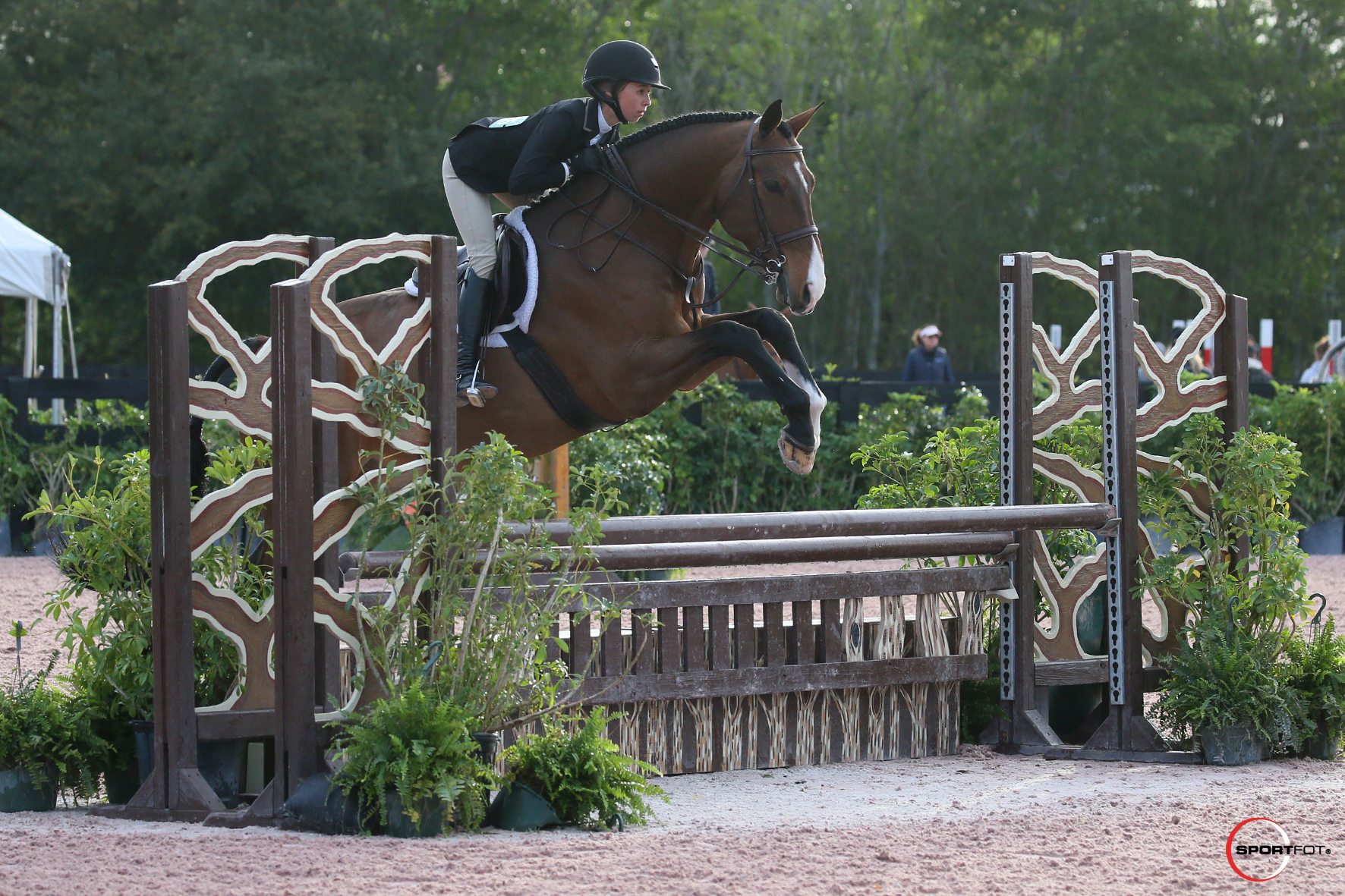 Charlie is a fairly new ride for Malnik, who has been working with the horse for three weeks. The pair, trained by Bill Schaub, have only shown in the THIS Medal twice and are already proving to be ones to watch.
Going into the test, Malnik knew that she could count on her 12-year-old gelding. "I was really nervous because I've never tested inside the ring before," Malnik explained. "Thankfully I didn't have to go first! Charlie is also very experienced and knows what he has to do, so he helped me out."
Malnik's ride stood out to the judges and the duo climbed up two spots into the lead. "I think that I was able to get good energy when I had to pick up the canter from a standstill and go directly to the first jump. We were then able to keep our pace and flow throughout the test," the rider described.
The pair hopes to continue to have consistent rounds in the equitation for the remainder of the season. Malnik is looking forward to the second half of the circuit and enjoys the well-organized and fun show environment that WEF creates.
Second place went to Elodie Watrous and Quintus Rubin, owned by Joyride Eq, LLC, who scored an 85 in the jumping phase. Watrous, of Wilmette, IL, and her mount were able to maintain their second place spot after the test. Third place was awarded to Alea Lasaponara, of Campbell Hall, NY, and her horse Claas C'Obolensky, who received an 83 in the first round and rose one spot to earn third after the test.
Week five will come to an end on Sunday with the $73,000 CaptiveOne Advisors 1.50m CSI5* and $50,000 Rushy Marsh Farm Grand Prix CSI2* in the International Arena. Hunter competition will wrap with the conclusion of Adult Amateur, Amateur-Owner, and Junior Hunter divisions. For full results, visit www.PBIEC.com.
Photo credit: Photos © Sportfot, official photographer of the Winter Equestrian Festival. These photos may be used only in relation to this press release and must include photo credit.