For Immediate Release
Jennifer Wood Media, Inc.
Wellington, FL – March 8, 2018 – There have been three CSI 5* $132,000 Equinimity WEF Challenge Cups at the 2018 Winter Equestrian Festival (WEF), and 2017 FEI World Cup Finals winner McLain Ward has led the victory gallop at each one. He repeated his WEF 7 win on Thursday, March 8, with Evergate Stable LLC's Hija van Strokapelleken at the Palm Beach International Equestrian Center in Wellington, FL.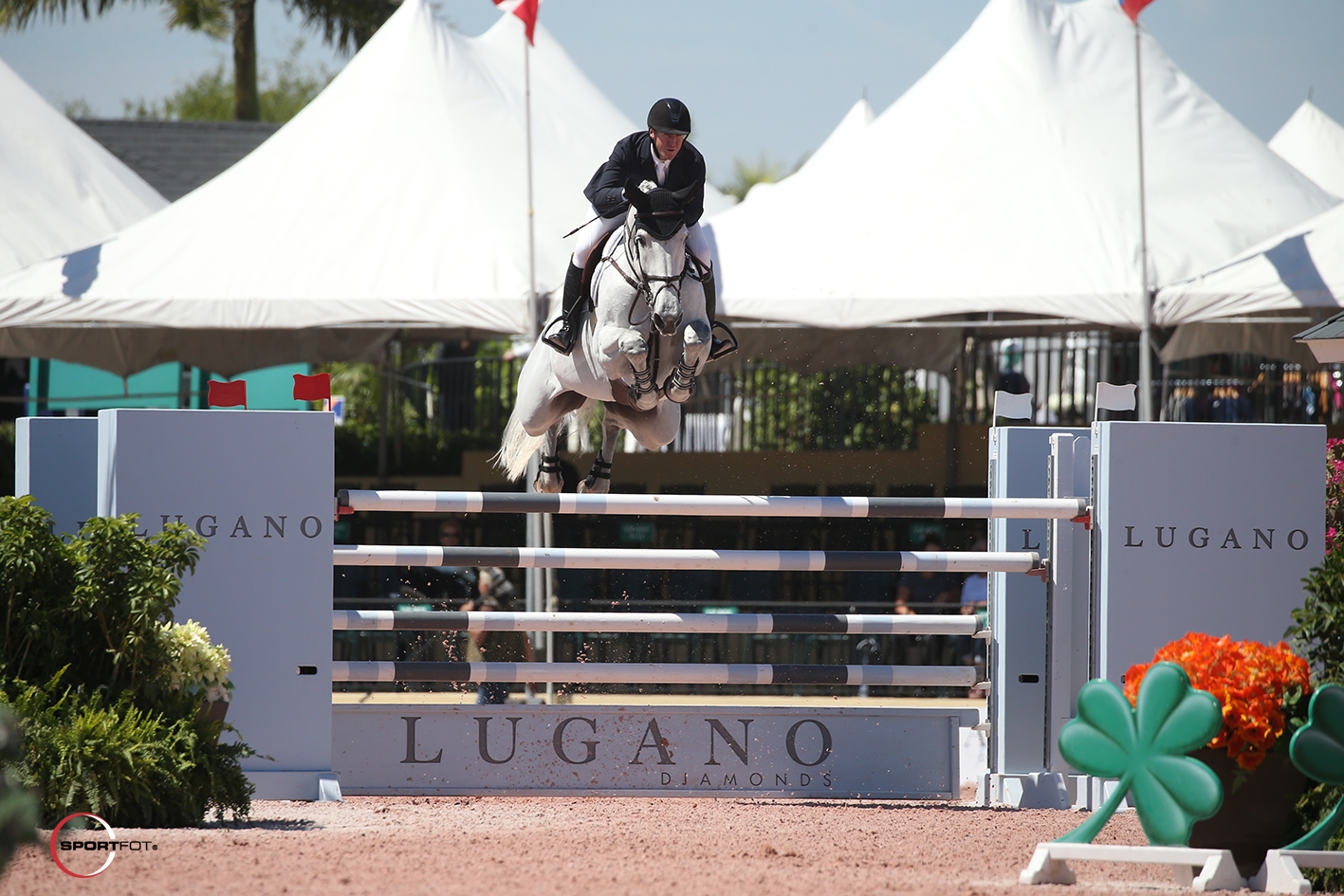 The ninth week of competition at WEF runs March 7-11. Jumper highlights include the $384,000 Douglas Elliman Real Estate Grand Prix CSI 5* beginning at 7 p.m. on Saturday, March 10, and the $50,000 Rose Hill Farm Grand Prix CSI 2* on Sunday, March 11. Hunter highlights include the $5,000 USHJA Pony Hunter Derby on Friday, March 9, and the $10,000 USHJA National Derby on Saturday, March 10; both events will be held on the grass derby field at Equestrian Village (home of the Adequan® Global Dressage Festival – 13500 South Shore Blvd.). WEF hosts hunter, jumper, and equitation competition until April 1 and offers more than $9 million in prize money.
The 2018 FEI World Equestrian Games™ course designer, Alan Wade of Ireland, set "by far the strongest track we've had in the WEF [Challenge Cup] series," said Ward, but it did allow 13 horse and rider combinations through to the jump-off out of an opening field of 50 entries.
"It was a big track; I was actually very surprised at how many clear rounds there were," added Ward.
Going second to last in the jump-off, Ward and Hija van Strokapelleken, an 11-year-old BWP mare by Calido I x Azur de Paulstra, sped through the track using the mare's giant stride. Ward planned to do seven strides down the last line, but he had to make a last-minute adjustment to the final fence. They were still able to record the fastest time in the class with a clear round in 39.37 seconds. This was the pair's second WEF Challenge Cup win this season; Ward also won the class during WEF 5 with HH Azur.
Second place went to the early leaders in the jump-off, Shane Sweetnam (IRL) and Spy Coast Farm LLC's Chaqui Z, who went first and stopped the timers in 40.48 seconds. The WEF 7 five-star grand prix winners, Danielle Goldstein (ISR) and Lizziemary, owned by The Golden Group and Danielle Goldstein, were third in 40.68 seconds.
"She's more adjustable than I thought!" laughed Ward. "The mare jumped beautifully in the first round. Both Devin [Ryan's horse] and mine have big strides, so I was interested watching him. We both got the seven [strides] from one to two. I thought there was a seven to the last [jump]. I got a great jump into the line, the one I wanted, and at about stride five and three-quarters [strides], I went, 'I'm going to crash.' I put the handbrake on and most horses should have cantered right through the fence. She made a hell of a move to jump it. She's always trying for you."
While Hija's place in Ward's string is not guaranteed due to her for sale status, Ward said he is "really honored to ride her; I love riding the horse."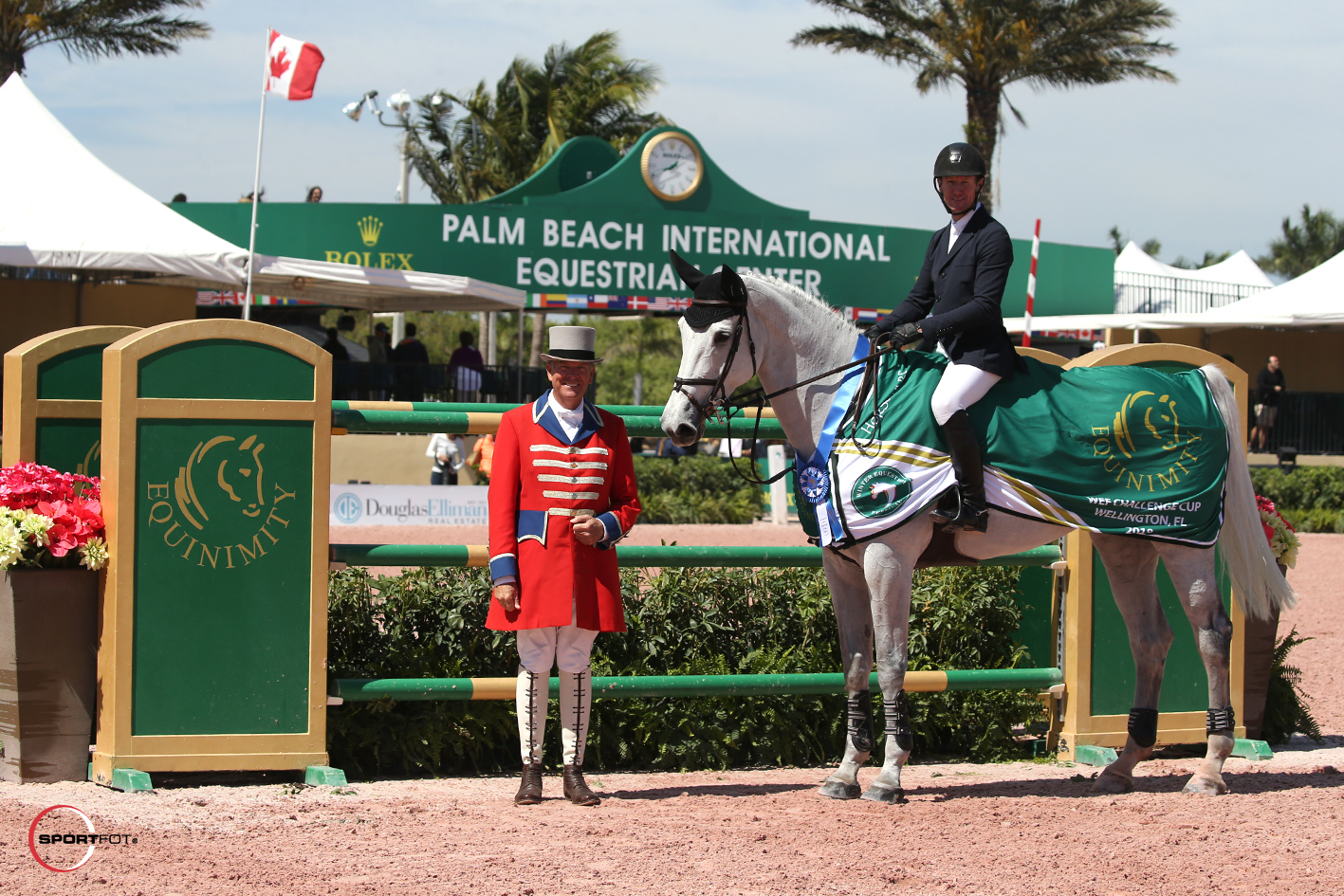 He continued, "She's been winning as much as any horse in the world over the last couple of months. There's always a very good chance she gets sold, which is the goal, but until then I'm really loving every bit of her and she's performing very beautifully."
With an official recount done of WEF Challenge Cup winners in the history of the class, Ward now stands tied at 27 wins in the series history with Olympic gold medalist Eric Lamaze of Canada.
Final Results: $132,000 Equinimity WEF Challenge Cup Round 9 CSI 5*
1   HIJA VAN STROKAPELLEKEN: 2007 BWP mare by Calido I x Azur de Paulstra
MCLAIN WARD (USA), Evergate Stable LLC: 0/0/39.37
2   CHAQUI Z: 2006 Zangersheide stallion by Chacco-Blue x Quinar Z
SHANE SWEETNAM (IRL), Spy Coast Farm LLC: 0/0/40.48
3   LIZZIEMARY: 2006 AES mare by Cabri d'Elle x Acord II
DANIELLE GOLDSTEIN (ISR), The Golden Group & Danielle Goldstein: 0/0/40.68
4   EDDIE BLUE: 2009 KWPN gelding by VDL Zirocco Blue x Marlon
DEVIN RYAN (USA), LL Show Jumpers LLC: 0/0/40.96
5   DARRY LOU: 2008 KWPN gelding by Tangelo van de Zuuthoeve x Nabab de Reve
BEEZIE MADDEN (USA), Abigail Wexner: 0/0/41.79
6   BULL RUN'S TESTIFY: 2004 Selle Francais gelding by Dollar du Murier x Oberon du Moulin
KRISTEN VANDERVEEN (USA), Bull Run Jumpers, Inc.: 0/0/41.86
7   COOL HAND LUKE 4: 2007 Oldenburg gelding by Contendro I x Argentinus
MARKUS BEERBAUM (GER), Artemis Equestrian Farm LLC: 0/0/49.51
8   TOSCA DE L'ESQUE: 2007 Selle Francais mare by Cardento x Apache d'Adriers FABIO LEIVAS DA COSTA (BRA), Bonne Chance Farm LLC: 0/4/39.42
9   DAY DREAM: 2008 KWPN gelding by Zento x Heartbreaker
JIMMY TORANO (USA), Jimmy and Danielle Torano: 0/4/40.24
10  COR BAKKER: 2007 KWPN gelding by Colandro x Quattro
FERNANDO MARTINEZ SOMMER (MEX), Fernando Martinez Sommer:
0/4/40.71
11  RUBENS LS LA SILLA: 2006 SLS stallion by Rebozo LS La Silla x Cash
CONOR SWAIL (IRL), Rose Hill Farm: 0/4/40.75
12  CONFU: 2007 Holsteiner gelding by Contact Me x Cambridge
LAURA KRAUT (USA), St. Bride's Farm:  0/4/43.49
Rob Carey Pilots First Watch to Perfect Products USHJA Hunter 3' Championship
Thursday's competition featured an impressive championship win by Rob Carey, of Bolton, ON, Canada, and First Watch, owned by Barbara Mitchell, in the Perfect Products USHJA Hunter 3' division.  The pair mastered the course set in ring 11 and prevailed with three firsts and a third over fences, with a second in the under saddle.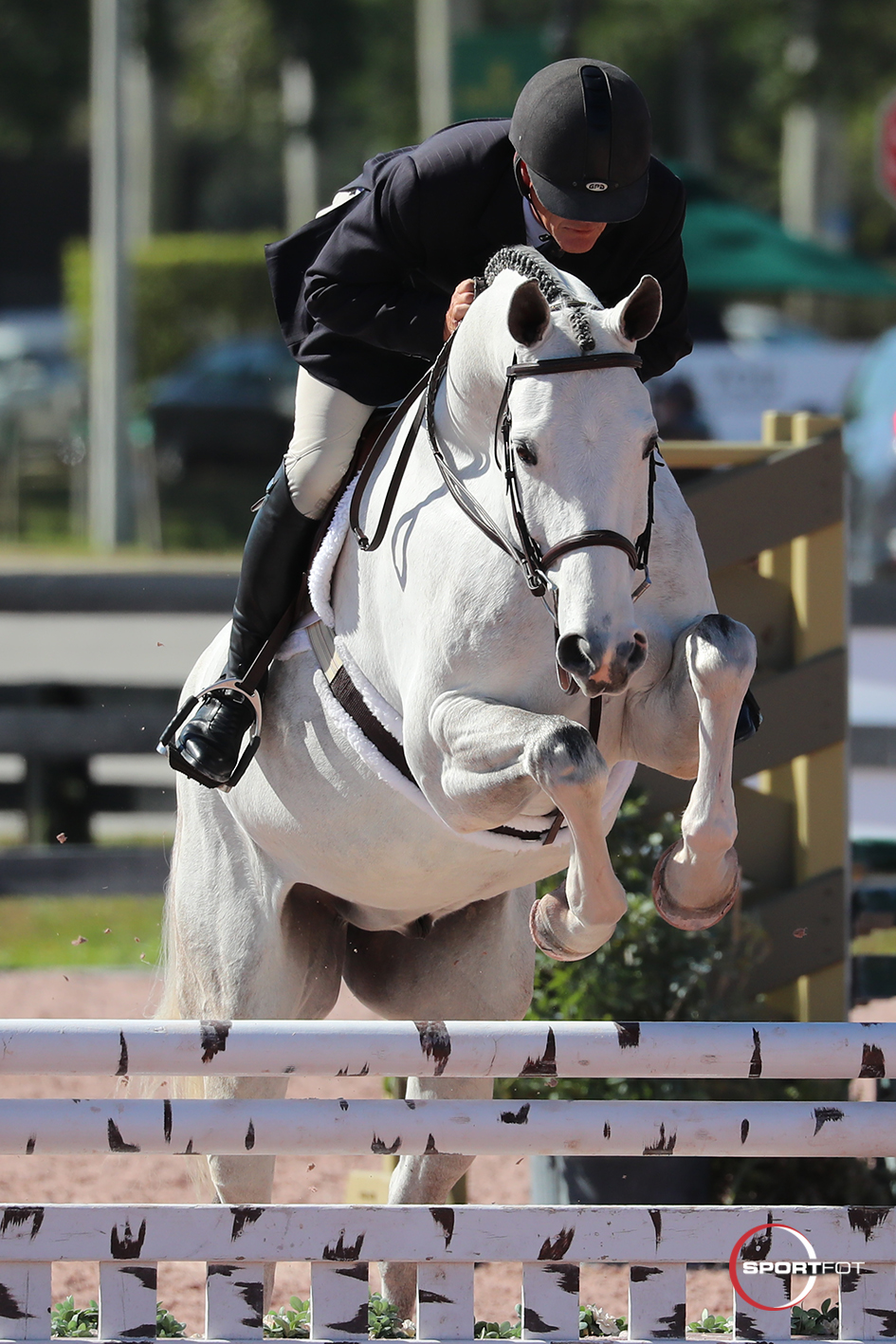 When asked about his goals going into today's competition, Carey said, "We weren't focusing on anything in particular, just winning! We wanted to get [First Watch] back to his winning ways."
The seven-year-old Oldenburg is a recurring WEF competitor, having returned to Wellington to show for three years in a row. Carey and the young gelding competed in the Pre-Green 3 & 4 Year Old division in 2016, and continued on to capture the top tricolor more than once in the Green Hunter 3'3" division for WEF 2017, with multiple scores in the 90s. This week's win marks First Watch's second time back in the show ring after eight months off.
"He is the nicest hunter I have ever ridden," said Carey. "Everything about him is absolutely fantastic."
Carey hopes to show the seven-year-old during weeks 11 and 12 at WEF and plans to move him up to the 3'3" height.
"I think that it will be a really easy transition for him," said Carey. "He can jump some big jumps!"
Sarah Sturges took the reserve championship win aboard Drake, owned by Christopher Payne, with a first in the under saddle and a first, fourth, seventh, and seventh over fences.
WEF 9 continues on Friday, March 9, with the $5,000 USHJA Pony Hunter Derby on the grass derby field at Equestrian Village (13500 South Shore Blvd.) and the $35,000 Bainbridge 1.45m Jumpers CSI 5* and $35,000 Rose Hill Farm 1.45m Jumpers CSI 2* in the WEF International Arena.
Photo Credit: Photos © Sportfot, Official Photographer of the Winter Equestrian Festival. These photos may be used only in relation to this press release and must include photo credit.