For Immediate Release
Jennifer Wood and Summer Grace for Jennifer Wood Media, Inc.
Wellington, FL – February 24, 2019 – The seventh week of the 2019 Winter Equestrian Festival (WEF) drew to a close on Sunday, February 24, with victories for McLain Ward (USA) and Laura Chapot (USA) in the International Arena. Ward rode Tradition de la Roque, owned by Kessler Show Stables Europe BV, to win the $72,000 CaptiveOne Advisors 1.50m Classic CSI 5*, while Chapot and Chandon Blue won the $50,000 Grand Prix CSI 2* presented by The Dutta Corp. in association with Guido Klatte.
WEF continues with CSIO4* week 8 presented by Lugano Diamonds, on February 27-March 3, with highlights that include the $150,000 Nations Cup CSIO4* on Saturday, March 2, and the $209,000 Grand Prix CSIO4* presented by Lugano Diamonds on Sunday, March 3.
Laura Chapot and Chandon Blue Speed to Win $50,000 Dutta Corp./Guido Klatte Grand Prix CSI 2*
In a field of 45 competitors, Laura Chapot (USA) and Mary Chapot's Chandon Blue sped to the win in the $50,000 Grand Prix CSI 2*, presented by The Dutta Corp. in association with Guido Klatte. Chapot and Chandon Blue were one of eight clear in the first round and fourth to return in the jump-off over a course designed by Andy Christiansen Jr.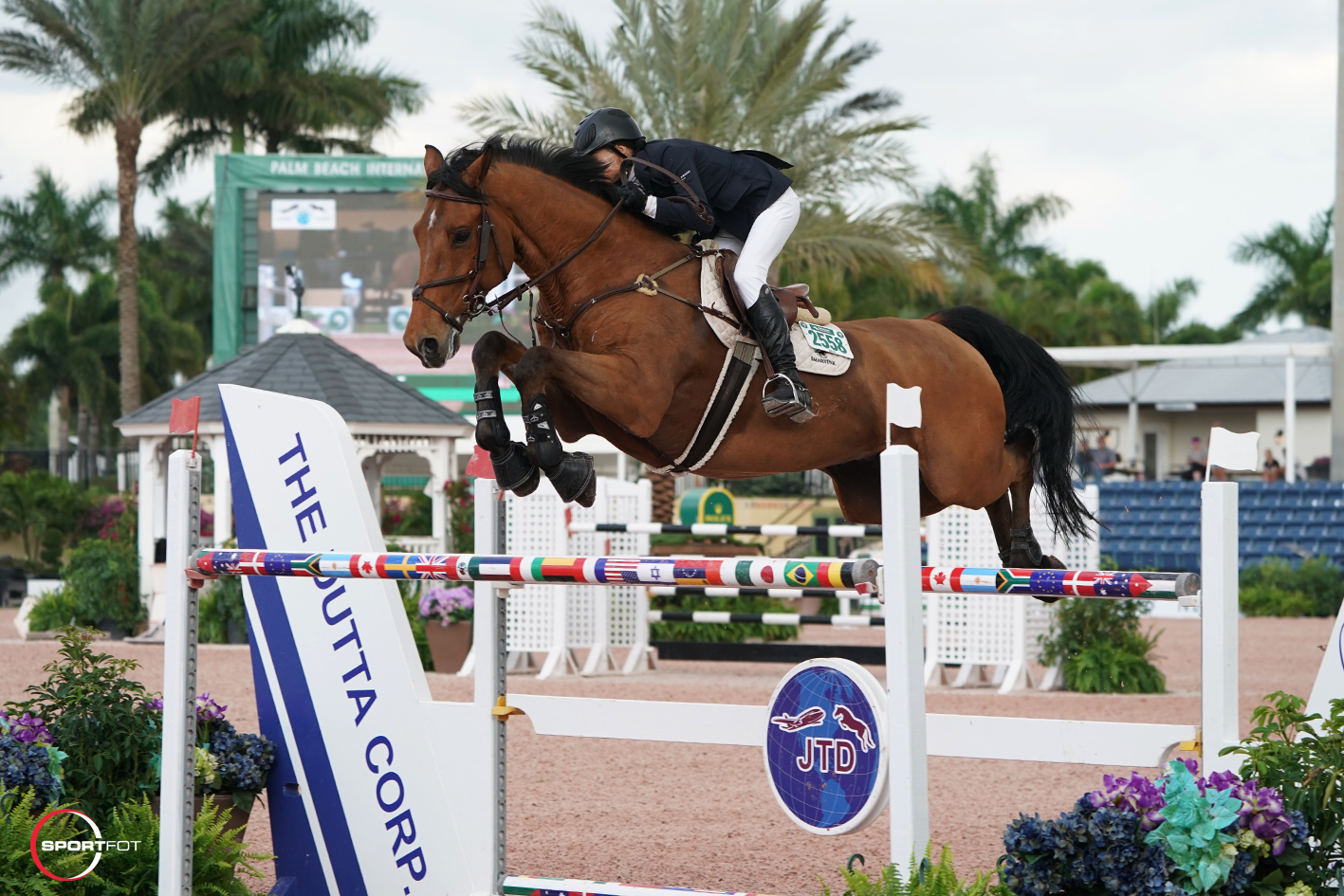 First to return in the jump-off were Bretton Chad (CAN) and The Pugilist, who put down a deceptively fast clear round in 38.72 seconds that would hold up for second place. After a fall and a scratch from the next two competitors, Peter Wylde (USA) and Canamera 2, owned by Kathleen Kamine, entered the ring and finished in 39.99 seconds for fifth place.
"Basically my plan was to leave it all on the table," said Chad of her jump-off ride. "There were only eight in the jump-off, and one wasn't going to go. I'm not the most experienced jump-off rider, so I thought I should just give it what I had."
Chad has been riding The Pugilist, a 15-year-old Irish Sport Horse gelding by ARD VDL Douglas x Freddie's Star, for five years. "He's been unbelievable for me, taken me all the way up," she expressed. "He's pretty unique. If you just saw him in the stall, I don't think you would really think he's a jumping horse. He's more like a Quarter Horse! He's a bit bouncy, but once you get him going, his stride gets massive. He can pretty much do it all; he can add, he can leave out. He's a wonder horse.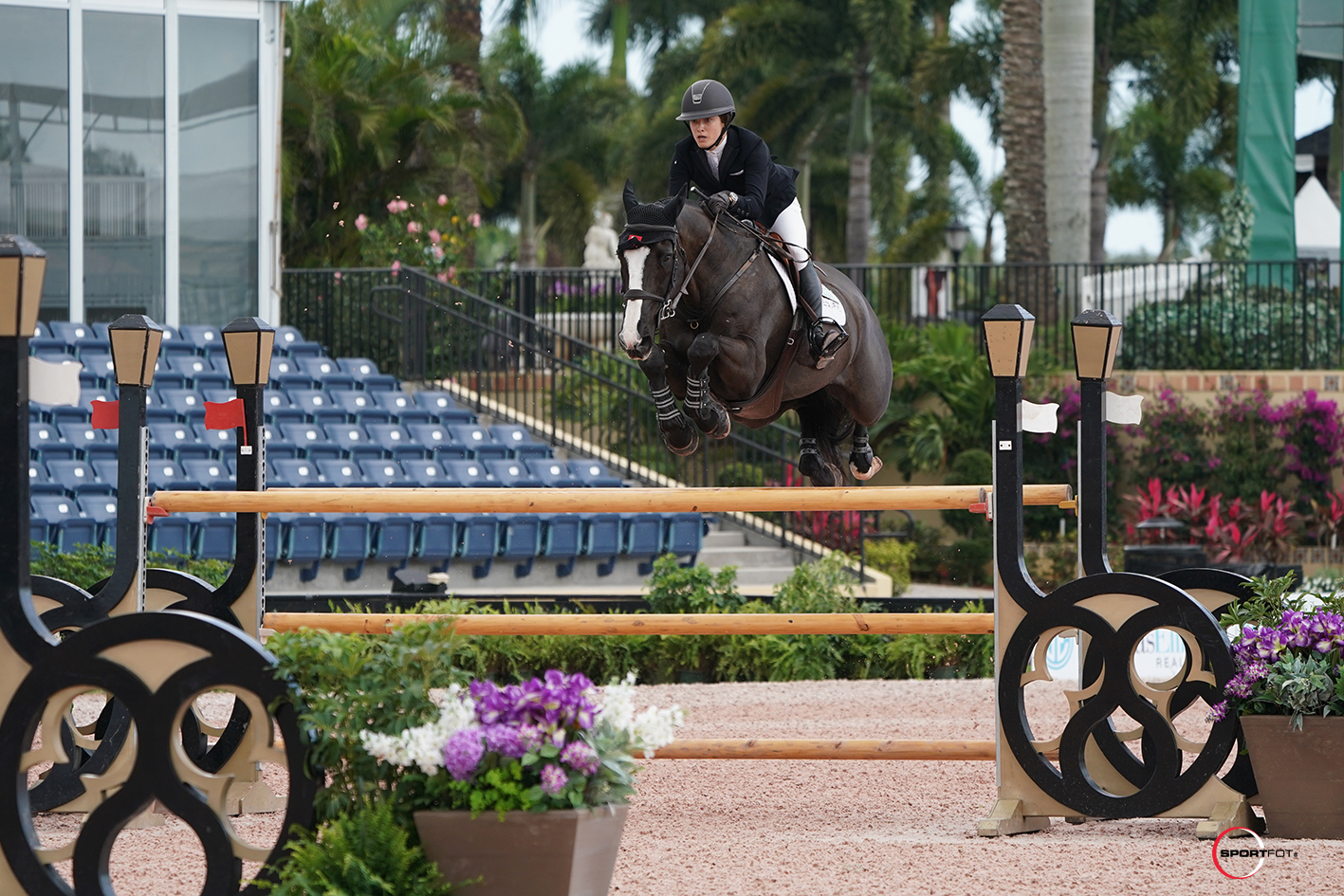 "I'm really appreciative to him and my whole team at Torrey Pines," she continued. "Everyone was here behind me, cheering me on, so that was really cool."
Chapot and Chandon Blue went next and through a combination of speed and tight turns, they brought the leading time down to 37.85 seconds for the win.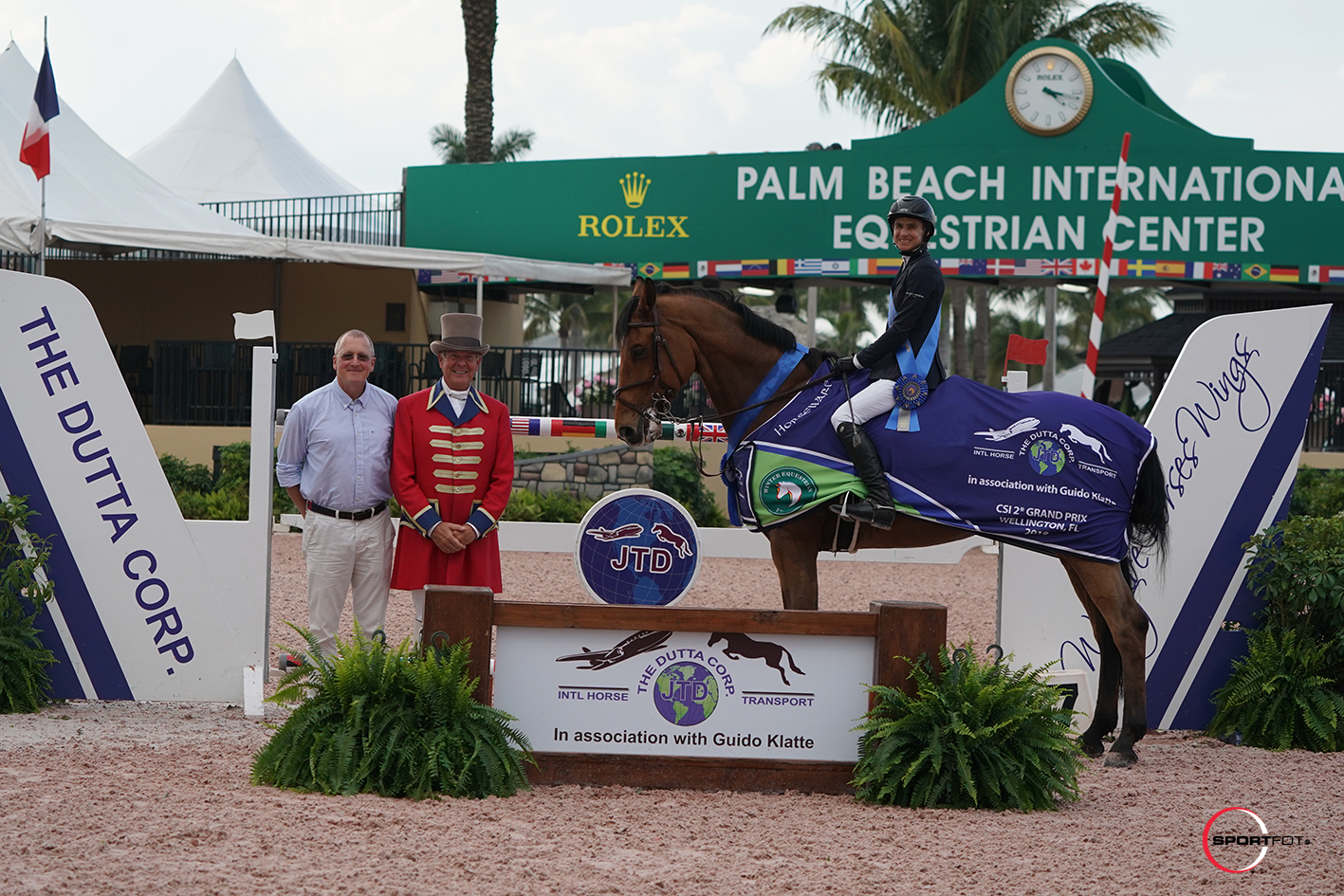 "Fortunately I wasn't in the beginning of the jump-off this time, which was a nice opportunity because I got to see a few go," Chapot described. "I saw Bretton go and then I saw Peter go and leave out the strides and still be slower than her. That kind of made all the decisions for me. There was no playing it safe, especially with the few behind me who are very fast riders with fast horses. I just tried to do as few strides between the first couple jumps and make the turn, and then keep the rhythm through the end of the course. He's a very fast horse naturally, so you hope that it would hold up and I was fortunate that it did."
Three more combinations would chase Chapot's time, including Hardin Towell on Oakland Ventures LLC's Billy Cool (39.63 seconds for fourth place), Meredith Michaels-Beerbaum (GER) on La Caramba, owned by Artemis Equestrian Farm LLC (39.12 seconds for third place), and Hunter Holloway (USA) riding Hays Investment Corp.'s VDL Bravo S, who had eight faults in 40.02 seconds. None of them could catch her time.
Michaels-Beerbaum was thrilled with La Caramba, a nine-year-old Holsteiner mare by Carambole x Caretino 2 that her husband Markus found in Germany and was purchased in May 2018.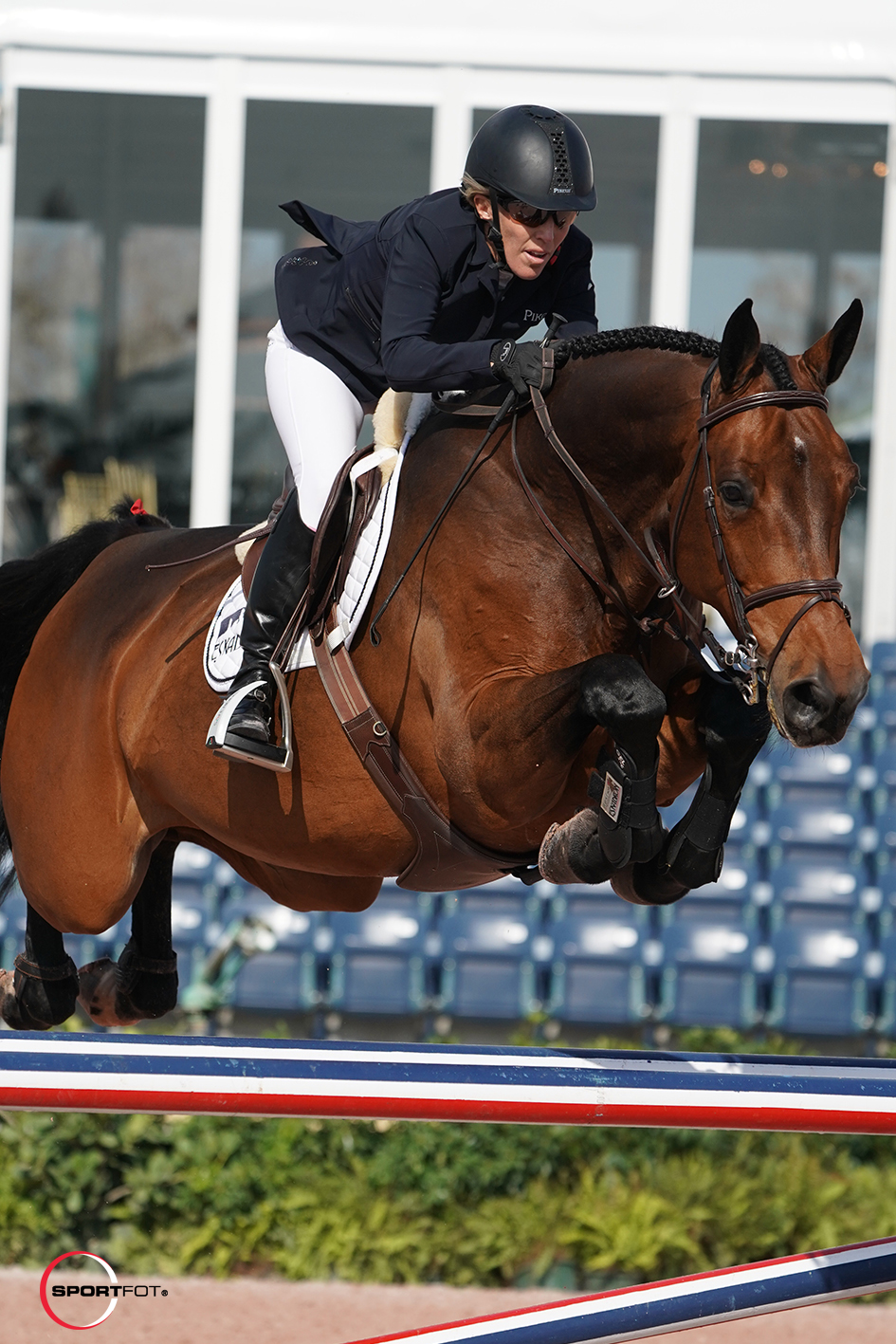 "When I tried her, I fell in love with her," said Michaels-Beerbaum. "She's very, very fast and extremely careful. When I go to the fence, if I go anywhere near it, she's going to give everything to clear the jump. That helps a lot to go fast. She's very big, but still narrow and very thoroughbred-y. I feel so comfortable on her.
"I must say, I brought her along nicely over the last three-quarters of the year, but this was a big step up for her," said Michaels-Beerbaum of the mare that was showing in her first two-star grand prix. "I was just so pleased with her because I think the horse has tremendous talent and a wonderful mind. I'm delighted to have her and this was a shining star for us today. I think she's going to be a great one."
For Chapot, a change in Chandon Blue's bit at the beginning of the year – she went from a pelham to a "western bit" long shank snaffle – made the difference for her ride and the horse's adjustability. "It's made him a lot easier to either fit in the strides or leave it out," she explained. "He just seems to respond to it a lot easier. I can leave out [strides] and still make the turn after the jump."
It was an exciting win for Chapot and Chandon Blue, who have picked up two seconds and a third in FEI ranking classes so far at the 2019 WEF.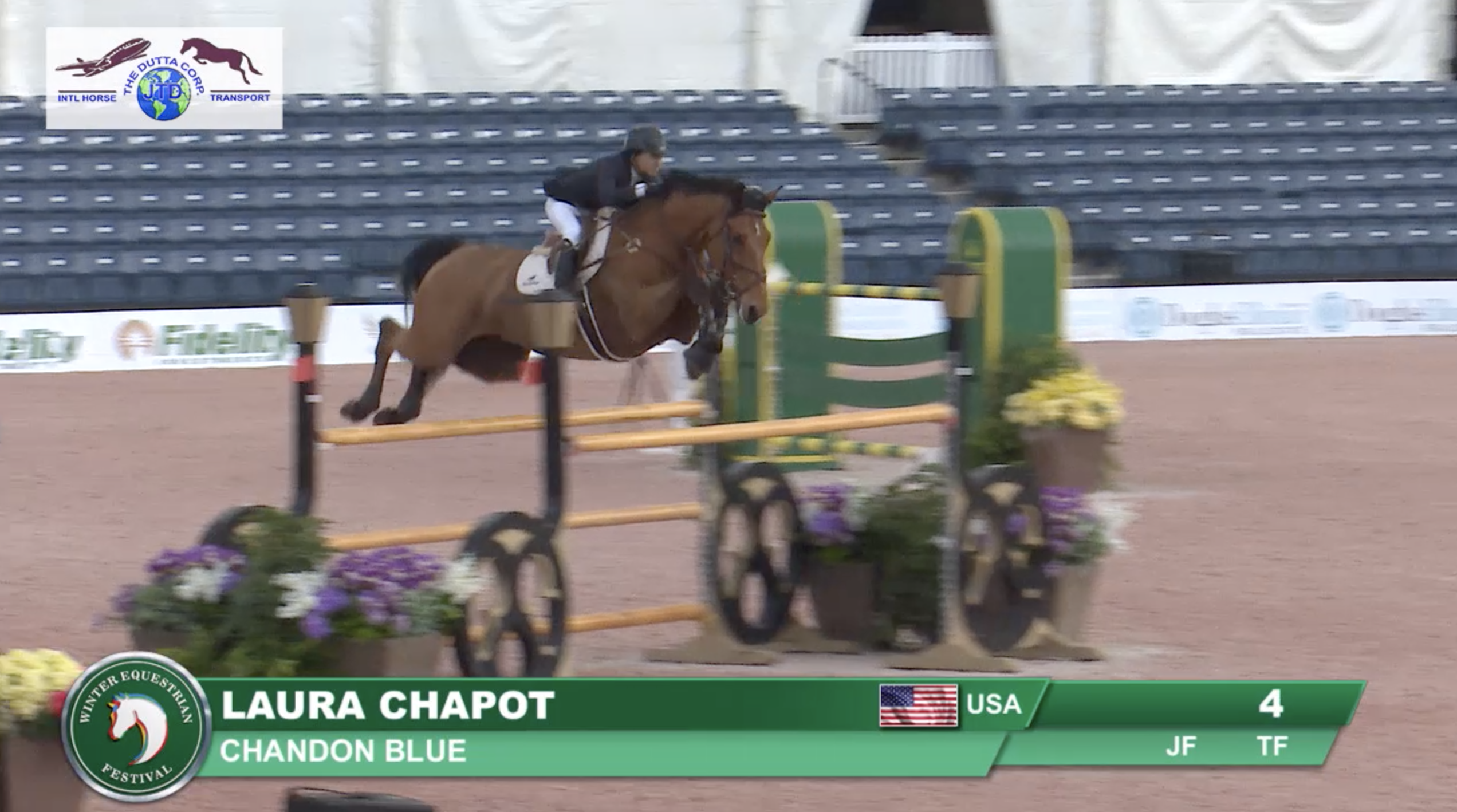 "I'm just so pleased for the horse to have won the class," she said of the 14-year-old Oldenburg gelding by Chacco Blue x Landcapitol. "He really deserves it. He's been jumping brilliantly the whole circuit and especially the last two weeks, he's been over the top. He just has so much spirit and enthusiasm for this sport that it's really nice for him to have a win. Everyone and the team puts in so much effort, and it's a lot of work down here. It's a nice reward for everyone."
Final Results: $50,000 Grand Prix CSI 2* presented by The Dutta Corp. in association with Guido Klatte
1 CHANDON BLUE: 2005 Oldenburg gelding by Chacco Blue x Landcapitol
LAURA CHAPOT (USA), Mary Chapot: 0/0/37.85
2 THE PUGILIST: 2004 Irish Sport Horse gelding by ARD VDL Douglas x Freddie's Star
BRETTON CHAD (CAN), Stone Ridge Farms LLC: 0/0/38.72
3 LA CARAMBA: 2010 Holsteiner mare by Carambole x Caretino 2
MEREDITH MICHAELS-BEERBAUM (GER), Artemis Equestrian Farm LLC: 0/0/39.12
4 BILLY COOL: 2007 AES mare by Billy Congo x Kannan
HARDIN TOWELL (USA), Oakland Ventures LLC: 0/0/39.63
5 CANAMERA 2: 2009 Holsteiner mare by Clarimo x Carthago
PETER WYLDE (USA), Kathleen Kamine: 0/0/39.99
6 VDL BRAVO S: 2006 KWPN gelding by Ephepe For Ever x Chellano Z
HUNTER HOLLOWAY (USA), Hays Investment Corp.: 0/8/40.02
7 LOU 66: 2007 German Sport Horse mare by Landprinz x Grozzo Z
JENNA THOMPSON (CAN), Attache Stables: 0/elim
7 HITCHCOCK VD BROEKKANT: 2007 BWP gelding by Canturo x Heartbreaker
ALISE OKEN (USA), Hi Hopes Farm LLC: 0/WD
9 CADANS Z: 2009 Zangersheide mare by Carosso VDL x Navarone
ADRIENNE STERNLICHT (USA), Starlight Farms LLC: 1/76.29
10 UKULMAN DE LA NUTRIA: 2008 Selle Français gelding by Quick Star
CELSO ARIANI (BRA), Ricardo Romero Garcia: 1/76.32
11 VAN SCHIJNDEL'S DOUBLE BEE: 2008 KWPN mare by Lord Z x Tangelo van de Zuuthoeve
ANNA DRYDEN (USA), Double Meadows Farm LLC: 1/76.68
12 CARLOS JD Z: 2009 Zangersheide gelding by Canturo x Baloubet
DARRAGH KERINS (IRL), NRG Farm LLC: 1/76.71
McLain Ward and Tradition de la Roque Win $72,000 CaptiveOne Advisors 1.50m Classic
In the $72,000 CaptiveOne Advisors 1.50m Classic CSI 5*, there were 45 entries competing over a course designed by Anthony D'Ambrosio. Four were able to go clear in the first 20 trips in the class, and they went on to go for speed in the jump-off.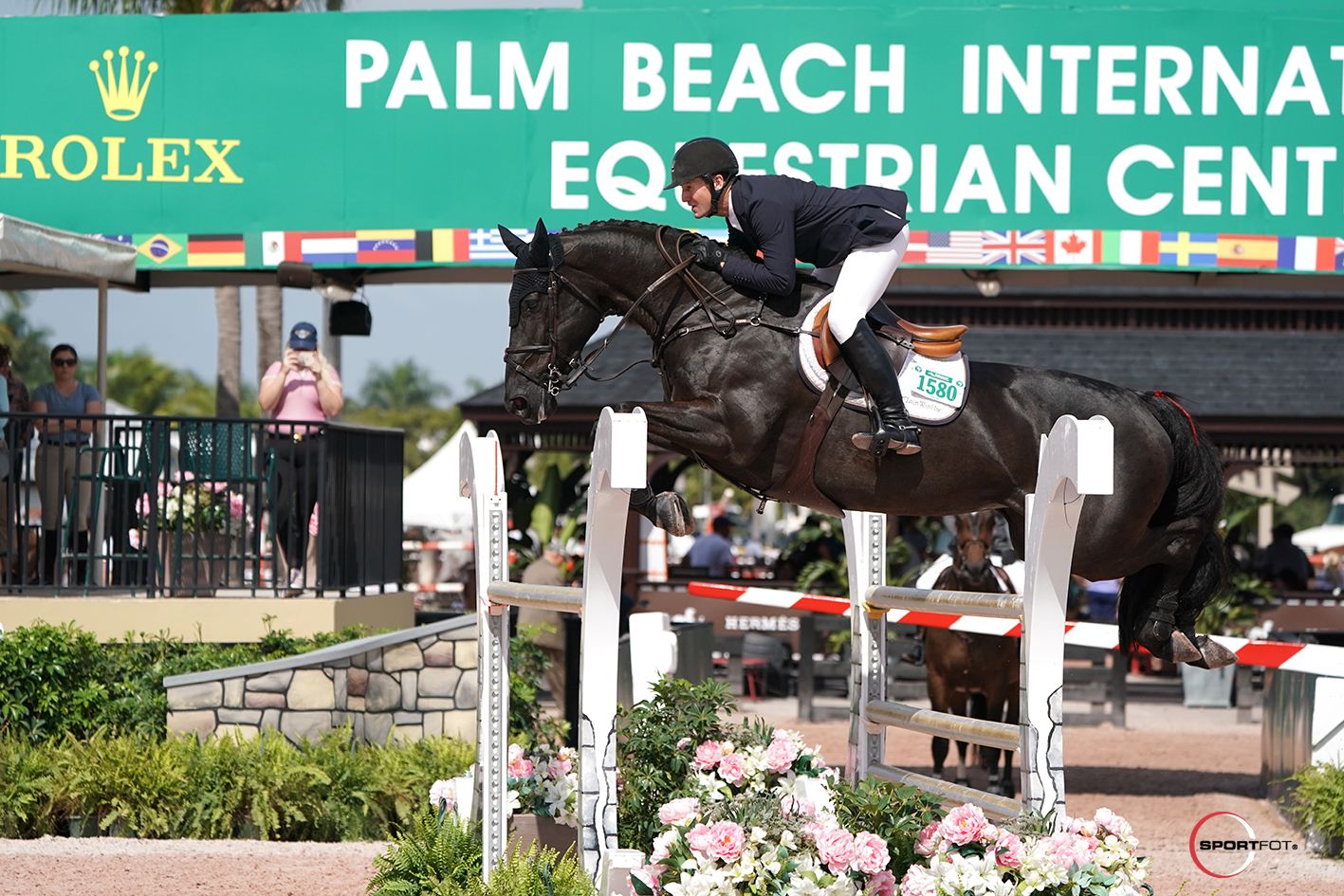 Ward went first in the jump-off on HH Gigi's Girl, owned by Double H Farm. A rail and a time of 39.41 seconds left them in fourth place.
Lorenzo de Luca (ITA), riding Stephex Stables' Evita Van't Zoggehof, were next in and they were very quick and clear in 37.81 seconds, which would slot into second place. Third place went to Carlos Hank Guerreiro (MEX) on H5 Jemousin, owned by H5 Stables, who was clear in 41.07 seconds.
Last proved to the best when Ward returned with Tradition de la Roque, a 12-year-old Selle Français mare by Kannan x Oberon du Moulin. They sped through the short course in 37.55 seconds, just taking the win by less than three-tenths of a second.
"I wanted to go in and be fast with Gigi and try to put on a little pressure, but she had an unfortunate rail," said Ward. "Then Lorenzo's round was fast; he took two seconds off my time on Gigi. There were not a lot of options at that point. With only four in the jump-off, you know you're going to get a good check. I wasn't going to not try. I thought when I landed after the double [combination] line, I was slower. I tried to make up a little time to the last few jumps, but it was a hair."
With only two jump-off trips between his two horses, it was a quick turnaround for Ward, who didn't overthink his second ride. "I know her pretty well now, and she's a really solid citizen," he said. "She's not a complicated horse. Sometimes simple is better. You just line up and hit your shot."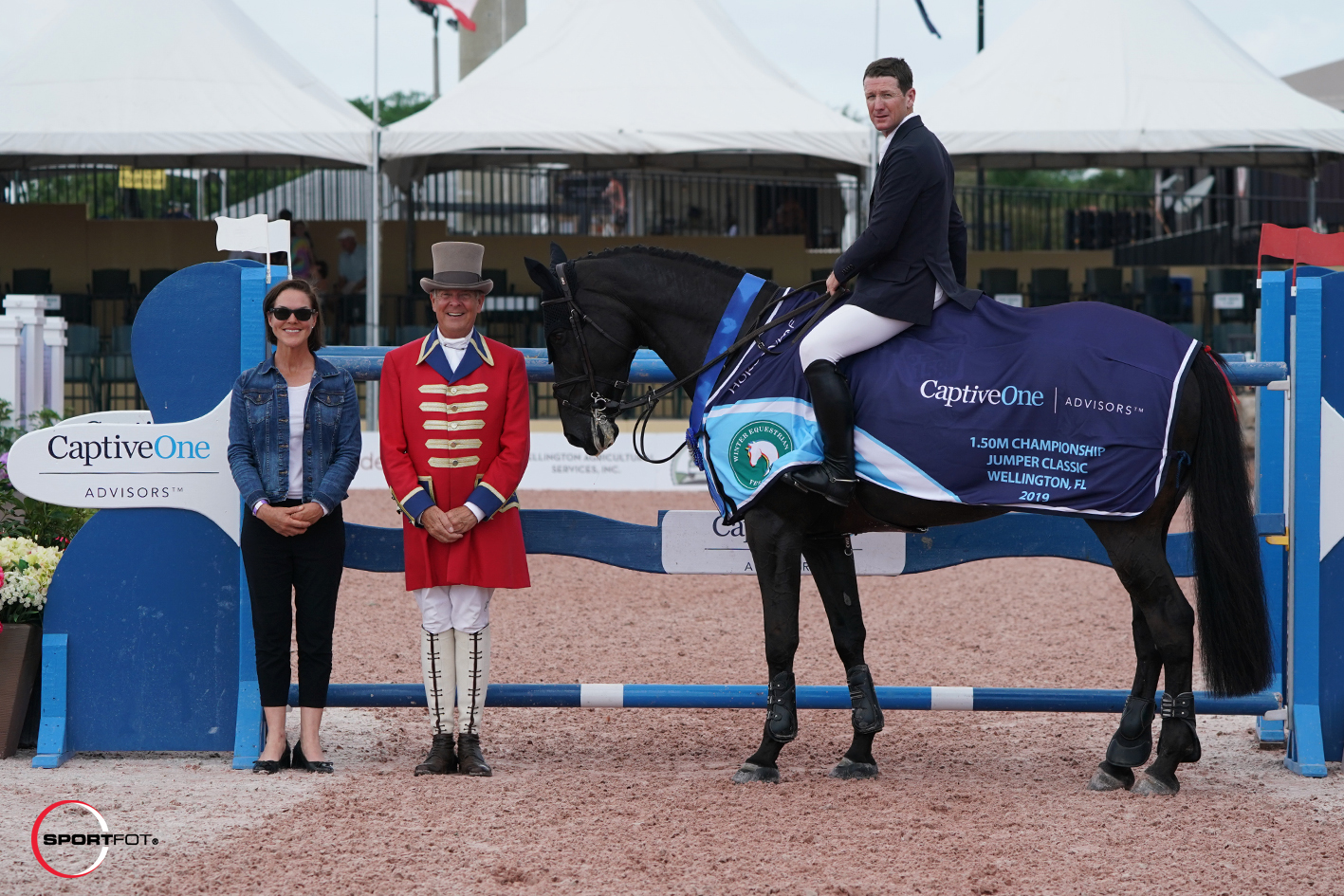 George Morris, who was the U.S. team Chef d'Equipe for Ward during Olympic and World Equestrian Games, was on the rail to give Ward some advice.
"He was just telling me what the one [before me] did," explained Ward. "George is always in my corner, and I trust his input. If he has something to say, or he sees something, I always hear him. I have my plan when I come up, and you have to be careful not to let too many things get in your head, but with George, I have a good rapport with him. If he says something, I always take notice."
This was the fifth FEI ranking class top five placing for Ward and Tradition de la Roque since they started together in September 2018. Ward said her skill at turning helps the big mare stay fast and competitive. She is offered for sale, and Ward appreciates having the experienced horse in his string.
"She's really been phenomenal for us," he said. "She's been in the results almost every time out of the box. If not, she was very unlucky not to be. We're really thrilled to her. But I'm sure she's going to find a home somewhere along the way. We've been on a little of four-fault-itis run here, so it's nice to get a win in the bag."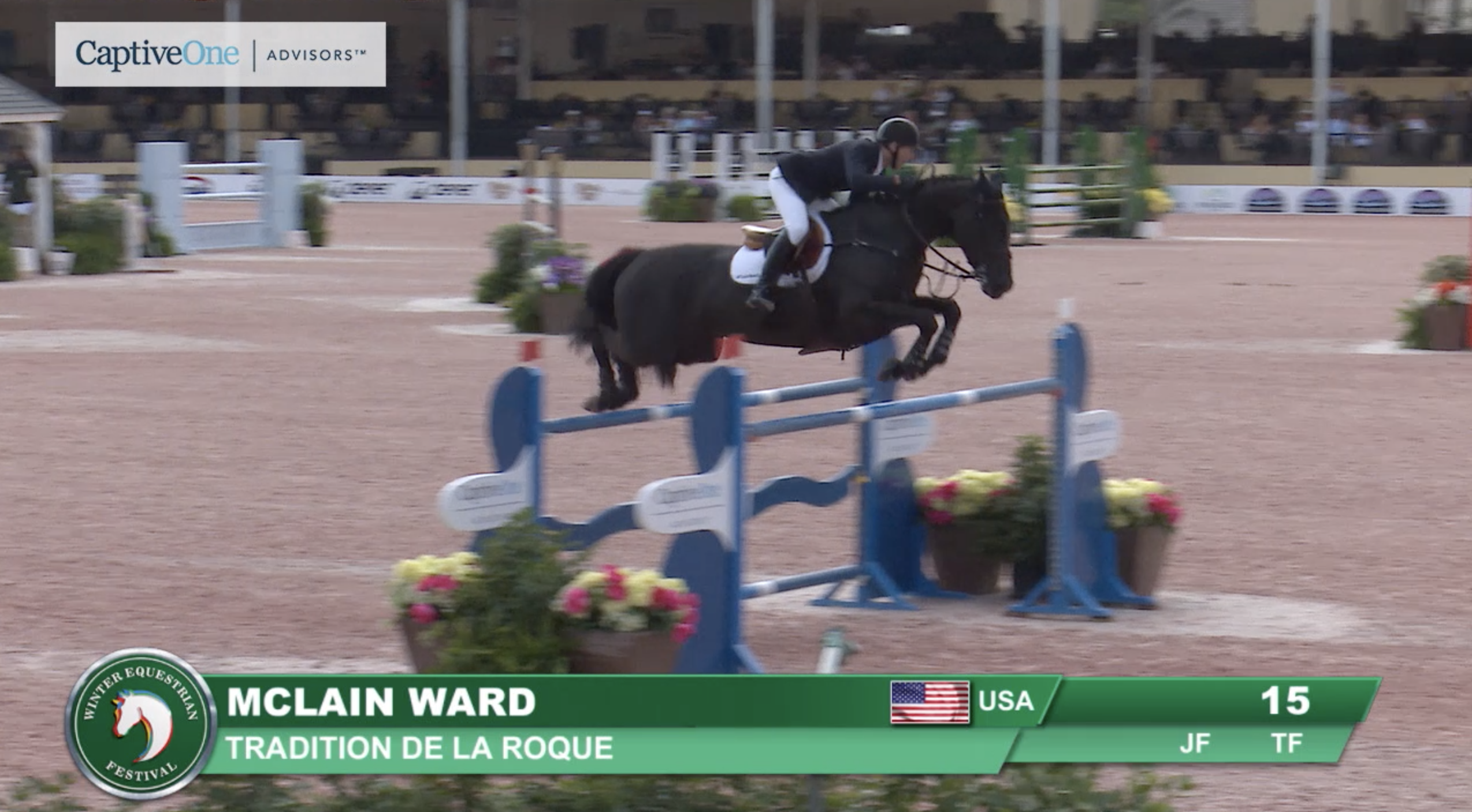 Final Results: $72,000 CaptiveOne Advisors 1.50m Classic CSI 5*
1 TRADITION DE LA ROQUE: 2007 Selle Français mare by Kannan x Oberon du Moulin
MCLAIN WARD (USA), Kessler Show Stables Europe B.V.: 0/0/37.55
2 EVITA VAN'T ZOGGEHOF: 2010 SBS mare
LORENZO DE LUCA (ITA), Stephex Stables: 0/0/37.81
3 H5 JEMOUSIN: 2009 BWP gelding by Vivaldi du Seigneur x Lipton
CARLOS HANK GUERREIRO (MEX), H5 Stables: 0/0/41.07
4 HH GIGI'S GIRL: 2008 KWPN mare by Vingino x Celano
MCLAIN WARD (USA), Double H Farm: 0/4/39.41
5 JIVA: 2009 BWP mare by Concorde (84.4140) x Nonstop
BEEZIE MADDEN (USA), Abigail Wexner: 4/73.24
6 SOORY DE L'HALLALI: 2006 Selle Francais mare
LORENZO DE LUCA (ITA), Stephex Stables: 4/73.86
7 TINO LA CHAPELLE: 2007 Selle Francais gelding by Mylord Carthago HN x Verdi HN
JUAN JOSE ZENDEJAS SALGADO (MEX), Alejandro Zendejas: 4/73.87
8 IMPORTANT DE MUZE: 2008 BWP gelding by Erco van't Roosakker x Nabab de Reve
DARRAGH KENNY (IRL), Kerry Anne LLC: 4/74.00
9 CHAPILOT: 2007 Hanoverian gelding by Chacco Blue x Pilot
RODRIGO LAMBRE (BRA), Mario Onate: 4/74.65
10 CARLITO'S WAY 6: 2010 Holsteiner gelding by Casall x Lordanos
MARKUS BEERBAUM (GER), Michaels and Beerbaum GmbH: 4/74.88
11 COLLIN: 2007 KWPN gelding by Colandro x Amethist
LUIZ FRANCISCO DE AZEVEDO (BRA), Luiz Francisco de Azevedo: 4/75.48
12 DONATELLO 141: 2011 Westphalian gelding by Diarado x Lamoureux I
ASHLEE BOND (ISR), Little Valley Farms: 4/75.79
Abigail Lefkowitz and Ava Ellis Successful in ASPCA Maclay
The final day of competition during Week 7 of the 2019 Winter Equestrian Festival highlighted several FEI events in the International Arena as well as national hunter, jumper, and equitation competition throughout the Palm Beach International Equestrian Center. Both sections A and B of the ASPCA Maclay took to Ring 9 with upwards of 30 entries each. Section A awarded the first place to Abigail Lefkowitz and Top Saint Aubin, while Section B's victory went to Ava Ellis aboard Campreoll.
In each section, the top 12 riders were invited to return for a test on the flat in which they were asked to remove their stirrups from the saddle before displaying control at the walk, trot, and canter.
"I thought it was good practice because I haven't been asked to drop my stirrups yet in the weeks I have shown," Ellis commented. "It definitely made me acknowledge it was something I needed to work on more."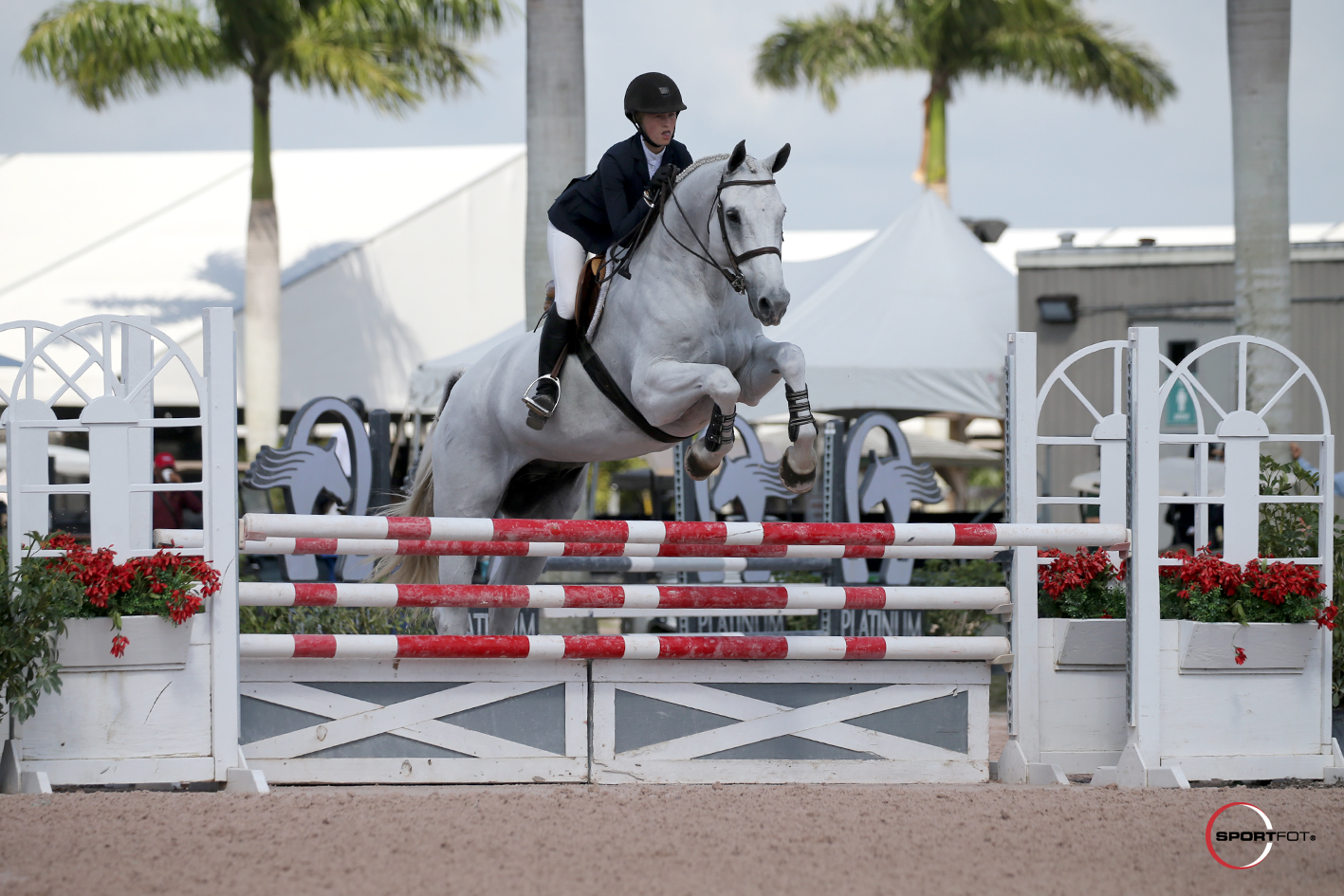 Ellis said she'd hoped to come away with a smooth round as she felt the course suited her horse's stride despite some of the harder questions the round asked.
"I liked the course because my horse has a super big stride, so all of the lines were nice and flowing. I saw some people getting in tight to the double across the middle and having to squeeze out of the line, so I was worried about catching that nicely, but with his big stride it ended up coming up easily."
Ellis was aboard the 12-year-old Swedish Warmblood gelding Campreoll (Camarao M x Precis) owned by Missy Clark and North Run. Second place in Section B went to Eliza Kimball on Carly Hoft's Cashman. Jennifer Staniloff and Sail Horse Investments's Clover placed third.
Lefkowitz's mount was a 12-year-old Belgian Warmblood gelding that is owned by Don Stewart.
"He's really the first horse I've ridden in the equitation that I've ever clicked with," Lefkowitz explained. "I felt like from the minute I got him, I could finally work on myself because he's always reliable and ready for me."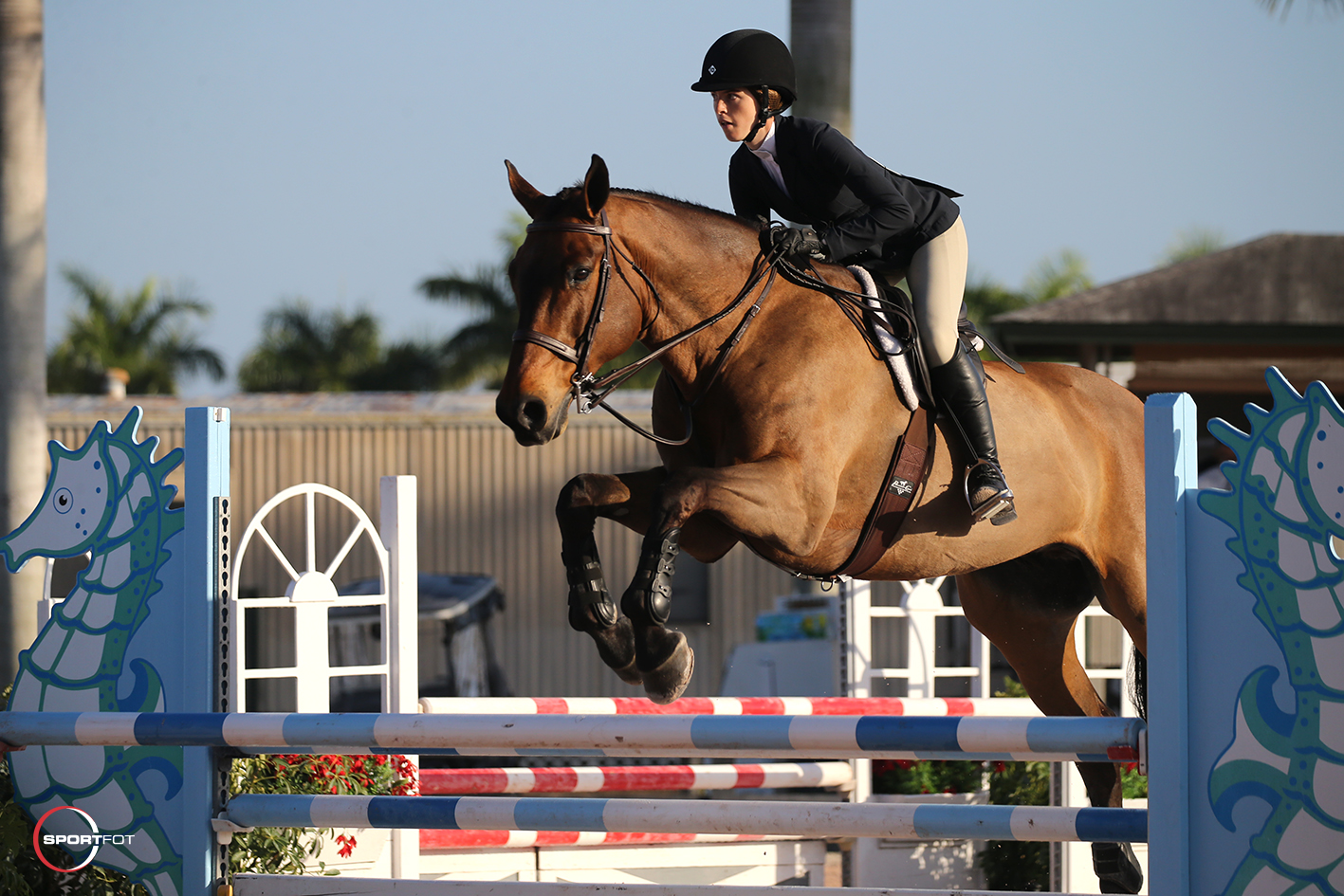 Lefkowitz added that this is her first year attending the Winter Equestrian Festival. "I love it here so much," she said. "It's so busy and bustling that it feels like a horse country version of New York City! Everywhere you go has beautiful barns, and it is just such a horse-friendly environment."
In section A, Farah Rizvi and Emma Callanan's Jarinka took the second place ribbon and Savannah Hemby rode Ashland Farms's Chacco Star to third place.
Competition at the 2019 Winter Equestrian Festival will resume on Wednesday, February 27 for the debut of Week 8 of the festival.