For Immediate Release
Jennifer Wood Media, Inc.
Wellington, FL – February 8, 2018 – 2017 FEI World Cup Final winner McLain Ward (USA) piloted HH Azur to victory over nine fellow Olympians in the $132,000 Equinimity WEF Challenge Cup Round 5 on Thursday. WEF continues through April 1 at Palm Beach International Equestrian Center in Wellington, FL, and offers more than $9 million in prize money.
Week 5, sponsored by Fidelity Investments®, features CSI 5* competition from February 7-11 and the $384,000 Fidelity Investments® Grand Prix as the "Saturday Night Lights" feature on Saturday, February 10.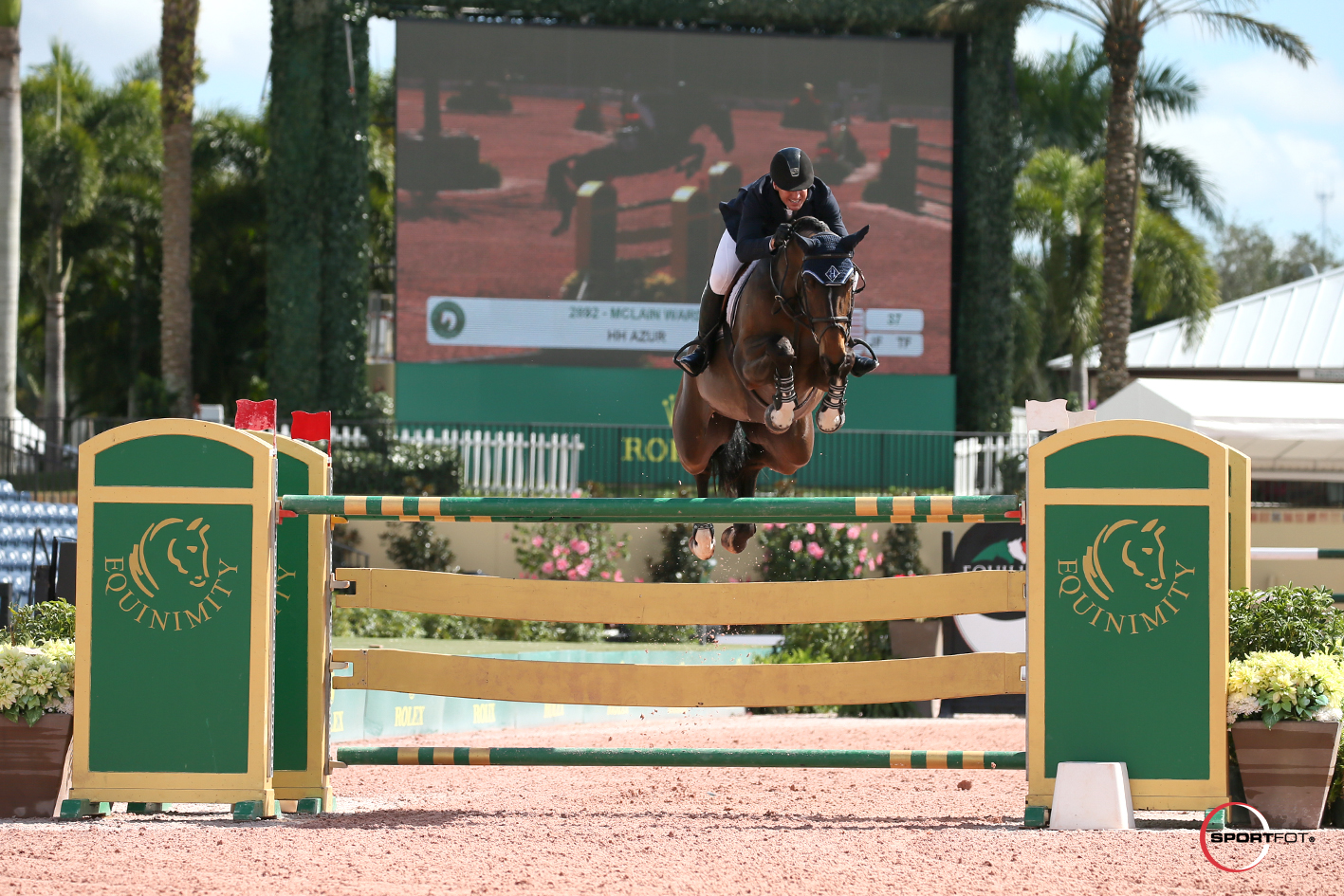 The WEF Challenge Cup offered the biggest prize money given yet for the Thursday feature, which is also a qualifier for Saturday night's grand prix. There were 57 entries in the class, and they competed over a course designed by Great Britain's Kelvin Bywater. Nineteen went clear, and 16 chose to return over the short course.
Ward and HH Azur, a 12-year-old Belgian Sport Horse mare by Thunder van de Zuuthoeve owned by Double H Farm and Francois Mathy, went second to last in the jump-off. HH Azur showed off her typical lofty jump, but was fast across the ground on a giant stride to set the winning time at 39.23 seconds.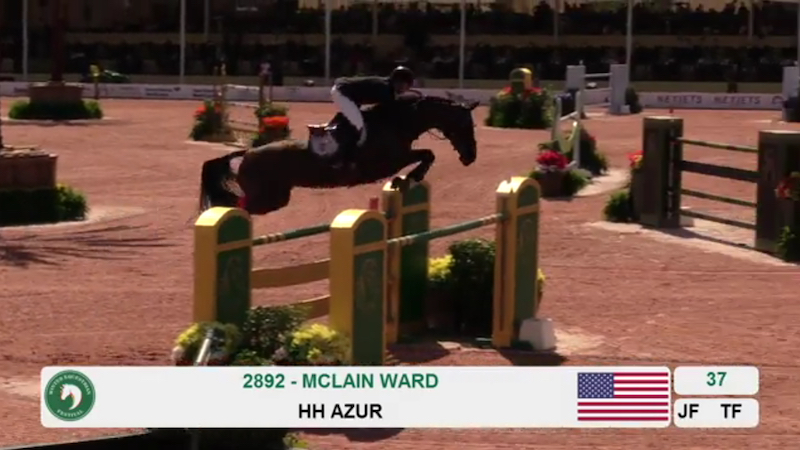 Click here to watch the winning round! 
While aiming for his third WEF Challenge Cup victory of the season, Canadian Olympic Champion Eric Lamaze was just a bit short, finishing in a time of 39.94 seconds for second place on Fine Lady 5, his 2016 Olympic bronze medal-winning partner owned by Artisan Farms & Torrey Pines Stables.
Third place went to Margie Engle (USA) and Royce, owned by Gladewinds Farm Inc. They had a time of 40.75 seconds. Spencer Smith (USA) and Rivale du Barquet finished fourth on a time of 41.41 seconds, while Olivier Philippaerts (BEL) and H&M Ikker were fifth in 42.05 seconds.
While Ward did not see Lamaze go in the jump-off, he used Smith's jump-off ride to make the decision for striding on the turn from the first to second jumps.
"That was a tough turn for a big horse, because you couldn't change your mind," he said. "I was lucky enough to see Spencer go before me and do eight (strides), and I thought I could do eight there. I was able to use my stride in a few places. When things show up for her like that, she is fast. If I have to check up, that's where a horse like Eric's can beat me, because it checks faster."
Ward knew when he went clear in the first round that he would go for speed and the win in the jump-off.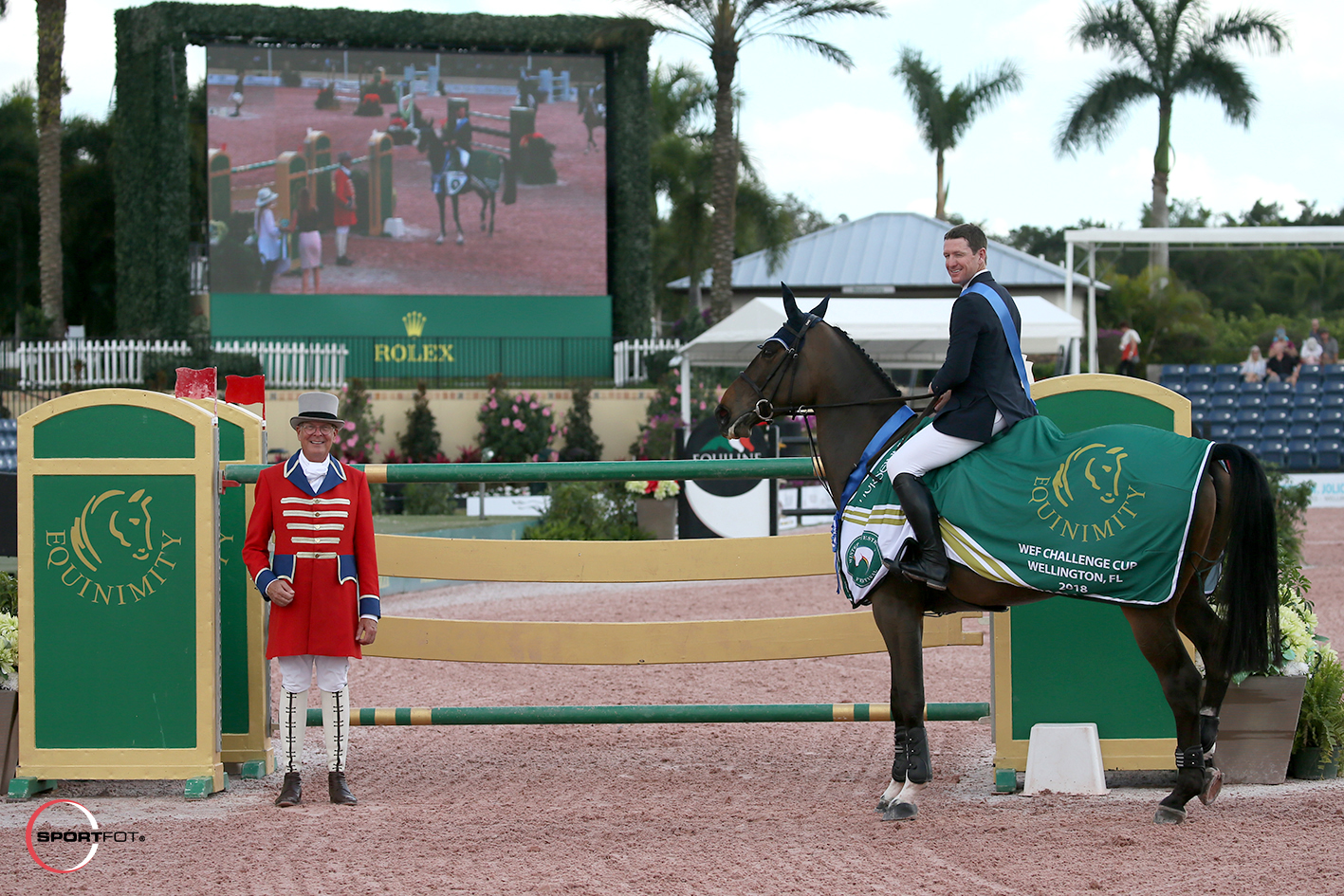 "We wanted to compete a little bit," confirmed Ward. "She's had a nice, long rest. It's great prize money. I feel that the best way to get her on her game and get her fitness level to where I want it by the end of circuit is to compete a little bit, without doing anything insane. She needs to be in the groove.
"She feels great; she feels strong," he continued. "I think she's only going to get better and better as the circuit goes on."
For their win today, Ward and HH Azur were also presented with the Champion Equine Insurance Jumper Style Award by Laura Fetterman of Champion Equine Insurance.
Final Results: $132,000 Equinimity WEF Challenge Cup Round 5
1   HH AZUR: 2006 Belgian Sport Horse mare by Thunder van de Zuuthoeve x Sir Lui
MCLAIN WARD (USA), Double H Farm & Francois Mathy: 0/0/39.23
2   FINE LADY 5: 2003 Hanoverian mare by Forsyth x Drosselklang II
ERIC LAMAZE (CAN), Artisan Farms LLC & Torrey Pines Stable: 0/0/39.94
3   ROYCE: 2004 Oldenburg stallion by Café au Lait x Grandilot
MARGIE ENGLE (USA), Gladewinds Farm Inc.: 0/0/40.75
4   RIVALE DU BARQUET: 2005 Selle Francais gelding by Adelfos x Iago C X
SPENCER SMITH (USA), Ashland Farms: 0/0/41.41
5   H&M IKKER: 2008 BWP gelding by Ogano Sitte x Up To Date
OLIVIER PHILIPPAERTS (BEL), Roger Van Nuffelen: 0/0/42.05
6   DINGEMAN: 2008 KWPN gelding by Nintender x Darnels
SANTIAGO LAMBRE (MEX), Santiago Lambre: 0/0/44.29
7   DINO: 2008 KWPN gelding by Vingino x Coriano
CAPT. BRIAN COURNANE (IRL), M/M Robert Stiller: 0/0/48.18
8   COOL HAND LUKE 4: 2007 Oldenburg gelding by Contendro I x Argentinus
MARKUS BEERBAUM (GER), Artemis Equestrian Farm LLC: 0/0/55.54
9   IMPORTANT DE MUZE: 2008 BWP gelding by Erco van't Roosakker x Nabab de Reve
DARRAGH KENNY (IRL), Kerry Anne LLC: 0/4/41.78
10  LADRIANO Z: 2008 Zangersheide gelding by Lawito x Baloubet du Rouet
DANIEL BLUMAN (ISR), Blue Star Investments: 0/4/45.83
11  WINNING GOOD: 2009 NRPS gelding by Winningmood van de Arenberg x Sir Corland
BEN MAHER (GBR), Poden Farms: 0/4/46.35
12  BALTIC STAR 2: 2009 Hanoverian gelding by Bacardi x Chalan
KENT FARRINGTON (USA), Tanma Corp. and Kent Farrington: 0/4/46.63
Haylie Rolfe Claims Victory in Green Hunter 3'3" Division Aboard Queen Celeste
Ava Lindsay for Jennifer Wood Media, Inc.
After taking home a WEF week 1 reserve championship in the Green Hunter 3'3" division, Haylie Rolfe and Queen Celeste, owned by Pony Lane Farm, returned for week 5 determined to capture another tri-color ribbon in the division. The pair prevailed as the Green Hunter 3'3" champion on Thursday with a third in the under saddle and a first, first, second, and second over fences.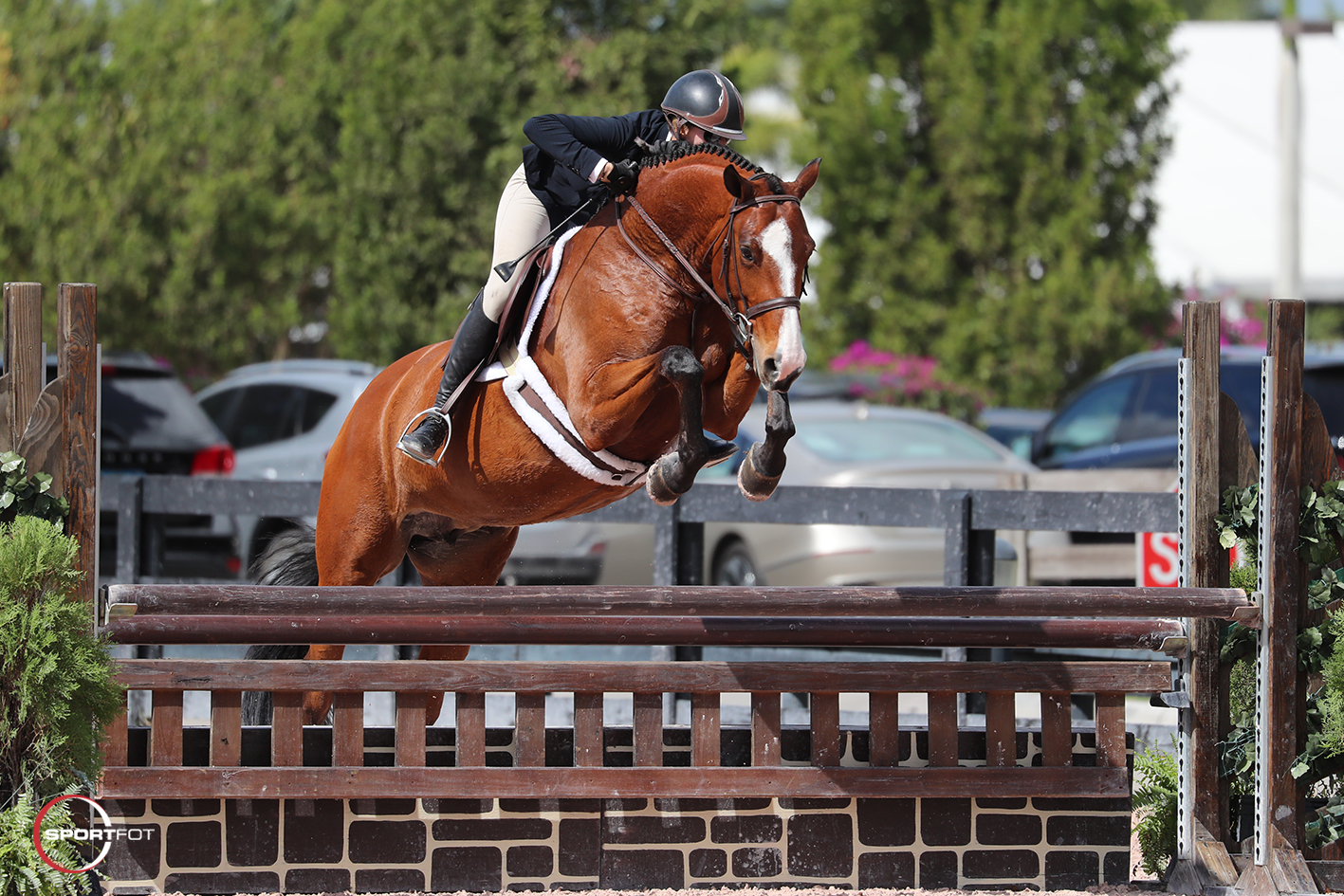 "Her jump is a ten," said Rolfe. "She loves going slow and poking her nose, and she is always helping you find a nice distance. She makes my job so easy."
Rolfe, of Wellington, FL, added that the seven-year-old mare, by Cassini I x Sammy Joe, has moved up effortlessly from the 3' height since her purchase from Christoph K. Schroeder in September and has made a smooth transition from the jumpers into hunter competition.
"She was born to be a hunter," said Rolfe. "I can't even picture her in the jumpers. I don't know how you would make her go fast!"
Although the current goal for Queen Celeste is the Green Hunter Incentive Program at the end of the year, the young mare's long-term plan is to be a star amateur owner hunter horse for her owners.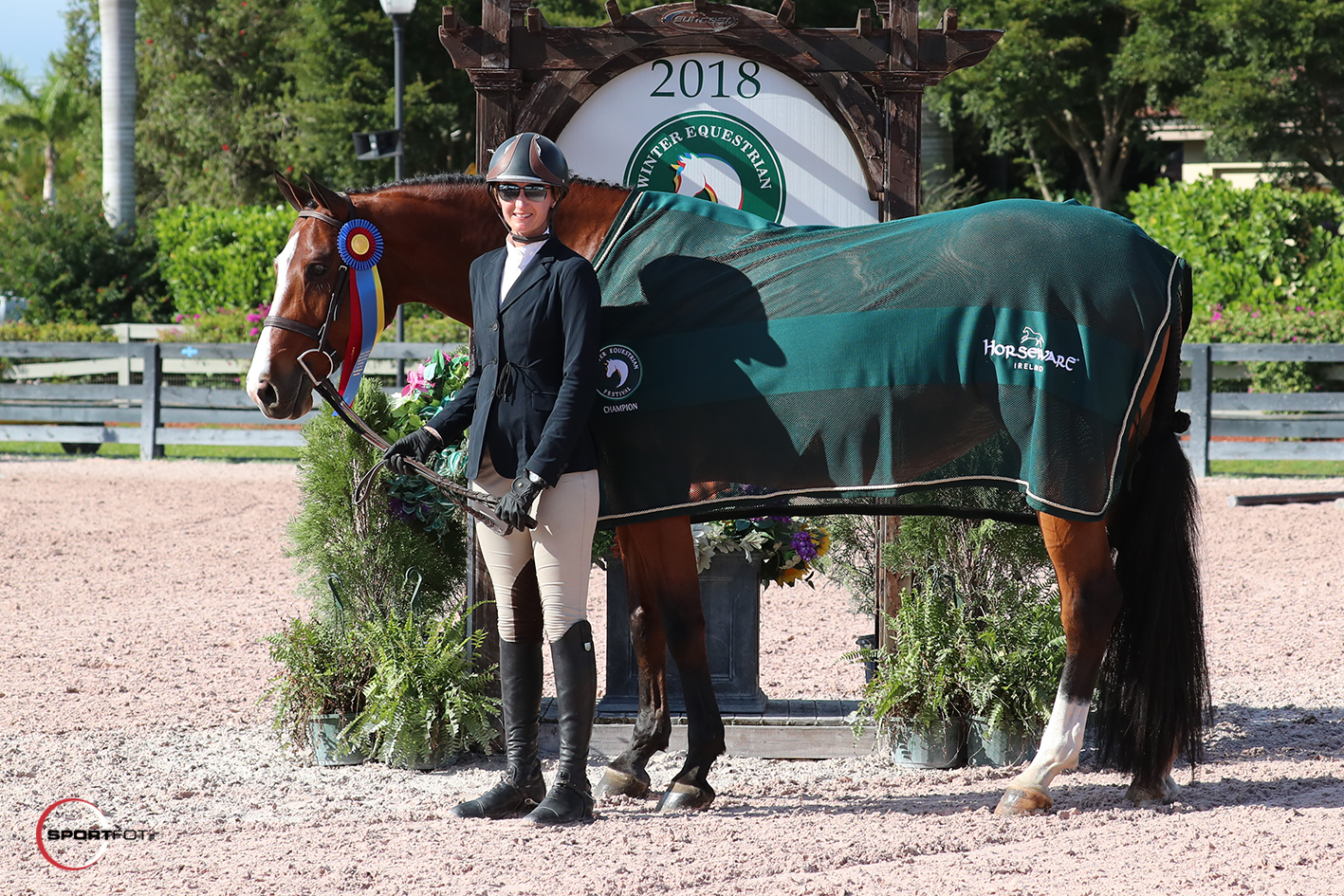 Reserve honors went to Tara Metzner aboard Lion, owned by Tammy Williams, with a first, first, and a second over fences.
The fifth week of WEF continues on Friday, February 9, with the $35,000 Bainbridge 1.45m Jumpers CSI 5*, $35,000 Equiline 1.45m Jumpers CSI 2*, and the Marshall & Sterling/USEF Pony Medal.
Photo Credit: Photos © Sportfot, Official Photographer of the Winter Equestrian Festival. These photos may be used only in relation to this press release and must include photo credit.