For Immediate Release
Lindsay Brock and Sabrina Brashares for Jennifer Wood Media, Inc.
Wellington, FL – January 24, 2020 – U.S. Olympic team gold medalist McLain Ward claimed his second win during week three of the 2020 Winter Equestrian Festival (WEF) in the $37,000 Bainbridge Companies 1.45m CSI3* aboard Catoki at the Palm Beach International Equestrian Center in Wellington, FL, on Friday, January 24.
WEF continues through March 29, 2020 with 12 consecutive weeks of world-class competition and $13 million dollars on offer. The third week of competition at WEF is sponsored by Adequan® and recognized as a CSI3* by the Fédération Equestre Internationale (FEI). The week's featured event is the $137,000 Adequan® Grand Prix CSI3* during "Saturday Night Lights" on January 25, at 7 p.m. in the International Arena.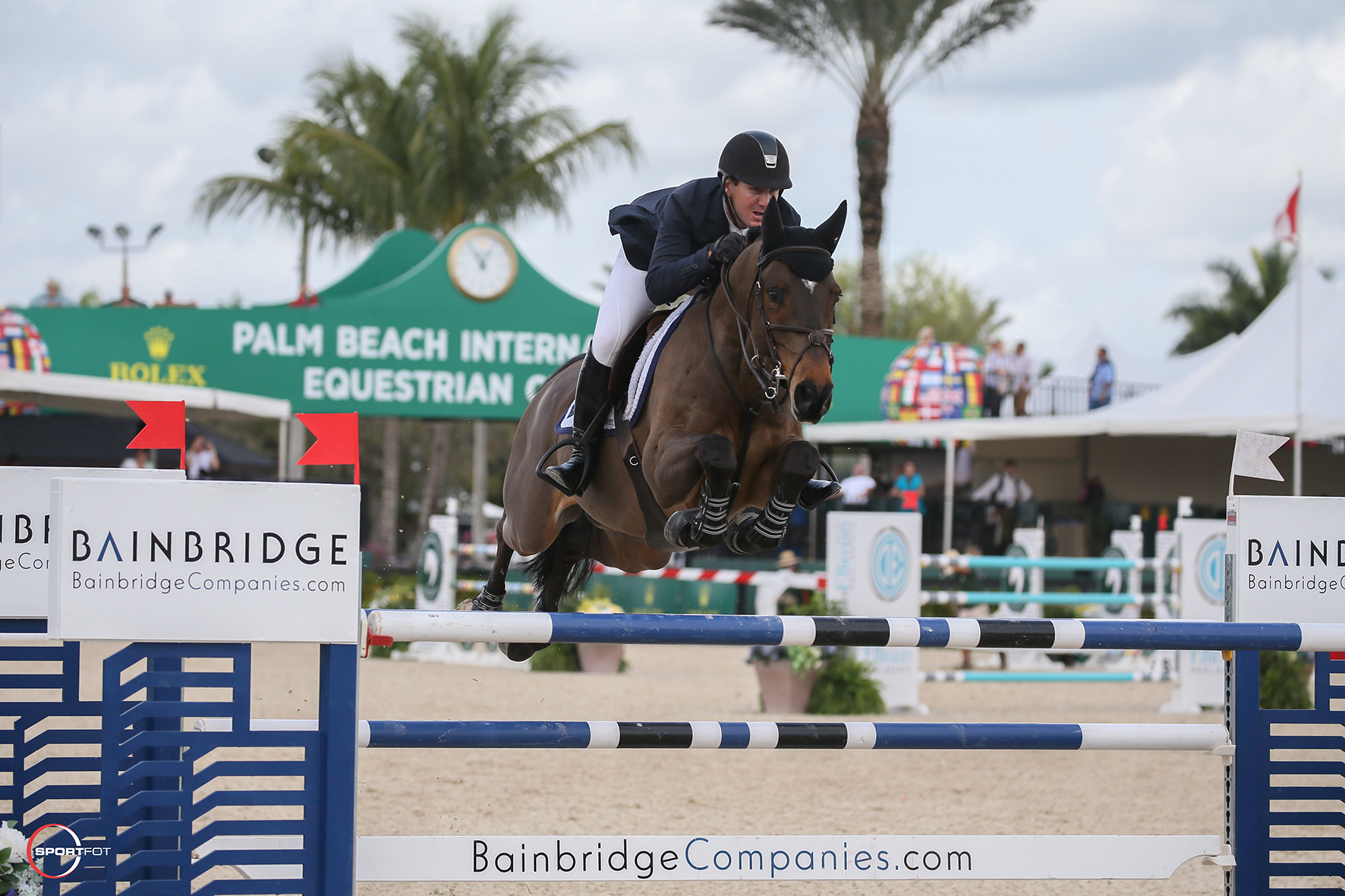 Ward and the 10-year-old Holsteiner gelding (Catoki x Cartello B) are a new partnership, but they have wasted no time getting to the winner's circle. The duo topped a field of 59 over Kelvin Bywater's (GBR) speed track by a nearly two-second margin over Mexico's Santiago Lambre and his own Doloris. Ward stopped the clock and 57.54 seconds, while Lambre settled for second in 59.12 seconds.
"He's naturally an incredibly fast horse, so in the speed classes you have a little bit of an advantage," said Ward of the horse he owns with Marilla van Beuren and Bob Russell. "Santiago is a very fast rider, but this horse is, I think, the fastest horse I've ever ridden. I knew turning for home we were very fast, and if things come up basically as you want, he's just naturally faster than most horses, so you don't have to do anything extraordinary."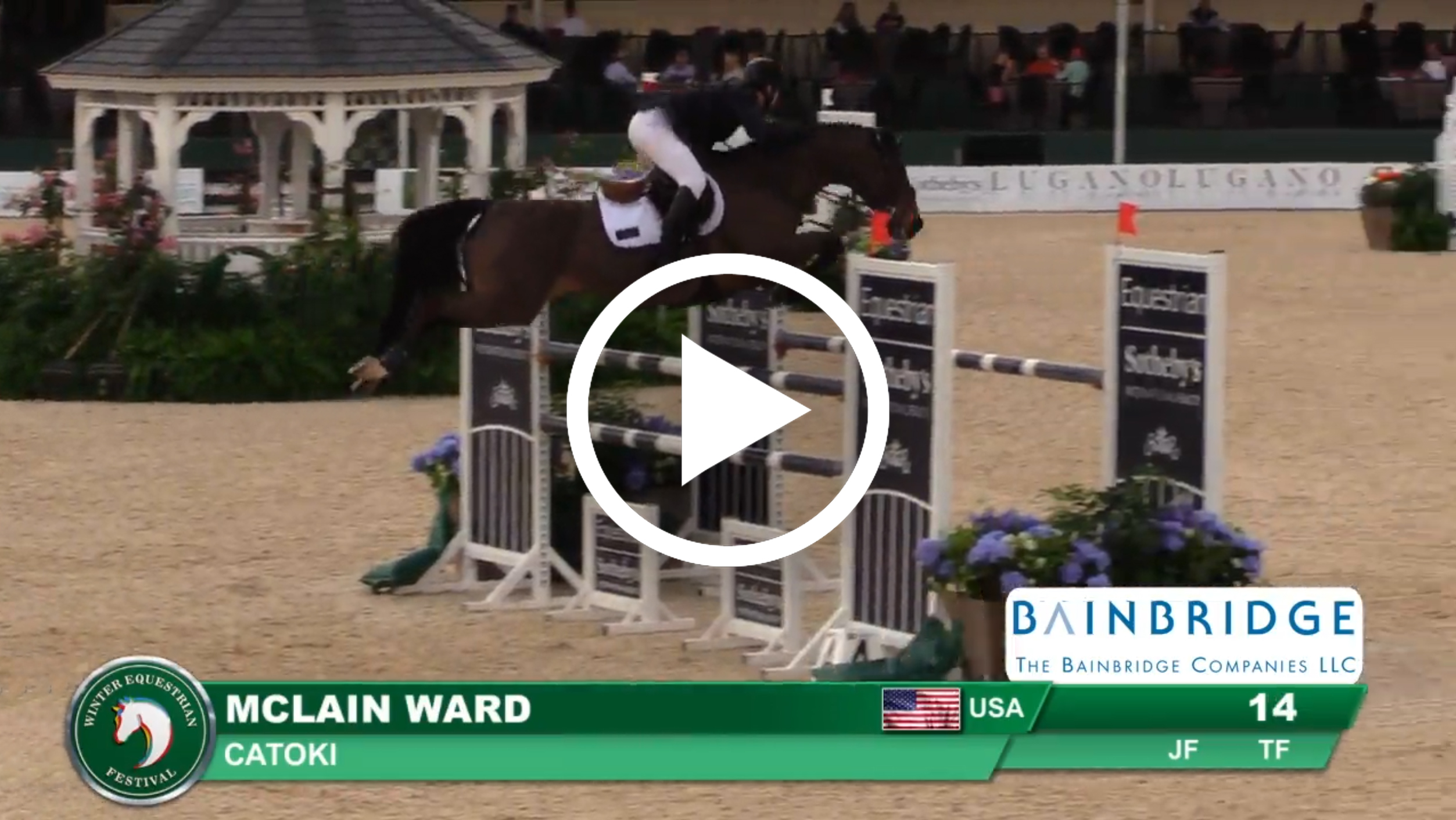 Catoki joined Ward's string just before the start of the WEF season, but he has high hopes for the gelding. "He's going to be a great part of our string. I'm excited for all of his owners and to have him to compete on. His best qualities are his carefulness, and he's also got a big heart. He's brave and takes on the course like a lion."
Adrienne Sternlicht (USA) and Just A Gamble finished in third on a time of 59.19 seconds for Starlight Farms 1 LLC, while Israel's Ashlee Bond took fourth aboard Belo Horizante, owned by Little Valley Farms, in 59.46 seconds. Quentin Judge (USA) rounded out the top five riding HH Qualido 3, owned by Double H Farm, in 60.17 seconds.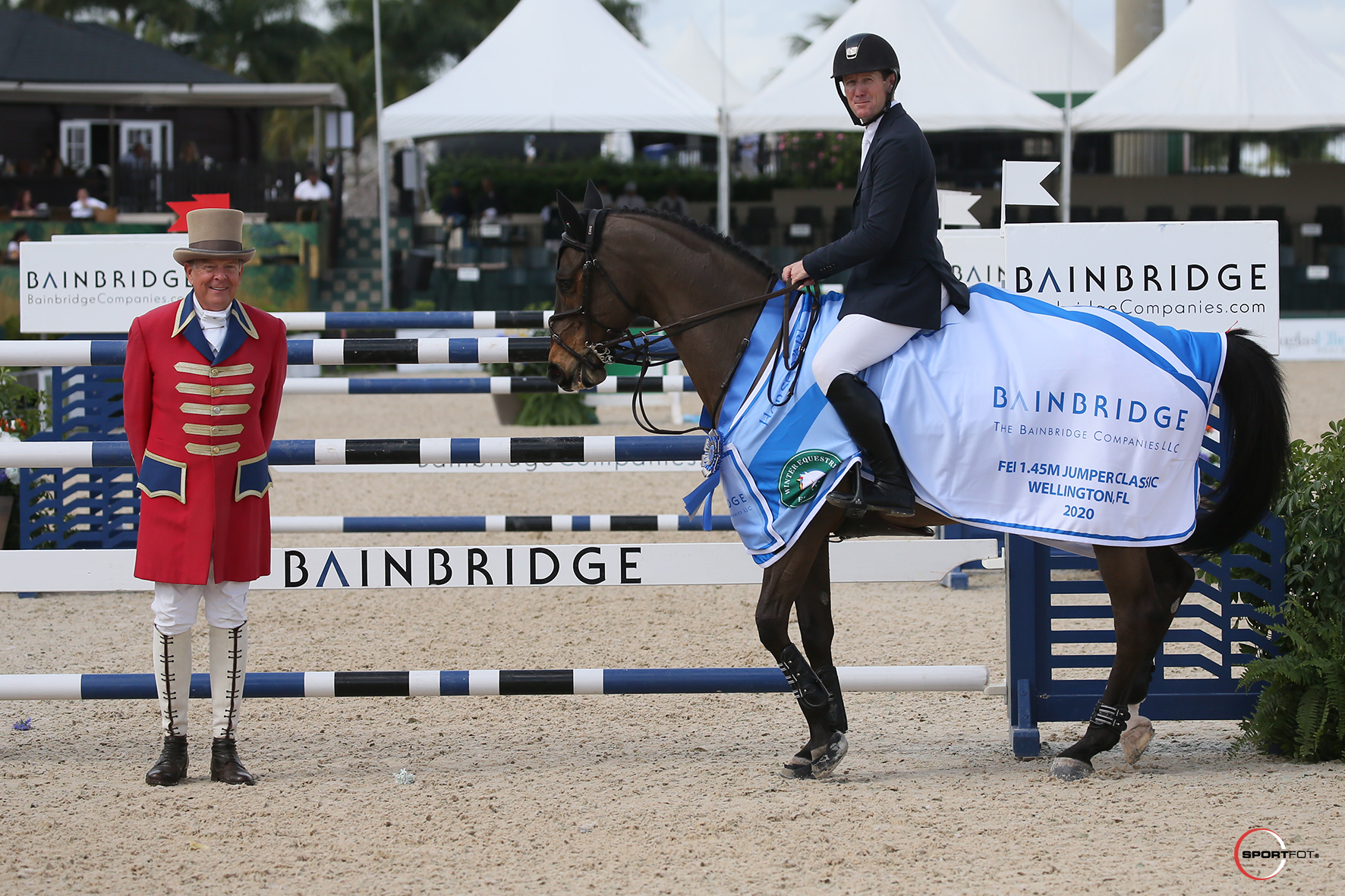 Also winning in the International Arena at WEF on Friday, Beezie Madden (USA) topped the $6,000 Bainbridge 1.40m riding Jiva, owned by Abigail Wexner, and Jessica Mendoza (GBR) claimed the $6,000 Bainbridge Companies 1.40m CSI3* riding Stella Levista, for owner Caroline Mawhinney. For full results, visit www.PBIEC.com.
Final Results: $37,000 Bainbridge Companies 1.45m CSI3*
1 CATOKI: 2009 Holsteiner gelding by Catoki x Cartello B
MCLAIN WARD (USA), Marilla van Beuren, Bob Russell & McLain Ward: 0/57.54
2 DOLORIS: 2008 KWPN mare by Harley VDL x Colorado D
SANTIAGO LAMBRE (MEX), Santiago Lambre: 0/59.12
3 JUST A GAMBLE: 2009 BWP mare by Toulon x Corofino
ADRIENNE STERNLICHT (USA), Starlight Farms 1 LLC: 0/59.19
4 BELO HORIZANTE: 2008 Holsteiner gelding by Baloubet du Rouet x Clearway
ASHLEE BOND (ISR), Little Valley Farms: 0/59.46
5 HH QUALIDO 3: 2008 Hanoverian gelding by Quicksilber x Calido
QUENTIN JUDGE (USA), Double H Farm: 0/60.17
6 DIABLEUR: 2008 KWPN gelding by Berlin x Major de la Cour
ERYNN BALLARD (CAN), Emma Waldfogel: 0/60.39
7 DUBLIN: 2007 Deusches Reitpferd gelding by Cobra x Calido
JESSICA MENDOZA (GBR), Windsor Farms: 0/60.43
8 ZANDORA Z: 2011 Zangersheide mare by Zandor x Nabab de Reve
SHANE SWEETNAM (IRL), Seabrook LLC and Sweet Oak Farm: 0/60.78
9 OASIS SPIRIT: 2010 Irish Sport Horse mare by Cobra
AMANDA DERBYSHIRE (GBR), Amanda Derbyshire: 0/61.94
10 BETAGRAVIN: 2006 KWPN mare by Quasimodo Z x Grandeville
JIMMY TORANO (USA), Missy Clark & North Run: 0/62.25
11 LAZY: 2011 BWP mare by Hickstead II x Cruising
ASHLEE BOND (ISR), Aurora Farms LLC: 0/62.87
12 LA UNA: 2011 OS mare by Chacco-Blue x For Pleasure
ZOE CONTER (BEL), Stephex Stables: 0/62.91
Krista Weisman and Concept Claim the Adult Amateur Hunter Young (Section A) Championship
Hunter competition in the Rost Ring continued on Friday with the crowning of Krista Weisman and Concept as the Adult Amateur Hunter Younger (Section A) champions. Weisman rode Concept to two first and two second-place finishes in the division.
Weisman, of Brooklyn, NY, was excited to get back into the show ring with Concept after recently having a baby. "We like to joke that he was on paternity leave over the summer and now this is his second show back in a year," Weisman explained.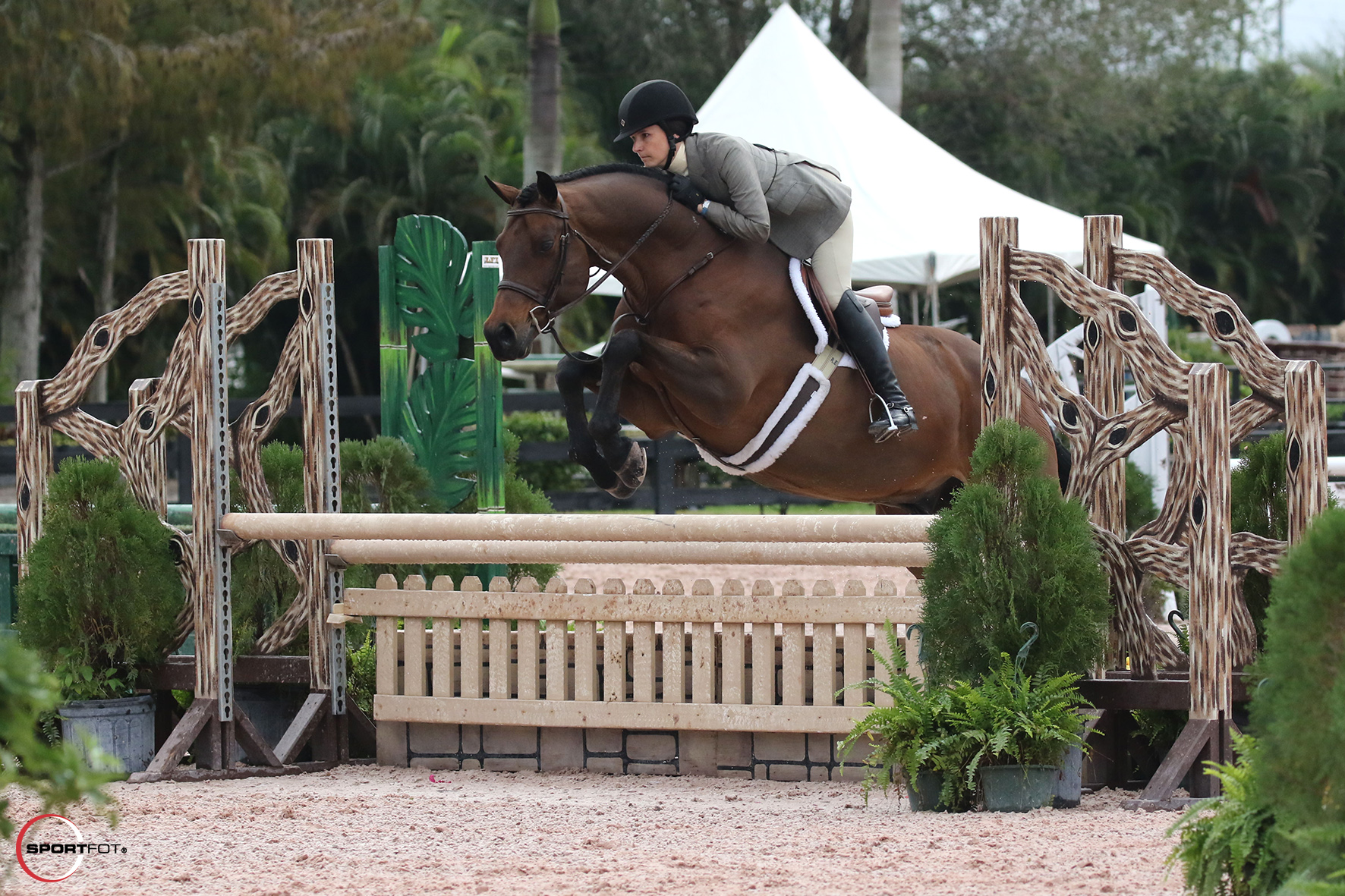 The pair had a successful return to the show ring and definitely stood out to the judges. "He has the most comfortable canter and feels like he is just floating along," Weisman said.
Weisman bought the 13-year-old gelding, who had been a stallion for many years, as a pre-green horse. The pair, trained by Scott Stewart and Ken Berkley, have been together for eight years, creating a great relationship between them. "No matter what happens you just hug him when he comes out of the ring because he's so lovable," Weisman commented.
Although Concept is for sale, Weisman still plans to continue to show him until he sells. "I still want to keep being consistent and spend as much time with him as I can," she described.
Not far behind in points was Lili Halterman and Kingston who received the title of reserve champion in the Adult Amateur Hunter Younger (Section A) division. Halterman, of New York, NY, rode her horse Kingston to two firsts, second, third, and fifth place.
Competition will start off Saturday morning in the E.R. Mische Grand Hunter Ring with the Large Junior Hunters 15 and Under division.
Photo Credit: Photos © Sportfot, Official Photographer of the Winter Equestrian Festival. These photos may be used only in relation to this press release and must include photo credit.