For Immediate Release
Jennifer Wood Media, Inc.
Wellington, FL – March 9, 2018 – McLain Ward and Bellefleur PS Z topped the $35,000 Bainbridge 1.45m Classic CSI 5* on Friday, March 9, during week nine of the 2018 Winter Equestrian Festival (WEF), marking the reigning FEI World Cup champion's second CSI5* victory in as many days at the Palm Beach International Equestrian Center (PBIEC) in Wellington, FL. In the $35,000 Rose Hill Farm 1.45m Jumpers CSI 2*, Yuri Mansur (BRA) and Babylotte were victorious. Over at Equestrian Village, Riley McKesson and Rollingwoods Stickler captured the $5,000 USHJA Pony Hunter
Derby.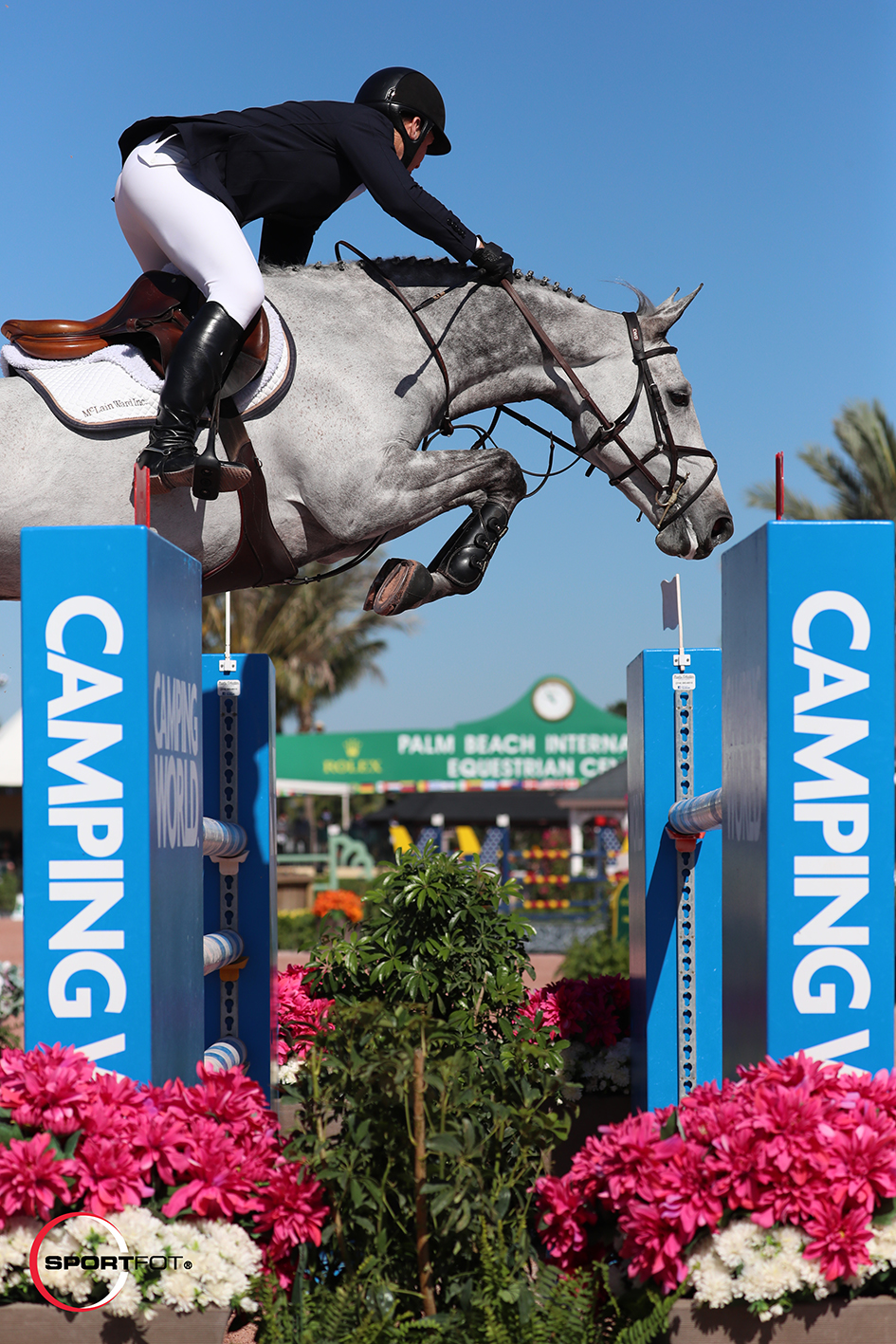 The ninth week of competition at WEF runs March 7-11. Jumper highlights include the $384,000 Douglas Elliman Real Estate Grand Prix CSI 5* beginning at 7 p.m. on Saturday, March 10, and the $50,000 Rose Hill Farm Grand Prix CSI 2* on Sunday, March 11. The remaining hunter highlight on the schedule is the $10,000 USHJA National Derby on Saturday, March 10, held on the grass derby field at Equestrian Village (home of the Adequan® Global Dressage Festival – 13500 South Shore Blvd.). WEF hosts hunter, jumper, and equitation competition until April 1 and offers more than $9 million in prize money.
Fresh off a win in Thursday's $132,000 Equinimity WEF Challenge CSI5* aboard Hija van Strokapelleken, owned by Evergate Stables LLC, Ward (USA) returned to the International Arena at PBIEC to take the win aboard another gray mare, Bellefleur PS Z, a nine-year-old Zangersheide owned by Susan Heller and Ward's daughter, Lilly Ward.
When Ward entered the ring in the 54-entry speed class, Kristen Vanderveen (USA) and her mount Bull Run's Faustino de Tili, owned by Bull Run Jumpers Five, had set a quick time to beat of 56.19 seconds over the Alan Wade-designed course.
"I didn't think Kristen was actually beatable to be honest. She has a much bigger stride on that horse than I have on mine," said Ward, who was ultimately able to shave more than a second off of Vanderveen's time, finishing on 54.80 seconds.
"My mare is very fast though, and with today's course, the numbers allowed her to keep going where a lot of the horses had to slow down," said Ward. "I was able to catch the second to last fence very well to do the leave out, which I normally probably wouldn't do with her. I got such a nice jump that I thought I was okay to do it, and she made a great effort."
Friday's victory marked Bellefleur's second win in the $35,000 Bainbridge 1.45m Classic CSI5*, having previously won the class on February 9, during WEF 5. That same week, the mare also claimed victory in the $70,000 Hollow Creek Farm 1.50m Classic CSI5*, before enjoying a few weeks off from the show ring.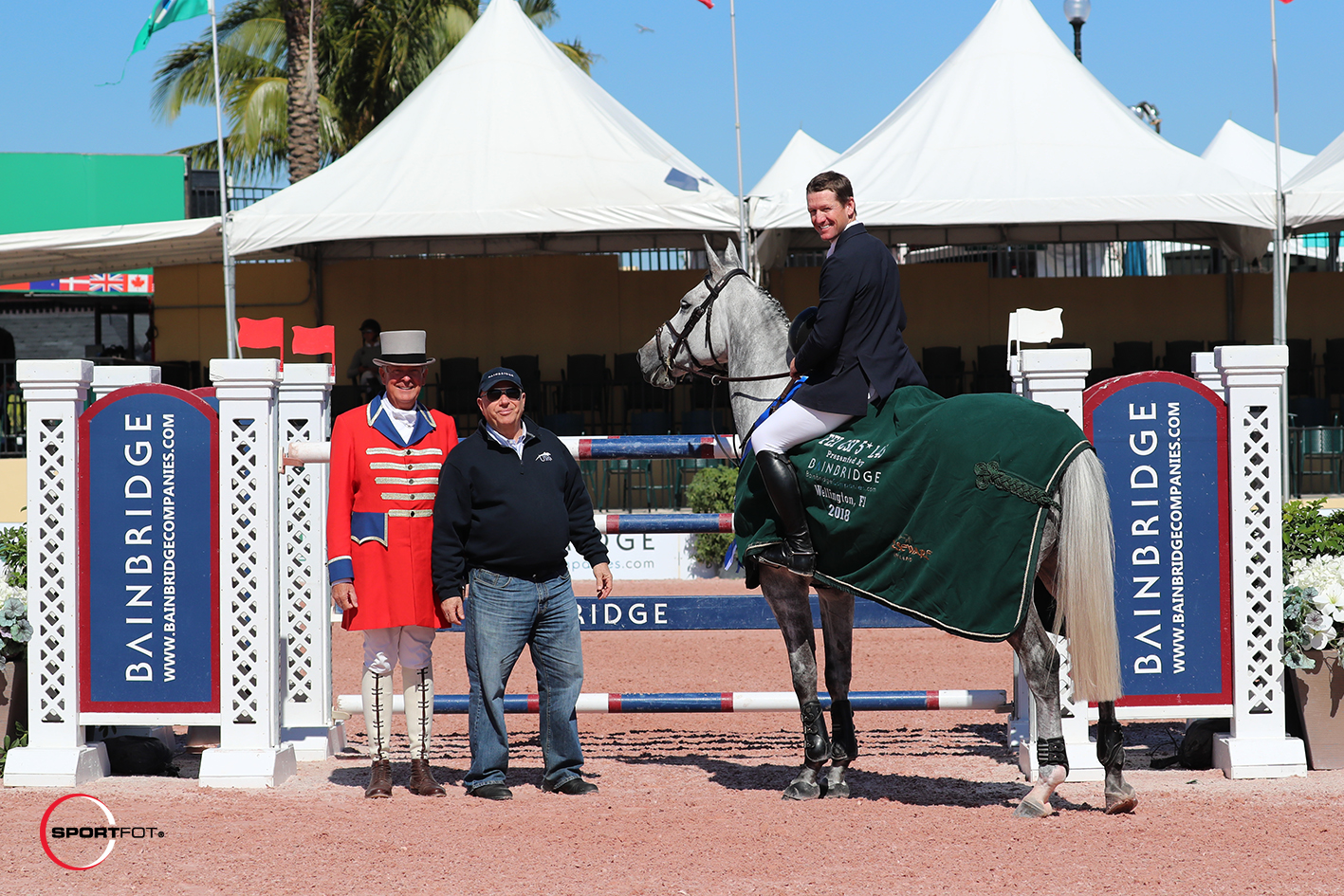 "She's been great down here," said Ward of the mare that he will now point toward the $132,000 Hollow Creek Farm 1.50m Championship Jumper Classic Final CSI 4* during WEF 11.
"She's a blood mare, so we don't work her too hard because we want to watch that she doesn't get sort of 'race horse fit,' so to speak. She keeps herself fit anyway. Owen Rogers who actually takes care of her does a lot of the flatwork with her. He does a beautiful job. We try to keep it really low-stress because the horse is super competitive and super ready.
"I'd say my ideal plan for her is coming to fruition," concluded Ward. "I think she's stepping up beautifully."
Final results: $35,000 Bainbridge 1.45m Classic CSI5*
1 BELLEFLEUR PS Z: 2009 Zangersheide mare by Berlin x Quidam de Revel
MCLAIN WARD (USA), Susan Heller and Lilly Ward: 0/54.80
2 BULL RUN'S FAUSTINO DE TILI: 2005 Belgian Warmblood stallion by Berlin x Darco
KRISTEN VANDERVEEN (USA), Bull Run Jumpers Five LLC: 0/56.19
3 TIENNA: 2008 Canadian Sport Horse mare by For Pleasure x Polydox
DANIEL COYLE (IRL), Ariel Grange: 0/58.30
4 CHACCIAMA: 2007 Oldenburg mare by Chacco Blue x Andiamo Z
RODRIGO LAMBRE (BRA), Mario Oñate B.: 0/61.557
5   DARKO'S PROMISE: 2008 Irish Sport Horse by unknown x Semper Odem
ALBERTO MICHAN (ISR), Ruedi Stüssi: 0/61.92
6 CYBEL II: 2008 Irish Sport Horse mare by Varo x Lancer
LAURA CHAPOT (USA), Mary Chapot: 0/62.02
7 COLLIN: 2007 KWPN gelding by Colandro x Amethist
LUIZ FRANCISCO DE AZEVEDO (BRA), Luiz Francisco de Azevedo: 0/62.09
8 GK COCO CHANEL: 2008 Holsteiner gelding by Clarimo x Lerano 2
CONOR SWAIL (IRL), Vanessa Mannix: 0/62.62
9 CURIOUS GEORGE: 2009 Rheinlander gelding by Codex One x Dutch Capitol
LAURA KRAUT (USA), Old Willow Farms LLC: 0/63.58
10 CULA LOU V: 2006 Westphalian mare by Chacco-Blue x Sandro
WILTON PORTER (USA), Sleepy P Ranch: 0/65.05
11 EDISON P: 2009 KWPN gelding by Lexicon x Furore
ERYNN BALLARD (USA), Looking Back Farm: 0/65.23
12 ALEX: 2004 Westphalian gelding by Arpeggio x Mon Cheri
JENNIFER GATES (USA), Evergate Stables LLC: 0/66.88
Yuri Mansur and Babylotte Win $35,000 Rose Hill Farm 1.45m Classic CSI2*
Brazil's Yuri Mansur and Babylotte topped 82 additional entries to win the $35,000 Rose Hill Farm 1.45m Classic CSI2* on Friday, March 9.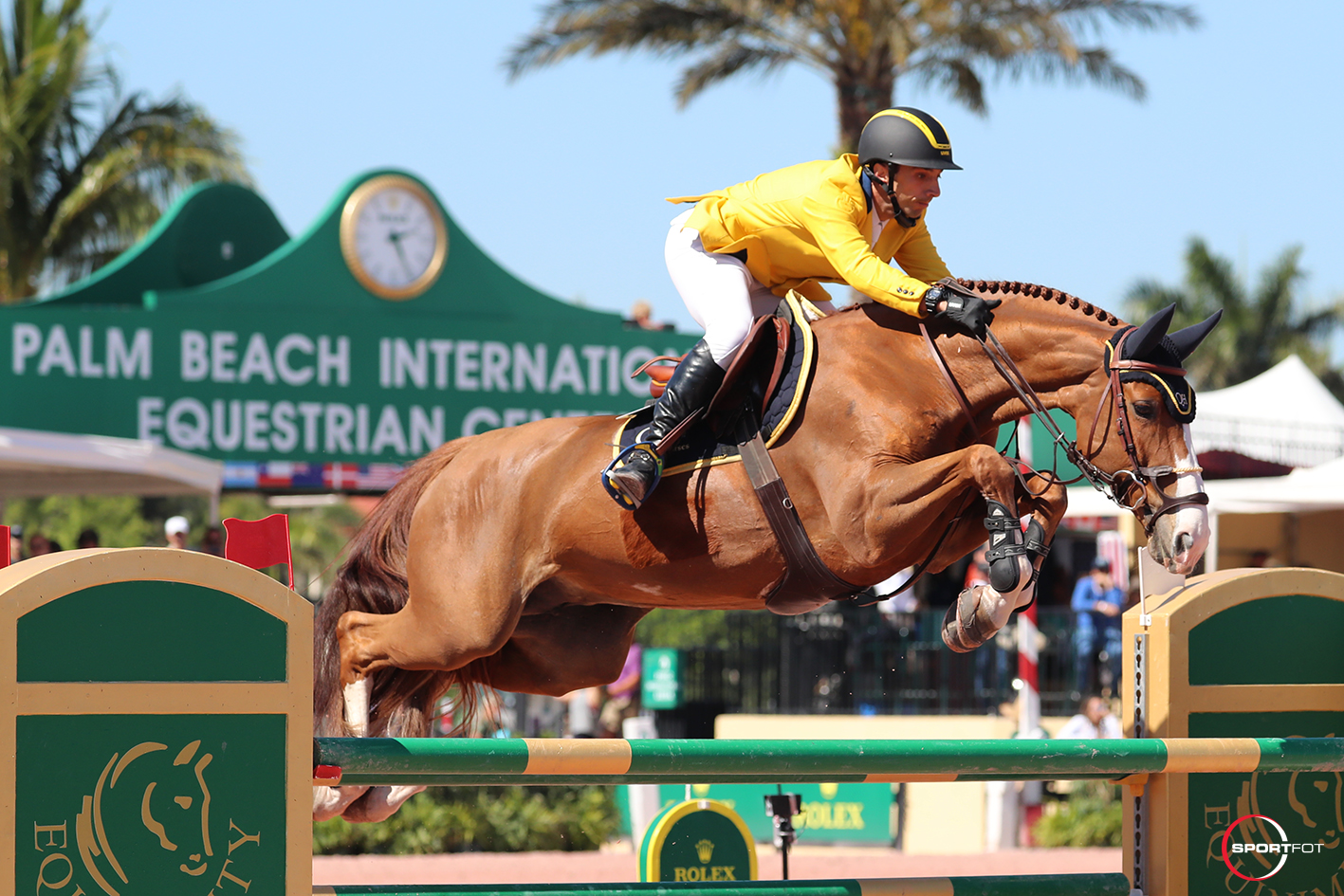 Mansur and the 12-year-old KWPN mare owned by Mansur and Euro Stables tripped the jump-off timers in 35.11 seconds to take the victory over fellow Brazilian Pedro Muylaert who finished in 36.05 seconds riding C'est Dorijke, owned by Ricardo Facchini.
Third place with a time of 36.33 seconds went to the USA's Hunter Holloway riding Eastern Jam for owner Hays Investment Corp.
While it did not work out for Mansur to compete in the five-star competition this week, it ended up being a good way for him to work on things with Babylotte.
"It was good in the end, because for a long time I was thinking of trying to find another bit," he said. "The last few jump-offs we've done, I've always had one mistake here or there, so I thought I should try to change the bit. And that was the answer. This was perfect. She won, and I found a new bit!"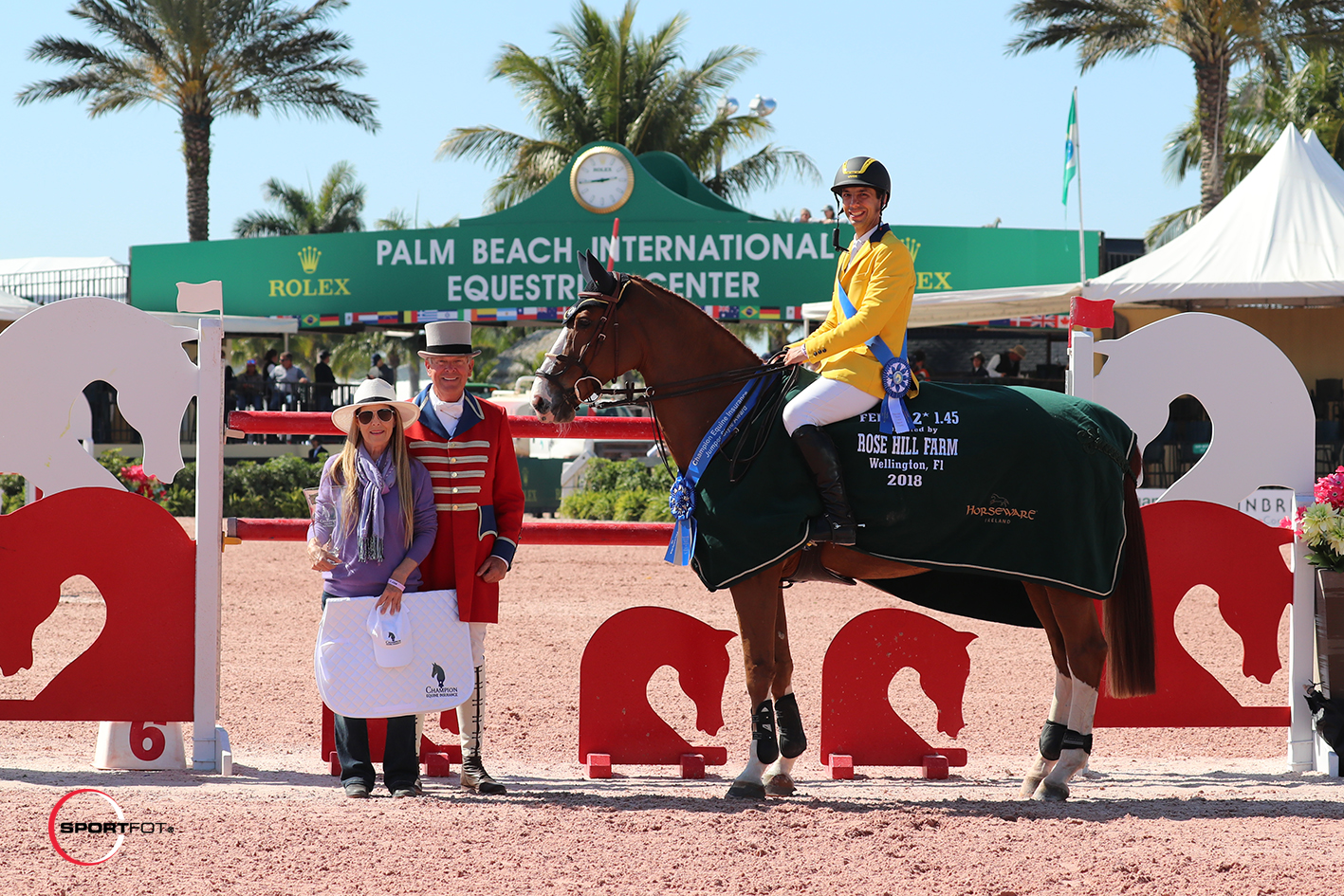 While Mansur initially purchased Babylotte three years ago as a 1.40m speed horse, the mare has continued to step up the ranks, proving successfully in CSI5* competition, and he has his sights set on big goals for 2018.
"This year, the plan is hopefully the [World Equestrian Games] and CHIO Aachen," said Mansur.
Final results: $35,000 Rose Hill Farm 1.45m Classic CSI2*
1 BABYLOTTE: 2006 KWPN mare by Dollar du Murier x Concorde
YURI MANSUR (BRA), Yuri Mansur/Euro Stables: 0/0/35.11
2 C'EST DORIJKE: 2007 Dutch Warmblood mare
PEDRO MUYLAERT (BRA), Ricardo Facchini: 0/0/36.05
3 EASTERN JAM: 2009 KWPN gelding by Lexicon x Monaco
HUNTER HOLLOWAY (USA), Hays Investment Corp.: 0/0/36.33
4 QUINTENDER LS: 2009 La Silla gelding by Quidam de Revel x Contender
CARLOS MYRRHA (BRA), El Milagro: 0/0/37.28
5 COLUMBCILLE DE REVE: 2008 Irish Sport Horse mare by Hermes de Reve x Errigal Flight
NICHOLAS DELLO JOIO (USA), Crooks Show Jumping LLC: 0/0/38.27
6 CASSINJA S: 2006 Dutch Sporthorse mare by Carinjo x Cassini I
CHARLES JACOBS (USA), CMJ Sporthorse, LLC: 0/0/40.26
7 SALITOS 8: 2008 Oldenburg gelding by Stalypso x Böckmann's Cordale Z
REBECCA CONWAY (USA), HBC Sport Horses: 0/4/34.51
8 HITCHCOCK VD BROEKKANT: 2007 BWP gelding by Canturo x Heartbreaker
ALISE OKEN (USA), Hi Hopes Farm LLC: 0/4/38.04
9 GRAND CRU VD JIJF EIKEN: 2006 Belgian Warmblood stallion by Contact van de Heffinck x Heartbreaker
VANESSA MANNIX (CAN), Vanessa Mannix: 0/4/40.03
10 CHEROKEE: 2007 KWPN gelding by Ccardento x Creool
JENNIFER MATTELL (CAN), Joe Mattell: 0/8/36.87
11 ITTY BITTY: 2005 Canadian Sport Horse mare by Mr. ITT x Prospector's Hlo
KELLY SOLEAU-MILLAR (USA), Kelly Soleau: 0/8/37.72
12 FIRE AND ICE J: 2010 Westphalian stallion by For Contest x Coronino
LEONIE BOCKMANN (GER), Turniergemeinschaft Brinkmann & Böckmann Pferde GmbH: 1/74.13
Riley McKesson Captures $5,000 USHJA Pony Hunter Derby Victory
Ten-year-old Riley McKesson of Wellington, FL, triumphed in the $5,000 USHJA Pony Hunter Derby riding Rollingwoods Stickler, owned by Annakate Long.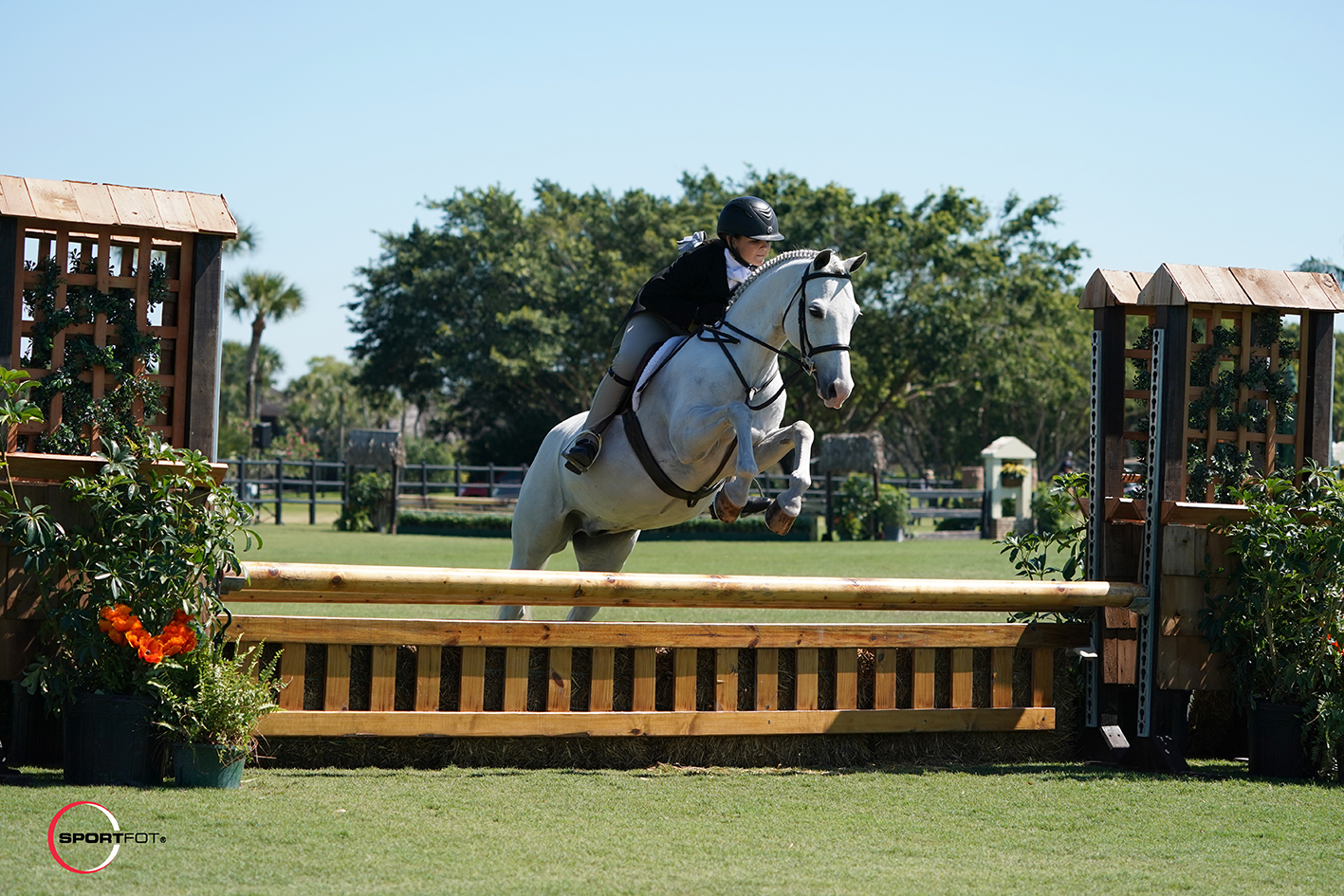 McKesson and Rollingwoods Stickler scored an 87 in the first round – the highest score of the class – and added an 82 in the second round to come away with a total score of 169 and the win.
Kat Fuqua and her own Finesse RF scored 84 and 83 for a 167 total for second place. Third place went to Olivia Markman and her own Glynhafan Red Kestral, who had a 156.50 total.
McKesson and Rollingwoods Stickler have been paired together for a year and moved up the Medium Pony Hunter division from the Children's Pony Hunters. McKesson, who has been riding since she was two years old, goes to American Heritage School in Delray Beach, FL.
"He's smart," said McKesson of the 12-year-old Welsh Pony gelding by Sleight of Hand and out of Rollingwoods Stuck on You. "He likes to have fun with me. He's really comfortable, and he really loves me. He's really sweet."
It was a satisfying win for McKesson in her third attempt in the derby.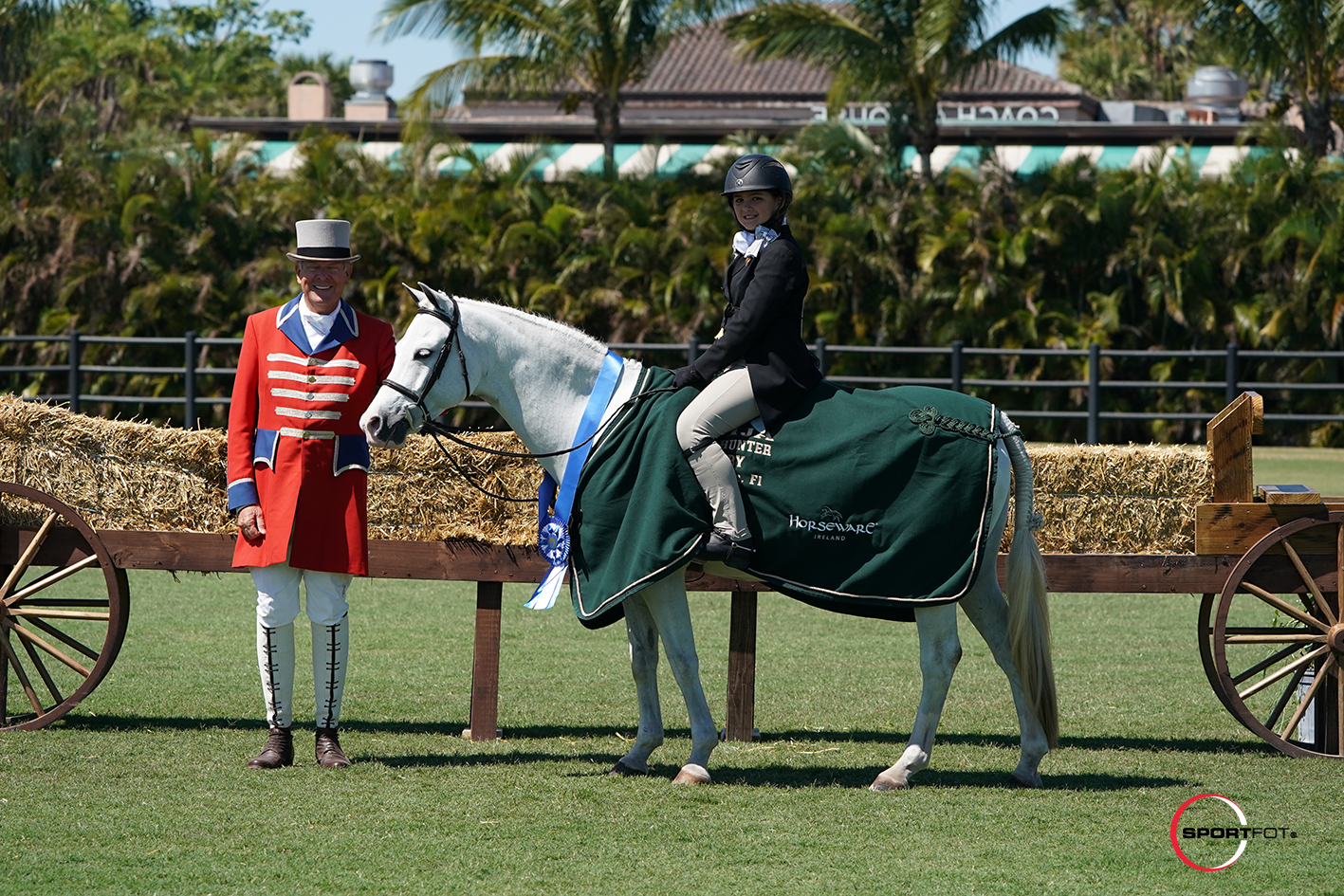 "I thought my rounds went really good in this class," she said. "I love jumping on the grass, but I was kind of nervous in the beginning. But after I did the first round, I felt really confident to do the second round. It feels really good because I don't always win. I don't win first [place] a lot. And I've never won first [place] on the derby field, so it was really excellent."
Final Results: $5,000 USHJA Pony Hunter Derby
1 ROLLINGWOODS STICKLER, RILEY MCKESSON, ANNAKATE LONG
87.00     82.00     169.00
2 FINESSE RF, KAT FUQUA, KAT FUQUA
84.00     83.00     167.00
3 GLYNHAFAN RED KESTRAL, OLIVIA MARKMAN, OLIVIA MARKMAN
74.00     82.50     156.50
4 HERSHEY'S KISS, SYDNEY RAIDY, JESSICA BADER
72.50     81.00     153.50
5 NORTHWIND CRISPIN               , ELLA DAVISON, PRUE RICHARDSON
78.00     71.00     149.00
6 ELEGANCE, CECELIA PERRY, GC PONIES
73.50     75.00     148.50
7 MIGHTY QUINN, EMILY JURNOVOY, PASEO FARMS, LLC
73.00     73.00     146.00
8 CANTERBROOK PRINCE CHARMING, OLIVIA SWEETNAM, ELLA BIKOFF
75.50     70.00     145.50
9 RAPUNZEL, STERLING MALNIK, IRISH PALMS, LLC
73.25     60.00     133.25
10 VALOR, BAYLEE MCKEEVER, LEE MCKEEVER
76.00     55.00     131.00
11 DRESSED TO GO, VIVIAN GOLDEN, VIVIAN GOLDEN
77.00     53.00     130.00
12 GOLDHILL'S ARRESTING CHARM, KAT FUQUA, KAT FUQUA
81.00     40.00     121.00
WEF 9 continues on Saturday, March 10, with the $10,000 United States Hunter Jumper Association (USHJA) National Hunter Derby on the grass derby field at Equestrian Village (13500 South Shore Blvd.) and the featured $384,000 Douglas Elliman Grand Prix CSI 5* beginning at 7 p.m. in the WEF International Arena.
Photo Credit: Photos © Sportfot, Official Photographer of the Winter Equestrian Festival. These photos may be used only in relation to this press release and must include photo credit.