For Immediate Release
Sabrina Brashares and Emily Randolph for Jennifer Wood Media, Inc.
Wellington, FL – February 20, 2020 – Swiss rider Martin Fuchs showed why he is ranked number two in the world with a win aboard Stalando 2 in Thursday's $137,000 Equinimity WEF Challenge Cup Round 7 CSI5* at the Winter Equestrian Festival (WEF) in Wellington, FL.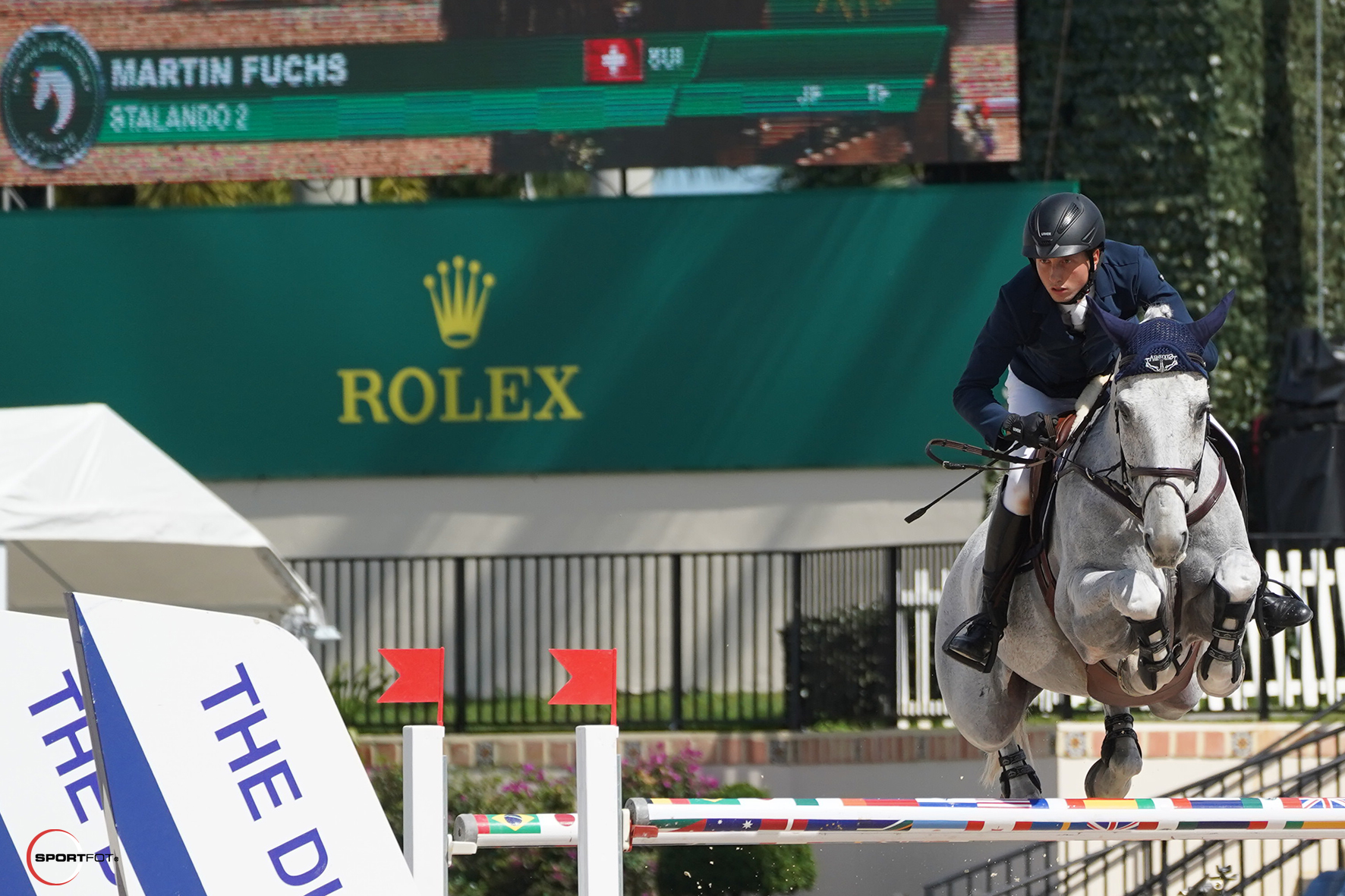 WEF continues at the Palm Beach International Equestrian Center (PBIEC) through March 29, 2020, 12 consecutive weeks of world-class competition and $13 million dollars on offer. The seventh week of competition, sponsored by Lugano Diamonds, runs February 19-23 and is recognized as a CSI5* and CSI2* by the Fédération Equestre Internationale (FEI). The featured event of the week is the $401,000 Lugano Diamonds Grand Prix CSI5* during "Saturday Night Lights".
Fuchs and Stalando 2 were one of 49 entries to contest Thursday's featured class, and the duo was one of 13 combinations to jump the first-round track without fault to qualify for Spain's Santiago Varela-designed short course.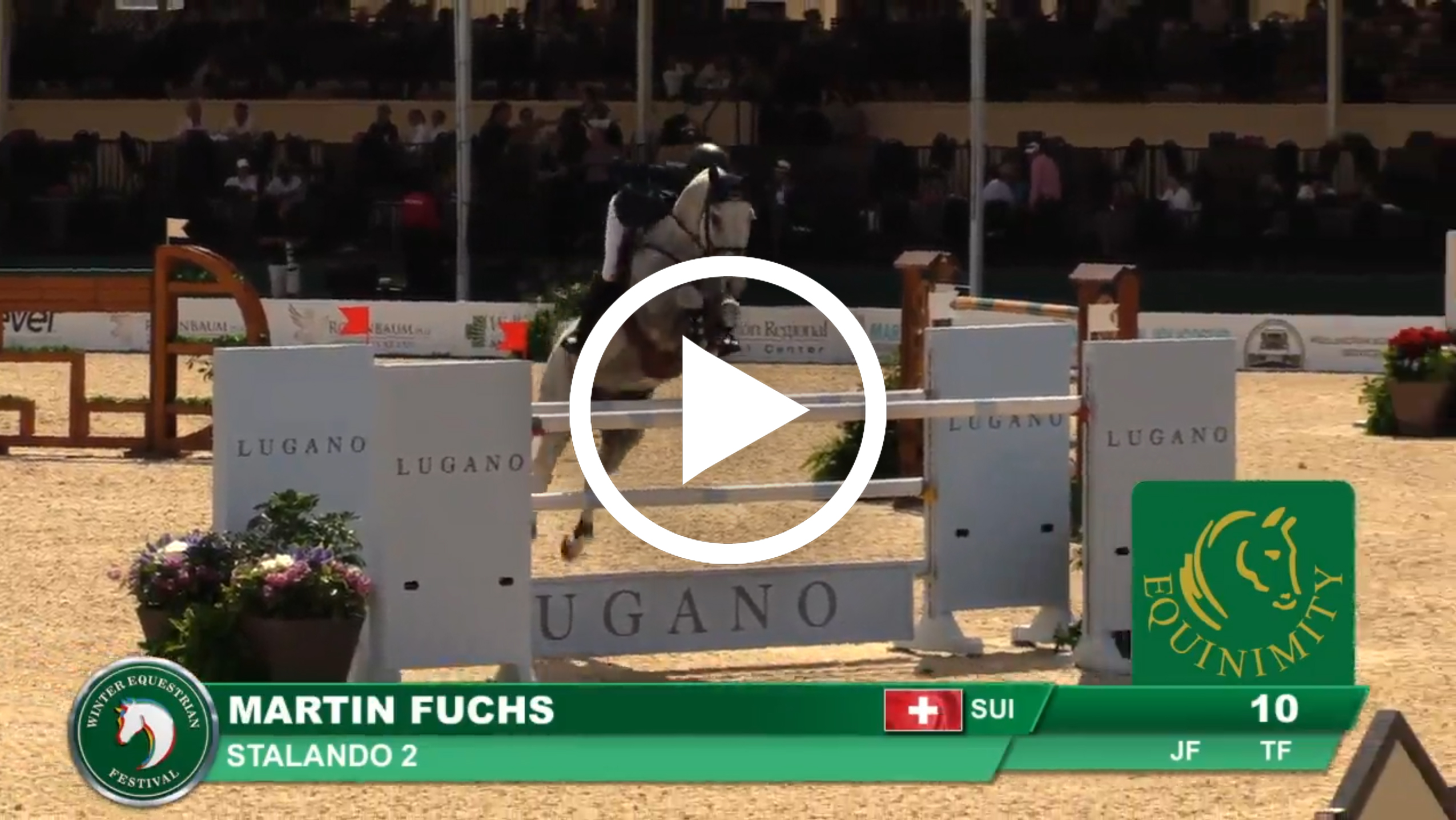 When Fuchs entered the ring as the penultimate rider, the time to beat had been set at 40.75 seconds by Great Britain's Amanda Derbyshire and Luibanta BH, owned by Gochman Sport Horses LLC.
With his spot in the order on his side and with strides left out throughout the course aboard Stalando 2, Fuchs shot straight to the top of the leaderboard with a double-clear time of 40.69 seconds.
"I watched all the riders before me," said Fuchs. "I planned to do a stride less from one to two, which I did, and then also through the double, I saw Daniel Bluman leave out a stride. I tried to do the same as he did. Everything worked out very well. To the last fence, I pulled once and it scared me a bit that I wouldn't have the time! I'm very happy with this."
Fuchs's time with Stalando 2 would relegate Derbyshire to second, while third place with a time of 41.28 seconds went to the final rider to return, Canada's Mario Deslauriers riding Amsterdam 27, owned by Deslauriers and Wishing Well Farm, LLC.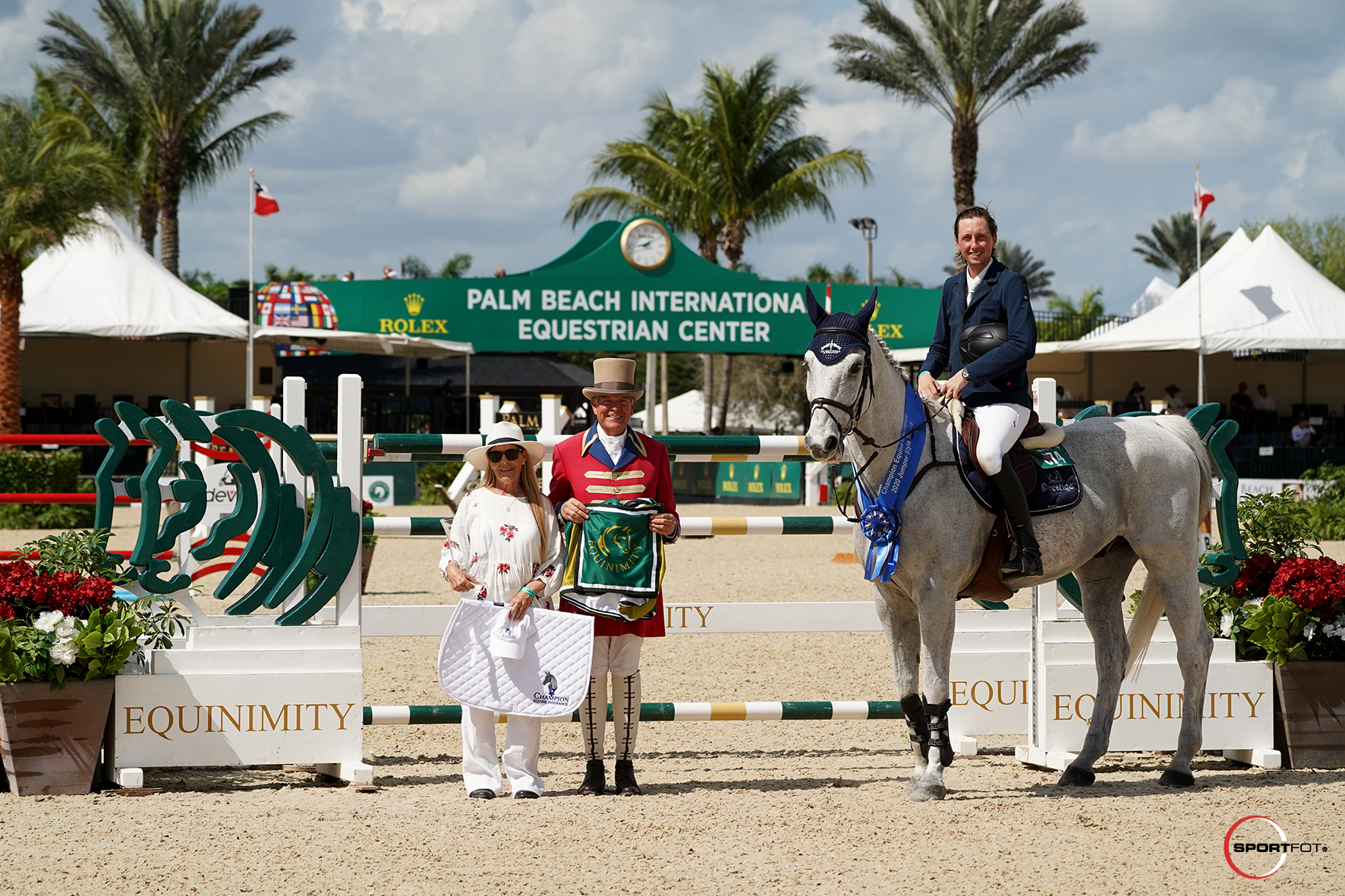 The class marked only the fourth or fifth show for Fuchs and Stalando 2, who Fuchs is riding at WEF for owner Gospodarstwo Rolne Andrzej Oplatekd.
"He's a great horse, a real trier," said Fuchs of the 12-year-old Oldenburg gelding (Stakkatol x Lando) "He isn't the prettiest, but he's such a good guy. He gives his best. He's very careful."
In addition to his win, Fuchs was awarded the Champion Equine Insurance Jumper Style Award for week 7 from Champion Equine Insurance's Laura Fetterman. He aims to show Stalando 2 at additional four- or five-star competition throughout the WEF season, but for Saturday night's featured $401,000 Lugano Diamonds Grand Prix CSI5*, Fuchs will ride his proven grand prix partner, Silver Shine.
Also winning in the International Arena at WEF on Thursday were Spencer Smith and Sangris Boy in the $8,000 Dutta Corp/G Klatte 1.45m CSI2* and Natalie Dean and Don's Diamant in the $2,500 High Amateur-Owner Jumpers.
Final Results: $137,000 Equinimity WEF Challenge Cup Round 7 CSI5*
1 STALANDO 2: 2008 Oldenburg gelding by Stakkatol x Lando
MARTIN FUCHS (SUI), Gospodarstwo Rolne Andrzej Oplatek: 0/0/40.69
2 LUIBANTA BH: 2008 Irish Sport Horse mare by Luidam x Abantos
AMANDA DERBYSHIRE (GBR), Gochman Sport Horses: 0/0/40.75
3 AMSTERDAM 27: 2010 Holsteiner gelding by Catoki x Acord II
MARIO DESLAURIERS (CAN), Wishing Well Farm LLC: 0/0/41.28
4 CARLCHEN W: 2008 Mecklenberg gelding by Chacco-Blue x Continue
ALEX GRANATO (USA), Page Tredennick: 0/0/41.75
5 ESSENAR CRIXUS: 2010 ISH gelding by Luidam x ARD VDL Douglas
JORDAN COYLE (IRL), Elan Farm: 0/0/43.38
6 LEGACY: 2010 Zangersheide mare by Chippendale Z x Bon Ami
DANIEL COYLE (IRL), Daniel Coyle and Ariel Grange: 0/0/43.76
7 CARNAVAL: 2005 Oldenburg gelding by Chacco Blue x Landadel
HECTOR FLORENTINO (DOM), Spruce Meadows Ltd. And Hector Florentino: 0/2/49.42
8 KASPER VAN HET HELLEHOF: 2010 BWP stallion by Emerald Van't Ruytershof x Nabab de reve
CAMERON HANLEY (IRL), Poden Farms: 0/2/49.65
9 CREEDANCE: 2007 Dutch Warmblood gelding by Lord Z x Notaris
KENT FARRINGTON (USA), Kent Farrington & Haity McNerney: 0/4/40.07
10 LADRIANO Z: 2008 Zangersheide gelding by Lawito x Baloubet du Rouet
DANIEL BLUMAN (ISR), Over the Top Stables LLC: 0/4/41.80
11 VENICE BEACH: 2009 Hanoverian mare by Voltaire x Escudo I
RODRIGO PESSOA (BRA), Artemis Equestrian Farm LLC: 0/4/42.14
12 LAZZARO DELLE SCHIAVE: 2009 Italian Sporthorse gelding by Acodetto 2 x Gluecksgriff
CIAN O'CONNOR (IRL), Ronnoco Jump Ltd.: 0/4/46.89
John French Pilots Babylon to Top Honors in Pre-Green 3- and 4-Year-Old Hunters
The Rost Ring began on Thursday morning of week seven with the Pre-Green 3- and 4-Year-Old Hunter division. John French rode Babylon to the championship after winning three blue ribbons in the division.
Babylon arrived to the United States from Europe in December, and French began riding and working with the horse in January. The four-year-old Oldenburg gelding (Crumbie x Die Cera) is owned by Kent Farrington LLC. French, of San Juan Bautista, CA, has shown Babylon three times this year, and the duo has been champion every time.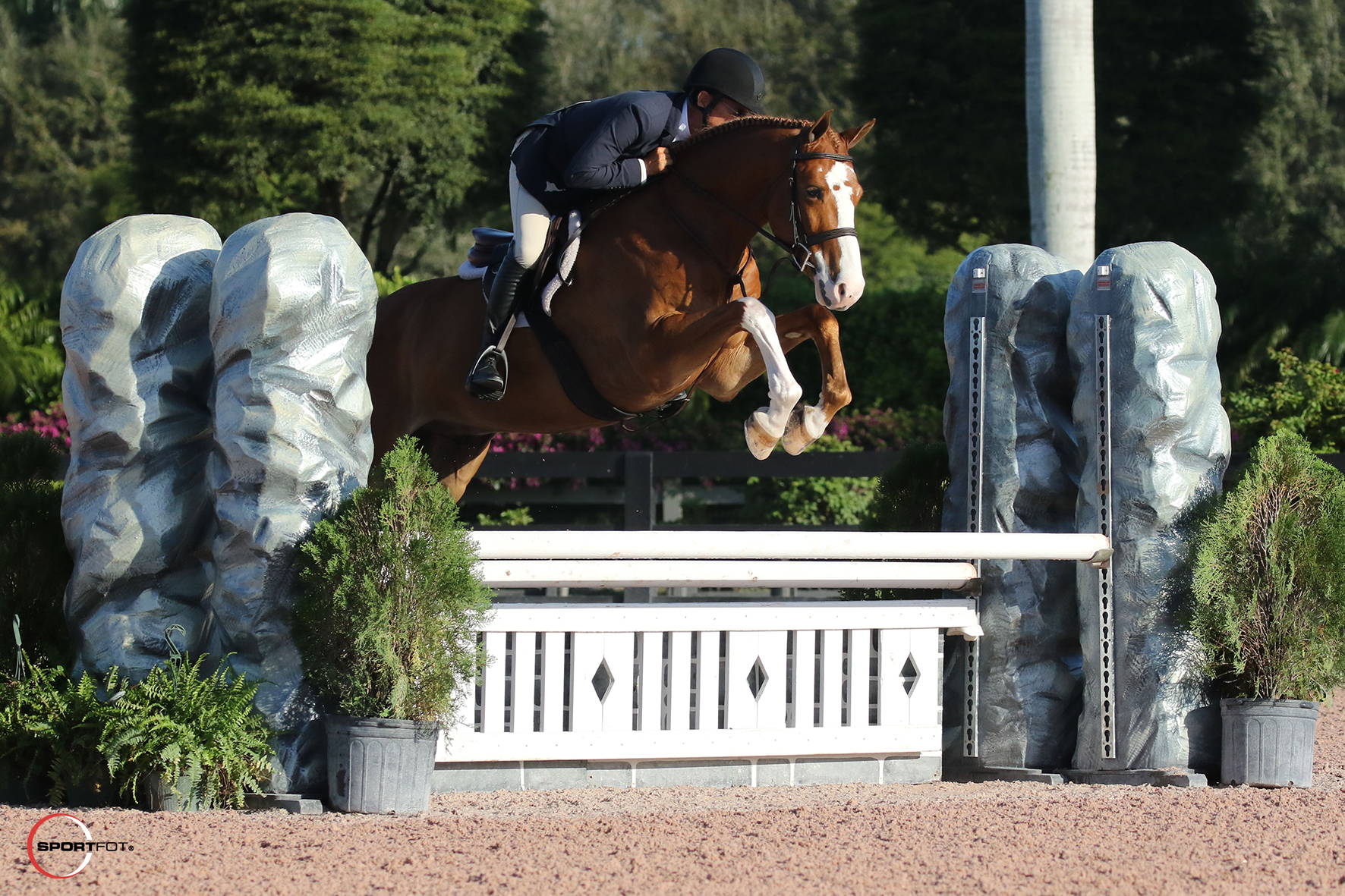 "Before I started working for Kent, he called me and sent me this video and said, 'I'm thinking of buying this horse, what do you think?'" said French. "He was just jumping around a jumper course, but you could tell how cute and flashy he was. He's a good mover and a good jumper; he's got everything that it takes."
Although Babylon had been showing in the jumpers in Europe, he quickly caught on to being a hunter. The pair won both over fences classes on the first day of the division as well as the under saddle on the second day.
"He has a great expression and is so careful up front. With all of his flash the judges are just drawn to him," French commented. "I can just tell that one day he is going to be a famous junior or amateur-owner hunter."
French plans on continuing to show Babylon in the Pre-Green Hunter 3- and 4-Year-Old Hunter division more eventually moving up to the 3' Pre-Green Hunters. If French has Babylon through the summer, he plans to take the gelding to the Pre-Green Incentive Finals at the Kentucky Horse Park in August.
Reserve champion of the division went to Michael Delfiandra and Hopetown, owned by Runaway Holdings, LLC. Delfiandra, of Wellington, FL, and Hopetown received a first, second, fifth, and sixth place ribbon.
Hunter competition will continue on Friday with the $10,000 United States Hunter Jumper Association (USHJA) National Hunter Derby in Rings 11 and 12. For full results, visit www.PBIEC.com.
Photo credit: Photos © Sportfot, official photographer of the Winter Equestrian Festival. These photos may be used only in relation to this press release and must include photo credit.