For Immediate Release
Jennifer Wood and Summer Grace for Jennifer Wood Media, Inc.
Wellington, FL – February 9, 2019 – The first five-star competition of the 2019 Winter Equestrian Festival (WEF) brought together top show jumpers to compete in the $391,000 Fidelity Investments® Grand Prix CSI 5* on Saturday, February 9, at the Palm Beach International Equestrian Center in Wellington, FL. Martin Fuchs (SUI) and Clooney 51, owned by Luigi Baleri, captured the first big win of the circuit.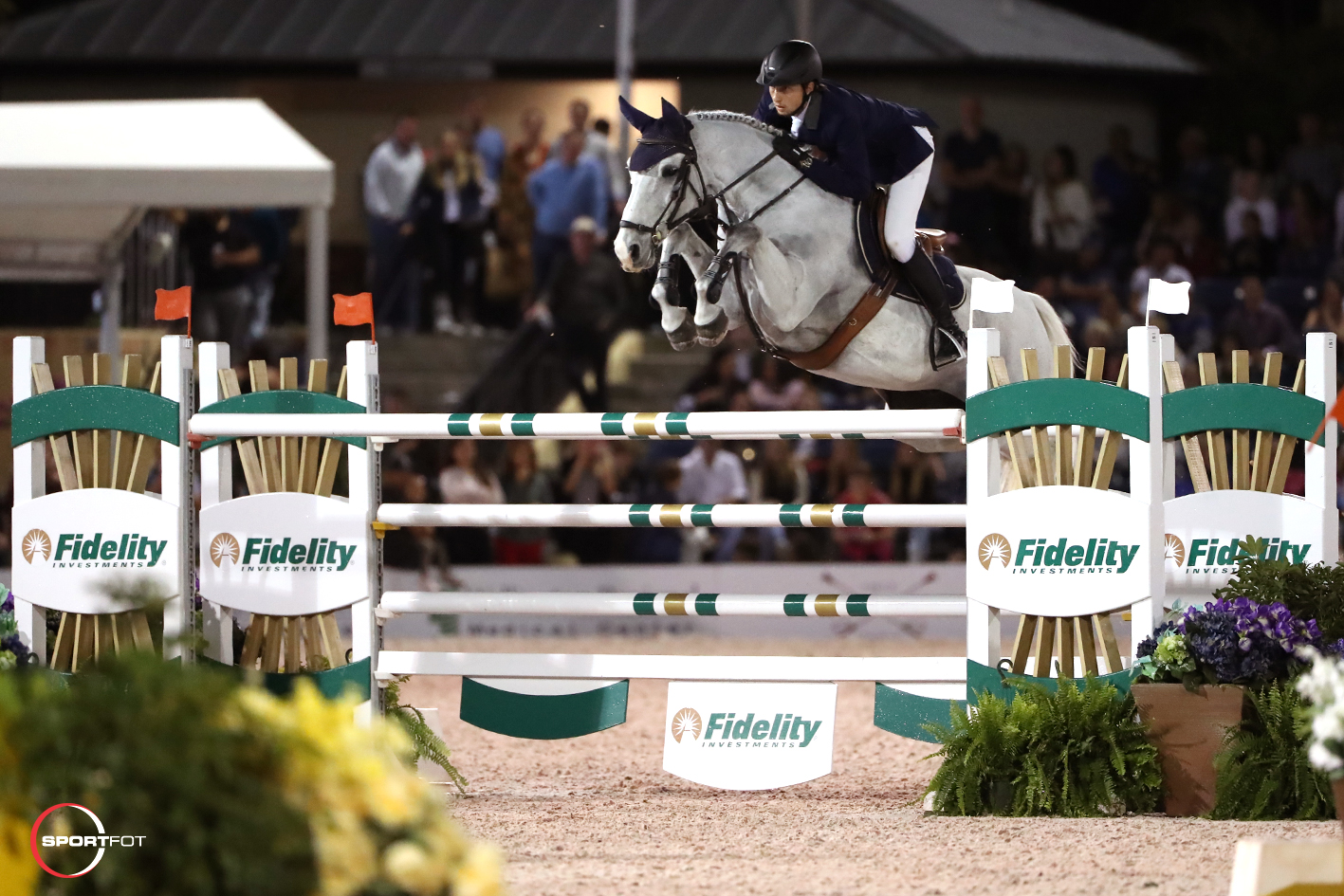 Week 5 of WEF will conclude on Sunday, February 10, with highlight classes, the $72,000 CaptiveOne Advisors 1.50m Classic CSI 5* and the $50,000 Rushy Marsh Farm Grand Prix CSI 2*.
Out of 40 entries in the grand prix, 18 were clear over the course designed by Kelvin Bywater of Great Britain. It was a footrace in the jump-off, with nine finding the path to double clear, but it would come down to who took the biggest chances to see who would stand atop the first five-star podium of the 2019 circuit.
The trailblazer in the jump-off was Wilton Porter (USA) on Sleepy P Ranch LLC's Caletto Cabana. They set the clear round time at 34.97 seconds. Three horses later, Spencer Smith (USA) and Ashland Farms' Theodore Manciais brought the leading time down to 34.89 seconds. Eight trips followed of either faults on course or conservative clear rounds, until Fuchs and Clooney 51 trotted into the ring.
Taking a gamble by leaving out a stride into the double combination and taking advantage of his horse's giant stride, Fuchs and Clooney 51 made short work of the course, coming home in a time of 33.13 seconds.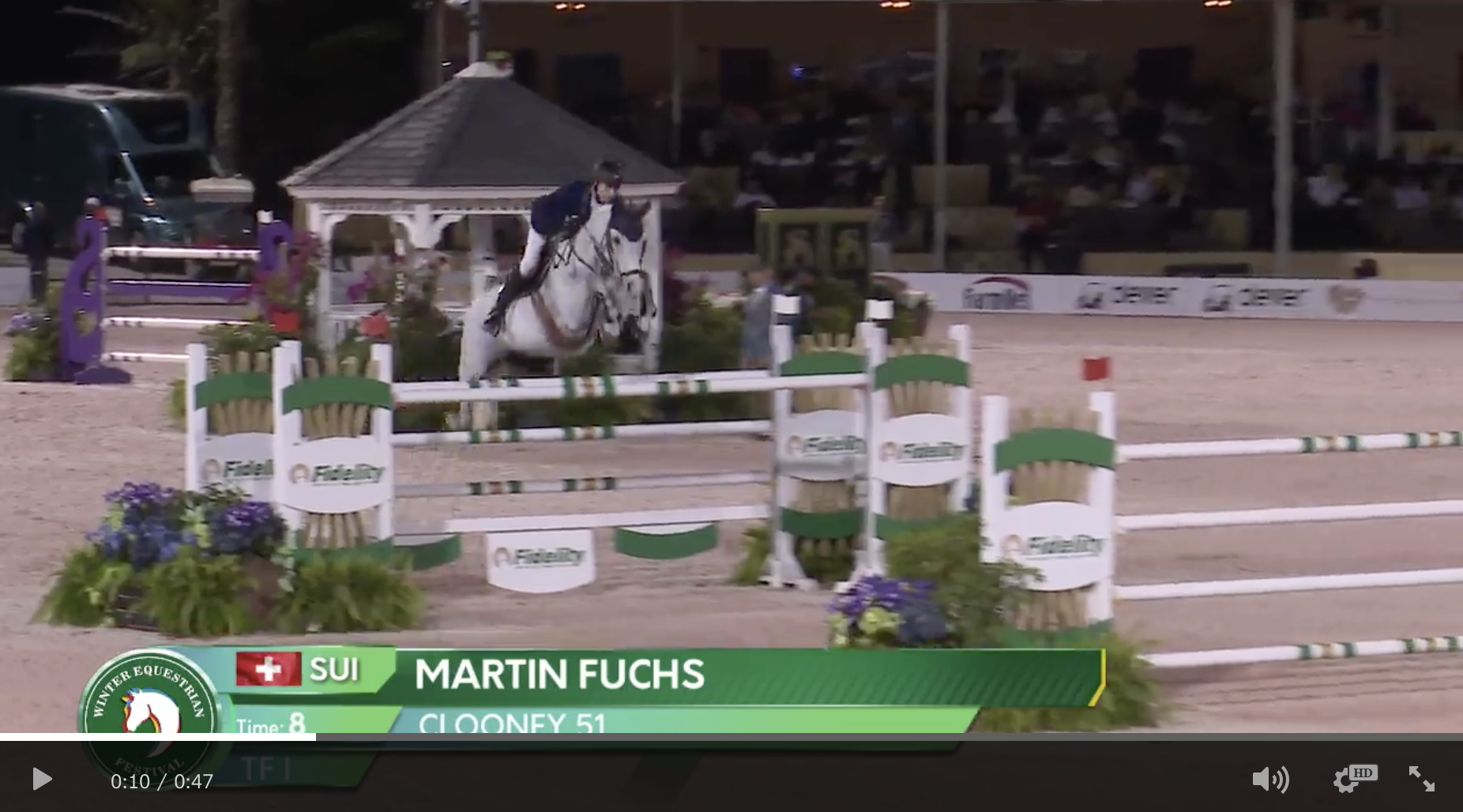 Click here to watch their winning jump-off ride!
"I knew my horse is in great shape. He has been great in the outdoor season over the past few months," said Fuchs of the 13-year-old Westphalian gelding by Cornet Obolensky x Ferragamo. "He's very experienced, so it was good for him to bring him straight out here under the lights. He still was a little surprised in the first round. He jumped very, very careful. I had to use more leg than usual."
Following Fuchs, Daniel Coyle and Ariel Grange's Quintin were quick and clear in 34.90 seconds for sixth place.
Richie Moloney (IRL) and Rocksy Music, owned by Equinimity LLC, put on the afterburners for the final three jumps on course, but it would not be quite enough as they finished in 34.42 seconds for third place. Riding out of the second to last position, Conor Swail (IRL) and Vanessa Mannix's Flower were also quick in 34.69 seconds, which slotted them just off the podium in fourth place.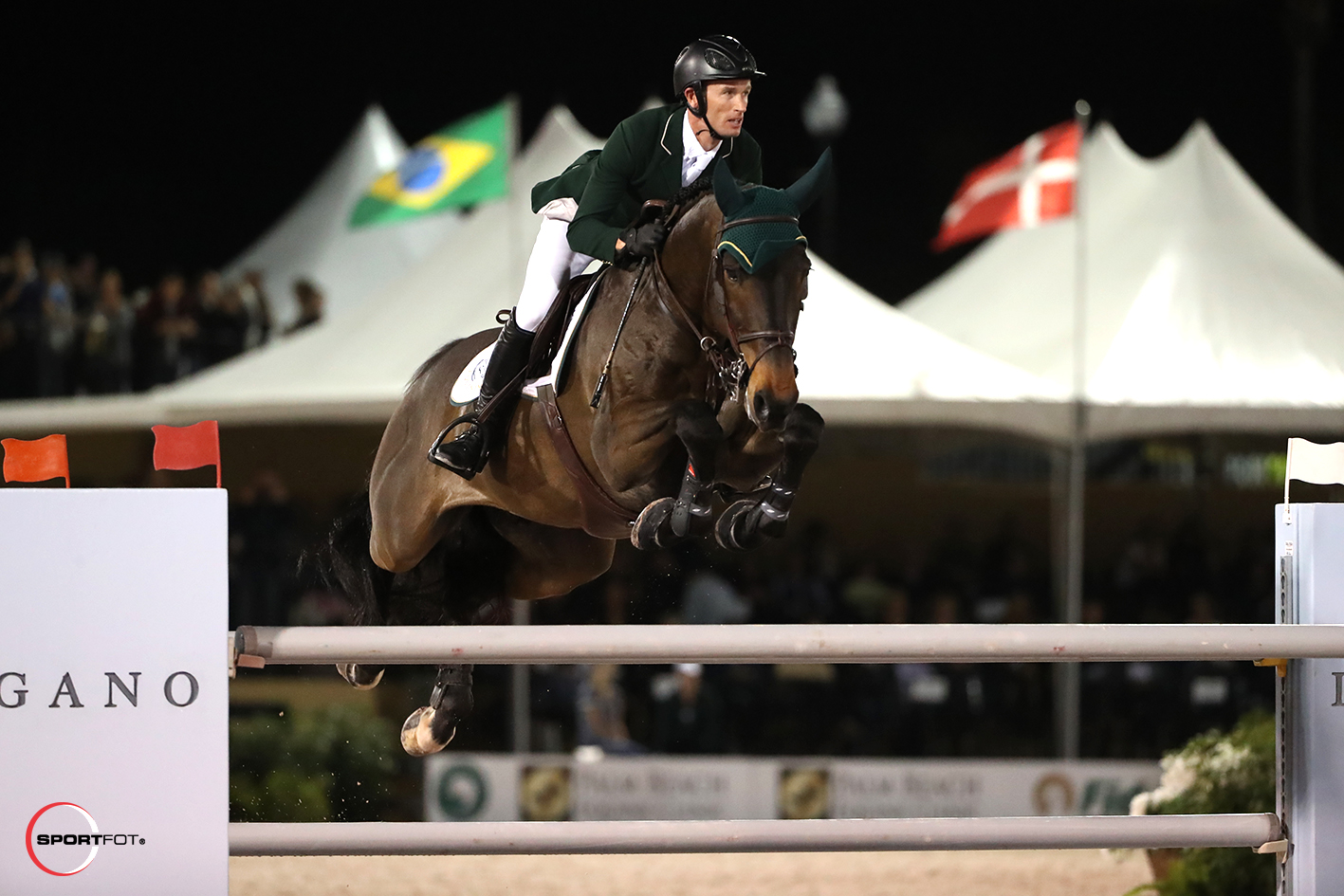 It was another solid result for Rocksy Music, a horse that Moloney has brought along slowly for the last year and a half. "He was a little bit difficult when he came first. He's 11, but he's probably a year behind," said Moloney of the 11-year-old Irish Sport Horse gelding by ARS Vivendi x Diamond Serpent. "We took our time, and he when he was ready to go, he came along very quickly."
Moloney gave Rocksy Music, an Irish horse bred by Stephen Keane and found by Moloney's brother, three months off before the start of the WEF circuit and aimed for this grand prix. "I'm very happy with my jump-off," he said. "He's going to be my best horse."
Stalking the leading time as the last to go in the jump-off, Kent Farrington (USA) and Gazelle (a horse he owns with Robin Parsky) went all out, banking on Gazelle's inherent speed for the win. It was not quite enough, as they finished in 33.57 seconds for second place.
Fuchs noted that the jump-off course design suited Clooney. "I knew I could make a nice turn from one to two, take all the risks for the double, and then just use his big stride which he has and trust in his jump and his carefulness," he said. "I'm very happy with this win. Honestly, I was pretty sure Kent was going to be faster because we all know he is one of the fastest riders in this circuit. Obviously, I'm happy that for once he didn't beat me and also gave the little Swiss guy a chance to win here in America."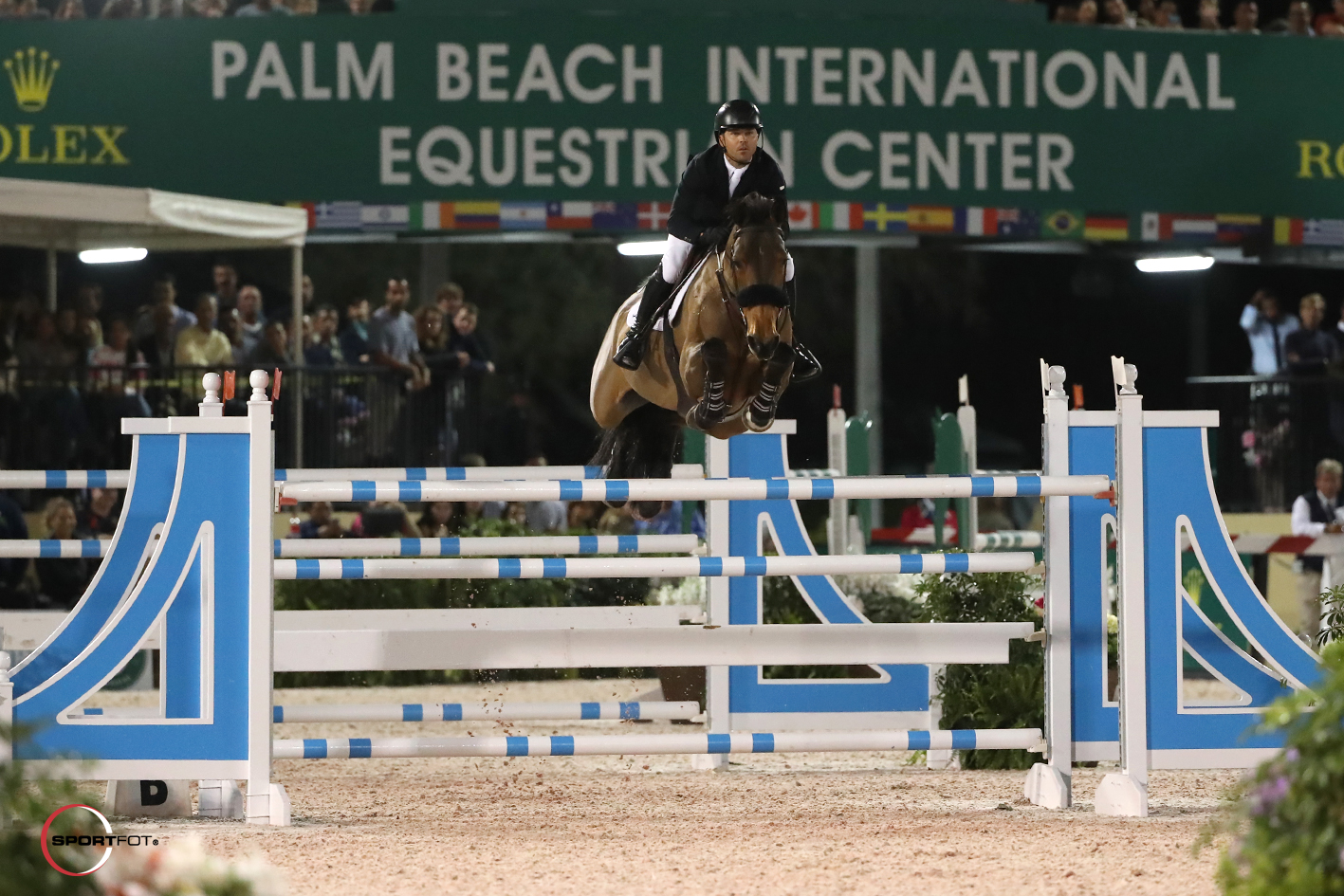 Farrington gave credit to Fuchs, who is the current individual silver medalist from the FEI World Equestrian Games™ Tryon 2018.
"He's a very competitive rider," said Farrington of Fuchs. "He wins all over the world. He had a great result at the world championships and this is one of the best horses that he is competing. I also have my top horse competing, so I think regardless if there is 20 clear or two, we are going to be running as fast as we can go and everybody out there really trying to win.
"His horse is exceptional in that it can leave out strides in lines that other horses can't do," Farrington continued. "He left a stride out to the double, and I think he was the only person to do that successfully. I thought that was too much risk for my horse. She is extremely careful, and I thought that was too much risk that she might stop if I tried to go that far away so I tried to catch him with foot speed around the rest of the course, but we fell a little short today."
For Fuchs, the chance to compete outdoors, bring along his younger, inexperienced horses, and spend time with his girlfriend Paris Sellon for three months was reason enough to come to Wellington. He brought six horses to compete at WEF, including his star horse Clooney 51, who, as Fuchs noted, has been clear over 18 of their last 20 1.60m classes.
"So far, we are having a very good time," he said with a smile.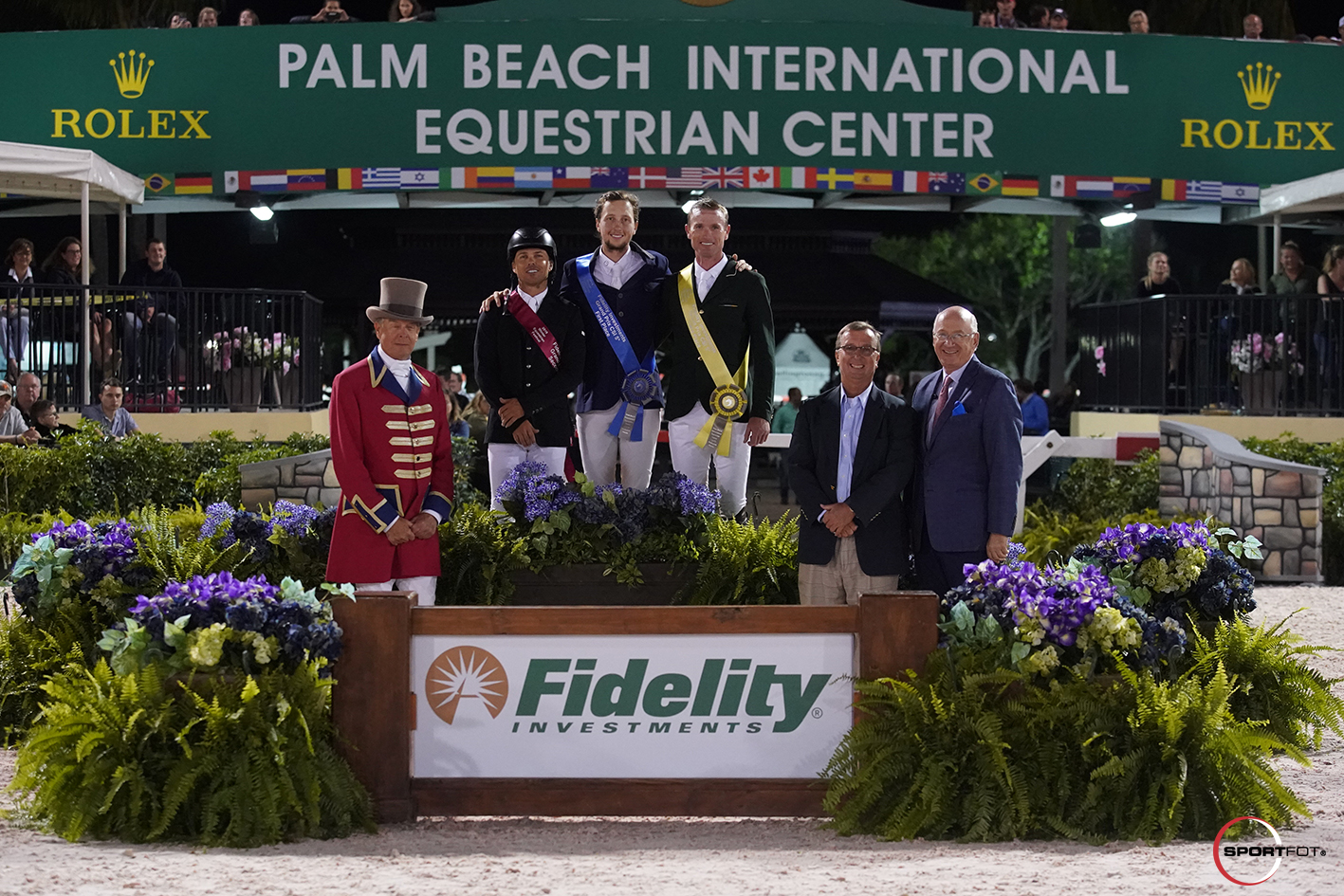 The owner of the winning horse, Clooney 51, received a one-night stay at the Brazilian Court Hotel in Palm Beach and a bottle of Banfi Principessa Gavi courtesy of Banfi Vintners.
The Martha Jolicoeur Leading Lady Jumper Rider Award, given in memory of Dale Lawler, was presented to Erynn Ballard (CAN).
Final Results: $391,000 Fidelity Investments® Grand Prix CSI 5*
1 CLOONEY 51: 2006 Westphalian gelding by Cornet Obolensky x Ferragamo
MARTIN FUCHS (SUI), Luigi Baleri: 0/0/33.13
2 GAZELLE: 2006 Belgian Warmblood mare by Kashmir van Schuttershof x Indoctro
KENT FARRINGTON (USA), Kent Farrington & Robin Parsky: 0/0/33.57
3 ROCKSY MUSIC: 2008 Irish Sport Horse gelding by ARS Vivendi x Diamond Serpent
RICHIE MOLONEY (IRL), Equinimity LLC: 0/0/34.42
4 FLOWER: 2005 Belgian Warmblood mare by Bon Ami x Randel Z
CONOR SWAIL (IRL), Vanessa Mannix: 0/0/34.69
5 THEODORE MANCIAIS: 2007 Selle Français gelding by Kashmir van Schuttershof
SPENCER SMITH (USA), Ashland Farms: 0/0/34.89
6 QUINTIN: 2010 KWPN gelding by Quaprice Z x Emilion
DANIEL COYLE (IRL), Ariel Grange: 0/0/34.90
7 CALETTO CABANA: 2007 Holsteiner stallion by Cassini I x Capecanaveral
WILTON PORTER (USA), Sleepy P Ranch LLC: 0/0/34.97
8 RMF CADEAU DE MUZE: 2008 BWP stallion by Nabab de Reve x Almeo
WILLIAM WHITAKER (GBR), Rushy Marsh Farm LLC: 0/0/38.85
9 COOL HAND LUKE 4: 2007 Oldenburg gelding by Contendro I x Argentinus
MARKUS BEERBAUM (GER), Artemis Equestrian Farm LLC: 0/0/40.71
10 COACH: 2008 Holsteiner gelding by Con Air x Corofino I
BEEZIE MADDEN (USA), Abigail Wexner: 0/4/33.52
11 H5 CHAGANUS: 2008 Oldenburg gelding by Chacco-Blue x Carthago
EDUARDO MENEZES (BRA), H5 Stables: 0/4/34.01
12 CHALISCO: 2007 Oldenburg gelding by Chacco-Blue x Quidam de Revel
EMIL HALLUNDBAEK (DEN), Emil Hallundbaek: 0/4/34.28
Alannah Argyle and Norway Win Saturday's THIS National Children's Medal 15-17
Twenty-seven combinations headed to the South Ring at the Palm Beach International Equestrian Center on Saturday for the THIS National Children's Medal 15-17. The medal is one of many top equitation classes offered for junior riders throughout the 12-week circuit at the 2019 Winter Equestrian Festival. Alannah Argyle of Dover, MA, captured the win aboard the 13-year-old Warmblood gelding, Norway.
Argyle was one of four competitors of the original 24 entries to return to test with the highest round-one scores. She and Lauren Reid's Norway laid down a trip worthy of 85 points, which rocketed the pair into the early lead. The four returning riders were asked to perform the test in reverse order from the low-point rider to high-point, and when she was finally called up to task, Argyle and Norway perfectly answered each question the test asked.
"My plan for the test was really just to listen," she said. "It wasn't a complicated set of jumps, so I knew that the small details would be what the results would really rely on. I made sure I listened to them announce the test both times and paid attention for the small details because that was where some of the other riders lost points."
Norway and Argyle have been paired up since the end of last summer, but according to Argyle the hunt for her dream equitation horse was no easy feat.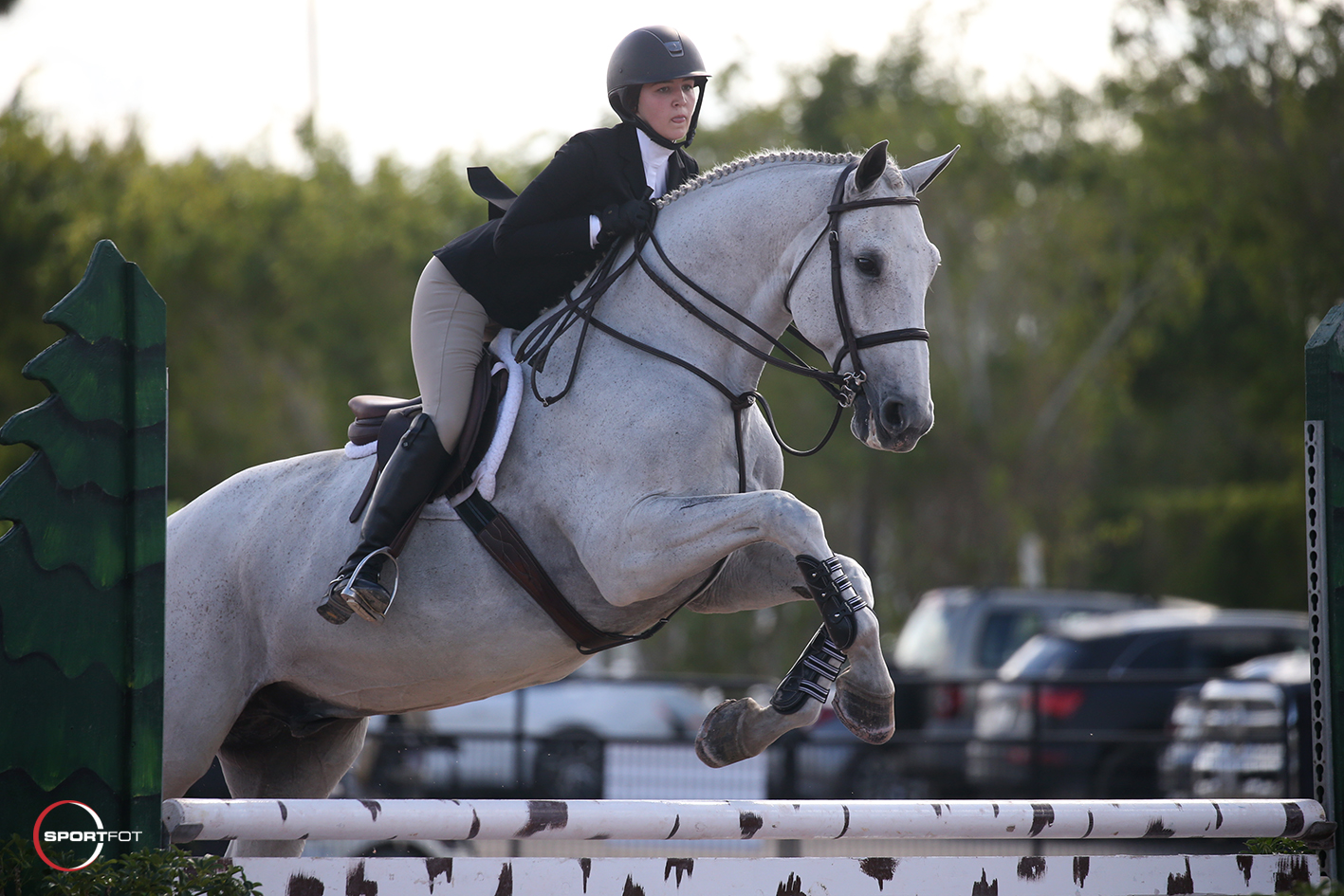 "I was looking for an equitation horse for the longest time and having no luck," she explained, "There was one day I think that we tried 15 horses in a day. I was really on a quest, but I knew when I found out about him that it was meant to be because I love the name Norway so much. I said to my trainer, 'That's the one' before we even tried him!"
Argyle is looking forward to competing Norway in several more weeks of equitation at this level before venturing into some of the 'big eq' classes at the 3'6" height for the first time.
In second place was Catherine Kramer with the seven-year-old Warmblood gelding (Quaprice x Subliem Van Sint-Maarten), Odyssey. Jamie Young and Archduke were third, while Isabella Longo and Upton rounded out the top four.
Sunday will be the final day of Week 5 competition at WEF and will include highlight classes such as the $72,000 CaptiveOne Advisors 1.50m Classic CSI 5* and the $50,000 Rushy Marsh Farm Grand Prix CSI 2*. The day will also offer national competition in hunters, jumpers, and equitation.