For Immediate Release
Jennifer Wood Media, Inc.
Wellington, FL – February 8, 2020 – Setting the score to beat in the $50,000 MARS Eventing Showcase, Marilyn Little (USA) and RF Scandalous showed their partnership is still strong on Saturday, February 8, at Equestrian Village at Palm Beach International Equestrian Center (PBIEC).
Competition will continue with the show jumping phase beginning at 10:30 a.m. on the grass Derby Field on Sunday morning, February 9, with the cross-country phase starting at 1:30 p.m. Live streaming will be available; CLICK HERE for the show jumping phase and CLICK HERE for the cross-country phase. VIP tickets are still available, buy your ticket HERE.
Forty combinations started the dressage phase competition, but it was Little and RF Scandalous, a 2005 Oldenburg mare (Carry Gold x Richardia x Lario) owned by Jacqueline B. Mars and Phoebe and Michael Manders, who took the lead with 19.40 penalties.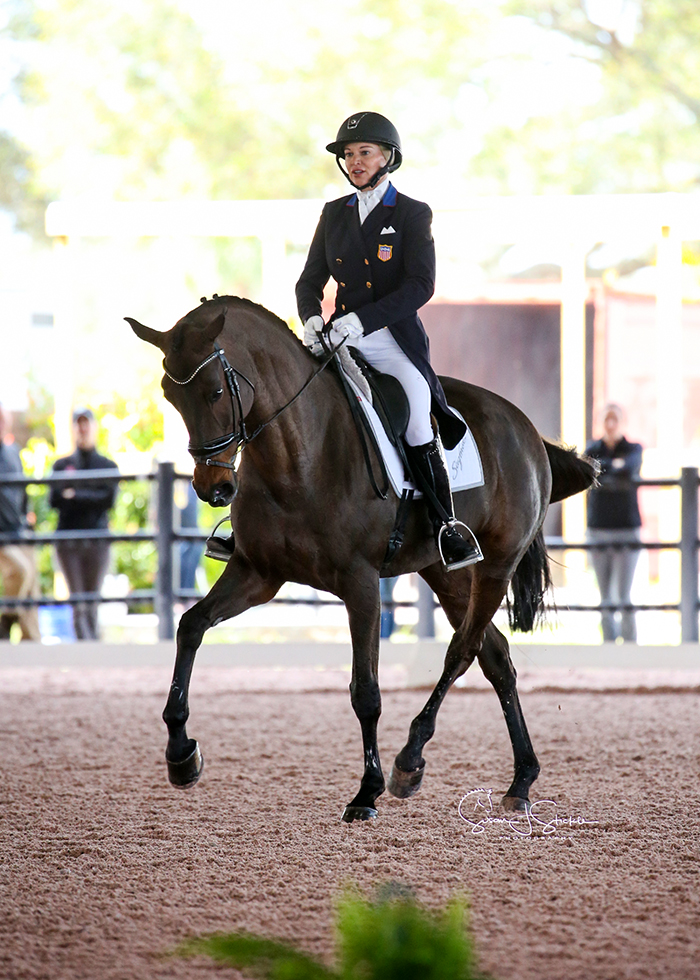 Marilyn Little and RF Scandalous. Photo © SusanStickle.com
It was a very solid test for RF Scandalous, who is back in competition form after having off in 2019.
"She was so with me from start to finish," said Little. "She's just a supernatural horse that way. She came back at Ocala and was very fresh in November. Today she picked up from where she left off before. Not many horses would have a break and come back better versions of themselves than before. She's a great competitor, and she understands the sport. The fitness is a big thing for us. We've been pushing on this. She's stronger, has a stronger topline."
The riders performed the five-star B test, which will be the one used at the 2020 Land Rover Kentucky Three-Day Event. Little noted, "Getting to ride the test we're going to see in Kentucky is a huge leg-up for our riders. I got some pointers from my test that I will use in the lead-up to Kentucky to know how to train this test better. There [are] still some points on the table that we hope to pick up in Kentucky."
Little praised the program of high performance Eventing with US Equestrian. "We're in a national program that's really making a big effort to support the riders in every phase," she said. "I felt an incredible amount from that today, and I think it's working. The scores seem to be improving. Everything really went according to plan with the way that [U.S. Performance Director for Eventing] Erik [Duvander] and I had mapped it out.
"It is a wonderful opportunity to be here and be in this environment," continued Little of being in Wellington. "As [the MARS Eventing Showcase] works its way into people's programs, as riders we're going to be able to use it better and better to our advantage. I hope that it sticks because it can really be a game-changer for our program."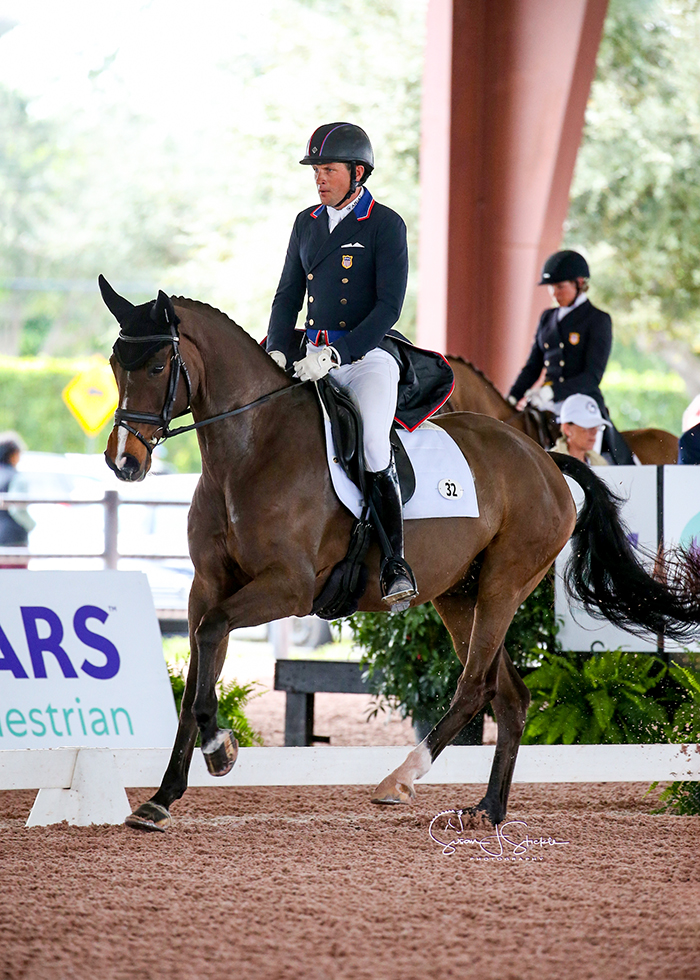 Boyd Martin and Long Island T. Photo © SusanStickle.com
Boyd Martin (USA) has won every Eventing Showcase held in Wellington and is in striking distance of making it four for four in 2020. He sits in second place with Long Island T, a 2006 Oldenburg/Thoroughbred gelding by Ludwig von Bayern x Heraldik xx owned by Long Island T Syndicate. They stand on 26.60 penalties. Martin and his double gold medal partner from the 2019 Pan American Games, Tsetserleg, sit in seventh place with 29.30 penalties.
"It's fantastic to be back here," said Martin. "It's obviously a highlight for me. I'm excited they've decided to run this event again after a two-year break. It's a great opportunity for us to come down and train with some of the top dressage and jumping riders. I watched Steffen Peters ride last night and it's over to the five-star grand prix [at the Winter Equestrian Festival] tonight."
While he's in second place, Martin knows it's still a long way to go. "We've still got a mission ahead of us," he confirmed. "The cross-country looks twisty and tight, fast and furious. We won't go completely for broke, but try and be competitive."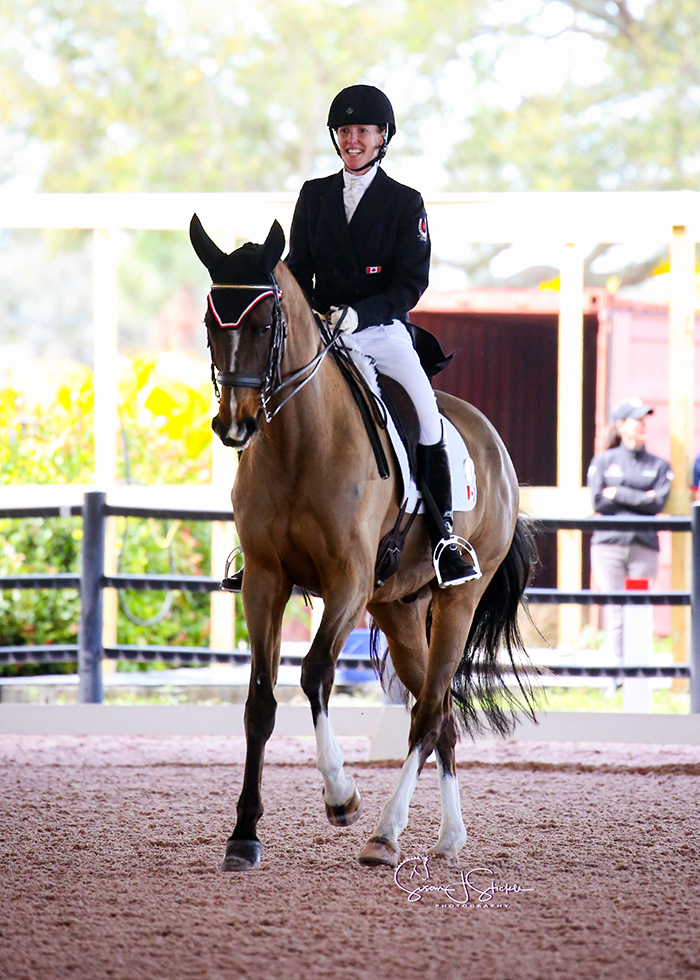 Selena O'Hanlon and Foxwood High. Photo © SusanStickle.com
Selena O'Hanlon (CAN) and Foxwood High, a 2003 Canadian Sport Horse gelding by Rio Bronco W owned by John and Judy Rumble, are in third place with 27.40 penalties. "Woody" is another horse that is coming back after a long break, so O'Hanlon was pleased at his current readiness.
"The dressage today was great; he's picked up where he left off," she said of her 2014 and 2018 FEI World Equestrian Games partner. "He was a lot less anxious in the ring. I'm really, really pleased with the test. It was really rideable. We're just getting into the season, and it's nice to be on a horse that's rideable so you can go for those extra points and turn it up a little bit for more expression and energy."
O'Hanlon looked forward to returning to Wellington as well.
She noted, "I really enjoy the Wellington Showcase. I was super excited to be able to come down here because the atmosphere is enough that it gives you a baseline of how they're going to be when you take them to some bigger events. It's a shortened course so it's easier for Woody coming back and it's really consistent footing."
Competition continues on Sunday, February 9, at 10:30 a.m. with show jumping and continues with cross country at 1:30 p.m. For more information on the MARS Eventing Showcase, along with ride times, live scoring, and the live stream, please visit https://pbiec.coth.com/article/50000-mars-eventing-showcase.
Current Standings: MARS Eventing Showcase
Marilyn Little (USA), RF Scandalous: 19.40
Boyd Martin (USA), Long Island T: 26.60
Selena O'Hanlon (CAN), Foxwood High: 27.40
Bruce Davidson Jr. (USA), Carlevo: 28.60
Phillip Dutton (USA), Z: 28.70
Elisabeth Halliday-Sharp (USA), Deniro Z: 29.00
Boyd Martin (USA), Tsetserleg: 29.30
Ryan Wood (AUS), Powell: 29.50:
Phillip Dutton (USA), Fernhill Singapore: 29.70
Lauren Kieffer (USA), Veronica: 30.10