For Immediate Release
Kate Pettersen and Sabrina Brashares for Jennifer Wood Media, Inc.
Wellington, FL – March 21, 2021 – On the final day of the tenth week of the 2021 Winter Equestrian Festival (WEF), Darragh Kenny (IRL) picked up his second win of the week, riding Great-Tikila J, owned by Whiterock Farm and HKC Collection, to capture the $137,000 Horseware Ireland Grand Prix CSI3* as competition wrapped up on Sunday, March 21, in the International Arena at the Palm Beach International Equestrian Center (PBIEC).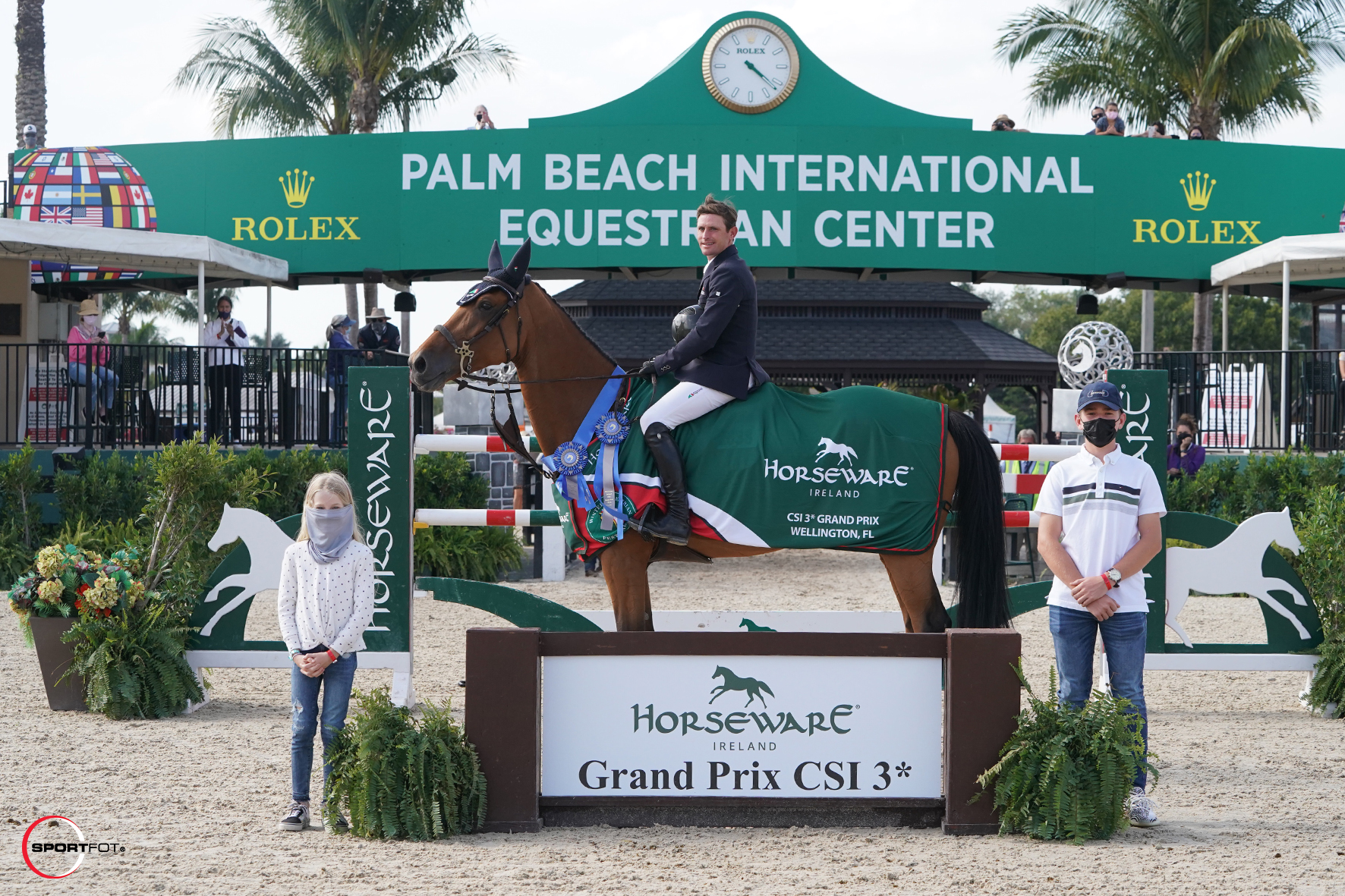 It's a busy week ahead as WEF 11, sponsored by Rolex, features CSI5* competition on the grass Derby Field at Equestrian Village with a concurrent CSI2* taking place in the Global International Arena. Wednesday's schedule features the $37,000 Douglas Elliman Real Estate 1.45 Jumpers CSI5*, with the $37,000 Adequan® WEF Challenge Cup Round 11 CSI5* and $6,000 CabanaCoast 1.40m Jumpers CSI2* set to go on Thursday. On Friday, it's the $137,000 Bainbridge Companies 1.45m Jumpers CSI5* and the $37,000 CabanaCoast 1.45m Jumpers CSI2* at Equestrian Village, along with the WEF Excellence in Equitation taking place in the International Arena at PBIEC.
The week is highlighted by the biggest class of the season on Saturday afternoon at 1 p.m. with the $500,000 Rolex Grand Prix CSI5* taking center stage on the grass Derby Field. The $6,000 CabanaCoast 1.40m Jumpers CSI2* also runs on Saturday, and the week concludes on Sunday with the $50,000 CabanaCoast Grand Prix CSI2*. All feature classes are available free live and on-demand on the livestream.
Of the 45 entries in the starting order, a total of 10 pairs mastered the handiwork of Michel Vaillancourt (CAN) to punch their ticket into the second round. Of those 10, Mimi Gochman (USA) was the first to put in a double-clear round aboard Gigi's Girl BH, owned by Gochman Sport Horses, LLC, to move into the lead.
"I went super early [in the order], so I just really wanted to have a nice round," explained Gochman in reference to her plan for the jump-off. "I was trying to go for it a little bit, but I didn't want to make any big mistakes or make her unconfident in me because it was my first three-star grand prix, and I really just wanted to go double clear."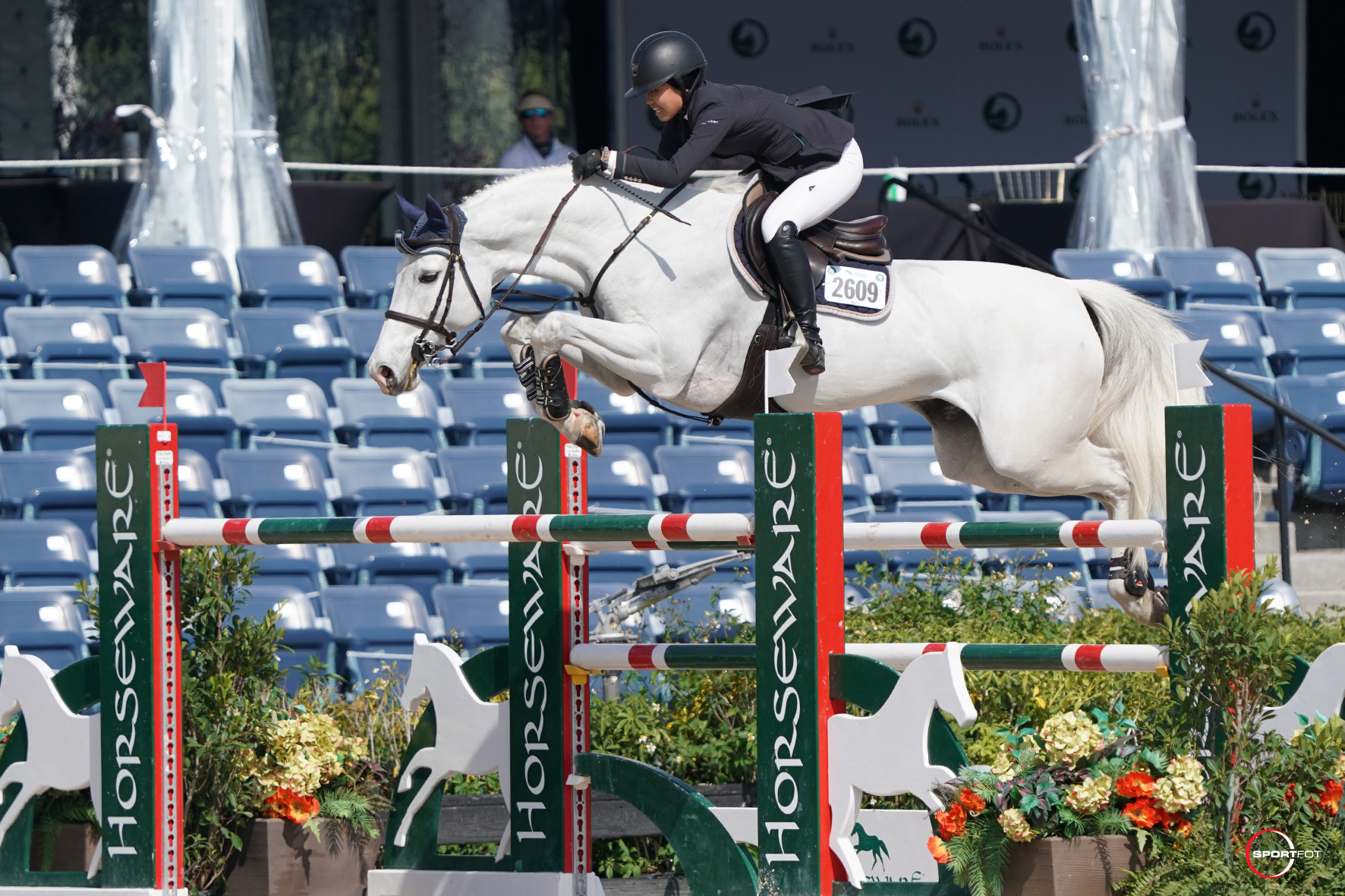 Gochman, who picked up a win earlier in the day in the Hermès U25 Series Final, guided the 13-year-old Dutch Warmblood mare by Vingino x Celano across the track in a time of 41.38 seconds.
Next to go in the jump-off, Hilary McNerney (USA) and her own Lovelight gave it their best effort, opening up a big gallop for the second half of the track to shave nearly five seconds off the leading time with a double-clear round finishing in 36.53 seconds. The 10-year-old Holsteiner stallion by Lord Z x Lordship, was impressive.
"My horse is super competitive, so once I got the first line done, I was like, "Okay, here we go,'" said McNerney of her jump-off round. "When I jumped out of 'b' [of the double combination], I thought, 'I've got to do five strides.' My trainer Kent Farrington said, 'You can't do four, so all you have to do is kick and get the five.' Once I got that, I took the risk to the second to last jump, and he was incredible and right there with me. It was a great feeling."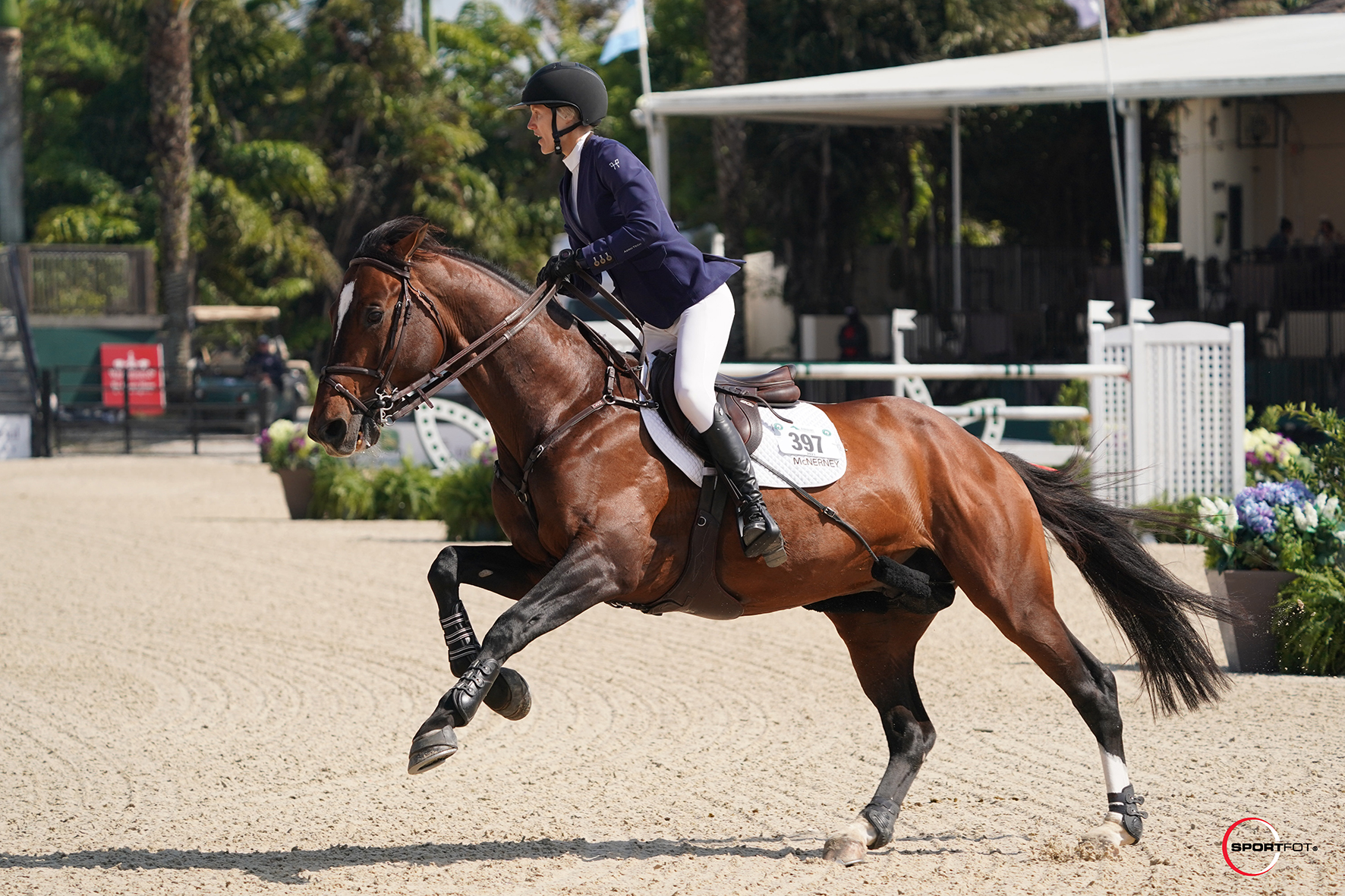 The only other double clear of the day proved to be the best as Kenny piloted his 10-year-old Dutch Warmblood mare by Carosso VDL x Nabab De Reve to an impressive double clear effort in 35.24 seconds for the victory.
"I actually got very lucky in the jump-off, to be honest," said the winning rider of his winning round. "I had planned to do the six [strides] like everybody did in the first line, then turned very tight back to the double, and she tried really hard. I had a hard rub on the back rail jumping out but got away with it, then I ended up doing six where Hilary had done five, so I thought, 'Okay better run.'"
Kenny and his sponsors purchased the mare just over a year ago, and the win was even sweeter as it was also the first grand prix of her career.

"When we bought her, she was very green having only jumped 1.30m, but she's extremely talented," he said. "She's careful, scopey, brave, a little bit of a mare sometimes, but in the ring her ability is incredible. I was really happy with her because I aimed her for this week. She jumped clear in the WEF and then jumped super today and felt really good.
"We've developed her slowly," Kenny continued. "She's a little bit temperamental sometimes where you have to take everything slow, so I played around with her on the grass a few other weeks, did some stuff at home, and then thought, 'Okay, I have her in the right spot for this week.'"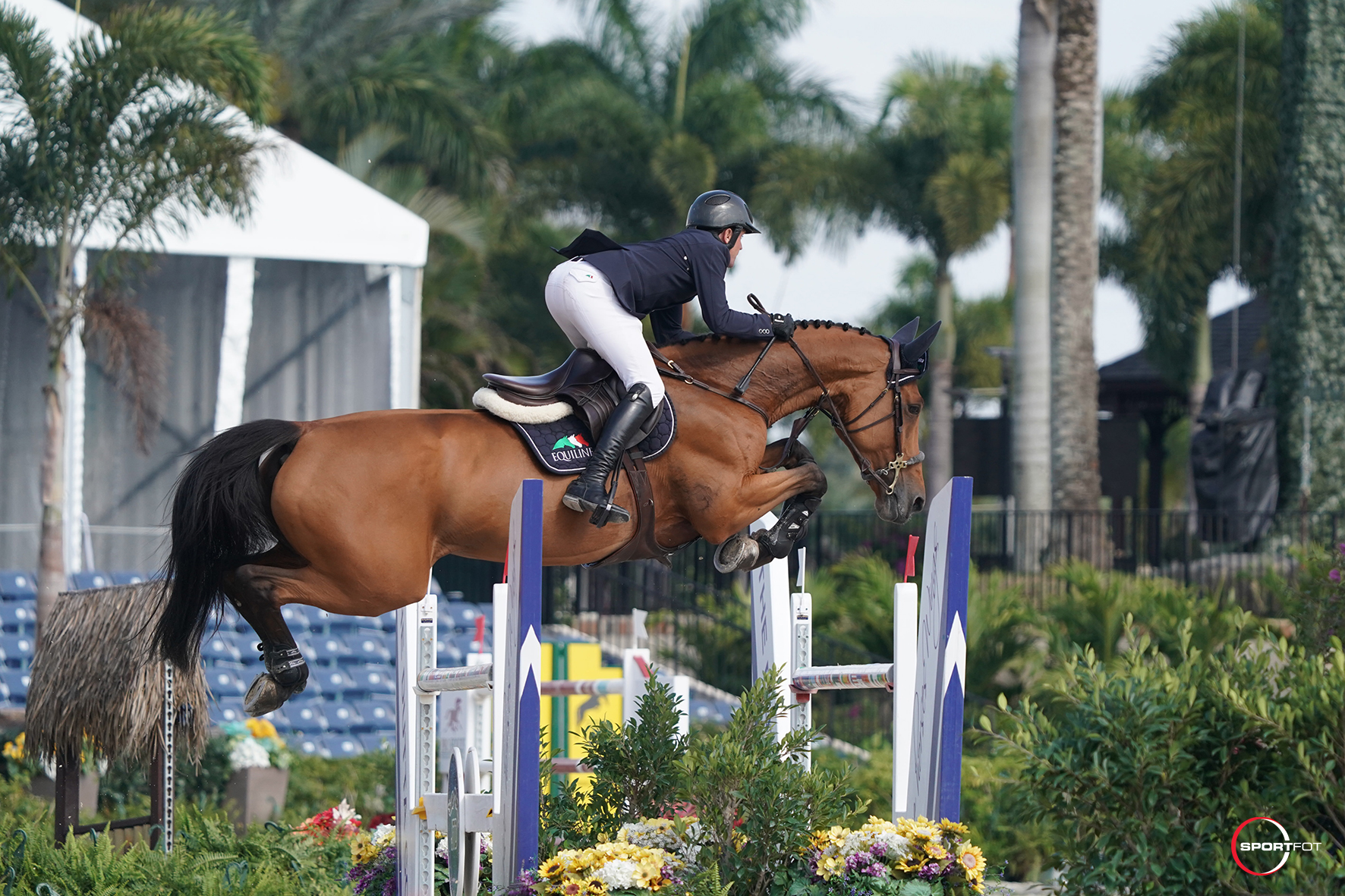 Ranked ninth in the world, Kenny continues to rack up wins at the 2021 WEF and plans to close out the winter circuit in the CSI5* during WEF 11 while stepping up with some of his newer horses to jump the CSI4* during WEF 12.
McNerney and Gochman ended the day finishing second and third, respectively, in what marked the first CSI3* grand prix for both of their careers.
"For me, it's a horse that I stole from my trainer Kent [Farrington]," said McNerney. "We did a lot of the shows on the grass Derby Field over at Equestrian Village during the summer because we stayed here because of COVID, and this result is very exciting. I'm hoping to move up and do the CSI4* during WEF 12 and see how that goes."
"I have no experience at grand prix level, and my horse has all the experience," said 16-year-old Gochman. "I think it kind of balances out, and we trust each other. She is a big-strided horse, scopey, big jump, and I kind of just have to stay with her and let her do her thing. I think being able to go double clear in a three-star makes me feel like I can do these bigger classes. Knowing that I'm strong enough at this point of WEF really helps boost my confidence for the future."
Final Results: $137,000 FEI Horseware Ireland Grand Prix
1. GREAT-TIKILA J: 2011 KWPN mare by Carosso VDL x Nabab De Reve
DARRAGH KENNY (IRL), Whiterock Farm and HKC Collection: 0/0/35.247
2. LOVELIGHT: 2011 Holsteiner stallion by Lord Z x Lordship
HILARY MCNERNEY (USA), Hilary McNerney: 0/0/36.539
3. GIGI'S GIRL BH: 2008 KWPN mare by Vingino x Celano
MIMI GOCHMAN (USA), Gochman Sport Horses LLC: 0/0/41.388
4. CHACCO KID: 2006 Oldenburg by Chacco Blue x Come On
ERIC LAMAZE (CAN), Chacco Kid Group: 0/4/37.064
5. GINGER-BLUE: 2011 Dutch Warmblood mare by Plot Blue x Royal Bravour
BEN MAHER (GBR), Jane Forbes Clark: 0/4/37.265
6. CASALLVANO: 2009 Holsteiner gelding by Casall x Silvana
DANIEL DEUSSER (GER), Camilla Hamann and Philipp Widmayer: 0/4/39.835
7. LAZZARO DELLE SCHIAVE: 2009 Italian Sporthorse gelding by Acodetto 2 x Gluecksgriff
MAX WACHMAN (IRL), Coolmore Show Jumping: 0/4/40.874
8. BALOUTINUE: 2010 Hanoverian gelding by Balou du Rouet x Landor S
ADAM PRUDENT (USA), Plain Bay Farm: 0/8/36.464
9. JUST A GAMBLE: 2009 BWP mare by Toulon x Corofino
ADRIENNE STERNLICHT (USA), Starlight Farms 1 LLC: 0/8/36.744
10. VIVALDI DU THEIL: 2009 Selle Francais gelding by Quadprice Bois Margot x For Pleasure
ALISH CUNIFFE, Grayish LLC: 0/16/40.762
11. SKYHORSE: 2007 Belgian Warmblood gelding by Calvaro x Quidam de Revel
LILLIE KEENAN (USA), Chansonette Farm LLC: 1/80.09
12. CONTEFINA LVF: 2012 Holsteiner mare by Contefino 2 x South Pacific
ASHLEE BOND (ISR), Little Valley Farms: 4/73.95
Mimi Gochman and Celina BH Best the Field in the $50,000 Hermès Under 25 Series Final, Vogel Wins Overall Title
In the culmination of a season-long series, it was Mimi Gochman (USA) and Celina BH, owned by Gochman Sport Horses, LLC, who prevailed in the $50,000 Hermès Under 25 Final CSI3* on Sunday afternoon in the International Arena.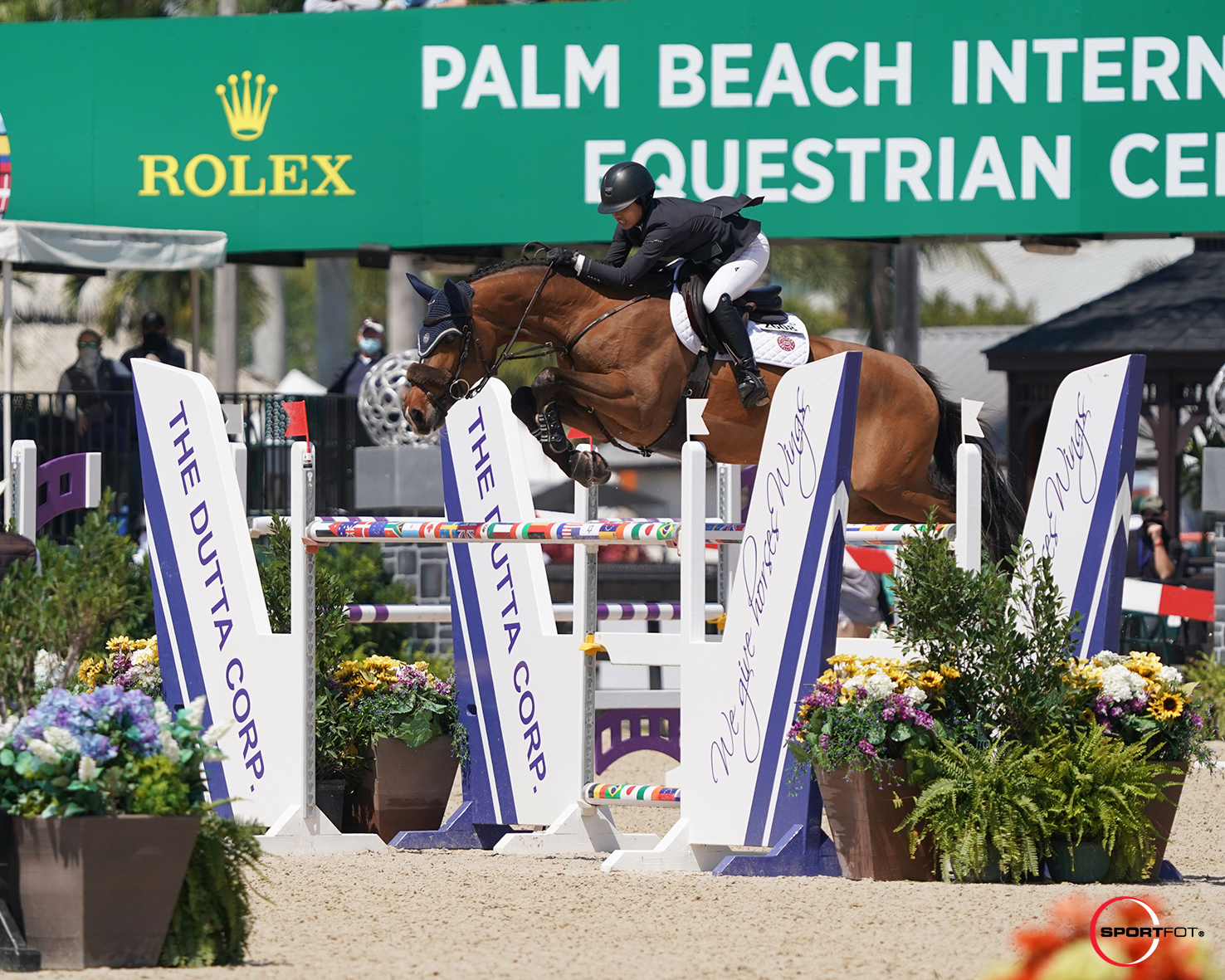 Riders were faced with a technical track built by Michel Vaillancourt (CAN) with 29 competitors in the starting order. A total of eight horse-and-rider combinations qualified to return for the jump-off representing four different countries: Belgium, Greece, Great Britain, and the United States.
The standard was set for the rest of the field as the first two pairs to return, Zoe Conter (BEL) and Caitlyn Connors (USA), both posted double clear efforts and jumped into a tie for the early lead in a time of 38.69 seconds. Third to return in the subsequent round, Natalie Dean (USA) and Dotcom D'Authuit, owned by Marigold Sporthorses, LLC, followed up with their own double-clear effort. Dean and the eight-year-old mare by Diamant De Semilly x Quidam De Revel solidified what would ultimately be a third-place finish in a time of 37.67 seconds.
Just two riders after that, series leader Ashley Vogel (USA) and her own Bellissimo Z, a 12-year-old Zangersheide mare by Bamako de Muze x Chin Chin, found a way to shave time off the clock, with their own double-clear effort in 36.60 seconds to take over top spot.
The leapfrogging on the leaderboard didn't stop there as the next rider found a way to do it faster once again. Gochman and the 11-year-old Holsteiner mare by Canstakko executed slick turns and opted to do one less stride up the line heading into the double combination, a decision that paid off as they stopped the clock in 35.11 seconds to take the lead.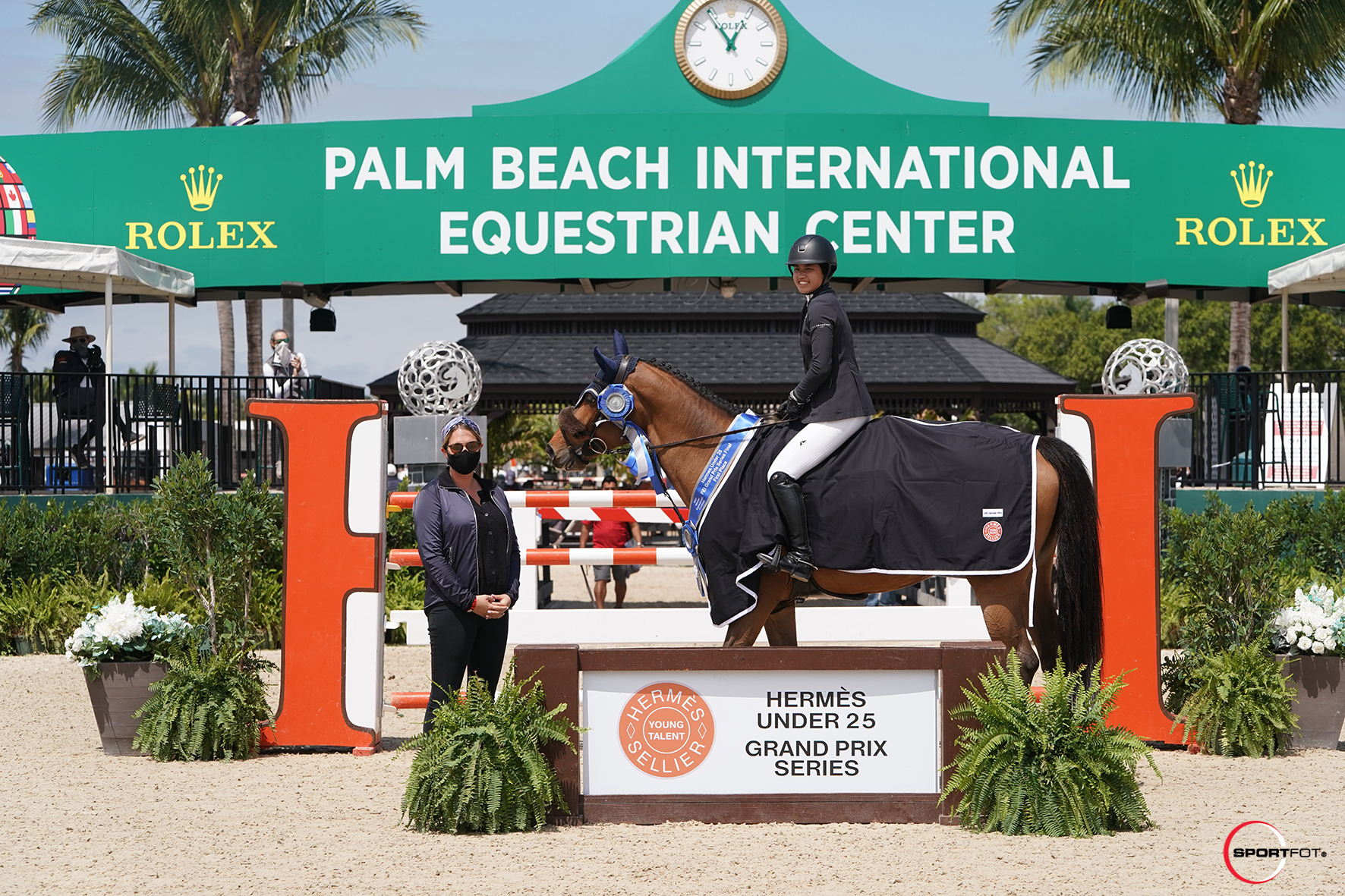 "When I walked the course with Ken, the plan was to go smooth and careful," said Gochman of her conversation with trainer Ken Berkley. "I did plan to do six down the line [into the double combination] but when I watched Natalie and Ashley go before me, I knew the six was going to get easy. The plan was never to go running down that line; it was to do six [strides], but I just saw the distance on the turn forward and the five kind of just came up. I stuck with it, and it worked out.
Watch the winning jump-off here!
"I've had Celina for about three years now," continued Gochman. "We imported her as a young seven-year-old, and my trainer Amanda Derbyshire actually started out with her to give her some experience in the U.S. She's incredible! She's the most flexible, adjustable, talented horse ever. I started her in the low junior jumper divisions, and my goal was always to do grand prixs with her. I think that will be the plan for the future. I feel confident in the U25 now, and she obviously has gotten quite good at it, so I'm hoping I can do grand prix with her throughout the summer."
Subtle tests throughout the course caught many riders in the class, and the open water proved to be a difficult task for a handful of competitors as well. For Vogel, the strategy at the tricky water jump was "less is more," a plan she also went with in Saturday's welcome class, finishing ninth.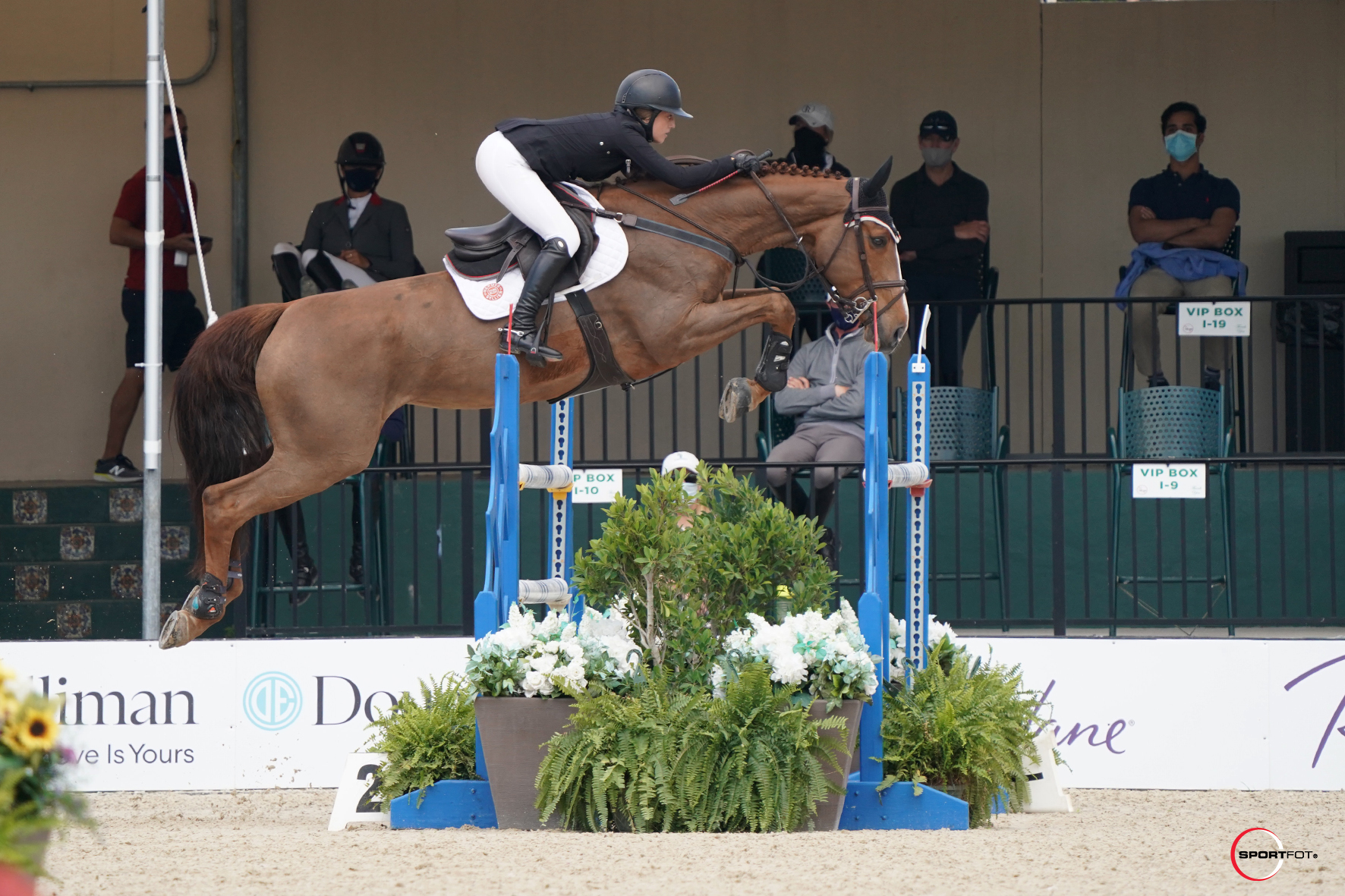 "Bellissimo is a pretty experienced water jumper," said Vogel. "She's definitely jumped it enough times that she's very comfortable with it. We've schooled it at home but didn't jump it yesterday in the class because we just didn't really feel the need."
Despite being on one of the youngest horses in the field, Dean also executed her plan for a stellar finish on the day.
"My horse is pretty young but really brave," said Dean of her plan heading into the final. "She jumped a lot in Europe in the young horse classes, so I just rode it and gave her a lot of confidence. She jumped it well yesterday, but my trainer said to make sure I ride it well still today because some people were having issues with it, so I just really kicked across it."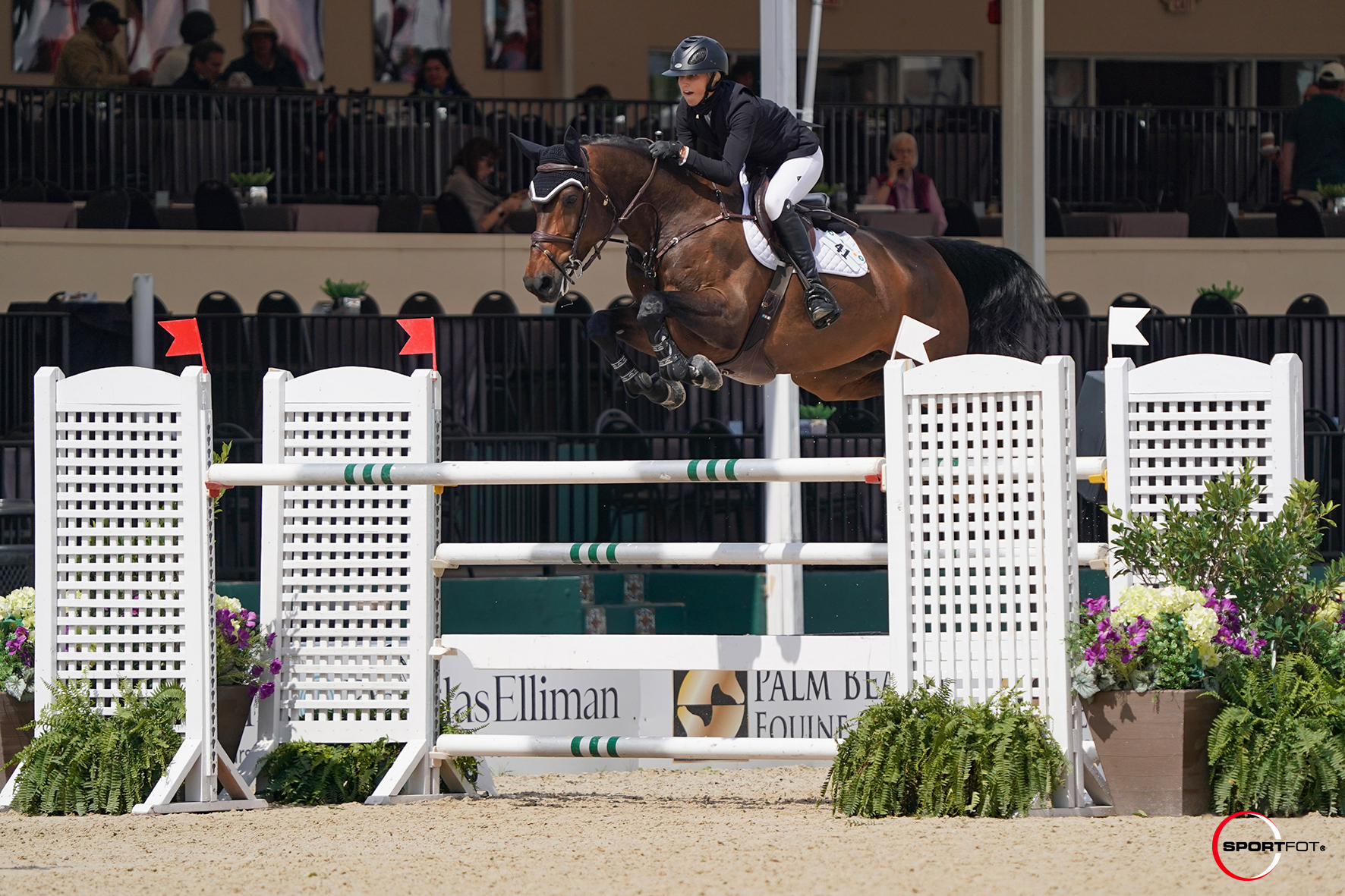 Vogel posted consistent results throughout the season, winning both the Welcome and Grand Prix during WEF 2, placing in every class in between, and wrapping up the season with a second-place finish in the $50,000 Hermès Under 25 Final. Those impressive results tallied up enough points for Vogel to land in top position with her mount Bellissimo Z, to win the overall title for 2021 Hermès Under 25 Series.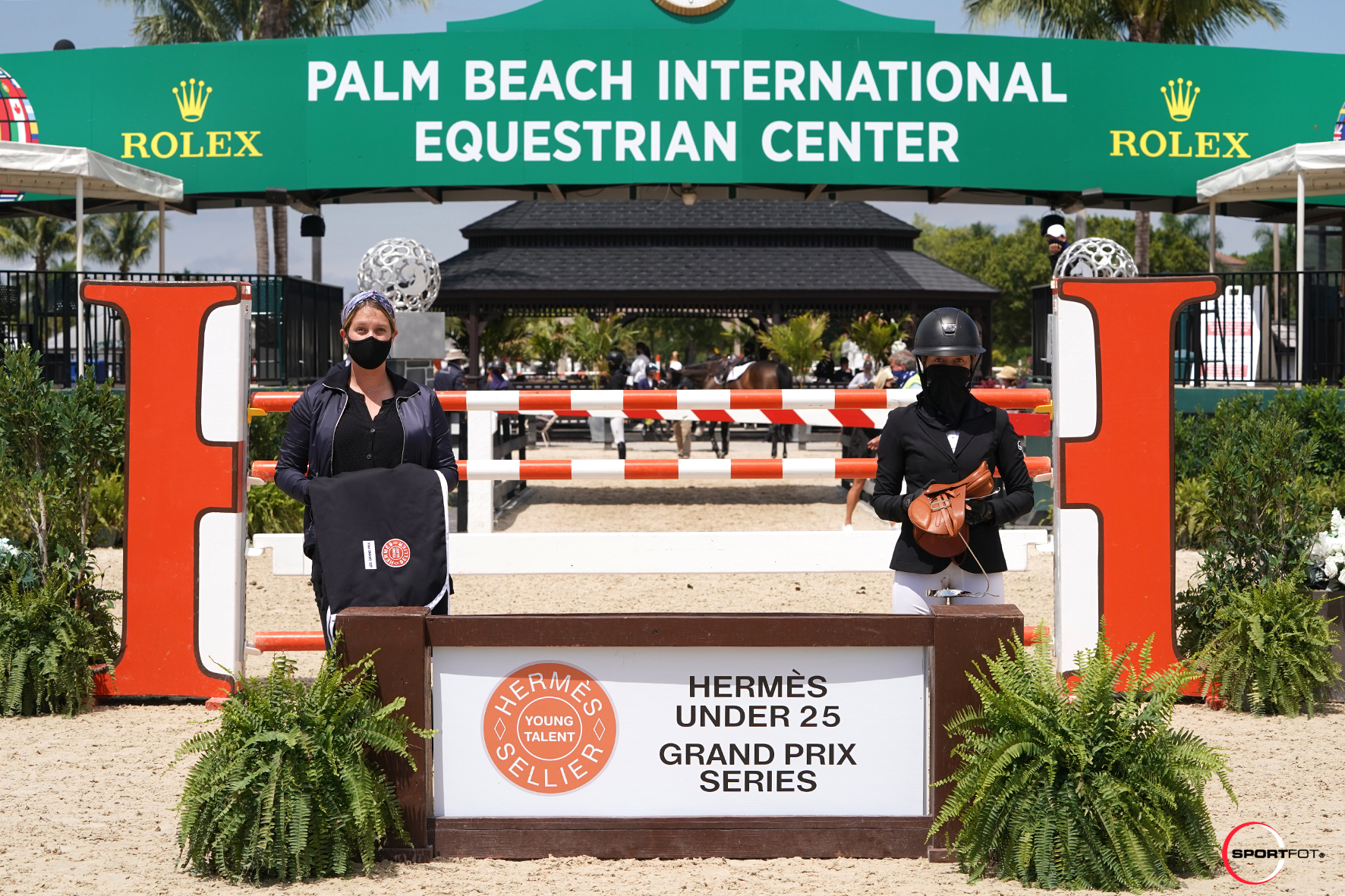 "It's a really cool series," said Vogel who participated for her first time this season. "It gives the riders coming up ready to jump the bigger level a lot of experience, and it's a super competitive division. I didn't have any high expectations; I was just hoping to have some good rounds and gain experience with Bellissimo, who I got over the summer. She's a lovely horse. She definitely has shown me the ropes and been really competitive. Once we got going, she gave me a top result in every welcome and grand prix, and that was a pretty incredible feeling. It is an honor, and Hermès sponsoring it makes it really exciting."
Final Results: $50,000 Hermès Under 25 Series Final Grand Prix
1. CELINA BH: 2010 Holsteiner mare by Canstakko
MIMI GOCHMAN (USA), Gochman Sport Horses LLC: 0/0/35.11
2. BELLISSIMO Z: 2009 Zangersheide mare by Bamako de Muze x Chin Chin
ASHLEY VOGEL (USA), Ashley Vogel: 0/0/36.60
3. DOTCOM D'AUTHUIT: 2013 Selle Francais mare by Diamant De Semilly x Quidam De Revel
NATALIE DEAN (USA), Marigold Sporthorses, LLC: 0/0/37.67
4.= DAWA DE GREENBAY Z: 2012 Zangersheide gelding by Diarado x Schilling ET
ZOE CONTER (BEL), Stephex Stables: 0/0/38.69
4.= EXPRESS BLUE GP DU BOIS MADAME: 2010 Belgian Warmblood gelding by Ultra Blue J x Zeus
CAITLYN CONNORS (USA), Caitlyn Connors LLC: 0/0/38.69
6. BOHEME DE LA ROQUE: 2011 Selle Français mare by Kannan x Medine d'Amaury
GRACE DEBNEY (GBR), Temple Equestrian LLC: 0/4/35.66
7. CAIAM D'IVRAIE: 2012 Selle Français gelding by Dolla dela Pierre x Iago C
IOLI MYTILINEOU (GRE), Elia Construction SA: 0/4/38.12
8. FANTAST VAN HET VINCKENHOF: 2010 KWPN gelding by Cicero Z Van Paemel x Temilione
KRISTEN BERIAN (USA), Coral C Stables, LLC: 0/8/40.57
9. DELIA B: 2008 KWPN mare by Cantos x Omelia H
DOMINIC GIBBS (USA), Mountain King Ranch, LLC: 4/73.88
10. CON PLEASURE 5: 2009 Westphalian gelding by Contendro 1 x Funny Fasion
FLO NORRIS (GBR), Cisca Norris: 4/74.21
11. J'ADORE FLAMENCO: 2012 Sel Francais gelding by Je T'aime Flamenco x Conafino Z
MARIA BRUGAL (DOM), Maria Brugal: 4/75.81
12. DUNDEE: 2008 KWPN gelding by Lupicor x Capricette T.D. Z
MAREK LEUFKENS (NED), Dundee Group: 4/76.20
Madison Hart and Believe End Week 10 with the Tricolor Ribbon in the Children's Hunter Younger Division
The Children's Hunter Younger division concluded on Sunday in FarmVet Ring 7. Twenty-one riders contested the championship ribbon, and in the end, Madison Hart, of Greenwich, CT, and Victoria Hart's Believe claimed the top prize. Hart rode Believe to first, second, and fourth place ribbons for a total of 18 points in the division.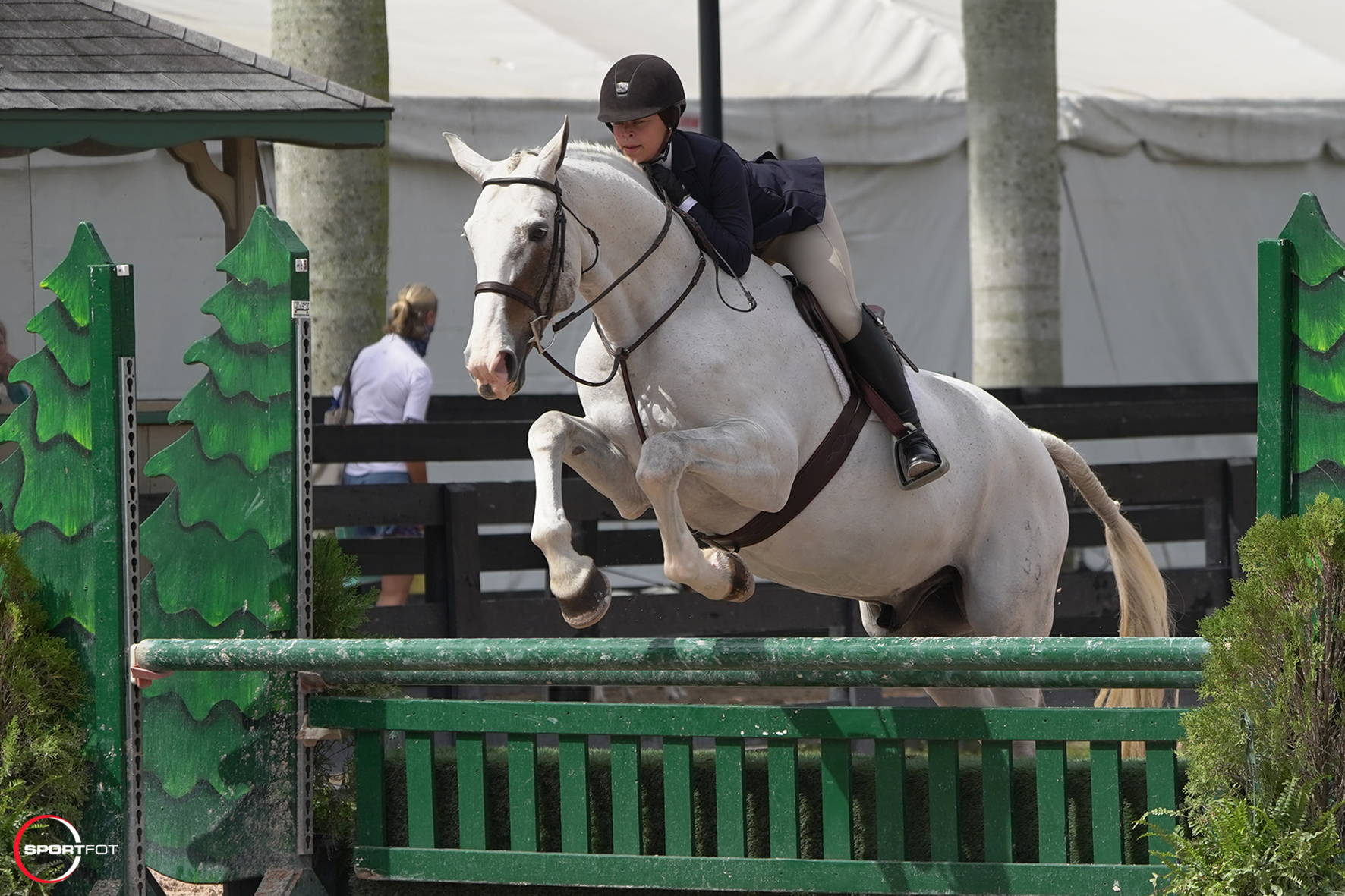 This weekend marks Hart's first time showing Believe, or "Luca," this season, and the pair made sure to start off on a high note. The 15-year-old Hanoverian gelding by Stolzenberg has been part of the Hart family for several years, which makes this championship even more special.
"Luca has been in our family for the past five years," confirmed Hart. "I didn't start competing him until last year though. I showed him for the first time here last year around the same time. I also showed him a couple times over the summer, but this is actually my first weekend showing him this year. He is an amazing horse. My whole family loves him, and we have a really special place for him in our hearts."
Hart, trained by Tracy Freels and Hannah Isop, navigated Luca to the blue ribbon the second day of competition, as well as a second place finish on Saturday.
"Overall he was amazing," described Hart. "Our last round was really great, and I haven't ridden too much this season so I'm really happy with how it went."
Luca has made a name for himself in the USHJA International Hunter Derbies with Hannah Isop in the irons, and Hart was thrilled with the opportunity to take over the reins this week. The rider is looking forward to a successful rest of the year with her mount, both watching and showing herself.
"I want to stay consistent with him this year," said Hart. "I'm excited to see how he goes around the [USHJA International Hunter] Derbies with Hannah. I want to have a good relationship with him and be consistent all around."
Sydney Mohrhardt and her own Google It earned reserve champion in the Children's Hunter Younger division. Mohrhardt, of Winnetka, IL, and Google It claimed a first, as well as fourth and sixth place ribbons.
Sunday marked the final day of competition for the tenth week of WEF. Hunter, jumper, and equitation competition will return on Wednesday, March 24, and run through Sunday, March 28 for WEF 11.