For Immediate Release
Lindsay Brock, Juliana Chapman, and Sabrina Brashares for Jennifer Wood Media, Inc.
Wellington, FL – February 9, 2020 – Competition during week five of the 2020 Winter Equestrian Festival (WEF) came to a close under perfect conditions for Madison Goetzmann (USA), winner of the $50,000 Rushy Marsh Farm Grand Prix CSI2* and Canada's Tiffany Foster, who claimed victory in the $73,000 CaptiveOne Advisors 1.50m CSI5* on Sunday, February 9, in Wellington, FL.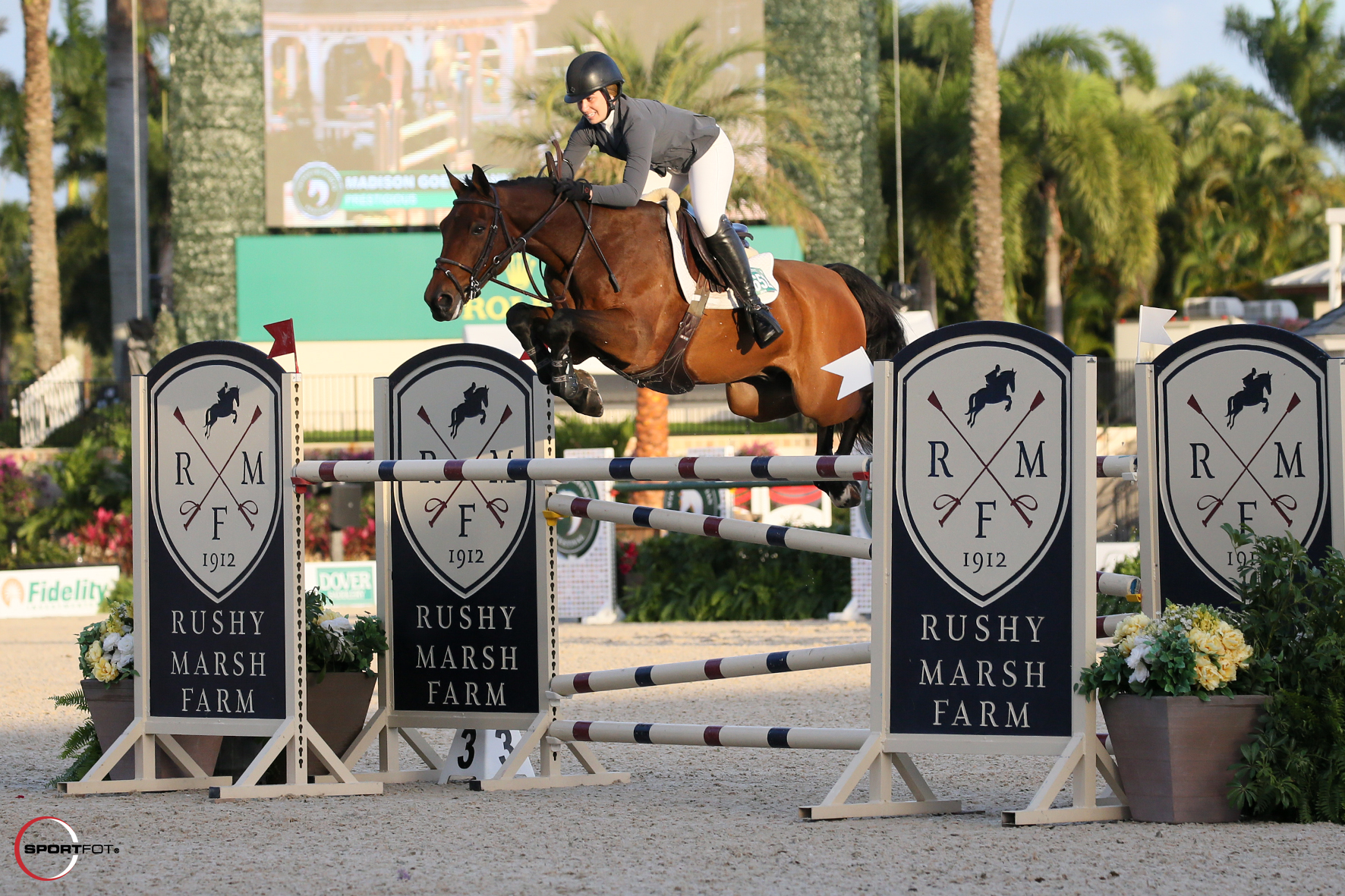 WEF continues through March 29 at the Palm Beach International Equestrian Center (PBIEC) in Wellington, Florida, with 12 consecutive weeks of world-class competition and $13 million dollars on offer. The sixth week of competition runs February 12-16, is sponsored by the World Championship Hunter Rider (WCHR) program, and recognized as a CSI3* by the Fédération Equestre Internationale (FEI). The week will feature the $100,000 WCHR Peter Wetherill Palm Beach Hunter Spectacular in the International Arena during "Saturday Night Lights", as well as the $137,000 Grand Prix CSI3* and $25,000 CP Grand Prix, on the grass Derby Field at Equestrian Village (home of the Adequan® Global Dressage Festival).
Balancing her freshman year of college at the University of Richmond in Richmond, VA, with her time in the show ring has not slowed 19-year-old Goetzmann down one bit. She and her long-time mount Prestigious topped a field of 44 over tracks built by Anthony D'Ambrosio (USA) and Andy Christiansen (ECU) to highlight two-star competition during week five.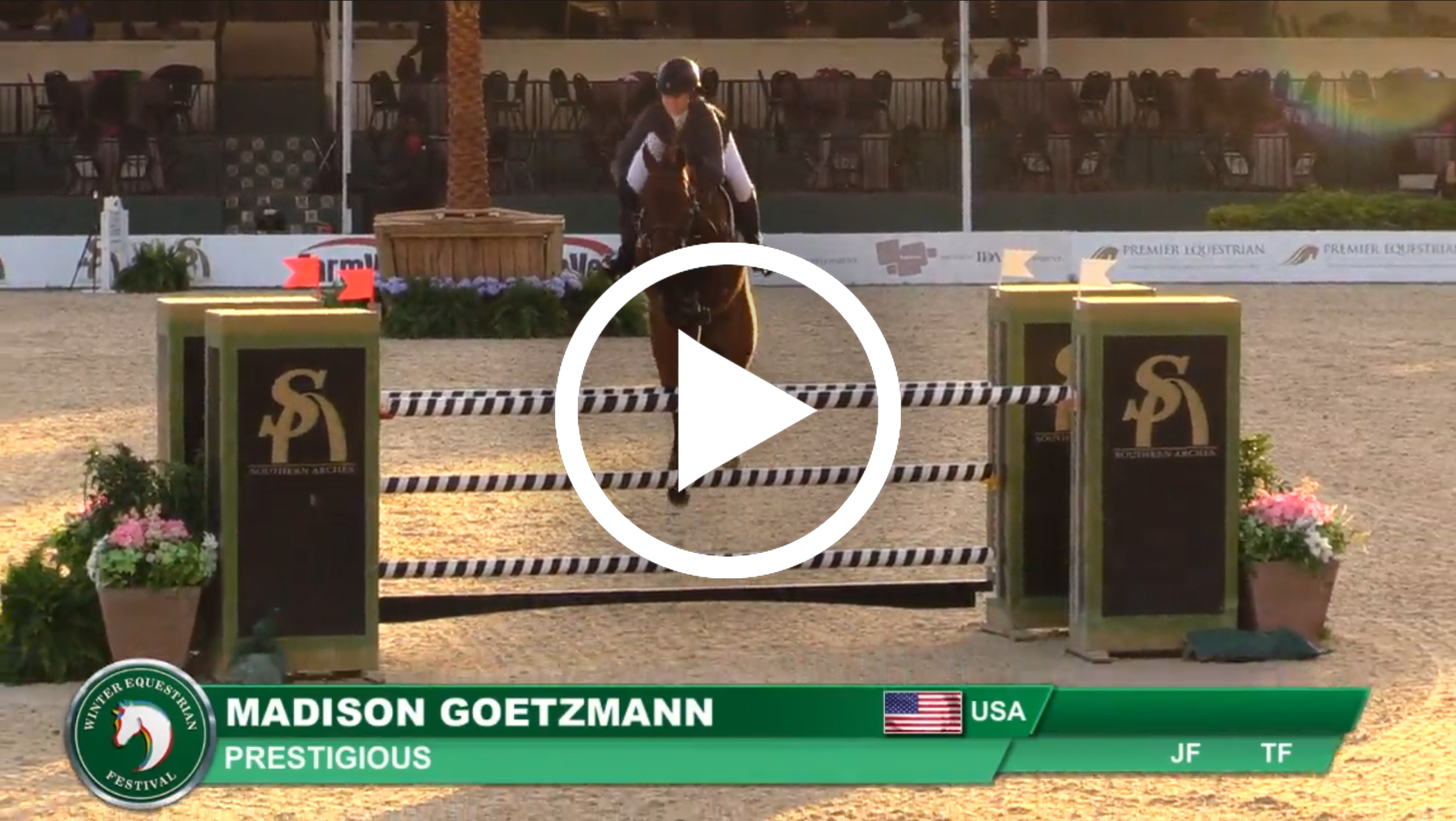 "Going into the jump-off, I had my competitive edge on and my horse is very fast and reliable in the jump-off," said Goetzmann. "It was a really great track for my horse; the stride options were forward, and he's a smaller horse so having those strides set that way with tight turns right after really gave me an advantage. I knew I had a good shot and I gave it my all. He goes in every time and wants to win. I'm lucky to have him!"
Goetzmann has progressed to FEI competition with Prestigious, a 13-year-old Westphalian gelding (Con Cento x Corofino) after they got to know each other in the 1.30m division. "We found him Kuwait where he was jumping 1.20m with an amateur and we took our time moving up, but the last two years we have been focusing on the two-stars. His scope is incredible, and I remember when I was younger thinking it might take a little longer than I thought to get to this level."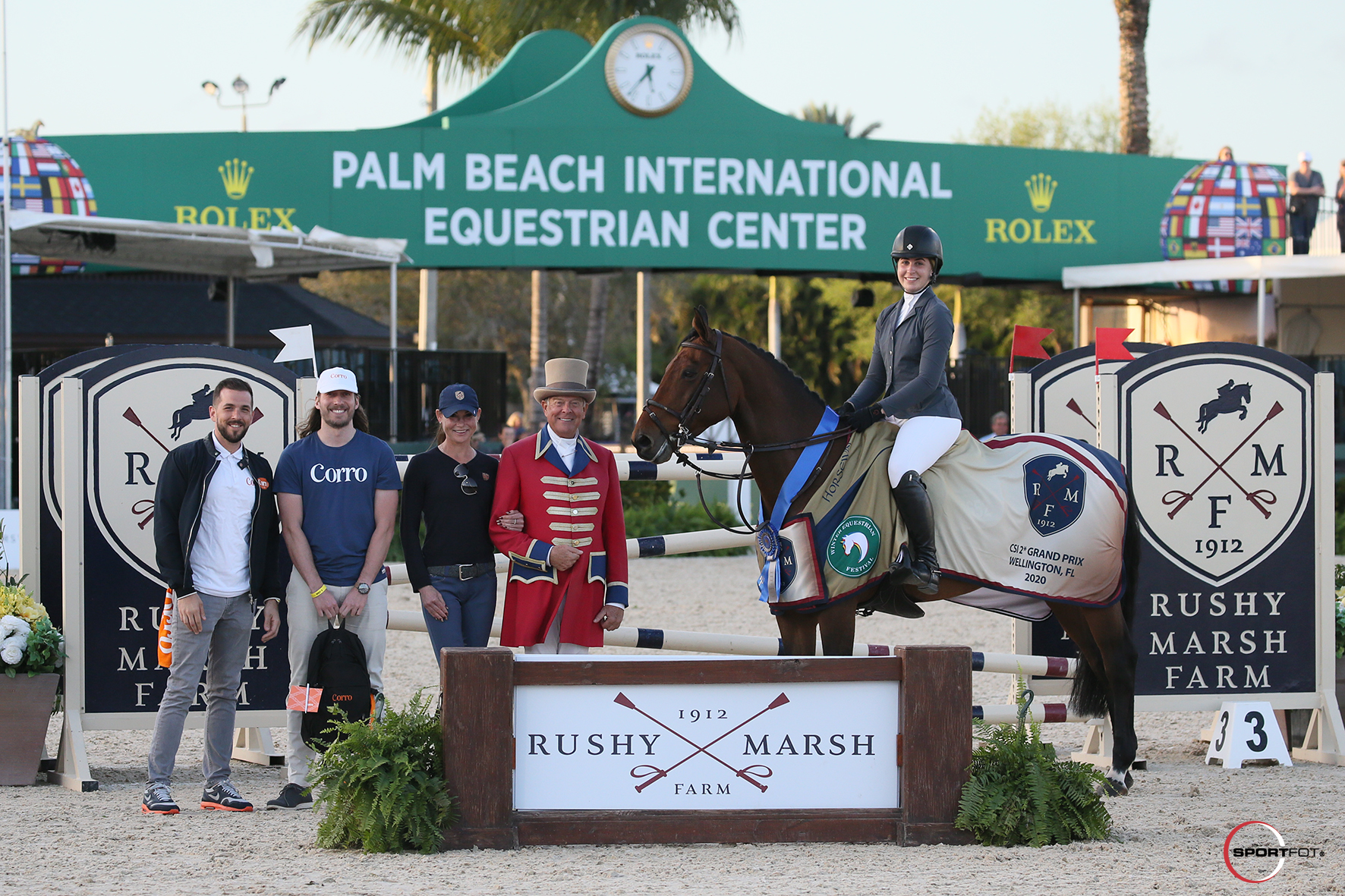 With the help of Goetzmann's trainers John Madden and U.S. Olympic team gold medalist Beezie Madden, the progression has been easier than she every expected. The 2020 season, however, marks the first time Goetzmann is studying outside of Wellington for the season and has to balance travel into her schedule.
"I've been coming to WEF since I was eight years old and my public school at home was very understanding, so this is the first winter that I'm going back and forth," said Goetzmann, who hails from Skaneateles, NY. "My first show since September was week three and we were clear in both 1.45m three-star classes. I was nervous, but I think Prestigious made it easy for me. I have so much confidence in him because we have such a strong partnership."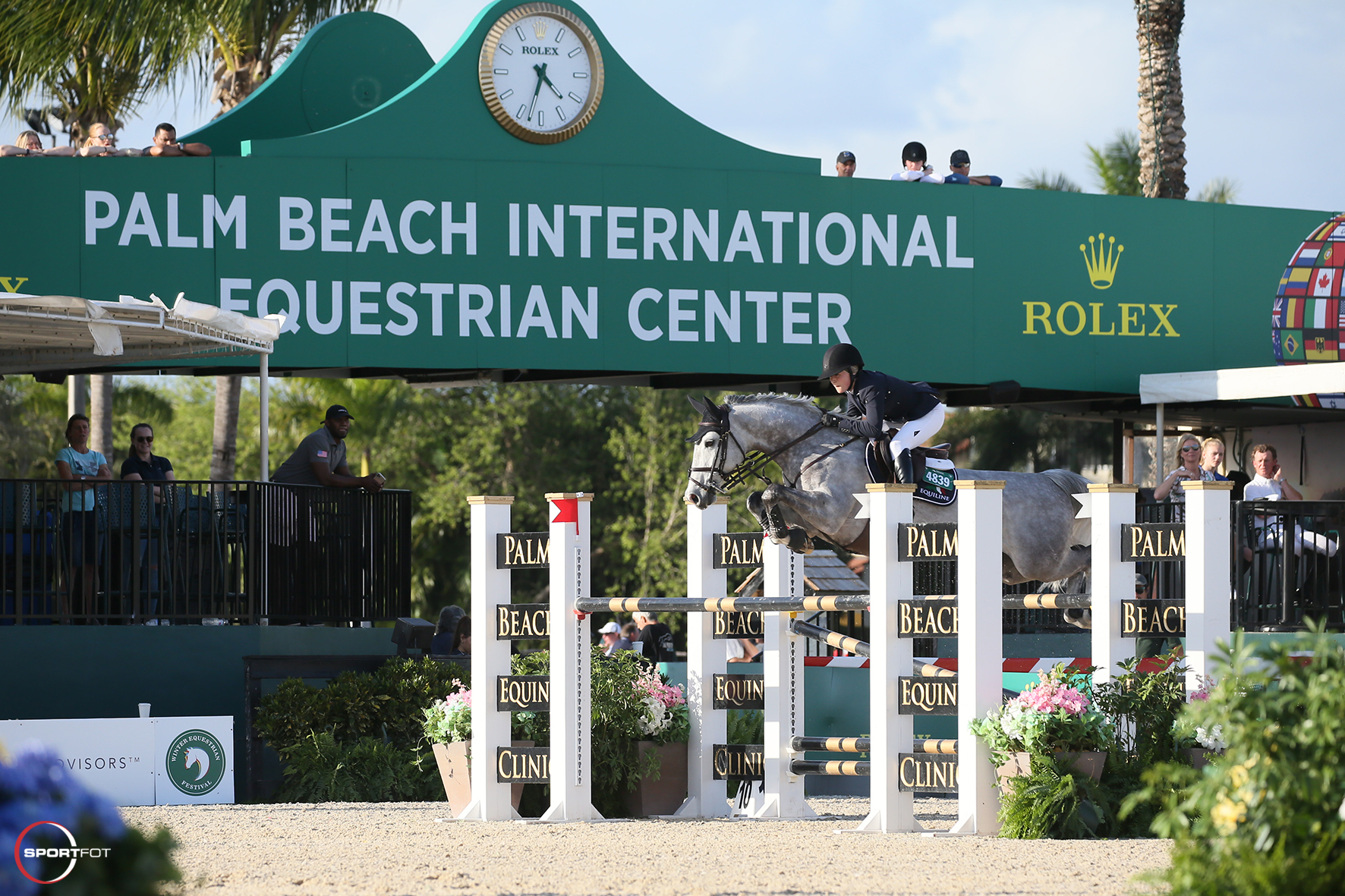 Jumping into the runner-up position, Chloe Reid (USA) finished second riding Souper Shuttle, owned by Live Oak Plantation LLC. They posted a jump-off time of 38.21 seconds, just fractions of a second off Goetzmann's pace. Still less than a second behind the leader, Brazilian Olympic champion Rodrigo Pessoa rounded out the podium finishing in third on Carlito's Way 6, owned by Artemis Equestrian Farm LLC, in 39 seconds flat.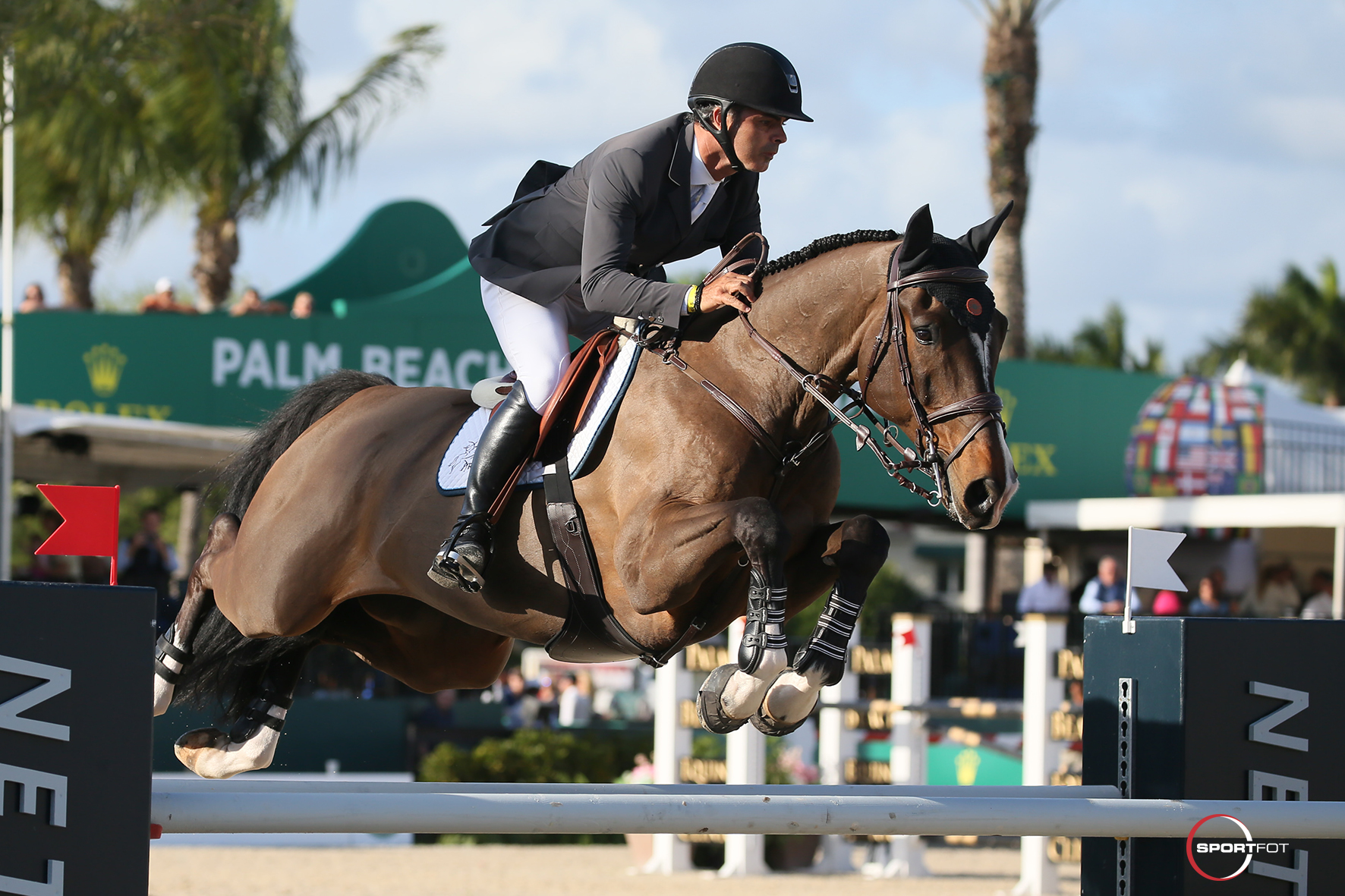 Ireland's Cameron Hanley took fourth aboard Kasper van het Hellehof for Poden Farms, while Maria Costa (USA) capped the top five on Valentino V Z, owned by Ravello Farms LLC.
Final Results: $50,000 Rushy Marsh Farm Grand Prix CSI2*
1 PRESTIGIOUS: 2007 Westphalian gelding by Con Cento x Corofino
MADISON GOETZMANN (USA), Madison Goetzmann: 0/0/38.15
2 SOUPER SHUTTLE: 2011 Hanoverian mare by Stakkato x La Zarras 2
CHLOE REID (USA), Live Oak Plantation LLC: 0/0/38.21
3 CARLITO'S WAY 6: 2010 Holsteiner gelding by Casall x Lordanos
RODRIGO PESSOA (BRA), Artemis Equestrian Farm LLC: 0/0/39.00
4 KASPER VAN HET HELLEHOF: 2010 BWP stallion by Emerald Van't Ruytershof x Nabab de reve
CAMERON HANLEY (IRL), Poden Farms: 0/0/39.89
5 VALENTINO V Z: 2009 Zangersheide stallion by Verdi x Converter
MARIA COSTA (USA), Ravello Farms LLC: 0/0/40.09
6 DIAMANTS AURORA: 2010 Hanoverian mare by Dirado x Chacco Blue
JESSICA MENDOZA (GBR), Jessica Mendoza: 0/0/40.20
7 JASMIJN: 2009 Belgian Warmblood mare by Diamant de Semilly x Montender
JONATHAN MCCREA (USA), Windsor Show Stables: 0/0/41.25
8 PERFORMANCE EP: 2009 Oldenburg mare by Lord Pezi x Grandeur
SARAH SEGAL (USA), Robert Segal: 0/0/41.99
9 CHAGRAND: 2009 Oldenburg gelding by Chacco-Blue x Conterno Grande
MICHAEL BURNETT (USA), Michael Burnett: 0/4/39.77
10 CASCO 11: 2009 Holsteiner gelding by Caspar x Colman
LAUREN TISBO (USA), Tequestrian Farms LLC: 0/4/40.02
11 LEGOLAS TER WILGEN: BWP stallion by Emmerton x Chin Chin
EMILIE CONTER (BEL), Stephex Stables: 0/4/40.62
12 GABLITZ P: 2011 KWPN gelding by Ukato x Cartano
ANDREW WELLES (USA), Anne Arredondo Brekke: 0/4/42.99
Tiffany Foster Rides to Victory in CaptiveOne Advisors 1.50m Classic
It was a busy and successful day in the saddle for Canadian Tiffany Foster who rode one of her two mounts to the winner's circle and placed sixth with her second horse in the $73,000 CaptiveOne Advisors 1.50m Classic CSI5*.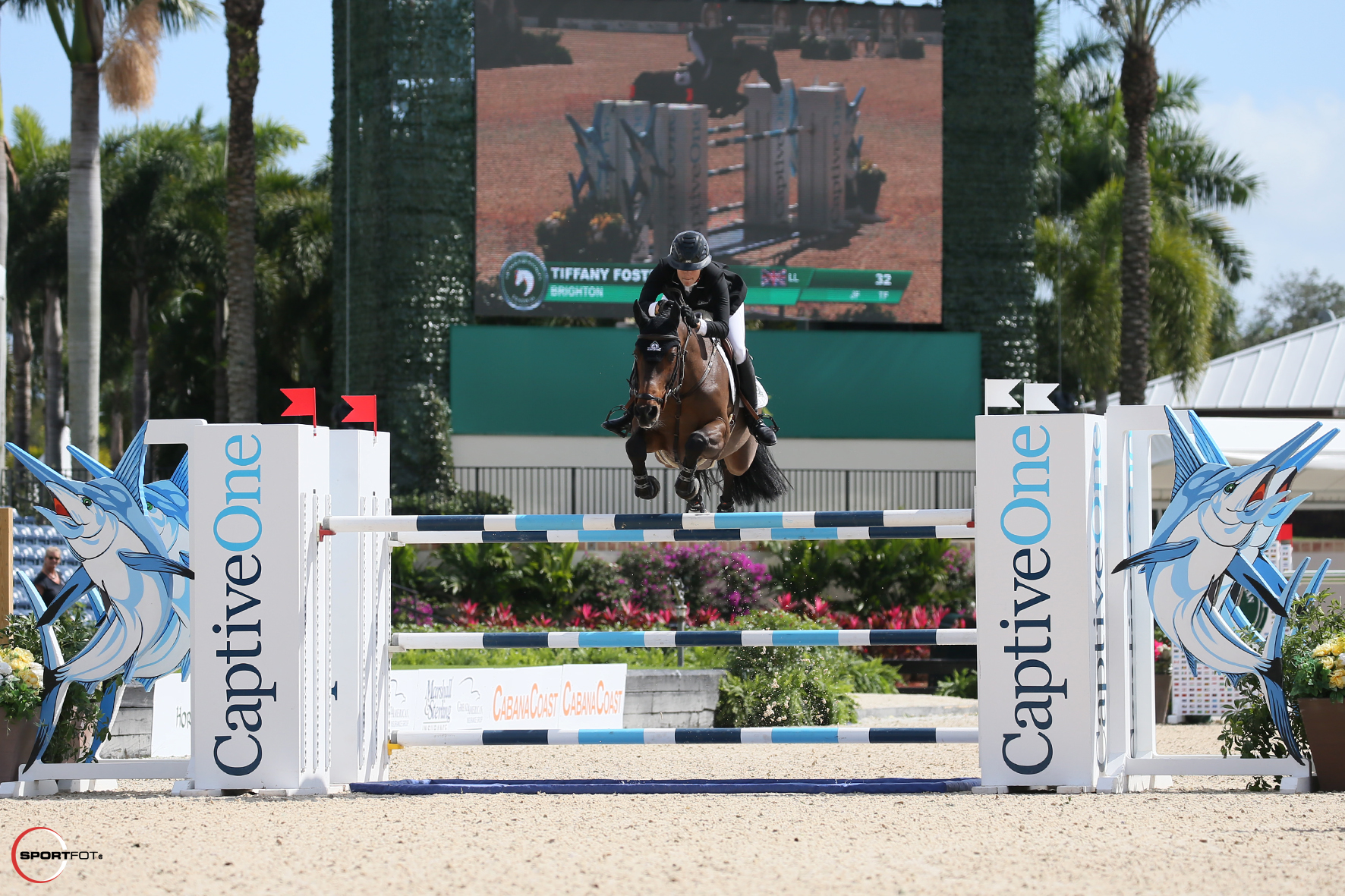 "I went pretty early on my first horse Brighton, and it helped that he is naturally super-fast, and I don't usually worry about the time allowed," Foster shared. Time did become a factor with many horse and rider combinations having time faults. "He's a real veteran. I've had him since he was seven and he is now 14, and we know each other really well." Foster added, "I was also thrilled with my second horse, Galino, in his first 1.50m."
From a field of 53, only seven advanced to the jump-off as they commanded a tricky first round course set by D'Ambrosio and Christiansen. "The trickiest part of the course was the triple and then you rode six strides with a roll back that was off a short turn away from the gate that led to a very long three – you had to ride the three, no pulling – and then you continued along to the triple bar," Foster said. "The course tested your horse's rideability and luckily my horses both come back very well." Foster and Brighton had a blazing time in the jump-off, stopping the timers at 34.59 seconds.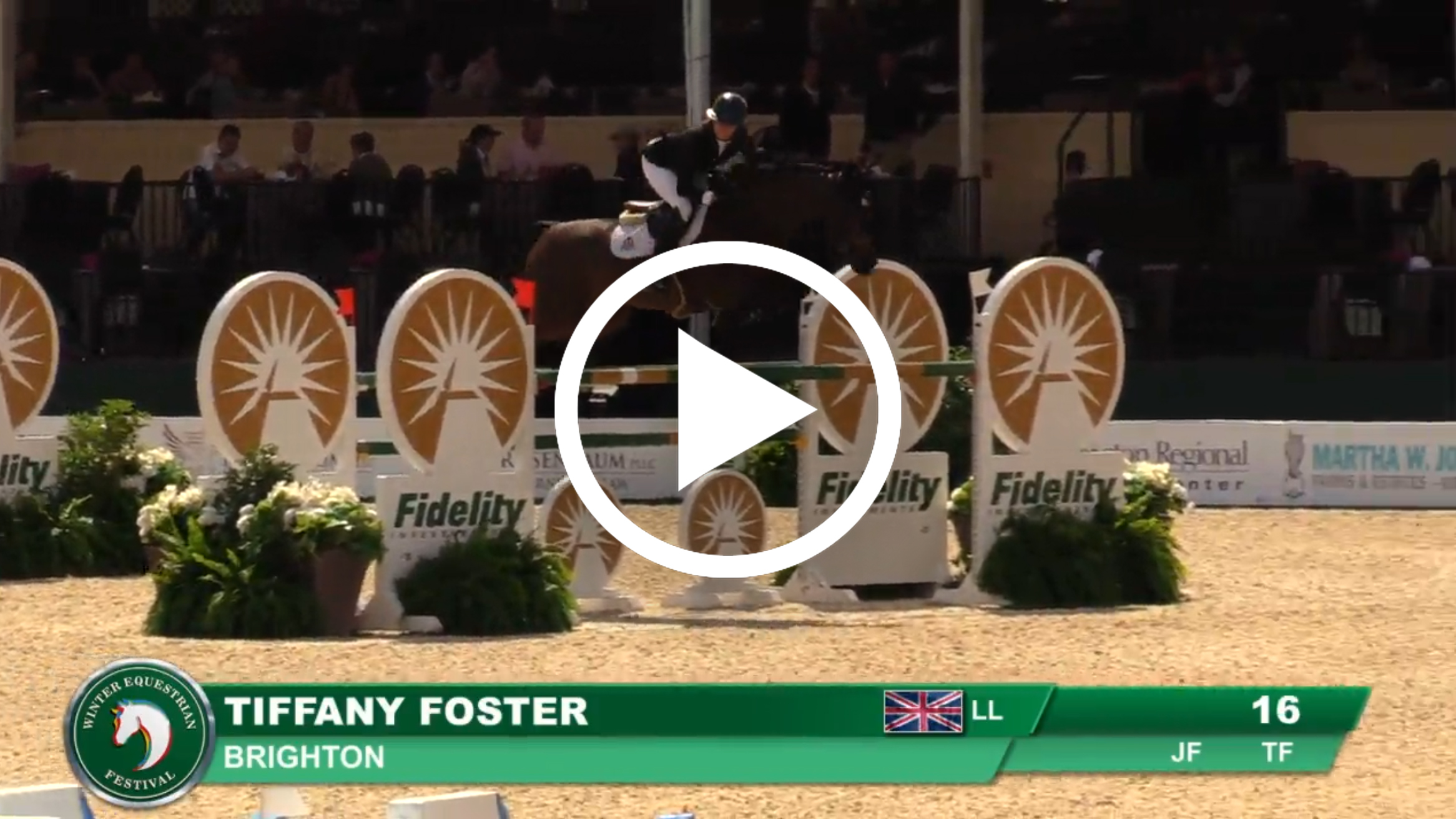 In second place was Ireland's Bertram Allen aboard Lafayette Van Overis in a time of 34.90 seconds, followed by Lucas Porter (USA) on Hope Street in 35.134 seconds. Fourth place went to Shane Sweetnam (IRL) on Deleyn in 35.20 seconds, and fifth was Alexandra Thornton (GBR) riding Charielle to a jump-off time of 36.77 seconds.
"These horses are owned by Artisan Farms, who I feel are the most incredible supporters and sponsors and they really let you develop the horses at their own speed," said Foster. "Which in turn, allows you to get to know them and gives you the ability to take risks because you know they are ready for it and that is a testament to the owners."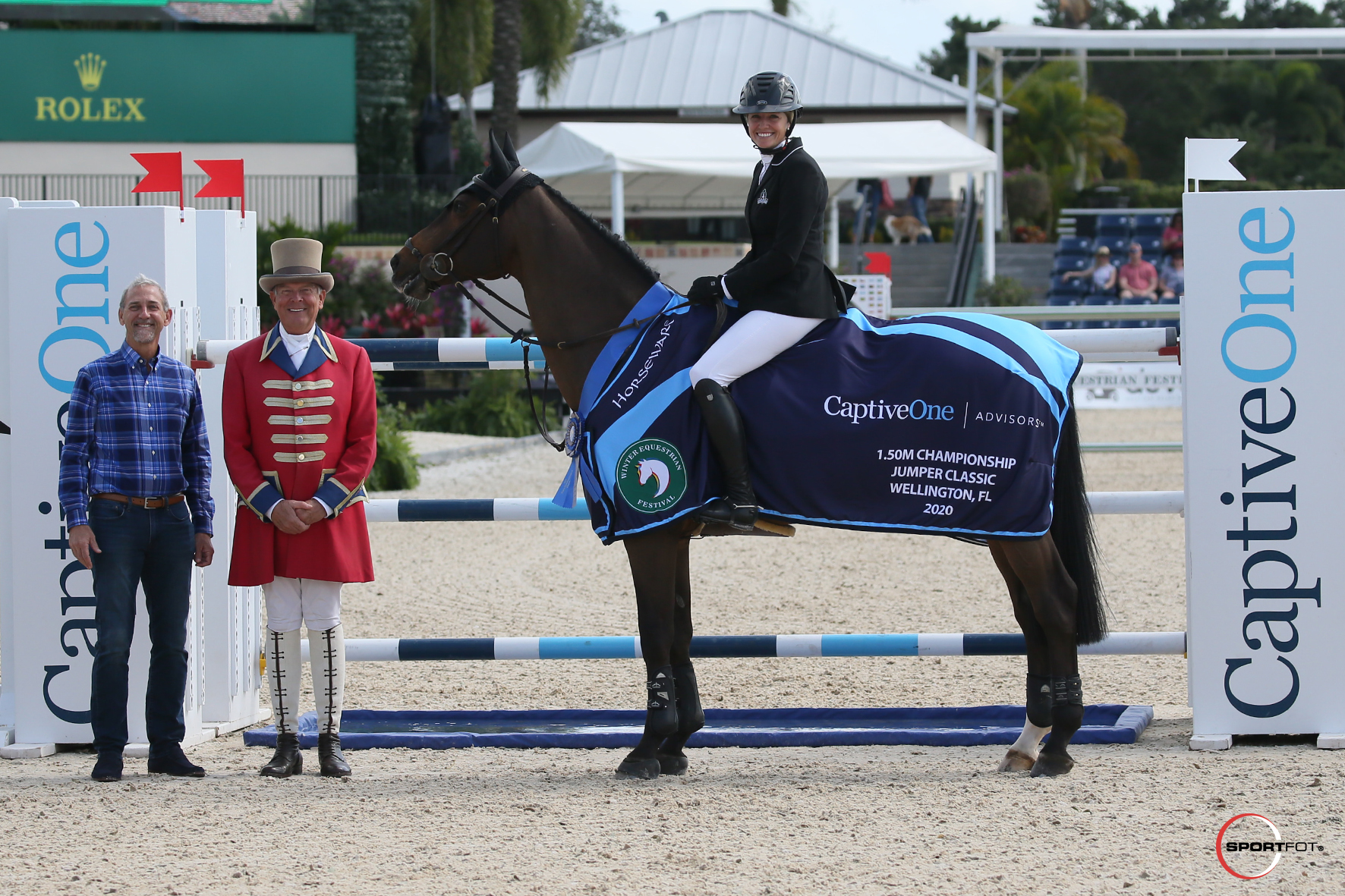 Foster is no stranger to winning the CaptiveOne Advisors 1.50m after also winning the class two weeks ago on nine-year-old, Northern Light. "I think it is great to have a series that we follow along, this is a wonderful class and I'm very thankful to CaptiveOne Advisors for making possible."
Foster is a fourteen-year veteran of showing at WEF, noting, "My first year I showed in the hunters. I think they are doing a great job – the stands are packed especially on Saturday nights and the change in the footing has been a big improvement, so all those things are working towards making it one of the best shows to be at in the winter."
Final Results: $73,000 CaptiveOne Advisors 1.50m CSI5*
1 BRIGHTON: 2006 KWPN gelding by ContendroII x QuickStar
TIFFANY FOSTER (CAN), Artisan Farms LLC: 0/0/34.59
2 LAFAYETTE VAN OVERIS: 2011 BWP gelding by Kashmirvan Schuttershof x Taubervanhet Kapelhof
BERTRAMALLEN (IRL), Ballywalter Stables: 0/0/34.90
3 HOPE STREET: 2009 Holsteiner mare by Casall x QuickNickI
LUCASPORTER (USA), SPR Fund One: 0/0/35.13
4 DELEYN: 2011 Holsteiner mare by Larimar7 x Dobel's Cento
SHANESWEETNAM(IRL), Sweet Oak Farm and Spy Coast Farm: 0/0/35.20
5 CHARIELLE: 2006 Old, Mare by Chacco-Blue x Furiosa
ALEXANDRA THORNTON (GBR), Dunwalke Ltd.: 0/0/36.77
6 GALINO: 2011 KWPN gelding by Arthos R x Tjalina
TIFFANY FOSTER(CAN), Artisan Farms LLC: 0/4/38.31
7 CHRISTOS: 2009 Holsteiner gelding by Cristo x Parexcellence
BLISS HEERS (USA), Bridgeside Farms LLC: 0/4/38.70
8 LAZY: 2011BWP mare by Hickstead II x Cruising
ASHLEE BOND (ISR), Aurora Farms LLC: 1/76.23
9 IDALVILLE D'ESPRIT: 2008 BWP gelding by Carabas van de Wateringhoeve x Nabab de Reve
ERIC LAMAZE (CAN), Torrey Pines Stables Inc and Chris Stinett: 1/76.34
10 COLDPLAY 31: 2009 West Gelding by Cassini II x Pirola
ANDREW KOCHER (USA), Top Line Sporthorse International, LLC: 1/76.84
11 CARTHANO: 2007 Holsteiner gelding by Cartani x Heraldik
DARRAGH KENNY (IRL), Oakland Ventures LLC: 4/73.68
12 FECYBELLE: 2010 KWPN mare by Carambole x Sjapoo
KARL COOK (USA), Signe Ostby: 4/73.93
Hollin Sutherland and Cambridge Wrap Up Week 5 with a Championship in the Children's Hunter Older Division
Sunday morning began with Hollin Sutherland and Cambridge capturing the championship of the Children's Hunter Older division in Ring 7. Out of 23 entries, Sutherland and her horse earned two firsts, two seconds, and an eighth place.
Sutherland, of Grosse Pointe Farms, MI, has been developing her partnership with Cambridge over the past year and a half. The rider is very appreciative of her caring and trustworthy partner, saying, "He is really sweet and always takes care of me. He always tries his best!"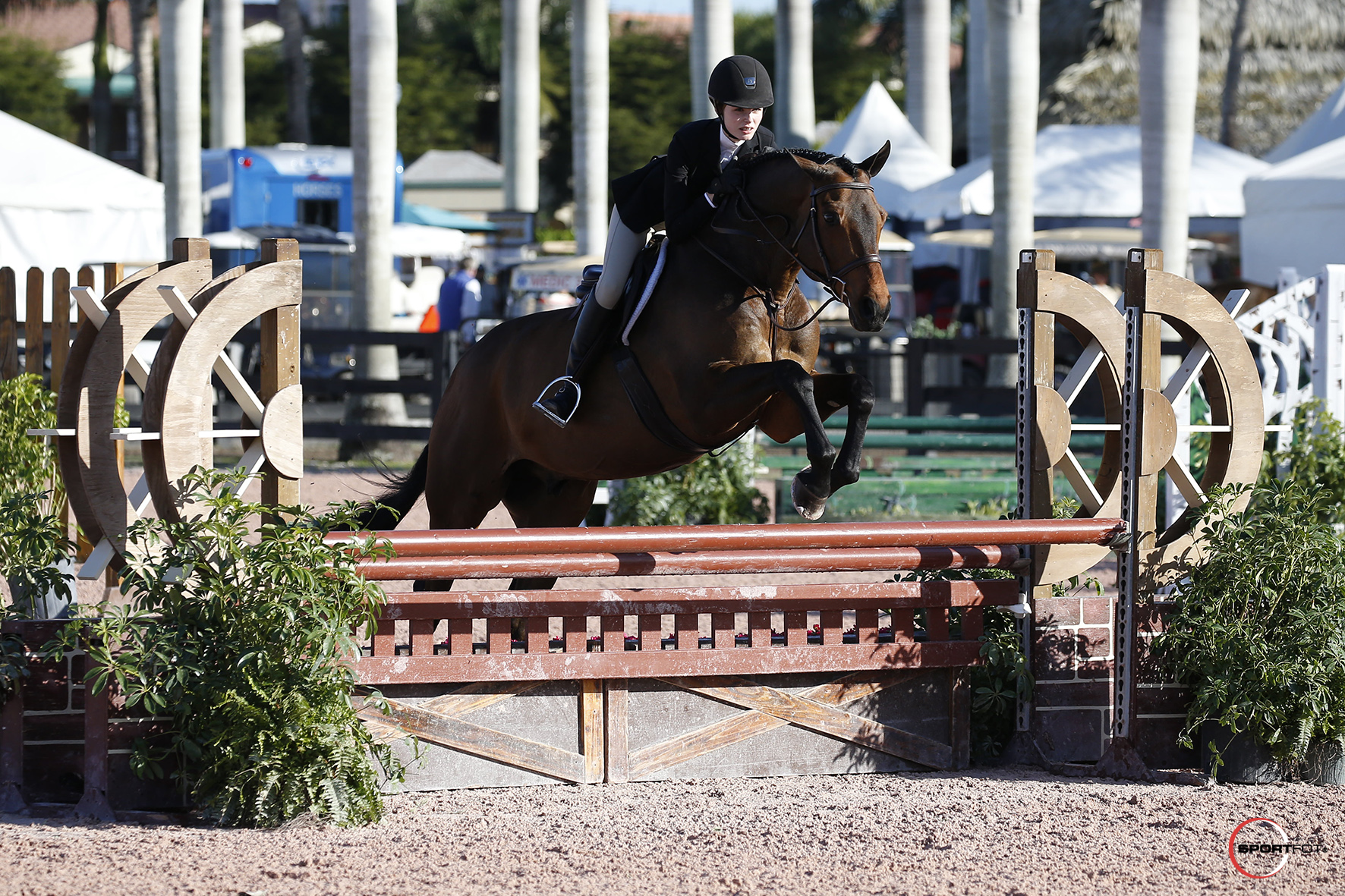 Trained by Bill Schaub, the pair stayed consistent throughout the division and won two of the over fences classes. "We really worked together as a team and everything came together," Sutherland explained.
Sutherland plans to continue to try her best and produce consistent rounds with Cambridge in the Children's Hunter Older division for the remainder of the WEF season.
This year marks Sutherland's third year riding and also her third year showing at WEF. "I love showing here because everyone is so supportive and it creates a real team atmosphere," she said.
Not far behind in points were Claire Healy, of Cincinnati, OH, and her mount Jade. Healy piloted Jade, owned by Shaw Johnson Price, to two firsts, second, third, and a seventh-place ribbon.
For full results, visit www.PBIEC.com.
Photo credit: Photos © Sportfot, official photographer of the Winter Equestrian Festival. These photos may be used only in relation to this press release and must include photo credit.