For Immediate Release
Kate Pettersen and Sabrina Brashares for Jennifer Wood Media, Inc.
February 11, 2021 – Wellington, FL – Lucy Deslauriers (USA) and Hester, owned by Lisa Deslauriers, were in fine form on Thursday, February 11, as they flew to the top of the leaderboard in the International Arena for a victory in the $73,000 Adequan® WEF Challenge Cup Round 5 CSI5* at the Winter Equestrian Festival (WEF).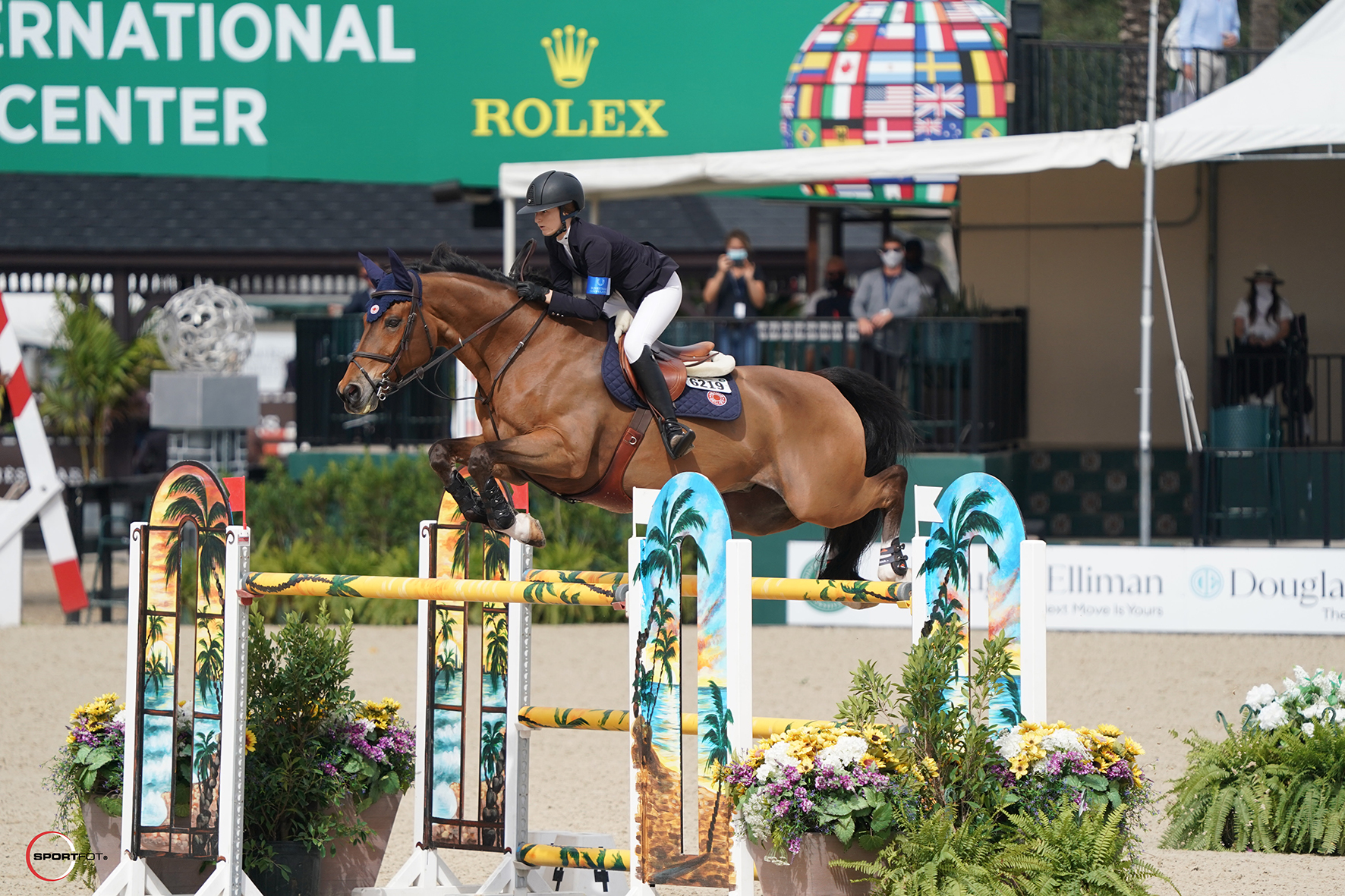 Held at the Palm Beach International Equestrian Center (PBIEC), competition is underway in the first CSI5* of the season at the 2021 WEF, sponsored by Douglas Elliman Real Estate with a concurrent CSI2* running as well, sponsored by Restylane. Competition continues on Friday with the $37,000 Bainbridge 1.45m Classic along with the $37,000 Restylane 1.45m Qualifier CSI2*. And, always a crowd favorite, Saturday night features jumping under the lights with the $401,000 Douglas Elliman Real Estate Grand Prix CSI5* in the International Arena. The wraps up with an exciting Sunday lineup with the $73,000 CaptiveOne Advisors 1.50m Classic and the $50,000 Restylane 1.45m Grand Prix CSI2*. Spectators can watch feature classes live and on demand using the livestream.
Over a track set by Kelvin Bywater (GBR), 18 combinations from a starting field of 56 qualified to return for the jump-off, with 15 electing to challenge the second round. Deslauriers and her partner of eight years answered all the questions to fly into first with a time of 31.97 seconds.
"There weren't too many places to change the strides in between the jumps so I knew I just had to be super prompt everywhere," said Deslauriers. "He was really right with me today, I felt like I was just looking, and he knew what I was going to do before I did it."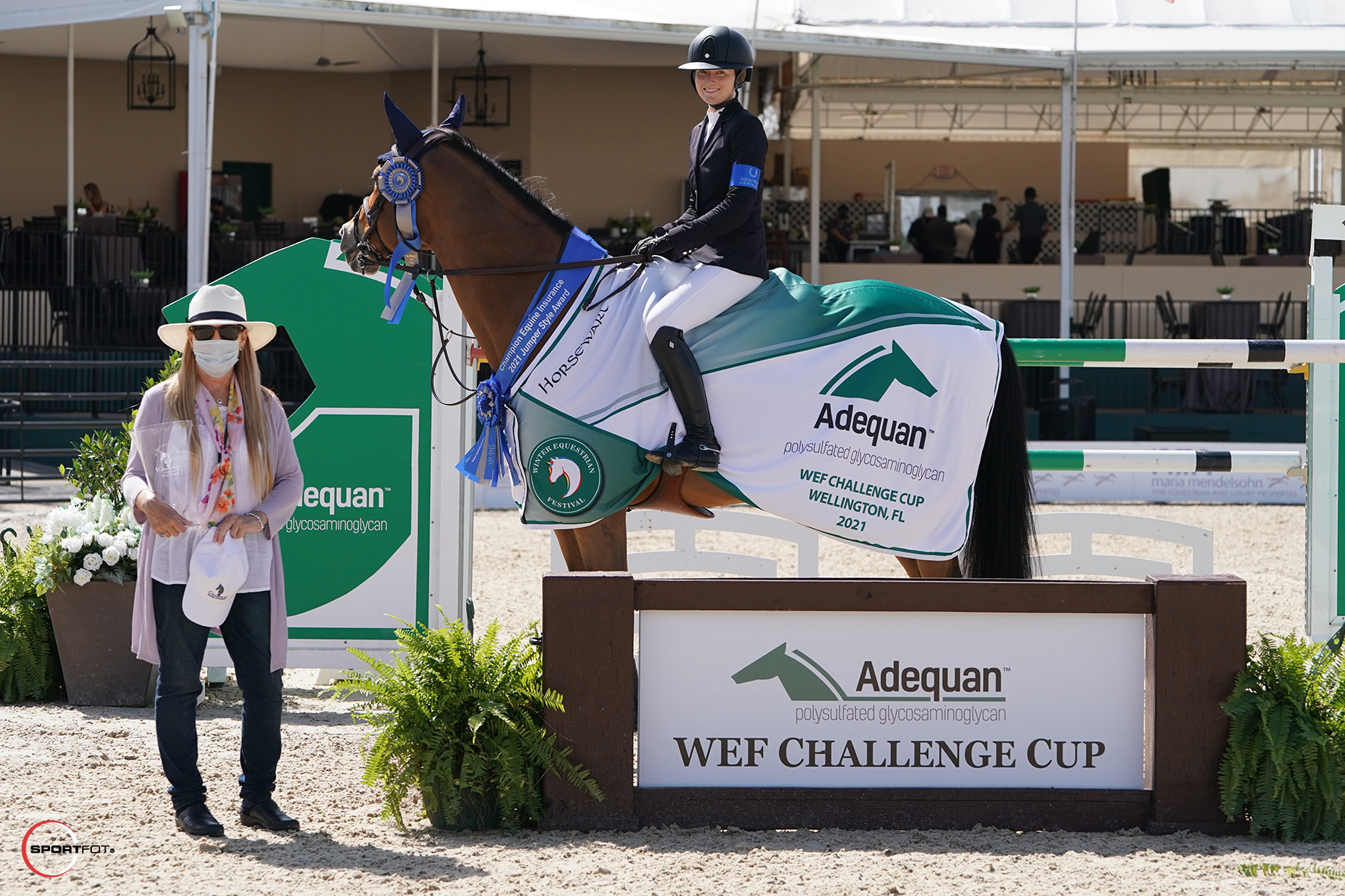 Nicole Shahinian-Simpson (USA) and Akuna Mattata, a 13-year-old Holsteiner mare by Quinar x Landwind II owned by Silver Raven Farms, finished in second place in a time of 32.89 seconds. Rounding out the podium was Brazilian rider Eduardo Menezes aboard the 16-year-old Oldenburg gelding H5 Quintol for H5 Sport Horses, LLC, stopping the timers in 33.19 seconds.
Deslauriers and Hester will have another shot at victory on Saturday when they jump under the lights in the $401,000 Douglas Elliman Real Estate Grand Prix CSI5* in the International Arena. While she's only 22 years old, she has already proven herself as a fierce competitor on the international stage and has a solid understanding of what it takes to be successful.
"He really knows me so well," she said of Hester, a 16-year-old Belgian Warmblood gelding by Wandor van de Mispelaere x Palestro vd Begijnakker. "I feel like he knows what I'm going to do before I do it so in a class like this and especially on Saturday night when you know it's going to be a big and technical course, it's always an advantage. The competition here is as tough as it ever has been, and it's the goal to win when we compete in these classes. I can use today's victory to boost my confidence before Saturday, but I know I still have a job to do in a few days."
Watch the winning jump-off round here!
The dynamic duo has climbed the ranks together, picking up some impressive victories along the way including individual gold at the 2015 Adequan®/FEI North American Young Rider Championships and rode to a team bronze medal representing the United States at the 2019 Pan American Games in Lima, Peru.
"I go into the jump-off, and I know it's just going to be fun," she said with a smile. "I have to stick to my plan, and he's always with me. I came out of the ring last week and I was like, 'I think he had fun.' It's always a good time."
Wrapping up the day in the International Arena, Samatha Cohen and Carmen were victorious in the Lugano Diamonds $2,500 High Amateur Owner Jumpers.
Final Results: $73,000 Adequan® WEF Challenge Cup Round 5
1. HESTER: 2005 Belgian Warmblood gelding by Wandor van de Mispelaere x Palestro vd Begijnakker
LUCY DESLAURIERS (USA), Lisa Deslauriers: 0/0/31.97
2. AKUNA MATTATA: 2008 Holsteiner mare by Quinar x Landwind II
NICOLE SHAHINIAN-SIMPSON (USA), Silver Raven Farms: 0/0/32.89
3. H5 QUINTOL: 2005 Oldenburg gelding by Quintender x Cento
EDUARDO MENEZES (BRA), H5 Sport Horses, LLC: 0/0/33.19
4. KASPER VAN HET HELLEHOF: 2010 BWP stallion by Emerald x Hadise Van Het Hellehof
MCLAIN WARD (USA), Poden Farms: 0/0/33.44
5. FIGOR: 2010 KWPN gelding by Querly-Elvis x Indoctro
TIFFANY FOSTER (CAN), Artisan Farms, LLC: 0/0/33.49
6. EDDIE BLUE: 2009 KWPN gelding by VDL Zirocco Blue x Marlon
DEVIN RYAN (USA), LL Show Jumpers, LLC: 0/0/33.57
7. CHACNA: 2007 Hanoverian mare by Chacco-Blue x Narew XX
ENRIQUE GONZALEZ (MEX), Enrique Gonzalez: 0/0/33.58
8. EXPLOSION W: 2009 KWPN gelding by Chacco Blue x Baloubet du Rouet
BEN MAHER (GBR), Poden Farms: 0/0/33.97
9. CARLITO'S WAY 6: 2010 Holsteiner gelding by Casall x Lordanos
RODRIGO PESSOA (BRA), Artemis Equestrian Farm LLC: 0/0/34.49
10. BARDOLINA 2: 2009 Holsteiner mare by Clarimo x Landos
MARIO DESLAURIERS (CAN), Wishing Well Farm, LLC: 0/0/35.09
11. CONFU: 2007 Holsteiner gelding by Contact Me x Cambridge
LAURA KRAUT (USA), St. Bride's Farm: 0/0/35.48
12. QUIBELLE: 2009 Hanoverian mare by Quaid x Stakkato
SPENCER SMITH (USA), Gotham Enterprizes LLC: 0/4/34.74
Olivia Chowdry Rides to Second Win In Two Weeks
Fresh off an opening day victory in the CSI2* during WEF 4 with Chuck Berry 8, Olivia Chowdry (USA) repeated her performance, this time in the $6,000 Restylane 1.45m CSI2* with Balkana du Tillard, owned by Atlas Equine Holdings LLC. Chowdry was fastest out of 21 entries and 14 clear rounds to take the win in 50.80 seconds.
Chowdry felt that she won the class by leaving out a stride between the first and second jumps on course.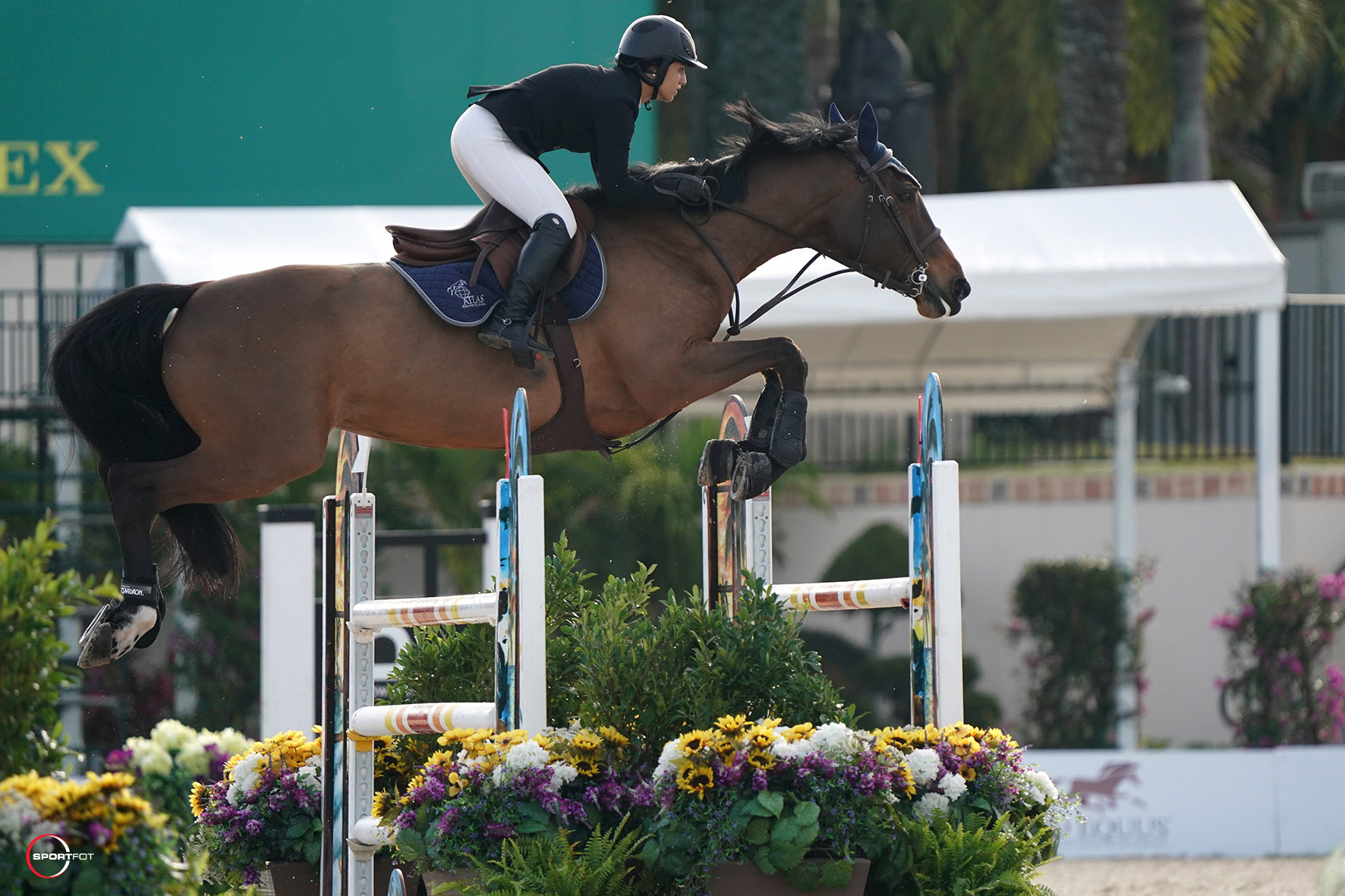 Second place went to Gabriela Reutter (CHI) and Atticus Diamant, owned by Lumiere Horses Inc. in 51.21 seconds. Zoe Conter (BEL) and Stephex Stables' Soory de l'Hallali were third in 51.79 seconds.
Chowdry has been riding Balkana du Tillard for a year and a half after an initial lease period in Europe through Axel Verlooy. The 10-year-old Selle Francais mare by Kannan x Landgold has exceeded expectations for Chowdry and her trainers, Katie and Henri Prudent.

Watch the winning jump-off round here!
"Honestly, she's just been the gift that keeps giving," said Chowdry. "What she doesn't know, she just tries harder. She's been great for me to get to know a horse that you have to back up with a little bit of leg. I ride really hot horses, so she's been great for me to learn."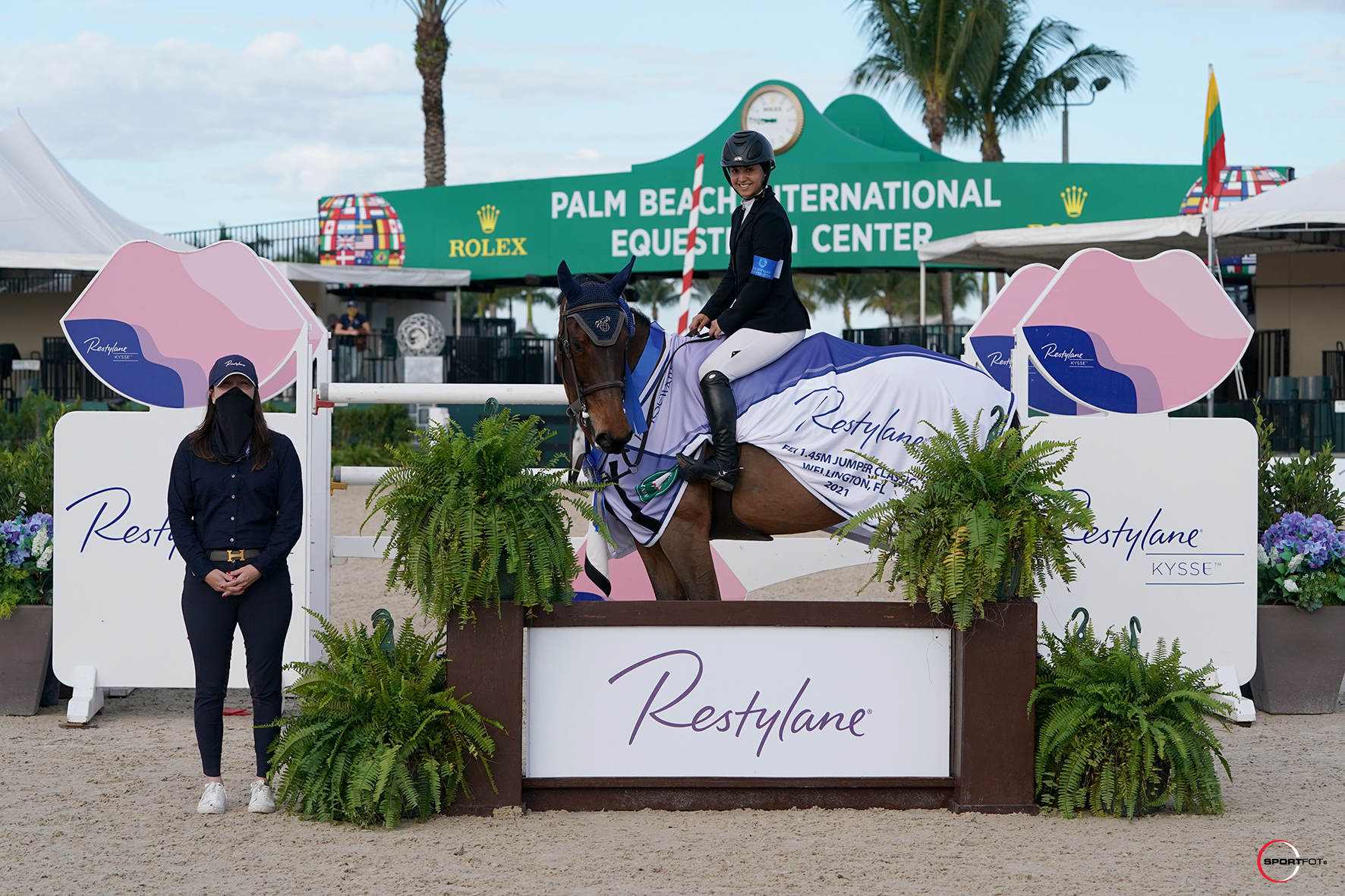 Chowdry uses Balkana du Tillard as a second horse for ranking speed classes, but she feels that there is more that the mare can do.
She explained, "I think there's a little more in there so I'm really excited about her. You know you are going to go in and have a confident round which, especially for somebody at my level moving up to these bigger classes, I think she's just great to keep me confident."
Jimmy Torano Celebrates His Birthday with the Green Conformation Hunter Championship
Competition for the Green Conformation Hunter division wrapped up on Thursday in the E.R. Mische Grand Hunter Ring. Jimmy Torano, who was also celebrating his birthday, rode Isalou, Inc.'s Laskano to top honors with three firsts, a second, a third, and a seventh place ribbon.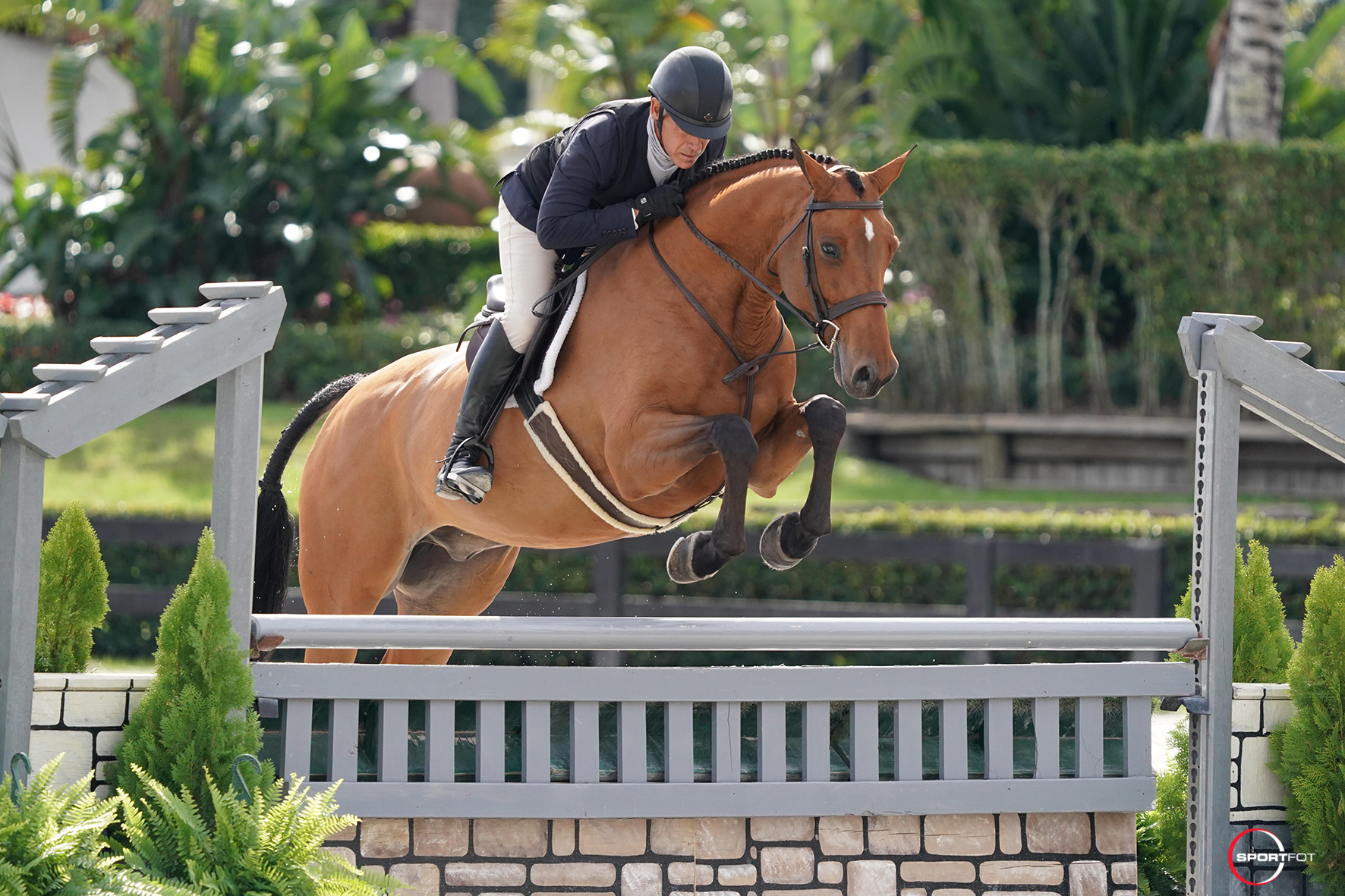 Torano, of Wellington, FL, has had the ride on the nine-year-old Westphalian gelding by Los Angeles since last April. Torano and his good friend and client, Daryl Portela, purchased Laskano last year from Emil Spadone in Ocala, FL.
"The horse just wants to win. He doesn't want to let you down," described Torano. "He actually won a Green 3'6" class right before this, so he won three classes in a row today. He has won so many classes for me in the professional divisions, and also for Daryl in the amateur divisions. He is just an easy horse."
Torano piloted Laskano to win both over fences classes on Thursday, and the pair also took home the blue ribbon in the model.
"I really let him gallop today. There was a long run to a single oxer, and I really galloped to that," explained Torano. "Even when I went in, I immediately picked up a canter and started galloping to the first jump in both classes and I think that got the judge's attention."
The duo is looking forward to next week, World Championship Hunter Rider (WCHR) Week 6, and will hopefully earn themselves a spot in the $50,000 WCHR Palm Beach Hunter Spectacular. Torano also plans to show Laskano in the USHJA International Hunter Derbies coming up this season.
"I am planning to show him at Devon and Derby Finals," commented Torano. "I'm really going to try to save him for the big classes."
Michael Murphy, of Apopka, FL, and Kimberly Stewart's Crush received the reserve champion title in the division. The pair earned two firsts, two seconds, a third place.
Friday will feature more competition with the $37,000 Bainbridge 1.45m CSI5* and the $37,000 Restylane 1.45m Qualifier CSI2* both taking place in the International Arena. The WEF 2'9" Adult Amateur Hunter division will come to an end with the naming of the champion in Ring 12.