For Immediate Release
Summer Grace and Emily Riden for Jennifer Wood Media, Inc.
Wellington, FL – March 14, 2019 – Laura Chapot (USA) rode Chandon Blue to the win in the $36,000 Equinimity WEF Challenge Cup Round 10 CSI 3* on Thursday, March 14, at the Winter Equestrian Festival (WEF) in Wellington, FL.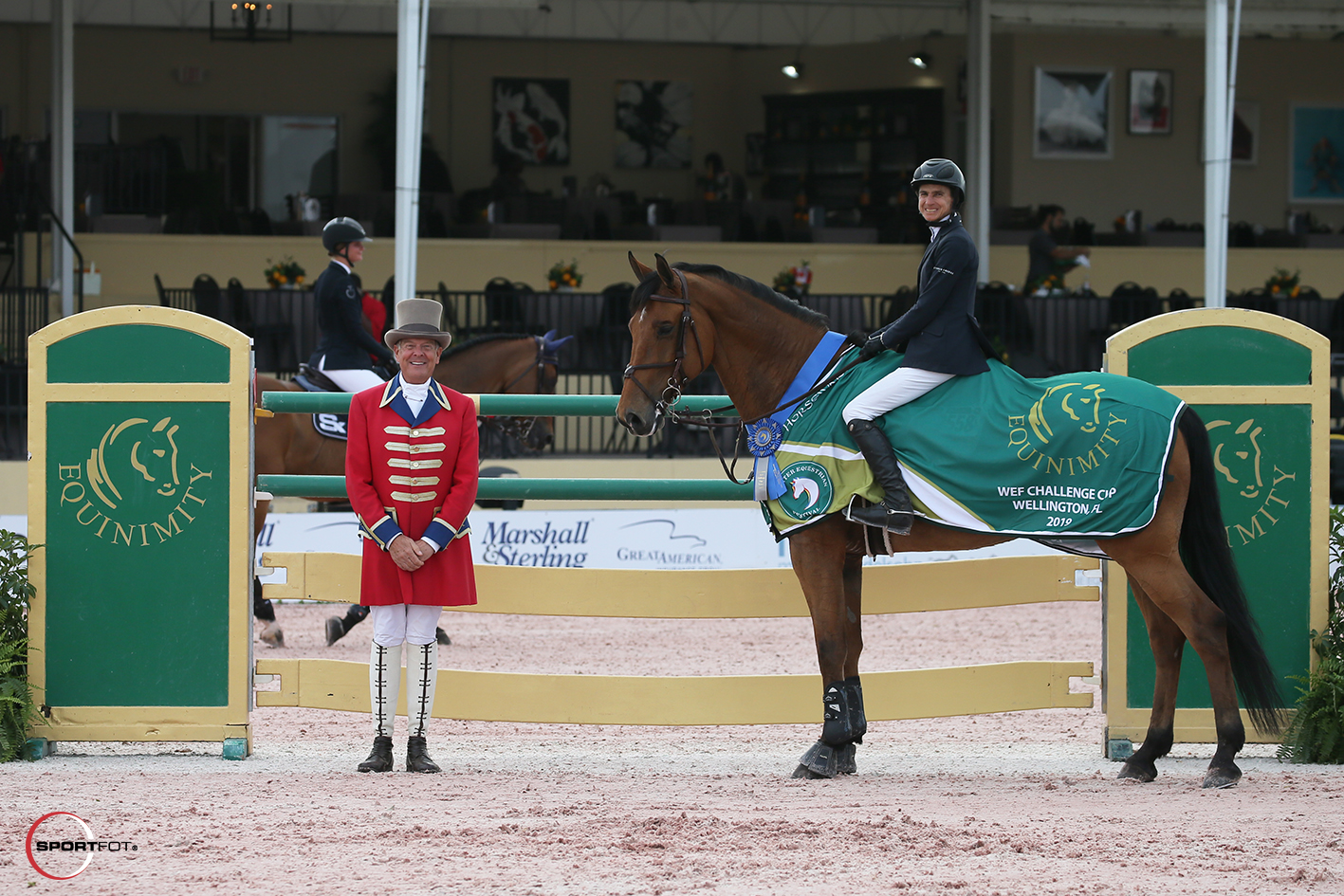 WEF's world-class jumper, hunter, and equitation competition continues through March 31, 2019, at the Palm Beach International Equestrian Center, with the 12-week circuit offering more than $9 million in prize money. Week 10, sponsored by Horseware Ireland, runs through Sunday, March 17, with highlight events including the $134,000 Horseware Ireland Grand Prix CSI 3* at 7:30 p.m. on Saturday, March 16, and the $36,000 CaptiveOne Advisors 1.50m Classic CSI 3* on Sunday, March 17.
Thursday's featured Equinimity WEF Challenge Cup competition saw 85 entries contest the first-round track set by Canada's Michel Vaillancourt before the field was narrowed to 19 horse and riders qualified to return for the jump-off. Of the 19 jump-off qualifiers, six elected to save their horses for another day, having already secured their places in Saturday's $134,000 Horseware Ireland Grand Prix CSI 3* based on their clear first round results.
With 13 horses still in the jump-off, speed was the name of the game for the early returning riders, but one-by-one they all saw rails fall, as the fast pace kept any of the first nine riders from jumping double clear. Turning in the fastest four-fault time was Amanda Derbyshire (GBR) aboard Roulette BH, owned Gochman Sport Horses, LLC. When Chapot and Chandon Blue entered the ring, Derbyshire had set the score to beat at four faults in a time of 38.74 seconds, making Chapot's goal a quick and clear round, but not one that required an all-out speed effort, which is just what she delivered, stopping the clock in a clear 39.21 seconds to ultimately take the win.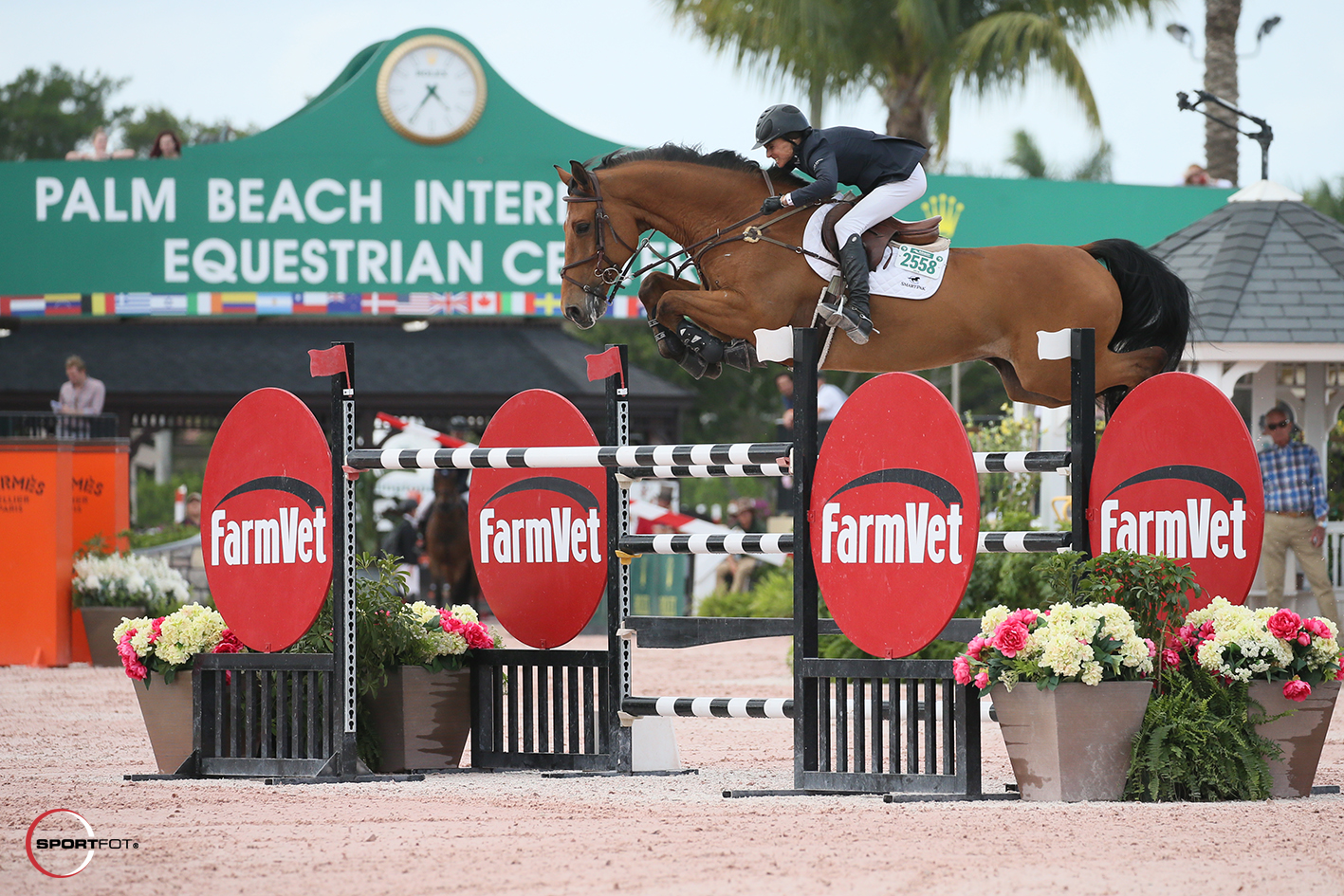 Two of the remaining returners, Zoe Conter (BEL) and Georgina Bloomberg (USA), also took Chapot's smooth, clear round approach, securing the second-place honor for Conter and her mount Davidoff de Lassus, owned by Stephex Stables, with a time of 40.48 seconds, and giving Bloomberg and Manodie II H, owned by Gotham Enterprizes, LLC, third with a time of 45.81 seconds. Derbyshire's four-fault effort held up for fourth place, while fifth went to Francisco Jose Mesquita Musa (BRA) who rode Daniel Aguiar Morelli's Catch Me Imperio Egipicio to a four-fault finish in 39.05 seconds.
"When you have so many in the jump-off, you really think it's going to be very, very fast," said Chapot, who has had the ride on Chandon Blue, owned by Mary Chapot, for the last year and who also claimed victory with the 14-year-old Oldenburg gelding by Chacco Blue x Landcapitol in the $50,000 Dutta Corp./Guido Klatte Grand Prix CSI 2* during WEF 7.
"People were going extremely fast at the cost of a rail," said Chapot. "I maybe didn't put in the fastest jump-off ever, but my horse jumped great. It just seems like [Chandon Blue] jumps better and better every time I ride him. It feels like he has a lot of ability, and he always tries his heart out. We fortunately had a good clear round. I didn't take any risks to the last jump, and fortunately, it held up!
"I had planned one less [stride] from one to two," continued Chapot. "He ended up jumping so high over the first jump, it was going to be a real run to make one less stride. I know he's a quick horse anyway, so I figured I could be really neat and jump clear. He gets across the ground very quickly. So, it wasn't so much about the number of strides through the first part of the course, it was making sure that you jumped all the jumps clean and not leaving too much open for the rest of the competitors."
Earlier in the day on Thursday, Canada's Eric Lamaze earned the win in the $8,000 Douglas Elliman Real Estate 1.45m aboard Chacco Kid, marking the pair's first time in the show ring together since the FEI World Equestrian Games™ Tryon 2018. Lamaze and the 13-year-old Oldenburg gelding, owned by the Chacco Kid Group, tripped the jump-off timers in 28.74 seconds to take the win over Chris Ewanouski and Binja, owned by Castle Point Farm, LLC, who finished in 29.216 seconds.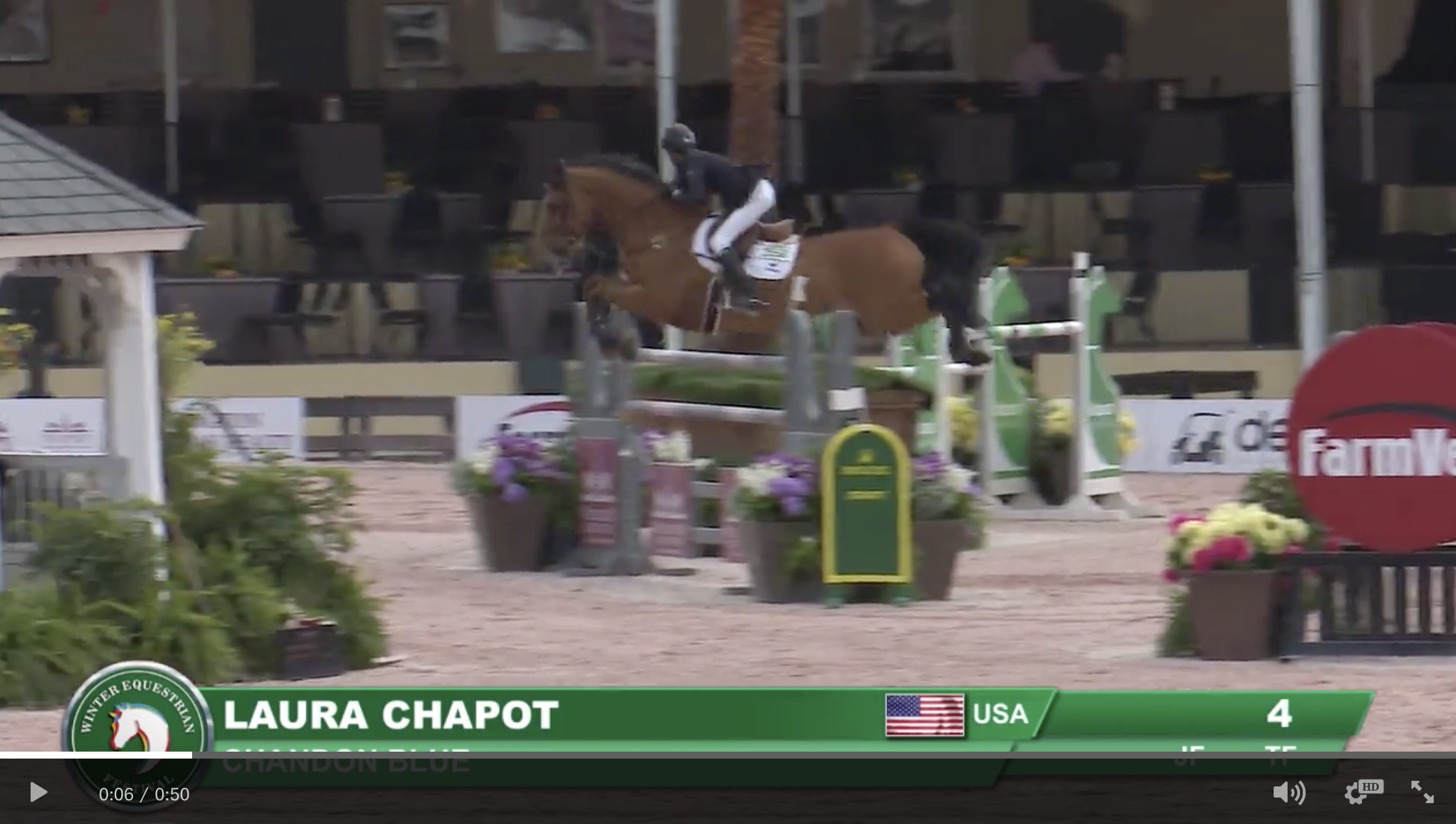 Final Results: $36,000 Equinimity WEF Challenge Cup Round 10 CSI3*
1 CHANDON BLUE: 2005 Oldenburg gelding by Chacco Blue x Landcapitol
LAURA CHAPOT (USA), Mary Chapot: 0/0/39.21
2 DAVIDOFF DE LASSUS: 2009 Belgian Warmblood stallion by Ugano Sitte x Origine du Mont D'or
ZOE CONTER (BEL), Stephex Stables: 0/0/40.48
3 MANODIE II H: 2005 Oldenburg mare by Carthago x Zeus
GEORGINA BLOOMBERG (USA), Gotham Enterprizes LLC: 0/0/45.81
4 ROULETTE BH: 2009 Irish Sport Horse gelding by Moschino x Michellino
AMANDA DERBYSHIRE (GBR), Gochman Sport Horse LLC: 0/4/38.74
5 CATCH ME IMPERIO EGIPCIO: 2008 Hanoverian mare
FRANCISCO JOSE MESQUITA MUSA (BRA), Daniel Aguiar Morelli: 0/4/39.05
6 ARISTOTELES V: 2005 KWPN stallion by Padinus x Lux
JONATHAN MCCREA (USA), Candy Tribble: 0/4/40.03
7 VALENTINO D'ELTE: 2009 Selle Francais gelding by Castronom Z*de Hus x Windsor
VANESSA MANNIX (CAN), Vanessa Mannix: 0/4/43.01
8 SOORY DE L'HALLALI: 2006 Selle Francais mare
LORENZO DE LUCA (ITA), Stephex Stables: 0/4/47.50
9 ALL IN: 2005 KWPN gelding by Aachen x Indoctro
KATHERINE STRAUSS (USA), Katherine Strauss LLC: 0/8/38.68
10 CHINOOK II: 2007 KWPN gelding by Verdi x Little Rock
DARRAGH KENNY (IRL), Molly Tracy: 0/8/40.26
11 DICAS: 2009 Rheinlander gelding by Diarado x Cassini I
MARGIE ENGLE (USA), Storm Ridge Capital LLC, Show Horses, Garber & Gladewinds Partners LLC: 0/8/41.20
12 MAGIC MIKE: 2009 Dutch Warmblood gelding by Zapatero VDL x Indoctro
MICHAEL MURHPY (USA), Elizabeth Kilham: 0/8/42.41
Greg Crolick and Corallo Z Swoop Antares High Performance Working Hunter
Three top High Performance Working Hunter combinations kicked off competition in the E.R. Mische Grand Hunter Field on Thursday during Week 10 of the 2019 Winter Equestrian Festival. Greg Crolick, Tiffany Hammack, and Chaz Harpman all returned with their mounts to contest for champion in the Antares High Performance Working Hunter division. Finishing on a win in four out of the five division classes, Greg Crolick of Clarkston, MI, took home the tricolor ribbon aboard Renaud Farm's Corallo Z.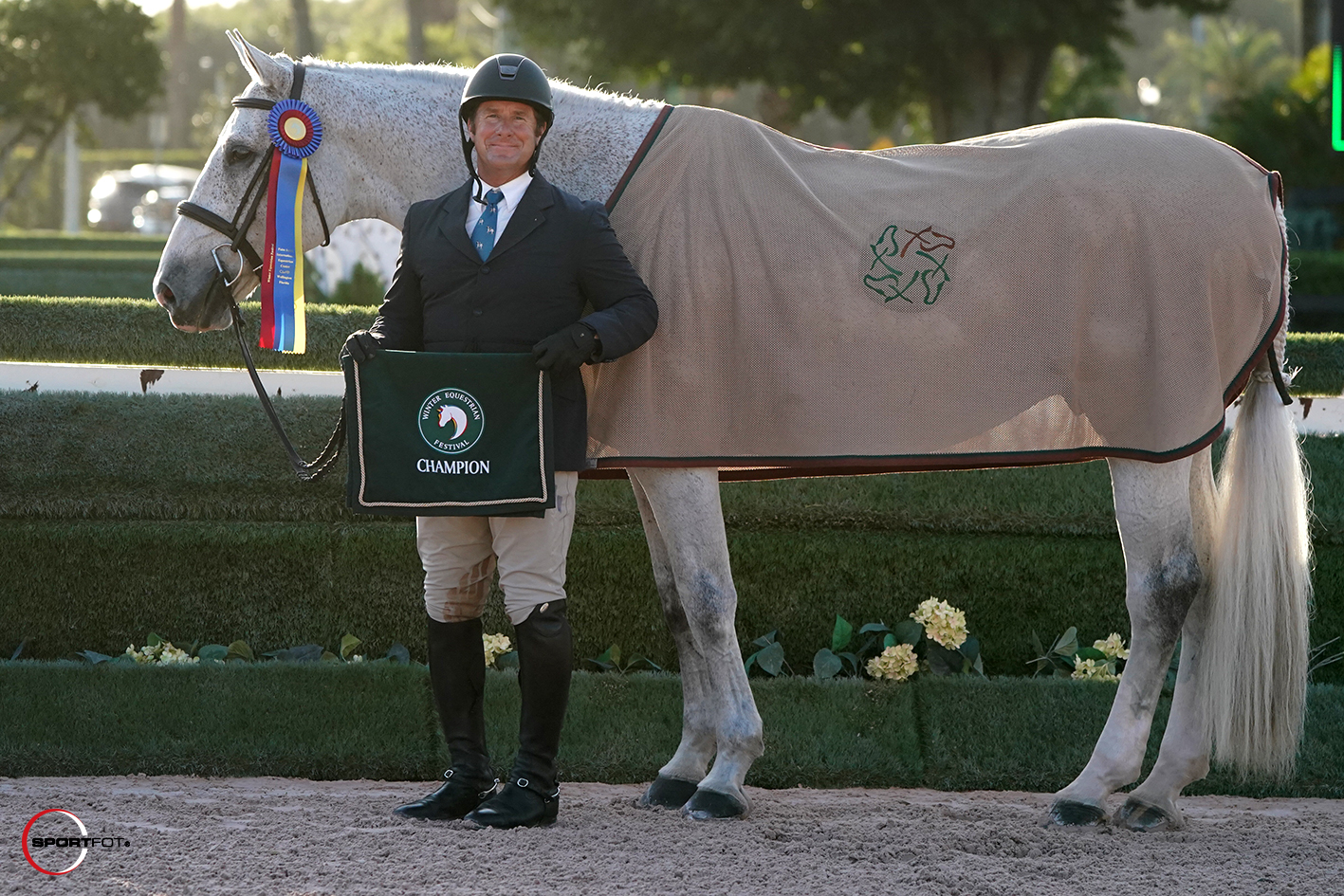 Crolick and the 10-year-old Warmblood gelding put in impressive performances to win both the handy round with a score of 81 points and the stake class on 83 points.
"We've only had him for about four months and he's only started doing the hunters since he came to us; he was a jumper and equitation horse before," Crolick explained. "I saw him and just really thought he had an incredible jump that would make him a nice High Performance horse."
"He's incredibly brave," he continued. "He's so easy to get to the ring too, without putting a ton of preparation into him. He's really pretty unflappable."
Crolick will continue to market and show Corallo Z in the High Performance Hunters and potentially some hunter derbies throughout the remainder of the season.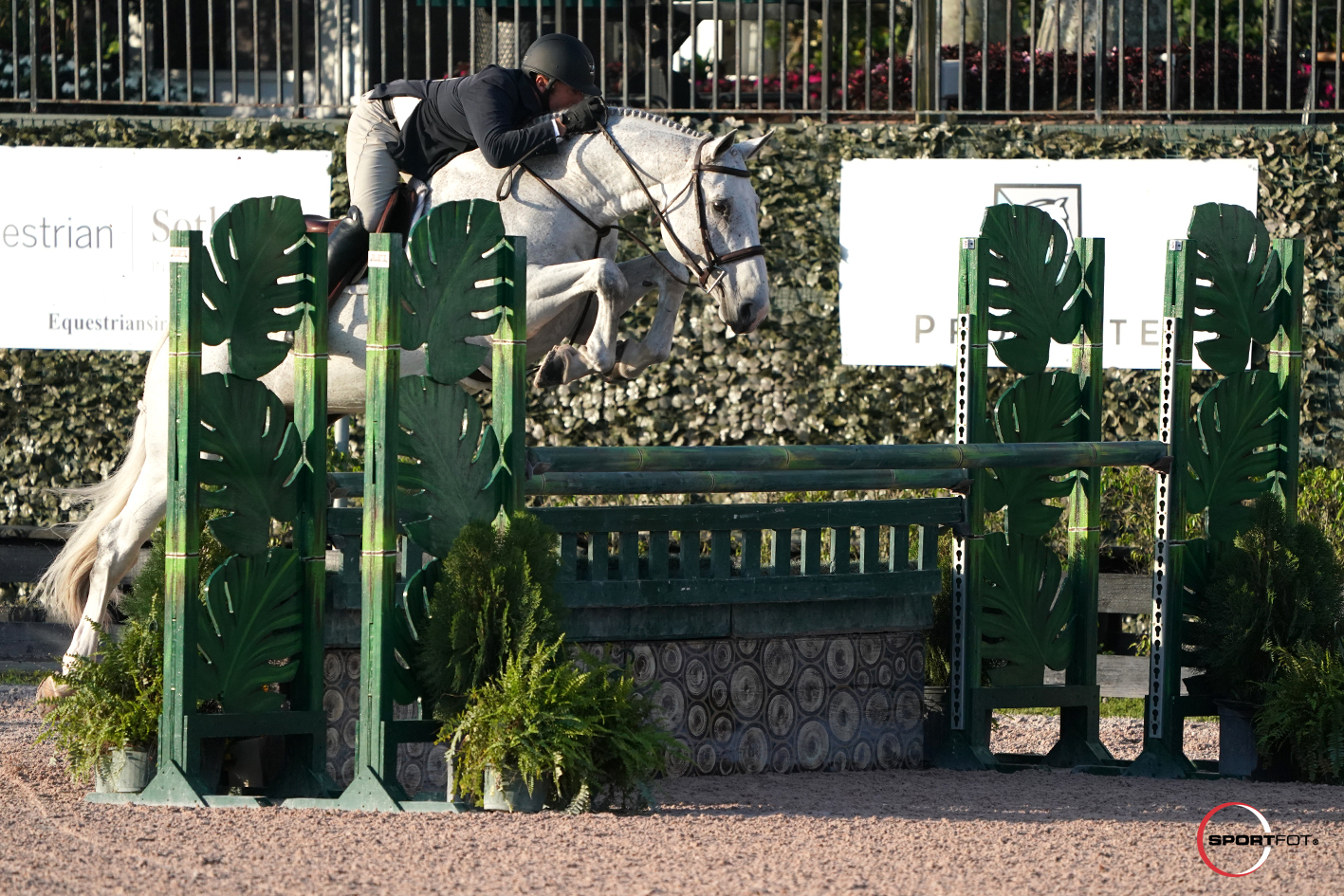 Reserve champion was awarded to Tiffany Hammack and Diane Giard's Singular Sensation. Hammack and the nine-year-old Hanoverian gelding (Stolenberg x Santana) racked up one first place, three seconds, and a third for their efforts.
The E.R. Mische Grand Hunter Field will resume with hunter competition Friday, March 15, with the Adult Amateur Hunter Younger (Sec. A) division. Jumper highlights include the $36,000 Bainbridge 1.45m Classic in the International Arena.