For Immediate Release
Sabrina Schmidt and Jennifer Wood for Jennifer Wood Media, Inc.
Wellington, FL – January 6, 2022 – Hunters were the highlight on Friday, January 7, 2022, at the 2022 Winter Equestrian Festival (WEF), at the Palm Beach International Equestrian Center in Wellington, FL, as Jimmy Torano and Isalou Inc.'s Laskano took the top spot in the $25,000 USHJA International Hunter Derby 2*. The 2022 WEF features top jumper, hunter, and equitation competition for 13 weeks through April 3.
The opening Premiere week features nationally-rated competition through Sunday, January 9, with the feature classes including the $75,000 Battle of the Sexes, presented by Wellington Regional Medical Center on Saturday, January 8, at 7 p.m. as the opening event of the "Saturday Night Lights" series. The $75,000 Rosenbaum PLLC Grand Prix is on Sunday, January 9, at 2 p.m. Live streaming is available HERE.
After securing the second spot in round one with a score of 182 out of 26 entries, Jimmy Torano piloted Laskano around a twisty second round with bold and precise execution to finish top of the field with a second-round score of 211 and a total of 393.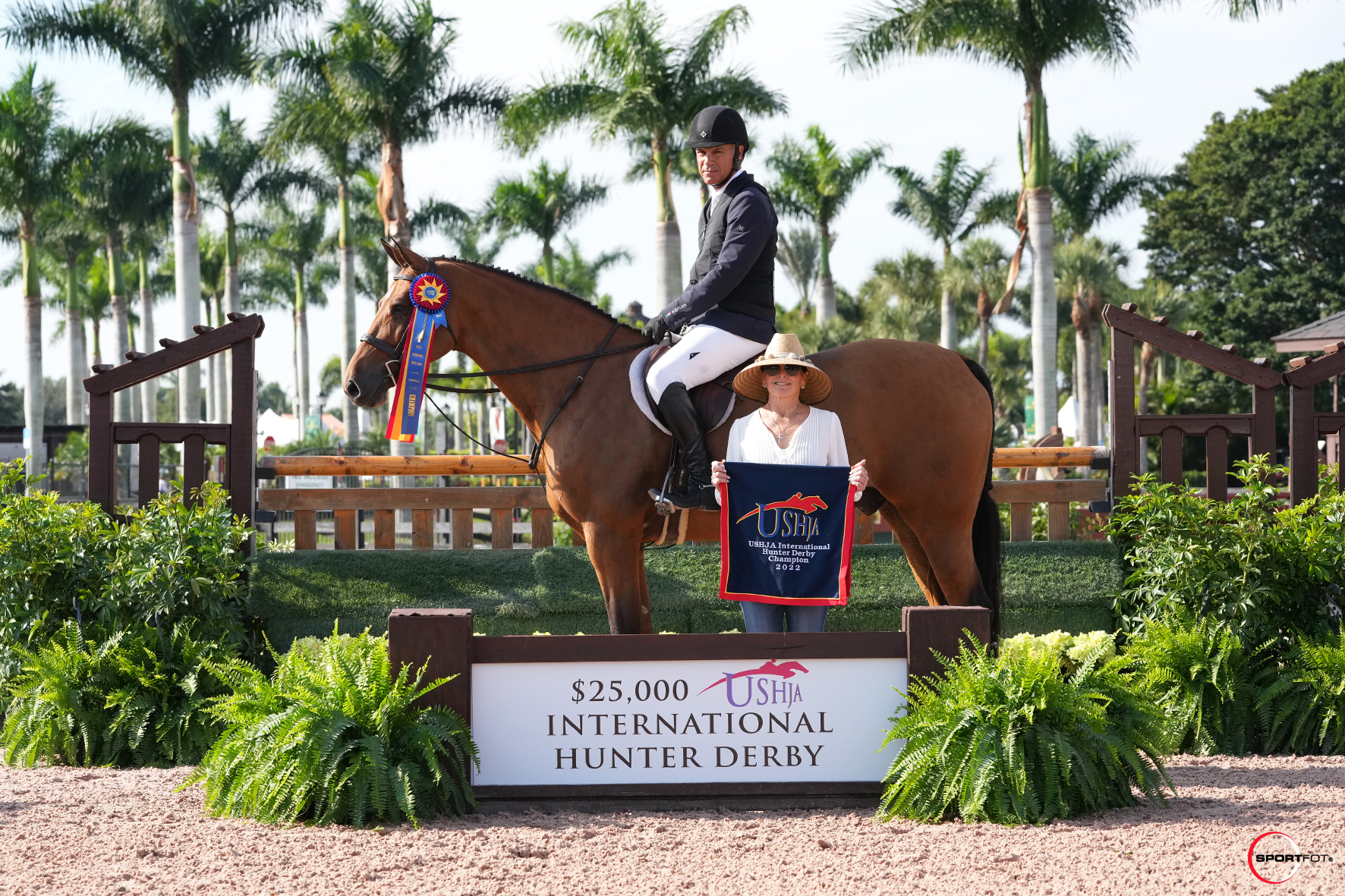 The two took several direct routes on their return handy trip, showing a decisive gallop up to an oxer, jumping a high option vertical at an angle, and choosing an inside turn to the trot fence. Torano's strategy for his second round clearly impressed the judges, earning him 19 out of 20 total possible handy points.
"One thing about me in the handy rounds is I really go all out for it. I think that's one of my strong points," said Torano. "Laskano was with me the whole time."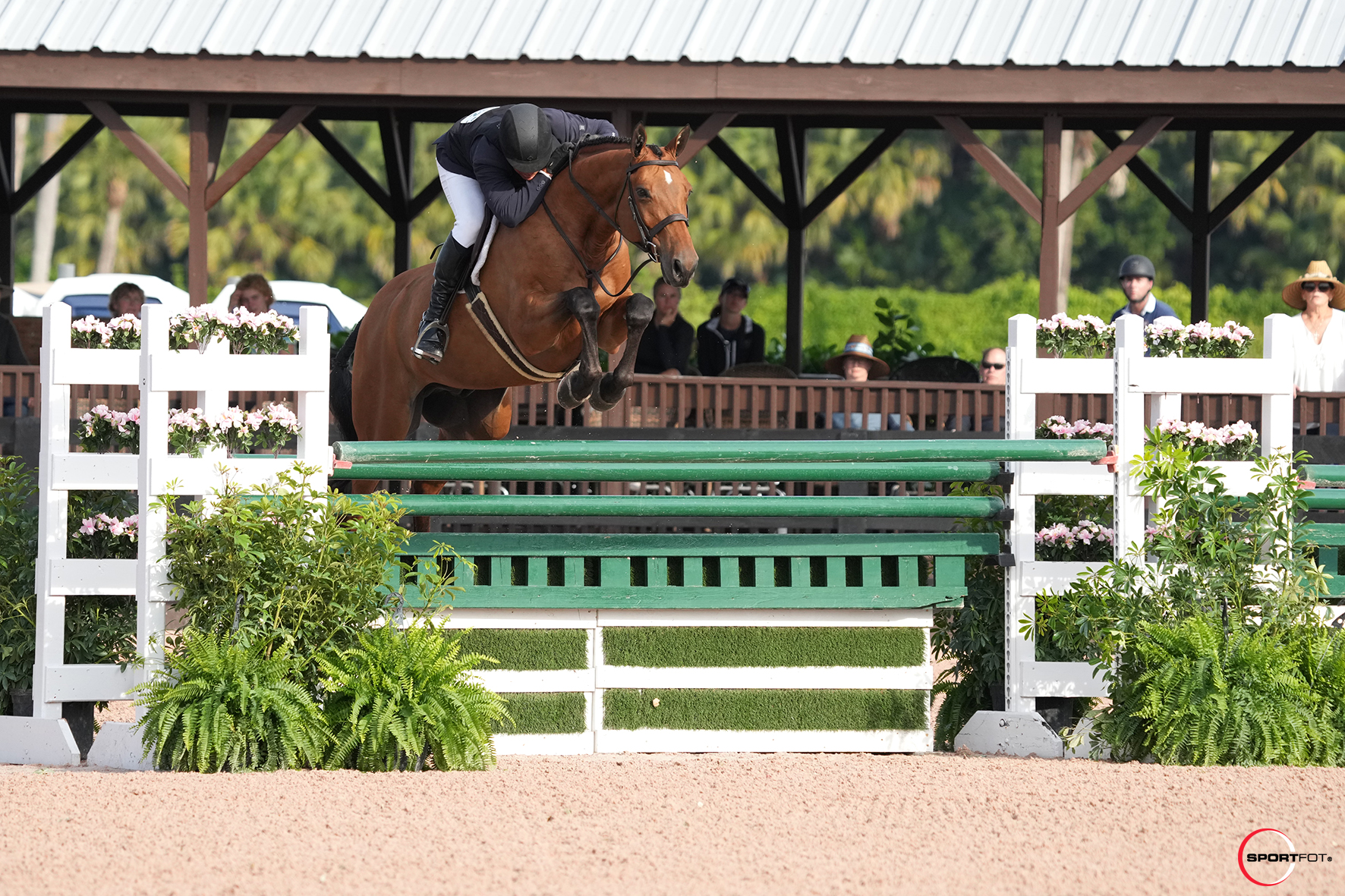 When asked about his mount, Torano had high praise for both the horse and its owner.
"He's just a real winner," said Torano of the 10-year-old Westphalian gelding by Los Angeles. "He's won everywhere. He's a super horse and won't let you down. Every time you go in the ring he goes to win.
"In my opinion, I have the best owner," continued Torano. "Daryl Portela owns him. We've been childhood friends, [she's a] longtime client of mine, and she has him just to watch now. She stopped riding, but she gets to watch this horse and really enjoys him."
Click to watch Jimmy's interview!
Laskano and Torano won the classic round at the 2021 USHJA International Hunter Derby National Championship and were in the winner's circle during the ESP Holiday Circuit, where they were victorious a $15,000 USHJA International Hunter Derby and finished as Green Hunter 3'9" circuit champions. Torano's goal is to return to the national championship this summer.
Having a derby during Premiere Week at WEF is new to the schedule but was appreciated by Torano.
"I personally loved it," commented Torano. "I love that the horses could come out fresh, and they weren't stale. It was nice they came in a new ring, and I love that it sort of highlights the hunters right off the bat."
While an early win in the season is exciting, there's also a plan going forward.
"Week six is a big week for the hunters," noted Torano. "I'll aim for the $100,000 [Peter Wetherill USHJA Palm Beach Hunter] Spectacular for sure. We have another derby coming up later in the circuit too that I'll aim him towards, and I'll just spot him in and out to keep him fit and fresh enough for those big classes, but I won't over use him. The horse knows his job at this point."
Click to watch the winning ride!
Victoria Colvin also used her second round as a chance to impress the judges earning 18 out of 20 possible handy points and a score of 201 aboard Gabriel, owned by JT Farm, to move up from fifth place after a first round of 174 to end up second overall with 375.
Jennifer Bliss and Poker Face also had the opportunity to move up in the rankings earning 19 handy points on her scores of 88 and 85 boosting them from ninth in the first round with 165 to third overall with 194 in the second round and a total score of 359.
Final Results: $25,000 USHJA International Hunter Derby 2*
Horse, Rider, Owner
Round 1 Total | Round 2 Total | Overall Total
1. Laskano, Jimmy Torano, Isalou, Inc.
182 | 211 | 393
2. Gabriel, Victoria Colvin, JT Farm
174 | 201 | 375
3. Poker Face, Jennifer Bliss, Harris Hill Farm, LLC
165 | 194 | 359
4. Copernicus K, Tiffany Morrissey, Dr. Kathryn Withers
176 | 183 | 359
5. Proud To Be VH, Michael Dennehy, Sheryl Scolnick
173 | 185 | 358
6. Cascartini, Havens Schatt, Ken and Amy Wexler LLC
184 | 169 | 353
7. Face The Music, Jennifer Bliss, Harris Hill Farm, LLC
168.5 | 184 | 352.5
8. Maserati VDL, Shaine Brooks, Paris Levy
162 | 183 | 345
9. Lifestyle, Jimmy Torano, Barbara Coleman
180 | 164 | 344
10. Gotcha, Merry Harding, Newsha McCarthy
154 | 159 | 313
11. Clear Blue, Meghan Knapic, Knapic Stables LLC
171 | 109 | 280
12. Capitalized, Julia Weiss, Hannah Weiss
158 | 86 | 244
McLain Ward Notches First 2022 WEF Win
Four-time Olympic medalist McLain Ward (USA) notched his first win of the 2022 WEF circuit on Friday in the $6,000 Bainbridge Companies 1.40m Speed Challenge on Bonnie M Z over 44 other entries. The pair sped to victory in 60.780 seconds over the Eric Hasbrouck-designed course. Finishing just off the pace in second place were Laura Chapot (USA) and Out of Ireland, owned by Chapot and The Edge, who stopped the timers in 61.304 seconds. Catherine Tyree (USA) and Newton van het Krekelhof were third in 65.324 seconds.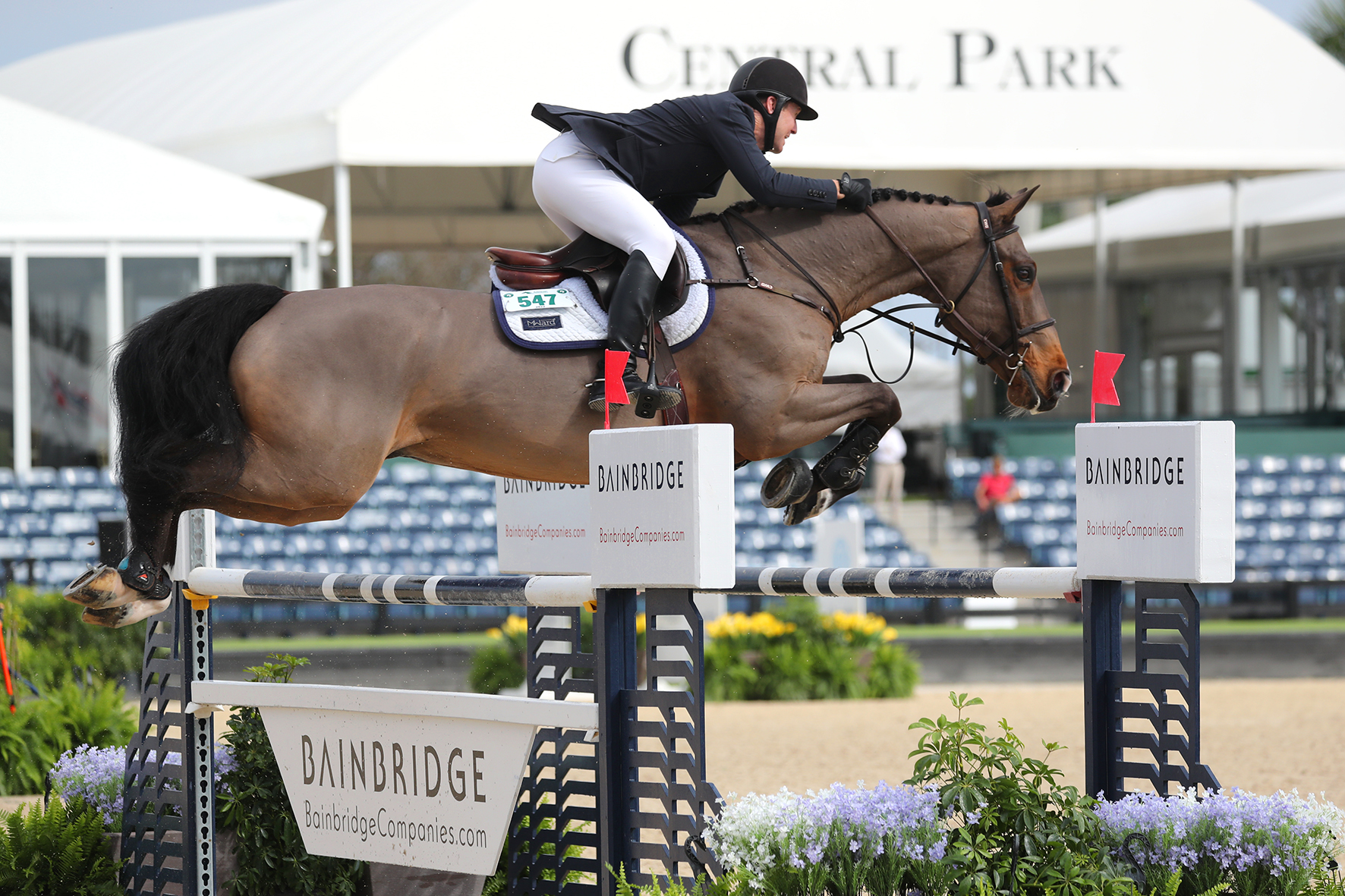 Ward and Bonnie M Z showed on Wednesday and improved to a winning performance in Friday's 1.40m class. Ward got the ride on Bonnie M Z two weeks ago through the Holtgers family of Gut Einhaus LLC. Ward has started a new partnership with them and will train Ansgar Holtgers Jr. Gut Einhaus entered into ownership of the horse in 2018, and he has been ridden by Olympic champions Eric Lamaze of Canada and Jeroen Dubbeldam (NED).
"They asked me to ride the horse and see what I thought he could be," said Ward of the 13-year-old Zangersheide gelding by Bentley Van De Heffinck x Berlin. "He's done up to three-star grand prix. The Holtgers have owned him for a few years, and now we're getting started with him."
Ward described, "He's a very good jumper. He has great technique and feeling. We are figuring out different parts about him, but today was a real step in the right direction."
Commenting about starting out another WEF winter, Ward said, "I always enjoy it. It's nice to get started after little break. It's organized chaos, but we enjoy that excitement. I look forward to getting going here."
WEF 2022 continues on Saturday, January 8, with the $25,000 CaptiveOne Advisors Classic in the afternoon, while the highlight of the week and start of the "Saturday Night Lights" series, the $75,000 Battle of the Sexes, presented by Wellington Regional Medical Center, kicks off at 7 p.m. Equitation riders take to Ring 7 to contest the THIS National Children's Medal 14 & Under.
Final Results: $6,000 Bainbridge Companies 1.40m Speed Challenge
 1 BONNIE M Z: 2009 Zangersheide gelding by Bentley Van De Heffinck x Berlin
MCLAIN WARD (USA), Gut Einhaus LLC: 0/60.78
2 OUT OF IRELAND: 2006 Anglo European mare by Lougherne Connaught x Amiro M
LAURA CHAPOT (USA), Laura Chapot & The Edge: 0/61.304
3 NEWTON VAN HET KREKELHOF: 2013 Belgian Warmblood gelding by Diamant De Semilly x Contact Vd Heffinck
CATHERINE TYREE (USA), Catherine Tyree LLC: 0/65.324
4 FRESCA LA QUADRA: 2010 KWPN mare by Carambole x BMC Nassau
ROBERTO TERAN TAFUR (COL), Roberto Teran Tafur: 0/66.361
5 BERDIEN: 2011 Zangersheide mare by Bustique x Querlybet Hero
MOLLY ASHE CAWLEY (USA), Louisburg Farm: 0/66.465
6 FAIRYTALE 86: 2010 KWPN mare by Verdi TN x Cantos
VANESSA HOOD (USA), Take Two LLC: 0/67.013
7 ZILOUET MYSTIC ROSE: 2013 Brazilian Sport Horse mare by Balou Du Rouet x Chin Chin
JUAN BOLANOS (ESA), Mariella Godoy: 0/68.527
8 LORD UP: 2011 Holsteiner gelding by Lordanos x Come On
AUDREY SCHULZE (USA), Riverbrook Sport Horses LLC: 0/69.553
9 LA BELLE SCF: 2011 Belgian Warmblood mare by Diktator Van De Boslandhoeve x Baldini
SUMMER HILL (USA), Summer Hill & Andrea Simpson: 0/70.889
10 CHATOU 7: 2009 Oldenburg gelding by Chacco-Blue x Toulon
NICOLETTE HIRT (USA), Iron Horse Equestrian: 0/71.482
11 CAPPUCCINO: 2012 Westphalian gelding by Comme Il Faut 5 x Sir Shutterfly
MOLLY ASHE CAWLEY (USA), Louisburg Farm: 0/71.661
12 TANAEL DES BONNES: 2007 Selle Francais gelding by Watch me Van't Zorgvliet x Don Pierre
BRIANNE GOUTAL-MARTEAU (USA), Gerald J. Ford: 0/72.105