For Immediate Release
Jennifer Wood Media, Inc.
Wellington, FL – January 25, 2018 – Canadian Olympic champion Eric Lamaze added another accolade to his list of accomplishments on Thursday of the third week of the 2018 Winter Equestrian Festival (WEF). He notched his 25th WEF Challenge Cup victory, this time in the $35,000 Equinimity WEF Challenge Cup Round 3 with Chacco Kid at the Palm Beach International Equestrian Center in Wellington, FL. The 12-week WEF circuit runs through April 1, 2018, and offers more than $9 million in prize money.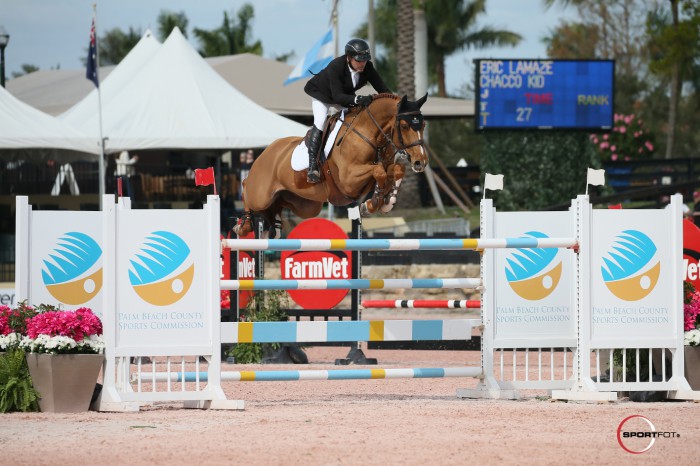 The third week of WEF, sponsored by Adequan®, runs January 24-28 and features the $132,000 Adequan® Grand Prix CSI 3* on Saturday, January 27, at 7 p.m.
The $35,000 Equinimity WEF Challenge Cup Round 3 had 85 entries, and there were 27 clears over the course designed by Peter Grant of Canada. Seventeen of those returned for the jump-off, and it was once again Lamaze and Chacco Kid who were fastest to lead the victory gallop. They crossed the timers in a speedy 40.02 seconds, the fastest time of the day and also a clear round. Lamaze now ties Olympic gold medalist McLain Ward (USA) for 25 WEF Challenge Cup victories, the most in the history of the class. Lamaze and Chacco Kid won this class just last week as well.
Second place went to Sunday's 1.45m Classic winners, Marilyn Little (USA) and Clearwater, owned by Karen O'Connor. They finished clear in 41.37 seconds. Olympic gold medalist Beezie Madden (USA) and Abigail Wexner's HHS Hercules were third in 42.28 seconds.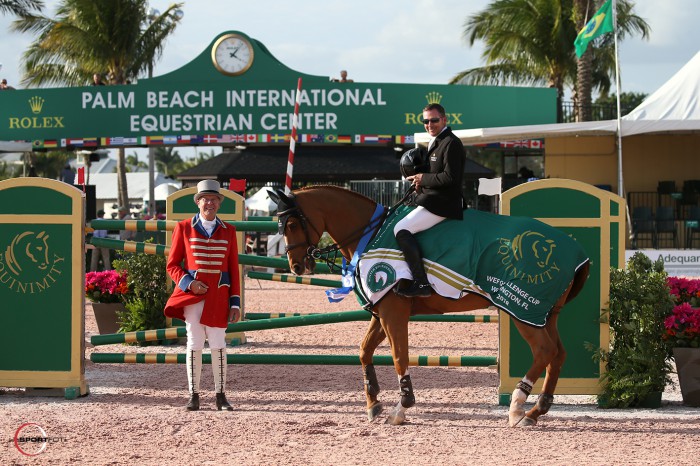 While the class was stacked full of tough competition, Lamaze felt it was a good learning experience to go for speed with Chacco Kid, a 12-year-old Oldenburg gelding by Chacco-Blue x Come On owned by the Chacco Kid Group.
"Chacco Kid is learning to go fast," said Lamaze. "Last year I didn't really take any chances with him in the jump-off. This is a lesson to get to know your horse and to take some chances. This was a good 1.50m, so the jumps were up there, but still, you have to get to know your horse. If you're ever in a situation that it's the largest prize money or the biggest competition in the world, you're going to feel better taking some risks, knowing that you've done it before."
Lamaze knew going into the class that he would compete in the jump-off, even though Thursday's class is the qualifier for the Saturday night grand prix.
"It's the beginning of the season," he explained. "The horses are fresh. He feels really good. He's jumping well. Nothing is telling me that I should have saved him for Saturday. I have a superstition about that. I feel it's bad luck."
"The Chacco Kid Group is formed out of wonderful owners that are supporting me with this horse," said the rider, who boasts Olympic individual gold, team silver, and individual bronze medals. "I couldn't be happier for them. This is a horse I believed in from the beginning, so I'm really happy for him."
Earlier on Thursday, Laura Chapot continued her winning streak in the Douglas Elliman Real Estate 1.45m Jumper division with victory on Out of Ireland, owned by The Edge. She was almost three seconds faster than second-place finishers, Alex Granato and Beorn, owned by Moyer Farm LLC. Beezie Madden (USA) and Abigail Wexner's Coach placed third.
Final Results: $35,000 Equinimity WEF Challenge Cup Round 3
1 CHACCO KID: 2006 Oldenburg gelding by Chacco-Blue x Come On
ERIC LAMAZE (CAN), Chacco Kid Group: 0/0/40.02
2 CLEARWATER: 2007 Holsteiner gelding by Clearway x Come On
MARILYN LITTLE (USA) Karen O'Connor: 0/0/41.37
3 HHS HERCULES: 2009 Irish Sport Horse gelding by Guidam
BEEZIE MADDEN (USA), Abigail Wexner: 0/0/42.28
4 BRIGHTON: 2006 KWPN gelding by Contender II x Quick Star
TIFFANY FOSTER (CAN), Artisan Farms LLC & Torrey Pines Stable: 0/0/42.46
5 INDRA VAN DE OUDE HEIHOEF: 2008 Belgian Warmblood mare by Casantos x Action-Breaker
SHANE SWEETNAM (IRL), The Blue Buckle Group: 0/0/42.80
6 CHACNA: 2007 Hanoverian mare by Chacco-Blue x Narew XX
ENRIQUE GONZALEZ (MEX), Enrique Gonzalez: 0/0/44.25
7 DAISY: 2008 KWPN mare by Excenel V x Timeless
MEREDITH MICHAELS-BEERBAUM (GER), Artemis Equestrian Farm LLC: 0/0/48.69
8 THRILLER P: 2004 Swedish Warmblood stallion by Cardento x Lucky Light
SAMUEL PAROT (CHI), Stransky's Misson Farms, Inc: 0/4/40.56
9 VICTORIO 5: 2006 Hanoverian stallion by Uccello x Graf Top
TODD MINIKUS (USA), Plain Bay Sales: 0/4/41.06
10 RIVALE DU BARQUET: 2005 Selle Francais gelding by Adelfos x Iago C X
SPENCER SMITH (USA), Ashland Farms: 0/4/41.61
11 CALIFORNIA 62: 2004 Holsteiner mare by Cassini I x Galant Vert
ANDREW RAMSAY (USA), The California Group: 0/4/42.22
12 COR BAKKER: 2007 KWPN gelding by Colandro x Quattro
FERNANDO MARTINEZ SOMMER (MEX), Fernando Martinez Sommer: 0/4/42.87
Jennifer Hannan and Mindful Crowned Champions in Antares Sellier France High Performance Working Hunter
Jennifer Hannan and her mount, Mindful, owned by Kensel, LLC, took to the E.R. Mische Grand Hunter ring on Thursday and captured the championship title with three firsts and a fifth over fences and a second in the under saddle in the Antares Sellier France High Performance Working Hunters.
"He is a really good horse, and he knows his job," said Hannan of the 14-year-old Hanoverian gelding. "He's a blast to ride and has all the stride and scope you could ask for."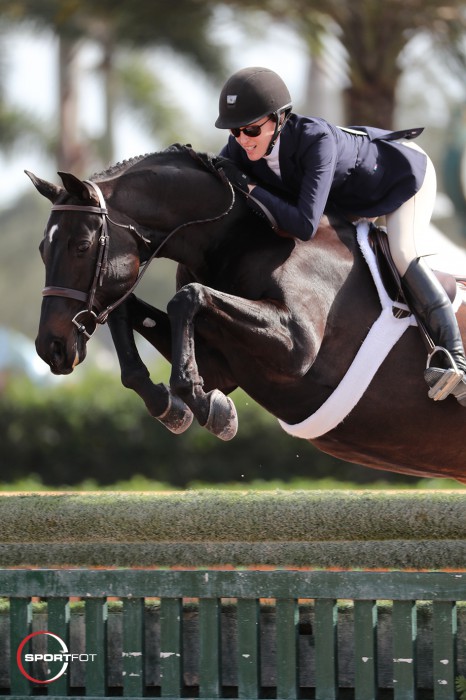 Mindful is an established figure in the show ring with a record of highlight achievements such as being named The Chronicle of the Horse's Show Hunter of the Year and the USHJA World Championship Hunter Rider Hunter of the Year. He additionally claimed numerous USHJA International Hunter Derby wins and earned honors as the high scoring horse in professional divisions at competitions such as the Devon Horse Show and the Washington International Horse Show.
"He is a new ride for me, and I feel privileged to ride a horse with such a huge history," commented Hannan.
Having shown the young gelding lightly throughout the last year, Hannan added that the pair's focus was to stay smooth and straight around the course.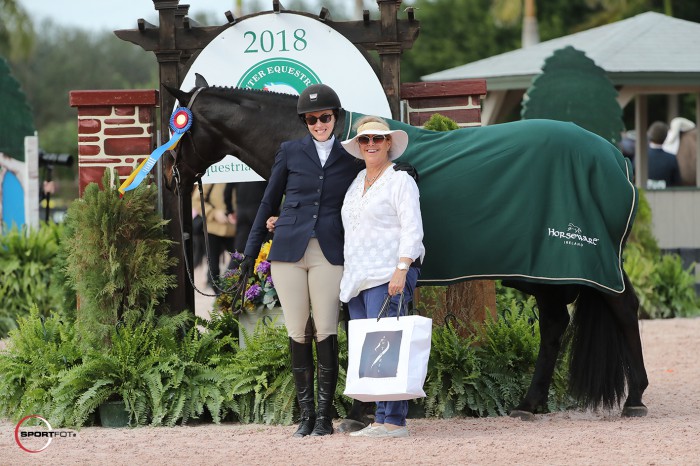 "He hasn't shown since [the] Capital Challenge [Horse Show]," said Hannan. "This is his first WEF show. He will do the [$15,000 USHJA International Hunter Derby] next week, and show week 6 of WEF, and we will see where we go from there!"
Kelley Farmer took reserve honors aboard Point Being, owned by Derby Lane, LLC, with a first, second, second, and fifth over fences and a fourth in the under saddle.
WEF 3 continues on Friday, January 26, with the $35,000 Bainbridge FEI 1.45m Jumpers and the championship for the Triple Crown Blankets Adult Amateur Middle Section A Hunters.
Photo Credit: Photos © Sportfot, Official Photographer of the Winter Equestrian Festival. These photos may be used only in relation to this press release and must include photo credit.