For Immediate Release
Juliana Chapman, Jennifer Wood, and Sabrina Brashares for Jennifer Wood Media, Inc.
Wellington, FL – March 8, 2020 – While strong winds blew at the Palm Beach International Equestrian Center, an array of talented horse-and-rider combinations aimed for the top spot in the $50,000 Griffis Residential Grand Prix CSI2*. The final event on Sunday, March 8, at the Winter Equestrian Festival (WEF) concluded week nine. WEF runs through March 29 featuring 12 weeks of competition and more than $13 million in prize money.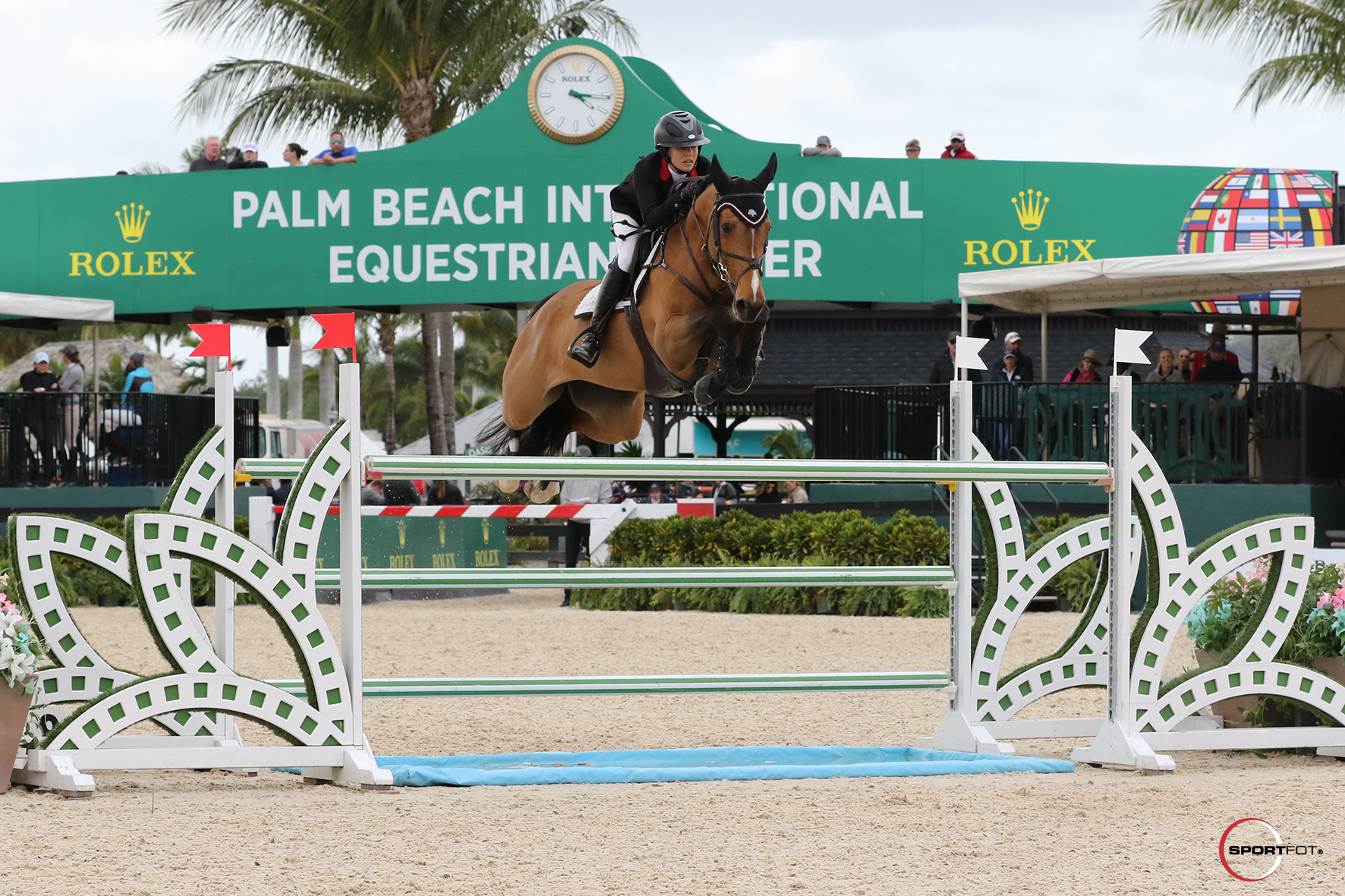 With a highly competitive field of 44 starters, 16 competed in the jump-off round. In the second round, there were 11 competitors from the USA, three from Ireland, and one each from Israel, Mexico, and Sri Lanka. Saving the best for last, Lacey Gilbertson (USA) piloted Seabrook LLC's Baloppi to a fault-free round with a lightning fast time of 32.78 seconds, edging out Shawn Casady (USA) aboard Gotcha, owned by Rock Ridge Farms, who had held the top spot for most of the jump-off round with a time of 33.27 seconds. Close behind was Paul O'Shea (IRL) and Skara Glen's 7 Pillars, owned by Hampton Farm and Skara Glen Stables, stopping the timers at 34.33 seconds.
"My horse is adjustable so that worked in our favor in the first round," said 26-year-old Gilbertson. "In the jump-off, my initial plan was to add a stride in every line, but as the class progressed the numbers showed that wasn't the right plan if you wanted to win."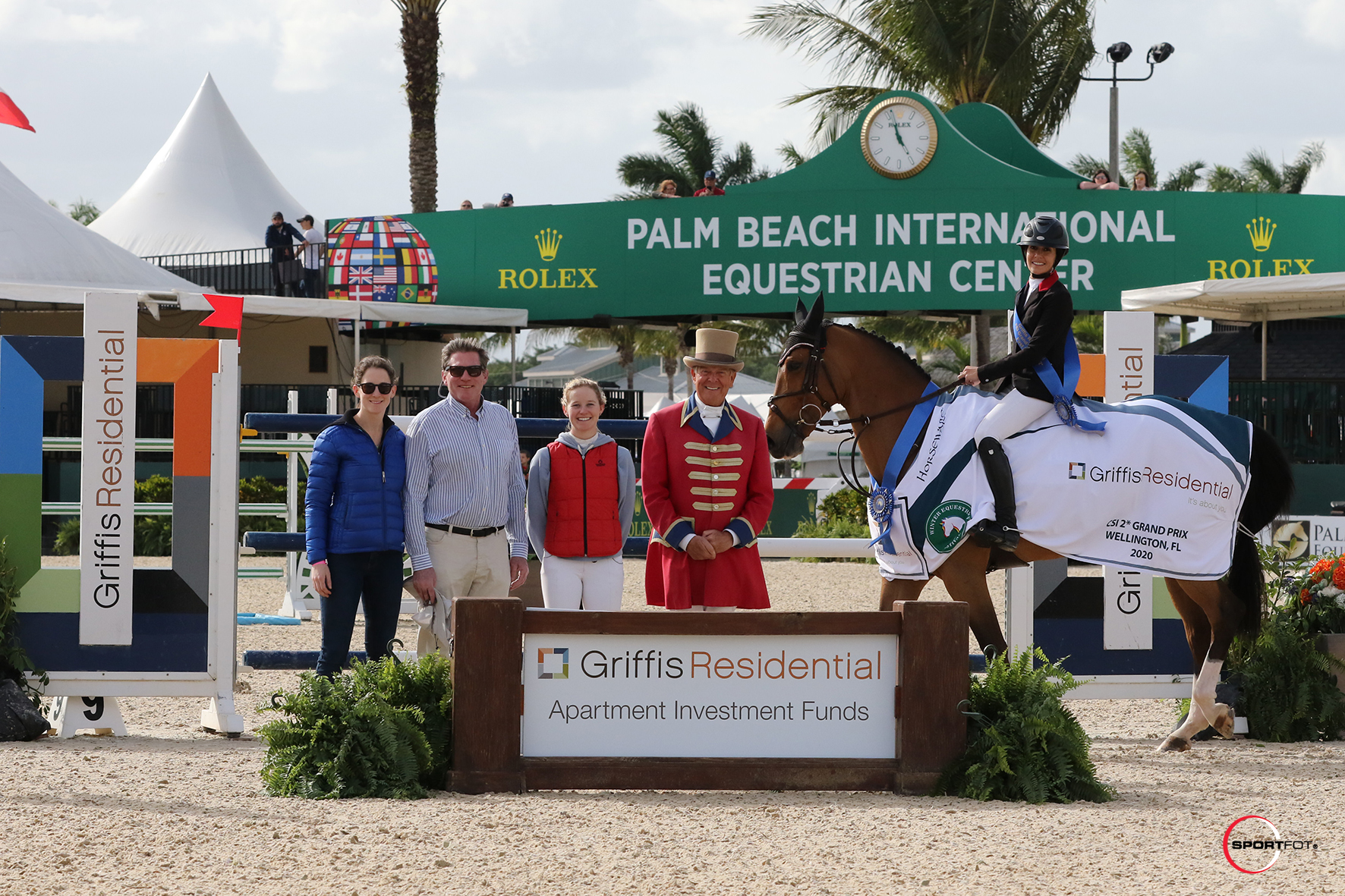 Turning to the second to the last jump, the crowd helped cheer her on to go faster. "It definitely helped keep me going," added Gilbertson.
Having ridden the 13-year-old Danish Warmblood mare for three years, Gilbertson has moved up the ranks from the High Amateur-Owner Jumpers to the Under 25 division, to the international jumpers.
"She's my soulmate," affirmed Gilbertson. "Whatever you ask of her, she tries one hundred and fifty percent to do her best and she is very forgiving and very good at the job."
Gilbertson has been competing at WEF since she was 16 and now calls Wellington home base, which makes it easy to show throughout the winter circuit. "It's always exciting to win at WEF.
Everyone is so competitive, and nothing is a given. You have to go full-tilt to win and it's very satisfying," she said.
In second place, Shawn Casady (USA) and Gotcha were tough to beat and led the field for a majority of the jump-off. "I rode my horse as a four-year-old in Europe for Alan Waldman," revealed Casady. "Hardin Towell had a broken foot in the fall, so I started riding her this January and showing at WEF. She has a great personality and knows when she is in the ring. This has been a super win for us and building up to this has been a great experience." Casady currently rides with Hardin Towell and Darragh Kenny at Oakland Stables.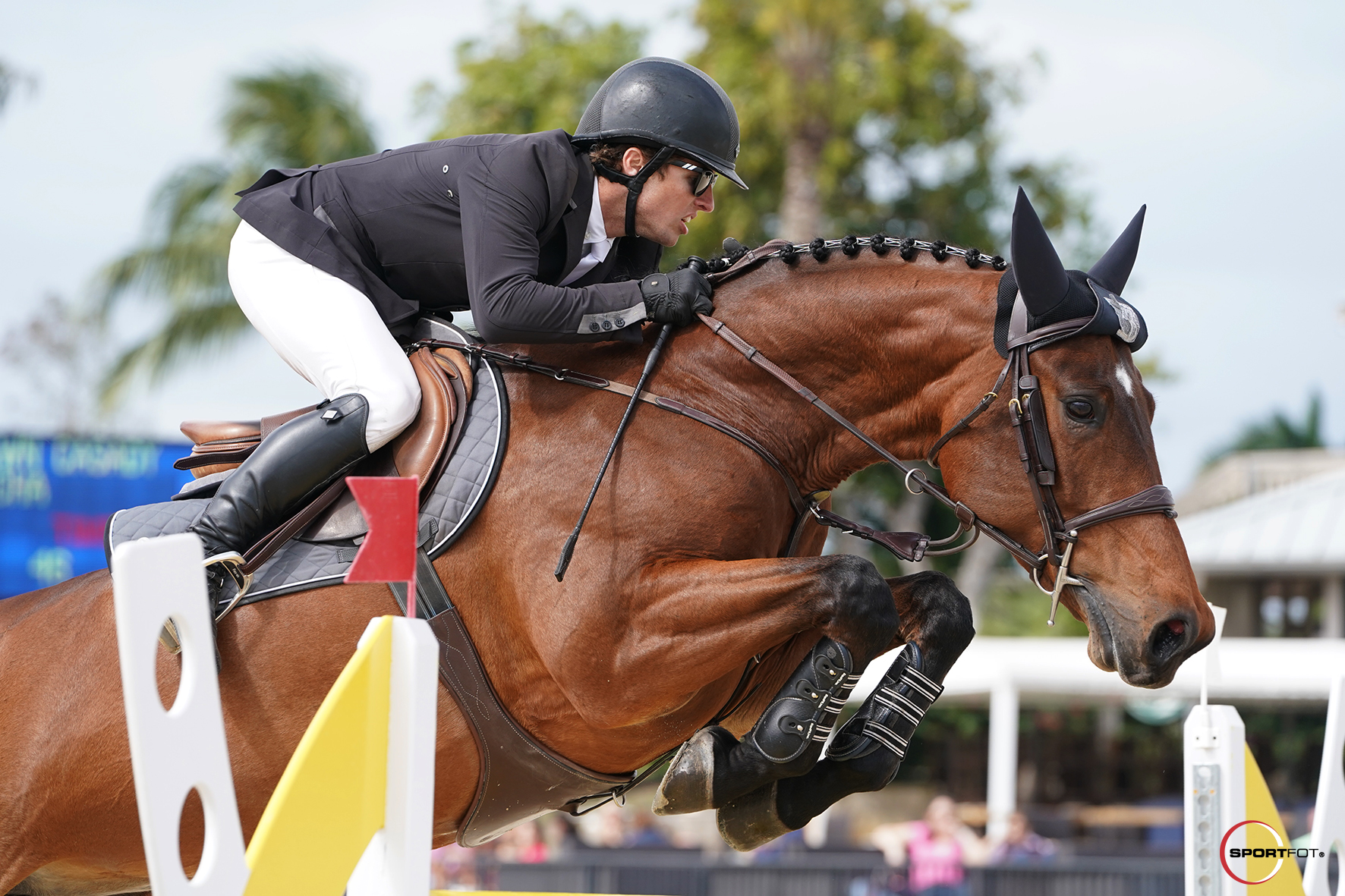 Third place finisher Paul O'Shea (IRL) shared his thoughts on his mount, the talented Skara Glen's 7 Pillars. "This horse has always been good and won at a young age, winning the young horse final at the Hamptons as a seven-year-old," said O'Shea.
Over the last two years the gelding has been consistent in the 1.40m and 1.50m classes. "He became a gelding last year and that was a good thing. He's happier and has better concentration," said O'Shea.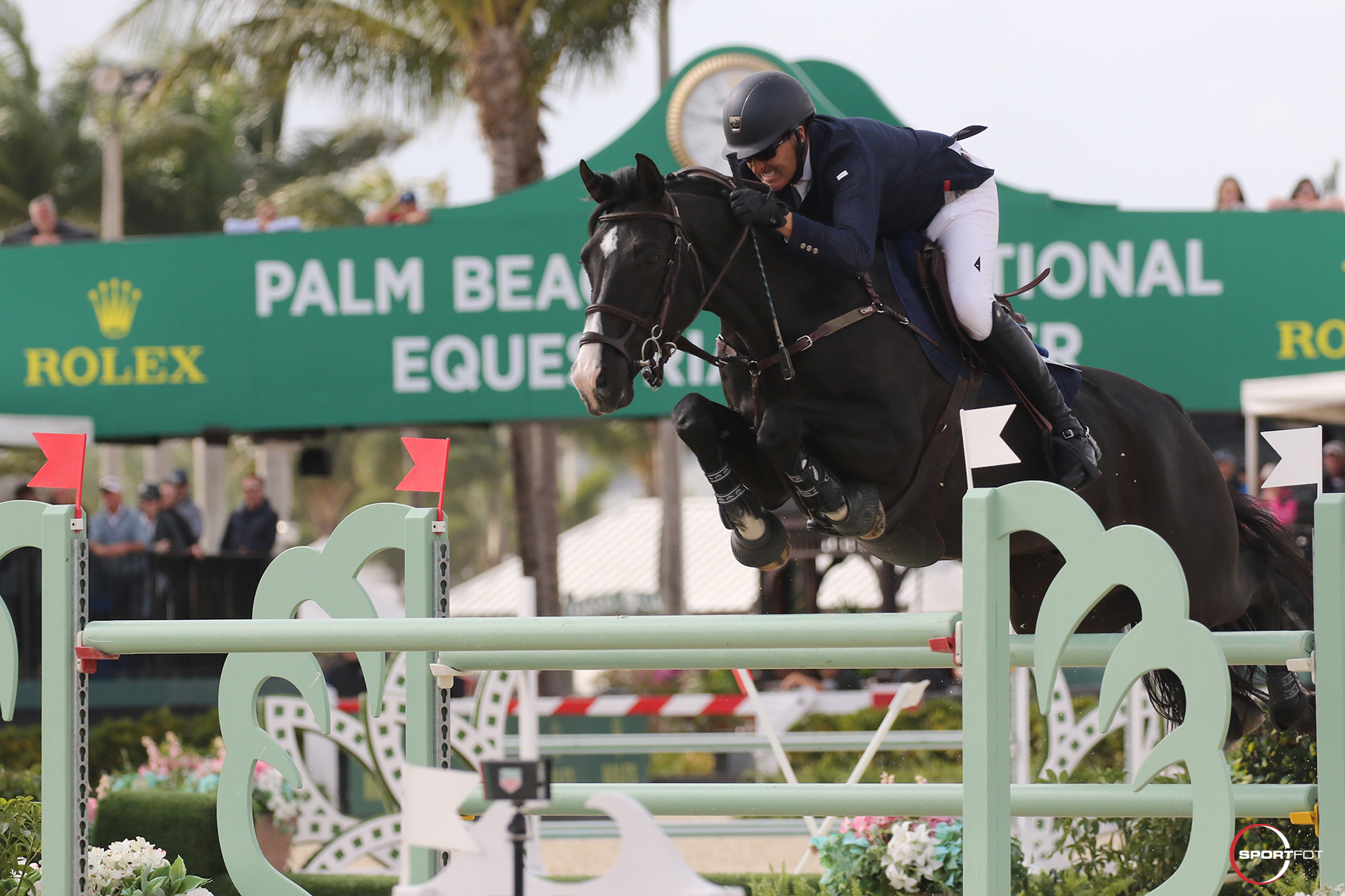 Bringing him back slowly in the ring has been paying off, showing that he is a careful jumper with a great attitude. O'Shea's plan in the jump-off was not to go too wild and even if he had shaved a couple strides, he felt he still wouldn't have beaten Gilbertson.
With a double-clear and a time of 35.10 seconds, Darragh Kerins (IRL) and Limbridge secured the fourth place ribbon with Rebecca Conway (USA) and Con Coleur, close behind with a double-clear and a time of 35.262 seconds, in fifth place.
Final Results: $50,000 Griffis Residential Grand Prix CSI2*
1 BALOPPI: 2007 Danish Warmblood mare
LACEY GILBERTSON (USA), Seabrook LLC: 0/0/32.784
2 GOTCHA: 2011 Holsteiner mare by Stakkato x Zicchini
SHAWN CASADY (USA), Rock Ridge Farms: 0/0/33.276
3 SKARA GLEN'S 7 PILLARS: 2010 KWN gelding by Spartacus x Whisky
PAUL O'SHEA (IRL), Skara Glen Stables, LLC: 0/0/34.333
4 LIMBRIDGE: 2009 Holsteiner stallion by Limbus x Cambridge
DARRAGH KERINS (USA), Eve Jobs: 0/0/35.107
5 CON COLEUR: 2009 Hanoverian gelding by Contendro I x Couleur Rubin
REBECCA CONWAY (USA), Blue Hill Farm, LLC: 0/0/35.262
6 VERVEINE: 2009 SF mare by Olala De Buissy x Fleur De Glanville
NATALY LEIBOVITZ (ISR), Nataly Leibovitz: 0/0/35.773
7 BALOUCENTO 2: 2005 Oldenburg gelding by Baloubet du Rouet x Cento
AILISH CUNNIFFE (USA), Whipstick Farm Ltd: 0/0/37.361
8 CERA VA: 2010 Holsteiner mare by Clarimo x Gera II
MATHILDA KARLSSON (SRI), Mathilda Karlsson: 0/0/38.638
9 DALIDA: 2007 Brand mare by Calido x Dawina
SLOAN HOPSON (USA), Sloan Hopson: 0/0/40.31
10 SHANGRI-LA: 2011 KWPN mare by Cardento x Lugano
ALISE OKEN (USA), Hi Hopes Farm, LLC: 0/4/35.677
11 DAVIDSON: 2008 KWPN gelding by Harley VDL x Chin Chin
CALLAN SOLEM (USA), Five Star Partners: 0/4/36.989
12 GIGI'S GIRL BH: 2008 KWPN mare by Vingino x Zaline
MIMI GOCHMAN (USA), Gochman Sport Horses LLC: 0/4/37.564
Foster and Brighton Return to Winning Ways in $73,000 CaptiveOne Advisors 1.50m Jumper Classic
Forty-four entries contested Sunday's $73,000 CaptiveOne Advisors 1.50m Jumper Classic, and it was the first to go in the jump-off that set an unbeatable time. Tiffany Foster (CAN) and Brighton, owned by Artisan Farms LLC, blazed to the win in 32.72 seconds.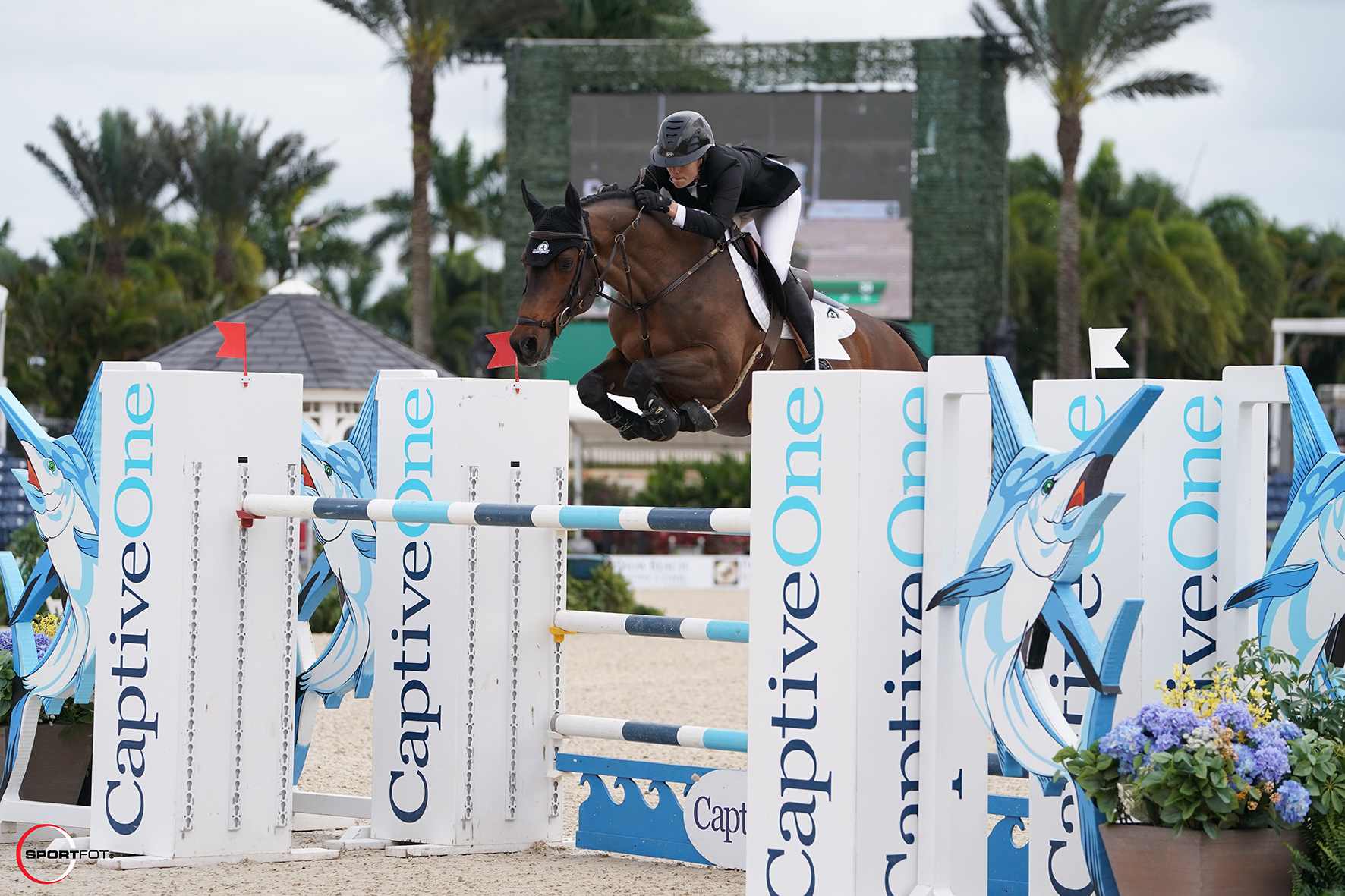 "I know he's super fast and where I can make up the strides," said Foster. "He has a bit of a left drift so anything heading left I can usually drop the stride whereas anything heading right I usually can't. But I know that, and I learned a long time ago not to panic if I haven't done the number that I was hoping to because I know I'll make it up somewhere else. I knew the last line, the seven strides was going to be nice and forward for me so it was a fast way to finish. I love my horse; he's just the best."
Foster has cultivated a close relationship with the 14-year-old KWPN gelding by Contendro II x Quick Star for the past seven years and he has been her most consistent clear-round machine. According to Foster, the statistics tracked by the Canadian federation showed his clear-round percentage at almost 95%.
"He's just an incredible animal," she said. "He understands what he's supposed to do and goes clear. He's so intelligent and just knows where he's at. I think that's a big part of why he won this class, because he judges the fences; you don't rub them, but you don't get much clearance! It doesn't take much time [in the air] so I think that's why he is so fast. I really try to build the schedule around him and what I think he will succeed with."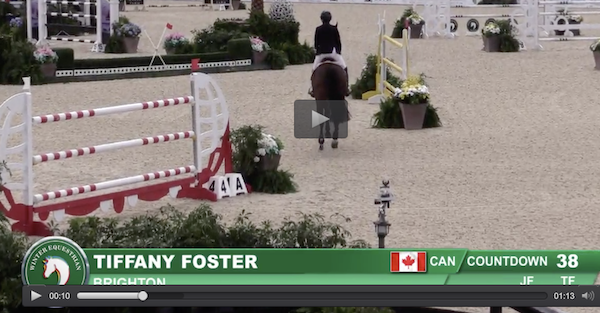 Foster and Brighton won this same class at WEF 5, and she credits his owners for the ability to plan what works best for the horse. "Andy and Carlene [Ziegler] have been such incredible supporters of me and they are such wonderful owners that let me make a plan for the horse," she explained. "Andy is the first one to say, 'Keep him in the level where he's at.' I think as a rider that gives you so much confidence in your decisions when you know everyone is behind you, and I really appreciate that support."
A special note for today's class was that Brighton's breeder, Ed Santing from The Netherlands, was here to see him win. "I knew [Ed] was already very proud of him, but I thought this would be a nice way to celebrate the weekend," Foster said with a smile. "The breeders are super important. If they aren't breeding them, then we aren't getting them, so I think it's really important to recognize them too. You can tell this horse has had a great life from the beginning because he loves people and his job and that's a credit to his breeders."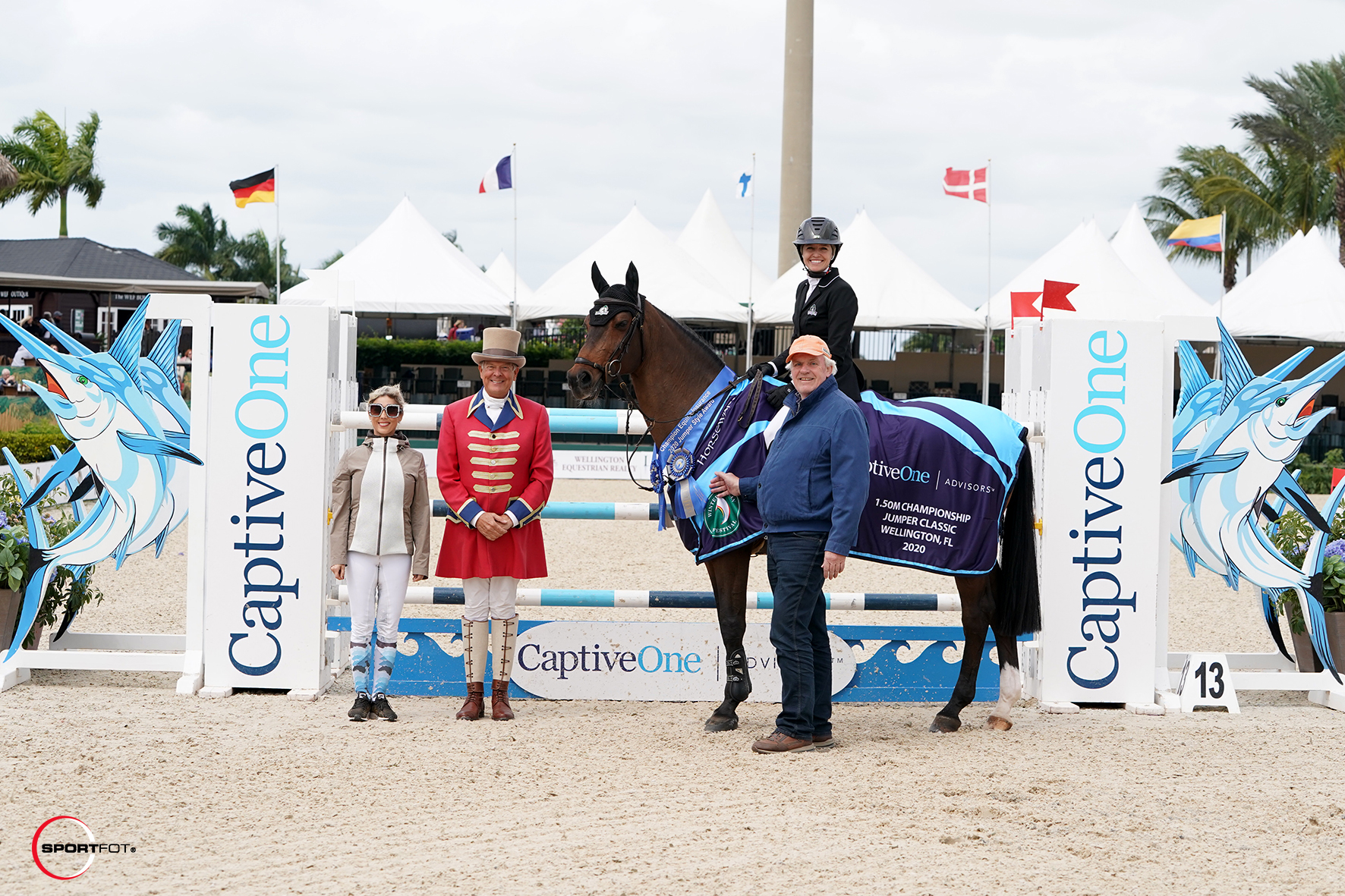 Winner of this week's Champion Equine Insurance Jumper Style Award presented by Laura Fetterman, Brighton will next contest the 1.50m final at WEF 11. Second place went to Beezie Madden (USA) and Abigail Wexner's Breitling LS, who finished double clear in 32.72 seconds, while Lucas Porter and Hope Street, owned by SPR Fund One, were third in 33.61 seconds.
Final Results: $73,000 CaptiveOne Advisors 1.50m Jumper Classic
1 BRIGHTON: 2006 KWPN gelding by Contendro II x Quick Star
TIFFANY FOSTER (CAN), Artisan Farms LLC: 0/0/32.72
2 BREITLING LS: 2006 Dutch Warmblood stallion by Quintero x Accord II
BEEZIE MADDEN (USA), Abigail Wexner: 0/0/32.87
3 HOPE STREET: 2009 Holsteiner mare by Casall x Quick Nick I
LUCAS PORTER (USA), SPR Fund One: 0/0/33.61
4 CANAMERA 2: 2009 Holsteiner mare by Clarimo x Carthago
LAUREN HOUGH (USA), Kathleen Kamine: 0/0/34.41
5 STALANDO 2: 2008 Oldenburg gelding by Stakkatol x Lando
MARTIN FUCHS (SUI), Gospodarstwo Rolne Andrzej Oplatek: 0/4/32.78
6 GOODBYE: 2011 KWPN mare by Eldorado vd Zeshoek x Amulet
BLISS HEERS (USA), Bridgeside Farms LLC: 0/4/34.51
7 COLDPLAY: 2007 Westphalian gelding by Cristallo 7 x Charisma I
SLOANE COLES (USA), Spring Ledge LLC: 0/4/35.27
8 GEMMA W: 2011 KWPN mare by Luidam x Unaniem
DANIEL BLUMAN (ISR), Blue Star Investments: 1/73.45
9 VITIKI: 2008 Hanoverian by Valentino x For Expo
YURI MANSUR (BRA), Yuri Mansur: 1/73.57
10 THEODORE MANCIAIS: 2007 Selle Français gelding by Kashmir van Schuttershof
SPENCER SMITH (USA), Torrey Pines & Ashland Farm: 1/73.93
11 CHAT BOTTE E.D.: 2008 Zangersheide stallion by Casall x Darco
BILLY TWOMEY (IRL), Sue Davis and Billy Twomey: 1/74.01
12 ICEMAN DE MUZE: 2008 BWP stallion by Erco van't Roosakker x For Pleasure
SCHUYLER RILEY (USA), E2 Show Jumpers: 1/74.86
Sterling Malnik and Prestige Claim the Large Pony Hunter Championship
The Large Pony Hunter division came to a close on Sunday with Sterling Malnik riding Prestige to the tricolor ribbon. Malnik, of Ocean Ridge, FL, rode Prestige to three first place ribbons as well as a fourth and eighth place.
Malnik has only owned Prestige since late August, but the pair, trained by Bill Schaub, has already proven to be a successful match in the show ring. Malnik describes the nine-year-old Belgian Riding Pony gelding by Ive Van De Delthoeve as one of the kindest ponies, both on the ground and to ride.
"He is very sweet, and he's like a puppy dog. He will lick anything. I'll stand by his stall and he will just lick my back for hours!" Malnik said of Prestige.
Malnik and Prestige impressed the judges on the second day of the division winning both over fences classes and the Large Pony Hunter Classic round with a score of 86. The pair also won the under saddle on the first day of competition.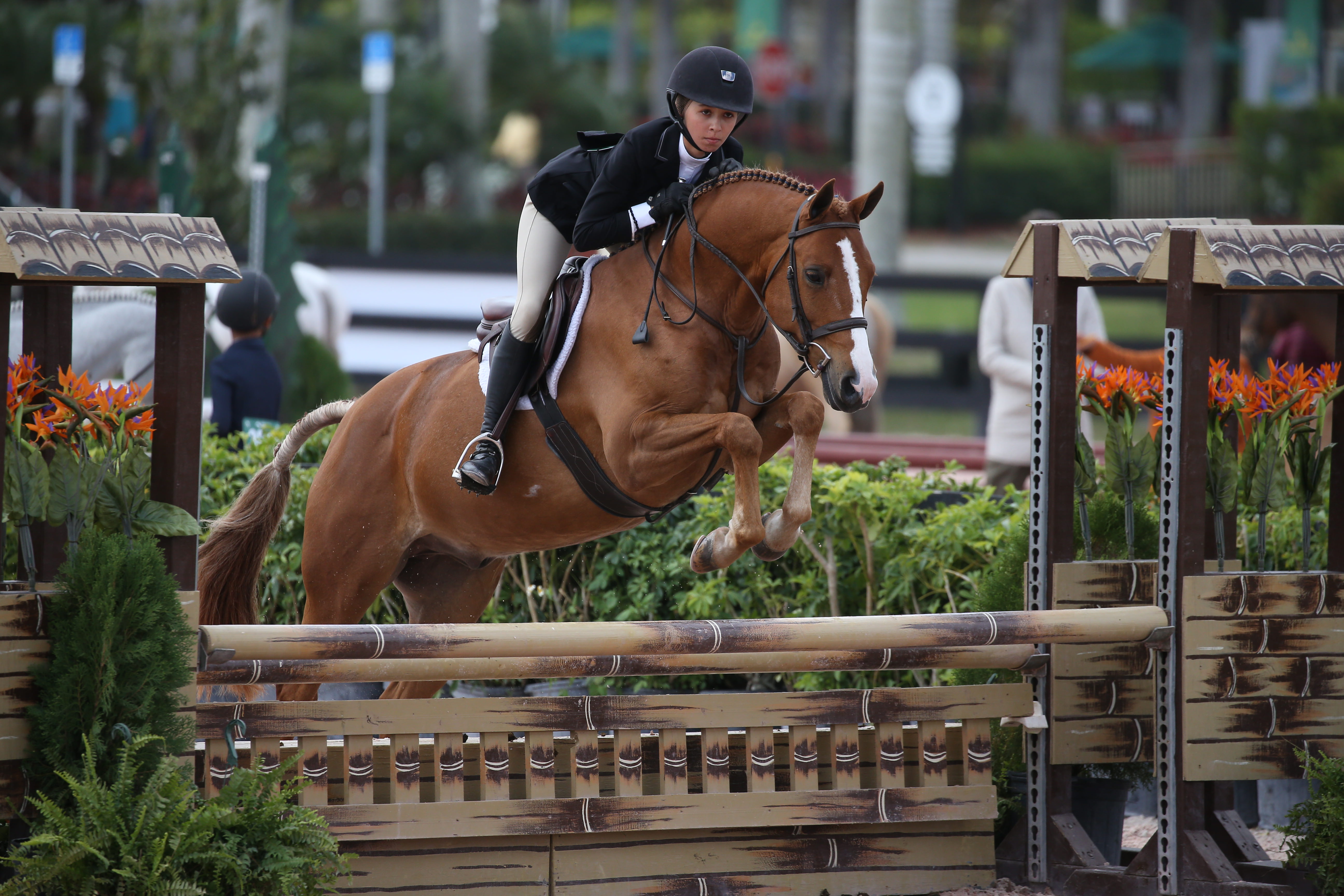 "He is so magical to be on. He's completely different from any other pony and rides just like a horse," Malnik explained. "He has a huge stride and a nice big canter, so the jumps just come right up and he really makes the best out of it."
Malnik is looking forward to the rest of the 2020 Winter Equestrian Festival with Prestige as well as a successful summer and fall show season.  The pair plans to attend USEF Pony Finals, presented by Collecting Gaits Farm, along with The Devon Horse Show and indoors. "We've had a bunch of success, and I can't wait for more!" said Malnik.
Reserve champion in the Large Pony Hunter division went to Ellie Sadrian aboard her pony Daventry's Davinci. Sadrian, of Summit, NJ, and Daventry's Davinci earned a first and two second place ribbons.