For Immediate Release
Emily Randolph for Jennifer Wood Media, Inc.
Wellington, FL – March 4, 2020 – Kristen Vanderveen (USA) rode Bull Run's Faustino de Tili to victory in the $37,000 Douglas Elliman Real Estate 1.45m CSI5* to open week nine of the Winter Equestrian Festival (WEF) in Wellington, FL, on Wednesday, February 26.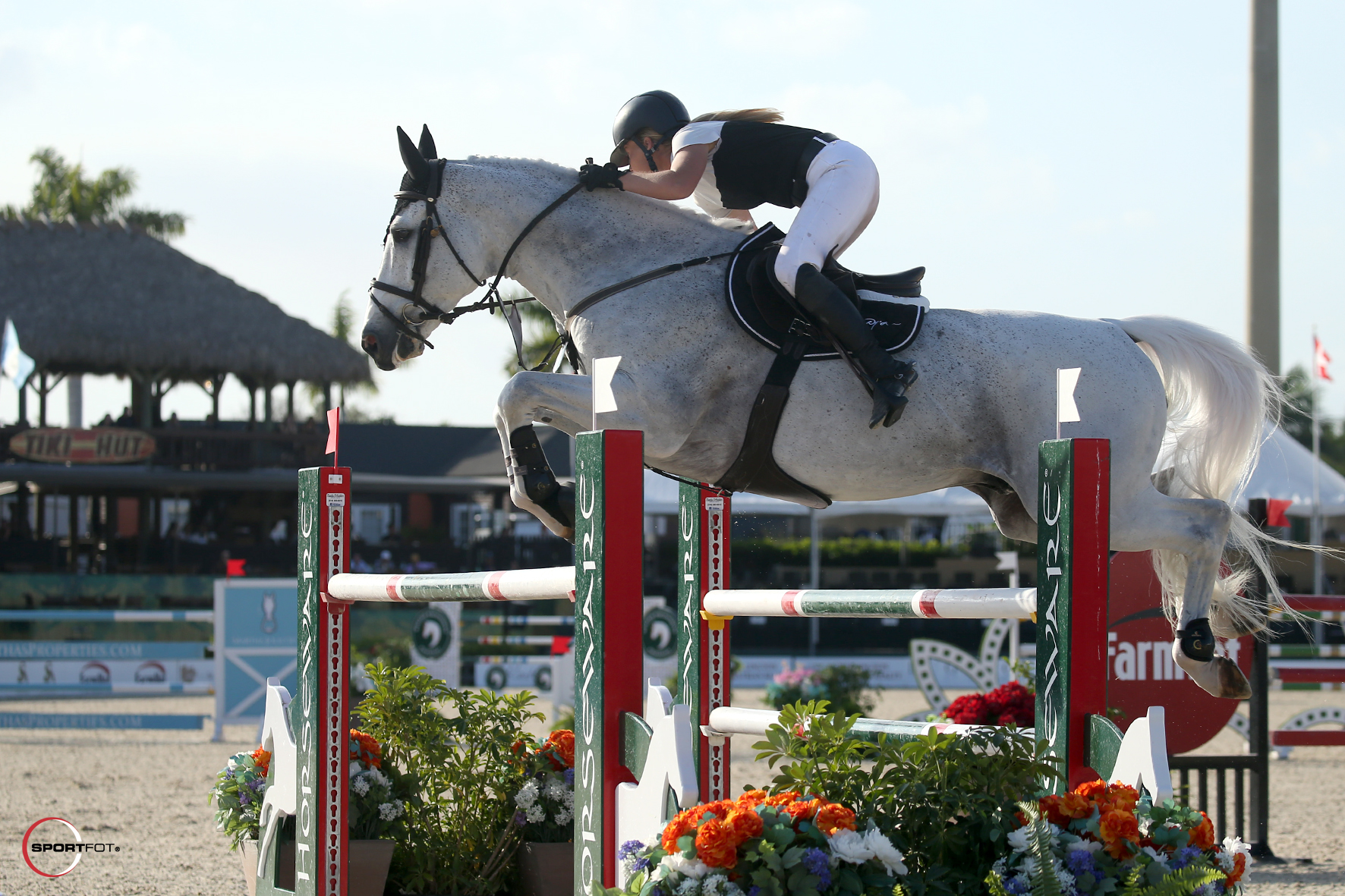 WEF continues at the Palm Beach International Equestrian Center (PBIEC) through March 29, 2020, with 12 consecutive weeks of world-class competition and $13 million dollars on offer. The ninth week of competition, sponsored by Douglas Elliman Real Estate, runs through March 8 and is recognized by the Fédération Equestre Internationale (FEI) as both a CSI5* and a CSI2*. Highlights of the week include the $137,000 Equinimity WEF Challenge Cup Round 9 CSI5* on Thursday, the $401,000 Douglas Elliman Real Estate Grand Prix CSI5* on Saturday, and the $50,000 Griffis Residential Grand Prix CSI2* on Sunday.
In Wednesday's highlight class, the best was saved for last, as Vanderveen and Bull Run's Faustino de Tili were the final of 60 entries to navigate the two-phase course set by Alan Wade (IRL).
When Vanderveen and her 15-year-old Belgian Warmblood stallion entered the ring, the time to beat had been set at 33.27 seconds by both Jordan Coyle aboard Picador and Andrew Kocher with Fashion V, who sat tied atop the leaderboard.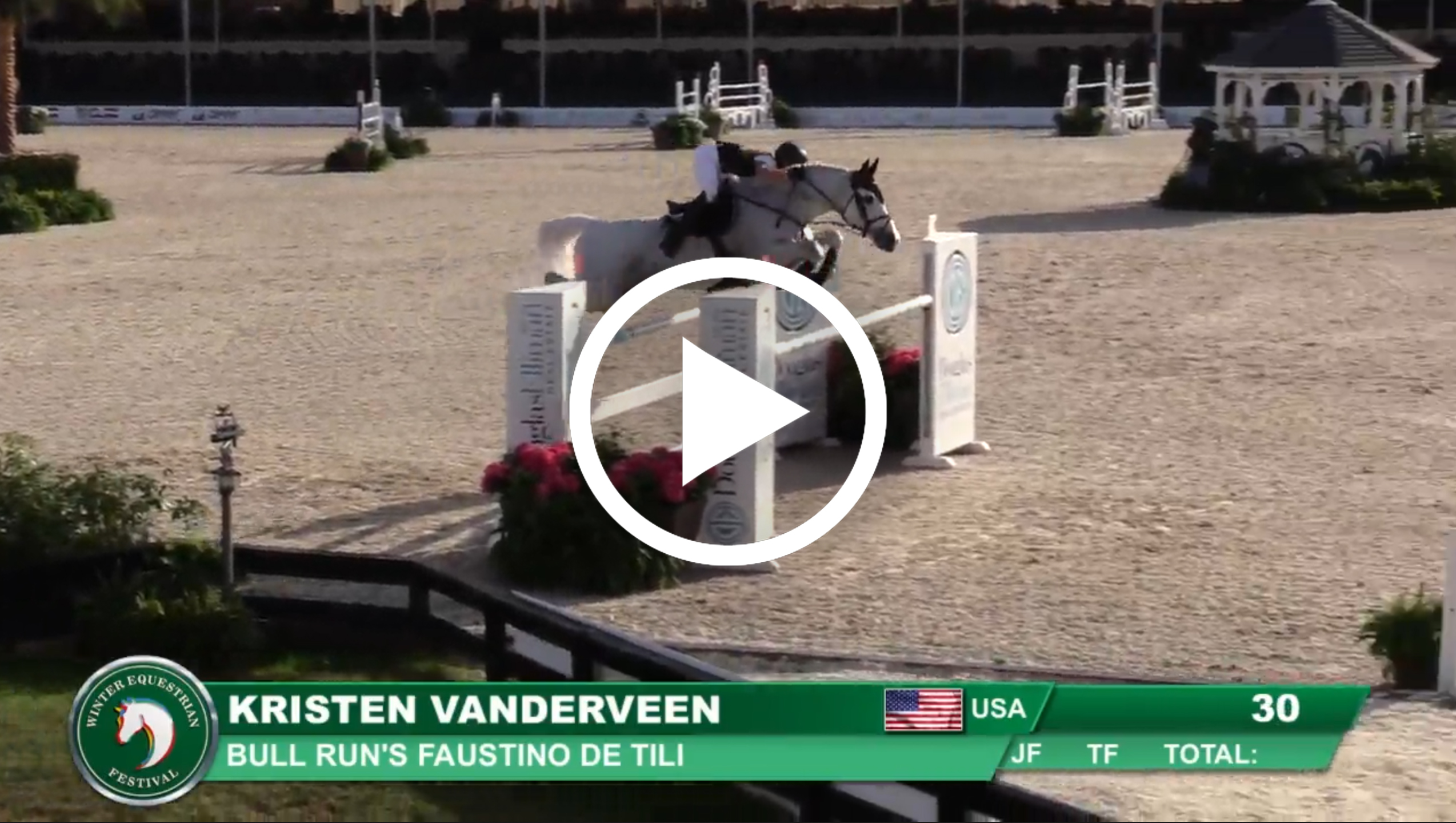 "I actually went on my first horse and came out and felt like, 'no way anybody can beat her,'" said Vanderveen. "Then the time quickly got beat by Santiago [Lambre]. That actually fired me up a little bit with 'Frosty.'"
Using the stallion's big stride to her benefit, Vanderveen shaved more than a second off the previous leading time, crossing the timers in a winning 32.18 seconds.
"It was fun because, with the turns to the verticals, you could really take a risk and put a slice on those, but I think for my horse, our advantage is his stride," said Vanderveen of the stallion owned by Bull Run Jumpers Five LLC. "So I was able to do one less stride down the last line that I'm not sure anyone else was able to get."
With the victory going to Vanderveen, Coyle and Picador, owned by Elan Farm, and Kocher and Fashion V, owned by Eye Candy Jumpers, finished tied for second. Fourth place went to Mexico's Santiago Lambre aboard Ibabco, while Vanderveen rounded about the top five with Bull Run's Divine Fortune.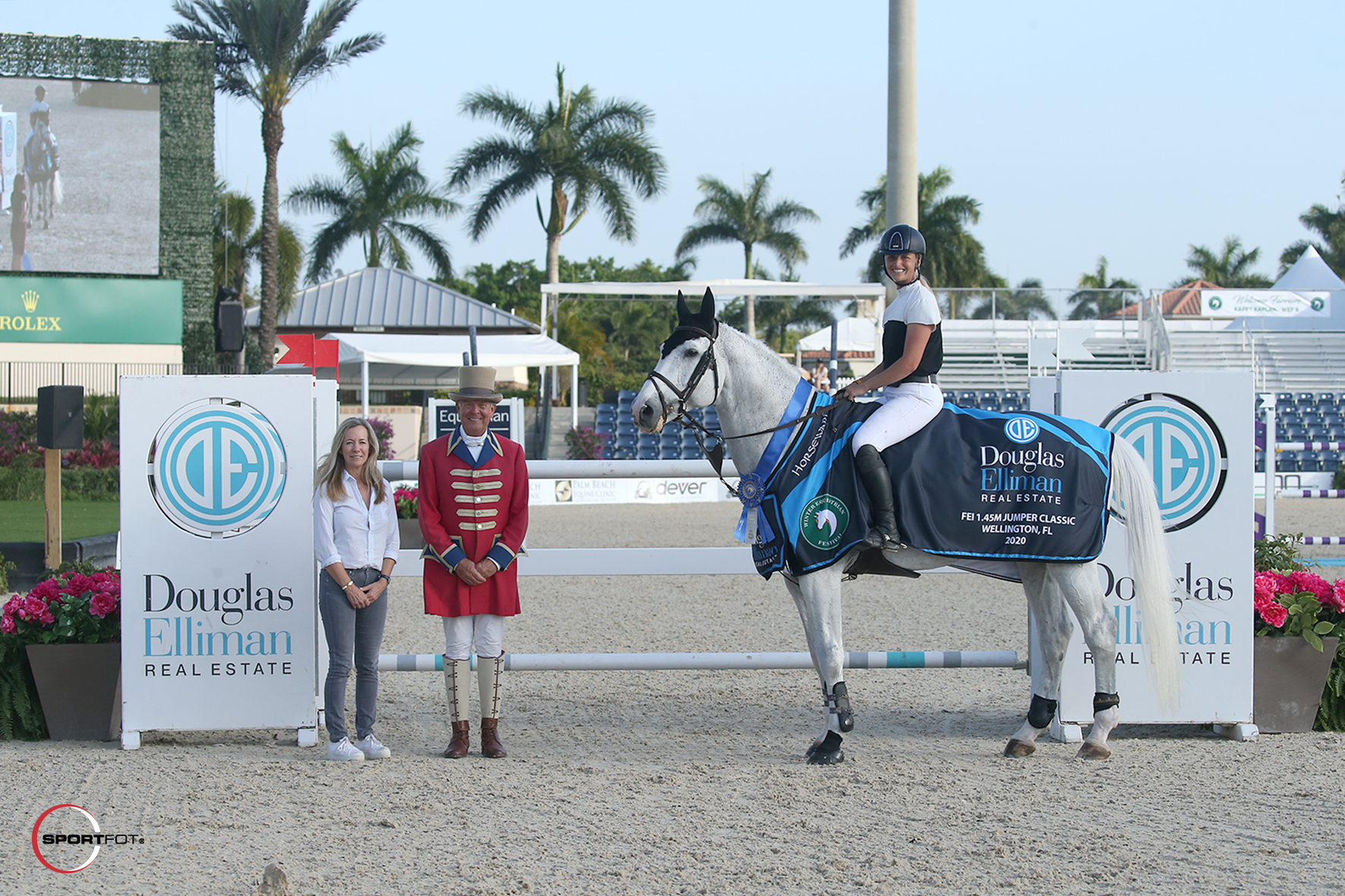 Also earning wins in the International Arena on Wednesday were Luis Larrazabal, who topped the $8,000 Griffis Residential 1.40m CSI2* riding Fiesta V for owner Ana Holguin and Canada's Tiffany Foster, who bested the $1,000 Bainbridge 1.40m CSI5* riding Vienna, owned by Artisan Farms, LLC.
Final Results: $37,000 Douglas Elliman 1.45m CSI5*
1 BULL RUN'S FAUSTINO DE TILI: 2005 Belgian Warmblood stallion by Berlin x Darco
KRISTEN VANDERVEEN (USA), Bull Run Jumpers Five LLC: 0/0/32.18
2 PICADOR: 2007 AES gelding by Lupicor x Concorde
JORDAN COYLE (IRL), Elan Farm: 0/0/33.27
2 FASHION V: 2009 Warmblood mare by Rusedski
ANDREW KOCHER (USA), Eye Candy Jumpers: 0/0/33.27
4 IBABCO: 2008 BWP stallion by Nebab de Reve x Darco
SANTIAGO LAMBRE (MEX), Santiago Lambre: 0/0/33.53
5 BULL RUN'S DIVINE FORTUNE: 2009 KWPN mare by Padinus x Caruso
KRISTEN VANDERVEEN (USA), Bull Run Jumpers Six LLC: 0/0/33.94
6 AMEX Z: 2009 Zangersheide Mare by Andiamo Z x Landaris
TODD MINIKUS (USA), Bit By Bit Group: 0/0/34.20
7 COLESTINA H: 2010 German Sport Horse mare by Colestus x Cardenio 2
DANIEL BLUMAN (ISR), Blue Star Investments and Kim Douglas: 0/0/35.44
8 BARONESCHA: 2006 Dutch Warmblood mare by Verdi TN x Concorde
CIAN O'CONNOR (IRL), Reitsportanlage Dagobertshausen GmbH & CO.KG: 0/0/35.77
9 CATUNGEE: 2006 Holsteiner gelding by Contact Me x Liatos
CATHERINE TYREE (USA), Mary Tyree: 0/0/36.01
10 PRINCETON Z: 2011 Zangersheide stallion by President x Indoctro
SPENCER SMITH (USA), Torrey Pines Stable: 0/0/36.33
11 GEMMA W: 2011 KWPN mare by Luidam x Unaniem
DANIEL BLUMAN (ISR), Blue Star Investments: 0/0/36.45
12 LORD PIZARRO: 2010 Hanoverian gelding by Lord Pezi x Stakkato
ENRIQUE GONZALEZ (MEX), Enrique Gonzalez: 0/0/36.49
For full results, visit www.PBIEC.com.
Photo credit: Photos © Sportfot, official photographer of the Winter Equestrian Festival. These photos may be used only in relation to this press release and must include photo credit.