Wellington, FL – November 15, 2020  – The ESP Pre-Charity CSI3* reached its pinnacle Sunday morning as 45 international competitors hailing from 12 nations took to the International Arena at the Palm Beach International Equestrian Center (PBIEC) for the $137,000 Noltrex®Vet Grand Prix CSI3*. Sunday's classes concluded the ESP Fall Series, but CSI4* competition will resume Wednesday, November 24, for the Holiday & Horses Show, the first week of the ESP Holiday Series.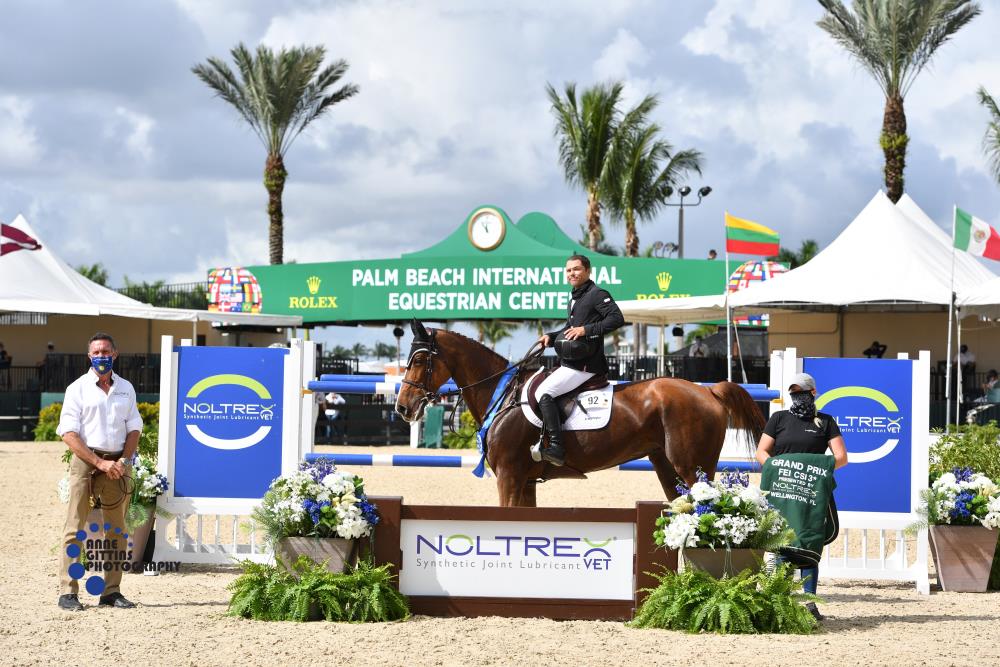 Putting in the best performance of the contest, Kent Farrington (USA) and Haity McNerney's Kaprice rode away with the lion's share of the prize money as the quickest double-clear pair ahead of a 16-horse jump-off. In the afternoon's $25,000 JTWG, Inc. National Grand Prix, Santiago Lambre of Wellington, FL, piloted his own Mick Jagger to the top of the leaderboard.
"I have an exceptionally fast horse," reflected Farrington on his winning mount, Kaprice. "If you look at her on the ground she almost looks like a racehorse. She is really light, really lean, and her footspeed across the ground is incredible. She is an unbelievably careful horse, maybe the most careful horse I have ever ridden. She does not want to touch jumps, so that's a big advantage. She is stepping up to be a grand prix horse, and I tried to use her in some bigger grand prix classes this summer. My plan now is to keep growing her, and hopefully I can have a real grand prix horse there at the end."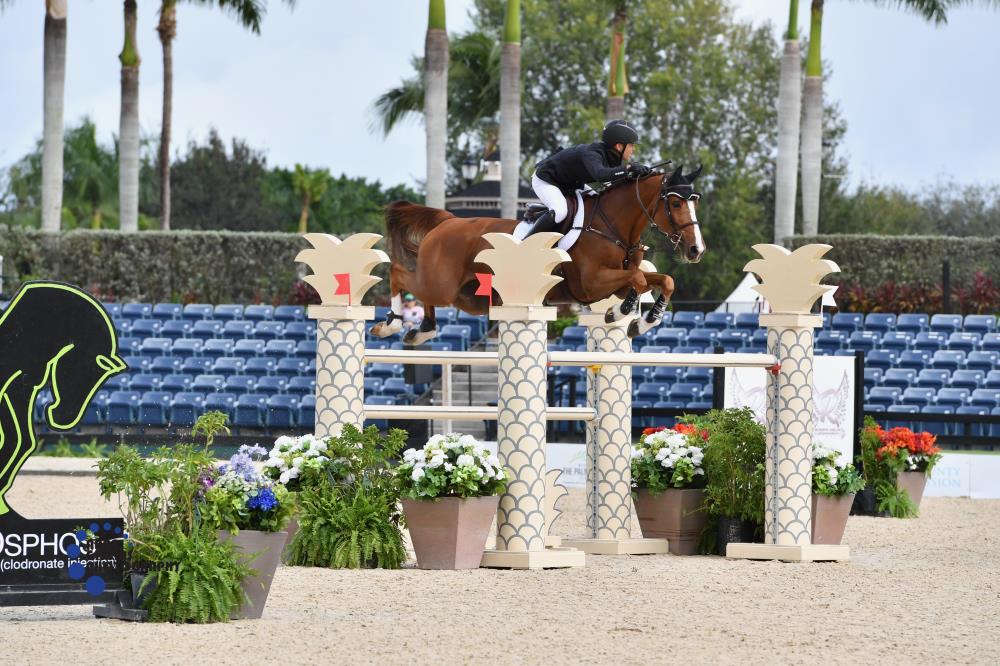 As the very first to go, Tanner Korotkin (USA) and Country Boy were the trailblazers with a foot-perfect ride to set the example, and soon Flo Norris (GBR) and Lorielle 2 forced a jump-off as the second clear pair. As the class progressed over course designer Guilherme Jorge's (BRA) track, 14 more challengers turned in fault-free rides to bring the total number of pairs advancing to the jump-off to 16. The duos eligible for the short course round represented the United States, Great Britain, Ireland, Mexico, Dominican Republic, and Brazil, with the home nation leading the way with the most returners. Farrington was one of the last to qualify, which would allow him to watch how the short course rode prior to his turn over the jump-off track.
Click the video above to watch Kent Farrington's and Kaprice's winning jump-off round!
Korotkin and Country Boy once again set the standard with a clear ride in 44.22 seconds, but the lead continued to change hands a number of times throughout the tie-breaker round. With six left to ride, the pace had been pushed up to 39.98 seconds by Leslie Howard (USA) and Donna Speciale. Second-to-last to take to the ring, the always-speedy Farrington and Kaprice, a 2010 Belgian Warmblood mare, galloped around the pattern without letting off the gas, tripping the timers in 39.28 seconds with no faults to rise to the top of the standings. The final pair to ride, Brian Moggre (USA) and MTM Vivre Le Reve, owned by Major Wager LLC, turned in a valiant effort to try to eclipse the leaders, but fell slightly short with a clear time of 39.79 seconds to settle for second place and confirm Farrington and Kaprice as the champions. Howard and Donna Speciale finished the day in third position. In total, 11 partnerships out of the starting list turned in two clear rides.
"I feel very fortunate that our sport is able to continue during difficult times, and hats off to the whole team here that is keeping the show running," noted Farrington of returning to international competition in Wellington. "I think we are all very grateful and fortunate that we are still holding high-level competitions here in Florida."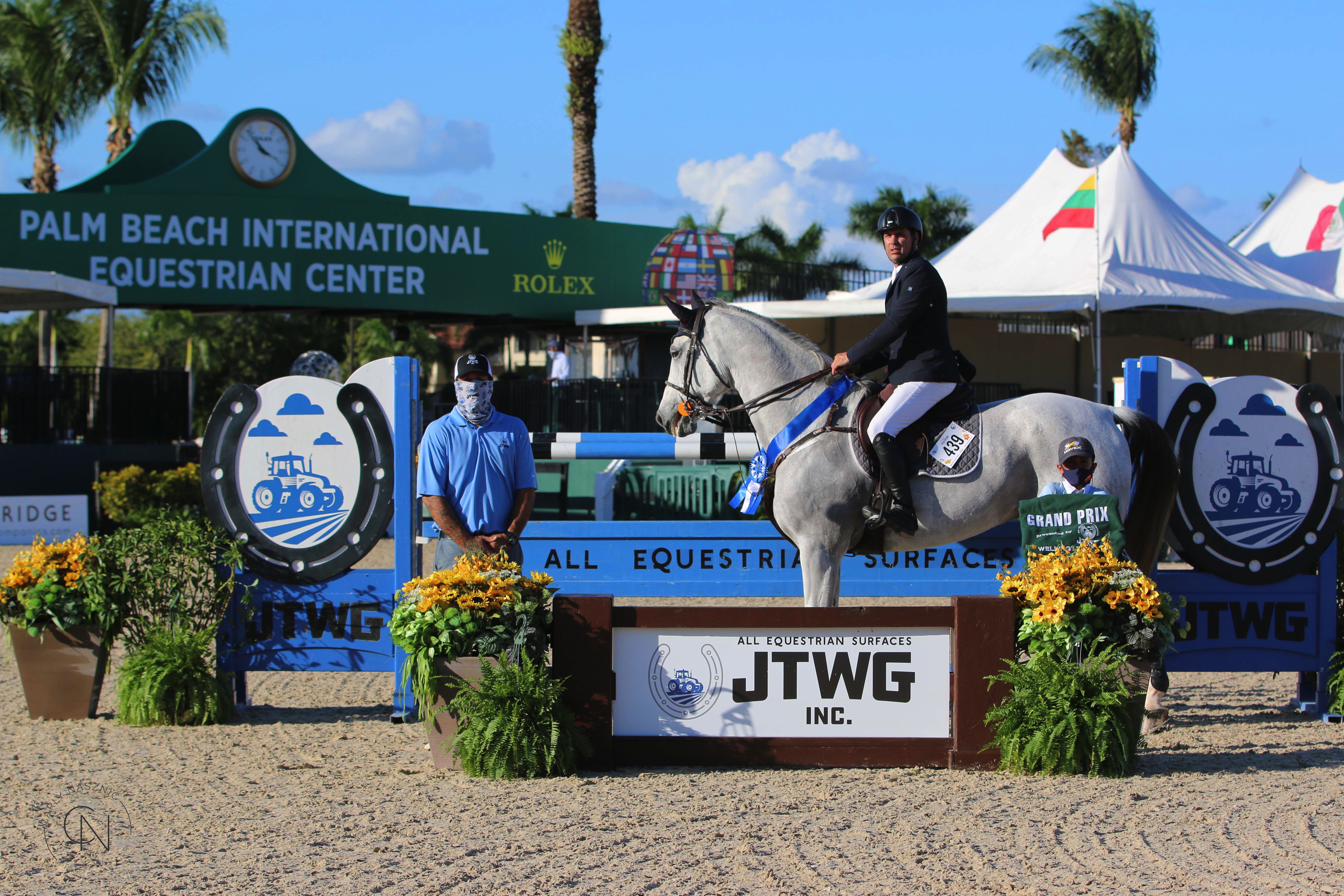 The CSI3* class was followed later in the day by the $25,000 JTWG, Inc. National Grand Prix, which featured a new course from designer Jorge. By the conclusion of the first round of riding, 11 combinations had turned in fault-free trips to qualify for the jump-off, with two additional duos falling victim only to time faults.
First back in the ring to kick off the short course, Eugenio Garza Perez of Wellington, FL, rode El Milagro's Caracas, the same horse on which he won the $10,000 Bainbridge 1.40m Open Stake earlier in the week, to a speedy and clear time of 37.87 seconds. That time held the top spot for nine more trips, until the final challengers took to the ring. Saving the best for last, Lambre and Mick Jagger (Chacco Blue x Dobel's Cento) usurped the longtime leaders with a foot-perfect round in 37.37 seconds to clinch the lead by mere fractions of a second. Garza Perez and Caracas retained second place, and Jessica Springsteen of Colts Neck, NJ,, took the final podium spot on Rushy Marsh Farm's RMF Tinkerbell in 39.24 seconds with no faults.
"He is improving every week," commented Lambre on Mick Jagger, the horse on which he also won the $24,999 Score At The Top Grand Prix in October. "This is the biggest class he has jumped so far I think. I hope he can start to do the FEI classes. In the jump-off, I can go really fast and I can ride the fences without worrying about the faults. He needs to learn to ride a little better, but we are improving."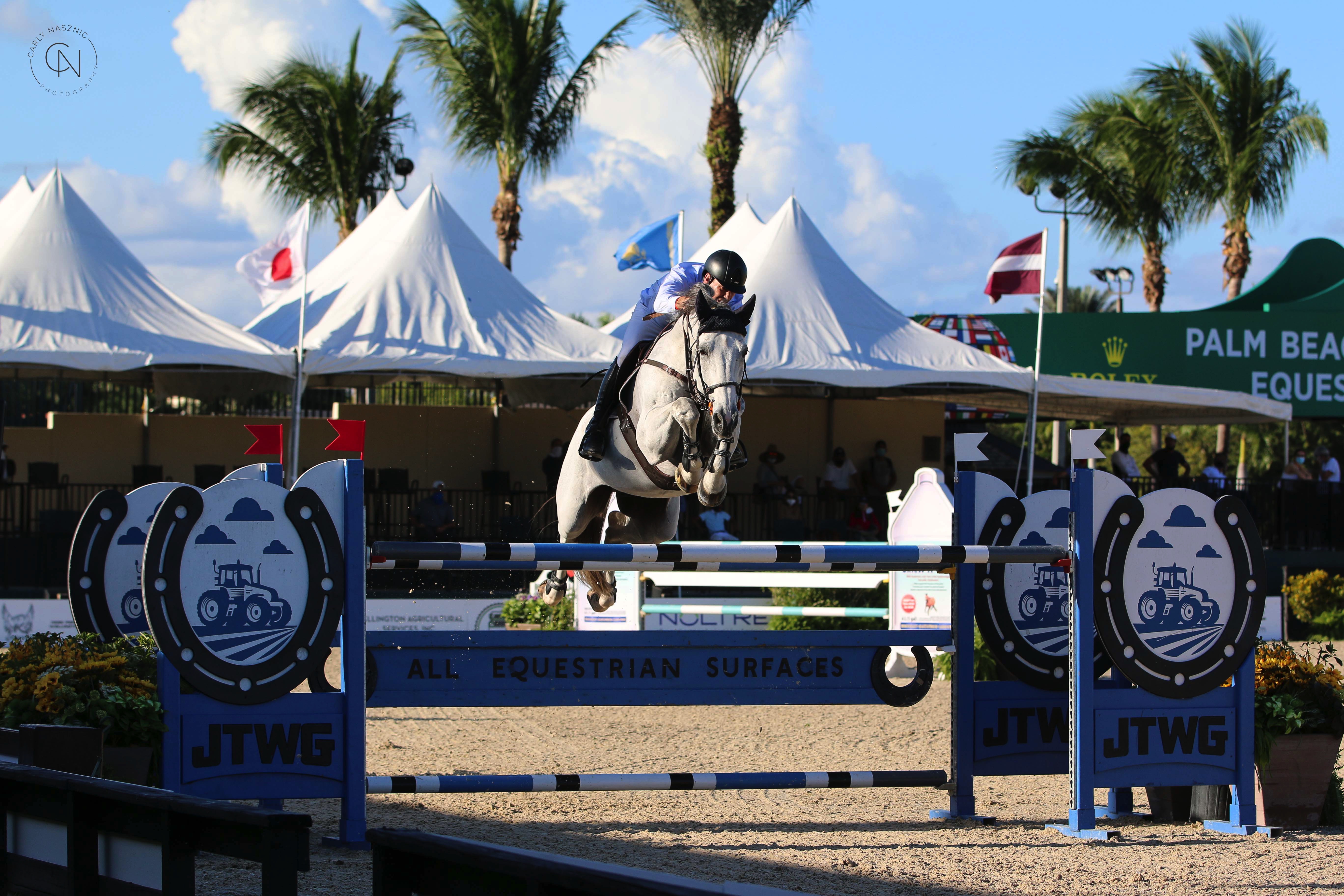 In the $2,500 Equiline High Junior/Amateur-Owner Jumper Classic, Anna Beth Athey of Enid, OK, finished one-two on both of her mounts. The quicker of the two, Athey's own Cantero Da Lagoa, galloped to first place with a clear jump-off time of 39.711 seconds. Owner-rider Athey and Caribic jumped to the runner-up honors with a double-clear time of 47.266 seconds to add to her success. Erin Haas of Ann Arbor, MI, claimed third position riding North Face Farm's Elektrisk with four faults in 47.447 seconds.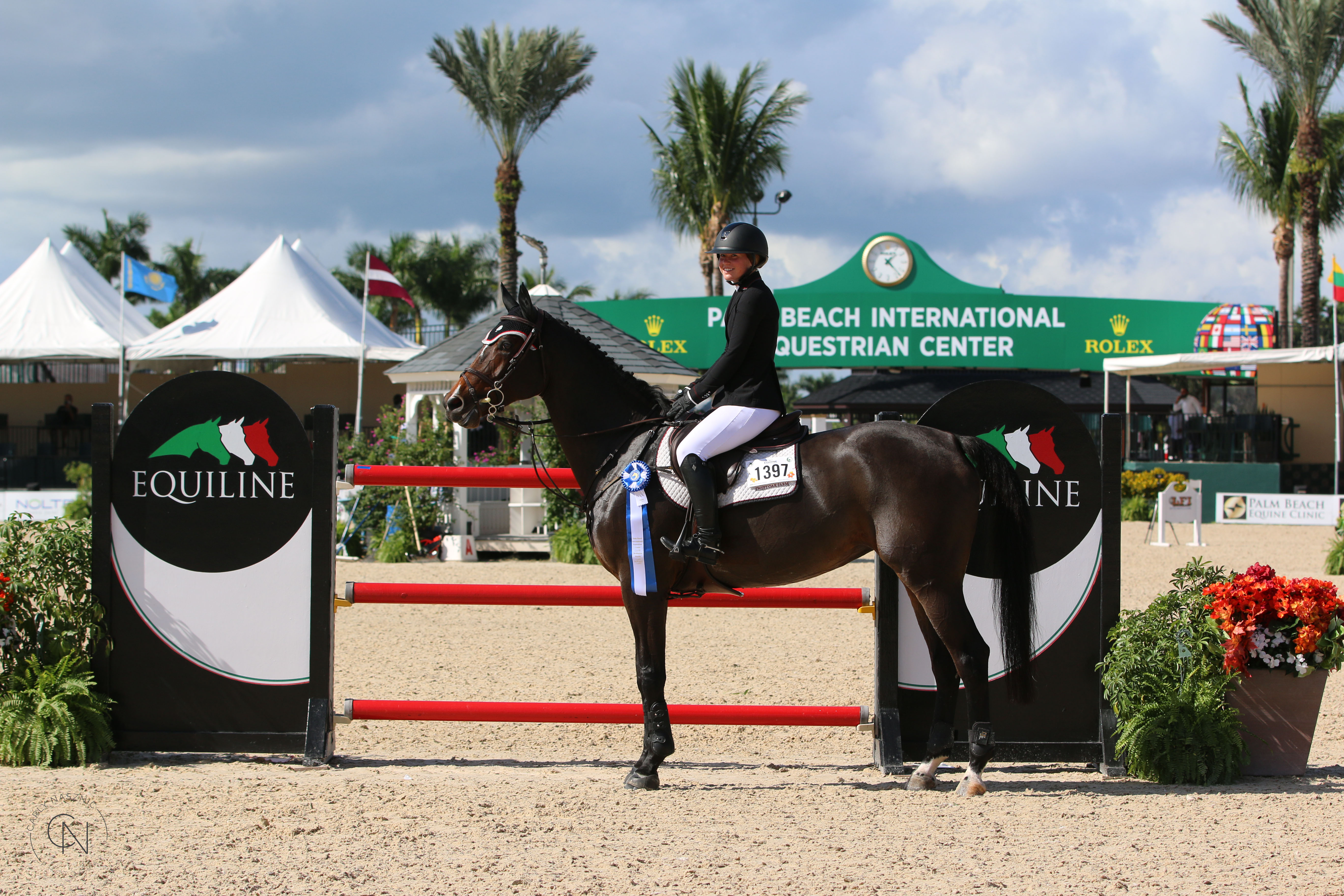 Final Results: $137,000 Noltrex®Vet Grand Prix CSI3*
1. KAPRICE: 2010 Belgian Warmblood mare by Echo van't Spieveld x Carthago
KENT FARRINGTON (USA), Haity McNerney: 0/0/39.282
2. MTM VIVRE LE REVE: 2009 Westphalian gelding by Ustinov x Chello II
BRIAN MOGGRE (USA), Major Wager LLC: 0/0/39.794
3. DONNA SPECIALE: 2008 KWPN mare by Cavalier x Concorde
LESLIE HOWARD (USA), Peter Howard and Laure Sudreau: 0/0/39.988
4. CONFU: 2007 Holsteiner gelding by Contact Me x Cambridge
LAURA KRAUT (USA), St. Bride's Farm: 0/0/40.302
5. AGANA VAN HET GERENDAL Z: 2011 Zangersheide stallion by Aganix Du Seigneur x Topas
LILLIE KEENAN (USA), Chansonette Farm LLC: 0/0/41.074
6. BLUEBERRY: 2011 Selle Francais mare by Conrad x Creve Coeur
NICHOLAS DELLO JOIO (USA), The Blueberry Group LLC: 0/0/42.264
7. ADAMO: 2005 KWPN gelding by Lupicor x Ekstein
MOLLY ASHE-CAWLEY (USA), Louisburg Farm: 0/0/42.270
8. VERDI O'MERVEILLES: 2009 Selle Français gelding by Verdi Tn x Quick Star
FABIO LEIVAS DA COSTA (BRA), Bonne Chance Farm LLC: 0/0/42.340
9. LORIELLE 2: 2008 Westphalian mare by Lordanos
FLO NORRIS (GBR), Cisca Norris: 0/0/53.501
10. COUNTRY BOY: 2009 Oldenburg stallion by Carry Best x Quirinus
TANNER KOROTKIN (USA), Sandalwood Farms: 0/0/44.220
11. CARNAVAL: 2005 Oldenburg gelding by Chacco Blue x Landadel
HECTOR FLORENTINO (DOM), Spruce Meadows, Ltd.: 0/0/48.386
12. ARMANI SL Z: 2008 Zangersheide stallion by Asca Z x Cumano
EUGENIO GARZA (MEX), El Milagro: 0/4/39.915
For a full list of results for the $137,000 Noltrex®Vet Grand Prix CSI3*, please click HERE. 
 For a full list of results for the $25,000 JTWG, Inc. National Grand Prix, please click HERE.
The ESP Holiday Series will begin with the Holiday & Horses CSI4*, which will run from November 24-29, 2020. The prize list for the six shows that make up the Holiday Series can be found HERE.
 Photo credit ©Anne Gittins Photography and ©Carly Nasznic Photography. These photos may only be used once in relation to this press release with proper credit.