Jessica Springsteen and Davendy S Take $35,000 Douglas Elliman 1.45m;
Heather Caristo-Williams and Summer Song Triumph in Bainbridge Green Hunter 3'
For Immediate Release
Lauren Fisher and Sara Cook for Jennifer Wood Media, Inc.
Wellington, FL – February 23, 2017 – Olympic team silver medalist Kent Farrington (USA) and RCG Farm's Creedance were victorious in the $130,000 Ruby et Violette WEF Challenge Cup Round 7 on Thursday, February 23, at the 2017 Winter Equestrian Festival (WEF) in Wellington, FL.
Week seven, sponsored by Suncast®, features CSI 5*/2* competition at the Palm Beach International Equestrian Center (PBIEC) through Sunday, February 26. The $380,000 Suncast® Grand Prix CSI 5* is the highlight event on Saturday night, February 25. Live streaming of this week's events can be found HERE. The 12-week WEF circuit continues through April 2, 2017, awarding over $9 million in prize money.
Course designer Anthony D'Ambrosio (USA) saw 56 starters on his first round course, with 14 advancing to the jump-off and six clear over the short track. Farrington and Creedance took the win with a time of 33.92 seconds.
Ireland's Conor Swail guided Finca Horses' Flower to second place in 34.14 seconds. Japan's Karen Polle jumped With Wings into third place with a time of 34.24 seconds. USA's Lauren Hough was aboard Laura and Meredith Mateo's Waterford to finish fourth in 34.52 seconds. Marilyn Little (USA) and Karen O'Connor's Clearwater placed fifth in 34.66 seconds, and Margie Engle (USA) rounded out the top six with a time of 37.96 seconds riding Gladewinds Partners' Royce.
For his win on Thursday, Farrington stuck to his own strategy with the speedy mount and made time with quick, tight turns.
"I watched a couple go early in the jump-off just to be sure about my plan, but he is very fast by himself, so I have to stick to his routine," Farrington noted. "I can't try to do stride numbers that other horses do. I have to win on short turns and using his foot speed."
Farrington continued, "I think the horse is naturally quick, and I naturally ride pretty quick. I did one extra stride to the oxer before the rollback turn. That probably made it easier to rollback shorter, and he is fast enough to do that. A slower horse, if they add a stride there, they are going to be two seconds behind, so I think a smaller, quicker horse has the advantage on a rollback like that."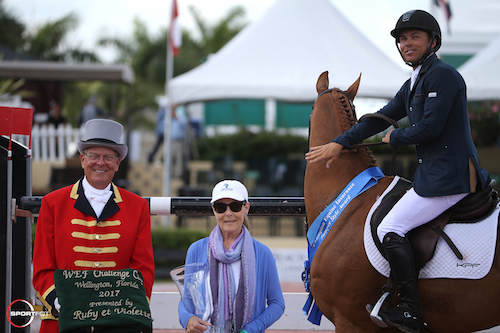 "It is a big week here; a five-star week in Florida," Farrington said after his win. "I have been bringing Creedance up slow, and this is his first five-star show here. We are off to a great start. He jumped last week under the lights in the small ring, and I thought he was a bit rusty. He came out in much better form today, so I am happy with his progress, if nothing else."
The ten-year-old Dutch Warmblood gelding (Lord Z x Notaris) won two five-star grand prixs in St. Moritz and Geneva, Switzerland, in 2016, among other top finishes at a young age. He will next contest Saturday night's $380,000 Suncast® Grand Prix CSI 5*.
Along with the winning prize, Creedance was presented the Champion Equine Insurance Jumper Style Award for week seven, presented by Laura Fetterman.
Jessica Springsteen and Davendy S Take $35,000 Douglas Elliman 1.45m
Jessica Springsteen (USA) was the winner of the $35,000 Douglas Elliman 1.45m speed class with Stone Hill Farm's Davendy S during WEF 7. Beginning on Wednesday, the class was stopped halfway through due to inclement weather and resumed with its remaining entries on Thursday morning.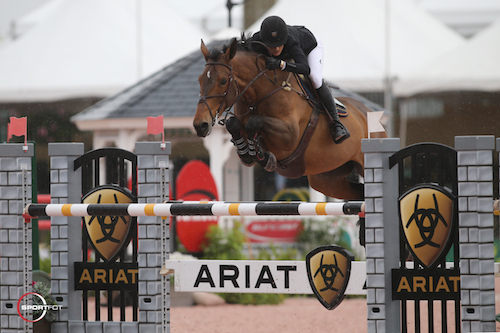 Jessica Springsteen and Davendy S
Fifty entries showed over Anthony D'Ambrosio's course, which yielded 16 clear rounds. Springsteen showed in the first half of the class on Wednesday afternoon, piloting Davendy S to the winning time of 56.41 seconds. Kristen Vanderveen (USA) and Bull Run's Faustino de Tili finished second in 57.61 seconds. Samuel Parot (CHI) and Couscous van Orti placed third in 58.99 seconds. Cian O'Connor (IRL) finished fourth riding Ronnoco Jump Ltd.'s Callisto through the timers in 59.21 seconds.
"She was amazing," Springsteen said of her 14-year-old Belgian Warmblood mare (Kashmir van Schuttershof x Pachat II). "I saw Kristen go, and I saw that she was really fast. I knew that I definitely needed to take a couple of risks, but that is where she is just such a fast horse across the ground and over the fences. She is so much fun in those classes.
"I really wanted to win," Springsteen continued. "I just tried to do the tightest turns that I could, but she is just one of the fastest horses I have ever ridden on her own, so if I stick to my plan normally I am able to have a good place. I knew there was still half the class to go, but after we went, I was pretty sure that we had it. There was no place I could have gone faster."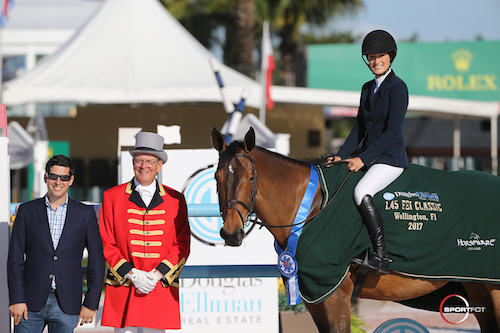 Jessica Springsteen and Davendy S in their winning presentation with Brooke Snader of Douglas Elliman Real Estate and ringmaster Steve Rector.
Davendy S lights up in the show ring, but generally has a very calm demeanor.
"I know she looks like a really hot horse when she is in the ring, but actually to ride, she takes a lot of leg," Springsteen explained. "If you see her just walking around, she does not look like a speed horse. She is so big and sleepy, but when she gets in the ring she gets so excited. She just loves it."
Also competing in the International Arena on Thursday, Emma Heise (USA) and Old Willow Farms' Viper Vrombautshoeve Z won the $8,000 Douglas Elliman 1.45m CSI 2* speed class.
The $2,500 Engel & Völkers High Amateur-Owner Jumper speed class concluded the day with a win for Jorge Matte Capdevila and C'Est Beau.
Heather Caristo-Williams and Summer Song Triumph in Bainbridge Green Hunter 3'
Heather Caristo-Williams of Wellington, FL, and Summer Song were named champions of the Bainbridge Green Hunter 3' division. The pair dominated the over fences portion, winning two classes and placing second in another, while also collecting the sixth place ribbon under saddle.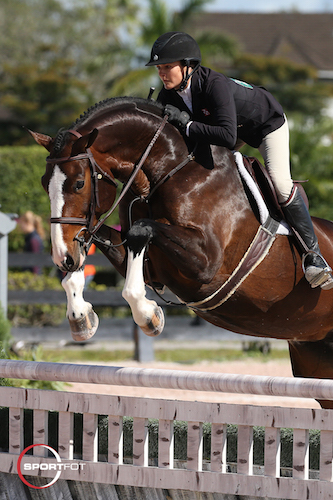 Heather Caristo-Williams and Summer Song
Summer Song is a family horse for the Caristos. Heather's mother, Holly Caristo, picked the mare out to buy and Heather's father, Ralph Caristo, helped train Summer Song. The family shares a passion for horses and operates Glenview Stables out of Saugerties, NY.
Speaking about why the coming seven-year-old Zangersheide mare by Clintissimo Z stood out to her mother, Heather said, "She just has such a beautiful canter, a lovely rhythm, and an endless jump to her."
Mr. & Mrs. Ralph Caristo purchased the mare at the end of the 2016 WEF circuit and Caristo-Williams campaigned her in the Baby Greens throughout the summer. The pair stepped up to the 3' Green Hunters at the start of the 2017 winter season.
"She is a diva and likes to be doted on," Caristo-Williams detailed. "In the future, she's going to be an amazing high performance and derby horse, which would be really exciting if I still have her. She's really not afraid of anything and has so much scope."
Summer Song in her championship presentation with groom Diego Gaytan.
Victoria Colvin of Loxahatchee, FL, settled for reserve honors aboard For Ever, an entry of Victoria Colvin, LLC. Colvin rode the 2012 Holsteiner gelding by Diarado to first, second, and third place finishes over fences.
The Green Incentive Class Level One found a winner in Kristy Herrera of Wellington, FL, and Gabriel, owned by JT Farm. The Green Incentive Class Level Two awarded the blue ribbon to Holly Orlando and True Story, an entry of Cathy Zicherman. The USHJA founded the Green Hunter Incentive Program promote the development of green horses and offers an annual Championship during the same week as the USHJA International Hunter Derby finals.
Competition continues on Friday featuring the $35,000 Illustrated Properties 1.45m speed class in the International Arena. The Adult Amateur Hunter 18-35 Section A will award championship honors in the Rost Arena. For full results, please visit www.PBIEC.com.
Final Results: $130,000 Ruby et Violette WEF Challenge Cup Round 7
1. CREEDANCE: 2007 Dutch Warmblood gelding by Lord Z x Notaris
KENT FARRINGTON (USA), RCG Farm: 0/0/33.92
2. FLOWER: 2005 Belgian Warmblood mare by Bon Ami x Randel Z
CONOR SWAIL (IRL), Finca Horses Inc: 0/0/34.14
3. WITH WINGS: 2003 KWPN gelding by Larino x L.Ronald
KAREN POLLE (JPN), Karen Polle: 0/0/34.24
4. WATERFORD: 2003 KWPN gelding by Coolcorron Cool Diamond x Julio Mariner XX
LAUREN HOUGH (USA), Laura and Meredith Mateo: 0/0/34.52
5. CLEARWATER: 2007 Holsteiner gelding by Clearway x Come On
MARILYN LITTLE (USA), Karen O'Connor: 0/0/34.66
6. ROYCE: 2004 Oldenburg stallion by Café au Lait x Grandilot
MARGIE ENGLE (USA), Gladewinds Partners LLC: 0/0/37.96
7. ATLANTIS: 2003 Zangersheide gelding by Andiamo Z x Royal Bravour L
SAMUEL PAROT (CHI), Samuel Parot: 0/4/33.27
8. BEEZIE: 2006 KWPN mare by Cardento x Canabis Z
SHANE SWEETNAM (IRL), The ISB Group LLC: 0/4/33.71
9. FINOU 4: 2006 Hanoverian gelding by For Pleasure x Concetto
AARON VALE (USA), Thinks Like a Horse & Donald Stewart: 0/4/35.08
10. BABYLOTTE: 2006 KWPN mare by Dollar du Murier x Concorde
YURI MANSUR (BRA), Yuri Mansur/Euro Stables: 0/8/33.68
11. AVALON 280: 2006 Westphalian gelding by Arpeggio x Potsdam NRW
YANN CANDELE (CAN), Erickson Halina Group: 0/8/34.44
12. BARNETTA: 2004 Westphalian gelding by Baloubet du Rouet x Polydor
SHARN WORDLEY (NZL), Sky Group: 0/8/37.78
Final Results: $35,000 Douglas Elliman 1.45m
1. DAVENDY S: 2003 Belgian Warmblood mare by Kashmir van Schuttershof x Pachat II
JESSICA SPRINGSTEEN (USA), Stone Hill Farm: 0/56.41
2. BULL RUN'S FAUSTINO DE TILI: 2005 Belgian Warmblood stallion by Berlin x Darco
KRISTEN VANDERVEEN (USA), Bull Run Jumpers Five LLC: 0/57.61
3. COUSCOUS VAN ORTI: 2002 Belgian Warmblood gelding by Nabab de Reve x Cash
SAMUEL PAROT (CHI), Samuel Parot: 0/58.99
4. CALLISTO: 2007 KWPN gelding by Quasimodo Z x Jokinal de Bornival
CIAN O'CONNOR (IRL), Ronnoco Jump Ltd: 0/59.21
5. IMKE 111: 2008 Belgian Warmblood mare by Der Senaat 111 x Heartbreaker
ABDEL SAID (EGY), AS Sport Horses: 0/60.04
6. MANODIE II H: 2005 Oldenburg mare by Carthago x Zeus
GEORGINA BLOOMBERG (USA), Gotham Enterprizes LLC: 0/61.64
7. RAIA D'HELBY: 2005 Selle Francais mare by Fergar Mail x Papillon Rouge
ADRIENNE STERNLICHT (USA), Starlight Farms LLC: 0/62.36
8. WANNICK WH: 2003 KWPN stallion by Heartbreaker x Joost
CHRISTINE MCCREA (USA), Candy Tribble: 0/64.40
9. ADAMO: 2005 KWPN gelding by Lupicor x Ekstein
MARILYN LITTLE (USA), Team Honor USA LLC: 0/64.46
10. IDEAL DE LA HAISSE: 2008 Belgian Warmblood gelding by Electro x Barring
KARA CHAD (CAN), Torrey Pines Stable: 0/64.91
11. NKH QUANTO: 2006 Holsteiner gelding by Quidam de Revel x Capitol I
CHRISTIAN HEINEKING (GER), October Hill Farm: 0/65.96
12. CASSANDRA: 2008 Swedish Warmblood mare by Caressini L x Cardento
PARIS SELLON (USA), Willow Grace Farms: 0/66.33
Photo Credit: Photos © Sportfot. Photos may only be used in relation to this press release and must include credit.