For Immediate Release
Lindsay Brock, and Sabrina Brashares for Jennifer Wood Media, Inc.
Wellington, FL – February 1, 2020 – U.S. Olympic team silver medalist Kent Farrington and Creedance did what they do best by galloping full tilt to win the $214,000 Marshall & Sterling / Great American Insurance Group Grand Prix CSI4* in the Global Ring at Equestrian Village (home to the Adequan® Global Dressage Festival) on Saturday, February 1, 2020.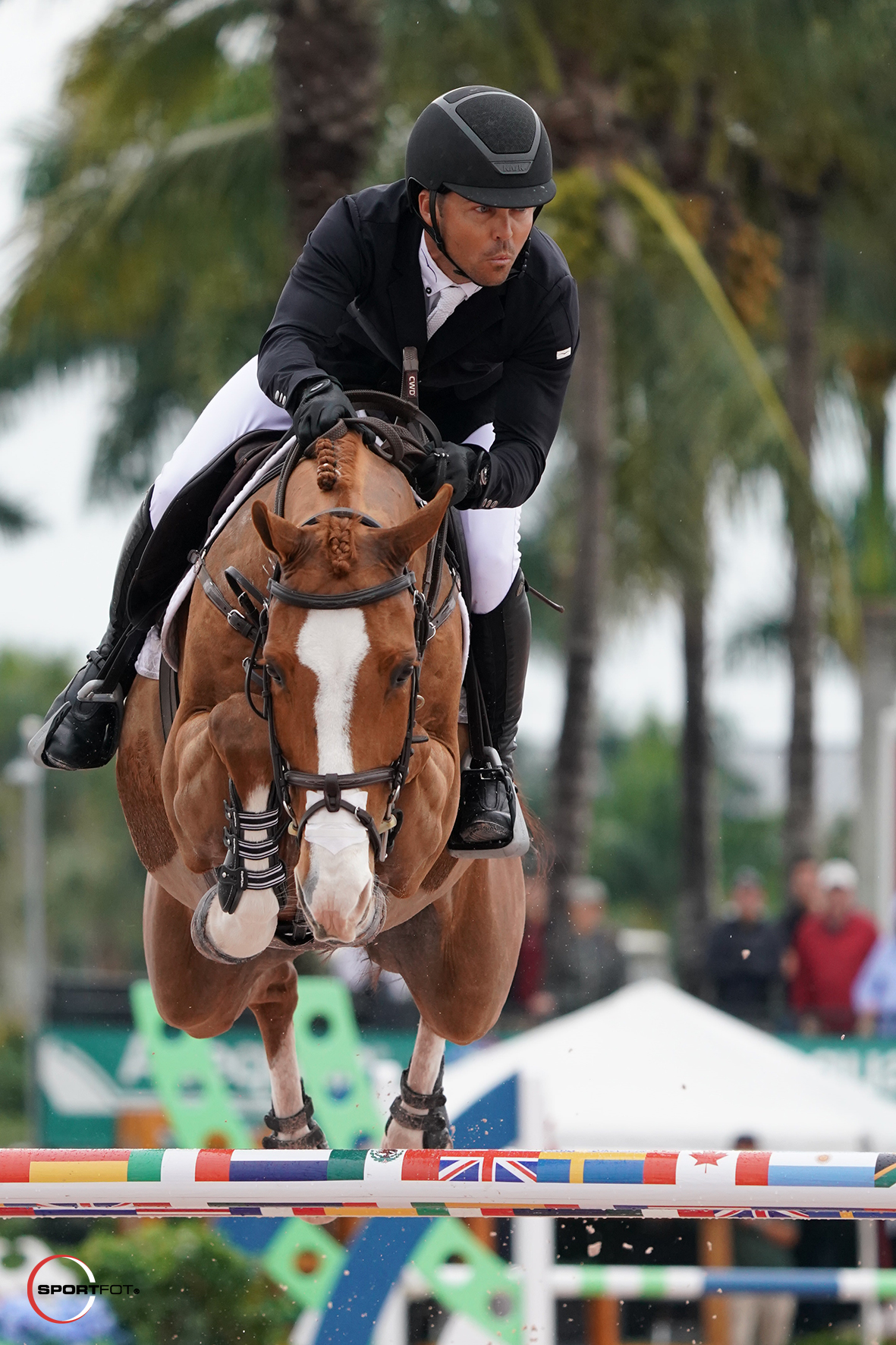 WEF continues through March 29, at the Palm Beach International Equestrian Center in Wellington, Florida, with 12 consecutive weeks of world-class competition and $13 million dollars on offer. The fourth week of competition at WEF, sponsored by Marshall & Sterling Insurance/Great American Insurance Group and recognized as a CSI4* by the Fédération Equestre Internationale (FEI), concludes on February 2.
From a starting field of 39 horses, 11 advanced to the tie-breaking jump-off set by Brazilian course designer Anderson Lima. After pocketing a grand prix win earlier in the season, Mexico's Santiago Lambre was poised for a repeat before Farrington and Creedance charged into the ring. Farrington utilized the 13-year-old Dutch Warmblood gelding's exceptional speed to steal the lead by just under half of a second.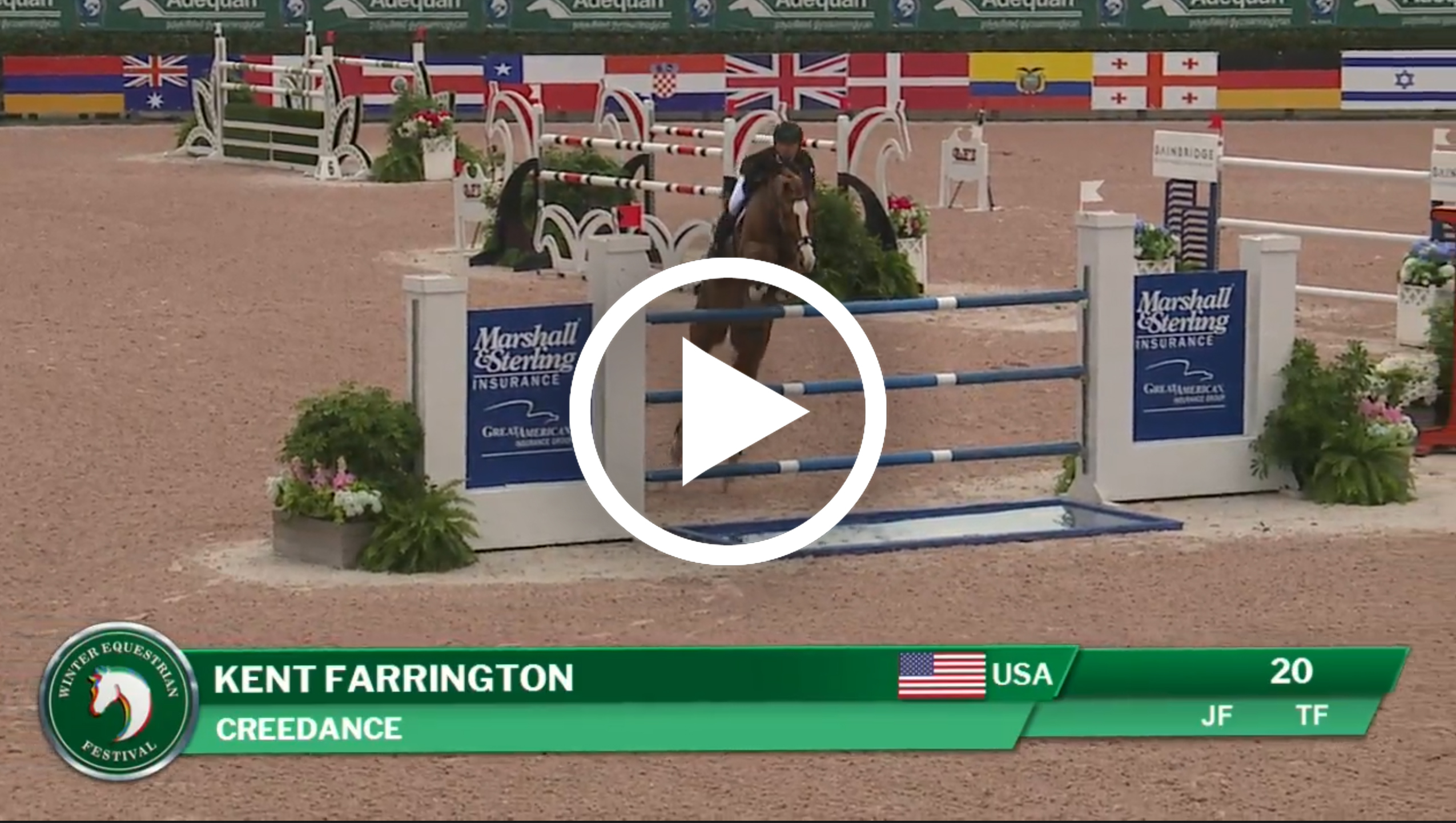 "Creedance is an exceptional horse; he's naturally so fast and such a winner," said Farrington of his mount (Lord Z x Notaris). "He's unbelievably careful and at the same time very brave. He delivered like he usually does, and I was very proud of him today.
"I try to show him where he likes and not overuse him in places where I don't think he needs to jump," continued Farrington on how he manages Creedance's schedule together with co-owner Haity McNerney. "I try every winter when I'm here to pick a few weeks where he comes out. The caliber of horses here is very high, and that's why I think you saw such a strong result from a lot of people today."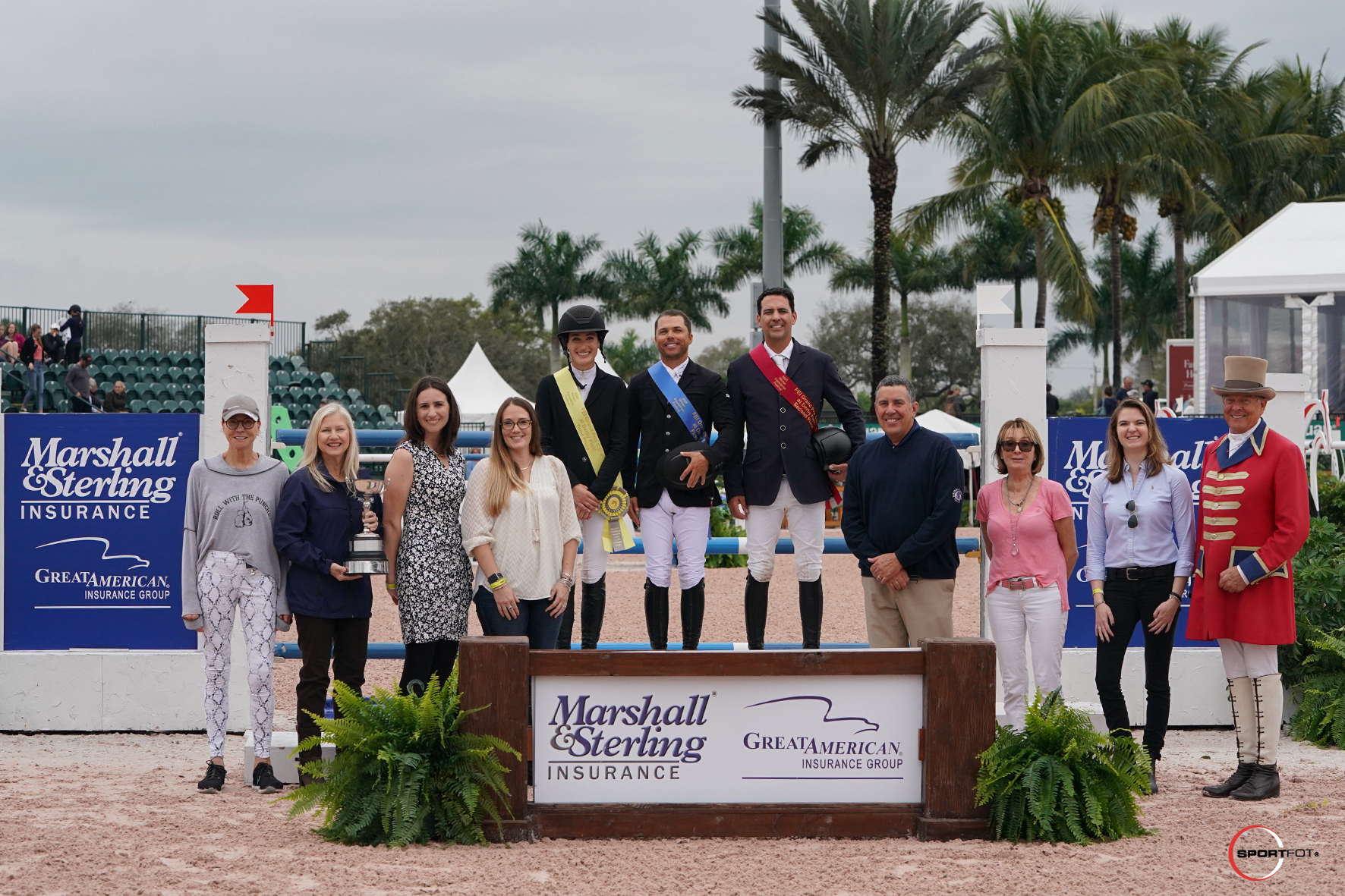 Farrington's time of 34.07 seconds eclipsed Lambre's 34.52-second finish, bumping the WEF two grand prix winner to runner-up.
"Cetano's getting better and better, and he's improved in the last year," said Lambre of his 11-year-old Zangersheide gelding (Clinton x Ahorn Z). "Last year, he couldn't go as fast, but now the rideability is much better. I always try to win, and today, he did a great job. After me, there were very fast riders. I'm very happy with second place."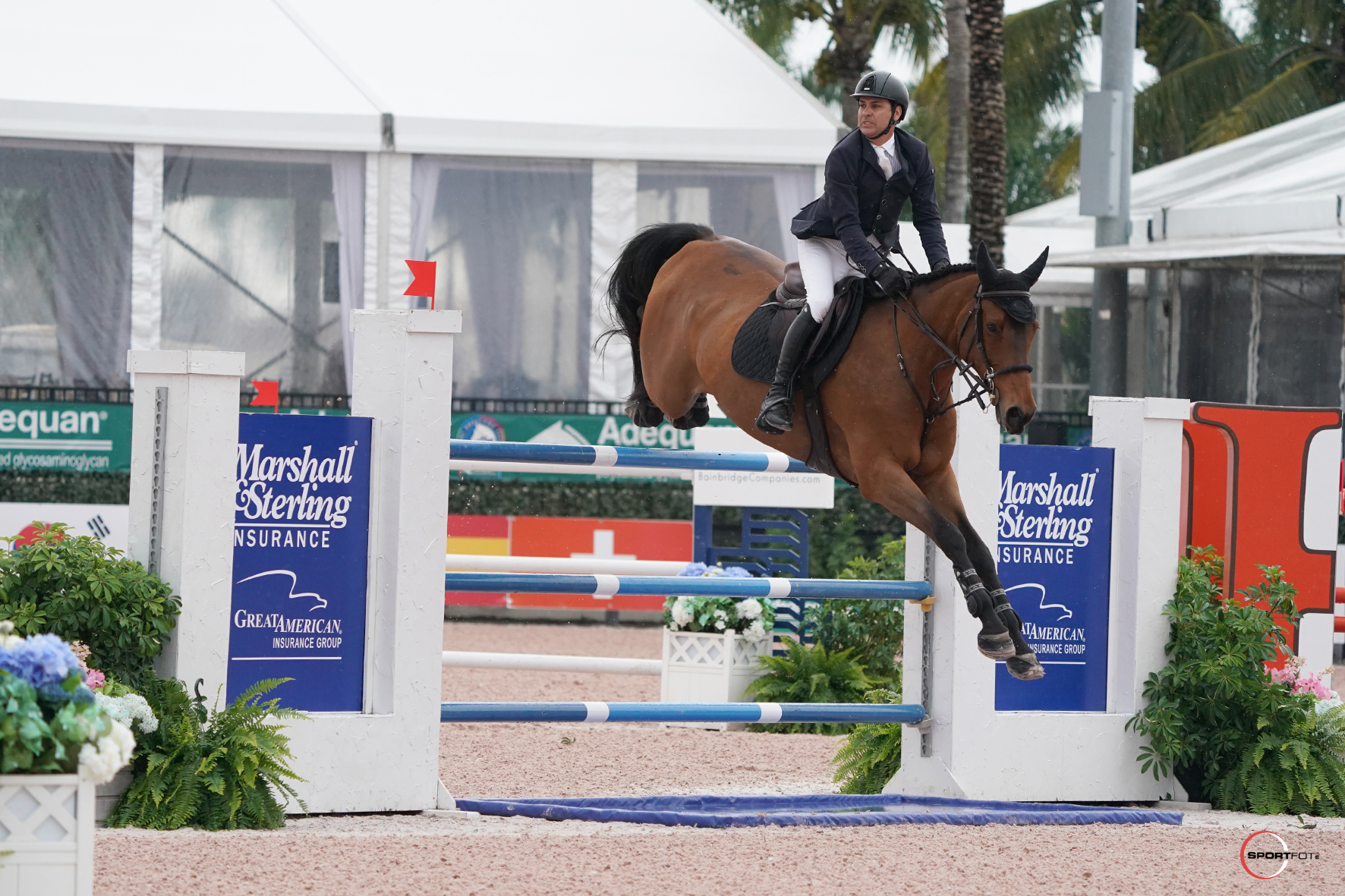 Rounding out the podium, home rider Jessica Springsteen (USA), stopped the jump-off clock at 35.41 seconds riding Volage du Val Henry for third place. Springsteen also earned the Martha W. Jolicoeur Leading Lady Rider Award for her consistency in both the grand prix and the WEF Challenge Cup earlier in the week.
"She's been in such good shape these past couple months," said Springsteen of Volage du Val Henry, an 11-year-old Selle Français mare (Quidam de Revel x Cassini I) owned by Stone Hill Farm. "She was great on Thursday. I thought I was pretty quick, and I ended up sixth. So today, I wanted to go for it a little bit more. We still weren't quite fast enough, but she's such a talented horse. I love riding her."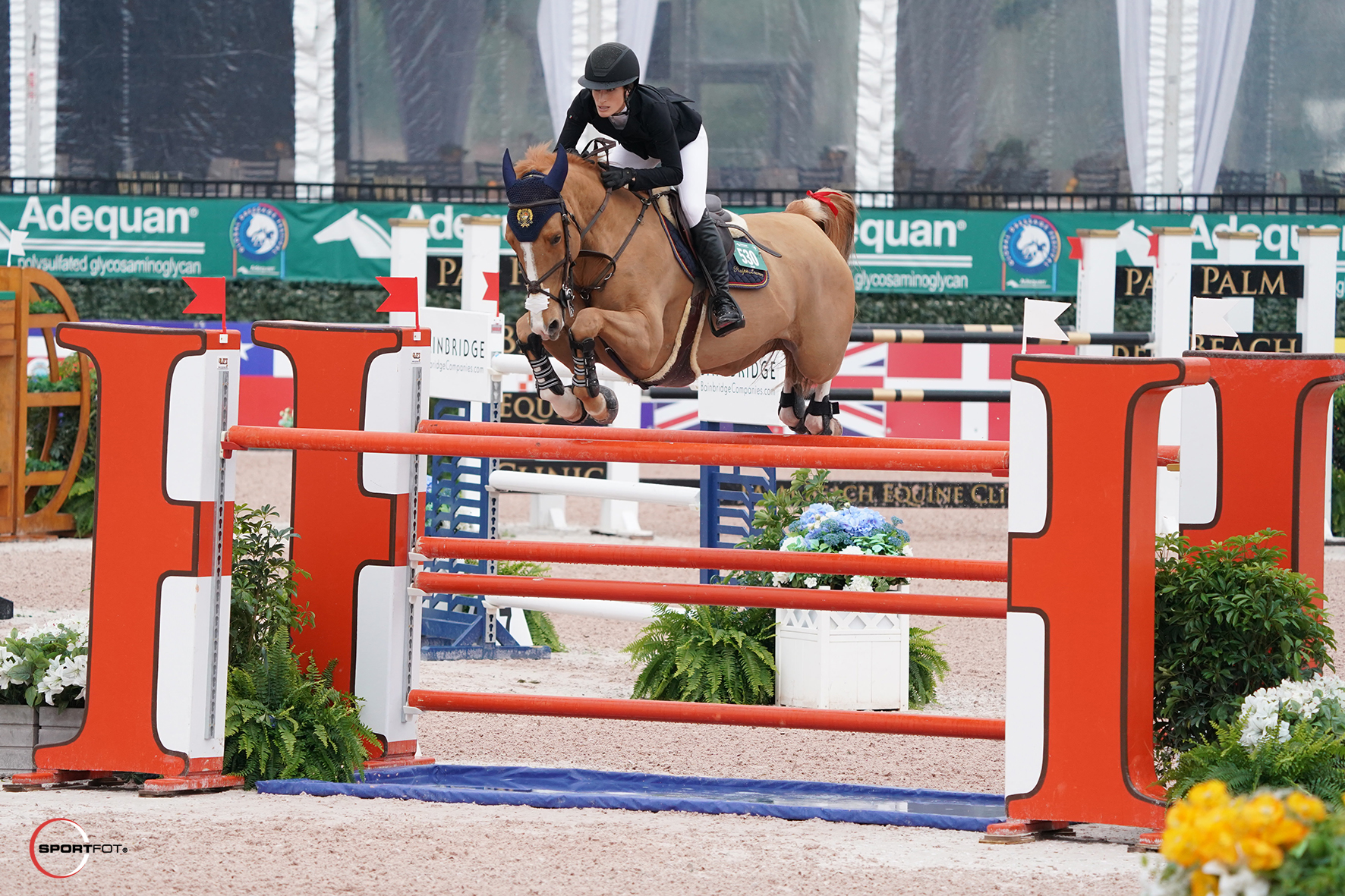 Fellow U.S. rider Katie Dinan finished fourth on a jump-off time of 37.63 seconds riding Dougie Douglas for owners Grant Road Partners LLC, and Alberto Michan (ISR) rounded out the top five after being the first clear over the opening track. Michan piloted 10-year-old Oldenburg mare Cosa Nostra for owner Daniel Michan.
Final Results $214,000 Marshall & Sterling / Great American Insurance Group Grand Prix CSI4*
1 CREEDANCE: 2007 Dutch Warmblood gelding by Lord Z x Notaris
KENT FARRINGTON (USA), Kent Farrington & Haity McNerney: 0/0/34.07
2 CETANO VAN ASPERGEM Z: 2009 Zangersheide gelding Clinton x Ahorn Z
SANTIAGO LAMBRE (MEX), Santiago Lambre: 0/0/34.52
3 VOLAGE DU VAL HENRY: 2009 Selle Français mare by Quidam de Revel x Cassini I
JESSICA SPRINGSTEEN (USA), Stone Hill Farm: 0/0/35.41
4 DOUGIE DOUGLAS: 2005 Irish Sport Horse gelding by VDL Douglas x High Roller
KATHERINE DINAN (USA), Grant Road Partners LLC: 0/0/37.63
5 COSA NOSTRA: 2010 Oldenburg mare by Conthargos x Quintender
ALBERTO MICHAN (ISR), Daniel Michan: 0/0/37.84
6 LUIBANTA BH: 2008 Irish Sport Horse mare by Luidam x Abantos
AMANDA DERBYSHIRE (GBR), Gochman Sport Horses: 0/4/34.84
7 BULL RUN'S RISEN: 2006 KWPN gelding by Utopie x Indoctro
KRISTEN VANDERVEEN (USA), Bull Run Jumpers, Inc: 0/4/35.63
8 MAGNOLIA MYSTIC ROSE: 2009 BH mare
EDUARDO MENEZES (BRA), Haras Mystic Rose: 0/4/37.44
9 GK CASPER: 2008 Holsteiner gelding by Canto 16 x Quantum
BERTRAM ALLEN (IRL), Ballywalter Stables: 0/4/38.21
10 SILVER SHINE: 2009 Oldenburg gelding by Califax x Balou du Rouet
MARTIN FUCHS (SUI), Willow Grace Farm: 0/8/39.61
11 ENTANO: 2009 KWPN gelding by Namelus R x Numero Uno
DANIEL BLUMAN (ISR), Over The Top Stables LLC: 0/8/43.23
12 CACHAREL: 2007 KWPN mare by Vingino x Clinton
KELLY SOLEAU-MILLAR (USA), Bridge Brook Arms and Donna Vanderwoude-Dymant: 1/79.03
Augusta Iwasaki Sweeps Champion and Reserve in the Small Junior Hunter 15 and Under Division
The Small Junior Hunter 15 and Under division came to a close on Saturday in the Rost Ring with Augusta Iwasaki riding Heaven's Dream to the championship. Iwasaki catch rode two horses in the division, but Heaven's Dream came out on top.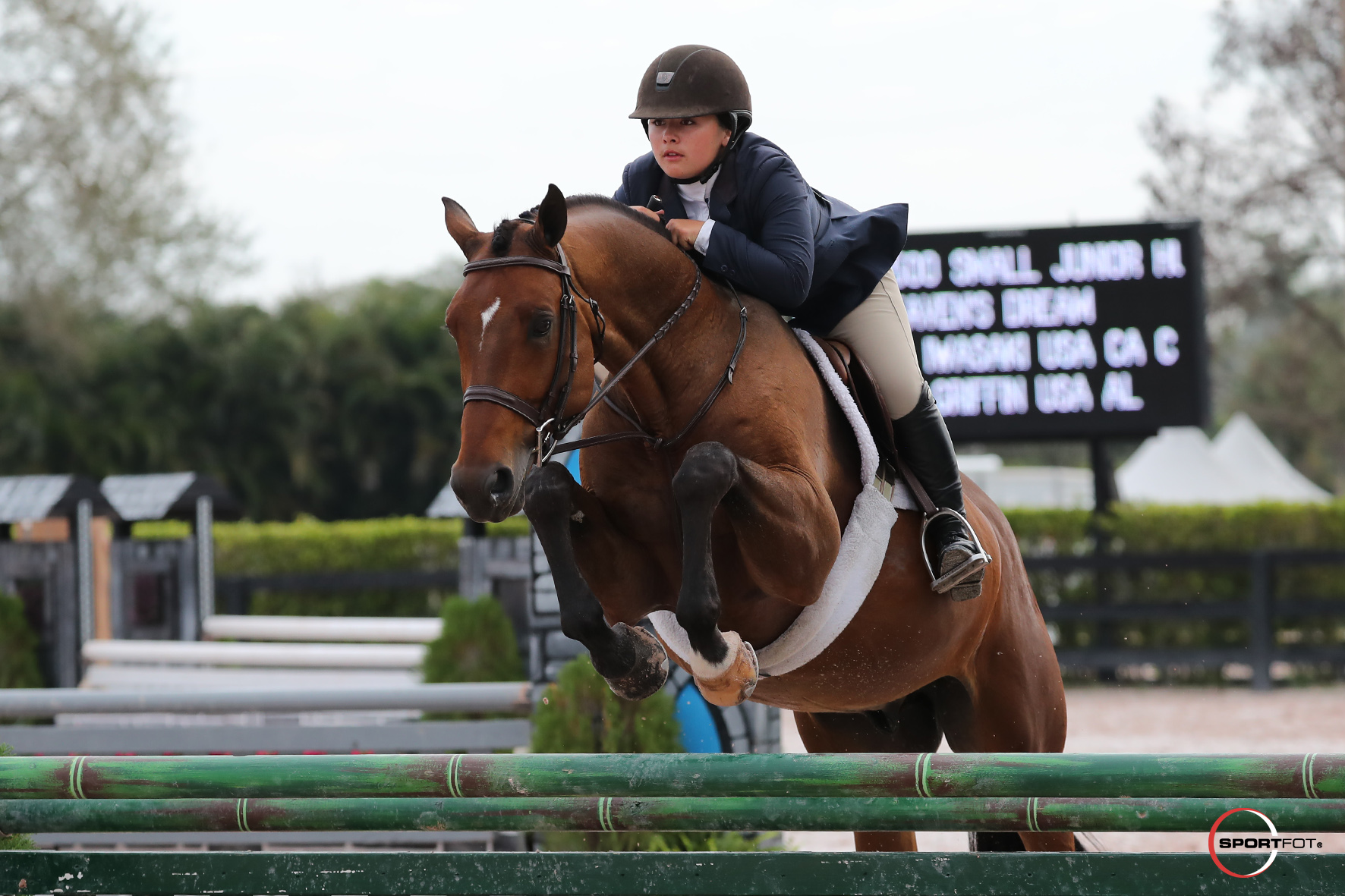 Iwasaki and Heaven's Dream won two classes on the second day of the division, and also received a second in the under saddle along with fifth and sixth places to rise to the top.
Reserve champion also went to Iwasaki, with her second mount, Coronation. Iwasaki and Coronation, owned by Sloan Lindeman-Barnett, received two first places, a third, and two fifth places to claim reserve.
"He's always game and does whatever is asked of him," Iwasaki said of Heaven's Dream, a 10-year-old Dutch Warmblood gelding by Arko III.
Iwasaki rode Heaven's Dream, or "Dreamy", for owner Isabella Griffin of Hampton Cove, AL. Dreamy was recently imported during the indoors season, so he is still fairly new to showing in the United States. "He's really beginning to put everything together in the ring," Iwasaki described. "He is just a cool horse and also really nice to ride."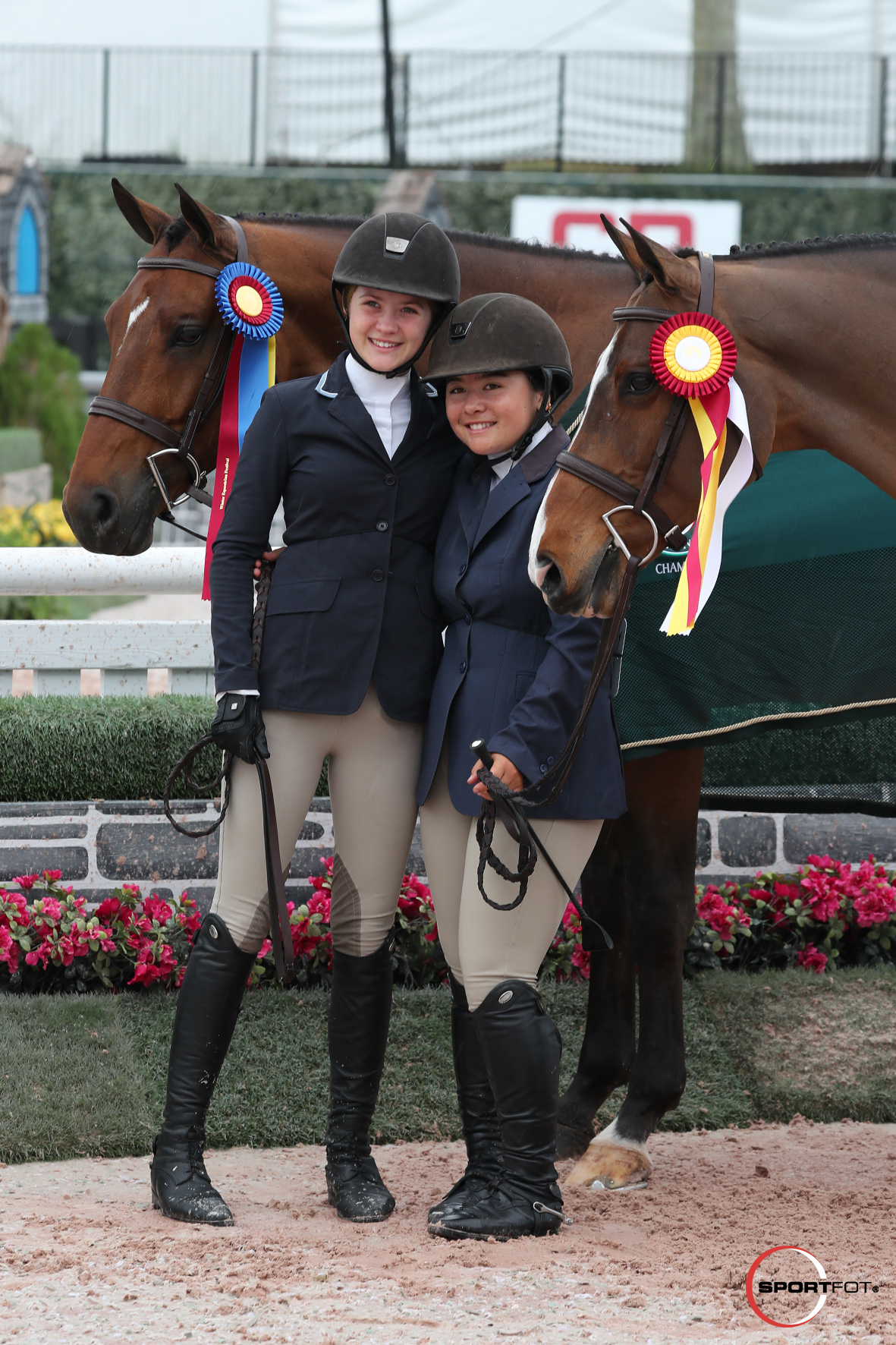 Iwasaki, of Calabasas, CA, enjoys being able to show Dreamy, but the main goal is for Griffin, who also trains with Elizabeth Reilly and Chris Iwasaki at Makoto Farms, to begin competing him. "I'm mostly getting him ready for Isabella. I really want her to have a lot of success on him!" Iwasaki explained.
For full results, visit www.PBIEC.com.
Photo credit: Photos © Sportfot, official photographer of the Winter Equestrian Festival. These photos may be used only in relation to this press release and must include photo credit.