For Immediate Release
Lauren Fisher and Sara Cook for Jennifer Wood Media, Inc.
Wellington, FL – January 20, 2017 – Jimmy Torano (USA) rode Missy Clark and North Run's Betagravin to victory in the $6,000 Illustrated Properties 1.40m FEI speed class on Friday, January 20, at the 2017 Winter Equestrian Festival (WEF) in Wellington, FL.
WEF two's CSI 2* rated event runs through Sunday, January 22, 2017. Highlights coming up include the $10,000 Hollow Creek Farm Under 25 Welcome and the $86,000 Marshall & Sterling Insurance Grand Prix CSI 2* on Saturday. The $25,000 Hollow Creek Farm Under 25 Grand Prix and $35,000 Suncast® 1.50m Championship Jumper Classic will be featured on Sunday. All four events can be viewed live HERE. The 12-week WEF circuit continues through April 2, 2017, awarding over $9 million in prize money.
Ana Catalina Harris Cruz (MEX) set the track for Friday's speed round in the International Arena at the Palm Beach International Equestrian Center (PBIEC), with 42 starters in the 1.40m competition and 11 clear rounds. Torano and Betagravin finished their course in 55.60 seconds. Lauren Hough (USA) and Willow Grace Farm's Canasta Z placed second in 56.89 seconds, and Laura Chapot (USA) rode her own and Mary Chapot's Thornhill Kate through the timers in 59.49 seconds to finish third.
Torano just began riding Betagravin, an 11-year-old Dutch Warmblood mare (Quasimodo Z x Grandeville), a few weeks ago for Missy Clark.
"She has been great. I have ridden her in five classes so far, and she has won two and been third in another," Torano detailed. "She is very fast, very careful, and seems like a really competitive horse."
Commenting on his round, Torano stated, "Originally today, the plan was just to go smooth and set her up for Sunday's 1.50m, but right as I was walking in the ring Missy said, 'What the heck, let's try to win it.'
"When I walked the course, I only walked half of it because that is all I was going to do for some training," Torano continued. "I had to change my whole plan before I walked into the ring, but we did it. Her stride is so big that I can save a lot of time. I left strides out everywhere."
Betagravin will jump her first big class on Sunday, and Torano sees more for her future.
"She's probably more horse than they think they originally bought, but I think they can attempt some bigger classes with her because she seems to be doing everything we have asked of her," he noted. "She is nice. She is in your hand. The biggest thing is dealing with her big stride, but you just have to know how to contain that."
Also competing in the International Arena on Friday, Sarah Bagworth and Goldfinger vd Hengstenpoel won the $2,500 Engel & Völkers High Amateur-Owner Jumper Power and Speed. Claire Schreder and Ceahorse LLC's Luca Toni 18 topped the $1,500 Sleepy P Ranch High Junior Jumper Power and Speed. The final $6,000 1.40m Illustrated Properties 1.40m speed class saw a win for Laura Chapot (USA) aboard Mary Chapot's Shooting Star.
Consistency Key for Julie Holzberger and Pure Giving
 Julie Holzberger, of Fairfield, OH, and long-time partner Pure Giving triumphed in the Camping World Adult Amateur Hunter 50 & Older Sec. A. The pair finished first, third, third, and fourth over fences and second under saddle to secure the championship title. Lynn Rogers, of Baypoint, NY, and Blue Point settled for the reserve championship honors with a pair of sixth place ribbons and a pair of first place ribbons, all over fences.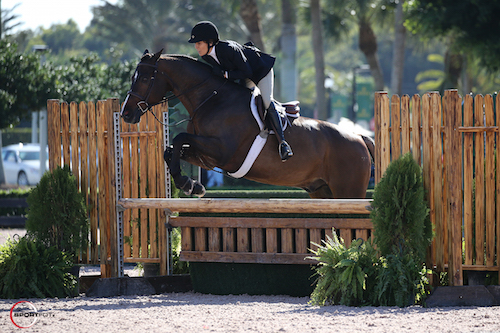 Pure Giving is a 2002 Swedish Warmblood gelding that Holzberger has owned for six years. She credits much of her success to her trainers of 14 years, David Belford and Christopher Payne, and her focus on consistency.
"He's so sweet and I adore him," gushed Holzberger, who had a highlight win with Pure Giving at the 2014 Capital Challenge Horse Show. "He knows me like I know him. We're in sync together. He loves to go out for grass and I love to graze him."
Holzberger primarily competes at WEF in the winter and Kentucky in the summer. She balances her veteran mount with a younger horse, Pure Bliss that she shows in the 2'6" division.
"My goal is just to ride consistently. At the end of the day, that's the most important thing. For me, I want to ride consistently, whatever the outcome is. I've had a really great first two weeks here and I love the experience and the environment," she said.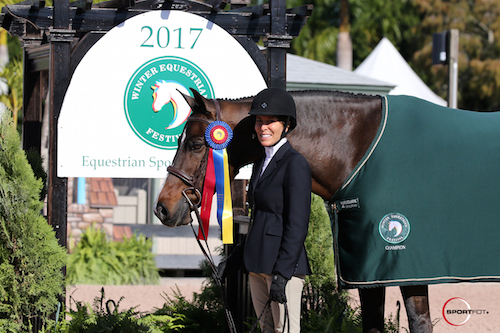 The first week of WEF continues on Saturday with the second "Saturday Night Lights" event of the season, the $86,000 Marshall & Sterling Insurance Grand Prix CSI 2*. The Hunt Ltd. Amateur-Owner Over 35 division will award championship honors for week two in the E.R. Mische Grand Hunter Ring. For full results, please visit www.PBIEC.com.
Final Results: $6,000 Illustrated Properties FEI 1.40m
BETAGRAVIN: 2006 KWPN mare by Quasimodo Z x Grandeville
JIMMY TORANO (USA), Missy Clark & North Run: 0/55.60

2. CANASTA Z: 2003 Zangersheide mare by Canabis Z x Caretano Z
LAUREN HOUGH (USA), Willow Grace Farm: 0/56.89

3. THORNHILL KATE: 2005 Irish Sport Horse mare by Courage II x Clover Hill
LAURA CHAPOT (USA), Laura & Mary Chapot: 0/59.49

4. CHARLY J.: 2006 Holsteiner gelding by Cassini II x Contago
VASCO FLORES (PUR), Gotham Enterprizes LLC: 0/60.93

5. ADAMO: 2005 KWPN gelding by Lupicor x Ekstein
MARILYN LITTLE (USA), Team Honor USA LLC: 0/61.23

6. AMINKA: 2005 KWPN mare by Ephebe For Ever x Heartbreaker
MICHAEL DESIDERIO (USA), David Desiderio & Tranquility Farm: 0/62.82

7. BALOU'S CAPTAIN: 2009 Oldenburg stallion by Baloubet du Rouet x Captain Paul I
EDUARDO MENEZES (BRA), HS Stables: 0/62.89

8. BRINDIS BOGIBO: 2006 KWPN gelding by Grand Pilot I x Pacific
LAUREN TISBO (USA), Tequestrian Farms LLC: 0/63.05

9. COCARIE: 2007 KWPN mare by Unaniem x Ids
CARA RAETHER CAREY (USA), Trelawny Farm LLC: 0/64.34

10. CHS INCEPTION: 2008 Irish Sport Horse gelding by Clover Flush x Harlequin du Carel
ANDREW BOURNS (IRL), Andrew Bourns Sport Horses Inc: 0/65.30

11. DIPSSY: 2005 Warmblood mare by Unknown x Unknown
EMANUEL ANDRADE (VEN), Emanuel Andrade: 0/65.91

12. NINPARO: 2008 Oldenburg gelding by Nintender x Caspar
ANDREW BOURNS (IRL), Andrew Bourns Sport Horses Inc: 1/67.64
Photo Credit: Photos © Sportfot, Official Photographer of the Winter Equestrian Festival. These photos may be used only in relation to this press release and must include photo credit.