For Immediate Release
Jennifer Wood and Summer Grace for Jennifer Wood Media, Inc.
Wellington, FL – March 16, 2019 – The highlight event for week 10 of the 2019 Winter Equestrian Festival (WEF) was the $134,000 Horseware Ireland Grand Prix CSI 3* on Saturday, March 16, and coming away with the victory was Amanda Derbyshire (GBR) riding Roulette BH for Gochman Sport Horses LLC.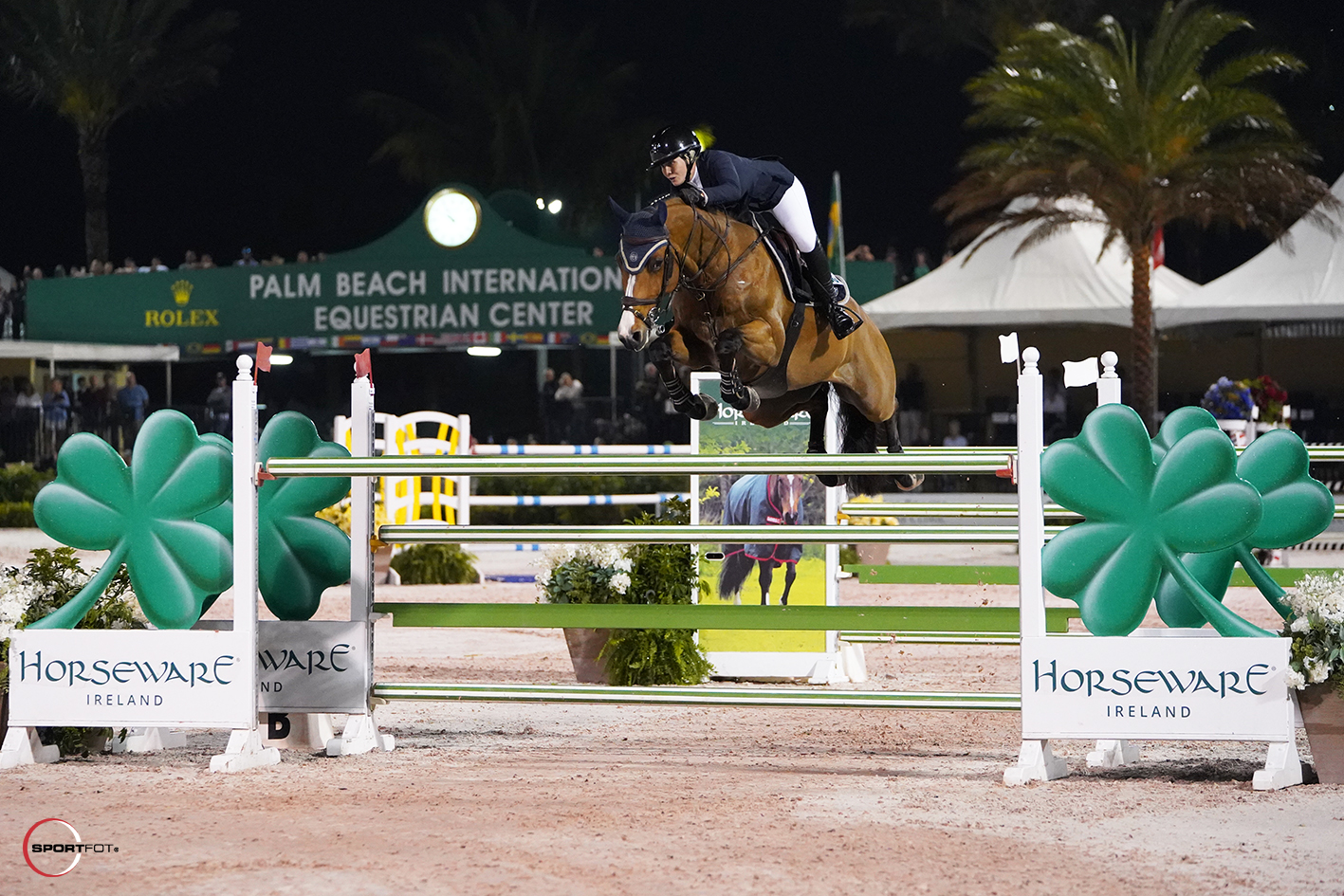 Jumper, hunter, and equitation competition continues at the Palm Beach International Equestrian Center (PBIEC) through March 31, 2019, with the 12-week WEF circuit offering more than $9 million in prize money. Week 10, sponsored by Horseware Ireland, runs through Sunday, March 17, concluding with the $36,000 CaptiveOne Advisors 1.50m Classic CSI 3* on Sunday, March 17.
There were 45 entries in the grand prix, all competing over a course designed by Michel Vaillancourt of Canada. Of those entries, four found the path to a clear round and the jump-off.
In a fitting finish during Women's History Month, four ladies were competing for the top spot in the grand prix. Returning first was Amy Millar (CAN) riding Truman, a 10-year-old Selle Francais gelding by Mylord Carthago*HN x Kolibri owned by Millar Brooke Farm Ltd. They set a nice pace with the all-important clear round in 45.65 seconds, which would hold up for second place.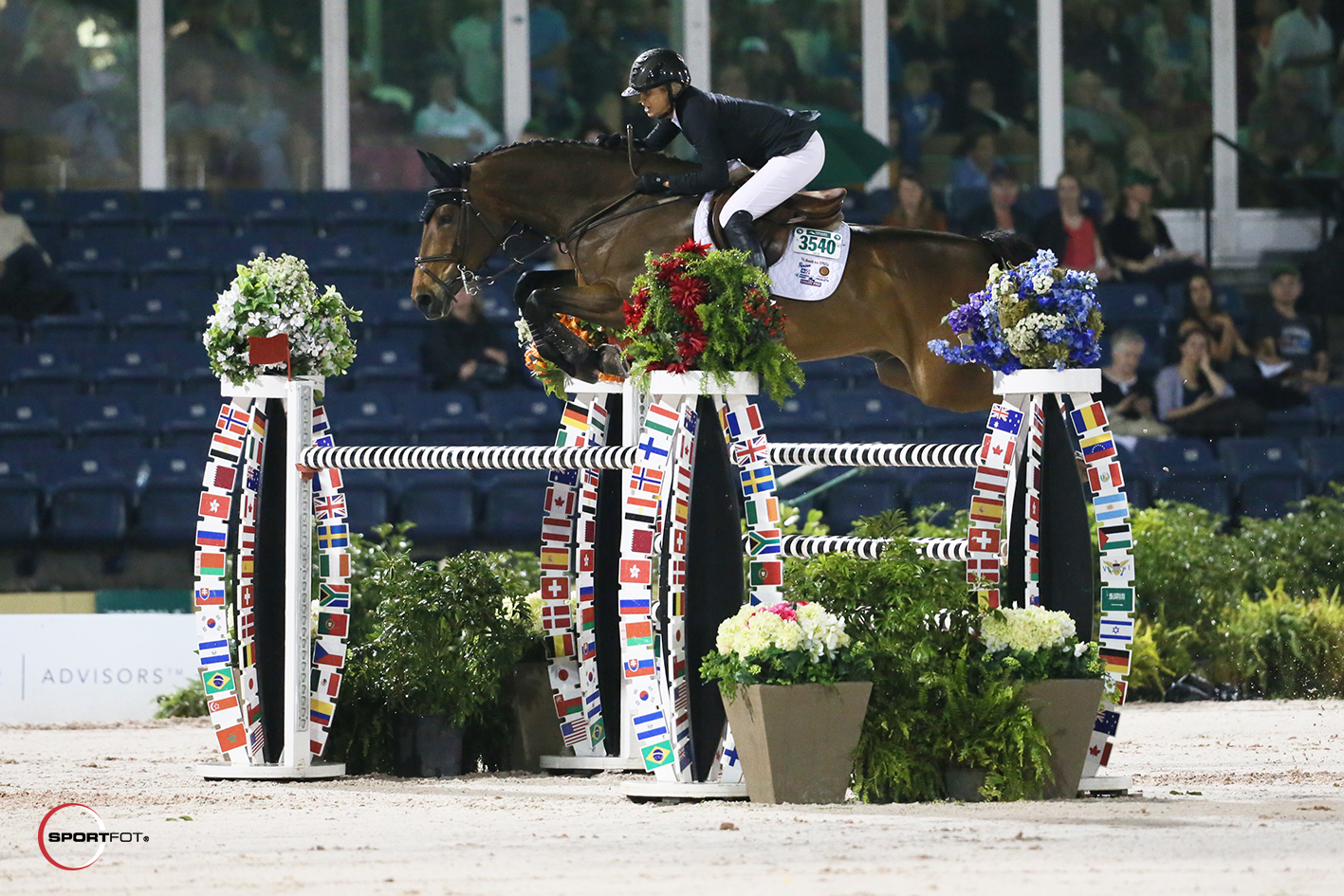 "Everyone in the jump-off had the ability to go quickly," said Millar, who was an Olympian for Canada in 2016. "I essentially had to go as fast as I felt comfortable and leave the jumps up. I must say, I did think I was going to do one less stride in both of those lines when I made my plan. Then it just wasn't working out that way. I just rode the plan and left the jumps up, and I feel fortunate that I finished second."
Millar termed Truman as a "completely for Canada" horse. She explained, "It's a pretty great story about this horse. I bought him from Eric Lamaze, and Tiffany [Foster] helped me find the horse when we were all in Europe getting ready for the Rio Olympics. They sold me the horse as a seven-year-old. Then, last year I had a baby, so my dad, Ian Millar, trained the horse for me all last year, got him going around these 1.50m grand prix. I came back this season and have capitalized on everything that everyone has done to help me with the horse."
Next in was a woman known for her incredible speed in jump-offs. Laura Chapot and Mary Chapot's Chandon Blue have had a great run at WEF so far with six top-three finishes, including the two-star grand prix win at WEF 9. But it was not to be another victory for the pair as they pulled a rail for four faults in 43.07 seconds. They finished in third place.
"It's hard to say," said Chapot when asked about the rail that fell. "That was a difficult combination in the first round, and I think coming off a long gallop and then a short turn back to it, he just got over-steadied a little bit and slowed down.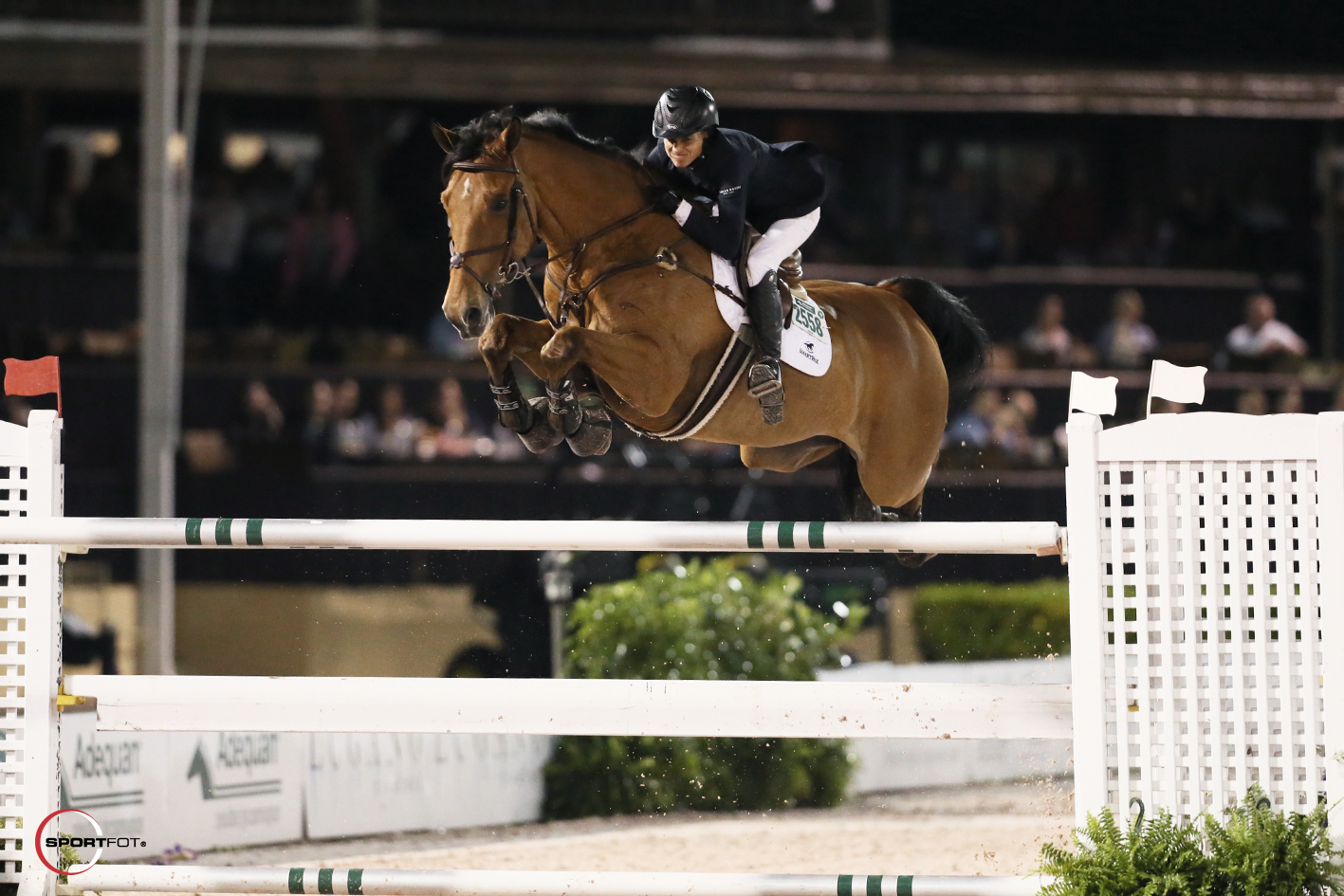 "He maybe jumped a little bit too high and just barely caught that back rail, but I couldn't be more pleased with him," said Chapot of the 14-year-old Oldenburg gelding by Chacco Blue x Landcapitol. "He's been jumping fantastic the entire time. He's jumped an awful lot of clear rounds. He's way exceeded my expectations, and to get another top finish tonight is spectacular."
Vanessa Mannix (CAN) and her own Valentino d'Elte were next in, but eight faults in 45.47 seconds relegated them to fourth place.
With the prime spot of last to go, Derbyshire and Roulette BH not only had to be quick, but a clear round was imperative. They were able to do just that, leaving all the jumps up in a time of 44.12 seconds for victory.
"I did actually plan nine [strides from jumps] two to three in the jump-off and ended up doing eight," Derbyshire recalled. "Then I just kept going. I was really lucky in the double at the end; I didn't have much control by then. Luck was on my side. I had the advantage of watching all three go. I knew if Laura was clear it'd be hard to beat her. It worked out!"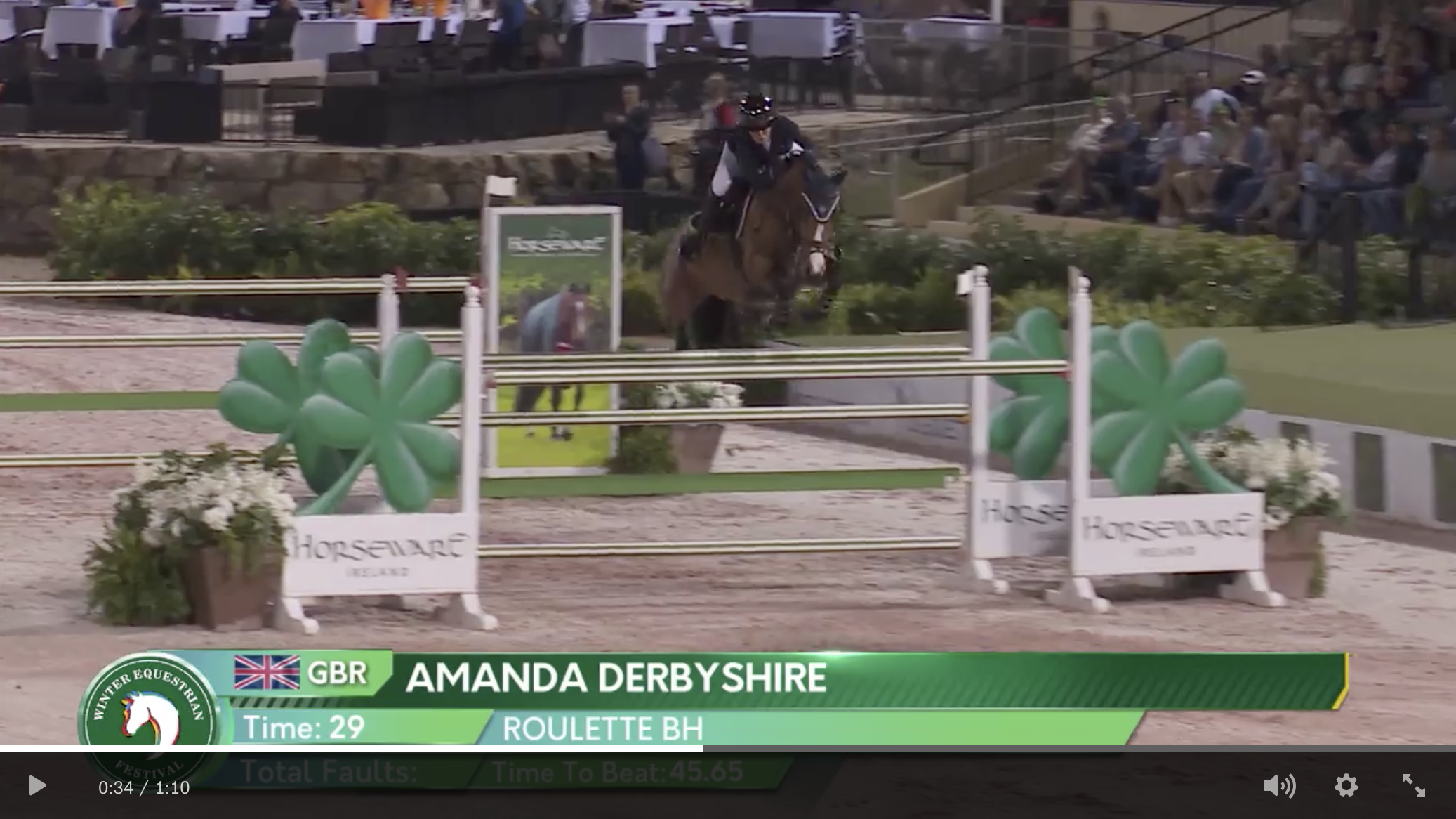 Watch the winning round for Amanda Derbyshire and Roulette BH!
Derbyshire started riding Roulette BH, a 10-year-old Irish Sport Horse gelding by Moschino x Michellino, in May of 2018 and had to work with the "very, very strong" horse that had previously been ridden by a man.
"For literally the last nine months, we've been working on rideability so in the jump-off I can actually let him go," she said. "We took it pretty slow last summer, and we didn't face him at all the big stuff. I think by doing that we've trusted each other. He's jumped I think three grand prix here, and he's been clear every time. I had a time fault once. We haven't tried to over show him. We've got big plans for the future."
Those big plans include the Nations Cups at Dublin and Hickstead, plus another big championship that is just around the corner.
"The big aim is 2020 for him for sure," she said of the Tokyo Olympic Games.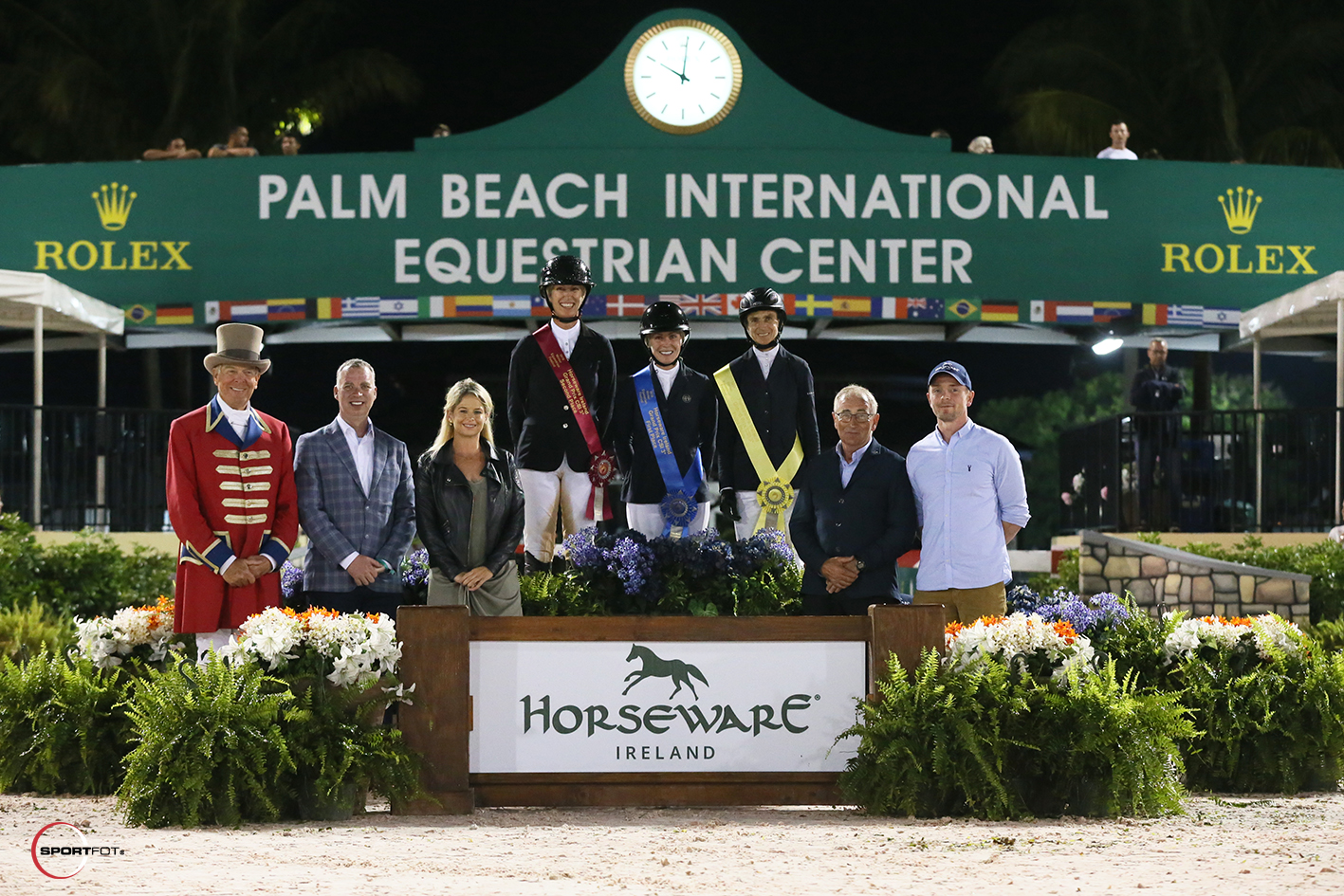 This was Derbyshire's first "Saturday Night Lights" grand prix victory. "I'm absolutely ecstatic. I don't think there's a better feeling than being able to canter around there," she said. "To win anything at WEF under the lights with so many people and such a big crowd is always so special. I've been in America nine years, and I spent the first seven years watching all of these night classes, so to be able to jump them and be able to win is a dream come true."
Tom MacGuinness, CEO of Horseware Ireland, said, "I'm glad that you ladies are here and that you did so well. I can share the honor of being the oldest competitor in [the 2014 FEI World Equestrian Games in] Normandy with Amy's father actually. I like what's happening here. We're going to keep doing more of the same here, and we're proud to sponsor at WEF."
Final Results: $134,000 Horseware Ireland Grand Prix CSI 3*
1 ROULETTE BH: 2009 Irish Sport Horse gelding by Moschino x Michellino
AMANDA DERBYSHIRE (GBR), Gochman Sport Horse LLC: 0/0/44.12
2 TRUMAN: 2009 Selle Francais gelding by Mylord Carthago*HN x Kolibri
AMY MILLAR (CAN), Millar Brooke Farm Ltd: 0/0/45.65
3 CHANDON BLUE: 2005 Oldenburg gelding by Chacco Blue x Landcapitol
LAURA CHAPOT (USA), Mary Chapot: 0/4/43.07
4 VALENTINO D'ELTE: 2009 Selle Francais gelding by Castronom Z*de Hus x Windsor
VANESSA MANNIX (CAN), Vanessa Mannix: 0/8/45.47
5 KEOKI: 2009 Holsteiner gelding by Catoki x Cassini I
DAVID BLAKE (IRL), Pine Hollow Farm: 1/81.50
6 FAIR PLAY: 2010 KWPN gelding by Gaillard de la Pomme
AIDAN KILLEEN (IRL), Andrea Hippeau Vogel: 1/82.50
7 CHARMEUR: 2007 KWPN gelding by Numero Uno x Gelha's VDL Emilion
SERGIO ALVAREZ MOYA (ESP), Alvarez Moya Horse SL: 4/75.05
8 VICTOR: 2002 KWPN gelding by Elmshorn x Grandeur
TIFFANY FOSTER (CAN), Artisan Farms LLC & Torrey Pines Stable: 4/75.90
9 CATCH ME IMPERIO EGIPCIO: 2008 Hanoverian mare by 
FRANCISCO JOSE MESQUITA MUSA (BRA), Daniel Aguiar Morelli: 4/76.47
10 DICAS: 2009 Rheinlander gelding by Diarado x Cassini I
MARGIE ENGLE (USA), Storm Ridge Capital LLC, Show Horses, Garber & Gladewinds Partners LLC: 4/77.53
11 DAVIDOFF DE LASSUS: 2009 Belgian Warmblood stallion by Ugano Sitte x Origine du Mont D'or
ZOE CONTER (BEL), Stephex Stables: 4/78.88
12 QUALITY FZ: 2009 SI gelding by Quintender x Eurocommerce Berlin
SPENCER SMITH (USA), Gut Einhaus LLC: 4/79.27
Jordan Allen and Chevito Rock the Bruno Delgrange Large Junior Hunter 16-17 3'6" Division
Some of the best junior hunter riders took to the Rost Arena at the Palm Beach International Equestrian Center on March 16 to see who would be named champion of the Bruno Delgrange Large Junior Hunter 16-17 3'6" division during Week 10. Hot off the heels of her major success during WCHR Hunter Week, Jordan Allen of West Bloomfield, MI, piloted Chevito to the champion title on a total of 28.00 points.
Allen and the Rock Ridge Farms' nine-year-old Holsteiner gelding (Chepetto x Vita Vi) have only been paired since Week 7 of the 2019 Winter Equestrian Festival (WEF), but the two have already hit their stride under the tutelage of Ashland Farms and Brady Mitchell.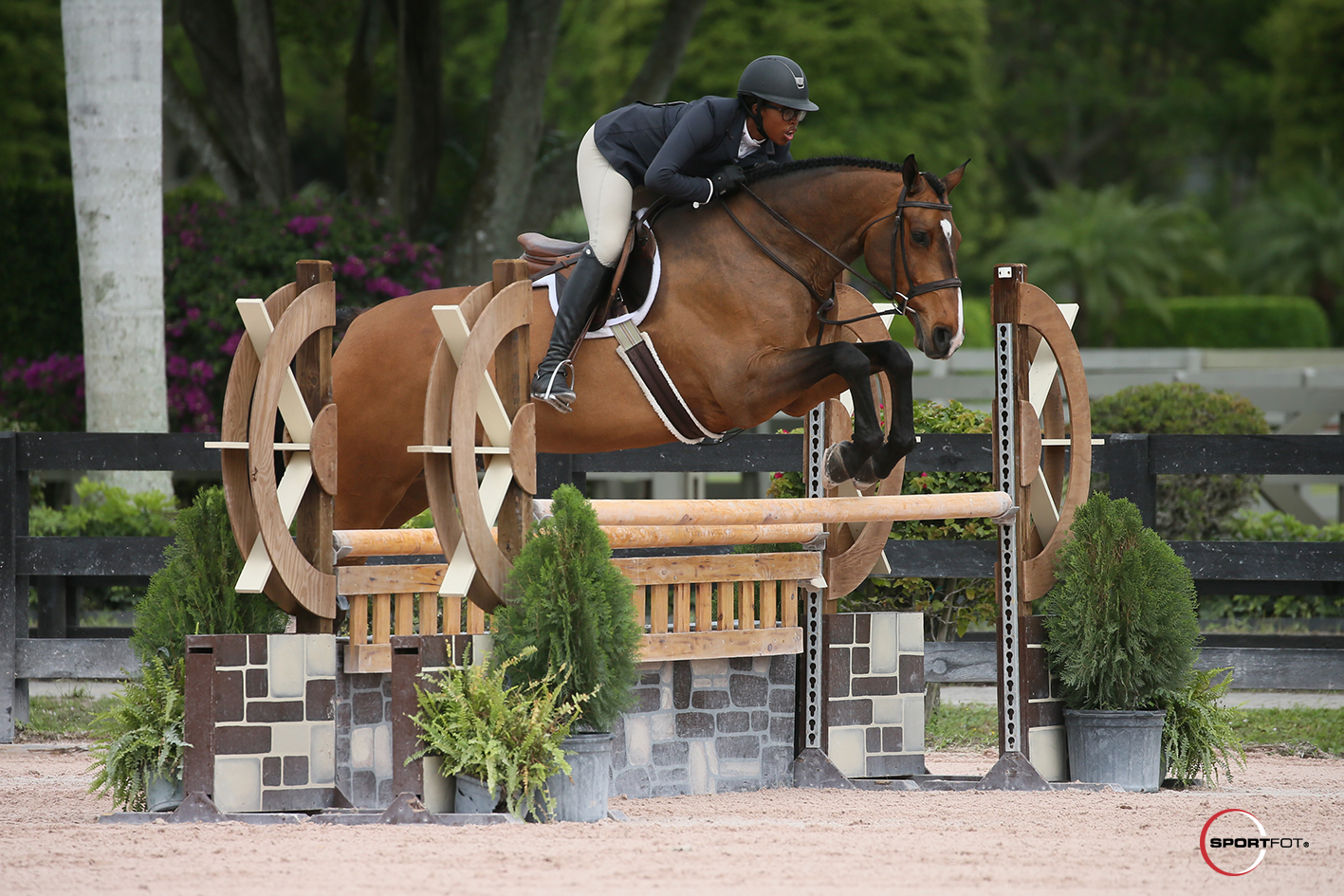 "He's always so reliable and well-behaved, so I'm very lucky to be able to ride him," Allen commented.
Allen has had many successes over the past ten weeks of the winter circuit and says her goal is to aim for a strong finish before heading back to Kentucky.
"I have a group of really amazing horses right now, so I just need to make sure that I continue to do well for them," she said. "I'm incredibly blessed to be able to ride with Ashland and have Brady Mitchell helping me. They are like family to me."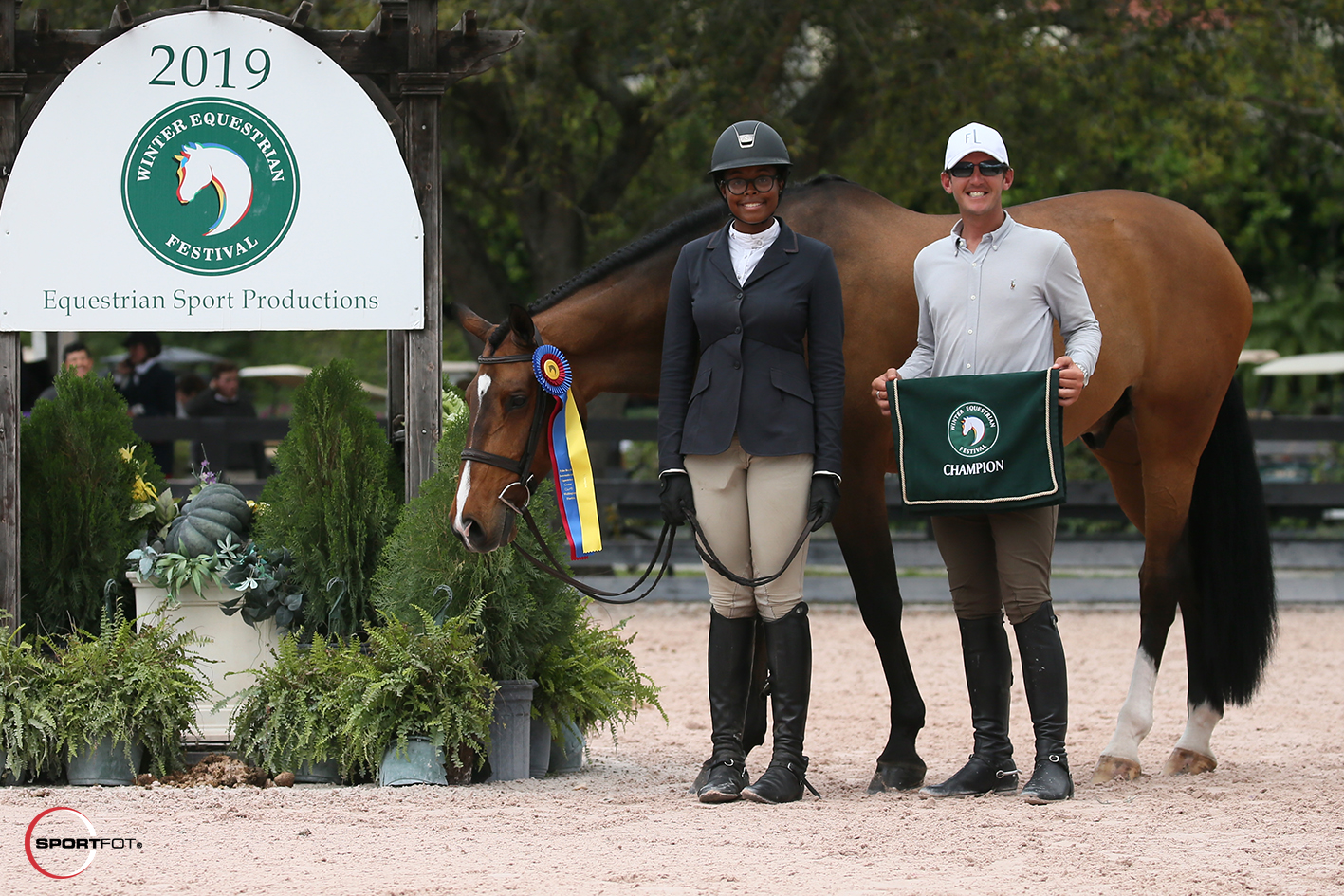 The next task on Allen's agenda is preparing for the George H. Morris Excellence in Equitation Championship that will take place during Week 11 of WEF. The championship will consist of 40 top junior equitation riders that have previously won a USEF Hunt Seat Medal, ASPCA Maclay, USEF Talent Search, or WIHS Hunter or Jumper Phase class during circuit or the Holiday and Horses Horse Show.
Ava Stearns and Cartello Z ended their day on a total of 22.00 points which was good enough to earn the reserve champion title. She and the 10-year-old Zangersheide gelding owned by Caroline Lloyd picked up ribbons of first, second, third, and fourth.
The Champion Equine Insurance Hunter Style Award was also presented to the winner of the Large Junior Hunter 16-17 3'6" handy round, Ellie Ferrigno on Trending.
The final day of competition during Week 10 of WEF will kick off Sunday, March 17, with the $36,000 CaptiveOne 1.50m Classic in the International Arena as well as full national hunter, jumper, and equitation competition.