For Immediate Release
Alice Collins for Jennifer Wood Media, Inc.
Wellington, FL – January 29, 2020 – Action during week four of the 2020 Winter Equestrian Festival (WEF) had a change of scenery, with 80 riders crossing the road to the grass Derby Field at Equestrian Village (home to the Adequan® Global Dressage Festival). It was third to go Bertram Allen whose round on Ballywalter Stables' Quiet Easy 4 proved unassailable in the $6,000 Bainbridge Companies 1.40m CSI4* class in the 24-year-old Irish rider's first event of the season in his first-ever visit to WEF.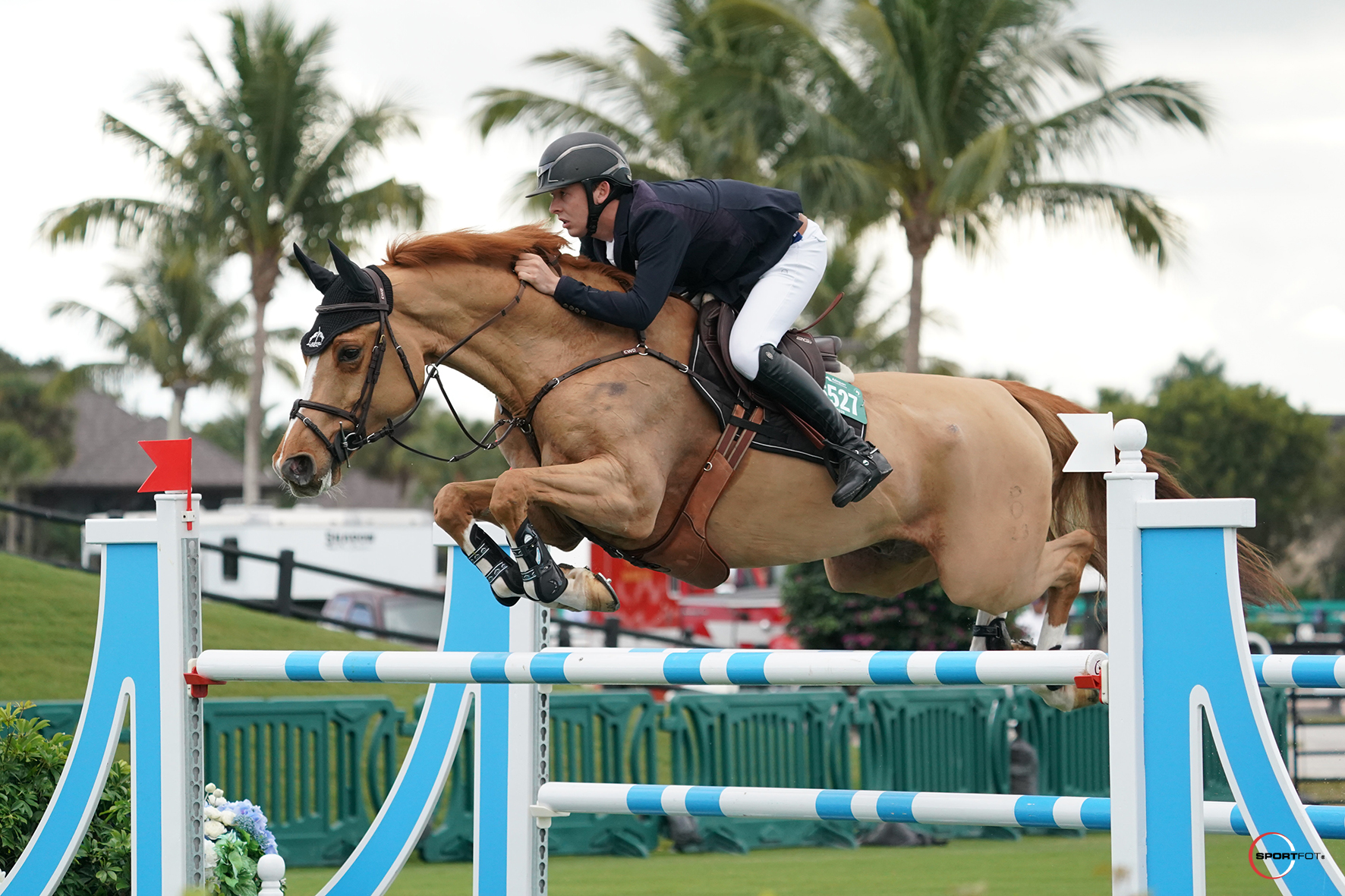 WEF continues through March 29, at the Palm Beach International Equestrian Center in Wellington, Florida, with 12 consecutive weeks of world-class competition and $13 million dollars on offer. The fourth week of competition at WEF, sponsored by Marshall & Sterling Insurance/Great American Insurance Group and recognized as a CSI4* by the Fédération Equestre Internationale (FEI), runs January 29 through February 2. Highlights include the $73,000 Equinimity WEF Challenge Cup Round 4 on Thursday, $73,000 CaptiveOne Advisors 1.50m Classic on Friday, and the $214,000 Marshall & Sterling Insurance/Great American Insurance Group Grand Prix CSI4* on Saturday. The Great Charity Challenge, presented by Fidelity Investments will take place during "Saturday Night Lights" at 7 p.m. in the International Arena.
Of the Quidam's Rubin gelding, Allen said, "I had Quiet Easy a few years ago, then he was sold to Norway and I only recently got him back. I really like him and I've known him a long time. This was one of my first classes back with him, and he's really fresh, so it's lovely to have him back. The owner didn't have so much for him to do, so they said they'd send him back to me if I could retire him when he was finished. He's nearing the end of his career now, so it's nice to just enjoy him."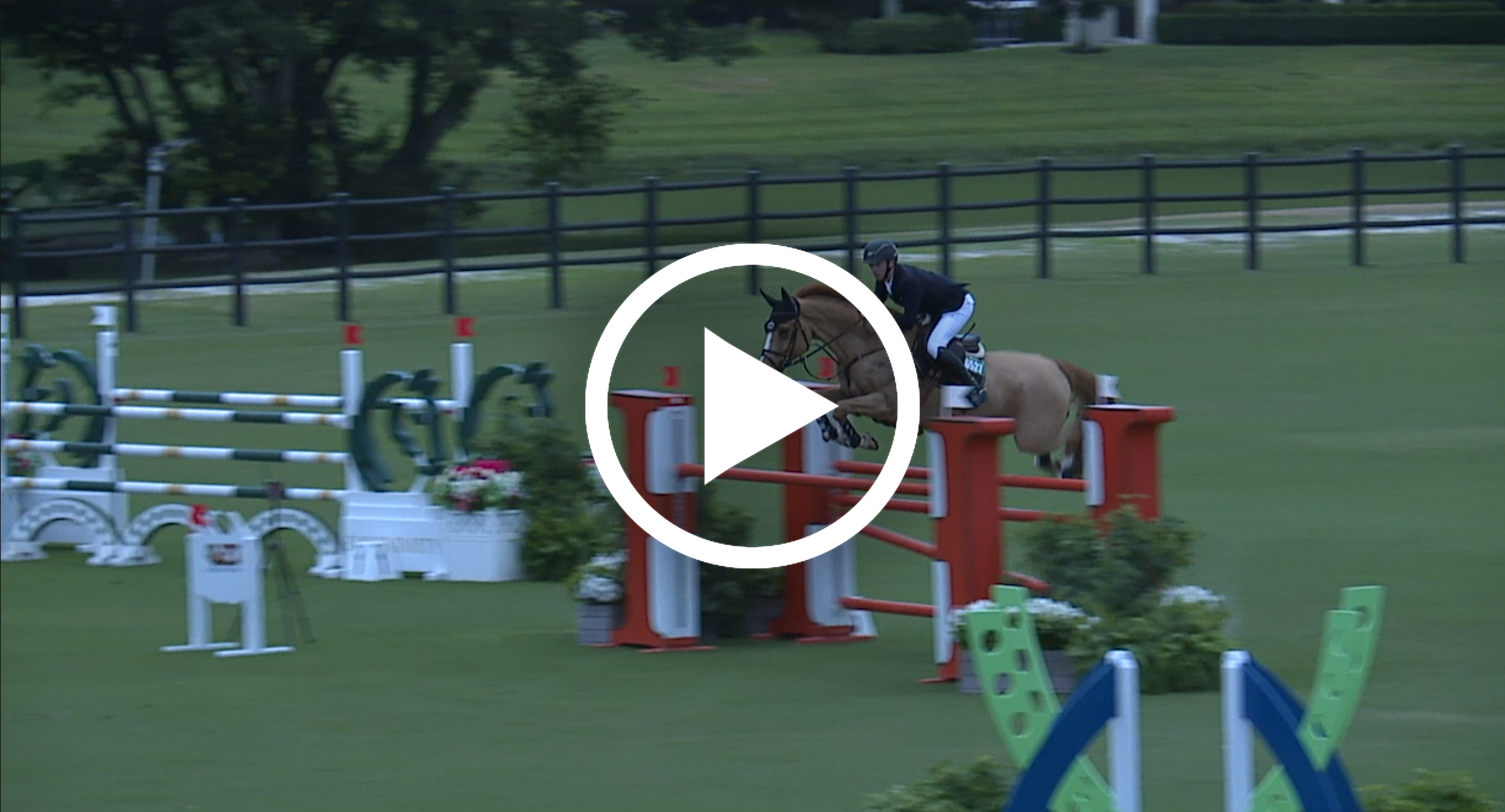 This was Allen's first visit to Wellington as a competitor, and his first class of the season. He is usually based in Germany and will be flying back and forth to compete the three horses he has in Florida, as well as riding his remaining string back in Europe.
Although turning 16 this year, Quiet Easy shows no sign of slowing down. "He's very, very quick and he's won a lot of speed classes all his life, so it wasn't difficult for him to go fast today," said Allen. "My brother Harry had him at a national show two weeks ago and he jumped so well that I said I'd bring him here. It wasn't originally the plan."
Allen has been impressed with his Wellington experience so far, adding, "The Derby Field is a fantastic arena. This is my first time seeing them jump in here on the grass and it's absolutely immaculate. It's lovely here, a great lifestyle, and it definitely beats the cold."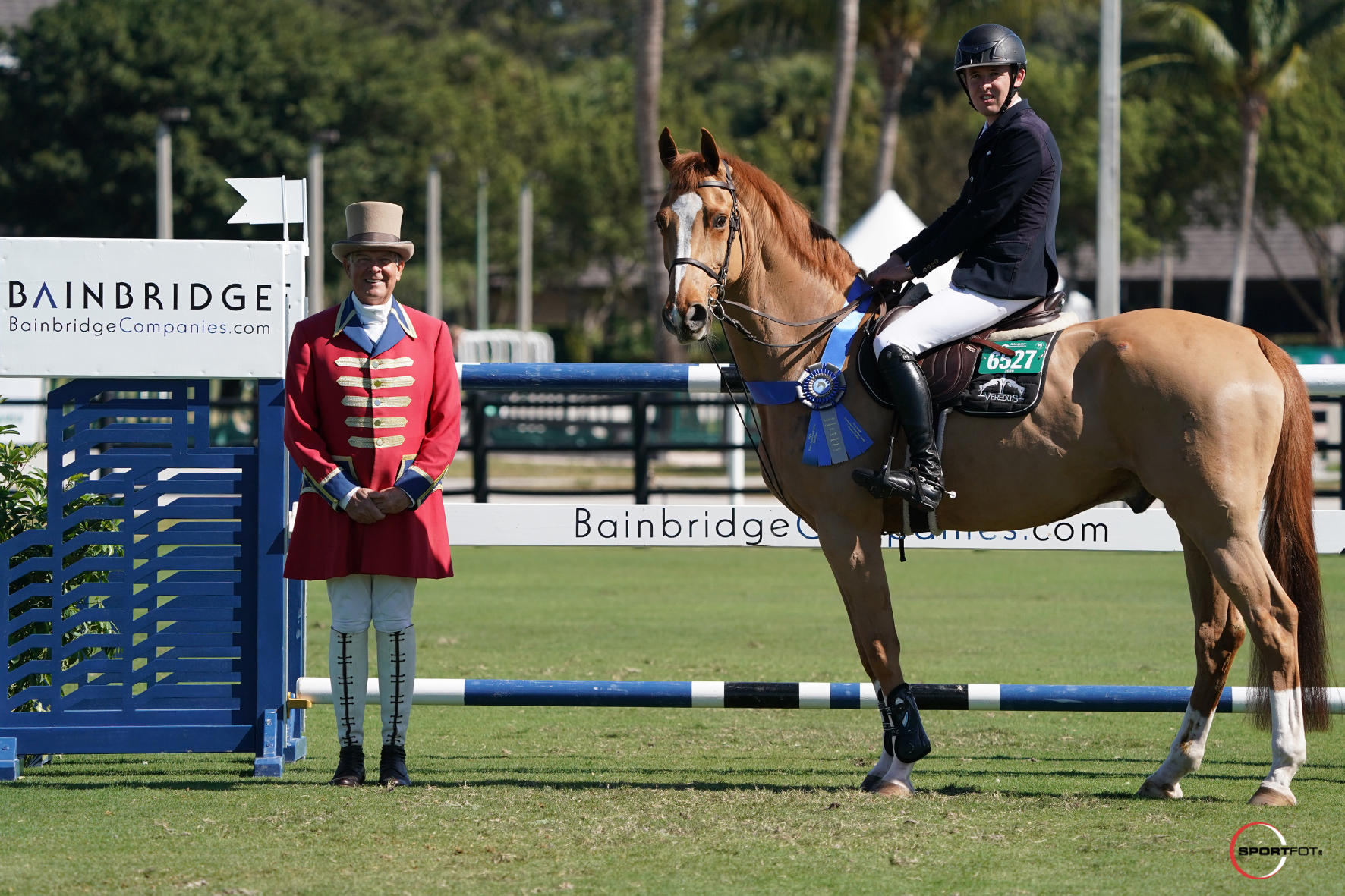 The two-phase class produced 20 double clears within the 48-second time allowed over the course designed by Brazilian Anderson Lima. Allen's time bested the field in 31.46 second, just fractions faster than runner-up Erynn Ballard (CAN) riding Canora Z, owned by Emma Waldfogel, to a time of 31.66 seconds.
There were three nations represented on the final podium, with USA home rider Peter Lutz riding Bosch Sport Horses' Excellent to third in 31.68 seconds. Fellow U.S. rider Todd Minikus finished fourth on Bit by Bit Group's Amex Z in 33.06 seconds, while Capt. Brian Cournane capped the tap five in 33.55 seconds riding Colourful Lady for owner Glenbeigh Farm LLC.
Earning wins in the International Arena at WEF on Wednesday, Peter Wylde (USA) topped the CabanaCoast 1.35m riding Royal Flush for Kathline Kamine, and Guatemala's Alvaro Tejada closed out the day with a victory in the Bainbridge Companies 1.40m riding Dolly Palo Blanco, owned by Agroprosa. For full results, visit www.PBIEC.com.
Final Results $6,000 Bainbridge Companies 1.40m CSI4*
1 QUIET EASY 4: 2004 Oldenburg gelding by Quidam's Rubin x Cerina
BERTRAM ALLEN (IRL), Ballywalter Stables: 0/0/31.46
2 CANORA Z: 2011 Zangersheide mare by Clintissimo Z x Beau D'Artevelde
ERYNN BALLARD (CAN), Emma Waldfogel: 0/0/31.66
3 EXCELLENT: 2009 KWPN gelding by Cicero Z Van Paemel x Royal Queen
PETER LUTZ (USA), Bosch Sport Horses: 0/0/31.68
4 AMEX Z: 2009 Zangersheide mare by Andiamo x Landaris
TODD MINIKUS (USA), Bit by Bit Group: 0/0/33.06
5 COLOURFUL LADY: 2010 Holsteiner mare by Casall x Acord II
CAPT. BRIAN COURNANE (IRL), Glenbeigh Farm LLC: 0/0/33.55
6 FINEMAN: 2003 Swedish Warmblood by Feliciano x Kotiljong II
BRIANNE GOUTAL-MARTEAU (USA), Rose Hill Farm: 0/0/33.8
7 CASANTOS: 2007 KWPN mare by Carthino Z x Viana
YURI MANSUR (BRA), Roberto Podval: 0/0/34.37
8 COSA NOSTRA: 2010 KWPN mare by Conthargos x Quincenta
ALBERTO MICHAN (ISR), Daniel Michan: 0/0/34.76
9 BIBLOU DU PERRON: 2011 Selle Français gelding by Old Chap Tame x Saga De La Cense
STEVEN BLUMAN (ISR), Steven Bluman: 0/0/35.21
10 CACHAREL: 2007 KWPN mare by Vingino x Shalimar
KELLY SOLEAU-MILLAR (USA), Bridge Brook Arms & Vanderwoud-Dyment: 0/0/36.04
11 DONTEZ: 2008 KWPN gelding by Verdi x Jenie
FREDDIE VAZQUEZ (PUR), G6 Holdings & Freddie Vazquez: 0/0/36.82
12 JEWEL DE KWAKENBEEK: 2009 Belgian Warmblood gelding by Cicero x Euridyce VD Padenborre. NATALIE DEAN (USA), Marigold Sporthorses, LLC: 0/0/37.19
Photo credit: Photos © Sportfot, official photographer of the Winter Equestrian Festival. These photos may be used only in relation to this press release and must include photo credit.