For Immediate Release
Kate Pettersen, Summer Grace, and Sabrina Brashares for Jennifer Wood Media, Inc.
Wellington, FL – February 18, 2021 – The first hunter champions of the World Champion Hunter Rider (WCHR) competition were awarded on Thursday, February 18, at the sixth week of the 2021 Winter Equestrian Festival (WEF). More than 20 championships were presented in the professional hunter divisions, with top finishers qualifying for Saturday night's $50,000 WCHR Peter Wetherill Palm Beach Hunter Spectacular, the highlight hunter event of the season. WEF 6 continues with WCHR and CSI3* competition through Sunday, February 21, 2021.
Highlights of WEF 6 include the $50,000 WCHR Peter Wetherill Palm Beach Hunter Spectacular on Saturday night, February 20, in the International Arena and the $137,000 IDA Development Grand Prix CSI3* taking place Sunday, February 21, on the Derby Field at Equestrian Village. Sunday competition on the Derby Field will also include the $25,000 Hermès Under 25 Grand Prix and the $25,000 CP National Grand Prix. Spectators can watch feature classes live and on demand for free using the livestream.
The High Performance Hunters, sponsored by Antarès Sellier France, came to an end in the E.R. Mische Grand Hunter Ring on Thursday morning. Scott Stewart, of Wellington, FL, piloted Gochman Sport Horses LLC's Catch Me to the championship.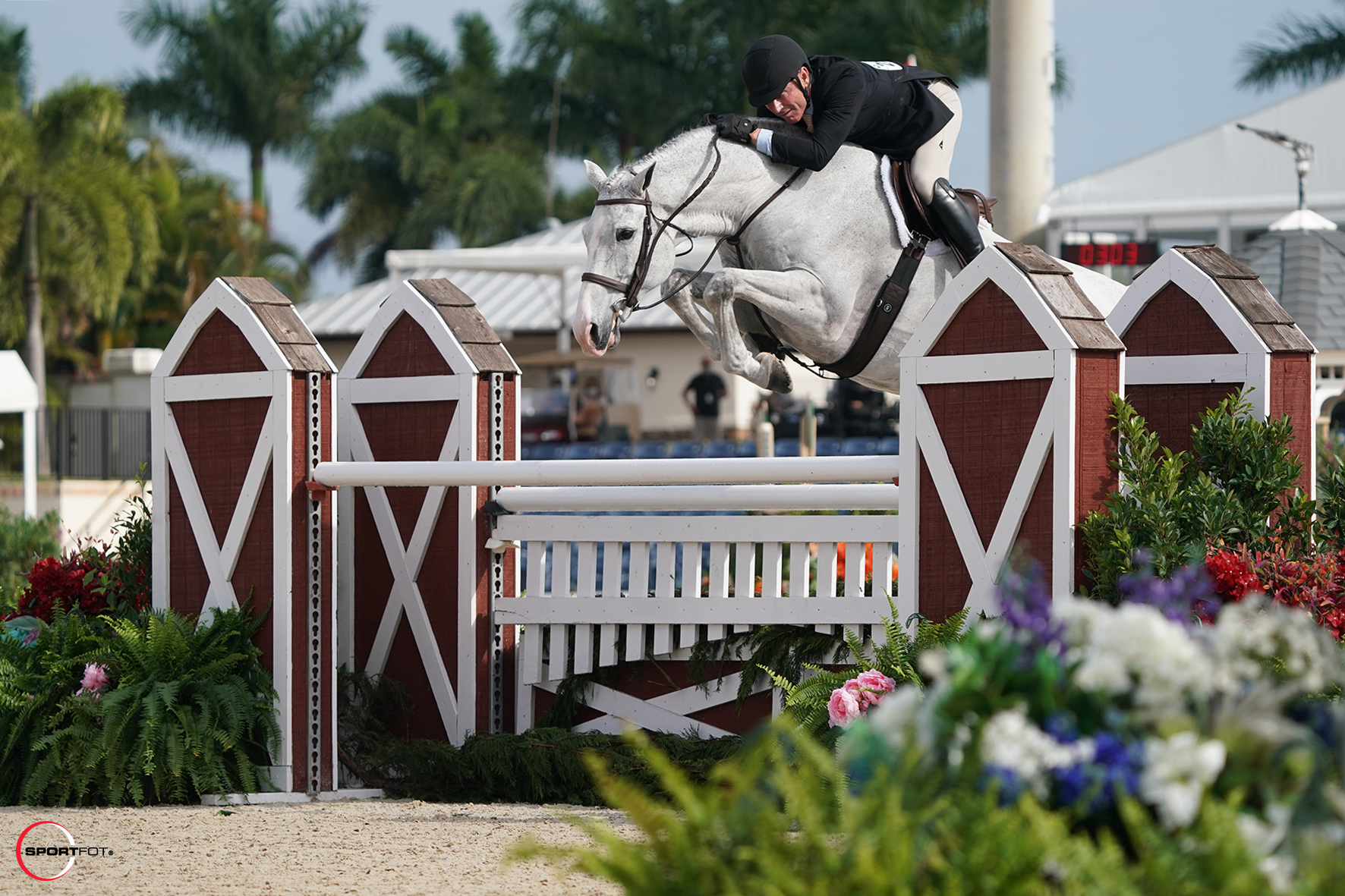 Stewart and Catch Me, a 14-year-old Holsteiner gelding by Casiro I, took home a blue ribbon in every over fences class and were third in the under saddle to earn the tricolor ribbon. The reserve champion title went to Jennifer Hannan, of Wakefield, RI, and her own Olympic Fire. The pair earned two seconds and two eighth place ribbons in the division.
"We were not sure if he would ever get back to jumping again, especially at the four-foot height, but he feels better than ever," commented Stewart of the talented gelding who suffered an injury that kept him out of the show ring in 2020 until August. "We are just so happy to have him back showing again, and he has really been performing at his best."
Evan Coluccio, of Marshall, VA, claimed both champion and reserve in the High Performance Conformation Hunters. Coluccio rode The Lignelli Family's Philadelphia Story, a nine-year-old Warmblood gelding, to top honors with two firsts, a second, and a third place ribbon. Balmoral's Pritchard Hill earned reserve champion with a first, second, two thirds, and sixth place ribbons.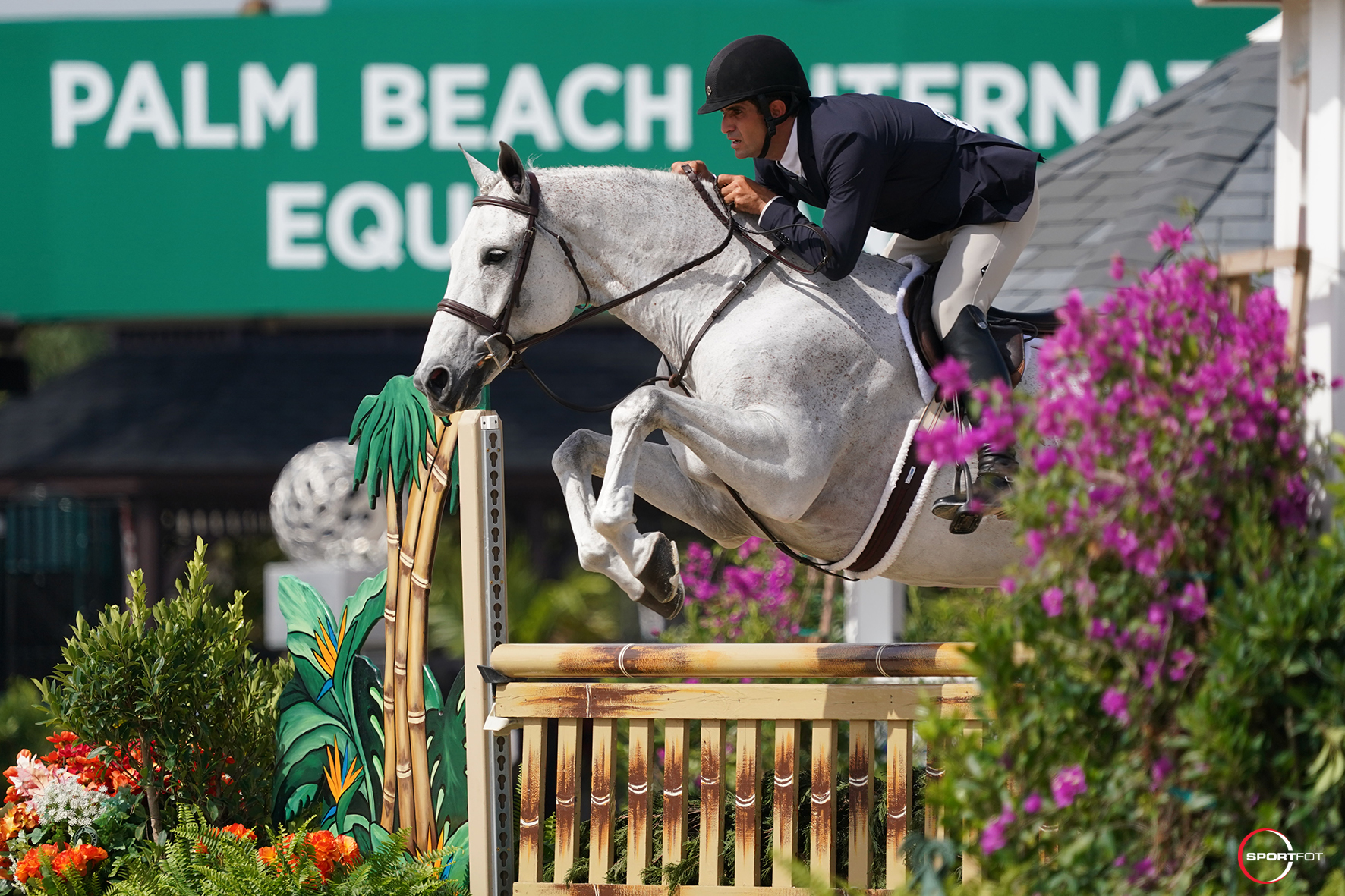 "I have actually never qualified for the night class, so my goal for this week was to just get one qualified," explained Coluccio. "As I was hacking I was thinking, 'Wow, I could be champion and reserve.How did this happen?' I'm really thankful for these horses and the owners, the Lignelli family and Balmoral, as well as my whole team who works endlessly to make this happen."
Thirty-three horse-and-rider combinations entered the Equine Tack & Nutritionals Green Hunter 3'6" division, which crowned two champions on Thursday. Jimmy Torano guided Isalou Inc.'s Laskano, a nine-year-old Westphalian gelding by Los Angeles, to champion for Section A. The duo won three firsts and a fifth place ribbon. Reserve champion for Section A went to Elizabeth Towell Boyd, of Camden, SC, aboard Gigi Manigault's Walk-Off after they received a second and two fifths.
"This is obviously an important week that we all gear up for," said Torano, of Wellington, FL. "My horse was wonderful. He won every over-fences class and won in the Green Conformation division as well. This horse wants to win every time out and doesn't want to let you down. I was glad his owner, Daryl Portela, was able to watch him and everything really fell into place nicely."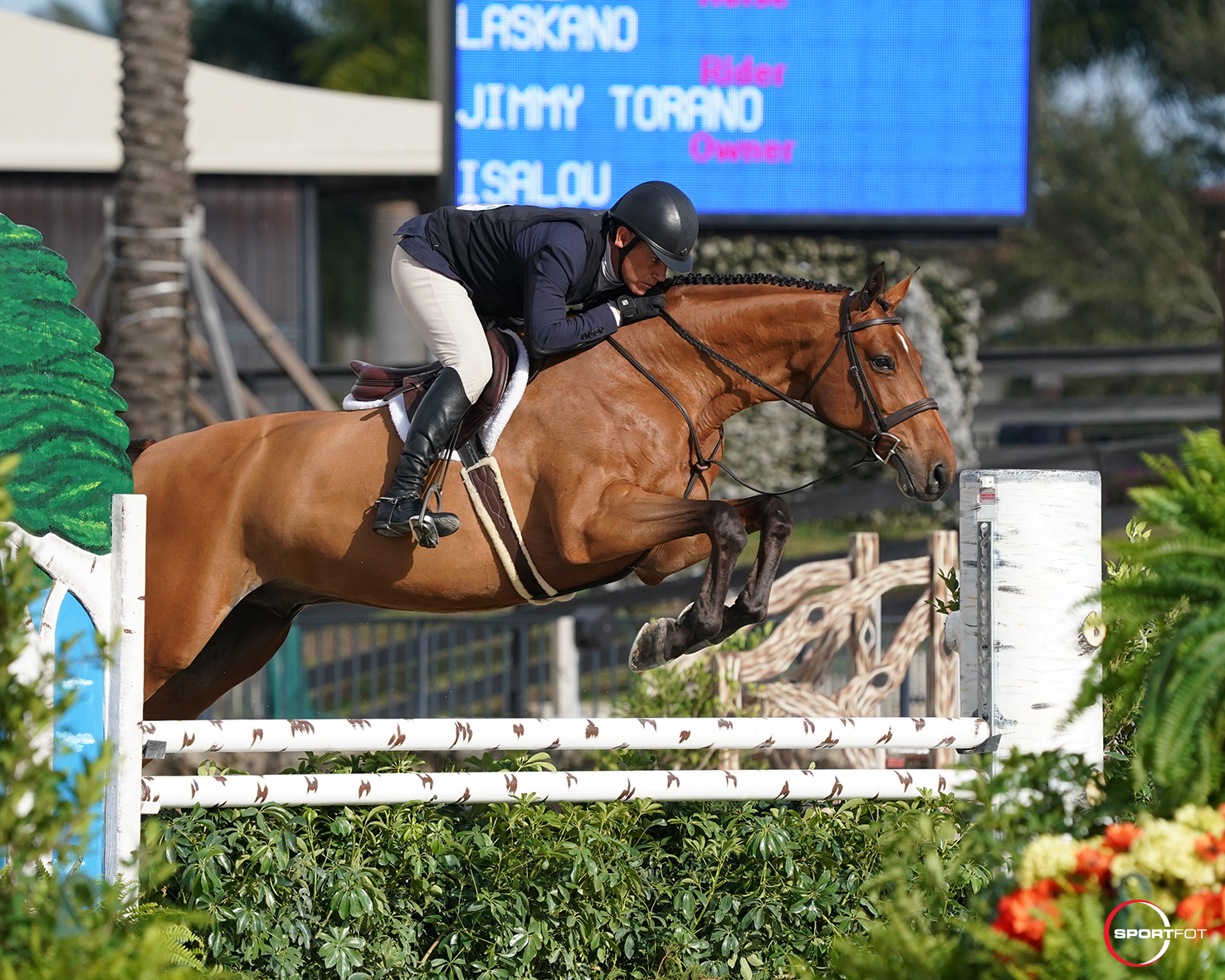 Section B champion of the Equine Tack & Nutritionals Green Hunter 3'6" was Laena Romond, of Brookfield, CT, and Catherine Cowie's Traveller, a 10-year-old Warmblood gelding. The pair earned a first, third, and fourth place ribbons. Scott Stewart and Rivers Edge's Theory received the reserve champion title after they earned second and eighth places.
"It felt great to compete with the best group of hunters and ride in the big ring this week," commented Romond. "We have had Traveller for several years. We bought him from Emil Spadone as a pre-green horse. His owner, Catherine Cowie, also shows him in the 3'3" Amateur-Owners, but she also works full time so she was not able to show this week. She asked me if I wanted to show him, and I jumped at the opportunity and it worked out!"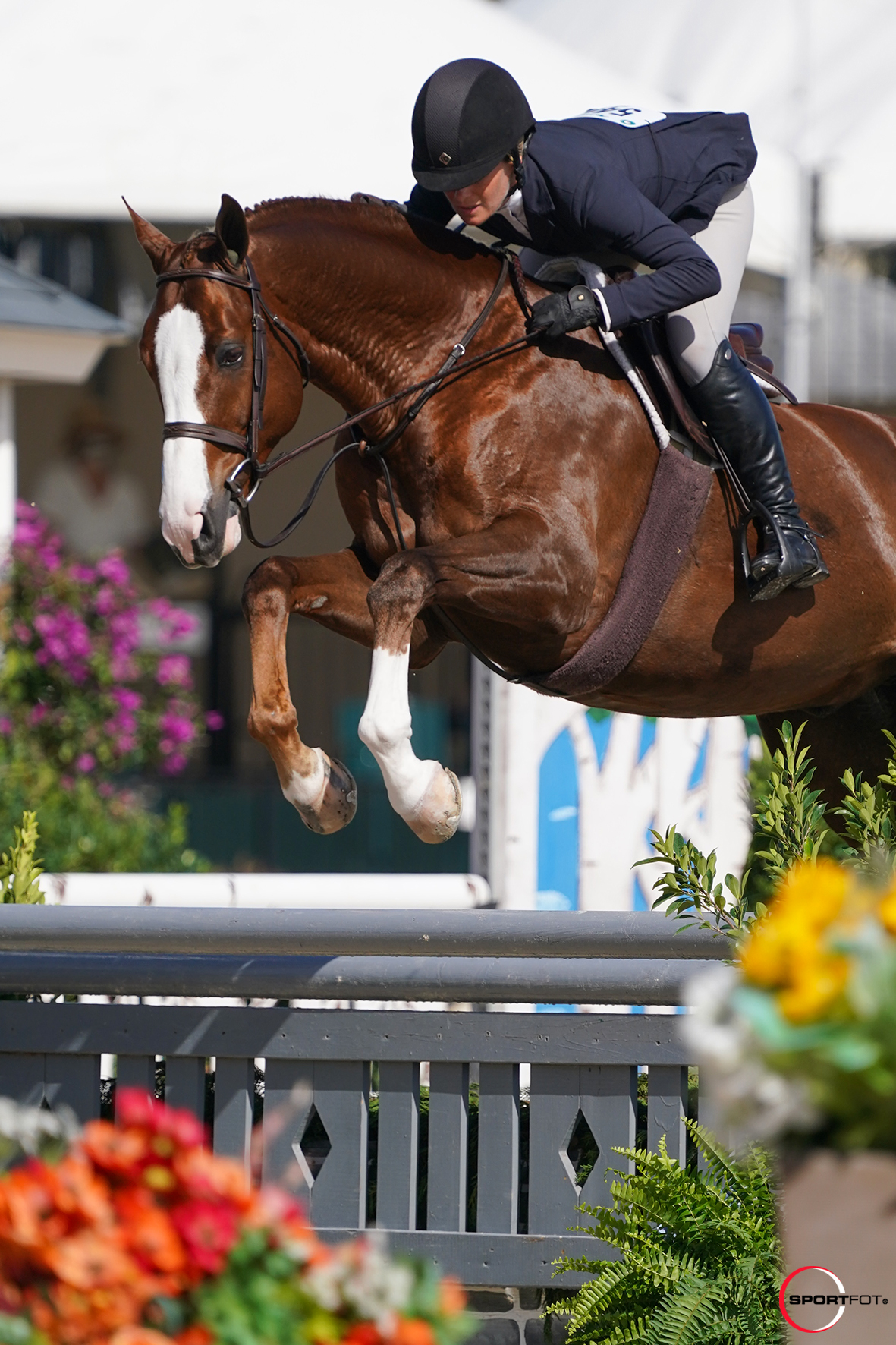 Ashlee Bond and Imagine Save the Best for Last In the $6,000 Douglas Elliman Real Estate 1.45m Jumpers CSI3* to Open WEF 6
On the grass Derby Field at Equestrian Village, Ashlee Bond (ISR) and Imagine, owned by Aurora Farms and Little Valley Farms, captured the 
Douglas Elliman Real Estate
1.45m Jumpers CSI3* to open FEI competition during Week 6 of WEF.A total of 40 entries contested the two-phase track set by Catsy Cruz (MEX), which featured nine jumping efforts in the first phase, moving over to an additional six efforts in the second phase. With 15 passing the initial test, it was the best for last on the day as Bond and the eight-year-old Dutch Warmblood mare by Emerald x Heartbreaker jumped double clear and posted the fastest time of 26.24 seconds."We got her when she was five," said Bond. "It was a partnership horse for a while, but we bought them out at the beginning of last year because we really felt like she was something special and really suited me. I know her really well, and she's just one of those horses that is so naturally careful. She doesn't really know what she can or can't do.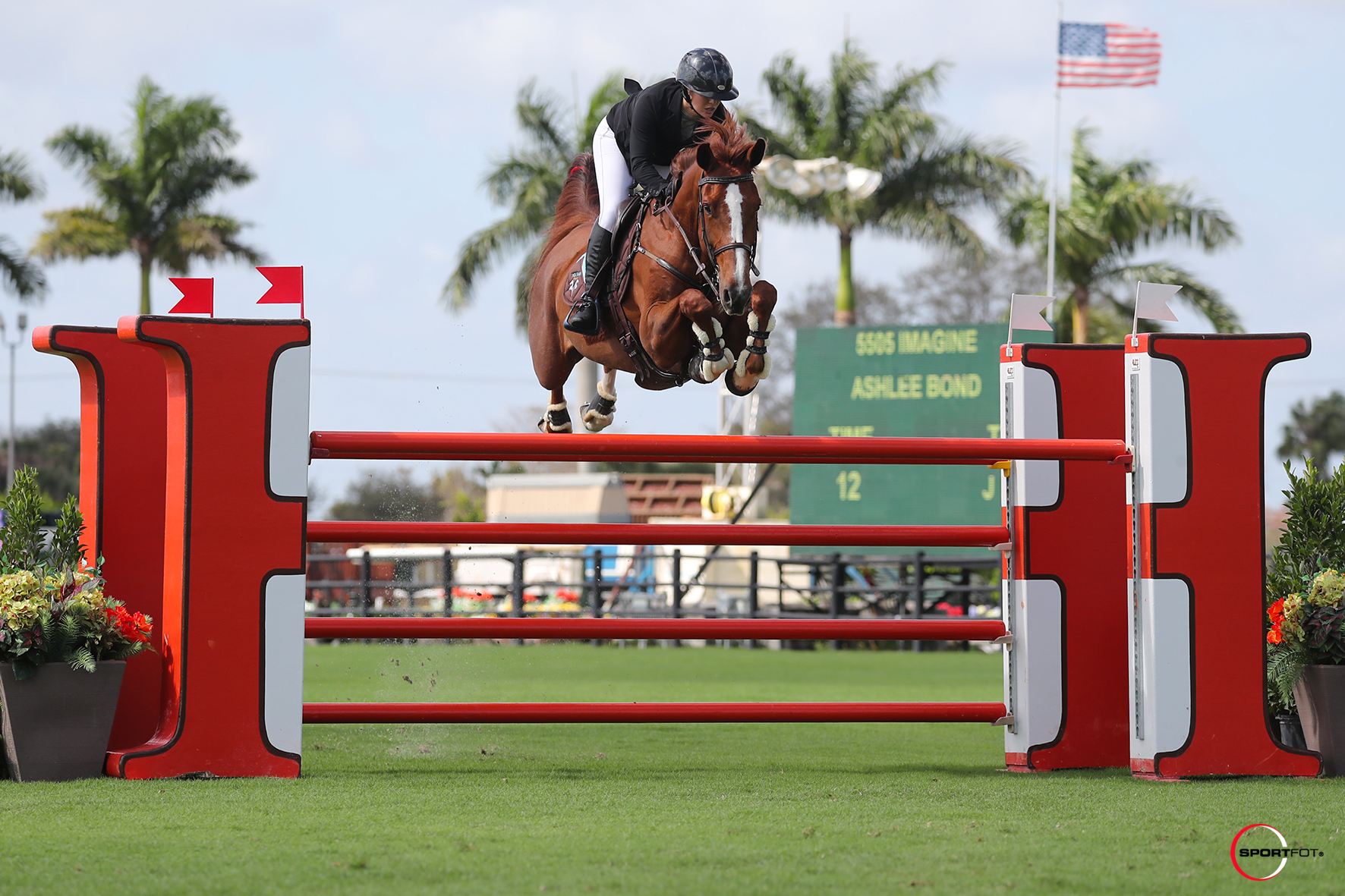 "I love jumping on this field," Bond continued. "The footing feels wonderful, the horses were really bouncing off of it, and the course was really smooth and flowed very nicely. I thought Catsy's course was beautifully done."
Bond credits the extra time at home due to the pandemic for helping her further the development of her talented mare, noting her flatwork and rideability have significantly improved. The extra down time also allowed the horse to mature, continuing to learn the ropes, and Bond thinks she now has a better mind in the ring.
"I didn't know if I was going to do the 1.50m this week because she's only eight but she's so unfazed by the height," Bond continued. "I felt like the jumps could be three holes bigger, and she still would jump it like it's no big deal. I jump big in the warmup ring because when I jump small, she feels 'blah.' If I put the jumps up and get her head up, she's a little better because she thinks, 'Oh, I have to pay attention and try.' She had a few shows under her belt but to develop her and then win a 1.45m CSI3* her first time out is just so rewarding. I have such a young string of horses that every one of these is just so fulfilling. It feels so good. I'm just so excited."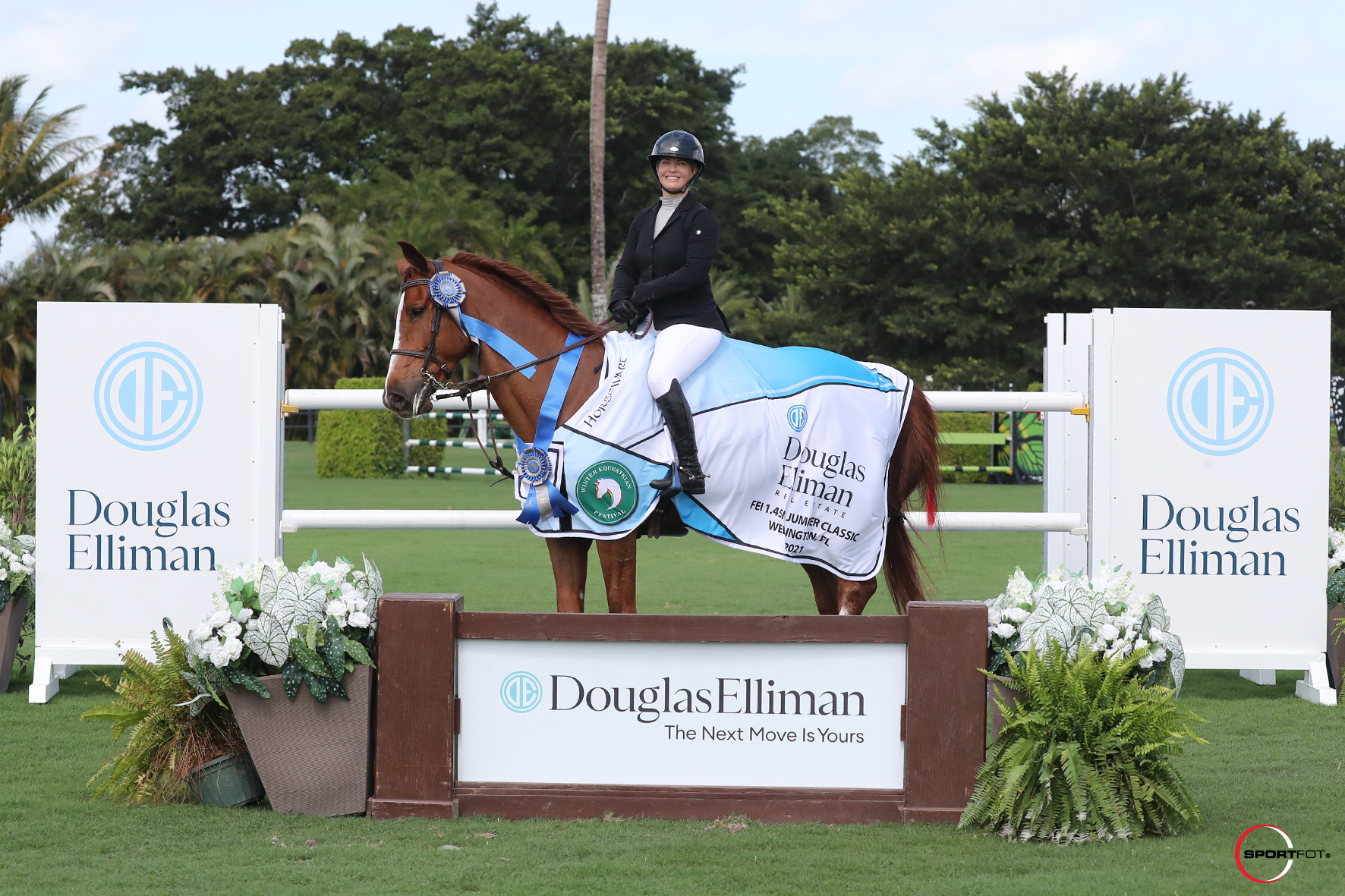 Canada's Erynn Ballard was second last to go, posting a double clear effort aboard Classic Penny, a nine-year-old Norwegian Warmblood mare by Clapton x Brokers Plastic City, owned by Ilan Ferder, finishing in 27.38 seconds. Rounding out the top three was Alex Matz (USA) with Davidson, a 13-year-old gelding by Harley VDL x Chin Chin owned by 5 Star Partners, crossing the finish line fault-free in 28.45 seconds.
Bond will continue to jump on the Derby Field throughout the week with plans for Imagine and Contefina LVF to jump in Saturday's $37,000 CaptiveOne Advisors 1.50m Classic while Lazy, a 10-year-old Belgian Warmblood mare, owned by Stephex Stables and Aurora Farms, LLC, will be stepping up to jump the $37,000 Adequan® WEF Challenge Cup Round 6 CSI3* on Friday.
"Lazy has never been the number one horse before," she said. "She was so good during the CSI4* here and jumped effortlessly, so I'm really excited for this week. Hopefully we'll qualify to jump on Sunday."
Later in the day, Ireland's Michael Duffy and RMF Chacco Top, owned by Rushy Marsh Farm, LLC, captured the $1,000 Bainbridge Companies 1.40m Jumpers CSI3*. Duffy and the Hanoverian stallion by Chacco Blue x Graf Top put forth a double clear effort in 27.11 seconds for the victory.
Final Results:  $6,000 Douglas Elliman Real Estate 1.45m Jumpers CSI3*
1. IMAGINE: 2013 KWPN mare by Emerald x Heartbreaker
ASHLEE BOND (ISR), Aurora Farms and Little Valley Farms: 0/0/26.24
2. CLASSIC PENNY: 2012 NWB mare by Clapton x Brokers Plastic City
ERYNN BALLARD (CAN), Ilan Ferder: 0/0/27.38
3. DAVIDSON: 2008 KWPN gelding by Harley Vdl x Chin Chin
ALEX MATZ (USA), 5 Star Partners: 0/0/28.45
4. MILLIONINMIND: 2007 ISH gelding by ARD VDL Douglas
EMILY WARD (GBR), Steven Barnes: 0/0/29.94
5. LINCOURT GINO: 2003 Irish Sport Horse gelding by Gino III x Graf Magna
ALEJANDRO KAROLYI (VEN), Monica Carrera: 0/0/29.94
6. OPIUM DU SOUFFLET: 2009 gelding by Ogano Sitte x Landjuweel St.hubert
NICHOLAS DELLO JOIO (USA), Rocking D Ranch: 0/0/31.91
7. VARGAS ROUGE: 2009 Selle Français gelding by Manillon Rouge x Double Espoir
KIMBERLY PRINCE (USA), Kimberly Prince: 0/0/33.34
8. CHIC HIN D HYRENCOURT: 2008 SBS gelding by Taran de la Pomme x Elanville
BEEZIE MADDEN (USA), Abigail Wexner: 0/1/36.24
9. ARPEGE DU RU: 2010 Selle Français mare by Apache D'Adriers x Quat'sous
ABDEL SAID (EGY), Abdel Said: 0/4/27.03
10. CASANOVA 499: 2011 Holsteiner male by Clarimo x Contender
JESSICA MENDOZA (GBR), Carly Day: 0/4/28.57
11. BELO HORIZONTE: 2008 Holsteiner gelding by Baloubet du Rouet x Clearway
DARRAGH KENNY (IRL), Oakland Ventures LLC: 0/4/32.15
12. KINO: 2008 Holsteiner gelding by Lord Z x Chambertin 3
KAREN POLLE (JPN), Kinoshita Group: 0/7/43.29