For Immediate Release
Wellington, FL – November 10, 2020 – The Palm Beach International Equestrian Center (PBIEC) is excited to bring international show jumping and dressage back to Wellington this week! Held from November 11– 15, the ESP Pre-Charity Show will feature hunter/jumper action at the main grounds, while dressage riders will take to centerline from November 12 – 15 for the Global Dressage Fall Festival I down the street at Equestrian Village. In the show jumping ring, challengers will vie for prize money in a series of CSI3* classes while dressage pairs will contend for valuable ranking and qualifying points at the CDI3* level. The week's shows will be a welcome return to FEI contests with more than 100 horses expected to compete in applicable classes.
Though spectators are not allowed at either competition, live streams via ShowGroundsLive will be available at PBIEC.com for every ring during the ESP Pre-Charity Show so viewers and fans can cheer on friends, family and their favorite international competitors. Be sure to tune in to PBIEC.com to watch the feature classes live!
Though the Global Dressage Fall Festival I CDI3* will not have a live stream, winning rides will be posted on social media at the Adequan® Global Dressage Festival pages. The Grand Prix will take place Friday, followed by the Grand Prix Freestyle on Saturday and the Grand Prix Special will conclude the week on Sunday.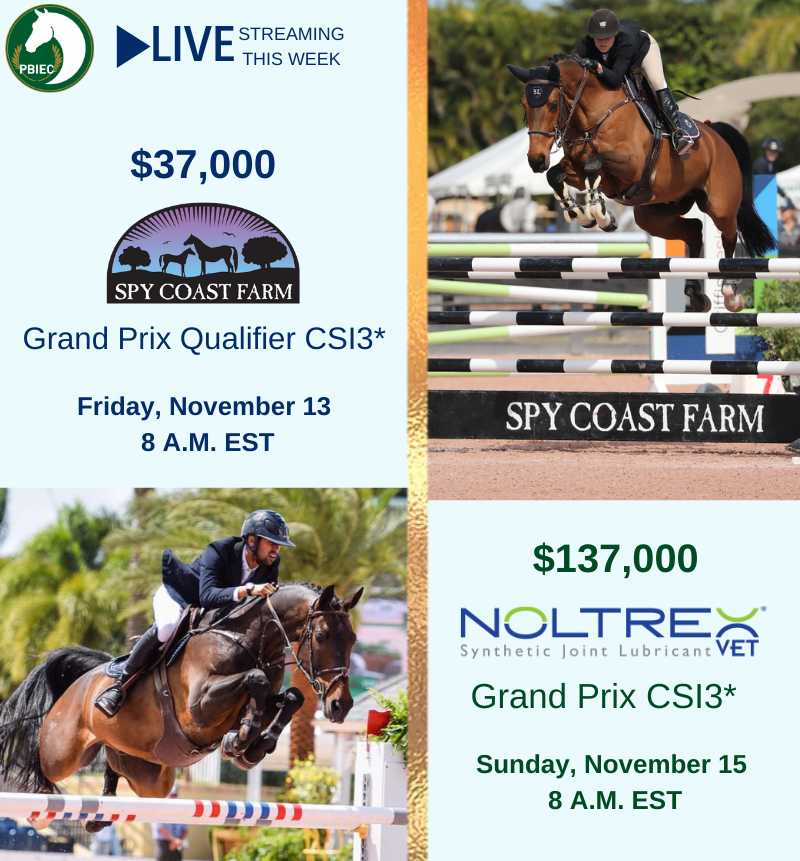 FEI Jog Schedule and Participant Protocol
The FEI jog will begin Wednesday, November 11, at 12 p.m. Please plan to arrive with horses between 9 a.m. and 11 a.m. for pre-inspection. 
As a reminder, spectators are not allowed on the show grounds, and there will be a number of new precautions and rules in place. 
Masks must be worn at all times, unless on horseback

Social distancing rules must be followed. Keep a distance of at least 6′ between individuals

General access to the PBIEC show grounds is limited to a maximum of 4 people per horse: the rider, trainer, groom and ONE additional person.

Everyone will have their temperature taken either by a thermal camera system or by a touchless thermometer before entering the venue. Individuals with a temperature of 100.4° F or higher will not be allowed into the facility.

There is new fencing in place to ensure temperatures and credentials are checked appropriately. Please be patient and plan your route accordingly.

To eat or drink, an individual must move far enough away from others to minimize the possibility of being within six feet of any other individual.

Congregation around a golf cart or vehicle is prohibited.

For safety, all persons accessing the show grounds in 2020-2021 must meet the current COVID-19 CDC requirements before access is granted. Everyone will be required to sign a waiver and have ESP issued credentials.

Exhibitors are not allowed to trailer into WEF without a stall on the PBIEC property.

Due to the volume of credential and temperature checks required during peak arrival times for exhibitors and staff, no horse transport vehicles of any kind will be allowed into the property Wednesday – Sunday between the hours of 6:30 a.m. and 9:30 a.m. 

Riders on horseback are still allowed to enter the property during this time.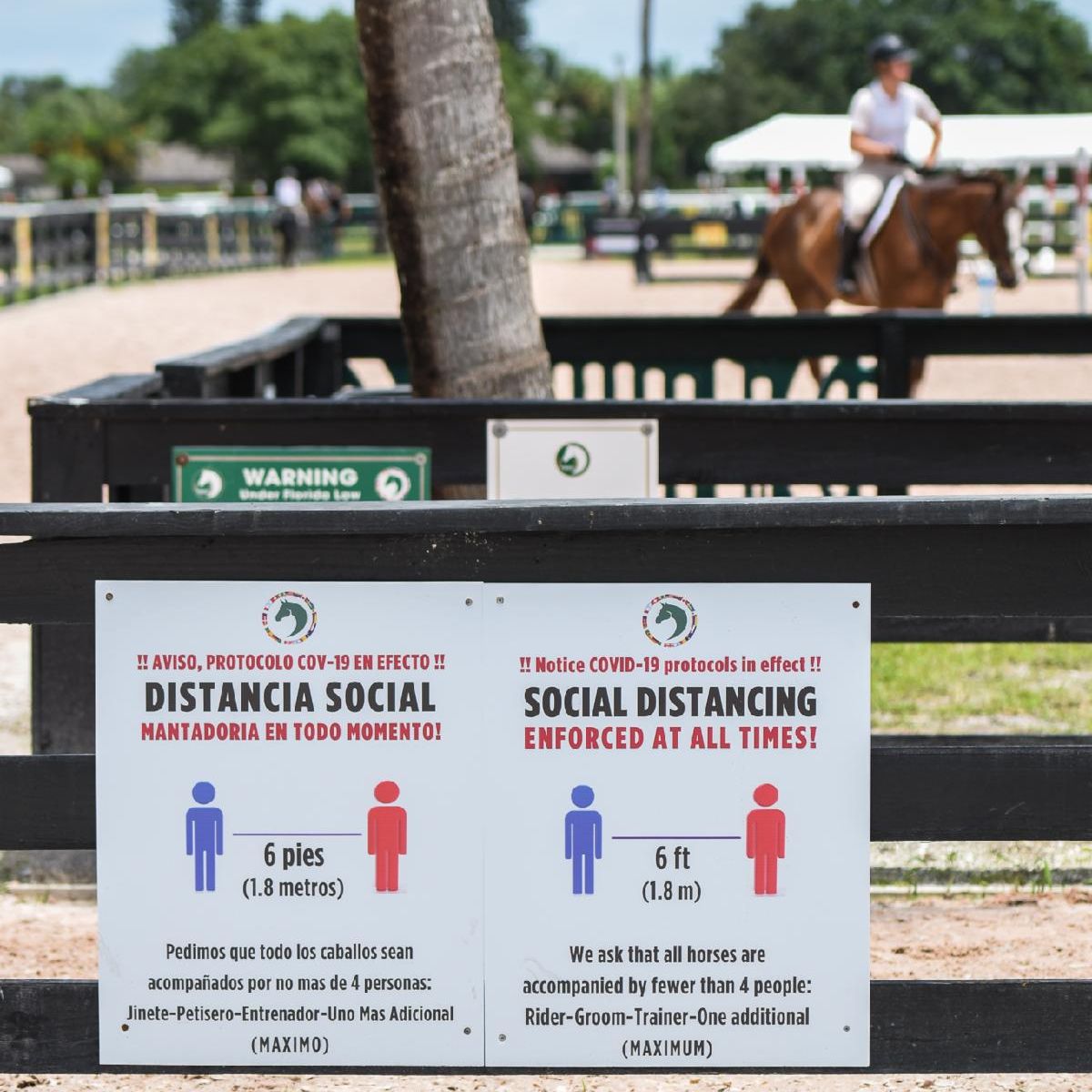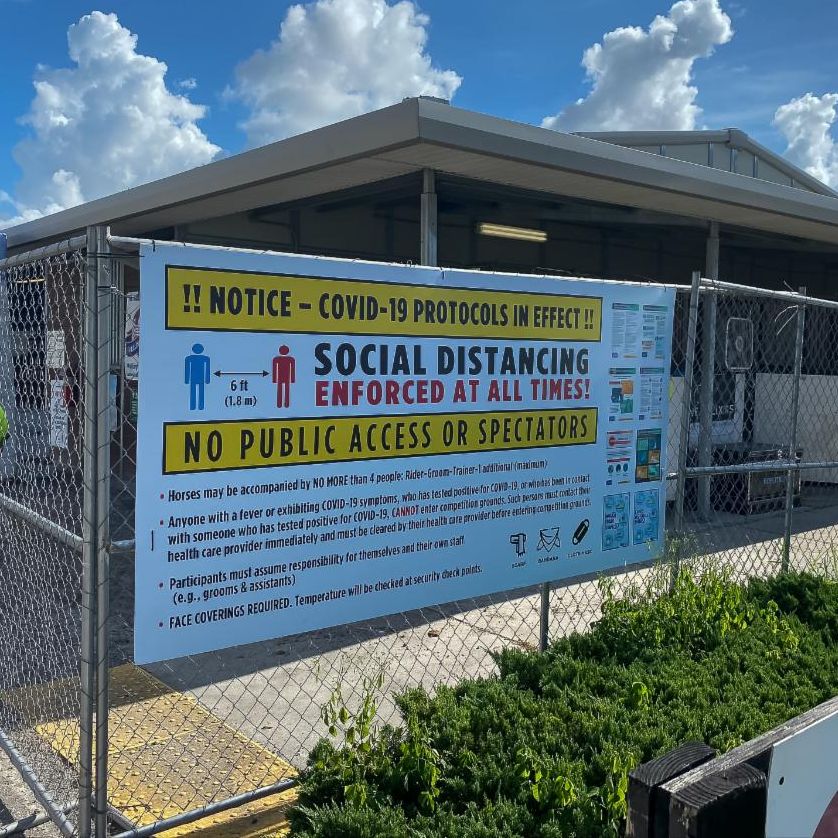 To learn more about the safety protocols and procedures at the horse show, please click HERE.
Click HERE to view the November Edition of the Prize List for the ESP Fall Series.
Click HERE to view the Prize List for the Global Dressage Fall Festival I.