Horseware Ireland Is Week 10 Sponsor at

2015 Winter Equestrian Festival
For Immediate Release
Wellington, FL – March 11, 2015 – As the Winter Equestrian Festival draws to a close, the last weeks are celebrated in style with Horseware's sponsorship of WEF week 10 on March 11th – 15th.

The Horseware Grand Prix CSI 3* runs on March 14th, with a prize of $127,000 and a host of Irish entrants looking to claim the St. Patrick's week prize.
This year marks thirty years of Horseware, and we are delighted to announce we will officially launch our 30th Anniversary campaign here during Horseware Week at WEF. Events include a special competition for spectators to win our limited edition 30 year Rambo Duo Turnout Blanket, as well as an exclusive 30 year goody bag. This competition will run during the Horseware Grand Prix.
We have also brought over designer and creator of the award winning Ice-Vibe boots and Sportz Vibe Massage Therapy Blankets, Louisa Williams, along with William Micklem, creator of the award winning and ever popular Micklem bridle. They will both be available throughout the week at the Horseware booth and will also be the guest speakers at the Horseware Lunch and Learn, held on March 12th from 11:30am to 1pm, in The Wellington Club.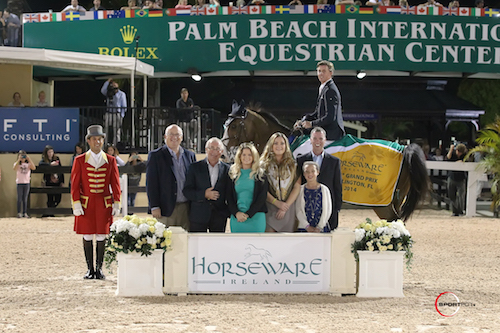 Ben Maher (GBR) and Jane Clark's Urico were the winners of last year's $125,000 Horseware Ireland Grand Prix CSI 3*. Photo copyright Sportfot.

The Winter Equestrian Festival has partnered with Horseware for four years to produce the most luxurious and sought after award blankets of the show season, a natural alliance between two giants of the equestrian industry.
Horseware is delighted to once again have the opportunity to showcase their full product range including the legendary Rambo blankets and also the ever popular Alessandro Albanese collection on vendors row, giving WEF competitors and visitors the chance to see and purchase items from the collections.
Horseware is committed now as ever to providing both you, your horse and dogs with the same high quality products you have grown to trust and depend on.
About Horseware
Horseware started with a small team in Dundalk, Ireland, in 1985. After months of research and hand-stitching the prototype, the now iconic Rambo Original was born, setting the standard for modern blanket design. Since then, Horseware has grown to become the world's most trusted producer of horse blankets.
Today, the Horseware Rambo range is still made in the same town in Ireland under Tom MacGuinness's watchful eye, and with the same attention to detail and high quality material that they prided themselves on in 1985.
Constantly striving to produce the best they can, Horseware has become a leading manufacturer of clothing for horses and riders. Always seeking out untrodden paths, pushing boundaries and finding new challenges, in the Horseware collection you will always find the most innovative and unexpected of products.