For Immediate Release
Juliana Chapman and Sabrina Brashares for Jennifer Wood Media, Inc.
Wellington, FL – February 2, 2020 – It was a blue-ribbon breakfast for 15-year-old Hailey Royce (USA) riding Goldbreaker in the $10,000 SJHOF High Junior Jumper Classic, presented by Griffis Residential, on Sunday, February 2, to close out Week 4 of the Winter Equestrian Festival (WEF) at the Palm Beach International Equestrian Center (PBIEC). WEF continues through March 29, at the Palm Beach International Equestrian Center in Wellington, Florida, with 12 consecutive weeks of world-class competition and $13 million dollars on offer.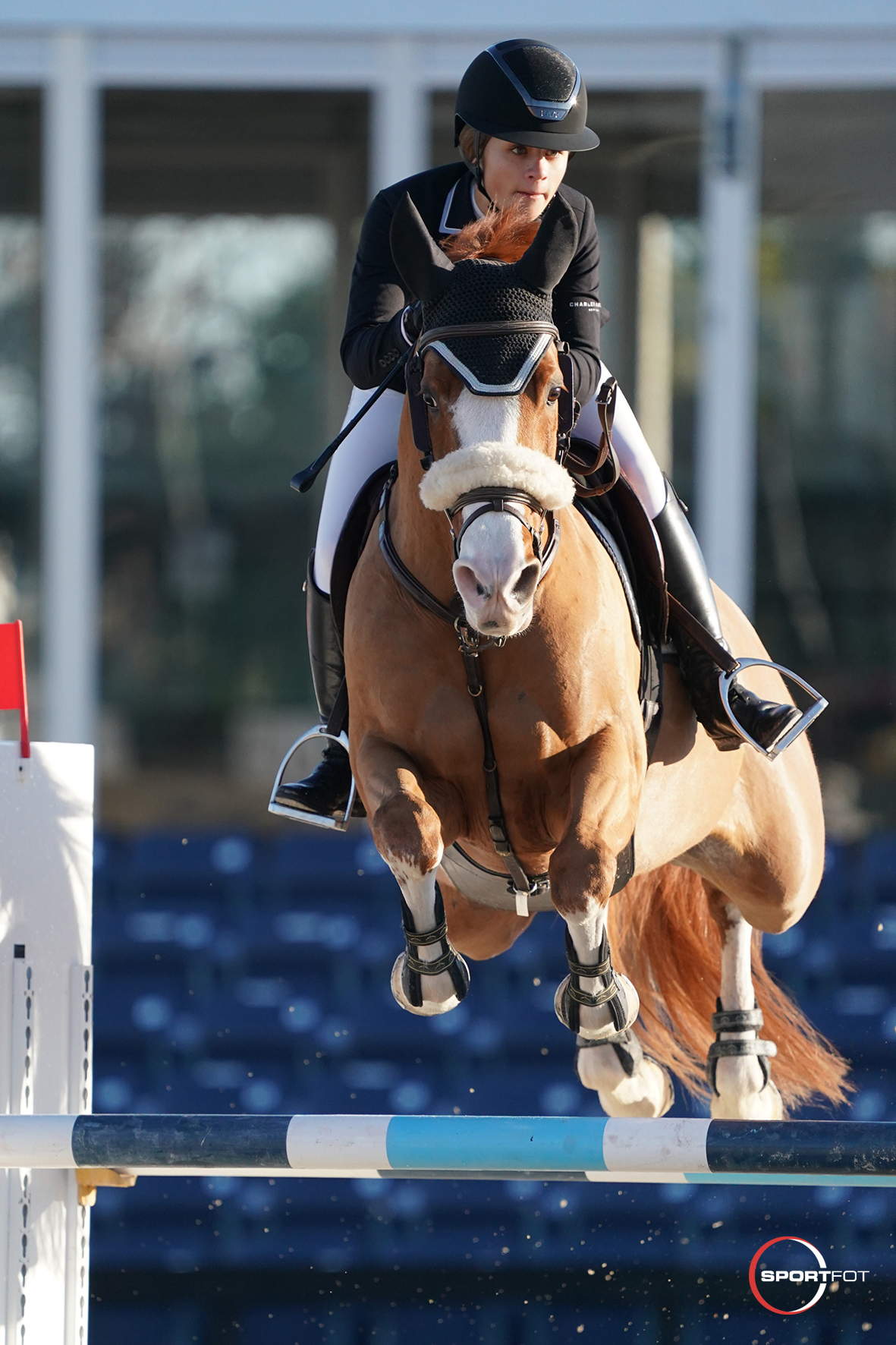 Hailey Royce and Goldbreaker, a horse she calls Charlie around the barn, were the only pair of the 16 horse-and-rider field to advance to an immediate jump-off. Posting the only double-clear of the day in 39.722 seconds, Royce noted, "My goal was to go double-clean and it feels great to have the only double-clear since I've worked so hard to create a partnership with Charlie. We've been together almost a year, starting with showing in the lows last year at WEF and it's very gratifying to receive this.
"For the first round, I had to focus him when we went over the skinny jump near the in-gate; he does get funny near the in-gate so I had to give him more of a gap," added Royce about the 14-year-old Belgian Warmblood gelding (Heartbreaker) owned by Castlewood Farm. "It was a hard course today and he was jumping out of his skin."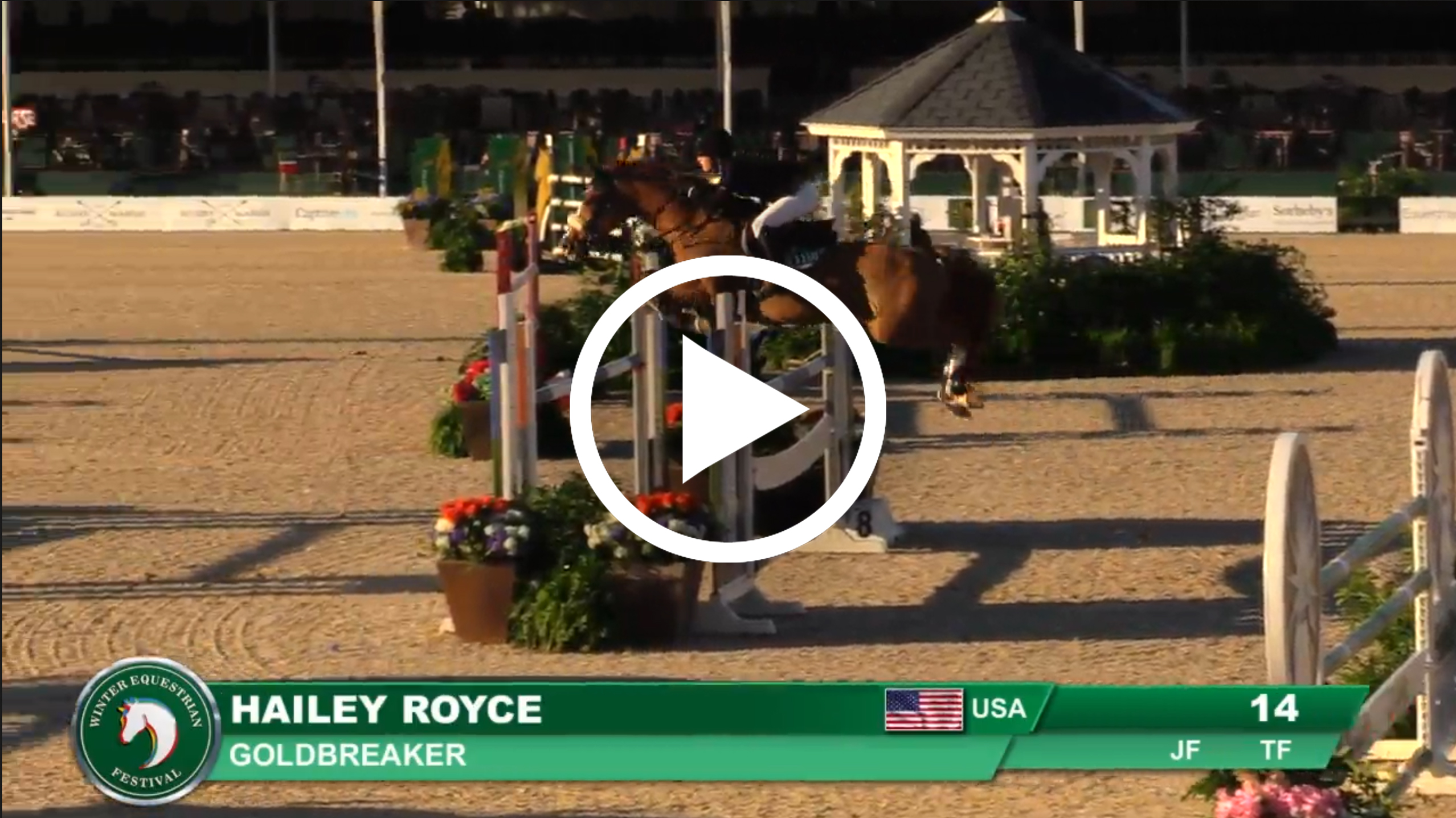 Goldbreaker has experience jumping bigger with previous international riders Amanda Derbyshire (GBR) and David Blake (IRL). Hailey trains with Alan Korotkin and both horse and trainer are helping her learn the ropes especially in the bigger classes. "We are looking to continue to show in the highs this season and be consistent and hopefully advance to some small grand prix events."
Caelinn Leahy (USA) took second riding Dymendy, owned by Twenty 23 LLC, with the fastest four-fault round over the opening track. Also picking up a single rail, Rie Rose Lindegren Roed (DEN) was third on Newcomer 13 for owner JE Invest International, and Austin Krawitt (CAN) finished fourth on Gaesbekers Gabbert JE for owner AES Equestrian. Kathryn Hall (USA), capped the top five riding her own All In 9.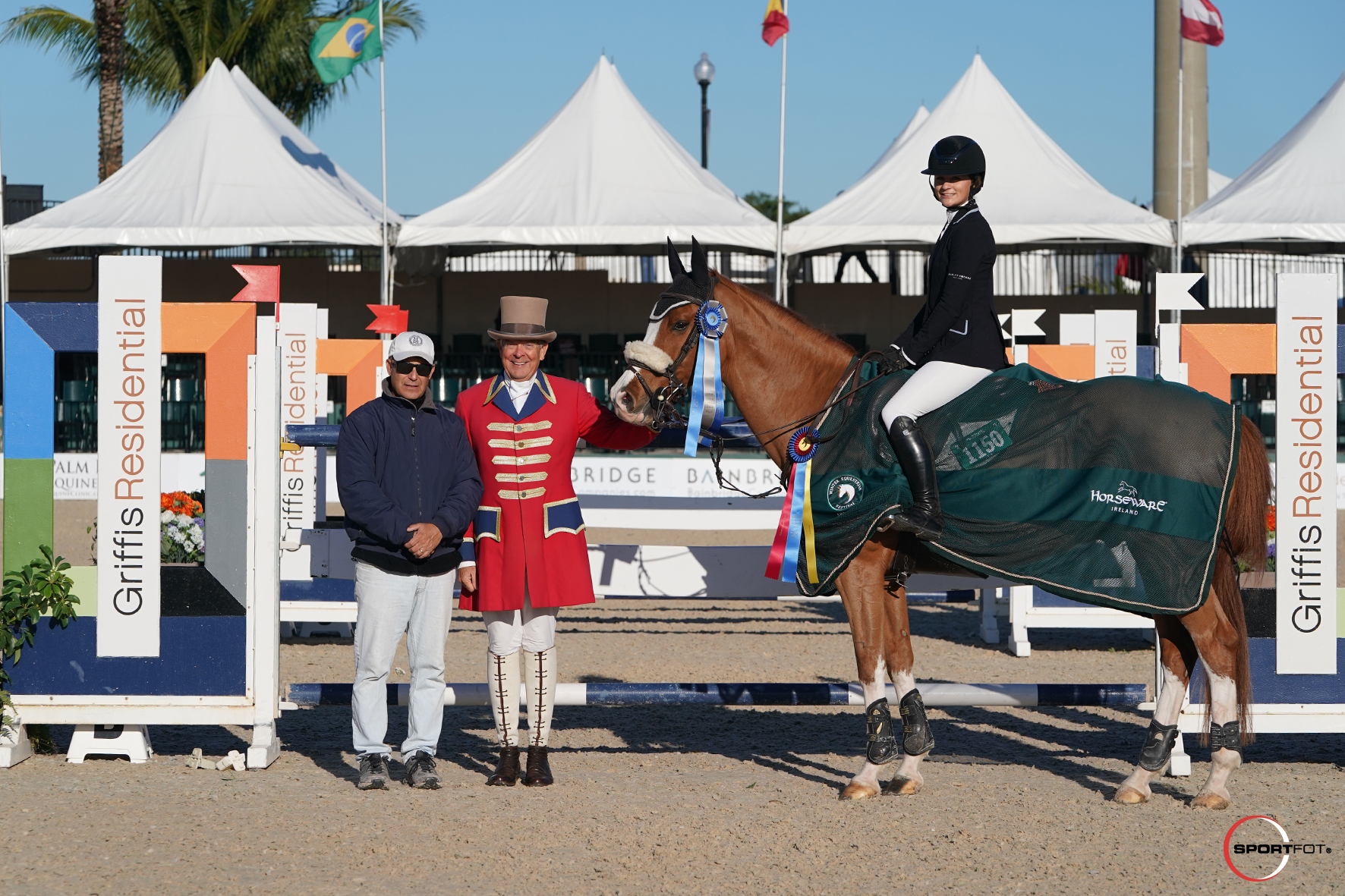 Final Results: $10,000 SJHOF High Junior Jumper Classic, presented by Griffis Residential
1 GOLDBREAKER, HAILEY ROYCE, CASTLEWOOD FARM, INC.: 0/0/ 39.722
2 DYMENDY, CAELINN LEAHY, TWENTY 23 LLC: 4/71.165
3 NEWCOMER 13, RIE ROSE LINDEGREN ROED, JR IVEST INTERNATIONAL: 4/73.216
4 GAESBEKERS GABBERTJE, AUSTIN KRAWITT, AES EQUESTRIAN4/76.498
5 ALL IN 9 KATHRYN HALL, KATHRYN HALL: 4/78.515
6 NKH CALANGO HALLIE GRIMES, CAN WE KEEP IT? LLC: 6/81.605
7 GILLETTE B MADISON RAUSCHENBACH, MADISON RAUCSHENBACH: 8/73.535
8 LEASURE Z HALLIE GRIMES, CAN WE KEEP IT? LLC: 8/75.426
9 STAKKATA BF ELLI YEAGER, ELLI YEGER: 8/75.845
10 CONTI CATALINA PERALTA, WENDY PERALTA: 8/76.256
11 BREEMEERSEN IMORETTO OLIVIA BRODER, KIMBERLY GRIFFITHS: 8/76.890
12 BLIXTEN GIGI MOYNIHAN, CHRISTY JOHNSON: 8/78.732
Martha Ingram Crowned Champion and Reserve in the Amateur-Owner Hunter 3'3" 18-35 to Finish Week 4
Hunter competition for Week 4 of WEF came to a close on Sunday with Martha Ingram piloting Fonteyn to champion in the Amateur-Owner Hunter 3'3" 18-35, presented by Adequan. Ingram, who had two rides in the division, claimed both champion and reserve titles. Ingram and Fonteyn received two firsts, two seconds, and a seventh in the E.R. Mische Grand Hunter Ring.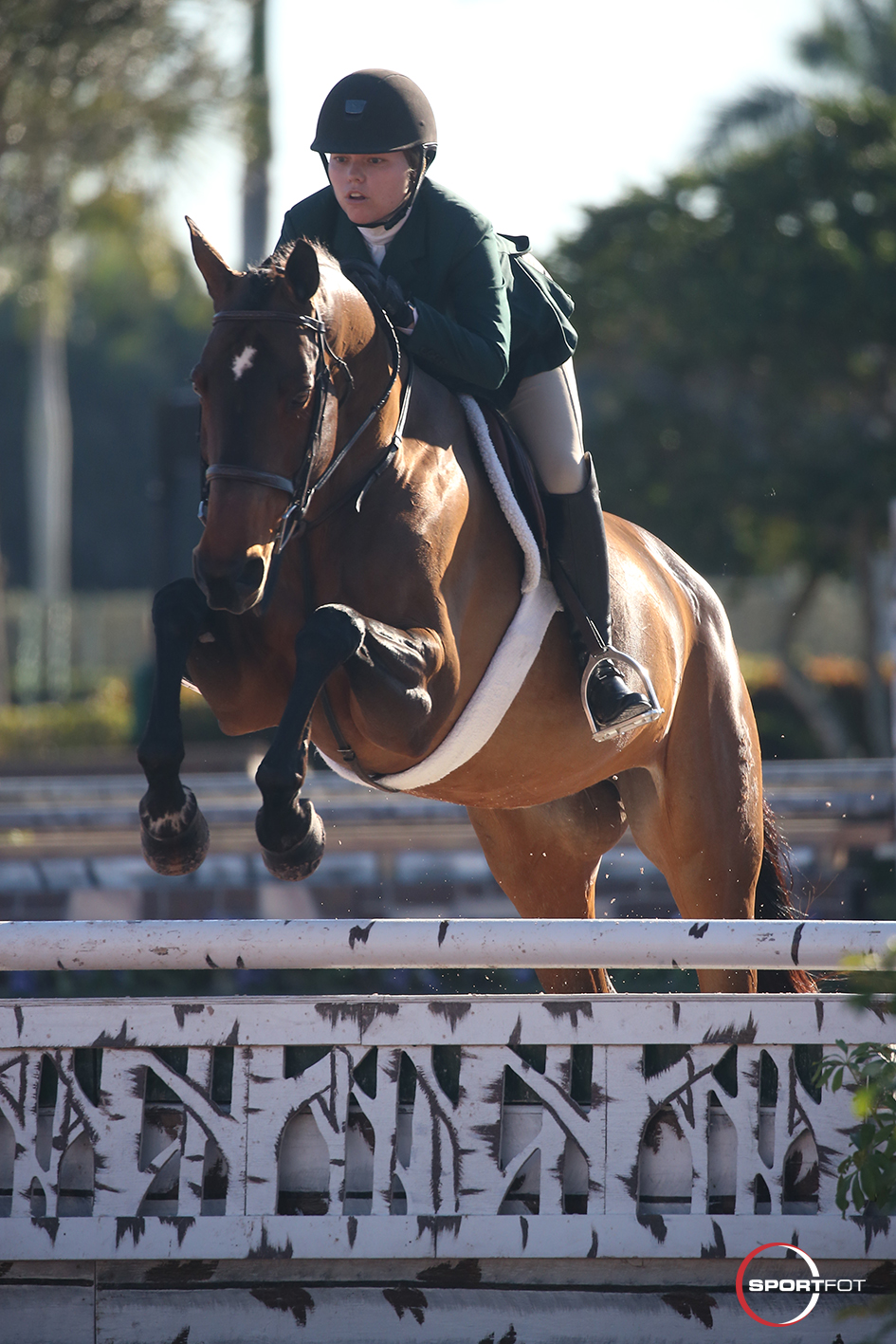 Fonteyn, owned by John and Stephanie Ingram, LLC, has been part of the Ingram family for six years. Ingram took over the ride from her father, John Ingram, a couple years ago to show in the amateur hunter divisions. After being out of the show ring for two years, Fonteyn returned to competition at Capital Challenge in 2019 with Ingram to claim the Grand Champion title in the Amateur-Owner Hunter 3'3" 18-35. "When it's game time, she's always there. She wants to win!" Ingram said of her mount.
Ingram, of Nashville, TN, and Fonteyn impressed the judges and received a high score of 88 on the second day of the division. "She has a presence about her," Ingram described. "She's also extremely smart and I love her personality."
The pair is hoping to stay consistent and continue to have solid rounds in the Amateur-Owner Hunter division. Ingram, who trains with Torrey Hardison, also has a goal of qualifying for Devon this year.
Ingram received reserve champion in the division with Airport 48, who is owned by John and Stephanie Ingram, LLC. Airport 48 has been with the Ingrams for several years and is like the "family horse". The gelding also originally began showing with John, but now that Airport 48 is older Ingram has taken over the reins. "Handy courses are my favorite on him; the harder the turn, the better he jumps! He's such a confidence booster," Ingram explained.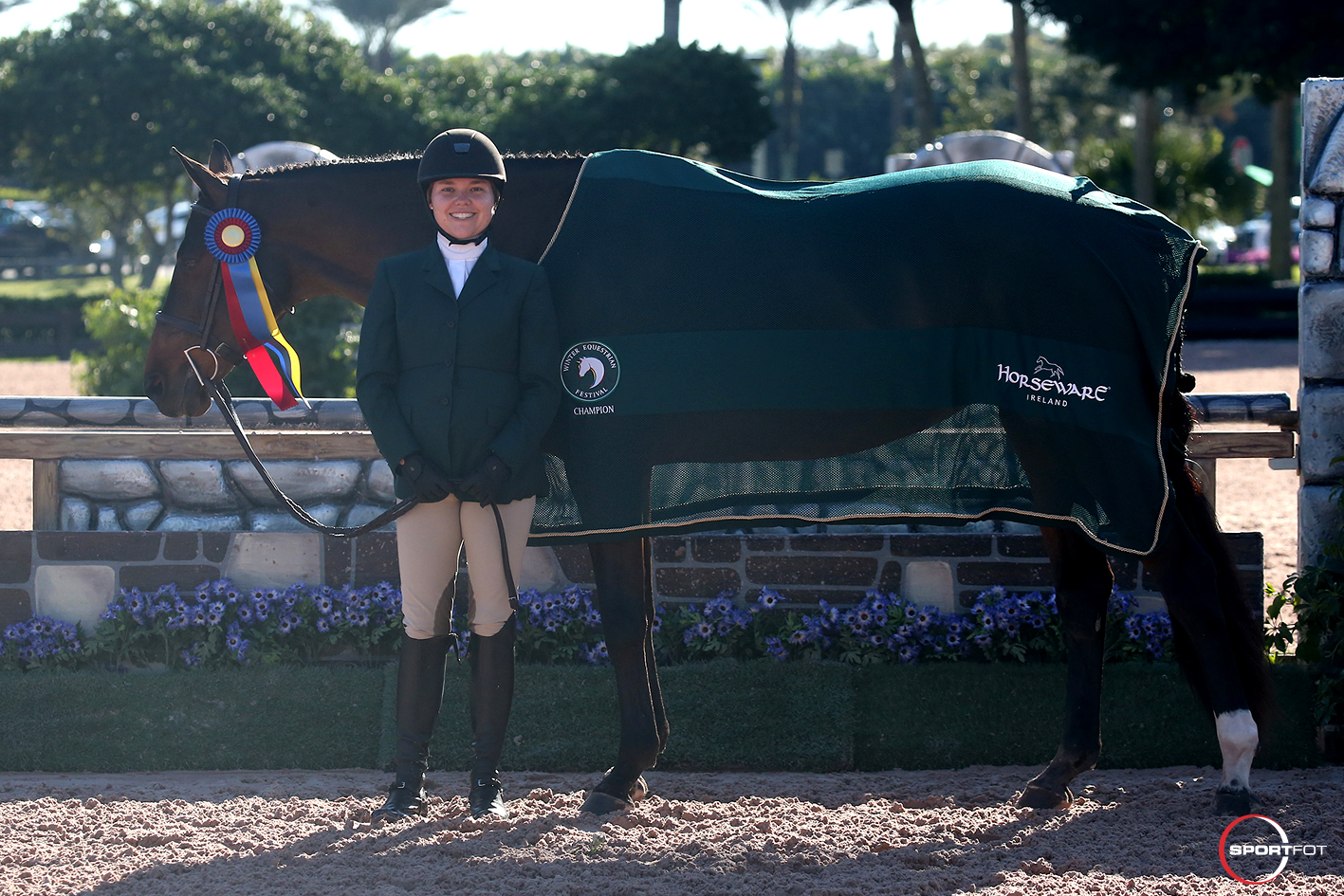 Ingram and Airport 48 received three first places and a fifth place to secure the reserve title.
WEF will return Wednesday, February 5, with the fifth week of its 12-week event. The week will host hunter and jumper competition that spans the levels, highlighted by the $401,000 Fidelity Investments ® Grand Prix CSI5* at 7 p.m. on Saturday, February 8, during "Saturday Night Lights".
For full results, visit www.PBIEC.com.
Photo credit: Photos © Sportfot, official photographer of the Winter Equestrian Festival. These photos may be used only in relation to this press release and must include photo credit.