For Immediate Release
Jennifer Wood Media, Inc.
Wellington, FL – January 21, 2018 – Two classes were highlighted in Sunday's competition in the International Arena on the final day of the second week of the 2018 Winter Equestrian Festival (WEF). Marilyn Little (USA) led the field in the $35,000 Hollow Creek Farm 1.45m Classic with Clearwater, while Lacey Gilbertson (USA) was the winner of the $25,000 Hermès Under 25 Grand Prix riding Baloppi. The 12-week WEF circuit, held at the Palm Beach International Equestrian Center in Wellington, FL, runs through April 1, 2018, WEF offers more than $9 million in prize money.
The third week of WEF, sponsored by Adequan®, runs January 24-28 and features the $132,000 Adequan® Grand Prix CSI 3* on Saturday, January 27, at 7 p.m.
Opening up the day was the $25,000 Hermès Under 25 Grand Prix, which had 44 entries. Six were clear to advance to the jump-off over International Arena tracks set by course designer Oscar Soberon of Mexico.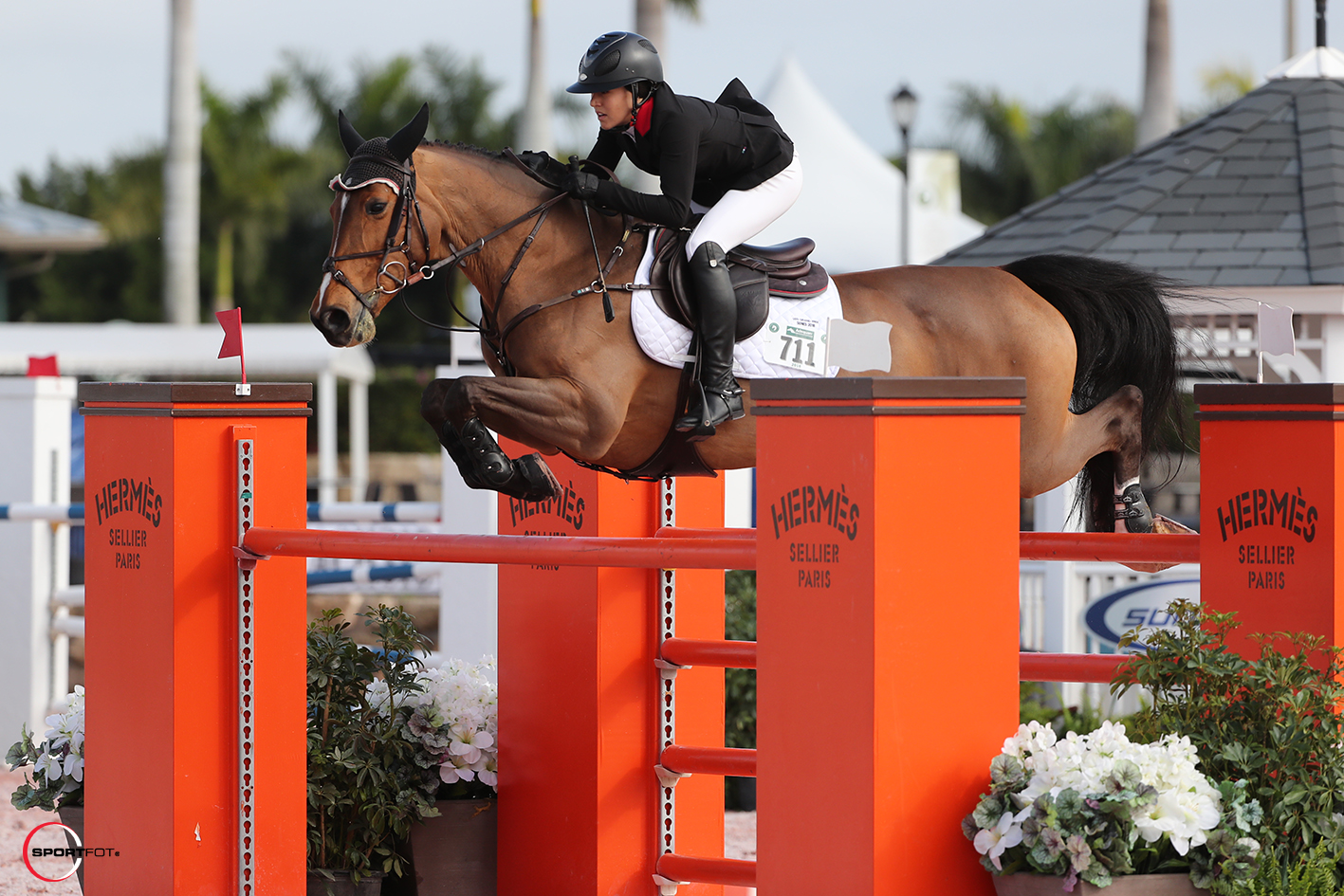 With the advantage of going last in the jump-off, Gilbertson, 24, watched and saw what she needed to do for the win. She and Baloppi, an 11-year-old Danish Warmblood mare owned by Seabrook LLC, galloped through the timers in 31.756 seconds.
Second place went to Hunter Holloway (USA) and Eastern Jam, a nine-year-old KWPN gelding by Lexicon, owned by Hays Investment Group. Their jump-off time was 32.613 seconds.
Emily Moffitt (GBR) and Zagahorn, a 14-year-old KWPN gelding by Matterhorn owned by Poden Farms, finished third with a time of 32.793 seconds.
"[Hunter and Emily] are both really fast, so I knew if I wanted to win I was going to have to take a bunch of chances, and luckily it paid off," said Gilbertson. "She is very quick naturally so I never really have to run that fast. As long as I stay tidy, she is usually up there in the ribbons."
Twenty-year-old Holloway and Eastern Jam also won Saturday's $10,000 Hermès U25 Welcome, marking a solid start for the pair. She has ridden Eastern Jam up from the 1.20m classes two years ago.
She noted, "It has been really exciting to see where he is at now in his career and to grow with him. He is a very fast horse because he has a huge stride, so I just try to use his stride to our advantage and to keep it smooth. He was super today."
For Moffitt, just being able to ride Zagahorn, or "Ziggy" as he is known in the barn, is a gift.
"Ziggy is my favorite," said the 19-year-old. "He was my first horse ever and he actually colicked a few years ago and they said he would never jump again. He only had a 20% chance of living. I went to quarantine with him every day, and he made a miraculous recovery. He had two surgeries and they said, 'You might want to consider putting him down,' and I said, 'Absolutely not, he is going to make it through'. He is such a fighter in and out of the ring. He loves this level, so it is nice to just zip around and have fun with him."
All three riders said they appreciate having the Under 25 classes, as they provide a great transition from junior or amateur jumper classes to the main FEI jumper classes.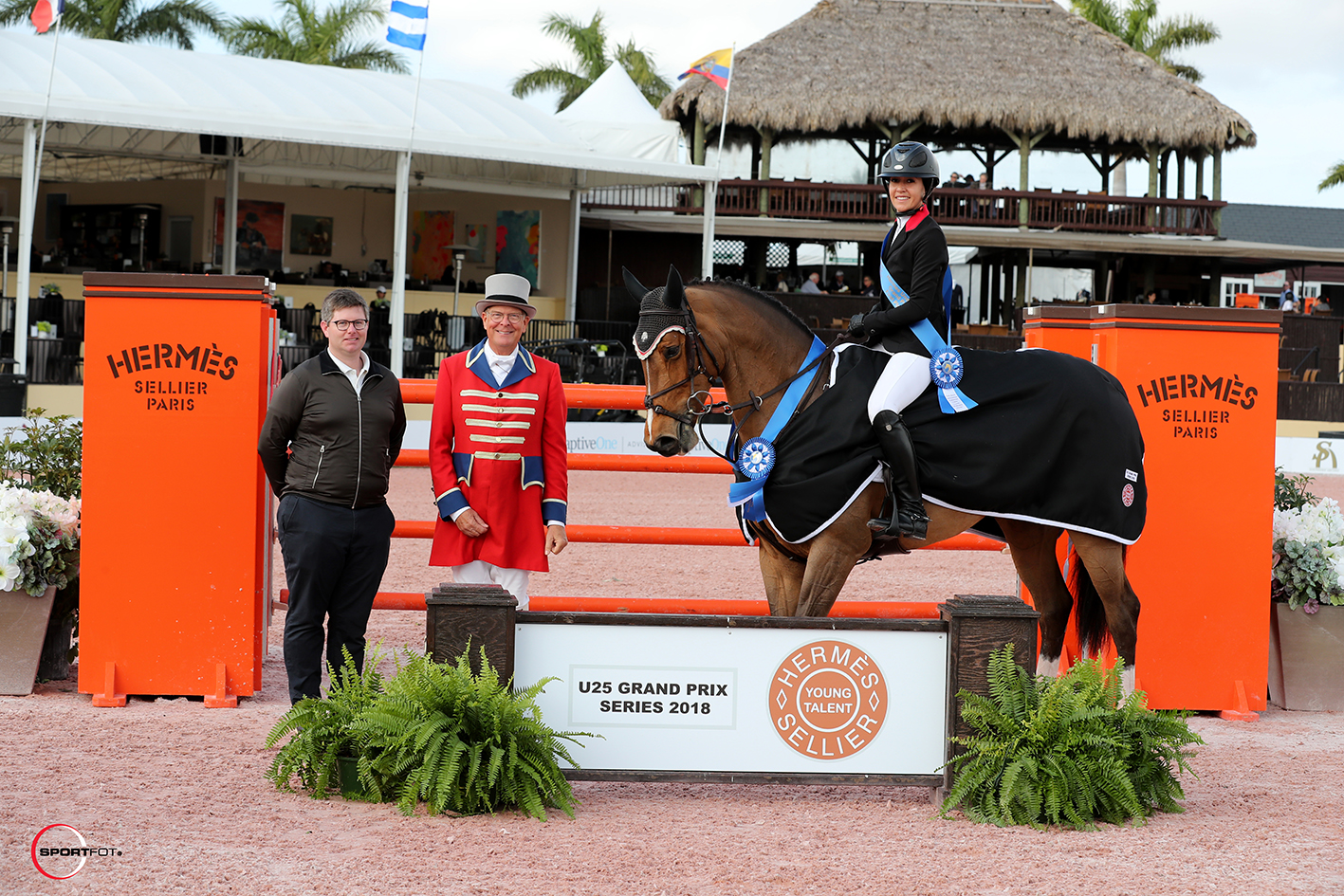 Gilbertson said, "Especially for me as an amateur it is nice to be able to go in and to have a bigger track to gain your confidence and not have to show against McLain (Ward) and Beezie (Madden) and all of those people and to still have a good chance to learn how to do it and to be competitive. My horse has not done a whole bunch in her career at the 1.50 level so it is nice for her to get to do the highs and to build her confidence. They also have to get up to that level before you can make the next step and be competitive there."
The $25,000 Hermès Under 25 Grand Prix Series Team Event will be held on Friday, February 2, at 4 p.m. in the AGDF International Arena at Equestrian Village. The classes return to the schedule during week 6 with a $10,000 Welcome and $25,000 Grand Prix on the grass derby field at Equestrian Village.
Final Results: $25,000 Hermès Under 25 Grand Prix
1   BALOPPI: 2007 Danish Warmblood mare
LACEY GILBERTSON (USA), Seabrook LLC: 0/0/31.75
2   EASTERN JAM: 2009 KWPN gelding by Lexicon x Monaco
HUNTER HOLLOWAY (USA), Hays Investment Corp.:  0/0/32.61
3   ZAGAHORN: 2004 KWPN gelding by Matterhorn x Wolfgang
EMILY MOFFITT (GBR), Poden Farms: 0/0/32.79
4   BALOUCENTO 2: 2005 Oldenburg gelding by Baloubet du Rouet x Cento
AILISH CUNNIFFE  (USA), Whipstick Farm Ltd.: 0/0/33.60
5   QANTAR DES ETISSES: 2004 Selle Francais stallion by Quick Star x Persan II TAYLOR ST JACQUES (USA), Taylor St. Jacques: 0/4/31.46
6   CHACCO PRIME: 2008 Hanoverian gelding by Chacco Blue x Le Primeur
ALEXANNE THIBAULT (CAN), Alexanne Thibault: 0/4/34.70
7   UPPER: 2008 Selle Francais gelding by Diamant de Semilly x Nadir de San Patrignano
DAVID OBERKIRCHER (USA), Southfields Farm LLC: 1/72.12
8   QUIDAM MB: 2005 Oldenburg gelding by Quidam's Rubin x Argentinus
ADRIENNE STERNLICHT (USA), Starlight Farms LLC: 1/72.73
9   EREGAST VAN'T KIEZELHOF: 2004 BWP gelding by Thunder van de Zuuthoeve x Latano
CLAIRE MC KEAN (USA), Claire McKean: 1/74.84
10  CASHEW CR: 2008 Holsteiner gelding by Cassini II x Quinar
ALEX MATZ (USA), D.D. Matz: 4/67.66
11  GREAT WHITE: 2008 Holsteiner gelding by Cumano x Julio Mariner
DAISY FARISH (USA), Daisy Farish: 4/68.06
12  JULIO VH ELZENHOUT: 2009 BWP gelding by Echo van het Neerenbosch x Skippy II
GIAVANNA RINALDI (USA), Blue Chip Bloodstock: 4/68.54
Marilyn Little and Clearwater Return to the Ring for Win in $35,000 Hollow Creek Farm 1.45m Classic
With 75 entries in the class, and 28 clear rounds, Sunday's $35,000 Hollow Creek Farm 1.45m Classic proved to be a formidable challenge for the riders in the class. Out of the 26 who chose to return for the jump-off, it was a race to see who could be fastest out of the 12 clear trips over the shortened course designed by Oscar Soberon (MEX).
Despite recently returning to riding after an injury, Marilyn Little of Frederick, MD, rose to the challenge to pilot Clearwater to a blazing jump-off time of 36.23 seconds for victory.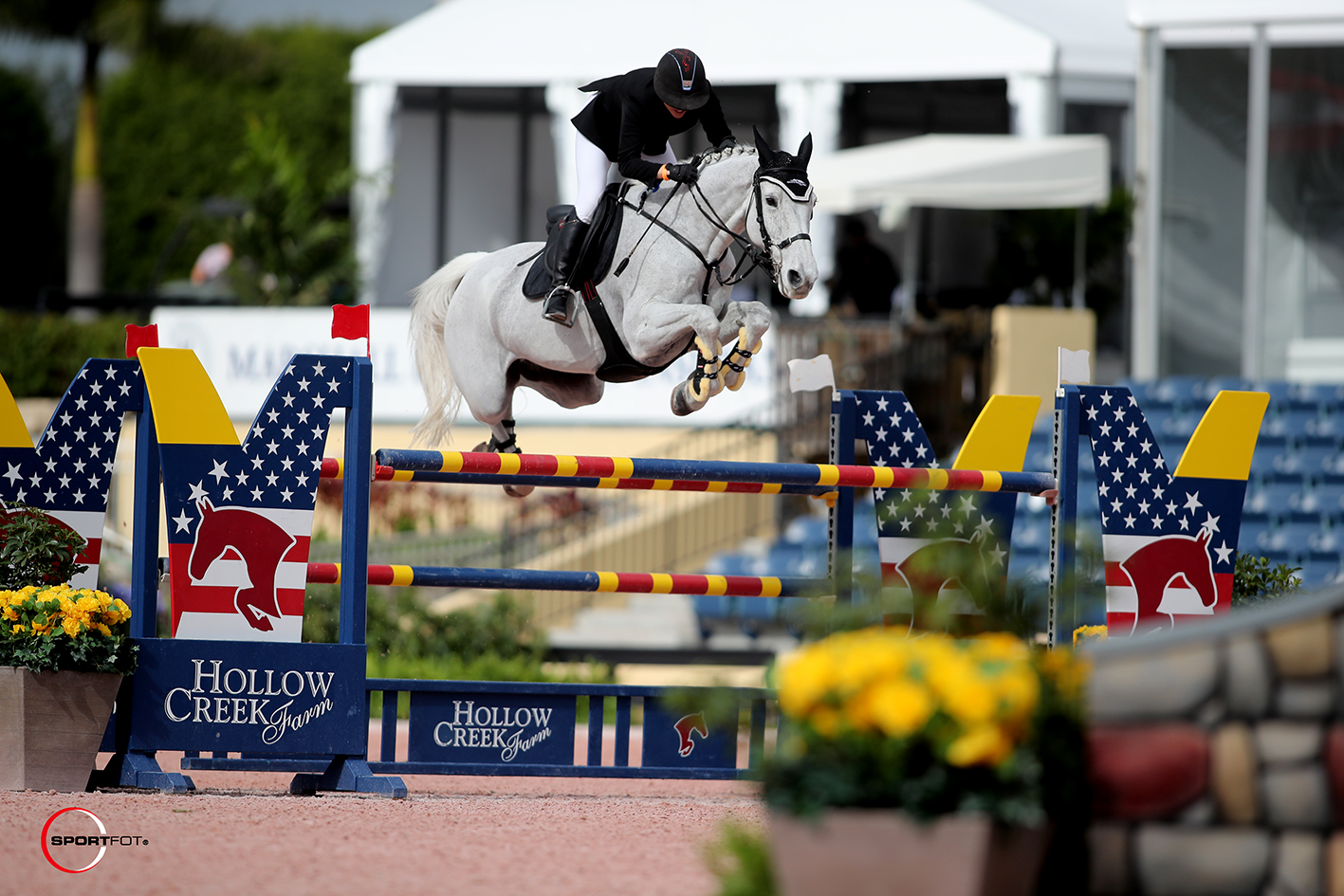 Second place went to Wilton Porter (USA), who nearly caught Little as the last to go in the jump-off riding Delinquent JX, an 11-year-old gelding by Darco, to a time of 36.65 seconds. Emily Moffitt continued her successful start to WEF with a third place finish on Galip, and turned in a time of 37.09 seconds.
Clearwater, an 11-year-old Holsteiner gelding by Clearway, last competed at the Washington International Horse Show in October. In November, Little broke her foot when eventing. The two-sport athlete spent time recovering and only got back on a horse 10 days ago.
"I've been on a scooter!" Little exclaimed. "I've been scooting around since November. It was really a lot of fun to get back out there and for it to go the way it did today. I felt a little loose out there on Thursday. As it turned out, I'm glad we didn't do the grand prix this week. It gave him a nice time to get in there and have a lower class. He's been my first horse for the last year, and he's only 11. It was good for him to get in there and feel like King Kong again."
Clearwater and the rest of Little's string were ready for the start of WEF, thanks to her team.
"I'm so grateful for the many professionals who have stepped up and helped me keep my horses fit and in form," said the two-time Pan American Games gold medalist in Eventing. "It's really a tribute to my staff and my riders and other professionals who have helped me, because the horses have come out fit and fresh and really ready to go. In the end, it probably won't matter that I got a late start. I've had to be a bit patient, but this is certainly a good start!"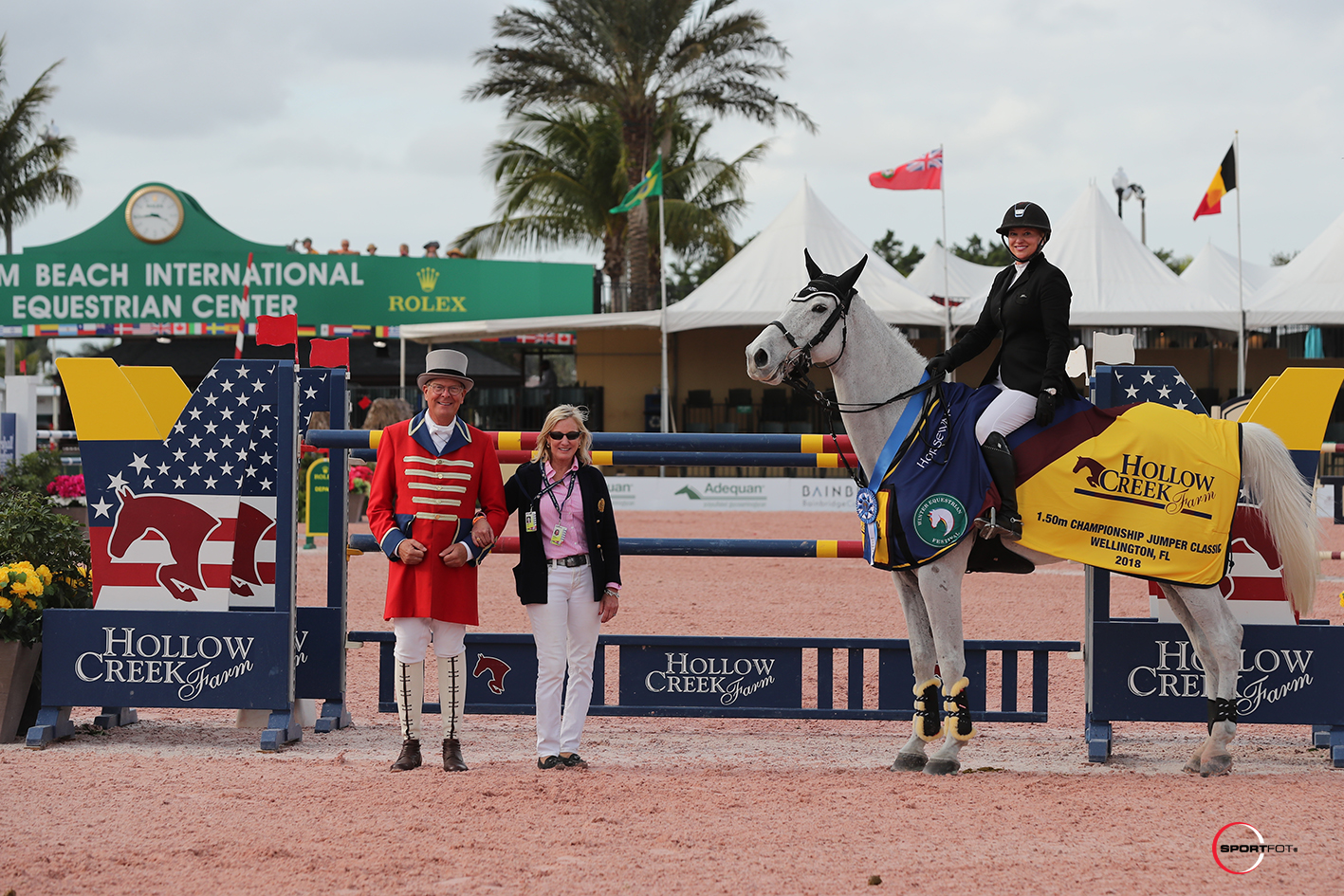 Along with Clearwater's owner, five-time U.S. Eventing Olympian eventer Karen O'Connor, the new U.S. Eventing Performance Director, Erik Duvander, was on hand to see Little's win.
"This was a good taste for him to see how we do it over on this side," said Little.
With 26 in the jump-off, Little stuck to her plan, knowing her horse has speed to spare, saying, "He's a very, very fast horse. I know exactly what his stride is, and if it's possible to get there, he's the one who will in terms of the distances. I knew exactly what the plan was. He just needed to put in his personal best and it would be very hard to catch. I wouldn't want to run against him.
"He's such an unassuming character," she continued with a smile. "When you see him at the side of the ring, he may as well have a flowered hat and a cart behind him! But as soon as he steps into the ring for the jump-off, he's Seabiscuit."
Final Results: $35,000 Hollow Creek Farm FEI 1.45m Classic
1 CLEARWATER: 2007 Holsteiner gelding by Clearway x Come On
MARILYN LITTLE (USA) Karen O'Connor: 0/0/36.23
2 DELINQUENT JX: 2007 SHBGB gelding by Darco x I Need You
WILTON PORTER (USA), Sleepy P Ranch LLC: 0/0/36.65
3 GALIP: 2006 Belgian Warmblood gelding by Nonstop x Feo
EMILY MOFFITT (GBR), Poden Farms: 0/0/37.09
4 MARKET IRMINKA: 2006 AES mare by Irco Mena x Tinka's Boy
EDUARDO MENEZES (BRA), H5 Stables: 0/0/37.20
5 HANDY VAN HD: 2007 BWP mare by Tinka's Boy x Nabab de Reve
MCLAIN WARD (USA), Ilan Ferder: 0/0/37.23
6 AUSTRIA 2: 2008 Holsteiner mare by Casall x Corrado I
AMBER HARTE (USA), Take The High Road, LLC: 0/0/37.83
7 ARISTOTELES V: 2005 KWPN stallion by Padinus x Lux
JONATHAN MCCREA (USA), Candy Tribble: 0/0/38.22
8 NATHAN DETROIT: 2007 Hanoverian gelding by Contendro I x Acord II
LAUREN HOUGH (USA), Paris Sellon: 0/0/38.50
9 CHICHESTER 3: 2008 Holsteiner gelding by Casall x Cosimo
ALONSO VALDEZ PRADO (PER), Alonso Valdez Prado: 0/0/38.79
10 BALOU 660: 2005 Hanoverian gelding by Balou du Rouet x Ramiro
VASCO FLORES (PUR), Gotham Enterprizes LLC: 0/0/40.89
11 QUINTENDER LS: 2009 La Silla gelding by Quidam de Revel x Contender
CARLOS MYRRHA (BRA), El Milagro: 0/0/41.17
12 COOL HAND LUKE 4: 2007 Oldenburg gelding by Contendro I x Argentinus
MARKUS BEERBAUM (GER), Artemis Equestrian Farm LLC: 0/0/43.92
Stephanie Bulger and Mariano Crowned Wanderers Club Adult Amateur Younger Sec. B Champion
The E.R. Mische Grand Hunter ring witnessed an exciting comeback made by Stephanie Bulger of New York, NY, and her mount Mariano, a 13-year-old Holsteiner gelding, on Sunday as she took a first, second, and seventh over fences in the Wanderers Club Adult Amateur Younger Sec. B division to claim the championship title. The second week of the Winter Equestrian Festival marked the pair's first time back in the show ring together after a three-and-a-half-year hiatus.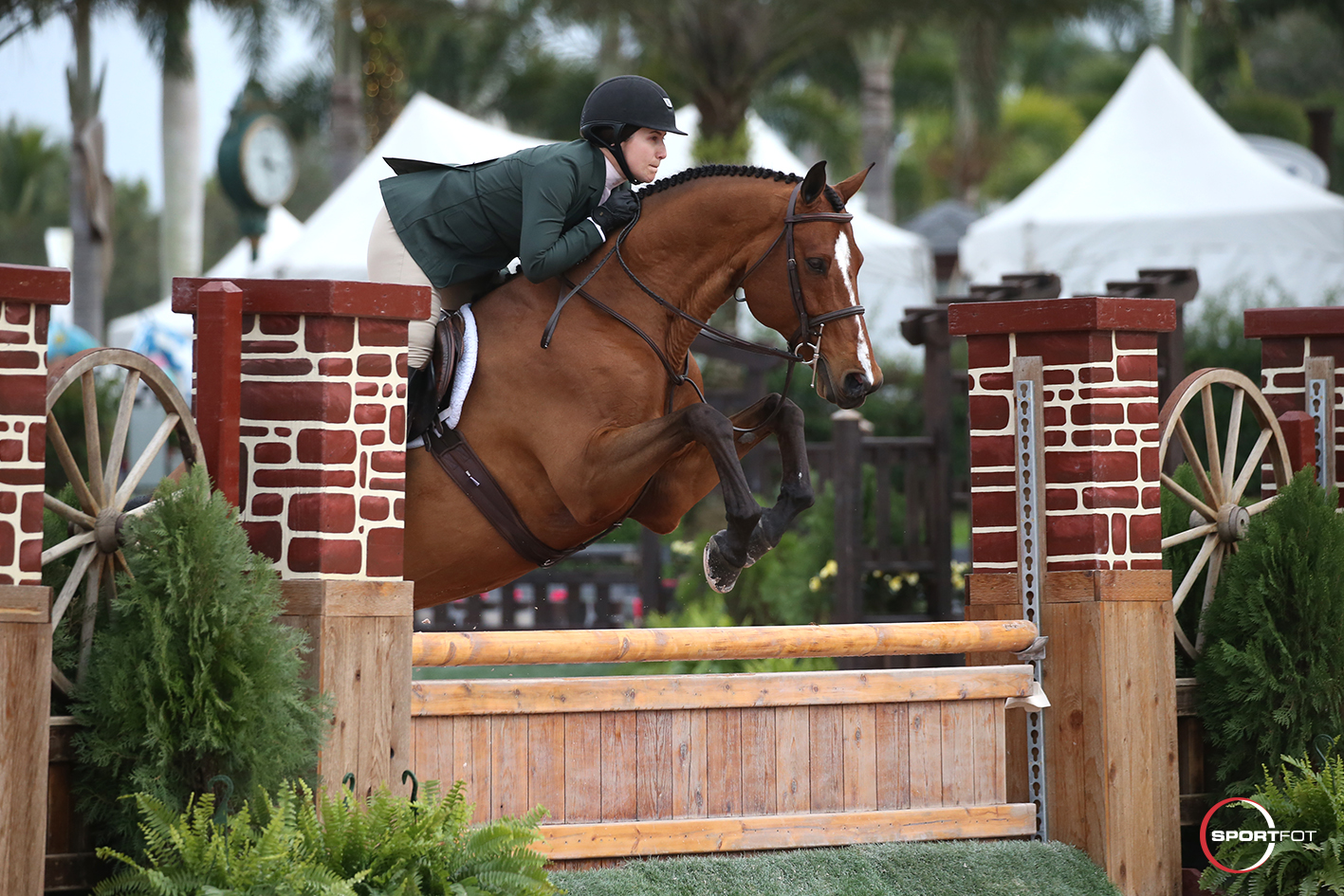 "I have had him for seven years now since he was a Baby Green Hunter horse," said Bulger. "We showed all the way through his second year and then took a year off because I was pregnant. Then he needed to take two and a half years off after that to rehab a few minor injuries."
The new mom has tackled the challenge of being a parent and competing head on as she continues to come back from her time away from the show ring.
"It can be challenging," said Bulger. "We are down here for the full 12 weeks. My son is two and a half years old, so he is able to attend preschool down here and in New York. We are really lucky that we can be in both places, at least until he starts kindergarten. He is in heaven when he gets to come to the horse show and see all the horses, dogs, and tractors. It is fun, but it has its moments!"
Bulger is looking forward to WEF competition over the next few weeks in addition to strengthening her bond with Mariano in the show ring.
"We are just taking it week by week," said Bulger. "Our goal is to keep enjoying him. I am so happy to have him back. He is 13 now, so he really showed that he is a veteran, even though he has had some time off. Yesterday, it was almost like I had never ridden him before, but it all kind of came back to me. We are especially looking forward to WCHR week 6!"
There was a triple tie for reserve champion awarded to Tabitha Brown, aboard her mount Quirrell, Margaret De Filippo, aboard Eye Kandy, owned by Angel De Filippo, and Vanessa Mavec, aboard Montevallo, owned by Southpointe Farm LLC.
The Winter Equestrian Festival continues with its third week of competition, sponsored by Adequan®, on January 24-28.
Photo Credit: Photos © Sportfot, Official Photographer of the Winter Equestrian Festival. These photos may be used only in relation to this press release and must include photo credit.