For Immediate Release
Kate Pettersen and Sabrina Brashares for Jennifer Wood Media, Inc.
February 4, 2021 – Wellington, FL – As FEI competition opened for the Marshall & Sterling/Great American Insurance Group CSI4* week at the 2021 Winter Equestrian Festival (WEF), Sweden's Henrik von Eckermann rode Glamour Girl, owned by Portfolio Horses, LLC, to victory in the $6,000 Bainbridge Companies 1.45m Jumpers CSI4* on the Derby Field at Equestrian Village on Thursday, February 4.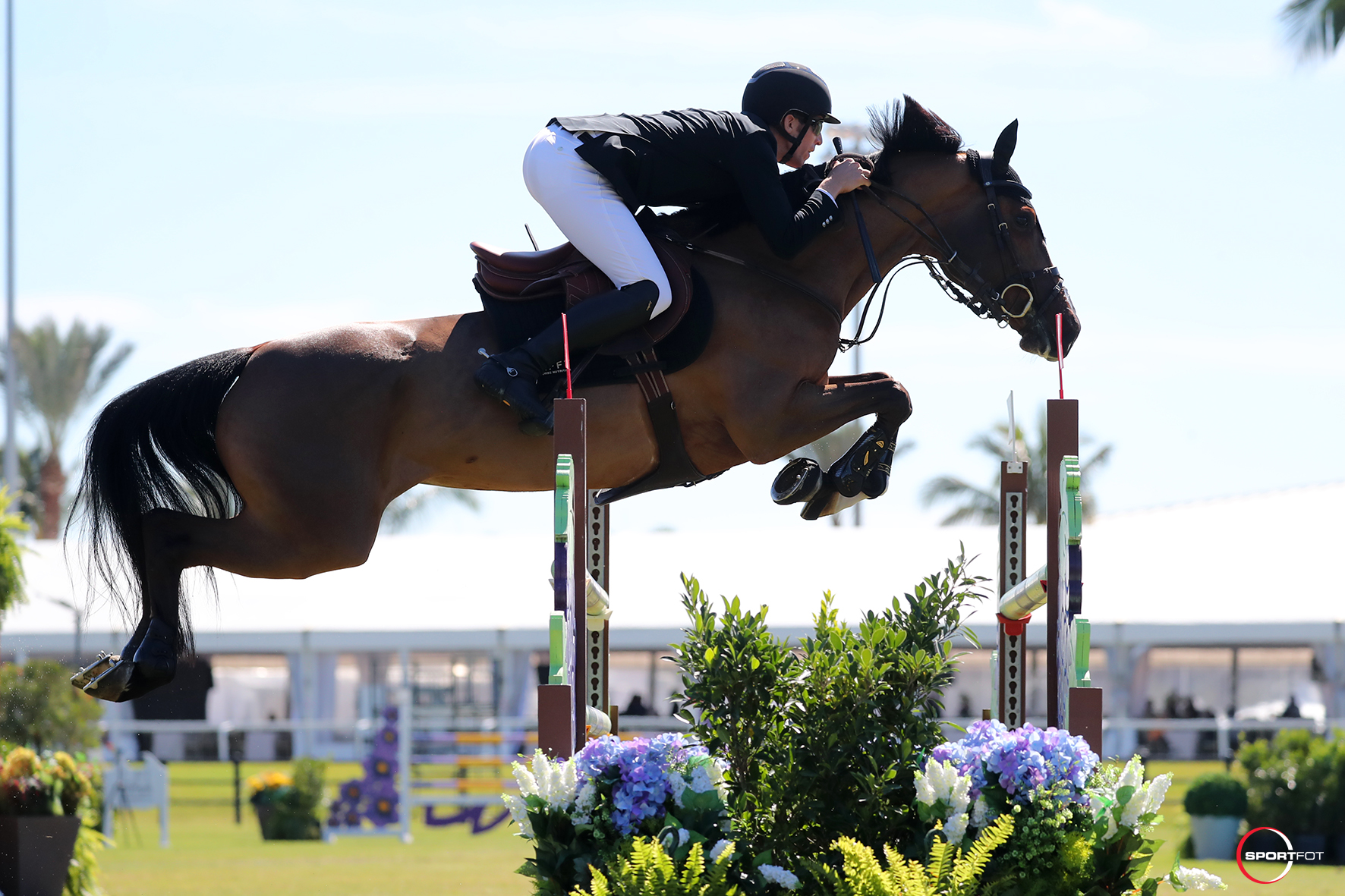 Highlighting an exciting Friday still to come is the $50,000 Adequan® WEF Challenge Round 4 on the grass Derby Field at Equestrian Village, the $25,000 Hermès U25 Grand Prix Series Team Event in the Global Stadium Arena, and in the International Arena at PBIEC is the $25,000 USHJA International Hunter Derby Hunt & Go at 1 p.m.
Coming up on Saturday is the $37,000 CaptiveOne Advisors 1.50m Classic on the Derby Field followed by the Great Charity Challenge, presented by Fidelity Investments® taking place in the International Arena on Saturday night. The week wraps up with the $50,000 Palm Beach Equine Clinic 1.45m Grand Prix CSI2* followed by the $214,000 Marshall & Sterling/Great American Insurance Group Grand Prix CSI4*, both set to go on the Derby Field. All feature classes will be available to watch for free on the livestream.
In the second class of the day, Henrik von Eckermann and Glamour Girl posted the fastest time for the win. A field of 32 horse and rider combinations set out over the course designed by Anderson Lima (BRA) consisting of nine efforts in the first phase and five obstacles in the second phase. Von Eckermann piloted the talented 10-year-old Dutch Warmblood mare by VDL Zirocco Blue x Moonlight II, to a double-clear effort in 26.56 seconds.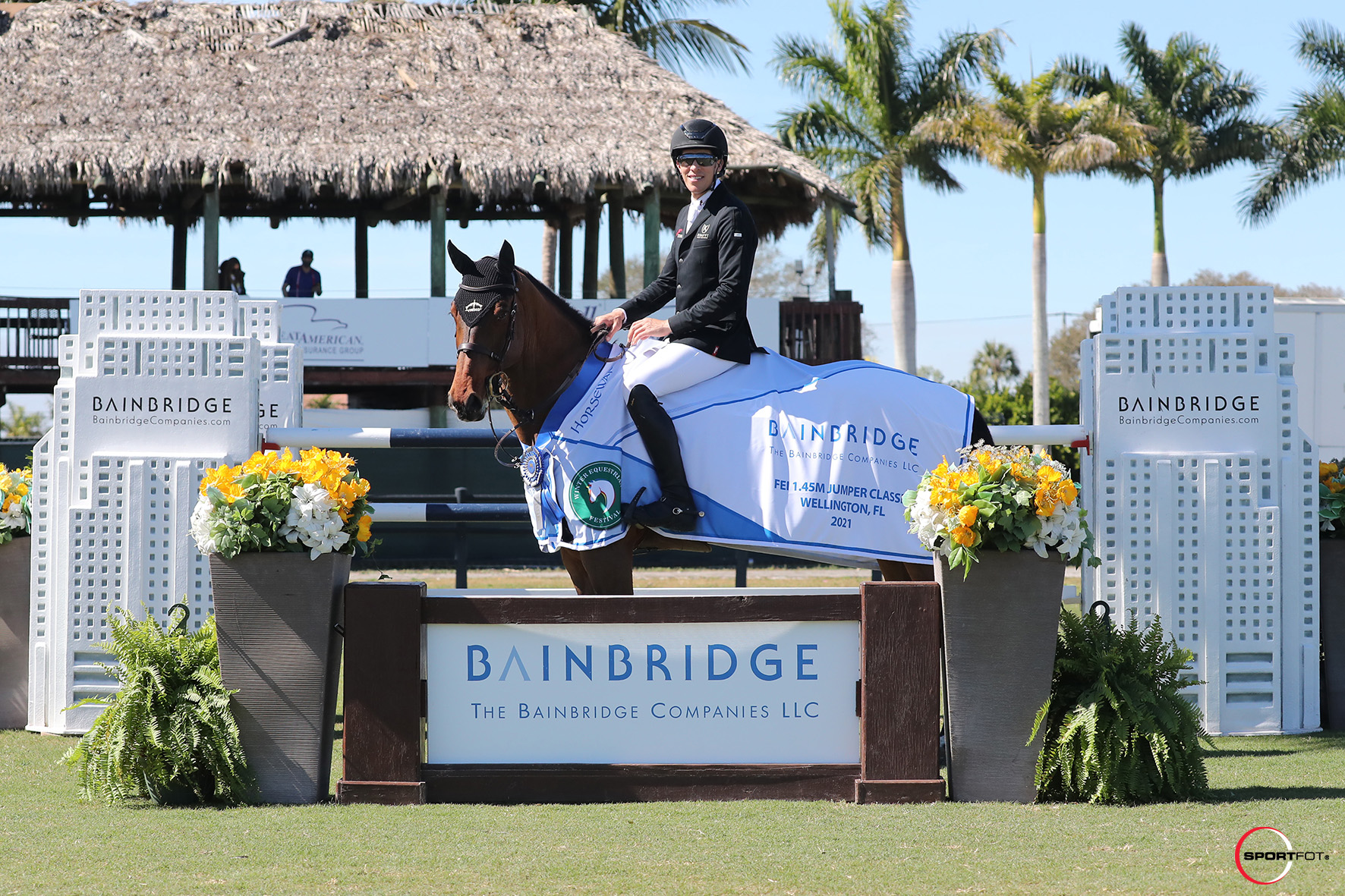 It was a lovely welcome for the Swedish rider who is competing at WEF for the first time in his career, cruising to the win with nearly two seconds to spare over the second place finisher.
Fresh off his first round on the Derby Field, the World Equestrian Games team silver medalist had only good things to say about his debut in Wellington, Florida.
"It's a fantastic arena to ride in," said von Eckermann. "It was a nice class for my horse to start with and it's my first time here. The facilities are fantastic; it was really nice.
"The course was very straight, and my horse has a really big stride, so I don't need to chase her and she's still fast," he continued. "I can just leave her running and she's quick anyway. She's a bit funny, a bit of a special one, but she's very careful and competitive. I like the quirky mares. When you have them on your side, I think they give you a little bit more than the geldings or the stallions."
Von Eckermann brought three horses with him from Europe to compete with for the duration of the winter circuit.
"I'll start with this weekend in the CSI4*," he said. "Then I'll do the CSI5* next week and hopefully I win something more."
Three different nationalities were represented in podium position as Ireland's Jordan Coyle finished as runner up aboard Picador, owned by Elan Farm, stopping the clock in 28.36 seconds. Rounding out the top three was Ashlee Bond (ISR) and Lazy for Stephex Stables and Aurora Farms, LLC in 28.53 seconds.
Later in the day, Adam Prudent (USA) and Baloutinue took home the title in the $1,000 CSI4* Bainbridge Companies 1.40m Jumpers.
Final Results $6,000 CSI4* Bainbridge Companies 1.45m Jumpers:
1. GLAMOUR GIRL: 2011 KWPN mare by VDL Zirocco Blue x Moonlight II
HENRIK VON ECKERMANN (SWE), Portfolio Horses, LLC: 0/0/26.56
2. PICADOR: 2007 AES gelding by Lupicor x Concorde
JORDAN COYLE (IRL), Elan Farm: 0/0/28.36
3. LAZY: 2011 BWP mare by Hickstead II x Teulada
ASHLEE BOND (ISR), Stephex Stables and Aurora Farms LLC: 0/0/28.53
4. CLASSIC PENNY: 2012 NWB mare by Clapton x Brokers Plastic City
ERYNN BALLARD (CAN), Ilan Ferder: 0/0/29.04
5. CADANS Z: 2009 Zangersheide mare by Carosso VDL x Navarone
ADRIENNE STERNLICHT (USA), Starlight Farms 1, LLC: 0/0/29/10
6. COLLIN: 2007 KWPN gelding by Colandro x Amethist
LUIZ FRANCISCO DE AZEVEDO (BRA), Santa Cecilia Stables: 0/0/29.60
7. HILFIGER VAN DE OLMENHOEVE: 2007 Belgian Warmblood gelding by Dulf van den Bisschop x Querlybet Hero
EMILY MOFFITT (GBR), Poden Farms: 0/0/30.57
8. CHUCK 27: 2007 Hanoverian gelding by Cassus 2 x Ravenna
HILARY MCNERNEY (USA), Hilary McNerney: 0/0/31.23
9. JAKARTA: 2009 BWP mare by Cicero Z Van Paemel x Dagana R
LAURA KRAUT (USA), St. Bride's Farm: 0/0/31.79
10. SHADOWFAX 111: 2012 BWP stallion by Der Senaat III x VOLIVA
ADRIENNE STERNLICHT (USA), Starlight Farms 1, LLC: 0/0/31.85
11. BARDOLINA 2: 2009 Holsteiner mare by Clarimo x Landos
MARIO DESLAURIERS (CAN), Wishing Well Farm, LLC: 0/0/32.11
12. FLAIRVONA: 2010 KWPN mare by Air Jordan Z x Vivona
SPENCER SMITH (USA), The 500 Hats, LLC: 0/0/33.09
Olivia Chowdry and Chuck Berry 8 Fly to First in the $6,000 CSI2* Palm Beach Equine Clinic 1.40m Jumpers
Olivia Chowdry (USA) and Chuck Berry 8, owned by Atlas Equine Holdings, LLC, began the day with a win in the $6,000 Palm Beach Equine Clinic 1.40m CSI2*. A field of 73 challenged the two-phase class, and there was no catching Chowdry and the 14-year-old Hanoverian gelding by Chacco Blue x Watzmann, as they distanced themselves from the field by over a second, finishing in a time of 27.33 seconds.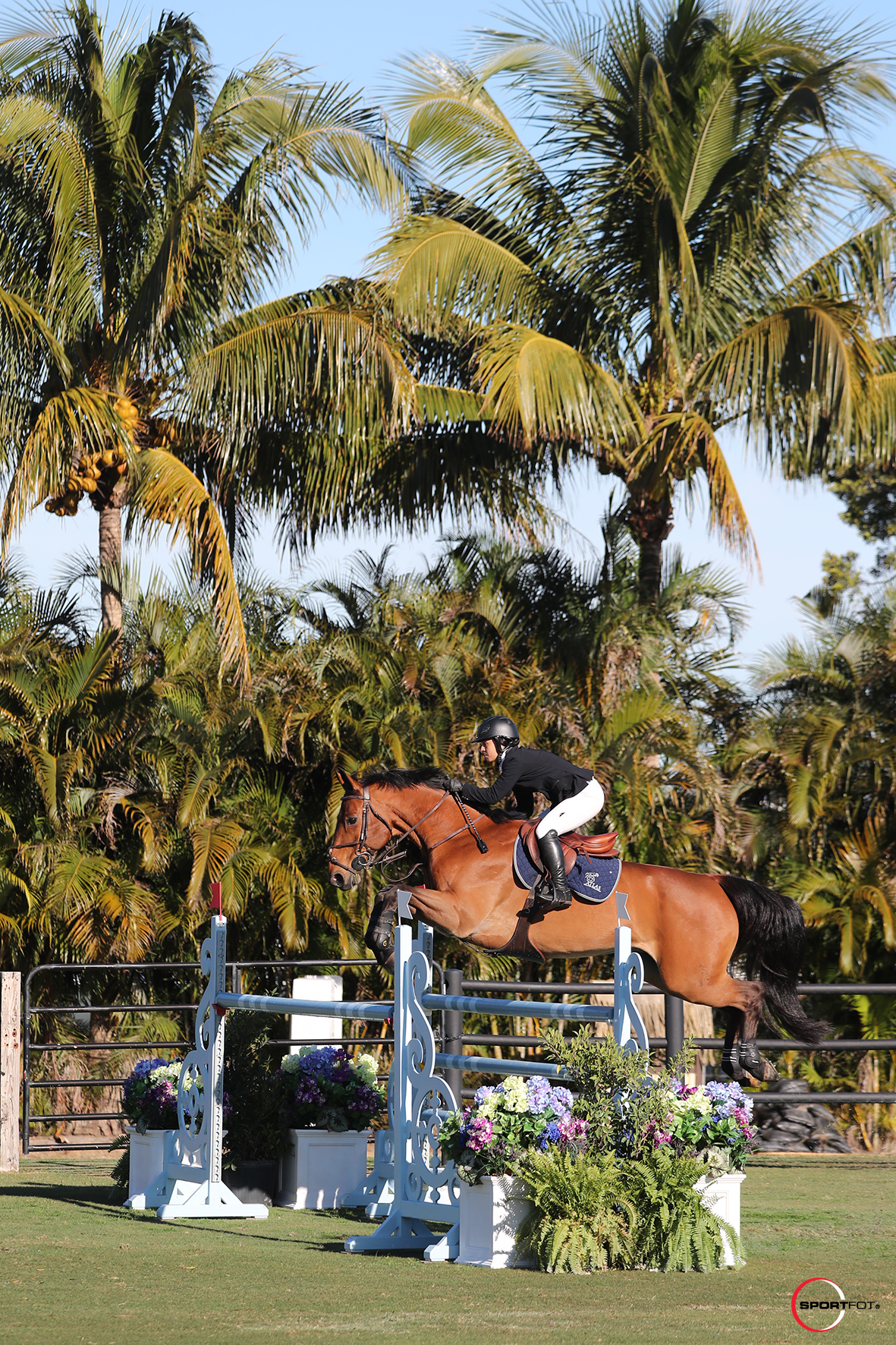 "I've been training with Katie Prudent for almost five years, and I thought we were planning to go in the ring and set up for tomorrow's qualifier," she said with a laugh. "I should probably know by now that if you're with Katie, you're in it to win it. My horse was really, really good. I've had him for three years now. He's naturally quite a quick horse. Usually where I suffer the next day is the rideability, but I think this seems to be a great time for him. We spent a lot of time working on the flat, got him nice and relaxed to get him ready, and he feels fantastic. I'm really excited for the rest of the week."
This year, Chowdry has a lot on her plate as she balances her show jumping career while completing her dual master's in social policy and impact investing at the University of Pennsylvania. Due to the COVID-19 pandemic, her courses have all been moved online, affording her the opportunity to stay in Wellington for the duration of the winter circuit.
"I feel really fortunate to get to be down here in Florida and to be able to do a bit of both. It absolutely would not happen without the team I have behind the scenes. Abigail McArdle had Chuck before me, so she knows him really well. If I can't be there to flat him, she's always willing to help me out."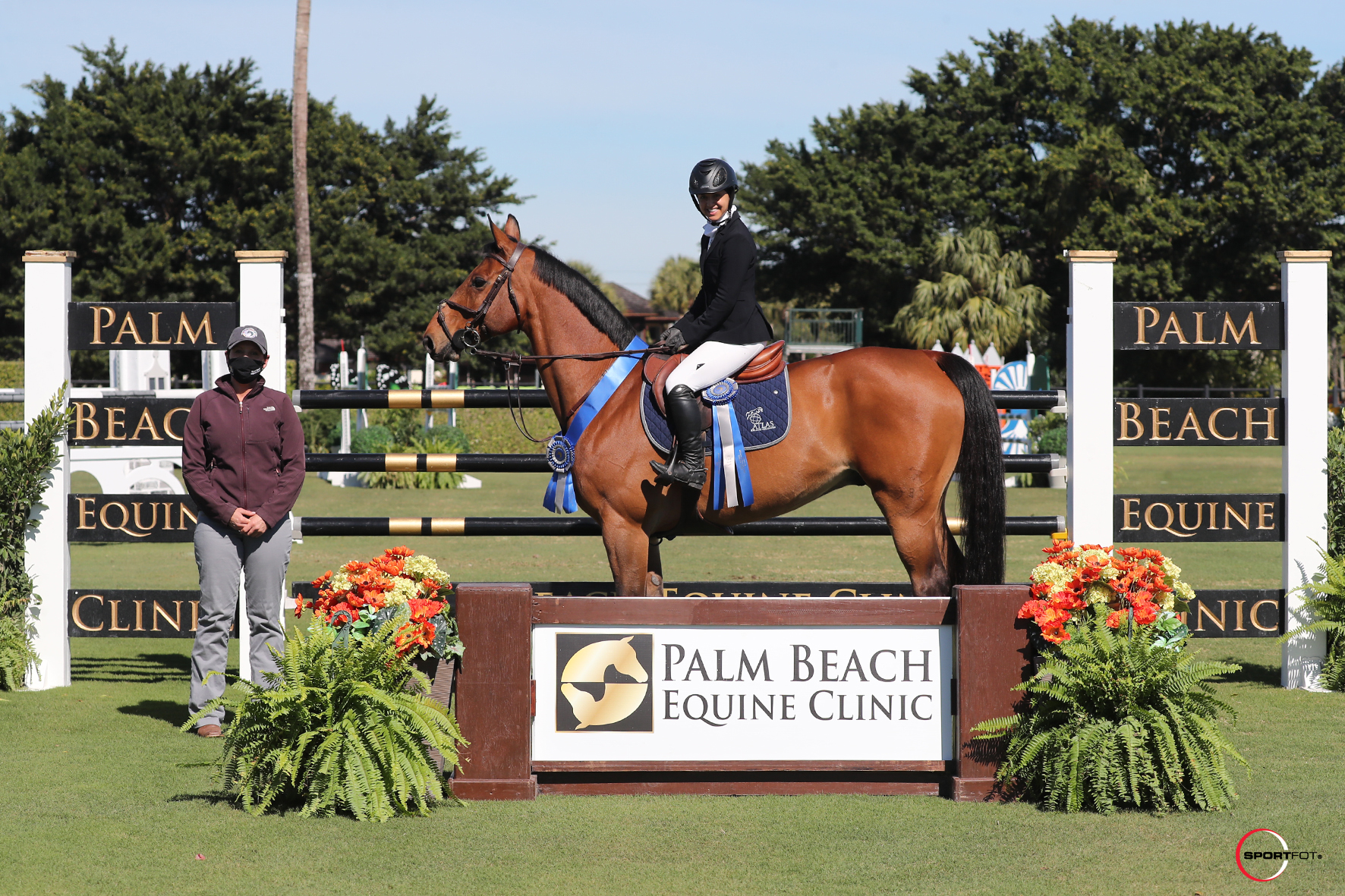 In terms of finding the balance, her outlook is driven by passion for all that she does.
"You have to love both," she said. "It's definitely quite a bit of work, and I feel very fortunate to get the opportunity to ride and study. I think your mindset changes a little bit; I have to be really present in both areas and the horses are a different mental stimulation. I think anytime you get to do something that is around animals is always very calming and therapeutic."
Just off the mark finishing second was Jessica Mendoza (GBR) with the 10-year-old Holsteiner gelding Casanova 499, an entry owned by Carly Day, crossing the finish line in 28.49 seconds. Third place honors went to Gavin Harley (IRL) aboard Corbawido PS, a nine-year-old PZHK gelding owned by Wolfstone Stables and Sales Inc., stopping the timers in 29.65 seconds.
Final Results $6,000 CSI2* Palm Beach Equine Clinic 1.40m Jumpers:
1. CHUCK BERRY 8: 2007 Hanoverian gelding by Chacco Blue x Watzmann
OLIVIA CHOWDRY (USA), Atlas Equine Holdings LLC: 0/0/27.33
2. CASANOVA 499: 2011 Holsteiner gelding by Clarimo x Wencke
JESSICA MENDOZA (GBR), Carly Day: 0/0/28.49
3. CORBAWIDO PS: 2012 PZHK gelding by Balou Du Reventon x Annette
GAVIN HARLEY (IRL), Wolfstone Stables and Sales Inc.: 0/0/29.65
4. STAKKATISA PS: 2012 Oldenburg mare by Stakkatol x Chaccisa
REBECCA CONWAY (USA), HBC Sport Horses: 0/0/29.75
5. BOUNTIFUL: 2011 KWPN mare by Ukato x Celena
DANI G WALDMAN (ISR), Waldman Horses BV: 0/0/31.24
6. FREDIE LEVA: 2010 KWPN gelding by Azteca VDL x Oleva
STEPHANIE GALLUCCI (CAN), John Gallucci: 0/0/31.75
7. PIPPA BLUE: 2011 Hanoverian mare by Plot Blue x Soraya 236
ANNA DRYDEN (USA), Double Meadows Farm, LLC: 0/0/31.79
8. MIKADO VAN D'ABELENDREEF: 2012 BWP gelding by Eldorado VD Zeshoek
FILIP DE WANDEL (BEL), Five Way Farm, LLC: 0/0/31.86
9. STERREHOF'S BACCARAT: 2006 KWPN mare by Padinus x Lazura
JULIO DAVID VAINER (MEX), Julio David Vainer: 0/0/32.40
10. QUILIMBO: 2009 Holsteiner stallion by Quidam De Revel x Soda
SCHUYLER RILEY (USA), E2 Show Jumpers: 0/0/32.48
11. HABAB W: 2012 KWPN gelding by Nabab De Reve x Briolita
CASSIO RIVETTI (BRA), Neil Jones Equestrian, Inc: 0/0/32.49
12. DIAMONTE DARCO: 2005 GBSH mare by Unbelievable Darco x Unknown
LUCAS PORTER (USA), Sleepy P Ranch LLC: 0/0/32.69
 Kelley Farmer Rides Night Moves to the Hygain Feeds Green Hunter 3' Championship
The Hygain Feeds Green Hunter 3' division wrapped up on Thursday morning in Ring 6 with Kelley Farmer aboard Roseann Messina's Night Moves earning the tricolor ribbon for the week. Farmer piloted Night Moves to three firsts, a second, and a third place ribbon.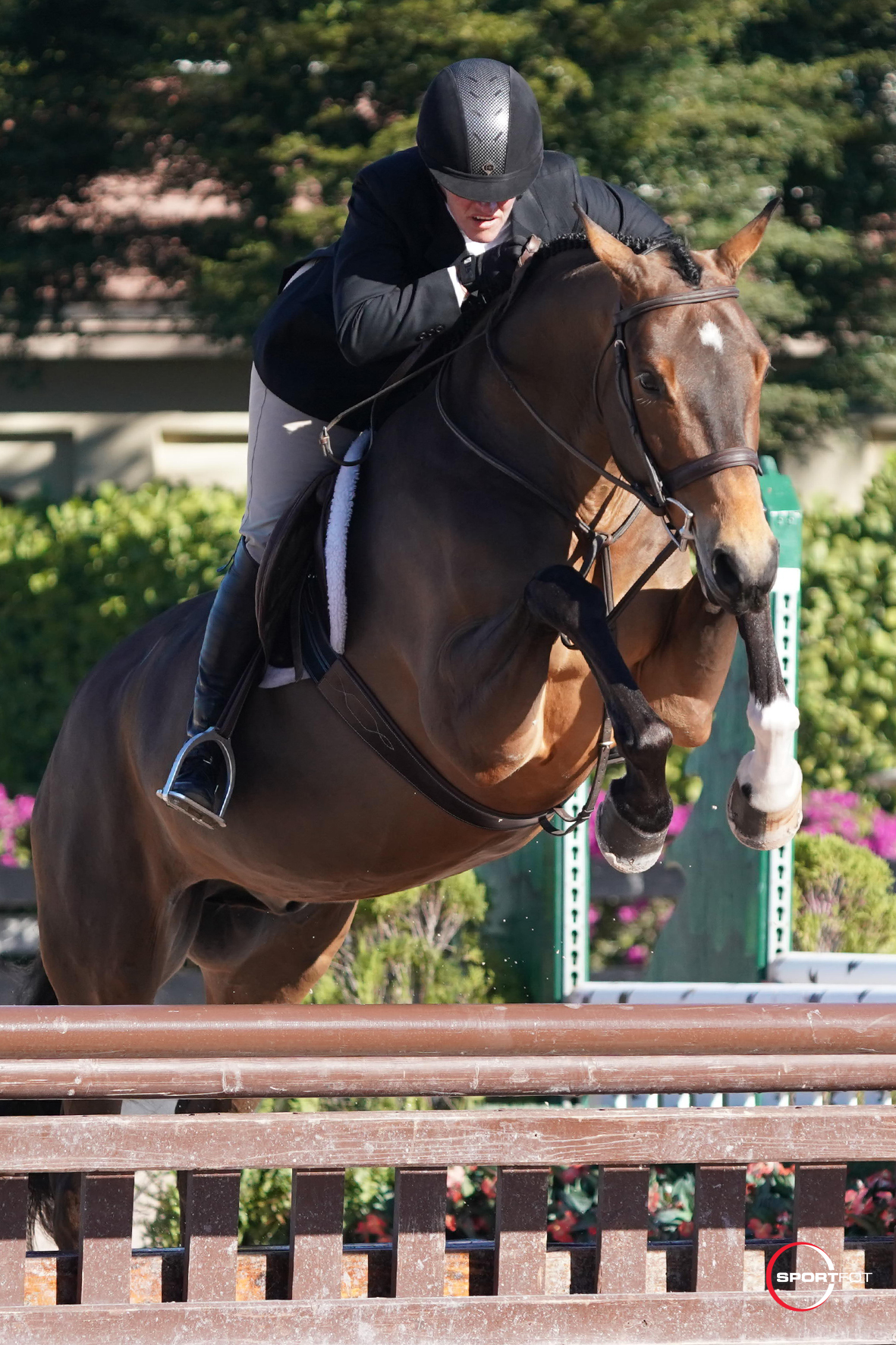 Night Moves, a six-year-old Hanoverian by Belantis, is a new ride for Farmer, of Wellington, FL. This was the gelding's first week showing at WEF, and Farmer made sure that it was a successful one.
"He just got down here, and Scott Petrie called me and told me he had a nice, young horse and asked if I would ride him," explained Farmer. "The first time I sat on him was Tuesday, and he is a really lovely young horse. He has all the quality in the world."
Night Moves is currently for sale, but Farmer hopes to continue to show the gelding in the Green Hunter 3' division until he sells. The pair won both classes on the second day of competition and also won the $1,000 USHJA Green Hunter Incentive 3' with a score of 92.
"The horse really has all the parts," described Farmer. "He is quiet and also has quality, talent, and is a beautiful mover. He has a great way of going and a beautiful expression."
Scott Stewart piloted Rivers Edge's Fine Art to reserve champion in the division. Stewart, of Wellington, FL, and Fine Art received two firsts and two second place ribbons.
The Pre-Green Hunter 3 and 4 Year Old division also finished on Thursday with Cooper Dean, of Fayette, AL, riding Larry Glefke's Figure of Speech to win every class.
"He was great yesterday, and I think the experience he got yesterday helped him be even better today," said Dean of the four-year-old Holsteiner by Casall. "With these young horses they just need time in the ring, and luckily he is nice enough that even when he has an okay round he can still win it. He has the look."
Although Figure of Speech has just started his horse show career, the gelding has proven to be a winner. Dean and Figure of Speech have already earned several tricolor ribbons together this season.
"It's a lot of fun riding the young horses that we have because they are all top prospects and have a lot of potential," commented Dean. "I enjoy helping develop young horses that turn into great, experienced ones down the line."
Competition will continue on Friday with the $37,000 Palm Beach Equine Clinic 1.45m Qualifier CSI2* and the $50,000 Adequan WEF Challenge Cup CSI4* taking place on the Derby Field at the Equestrian Village. Also happening at the Equestrian Village, the $25,000 Hermès Under 25 Grand Prix Team Event will be held in the Global International Arena. The $25,000 USHJA International Hunter Derby will be featured in the International Arena.