For Immediate Release
Kate Pettersen and Sabrina Brashares for Jennifer Wood Media, Inc.
Wellington, FL – February 28, 2021 – Harrie Smolders (NED) and Monaco, owned by Evergate Stables, LLC, hit the ground running with a blistering jump-off effort to take the title in the $73,000 CaptiveOne Advisors 1.50m Classic CSI5* on Sunday, February 28, at the Palm Beach International Equestrian Center (PBIEC) to close out the seventh week of the 2021 Winter Equestrian Festival (WEF).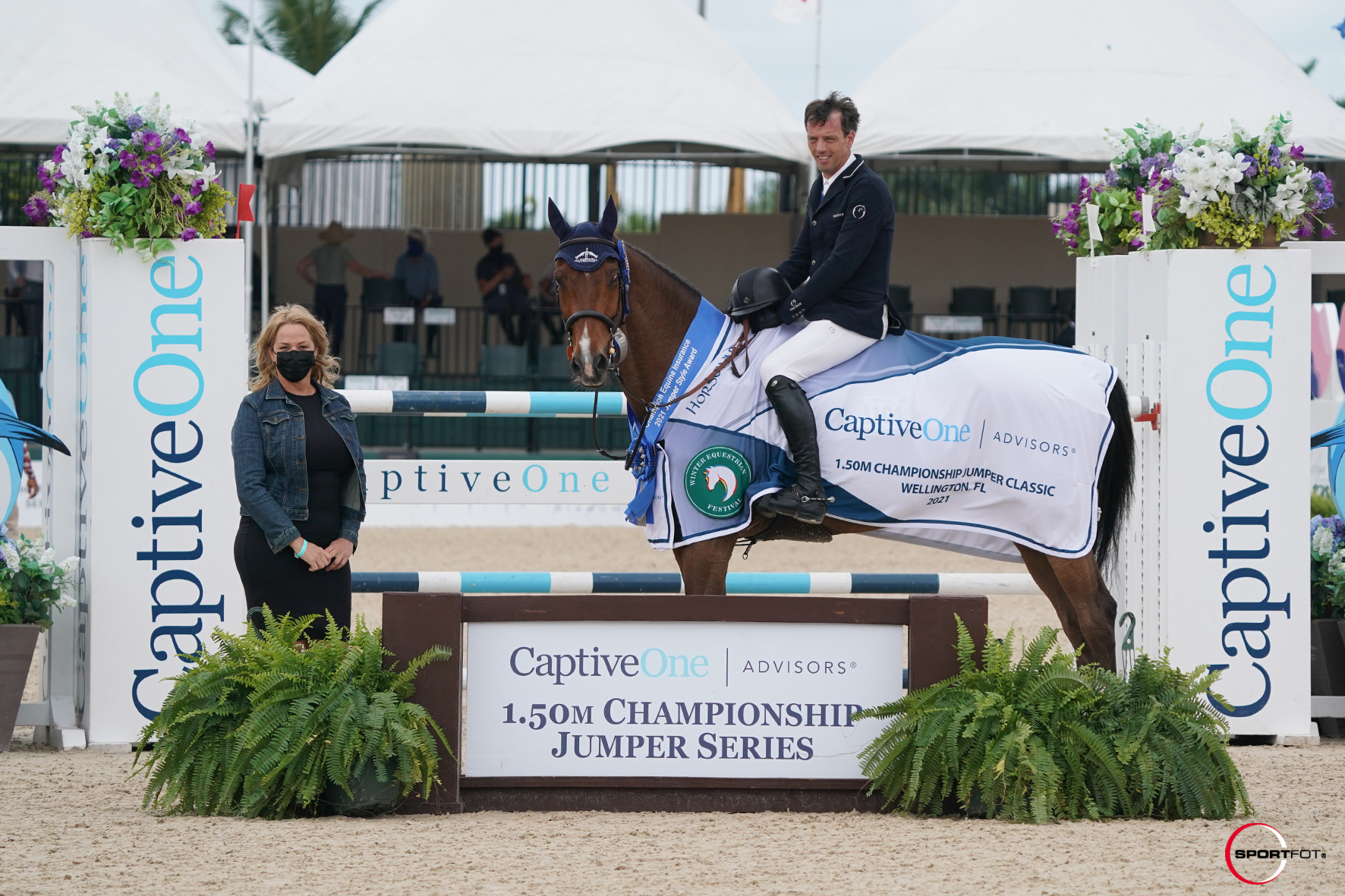 WEF 8, which runs on March 3-7 and is sponsored by Premier Equestrian, will feature the $150,000 Nations Cup, presented by Premier Equestrian on Friday, March 5, the $50,000 CaptiveOne Advisors 1.50m National Grand Prix and $37,000 Hermès Under 25 Semi-Final Grand Prix under the lights on Saturday, March 6, and the $214,000 Grand Prix CSIO4*, presented by JTWG, Inc., on Sunday, February 7.
A total of 46 combinations challenged the opening round with 11 pairs qualifying to return for the jump-off. Smolders, ranked 20th in the world, piloted Monaco, a 12-year-old Holsteiner gelding by Cassini II x Contender, to a double-clear effort over the 1.50m track set by Anthony D'Ambrosio (USA) and Andy Christiansen (ECU). The Flying Dutchman gave credit to his nickname as he edged the competition by just over a tenth of a second, in 38.40 seconds.
"I thought I didn't have the best start to the jump-off but my roll back to the liverpool [fence seven] was very good," said Smolders on where he gained the edge to win. "I thought it was a very serious track. There were a lot of faults in the first round. [It was a] very good course but your horse needed to be in top shape."
Click here to watch the winning round!
It was Daniel Deusser (GER) and Scuderia 1918 Tobago Z, owned by Stephex and Scuderia 1918, who posted the time to beat ahead of Smolders, stopping the clock at 38.51 seconds. He and the 13-year-old Zangersheide stallion by Tangelo Vd Zuuthoeve x Mr Blue won Thursday's WEF Challenge Cup Round 7 and continued their prosperous week with another fault-free outing to finish second. Deusser also picked up a win with Kiana van het Herdershof on Friday and finished fourth on Saturday night with Killer Queen VDM.
"This week was definitely not a usual week," said Deusser, who is poised to move up from third in the world rankings after a month of great results. "Every day I was in the top three and then fourth in the big class with three different horses. I'm very happy about it but I have to keep both feet on the ground and realize that's not normal. It's a luxury problem to have. If you have only one horse, it's probably not fair to the horse because you ride them too many times. For you as a rider, it's not good because you don't get enough practice. To ride three or four different horses at this level, it improves you."
Rounding out the podium was Kent Farrington (USA) aboard Orafina, owned by Kent Farrington, LLC, who also finished double clear for a third-place finish. Farrington and the nine-year-old Dutch Warmblood mare by For Fashion x Canturo stopped the clock just off the mark in 39.35 seconds.
Smolders and Monaco, who was also awarded with the Champion Equine Insurance Jumper Style Award this week by Laura Fetterman, have experienced success all over the world as their partnership continues to reach new heights.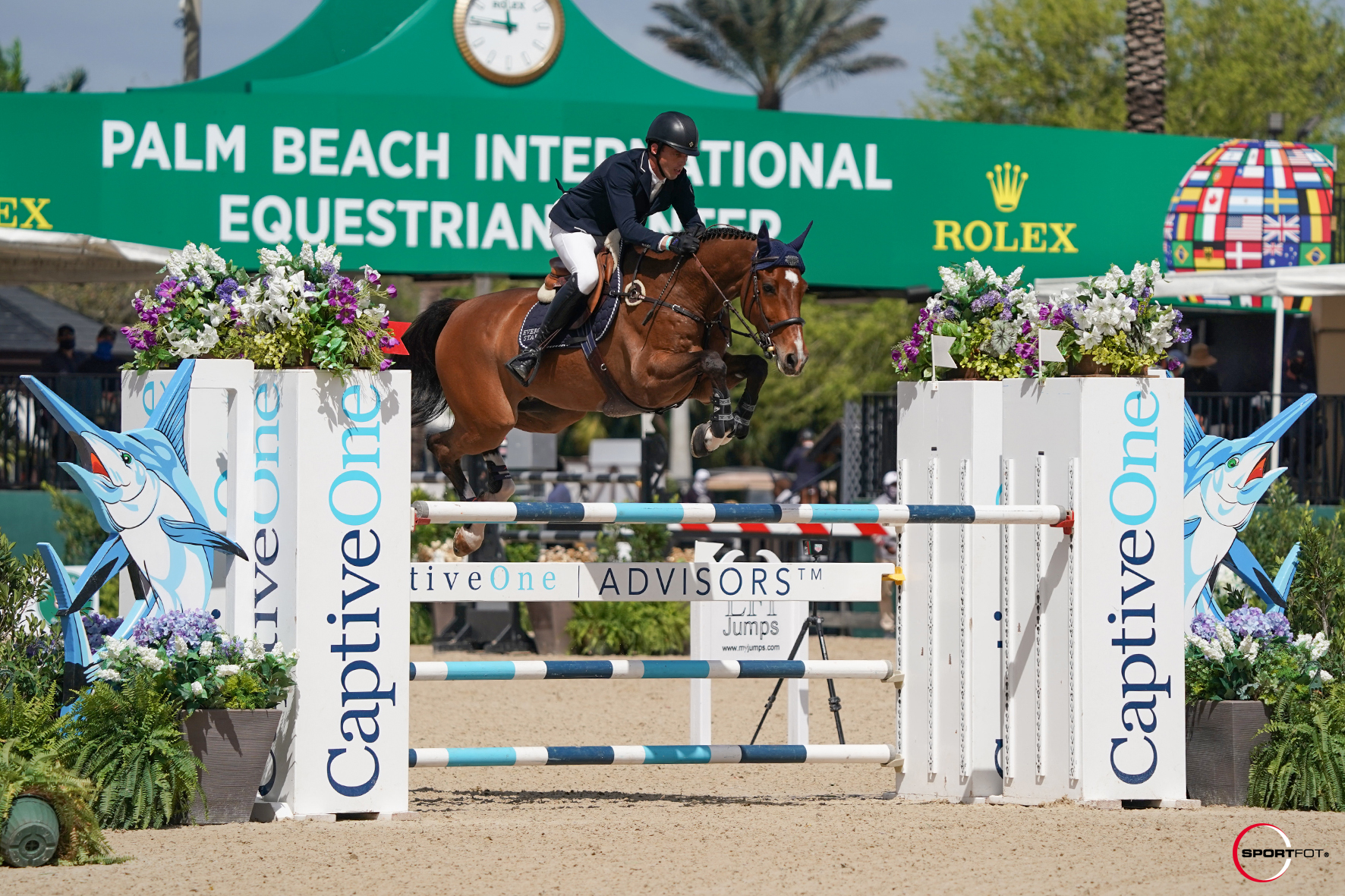 "I got him when he was seven years old," said Smolders. "He's grown nicely to the highest level and is very good against the clock. He's always a top horse to have in your string. He can do a fast class but when he needs to do the grand prix classes, he's good [in those] as well."
With a busy competition schedule, it's the team behind the scenes that gives Smolders the opportunity to continue producing clear rounds. Splitting time between competitions in the United States and Europe, the team at home keeps the horses in top shape.
"We do a lot of flat training and when I go back and forth to Europe, I have very good staff here that I can really rely on. I think we have an amazing team. My two American owners/partners Evergate Stables and Copernicus Stables, they're fantastic for me. They've been great supporters for years, and I hope we can continue the partnership for a long time."
Final Results: $73,000 CaptiveOne Advisors 1.50m Classic CSI5*
1. MONACO: 2009 Holsteiner gelding by Cassini II x Contender
HARRIE SMOLDERS (NED), Evergate Stables, LLC.: 0/0/38.40
2. SCUDERIA 1918 TOBAGO Z: 2008 Zangersheide stallion by Tangelo Vd Zuuthoeve x Mr Blue
DANIEL DEUSSER (GER), Stephex and Scuderia 1918: 0/0/38.51
3. ORAFINA: 2012 Dutch Warmblood mare by For Fashion x Canturo
KENT FARRINGTON (USA), Kent Farrington LLC: 0/0/39.35
4. HAMILTON: 2011 Holsteiner gelding by Quadros x Zerlina I
TIFFANY FOSTER (CAN), The Hamilton Group: 0/0/41.06
5. BALOUTINUE: 2010 Hanoverian gelding by Balou du Rouet x Landor S
ADAM PRUDENT (USA), Plain Bay Farm: 0/0/41.59
6. AYADE HERO Z: 2011 Zangersheide mare by Aganix Du Seigneur x C.heroine De Thieusies
SPENCER SMITH (USA), Ransome Rombauer: 0/4/39.12
7. DICAS: 2009 Rheinlander gelding by Diarado x Cassini I
MARGIE ENGLE (USA), Storm Ridge Capital LLC, Show Horses, Garber & Gladewinds Partners LLC: 0/4/42.60
8. CHA MU 4: 2010 Westphalian gelding by Cornado II x Rheinsberg
MARTIN FUCHS (SUI), Lee Sportpferde: 0/4/43.48
9. DSARIE: 2008 KWPN mare by Veron x Ahorn
BEAT MÄNDLI (SUI), Grand Road Partners LLC: 0/4/47.69
10. CARACAS: 2009 Holsteiner gelding by Cachas x Cosimo
EUGENIO GRAZA PEREZ (MEX), El Milagro: 0/8/47.19
11. BRIGHTON: 2006 KWPN gelding by Contendro II x Quick Star
TIFFANY FOSTER (CAN), Artisan Farms LLC: 0/RT
12. CATINKA 25: 2009 Oldenburg mare by Catoki x Luxano
VANESSA MANNIX (CAN), Vanessa Mannix: 1/76.20
Bourns is Best with Darquito, Topping the $50,000 Griffis Residential Grand Prix CSI2*
A total of 44 competitors gave it their best shot over the handywork of Andy Christiansen (ECU) and Anthony D'Ambrosio (USA) in the $50,000 Griffis Residential Grand Prix CSI2* as just eight combinations left all the fences up for a ticket to the jump-off. In the second round, Andrew Bourns (IRL) and his own Darquito proved to be the best over the shortened course, finishing double clear in a time of 38.58 seconds.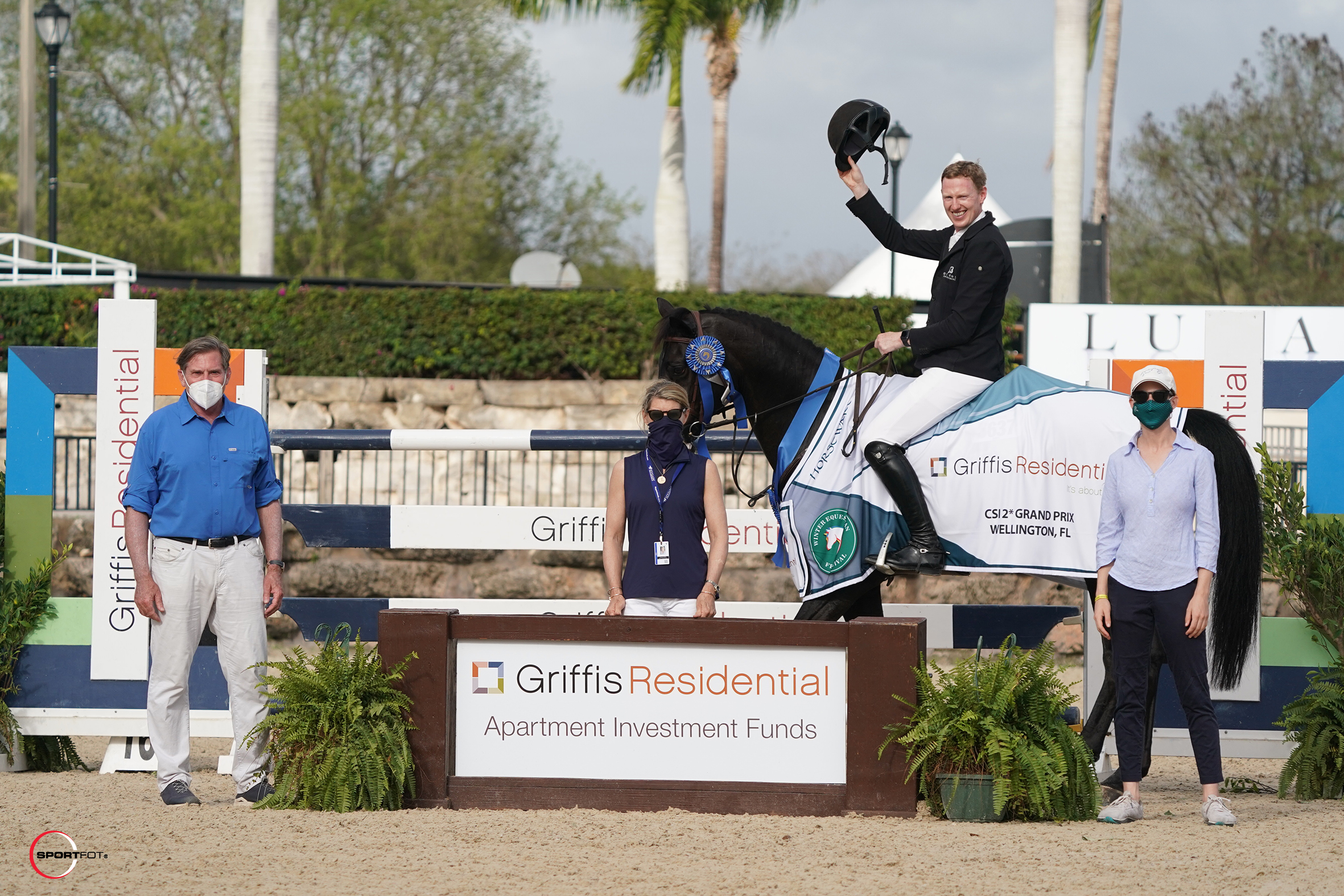 Bourns knows his 10-year-old Hanoverian gelding by D'inzeo 6 x Contefino 2 quite well, having bought him with his parents Richard and Deirdre Bourns in Germany as a seven-year-old.
"My plan was to win it and I knew with the girls coming behind me, I had to really move it," said Bourns of his winning round. "Emily Moffitt, Abigail McArdle, and a few of those other riders, I knew they weren't going to give it to me easy. Chris Kappler helps me a lot. He's my full-time trainer and Michael Blake, the Irish Chef d'Equipe, helped me with the jump-off as well. It takes a whole team to come together. I was so happy with my horse today."
Click to watch the winning round!
The aforementioned female contingent of Moffitt (GBR) and McArdle (USA) were as solid as expected, finishing in second and third respectively. Moffitt and Tipsy Du Terral, a 14-year-old Selle Français mare by Toulon x Quat'sous owned by Poden Farms, were just one tenth of a second off the lead, finishing in 38.68 seconds. Not far behind that, McArdle and Victorio 5, a 15-year-old Hanoverian stallion by Uccello x Graf Top owned by Victorio Equine Group, LLC, also put forth a double-clear effort in 38.75 seconds.
The victory marks the first at the international level and the first grand prix win for Darquito or 'Dar Dar' as he's affectionately referred to in the barn. It's been a steady climb from the beginning of their partnership with a full team effort from the Bourns Sport Horses team.
"My dad produced him in Europe with his riders first for a year," said Bourns. "In 2019, I went over to Europe and jumped a few smaller classes, and last year he had a few nice results up to CSI3* level and had some placings in ranking classes. He's a fabulous horse and probably a barn favorite actually. It's more for his personality than anything else. He was just right from the beginning, one of those horses we couldn't leave behind. From the very first moment, it was love at first sight with this horse."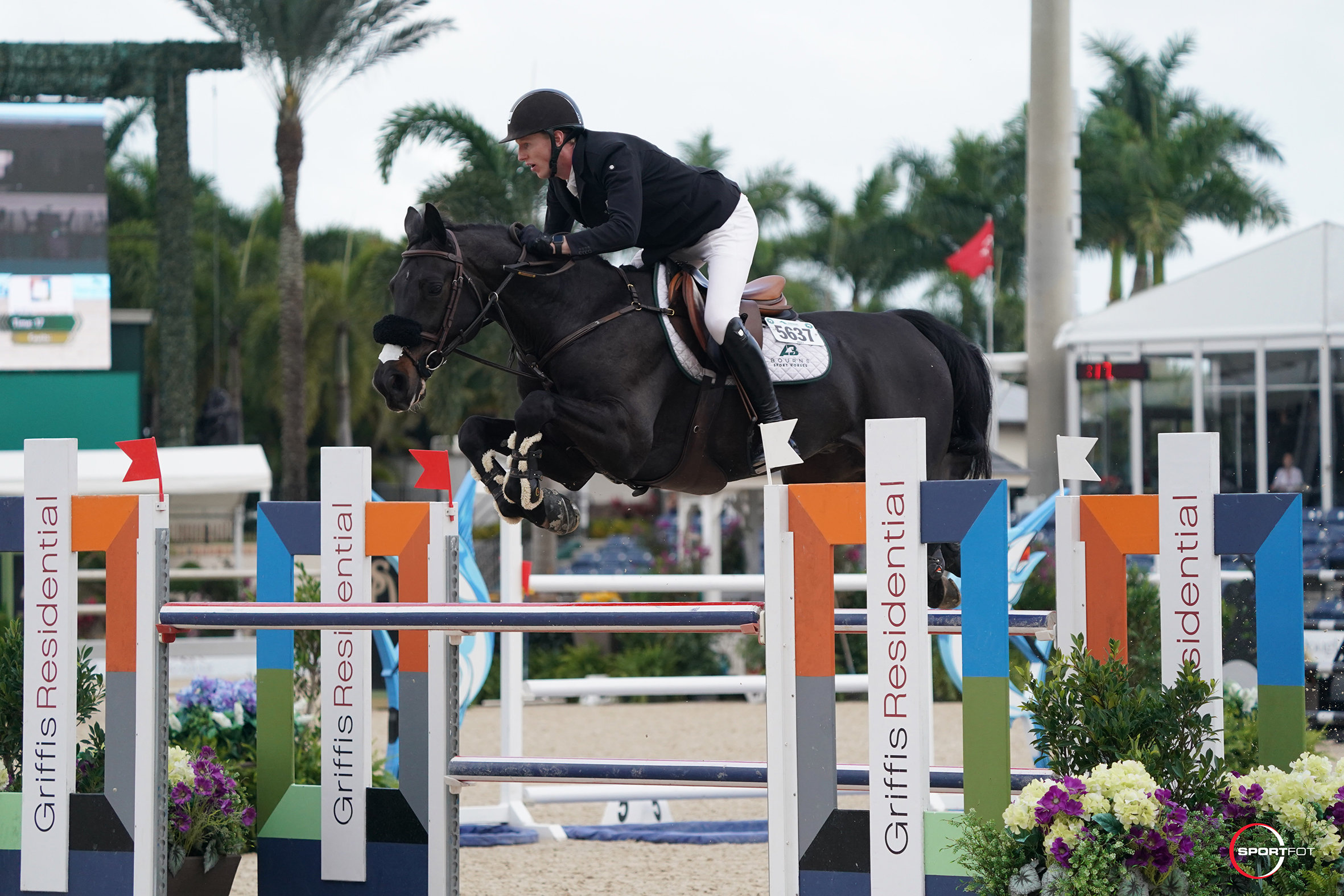 When it comes to getting ready for the ring, like their riders, some horses prefer routine. Darquito is most definitely one of those horses.
"He's very, very easy to prepare but you have to do it correct, and it has to be done the same every time," said Bourns with a laugh. "He's very fanatical about that. We just make sure he's not too fresh and make sure he's feeling well and that's it, but it has to be done correct. He likes his routine, and he likes his people. It's almost more important that he has the right people around him than anything else."
Final Results: $50,000 Griffis Residential Grand Prix CSI2*
1. DARQUITO: 2011 Hanovarian gelding by D'inzeo 6 x Contefino 2
ANDREW BOURNS (IRL), Andrew Bourns: 0/0/38.58
2. TIPSY DU TERRAL: 2007 Selle Français mare by Toulon x Quat'sous
EMILY MOFFITT (GBR), Poden Farms: 0/0/38.68
3. VICTORIO 5: 2006 Hanoverian stallion by Uccello x Graf Top
ABIGAIL MCARDLE (USA), Victorio Equine Group LLC: 0/0/38.75
4. VALENTINO TUILIERE: 2009 Selle Français gelding by Diamant De Semilly x Silvio
EVE JOBS (USA), Eve Jobs: 0/0/39.36
5. BALOTELLI 5: 2010 Hanoverian gelding by Balou du Rouet x Contendro I
MATTHEW BODDY (GBR), Purple Road, LLC: 0/0/40.95
6. CHUCK BERRY 8: 2007 Hanoverian gelding by Chacco Blue x Watzmann
OLIVIA CHOWDRY (USA), Atlas Equine Holdings LLC: 0/4/36.92
7. DIAMONTE DARCO: 2005 SHBGB mare by Unbelievable Darco x Kriska
LUCAS PORTER (USA), Sleepy P Ranch LLC: 0/4/39.18
8. CHATOU 7: 2009 Oldenburg gelding by Chacco Blue x Toulon
NICOLETTE HIRT (USA), Iron Horse Equestrian: 21/62.32
9. CON COLEUR: 2009 Hanoverian gelding by Contendro I x Couleur Rubin
REBECCA CONWAY (USA), Blue Hill Farm, LLC: 1/75.15
10. CHANDON BLUE: 2005 Oldenburg gelding by Chacco Blue x Landcapitol
LAURA CHAPOT (USA), Mary Chapot: 4/69.58
11. AMERICAN: 2010 Italian Sport Horse mare by Baedeker x Locato
LUIS LARRAZABAL (VEN), San Francisco Stables LLC: 4/71.30
12. KIRSCHWASSER SCF: 2010 Belgian Warmblood stallion by Amaretto d'Arco x Nebab de Reve
FREDDIE VAZQUEZ (PUR), G6 Holdings: 4/71.42
Shea Ehrhard and Fifth Avenue Come Out On Top in the THIS Children's Medal 15-17
The THIS Children's Medal 15-17 took place in FarmVet Ring 7 on the final day of competition for the seventh week the Winter Equestrian Festival (WEF). Shea Ehrhard, of Darien, CT, rode SRE Equestrian LLC's Fifth Avenue to a first round score of 84.5 and then took home the blue ribbon after producing a beautifully ridden test.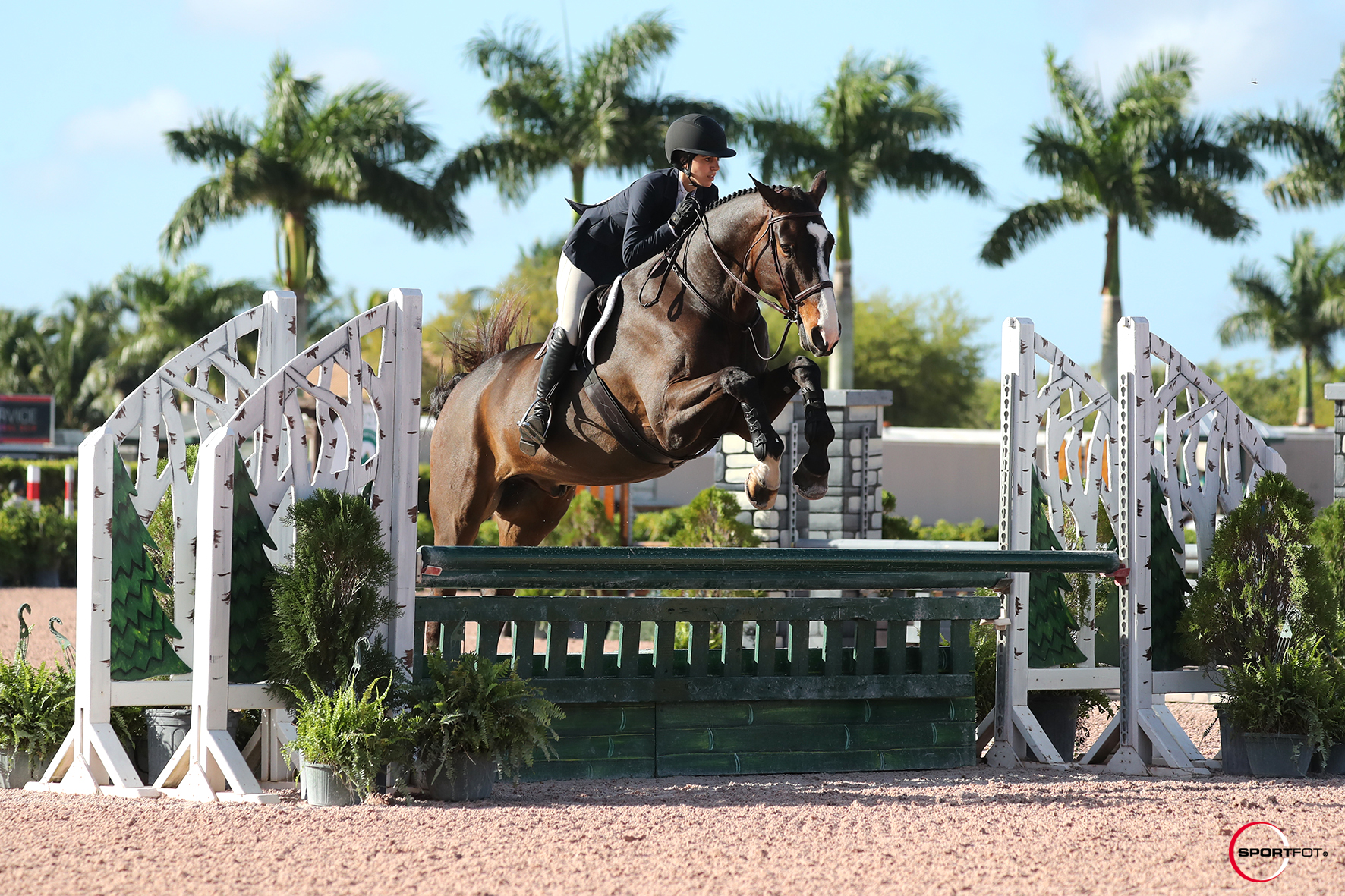 The class consisted of a scored first round course and then a test for the top four competitors. Riders were told the test while in the ring and had to come up with a plan of how to best execute the course on their own. Ehrhard and Fifth Avenue navigated the technical track with ease to move from third place to first.
"The main thing I work on with him is getting him forward and in front of my leg," explained Ehrhard. "That was definitely a test in the first round with the first line being a forward seven strides, so I was really happy that I was able to get that done.
"In the test, my main focus was to make sure that I knew all the numbers of the jumps," continued Ehrhard. "It's always stressful going in and hearing the test in the ring. I also was again focused on getting him forward and in front of my leg, especially going to the first jump."
Ehrhard and the 10-year-old Dutch Warmblood gelding by Tangelo VD Zuuthoeve are still developing their partnership in both the equitation and hunter divisions. The pair shows under the tutelage of Chance Arakelian and Ox Ridge.
"I've had him for about a year now. We got him in Florida last year," said Ehrhard. "Since getting him I think we have just gotten better and better; each time I show I learn more about him. He is super versatile, which I love about him. I'm hoping to stay consistent with him this season and to keep improving and having fun with him each time I ride."
Second place was awarded to Grace Daggett, of Rockaway, NJ, and Tranquility Farm's Lancelot. Daggett and Lancelot received a first round score of 84. Alethea Bergad, of Chester, NJ, and her own Dylano earned a score of 85 in the first round and finished in third place after the test.
Hunter, jumper, and equitation competition will resume on Wednesday, March 3, and continue through Sunday, March 7, for the eighth week of WEF.