For Immediate Release
Wellington, FL – January 31, 2017 – Since its beginning in 2010, the Great Charity Challenge presented by Fidelity Investments® (GCC) has seen the equestrian community take charitable giving to a new level while impacting thousands of lives through its unique team competition. The GCC returns to Wellington during the 2017 Winter Equestrian Festival (WEF) circuit this Saturday, February 4, marking its eighth year at the Palm Beach International Equestrian Center (PBIEC) in Wellington, FL.
The relay-style show jumping competition depends on sponsors who not only donate funds, but also on riders, both professional and amateur, who ride on behalf of randomly assigned local non-profits. One-hundred percent of the event's proceeds go directly to Palm Beach County charities, while all costs associated with the event are covered by Equestrian Sport Productions, the managing organization of WEF, as well as the Adequan® Global Dressage Festival (AGDF), and International Polo Club (IPC).
To date, the GCC has distributed more than $9.2 million to over 200 nonprofits in Palm Beach County. This year the event will distribute $1.5 million to add to its already incredible fundraising amount, surpassing the $10 million milestone.
From "Super Heroes" to "Fairy Tale" themes, the event has brought thousands to PBIEC to celebrate the ones who have dared to imagine a better community: the sponsors of the GCC, the riders donating their time and horses, as well as all involved with the charitable organizations.
While most organizations are supported and funded via the community, the GCC helps meet a need many donors shy away from supporting: covering charities' operating expenses, such as buying new windows for a homeless shelter, a vehicle for a food pantry, or picking up the costs of taking care of foster children. These are just a few examples of the ways that the event enables Palm Beach County charities to serve the community to their fullest potential.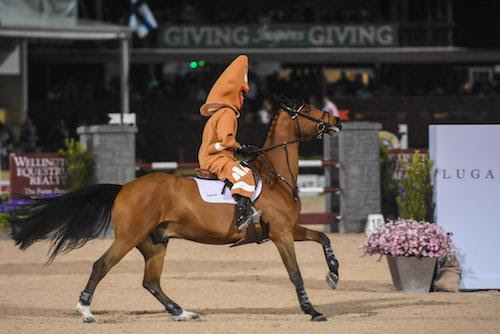 The sliding scale for prize money from first through last place entitles participating organizations to receive funding of $15,000 for last place and up to $150,000 for first place. In 2015, 50 local organizations benefited directly from the evening.
Proving that you don't have to remain a child to dream of miracles, this year's event is sure to inspire adults and children alike as riders will be dressed as their favorite animated characters. Costume awards will determine a bonus for the lucky charities whose team wins.
A full list of charities that have benefitted from the event since its debut in 2010, as well as the list of organizations that will participate in the 2017 GCC, can be found on the event website: 
www.greatcharitychallenge.com
To date, the GCC has made incredible contributions to the Palm Beach County community, and everyone at Equestrian Sport Productions looks forward to a wonderful 2017 event.
The family-friendly event will offer free general admission, entertainment for children and adults, on-site dining options, and a Wellington public school chalk art contest. The GCC will be held Saturday evening, February 4, 2017, at 6:00 PM under the bright lights of the International Arena at the Palm Beach International Equestrian Center. Free parking will be located at 13500 South Shore Blvd., Wellington, FL 33414.
For the latest event information and sponsorship opportunities, please visit 
www.greatcharitychallenge.com
 and follow us on Facebook at 
www.facebook.com/greatcharitychallenge
.
About Fidelity Investments®
Fidelity's mission is to inspire better futures and deliver better outcomes for the customers and businesses we serve. With assets under administration of $5.7 trillion, including managed assets of $2.1 trillion as of December 31, 2016, we focus on meeting the unique needs of a diverse set of customers: helping more than 25 million people invest their own life savings, nearly 20,000 businesses manage employee benefit programs, as well as providing more than 12,500 financial advisory firms with investment and technology solutions to invest their own clients' money. Privately held for 70 years, Fidelity employs 45,000 associates who are focused on the long-term success of our customers. For more information about Fidelity Investments, visit https://www.fidelity.com/about.
Photos © Sportfot, Meg Banks, Elena Lusenti, Lois Spatz, Lexey Hall Photography